I'll start this post off by saying right off the bat: it's not a real pasta caprese salad recipe. It's kind of a "mock" version that's much easier to recreate in Kosher, possibly more affordable, and definitely the way I do it… Disclosure: this post contains affiliate links.

Even before I knew that Baby Y is allergic, I was already looking for a change from the same old sesame noodles. I needed a cold pasta alternative that will be a crowd-pleaser, easy to bring to family events, and not too complicated.
I ended up throwing some ingredients together with some friends' suggestions that kind of mimic a caprese salad (tomatoes, herbs, mozzarella) but not in its true form. It's quick and easy. It's usually extremely popular. And best of all: it's allergy-friendly!
I also put in black olives because M loves those, but they're totally optional – be sure to leave that out if you're working with a crowd who prefer a milder dish (I made that mistake at our family Chanukah party…) It adds a LOT to the salad but it doesn't need it.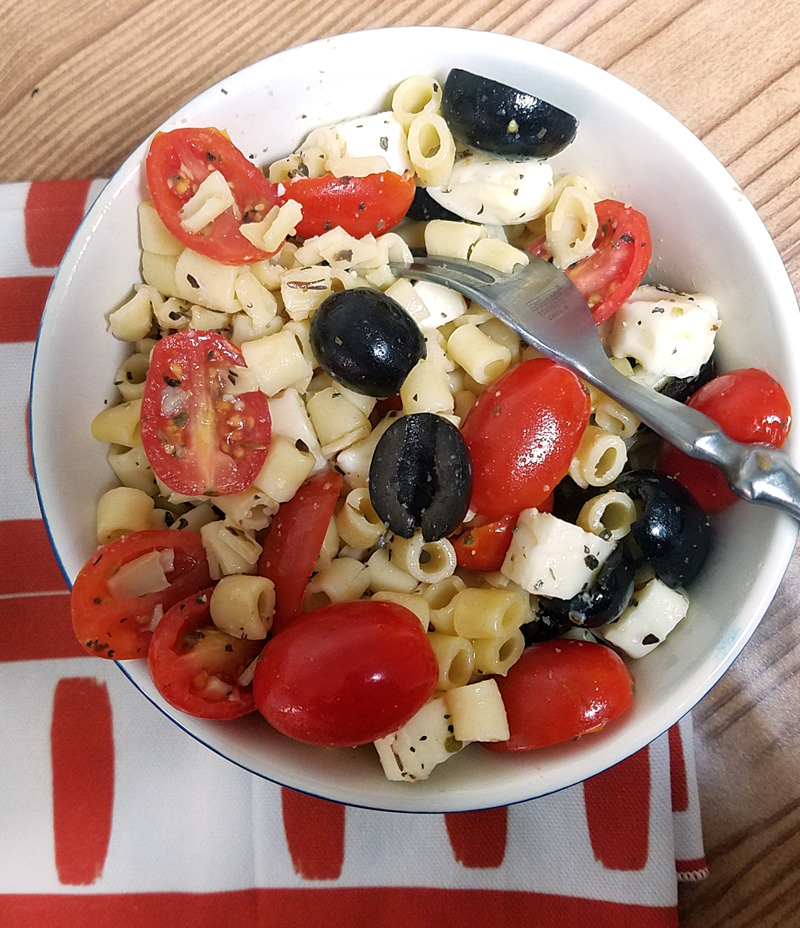 Instead of soft mozzarella balls I chunked up some cheese sticks. A friend of mine taught me this trick for when I want larger pieces of mozzarella without having to dissect a huge hunk… and without having to tear awkward slices, or putting in shredded cheese that disappears right in.
I serve it in this bowl.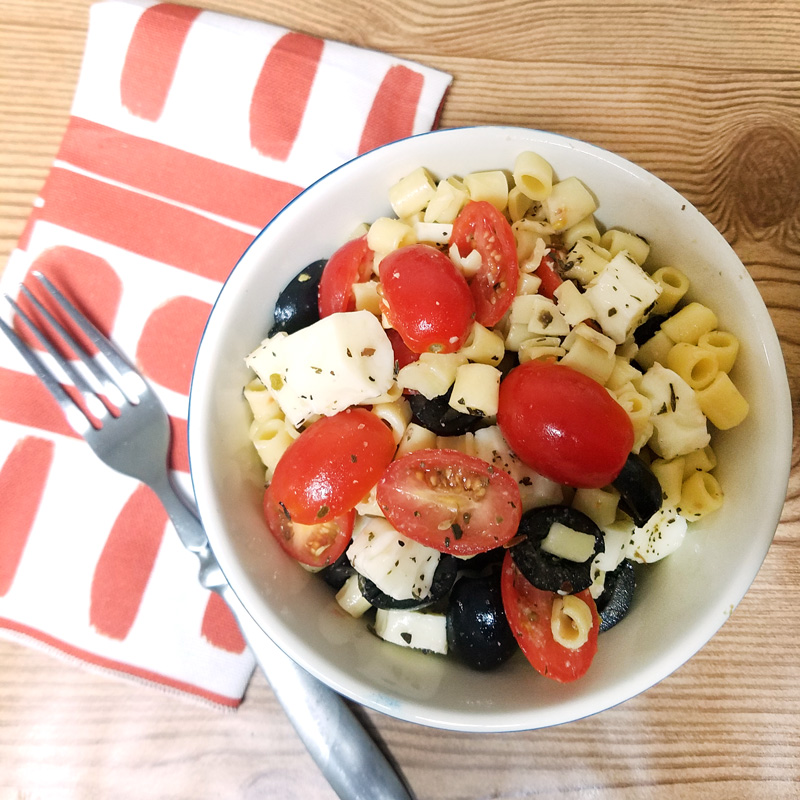 It's not as yummy, but much easier to find and more affordable if you're cooking for a crowd, especially considering Kosher concerns. I did it the lazy way with Italian seasoning instead of fresh basil – you can pick your level of involvement!
Grape tomatoes cut in half keep it flavorful and sweet, while being easy to eat. I'll bet it would taste great if you replaced it with sun dried tomatoes too! If you have babies eating it, quarter your grape tomatoes and olives, and cut your cheese stick chunks in quarters the long way too.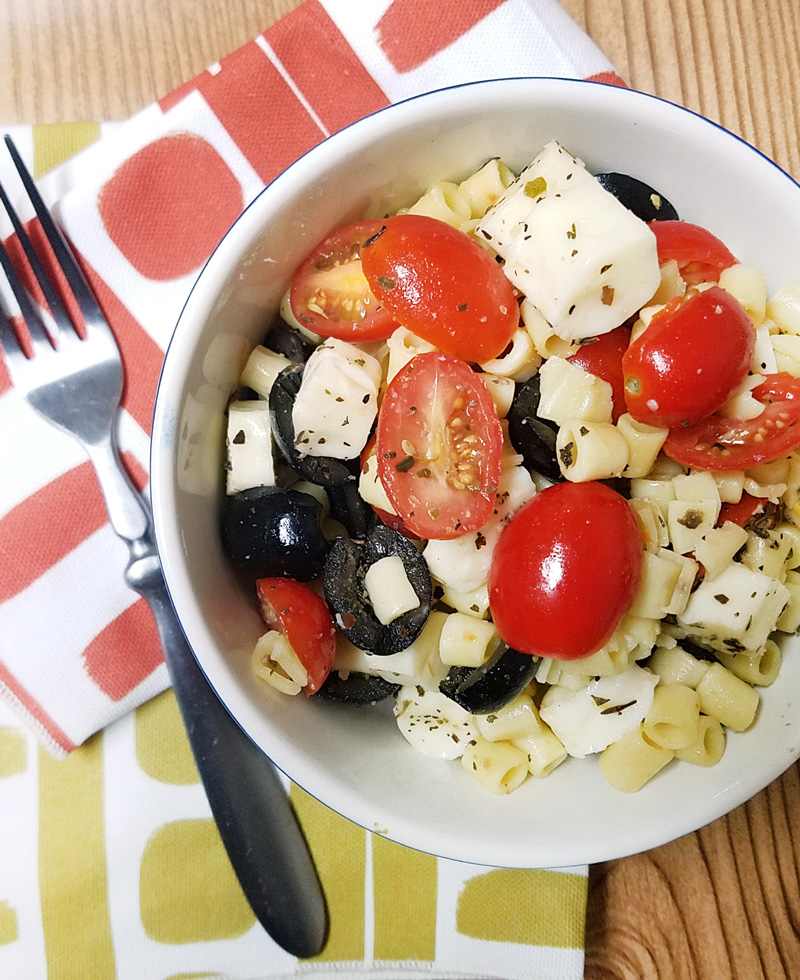 For the pasta I really like Ditalini but elbows work great too, as would any small pasta.
This pasta caprese salad is also very kid-friendly (leave out the olives if your kids don't like it!!) and perfect for kids who will ONLY eat white pasta (like mine) and who end up without the veggies.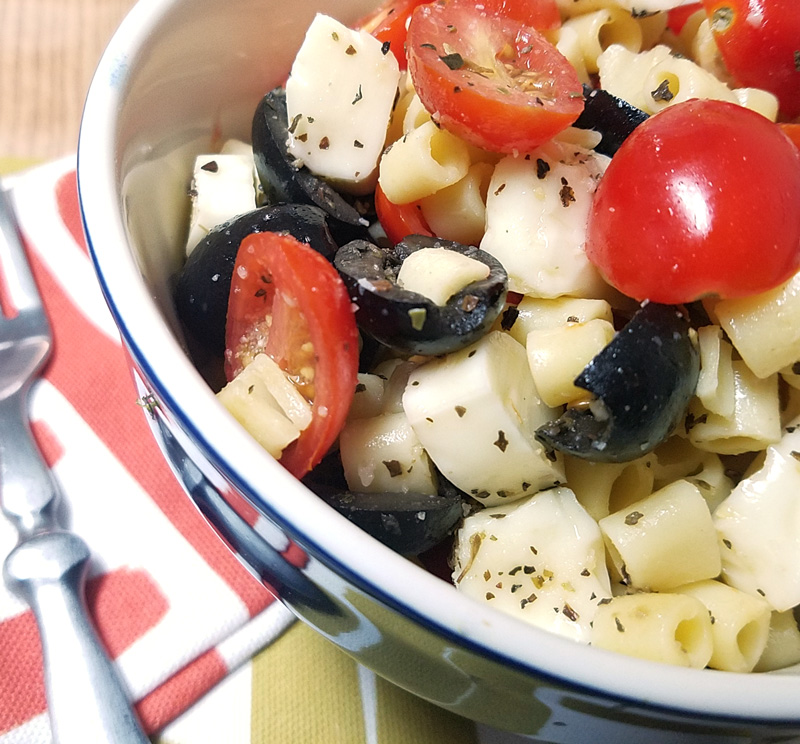 Ingredients for the Pasta Caprese Salad Recipe:
1 lb Ditalini pasta
1 6 oz can black olives
1 dry pint grape tomatoes
8-9 cheese sticks or string cheese
Dressing:
2 T olive oil
1 T red wine vinegar
1 T Italian seasoning or dry basil (or replace with fresh)
Garlic powder
Onion powder
How to make Pasta Caprese Salad:
Cook your pasta in salted water till al dente, drain, and rinse, and allow it to drain well. Add it to a large salad bowl.
Cut olives and grape tomatoes in half the long way and add it to your salad. Cut the cheese sticks into chunks. Add it to your room temperature or colder pasta. Make sure not to add it to the pasta while it's hot – you DON'T want it to melt. You want to bite into nice chunks of cheese!
Mix together your dressing ingredients and add it to your salad. If you're using fresh basil, add that right before you serve it so it doesn't wilt.
Serves approximately eight. Doubles easily for a crowd. Serve chilled.

What is your favorite pasta salad recipe? Comment below!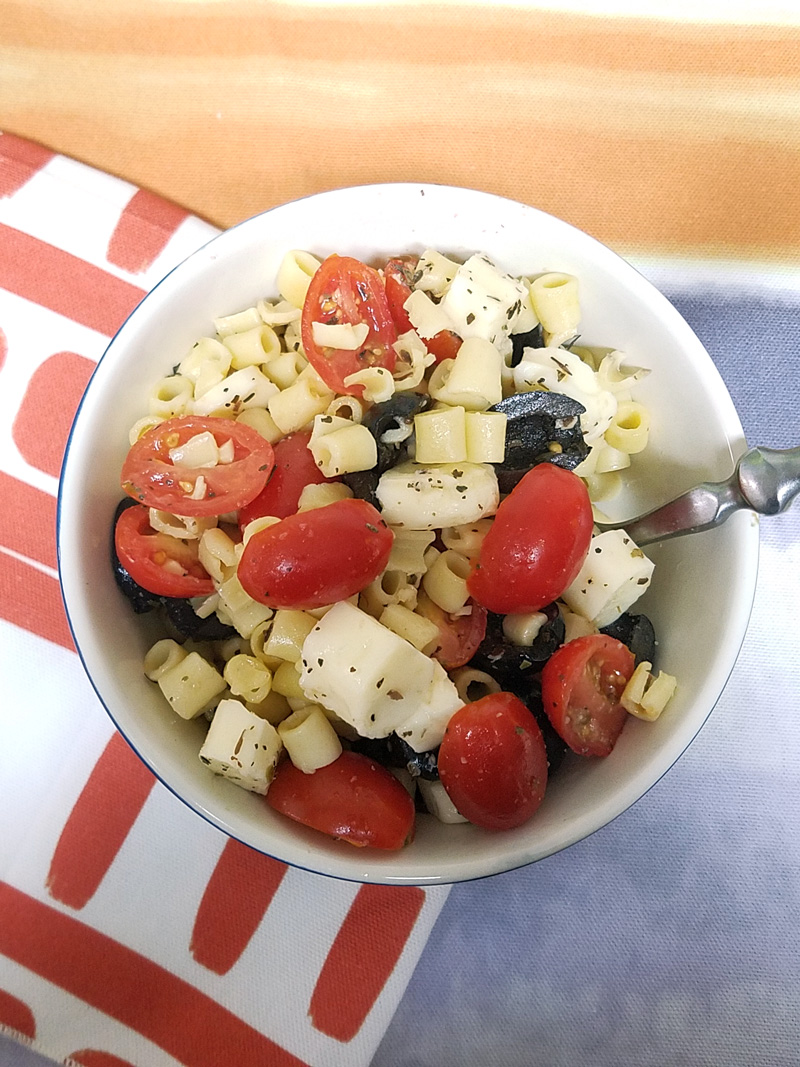 Print the recipe: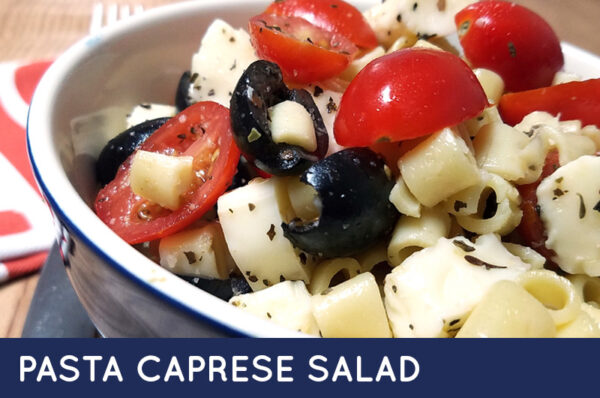 | | |
| --- | --- |
| | |
Cook your pasta in salted water till al dente, drain, and rinse, and allow it to drain well. Add it to a large salad bowl. it doesn't wilt.

Cut olives and grape tomatoes in half the long way and add it to your salad. Cut the cheese sticks into chunks. Add it to your room temperature or colder pasta. Make sure not to add it to the pasta while it's hot - you DON'T want it to melt. You want to bite into nice chunks of cheese!

Mix together your dressing ingredients and add it to your salad. If you're using fresh basil, add that right before you serve it so