A delicious bowl of slow cooker goulash is the perfect thing to warm your insides and feed your soul. And when it's Kosher for Pesach, it's even better! This simple recipe, made easily in your crock pot, should definitely go onto your Pesach menu plan for Chol HaMoed dinner. Disclosure: this post contains commissioned links.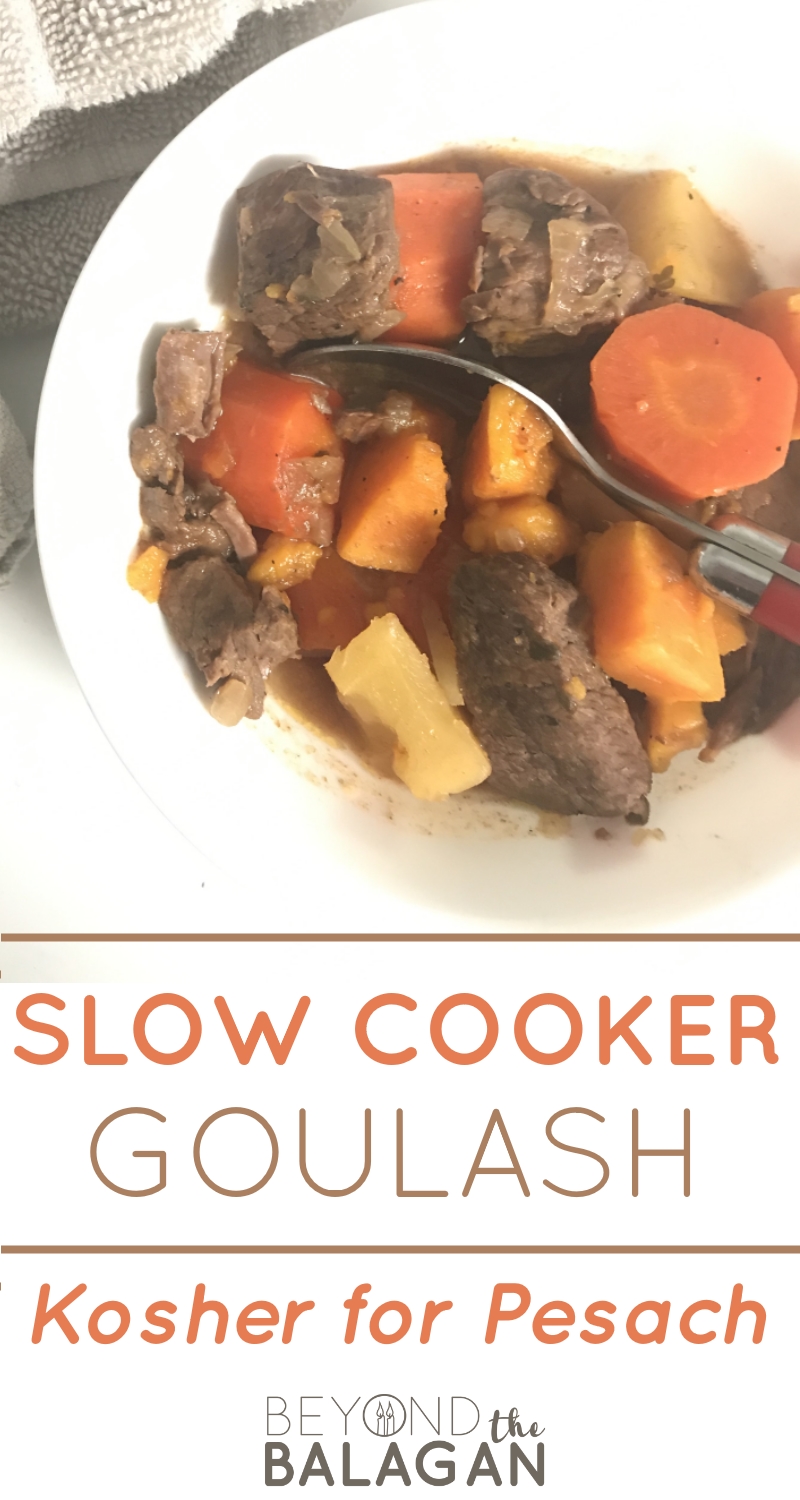 Goulash comes in a few different forms, and also goes by "beef stew". While the ingredients are not typically chametz, it is often served over macaroni, which doesn't really work for Pesach. I haven't attempted to replace that in this recipe, but even on its own, this slow cooker goulash makes for a great meal-in-a-bowl.
My family doesn't use garlic on Pesach and it's one of the more difficult ingredients for me not to use while cooking. I love garlic. Love. I use it liberally in every dish, including my slow cooker goulash, when I make it year round. In place of garlic, I used shallots and onions, and only vegetables that can be peeled, so even the most stringent on Pesach can enjoy this dish.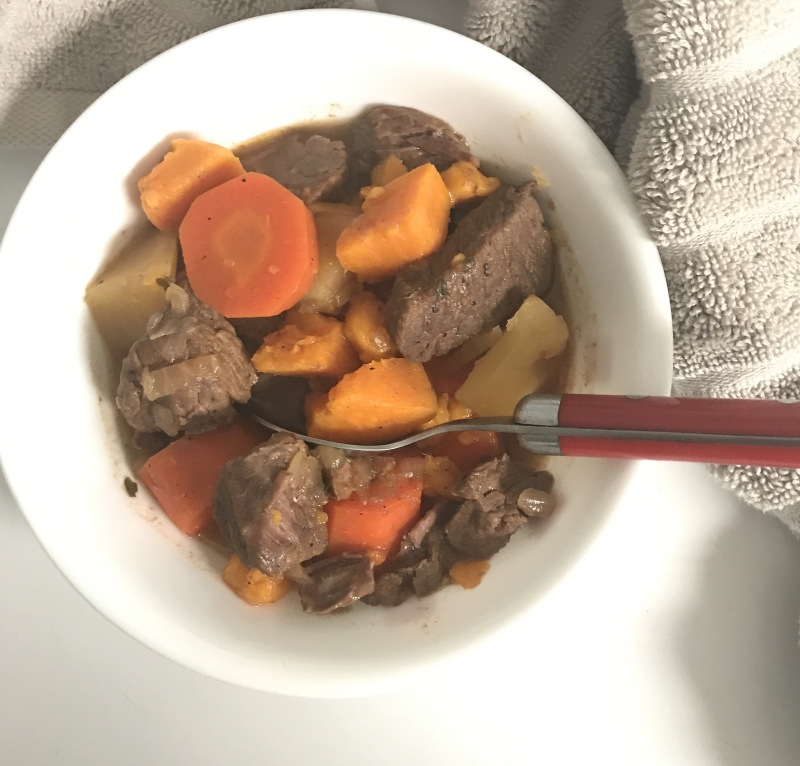 This slow cooker goulash is perfect for Pesach, because you can make it in the morning, and have a hot, delicious dinner ready for the family after a Chol HaMoed outing. You can keep it on low for longer than specified in the recipe instructions. I have, and it comes out delicious every time. If your crock pot has a setting that automatically switches to "Keep Warm" after completing cooking, that works too.
I have used both kinds of meat suggested in the recipe (beef stew or flanken)- while flanken is certainly tastier and softer, beef stew is an excellent alternative if you need a more inexpensive option.
A crock pot is a great addition to your Pesach shopping list– it is perfect for Chol HaMoed dinners and for a Shabbos Pesach cholent. In fact, if your crock pot does have the keep warm setting, this recipe would make a great cholent. Just make sure not to cut the vegetables too small, or they will get kind of mushy.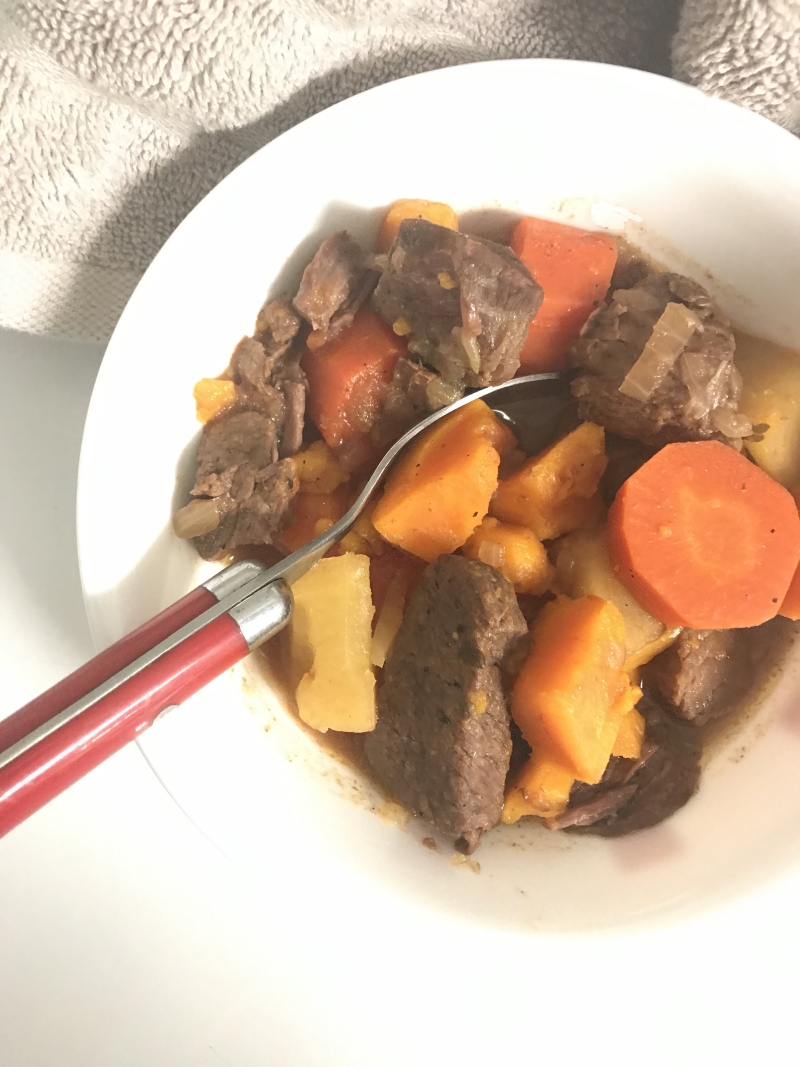 What you need to make Slow Cooker Goulash:
For a printable version of this recipe, scroll to the end of this post.
Ingredients for Slow Cooker Goulash:
2 lbs beef stew OR boneless flanken
salt and black pepper for seasoning meat
1 large onion diced
1 large shallot diced
2 potatoes peeled and cubed
1 large sweet potato peeled and cubed
2 carrots peeled and sliced
2 cups chicken broth
1/2 cup red wine
3 TBSP tomato paste
1 1/2 tsp kosher salt
1 tsp parsley dried
1/4 tsp black pepper
1/2 – 1 cup water
cooking spray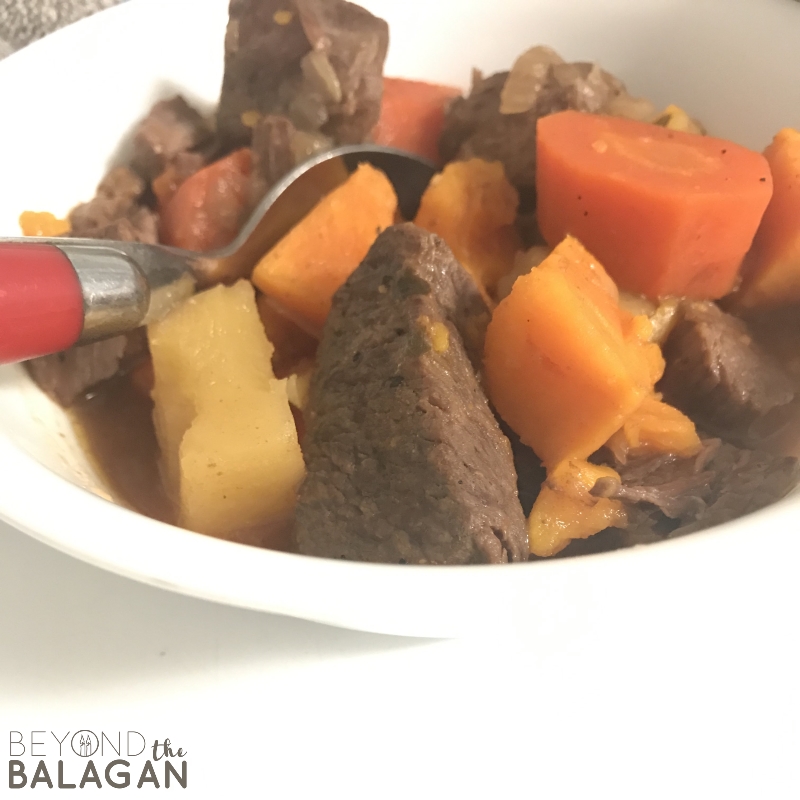 How to Make Slow Cooker Goulash:
Spray crock pot insert liberally with cooking spray and set aside.

Sprinkle salt and pepper over the meat and let rest for a few minutes.

Heat a non-stick saute pan over high heat and brown the meat on all sides.

Remove the meat to the crock pot.

In the same pan, (no need to clean pan), saute onions and shallots until translucent. Remove from heat.

Add potatoes, sweet potatoes and carrots to meat in crock pot.

In a small bowl, combine chicken broth, red wine, tomato paste, sauteed onions and shallots, and seasoning. Whisk well to combine.

Pour mixture over contents of crock pot. Add up to one cup of water as needed. (The goulash barely needs to be covered, otherwise it will be too soupy.)

Set crock pot to HIGH for 4 hours OR LOW for 8-10 hours.

Serve immediately. (If not serving over Passover, serve over fresh rice or macaroni.)
---
Want to make your Pesach prep easier, your seder table more beautiful, and your kids' happier and busier? Get the printable Pesach bundle today for 75% off the full value! It's full of 30+ cleaning and menu planners, kids' games, coloring pages, and activities as well as cool seder table decorations!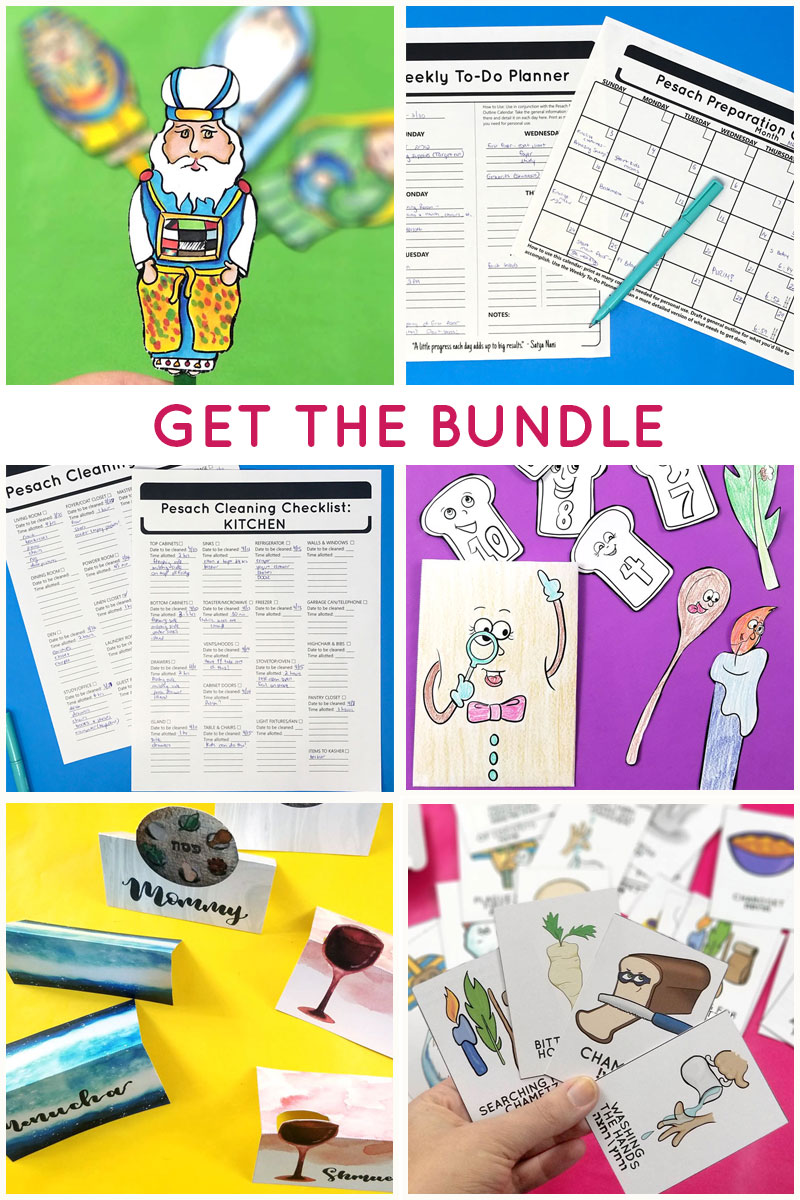 ---

What is your favorite go-to dinner to serve on Chol HaMoed?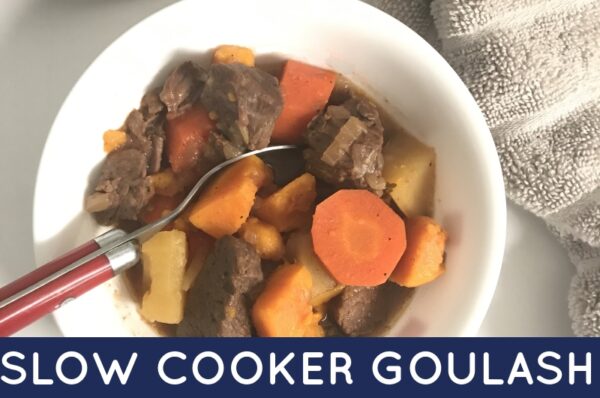 | | |
| --- | --- |
| | |
Spray crock pot insert liberally with cooking spray and set aside.

Sprinkle salt and pepper over the meat and let rest for a few minutes.

Heat a non-stick saute pan over high heat and brown the meat on all sides.

Remove the meat to the crock pot.

In the same pan, (no need to clean pan), saute onions and shallots until translucent. Remove from heat.

Add potatoes, sweet potatoes and carrots to meat in crock pot.

In a small bowl, combine chicken broth, red wine, tomato paste, sauteed onions and shallots, and seasoning. Whisk well to combine.

Pour mixture over contents of crock pot. Add up to one cup of water as needed. (The goulash barely needs to be covered, otherwise it will be too soupy.)

Set crock pot to HIGH for 4-6 hours OR LOW for 8-10 hours.

Serve immediately. (If not serving over Passover, serve over fresh rice or macaroni.)