After developing a host of severe allergies as an adult, I became pretty limited in consuming most produce. Suddenly, I had to learn to improvise when it came to enjoying salads. I needed a great salad recipe for when I had guests, but also wanted to be able to eat it myself as well. So I came up with this crunchy snow pea salad with a delicious, tangy raspberry vinaigrette. Disclosure: this post may contain affiliate links.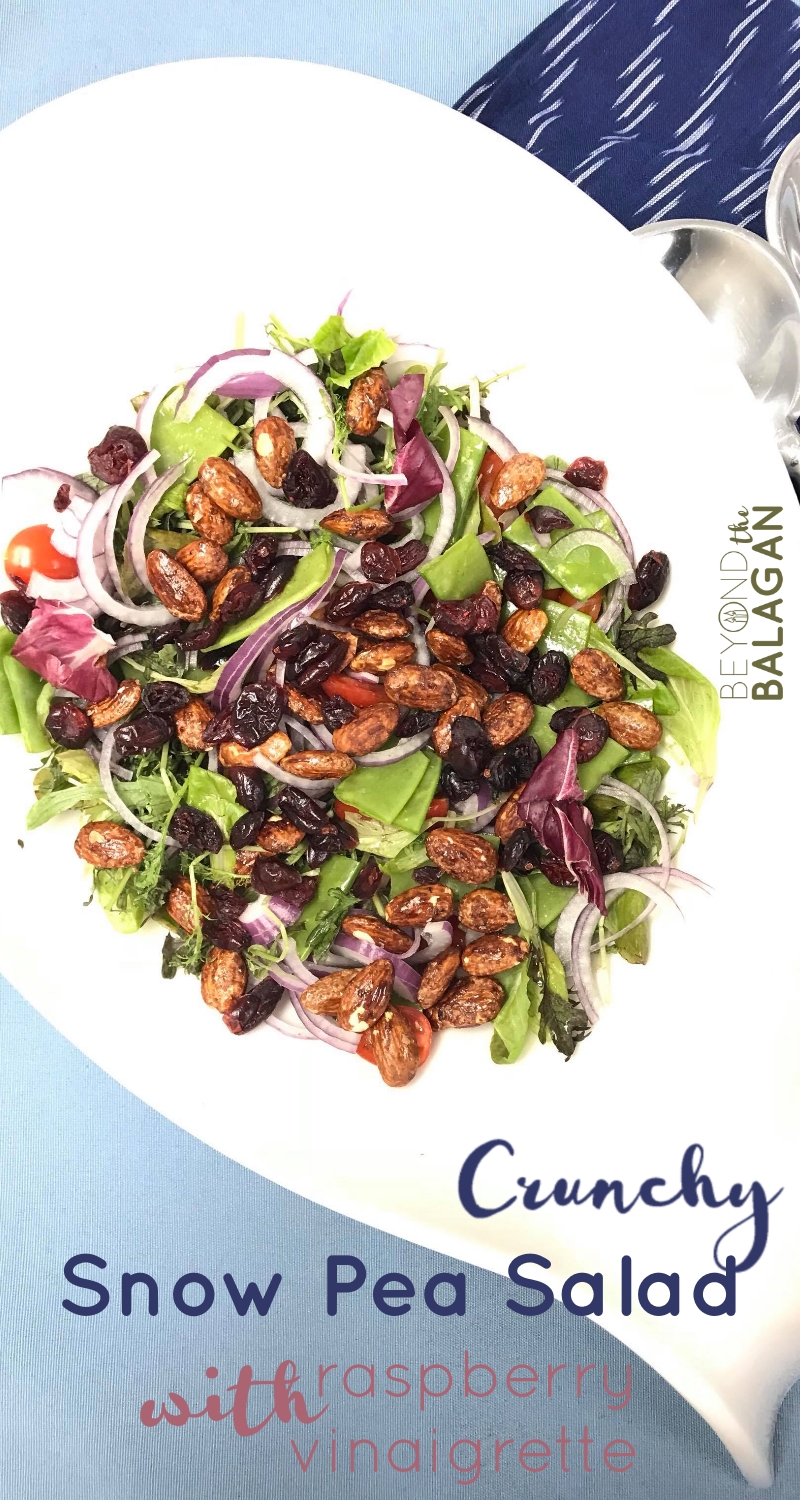 This crunchy snow pea salad definitely has that satisfying crunch. Between the snow peas and the honey glazed almonds, there's both great flavor and great crunchiness in every bite.
I first tried store-bought raspberry vinaigrette around seven years ago as a guest in someone's home. When I came up with this crunchy snow pea salad idea, I knew it would pair well with the tangy sweetness of raspberry preserves and red wine vinegar, so I created a recipe for that as well.
I am very sensitive to eating raw onions, so I wasn't sure if I should put them in or not. I knew they would add a good kick, though so I put them in for my taste testers, and it was a hit. They complement the sweeter ingredients in this salad very well.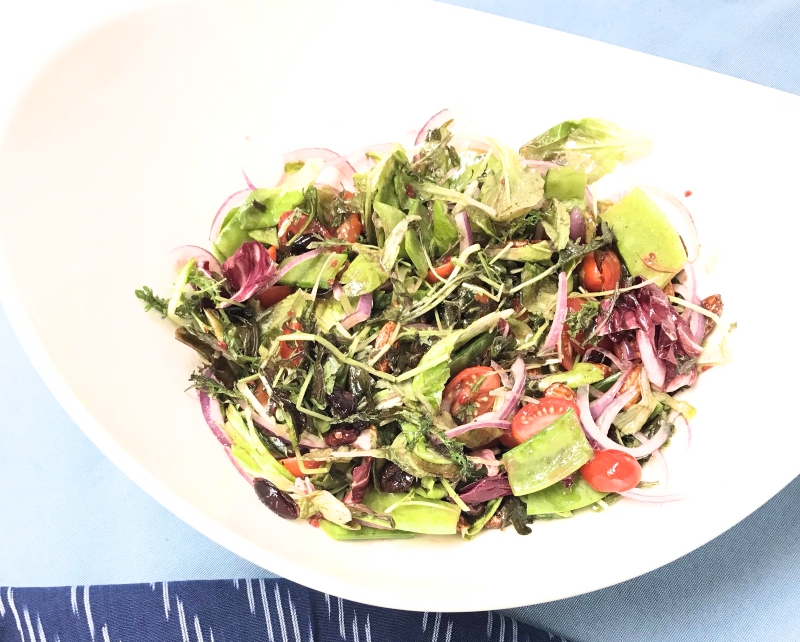 About the Crunchy Snow Pea Salad with Raspberry Vinaigrette
The vinaigrette does last well in the fridge for a few days, and the recipe makes enough for two salads. However, after storing it in the fridge, the dressing should be shaken well to emulsify it before using it.
You'll notice I added "light tasting" to the olive oil part of the recipe. Olive oil does have a strong flavor, and you don't want it to overpower the other ingredients, so I stuck with a very light one. You are welcome to try using other oils, but I haven't tried it that way. I also wrote 1 – 2 tsp of sugar. The dressing needs the sugar, but only add the full 2 teaspoons if you like it very sweet. Personally, I went with about one and a quarter teaspoonfuls.
The salad is best served right away, but it will stay well in the fridge for a few hours. It will stay even longer if you add the dressing and honey glazed almonds only right before serving.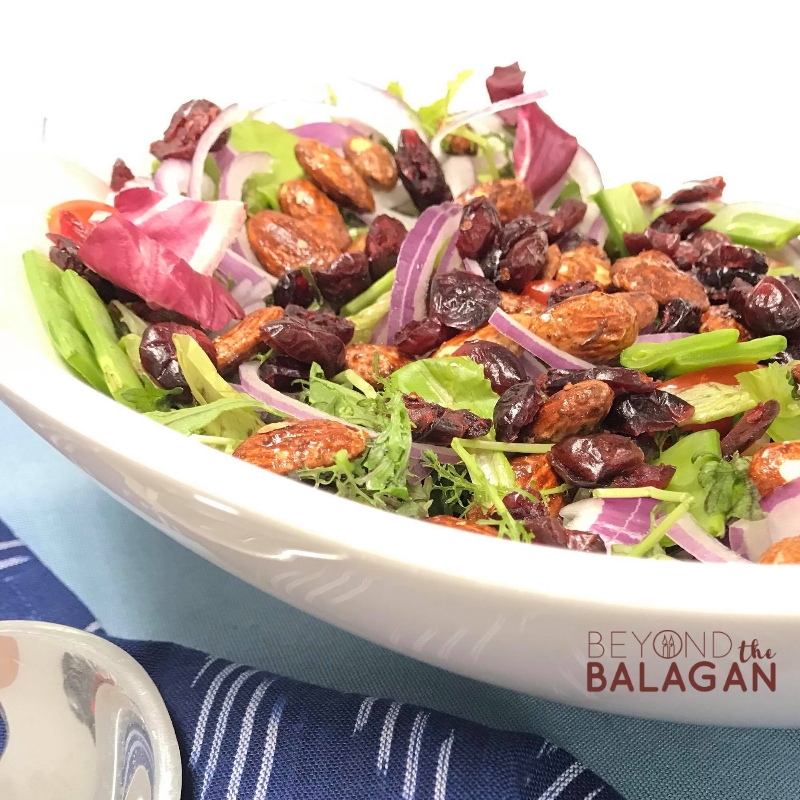 What kind of meal will you be serving this salad with? Comment below!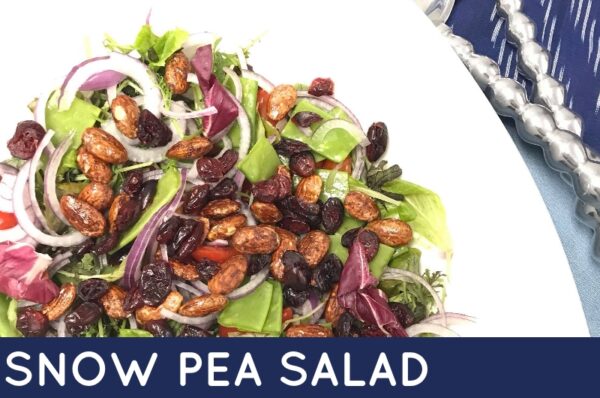 | | |
| --- | --- |
| | |
Combine all salad ingredients, except for honey glazed almonds, in a salad bowl.

Separately, in a small mixing bowl, add all ingredients for the raspberry vinaigrette.

Whisk the dressing ingredients very well to incorporate.

Pour raspberry vinaigrette over salad, and toss.

Add honey glazed almonds on top. Serve immediately.