Learn a few easy peasy origami tricks in this versatile Rosh Hashanah craft for all age groups! Make an origami pomegranate and apple and turn it into a garland – or cards, gift tags, place cards, and more! This post contains affiliate links.
---
With limited time and endless need for ideas, I wanted to make sure I shared with you a Rosh Hashanah craft that's versatile in how you can use it when you're done. I also wanted something that wasn't just for the kids or grown-ups.
Origami is a classic craft that's inexpensive and, once mastered, accessible to a huge variety of age groups. The only ones it's NOT for is the youngest. For them, these coloring pages might be a better bet.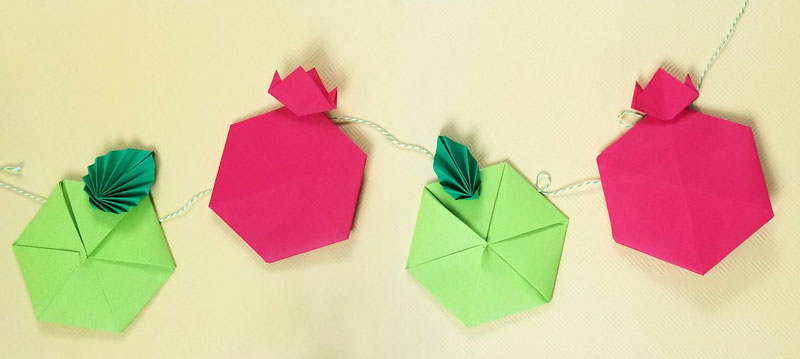 First, master the art of making an origami apple (these are fantastic for back to school too!)
Then, make origami pomegranates (below). The final step, if you want, is to turn it into a fun garland to decorate your home.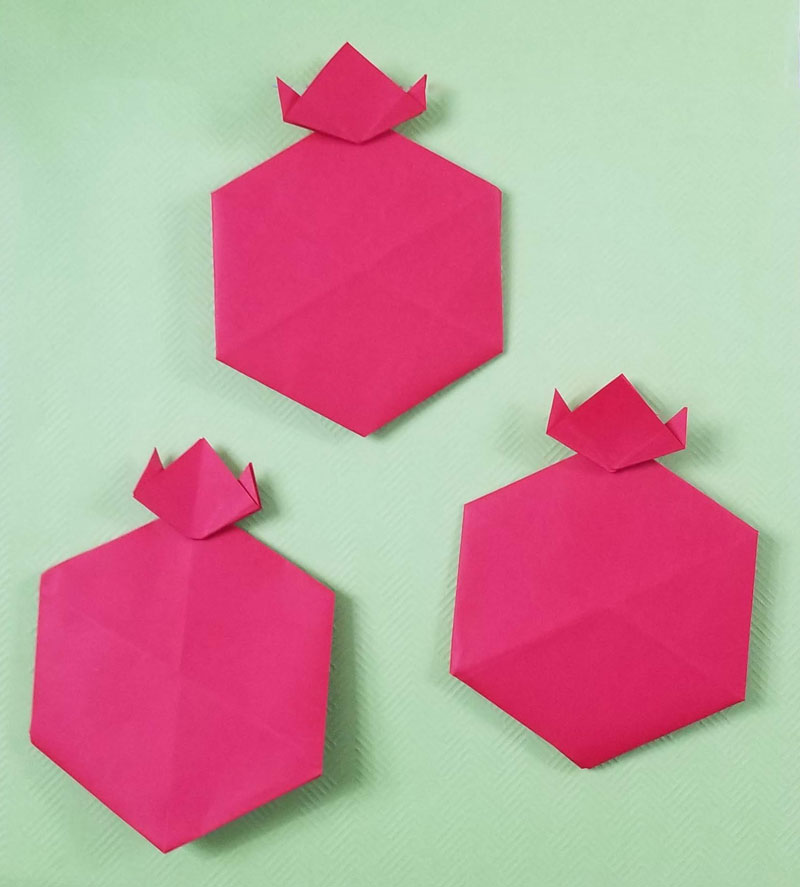 The origami pomegranates and apples are made using two pieces each – it's just much easier than elaborate folds! Both start with a hexagon. On the apple, I made a simple origami leaf as a topper and for the pomegranate, a simple few-step origami crown from scaled-down squares does the trick.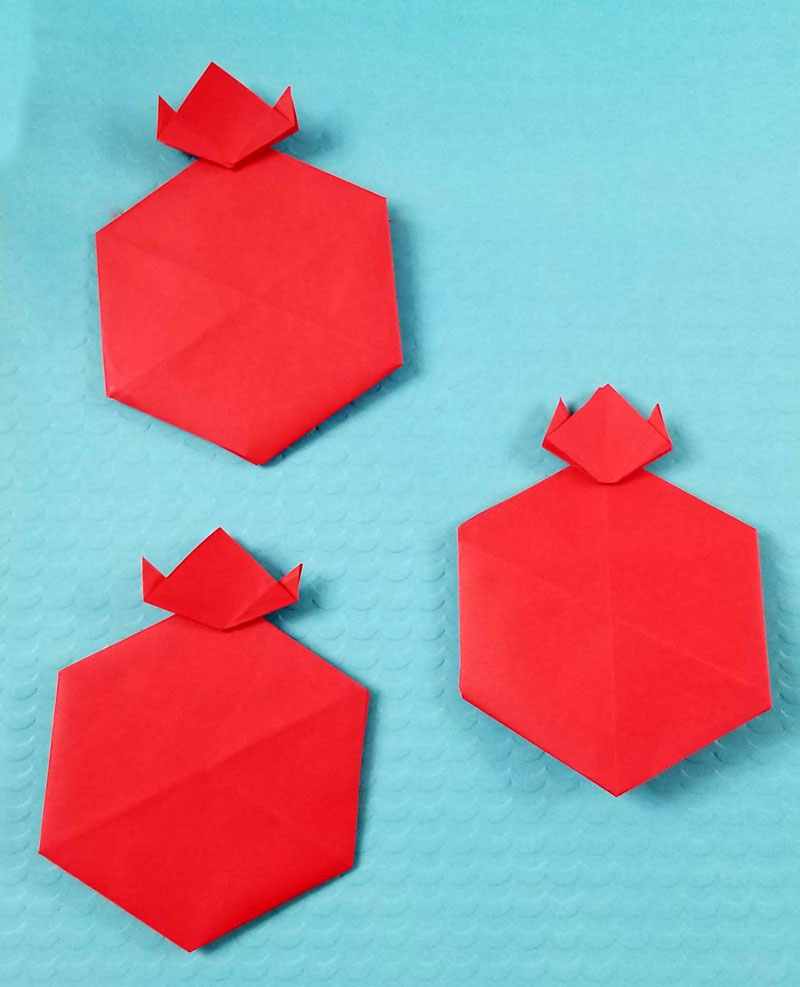 I used plain colored copy paper to make this since the octagon requires a rectangle to start with. You can go a little fancier with cool printed origami paper – just make sure it's big enough so you get the right size when you scale your square down to a rectangle.
What you need for this Rosh Hashanah Craft:
Small red square about 2×2 inches. Mine was made from copy paper by folding up the bottom corner and cutting off the top to measure a square. I then cut my square into four equal parts.
Recommended: bone folder
Glue – I used dimensional adhesive but really any glue would do (glue dots, tacky glue, hot glue). School glue might just need to be held in place until it sets.

How to make this Rosh Hashanah Craft
Watch the video or scroll down for photo instructions:
Origami Hexagon
1. Place your paper vertically on your work surface. Fold it the long way, crease, and unfold to mark the center.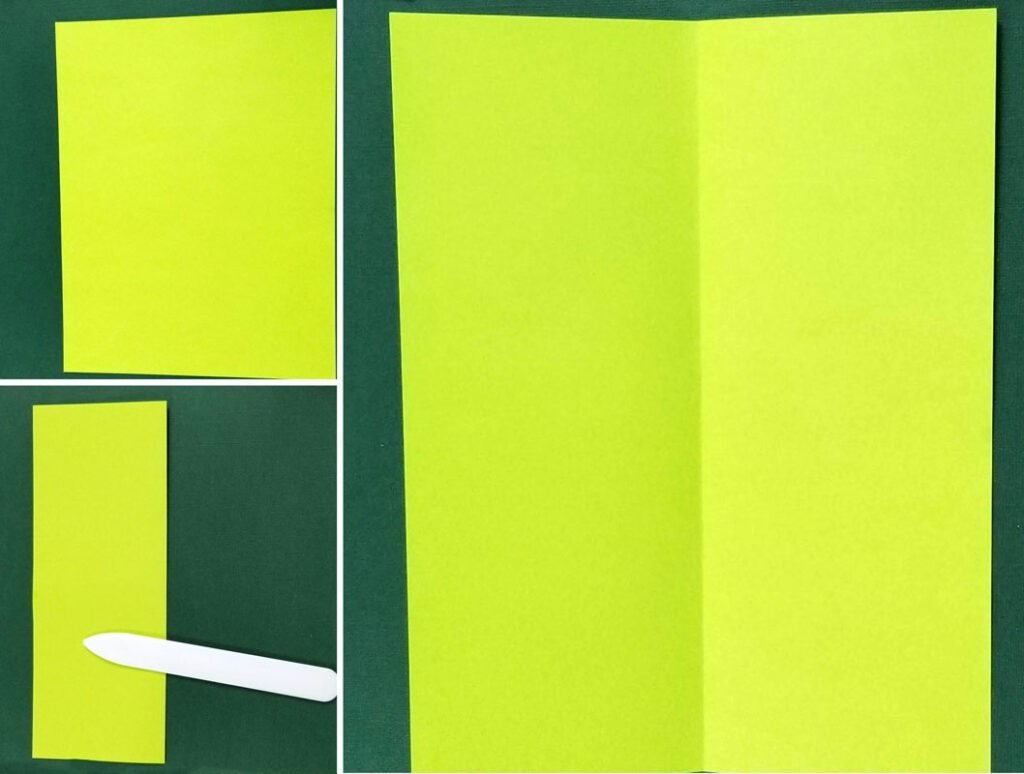 2. Fold from right and left to your center mark and crease.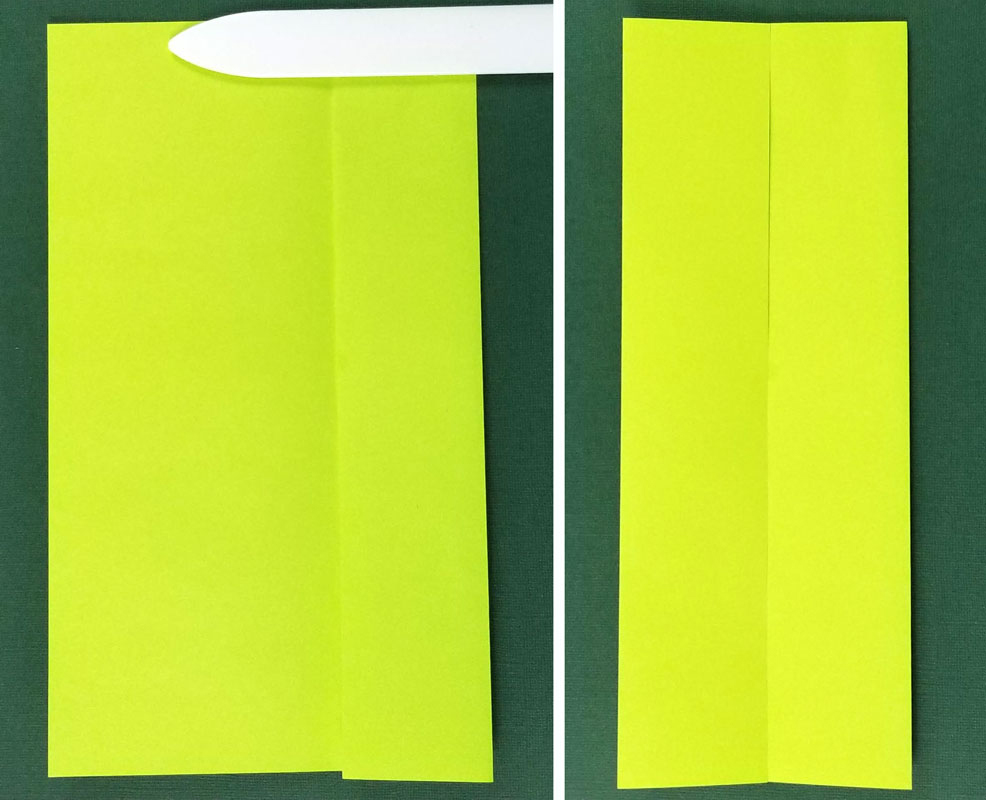 3. Fold your bottom left corner to the center and then open the right flap.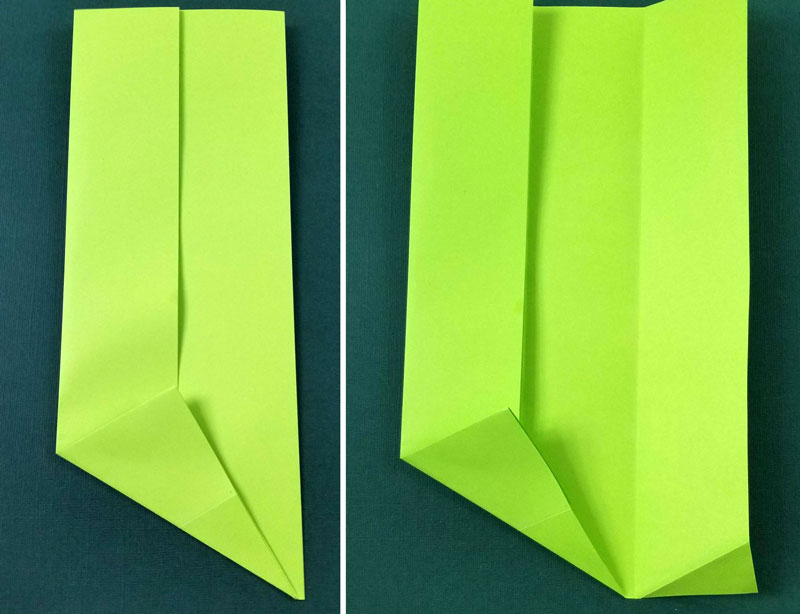 4. Fold up the bottom right corner, so that it meets the center, using your previous folds as your guides. Refold the right flap.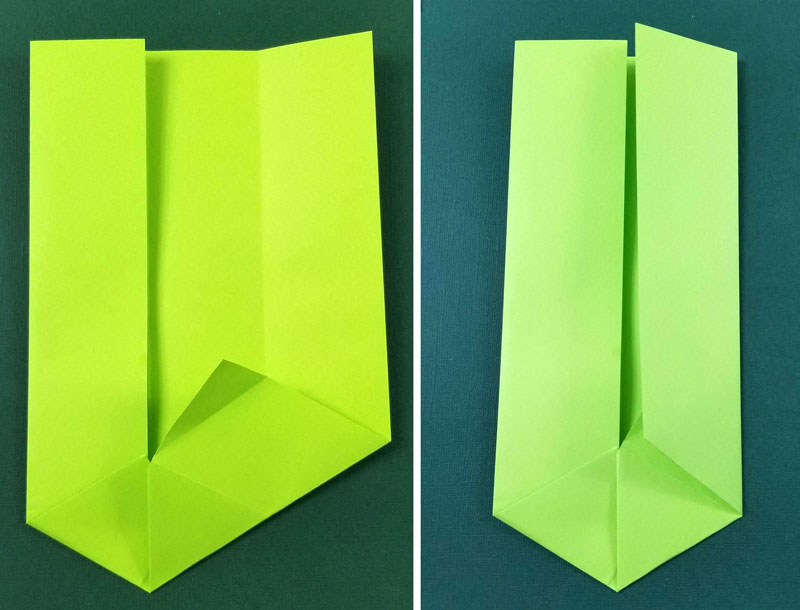 5. Fold up the bottom right so that your bottom left side meets the left side and the bottom right corner meets the center. Unfold. Use this fold as a guide to fold the top of your paper down, angling towards the left.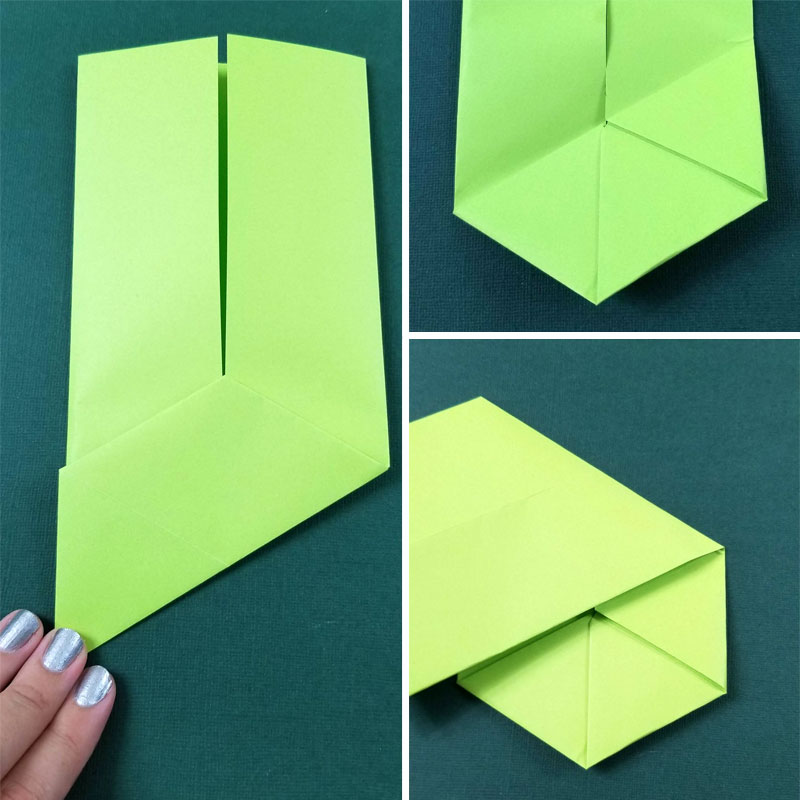 6. Fold the top left down along the fold mark that's already there. Fold that left bit inward to the center. Tuck that little bit of overlap into the pocket that was formed by previous folds. Your origami hexagon is complete!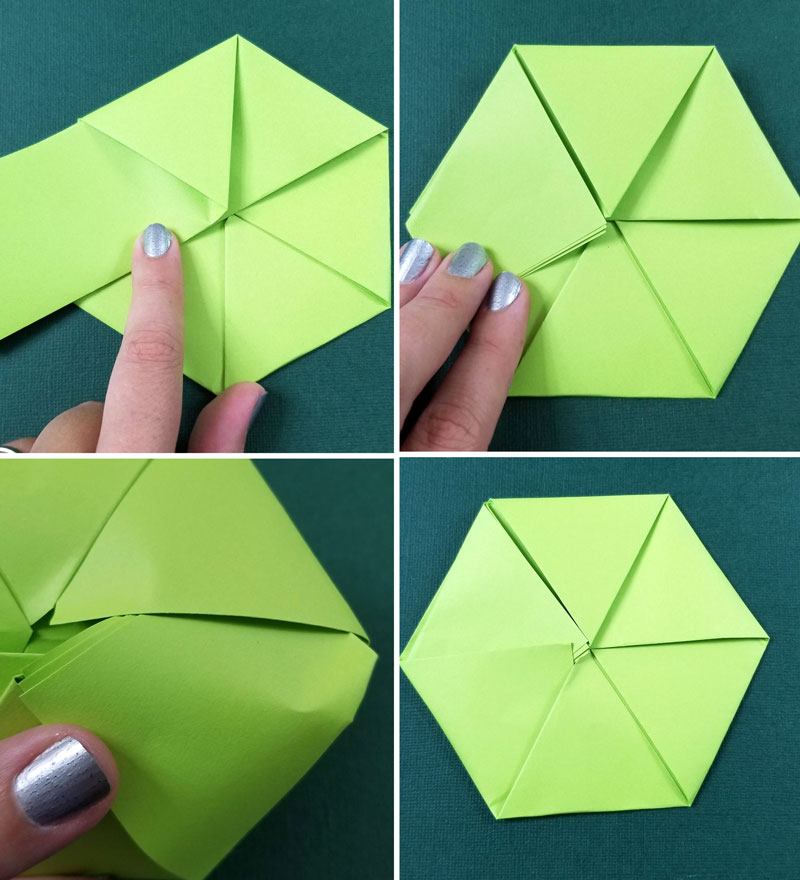 Origami Crown
1. Fold your square on the diagonal to form a triangle.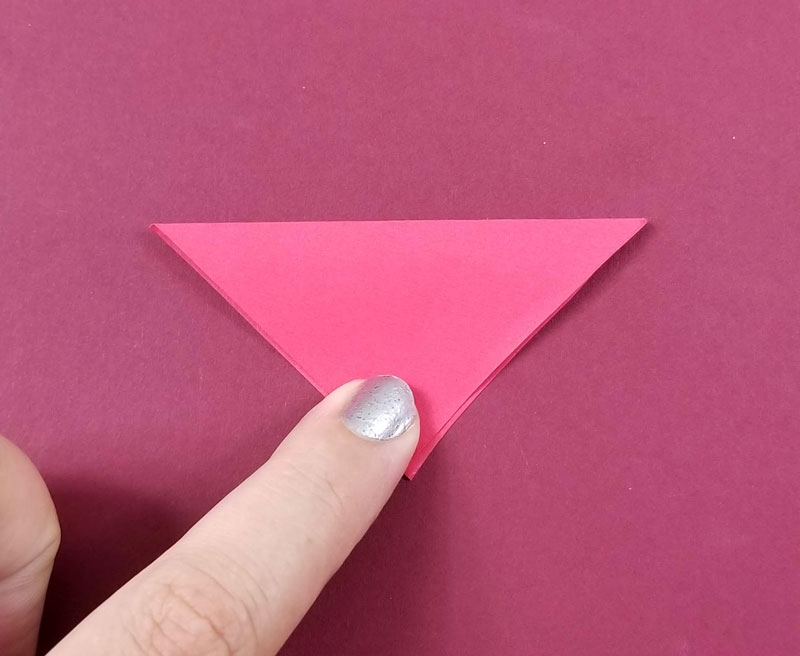 2. Fold your triangle in half the wide way to mark the center and unfold Fold the right corner down to the bottom corner, repeat with the left to form a diamond. Unfold.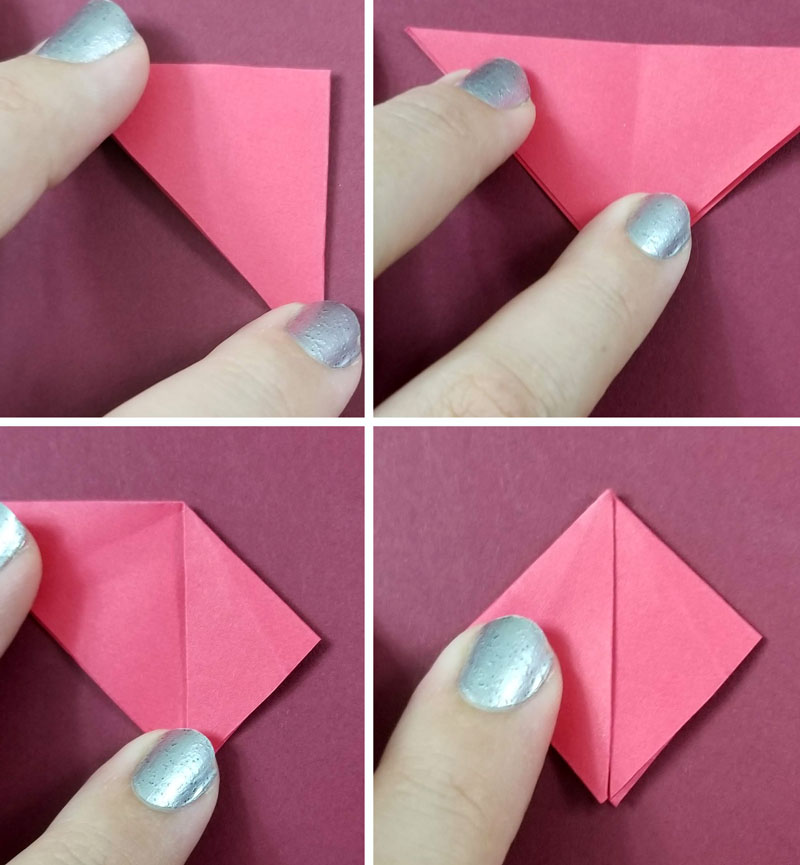 3. If you're working upside down like I was (oops!) flip it right side up now. Fold up your right and left corners to the fold you marked in the previous step.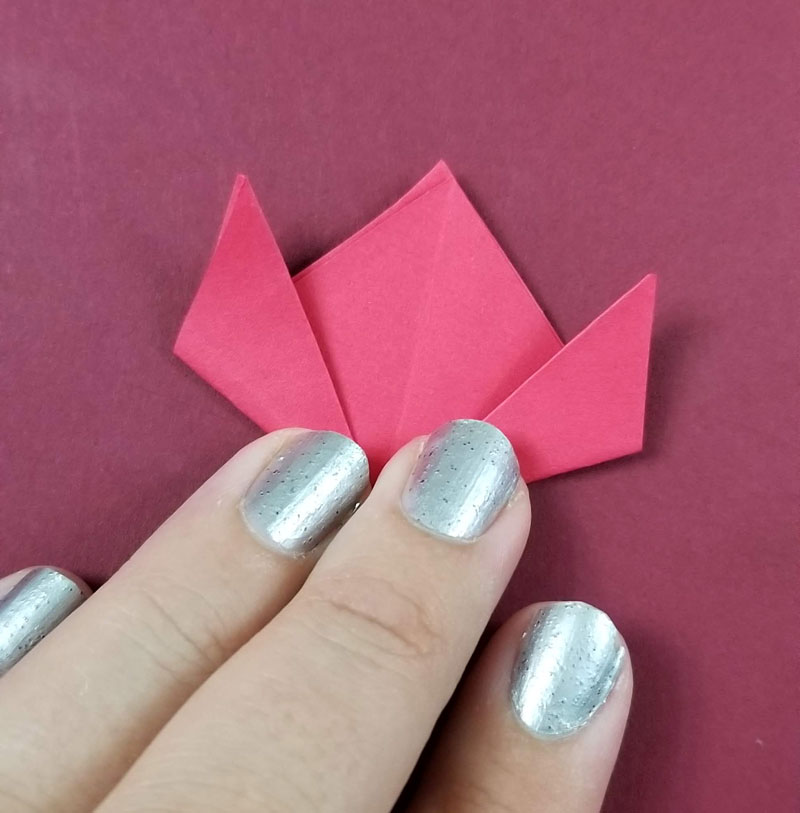 4. You can either secure the folds from the previous step, or invert them so that they stay in place on their own (tuck them in so that they sit between the two layers of the original triangle).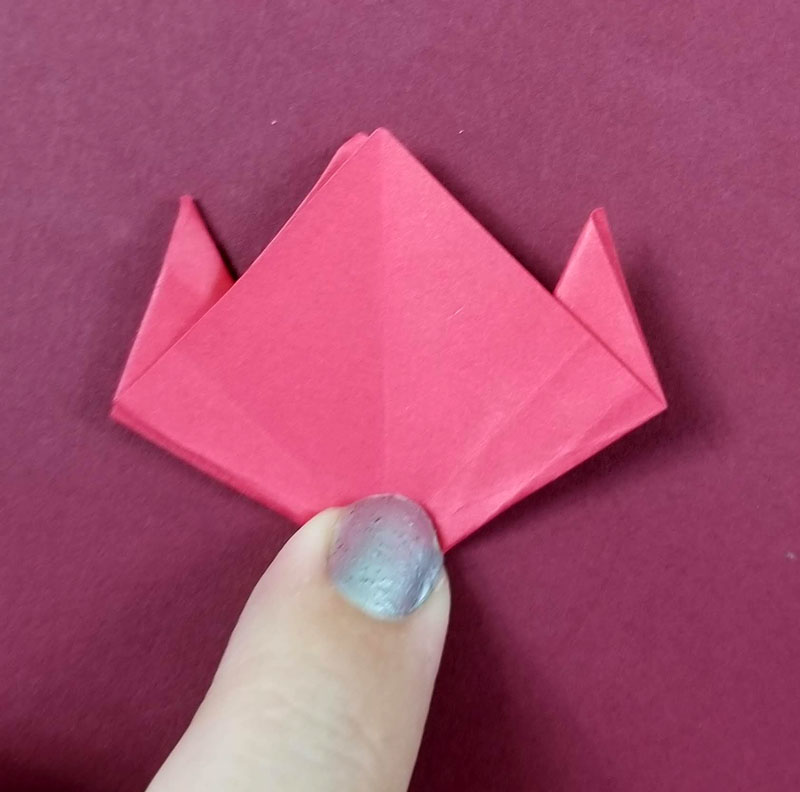 Assembling it into an Origami Pomegranate
Attach the crown to a corner of the hexagon to complete your origami pomegranate. I made the flat side of my origami the front because I liked how it went better with the crown, but you can use either side.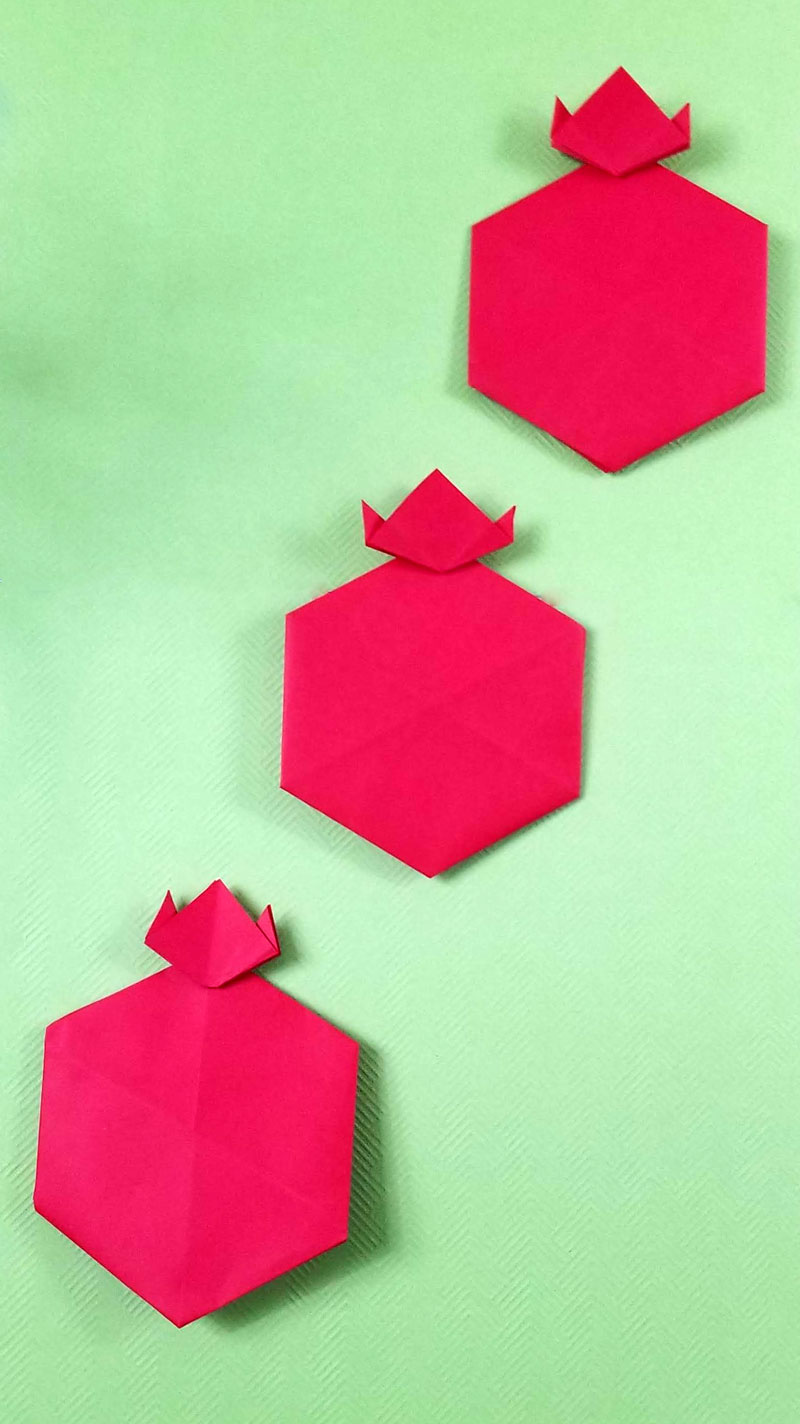 Assembling your Rosh Hashanah Craft and how to use it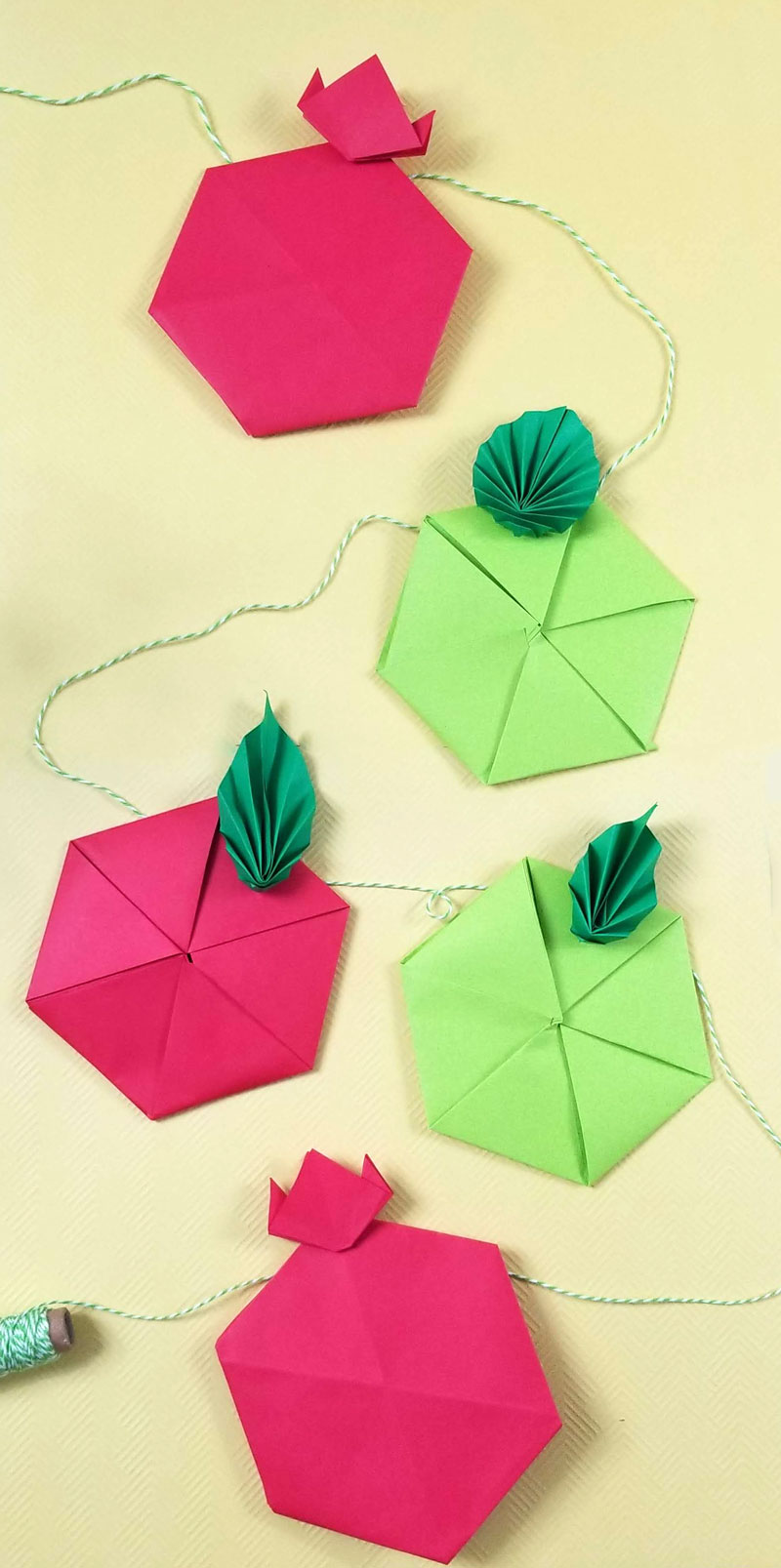 There are many ways you can finish off your Rosh Hashanah craft:
To turn it into a garland, simply tape a string along the backs of alternating pomegranates and apples. Use a strong tape or hot glue to reinforce.
To turn these into place cards, simply hand letter names on the flat surface of the pomegranates. Read up on some brush lettering tips and tricks here.
Turn these into cards! Hand letter or use stickers to write Shanah Tovah on the pomegranates. Glue them onto a card base and write your message inside.
Got anything else to do with this Rosh Hashanah craft? Comment below!
Want to make your Tishrei prep easier, your holiday table more beautiful, and your kids' happier and busier? Get the printable Tishrei bundle today for 65% off the full value! It's full of loads of planners, coloring pages, sukkah decor, as well as cool table decorations and place cards!