I know it's hard to believe, but Tu BeShvat is right around the corner! These beautiful and delicious dried fruit chocolate lollipops are just the thing to get your kids excited! Disclaimer: this post contains affiliate links.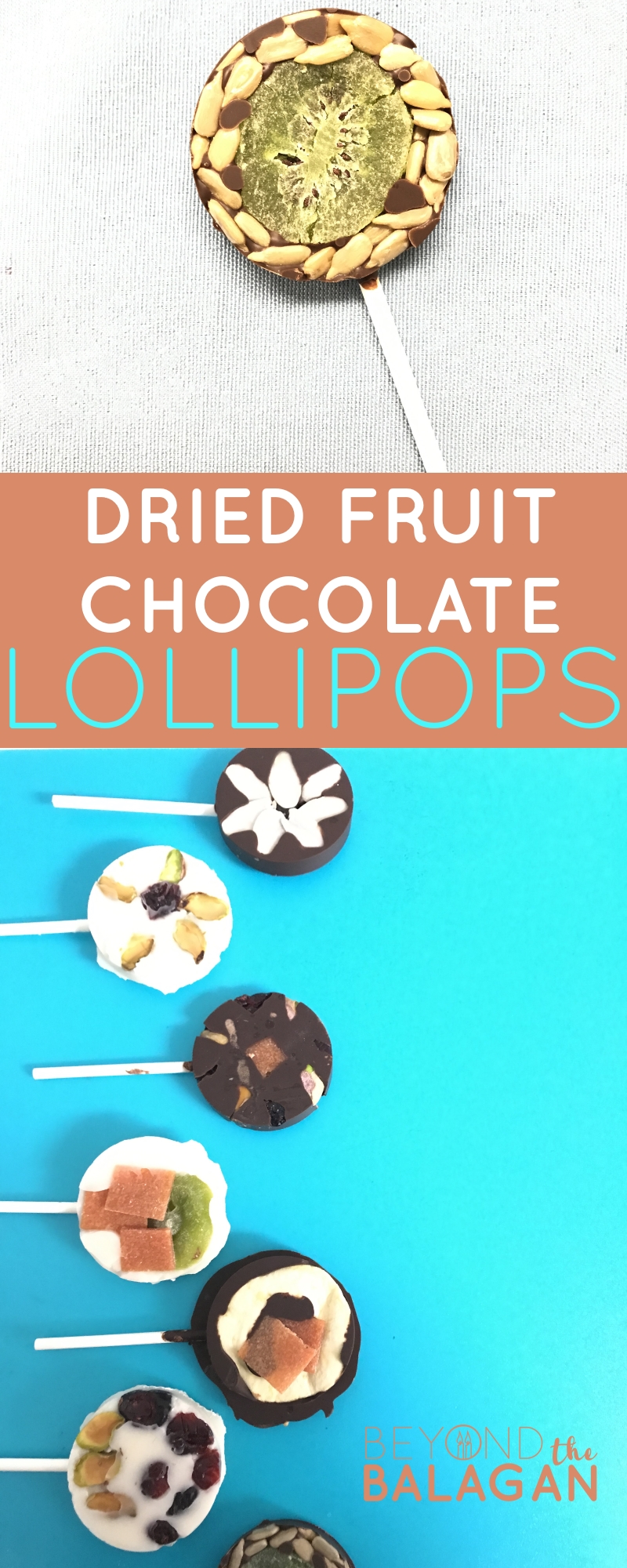 When I was a kid, every year in school we'd get these little baggies filled with dried fruit, mostly unidentifiable. My favorite was actually carob- I kind of loved breaking my teeth on those! Aside from those baggies and some new fruit at dinner that night, there wasn't much to celebrate. There are many Jews that don't even know Tu BeShvat exists, due to how minor of a day it seems.
But I love to get my kids excited about any day we can celebrate, and Tu BeShvat is no exception. I've printed Tu BeShvat coloring pages to start, and made these awesome dried fruit chocolate lollipops and stashed them in the freezer. The lollipops are going to make an exciting dessert for an otherwise average weeknight dinner, and hopefully it will be a springboard for discussion about Tu BeShvat.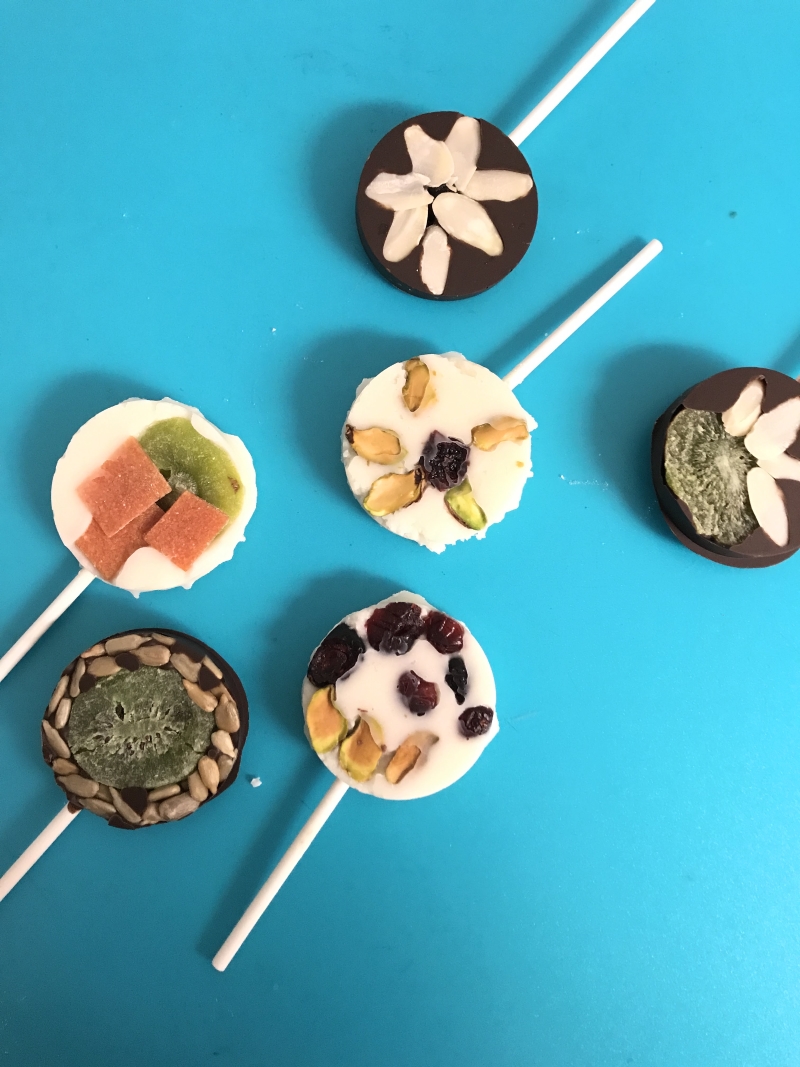 I am actually allergic to a lot of fruit, including certain dried fruit, like kiwi. However, my kids and husband love them, so I went ahead and made these dried fruit chocolate lollipops anyway. Because everything tastes better with chocolate, am I right?
They're super easy to make, and the sky's the limit. Instead of making them like chocolate bark, with randomly placed pieces, I took this a step further and made flowers out of the dried fruit with the chocolate poured right over them. They have even more of a Tu BeShvat feel this way.
I don't love how white baking chocolate melts (or tastes), so I chose to use color melts instead for the white lollipops. For the dark chocolate lollipops, I used really good quality chocolate chips.
Items you will need to make Dried Fruit Chocolate Lollipops:
Food you will need to make Dried Fruit Chocolate Lollipops:
good quality chocolate chips or baking chocolate
candy melts in any color
assorted dried fruits, like kiwi, apricots, craisins, guava, apples etc.
assorted nuts and sees, like sliced almonds, pumpkin seeds, pistachios etc.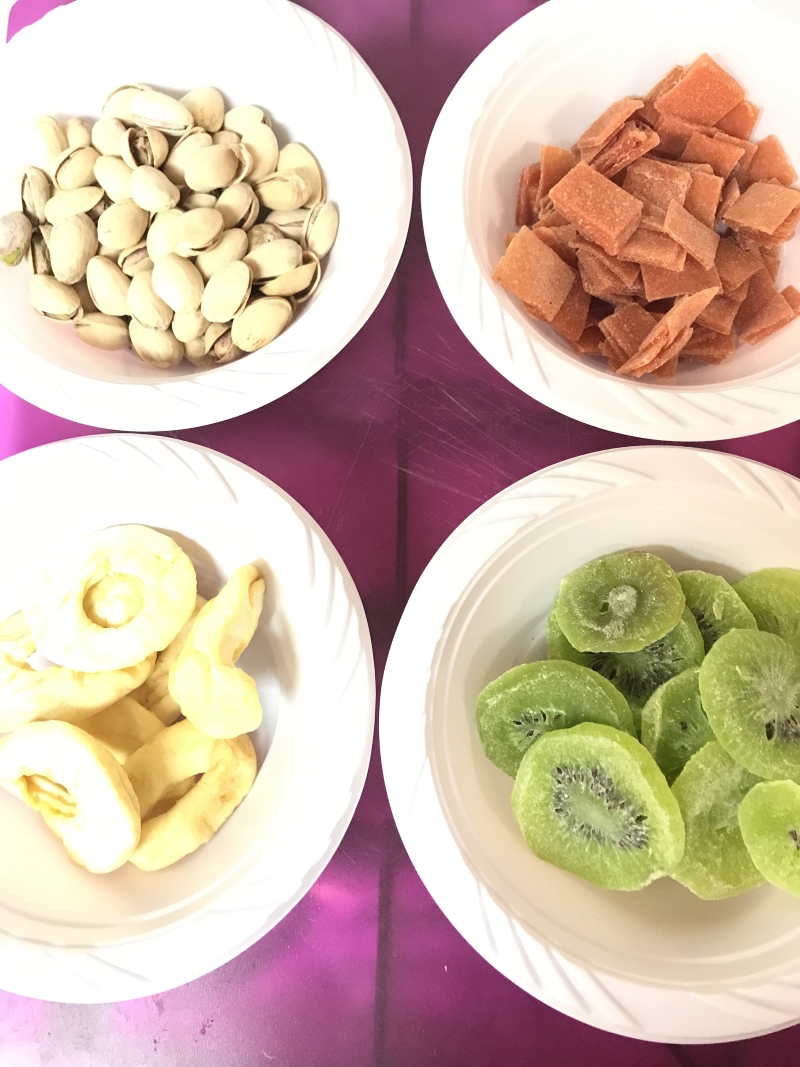 How to make Dried Fruit Chocolate Lollipops:
1. Make sure your molds are clean and dry. Pick an assortment of nuts/seeds and fruit. Arrange them in the molds as desired, either in a flower shape or stripes, or a different pattern of your choosing. Place them randomly if you just want a chocolate bark effect. You can use food tweezers to help you arrange the layout as desired.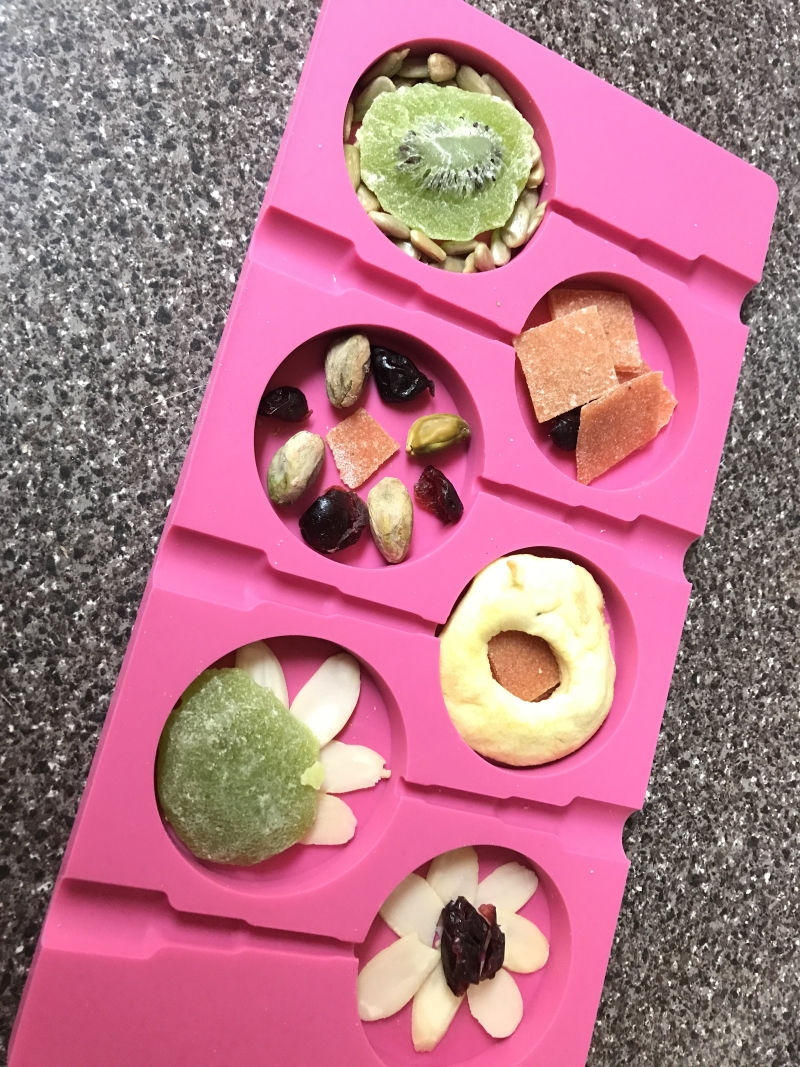 2. Melt the chocolate in a double boiler. Make sure the pot is very dry before you put the chocolate in. If you are melting the chocolate in the microwave, do so in 45 second intervals to ensure that the chocolate doesn't burn or clump.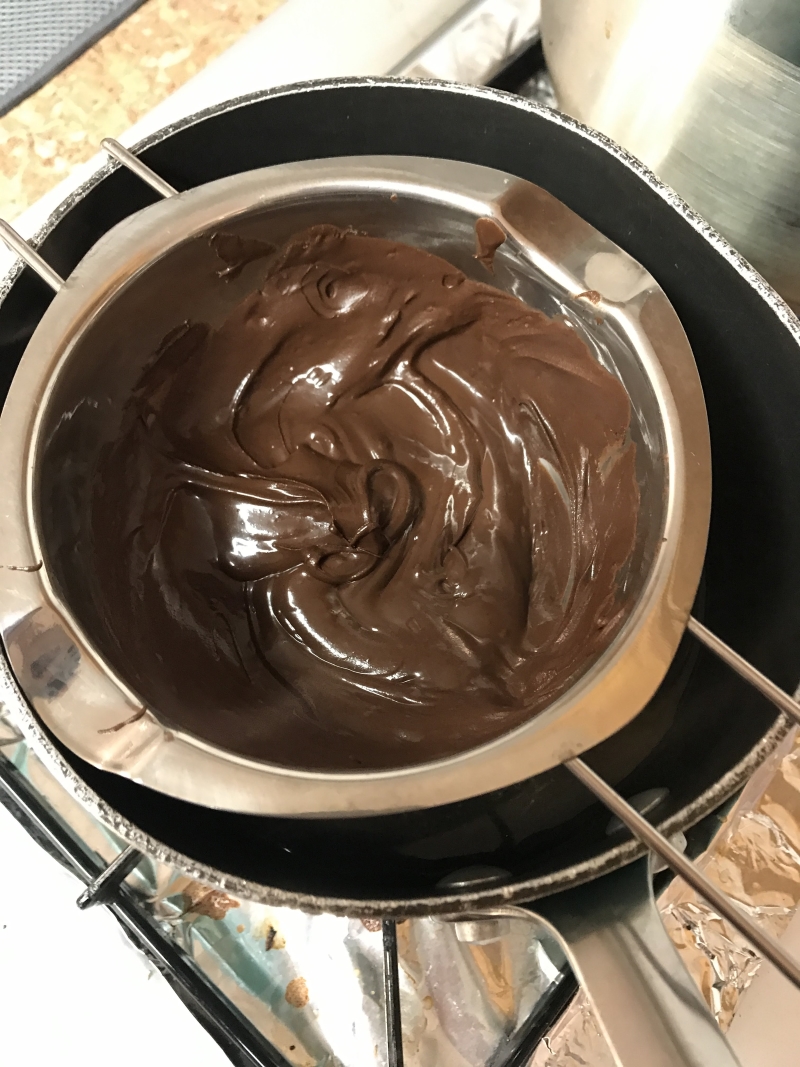 3. While the chocolate is hot, carefully spoon it over the dried fruit in the molds. Do this very slowly and gently, so as not to disturb the dried fruit arrangements.
4. Put the lollipop sticks into the molds, covering at least half of the chocolate rounds. Use a little melted chocolate to cover the part of the stick inside the round.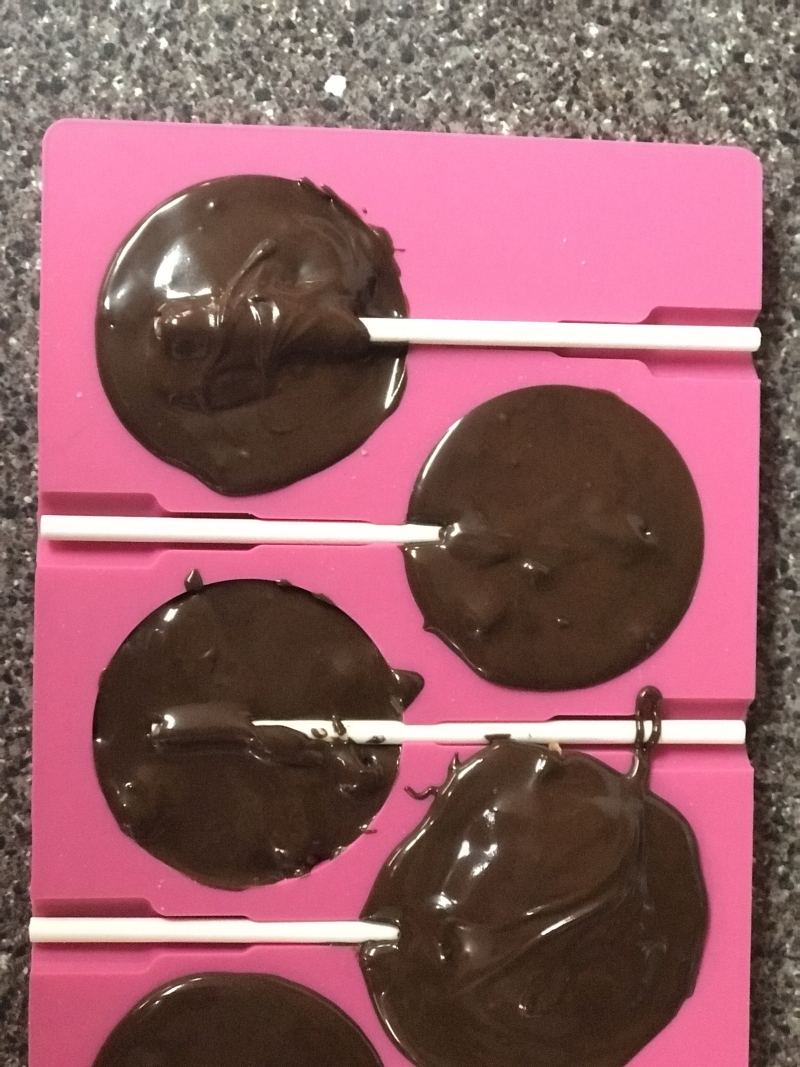 5. Tap the mold against your surface gently for all the chocolate to smooth and set in place. Place the molds in the freezer for 35-40 minutes until hardened.
6. Remove the molds from the freezer. Gently pop them out of the molds. Repeat if desired, either in a different color or just to make more!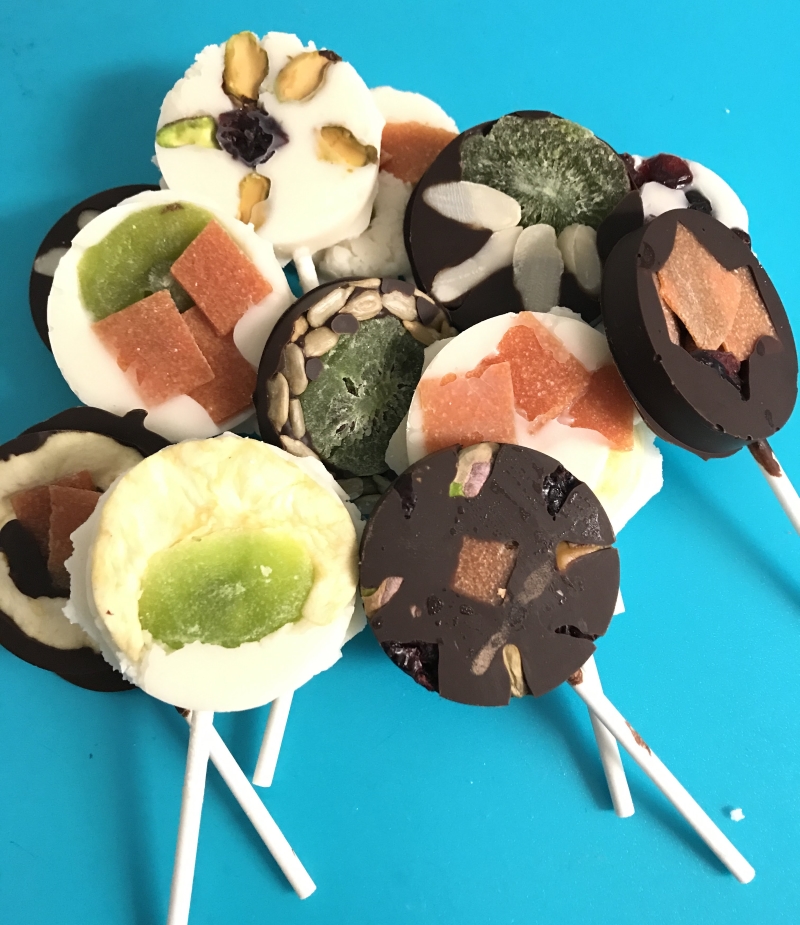 7. Serve and enjoy! These lollipops will hold up well in the freezer for a few weeks if you're making them in advance. Wrap each one individually in cling wrap and place them all into a large freezer bag, to serve at a later date.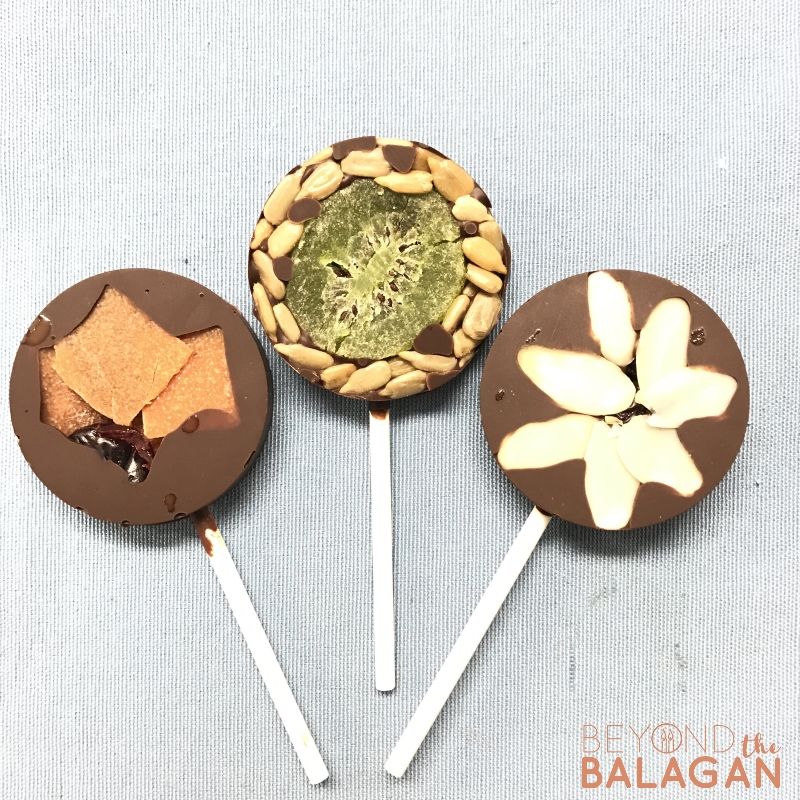 How do you celebrate Tu Beshvat? Let us know in the comments!