This pomegranate doodle art activity is a fun way to make DIY sukkah decorations and a fabulous Rosh Hashanah or Sukkot craft for older kids and teens! This post contains affiliate links.
---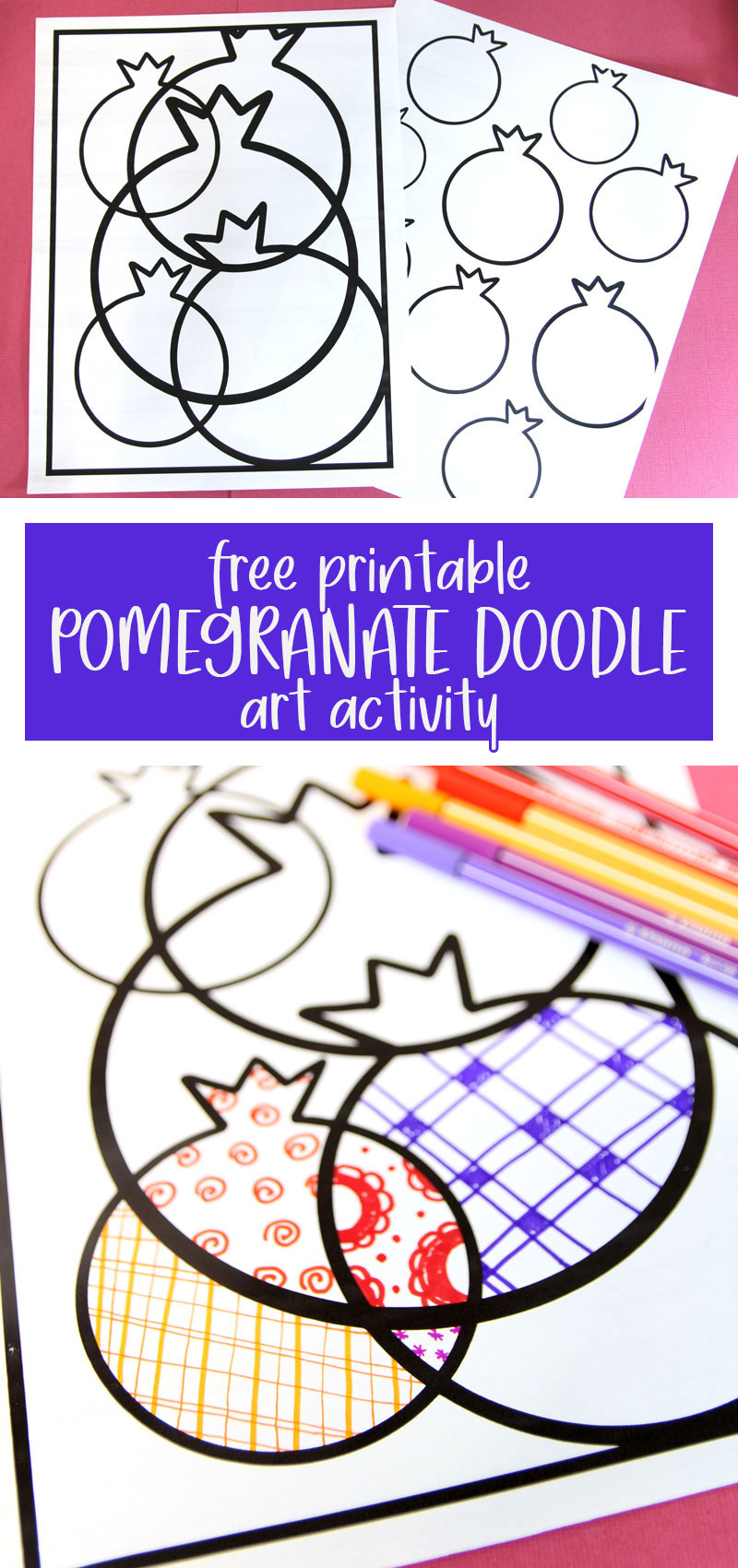 To celebrate Rosh Hashanah, the Jewish New Year and High Holidays, we eat pomegranates. The plentiful seeds inside are meant to be symbolic of our good deeds and blessings.
Overall, pomegranates have become symbolic of arguably the most important holiday season for practicing Jews – in competition only with Passover. (Hanukkah doesn't even rank.)
So this year, as I work on filling my Etsy shop, it's all about the pomegranates! And I therefore illustrated a bundle of six pomegranate coloring pages for adults.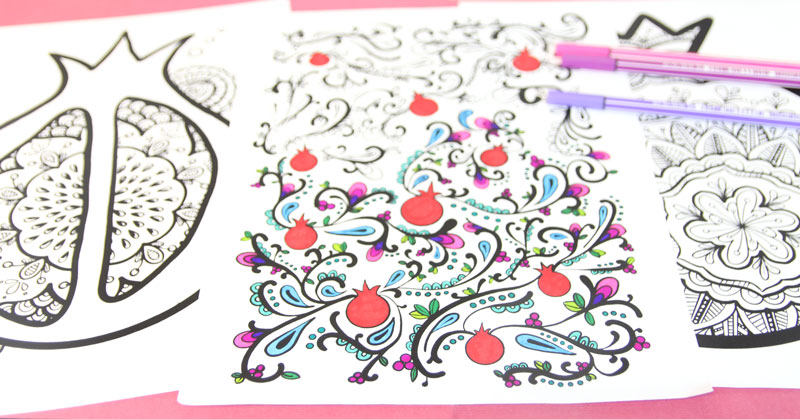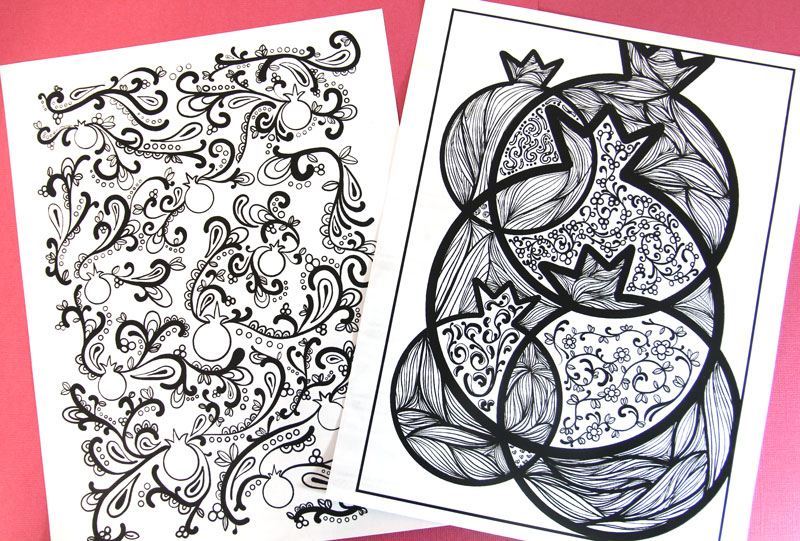 But as I was illustrating, I created two "blank templates" for myself to use. And then it occurred to me: why not offer them as a free printable pomegranate doodle art activity here on the blog? These are perfect doodle templates for anyone to enjoy.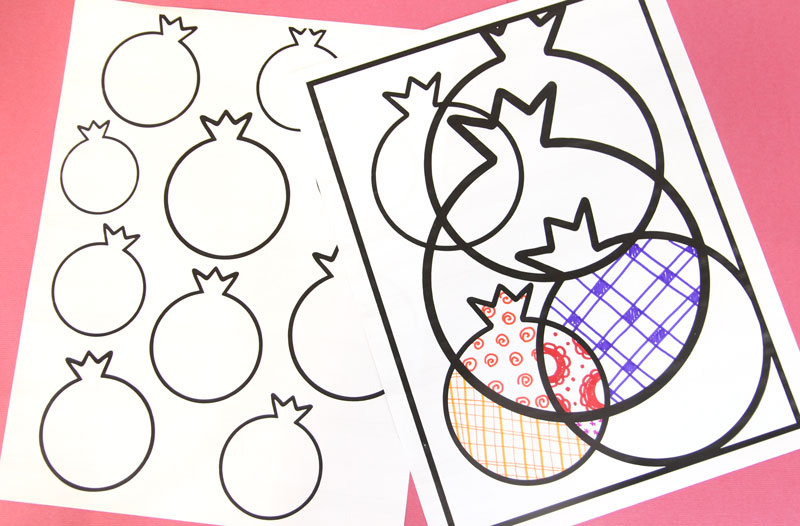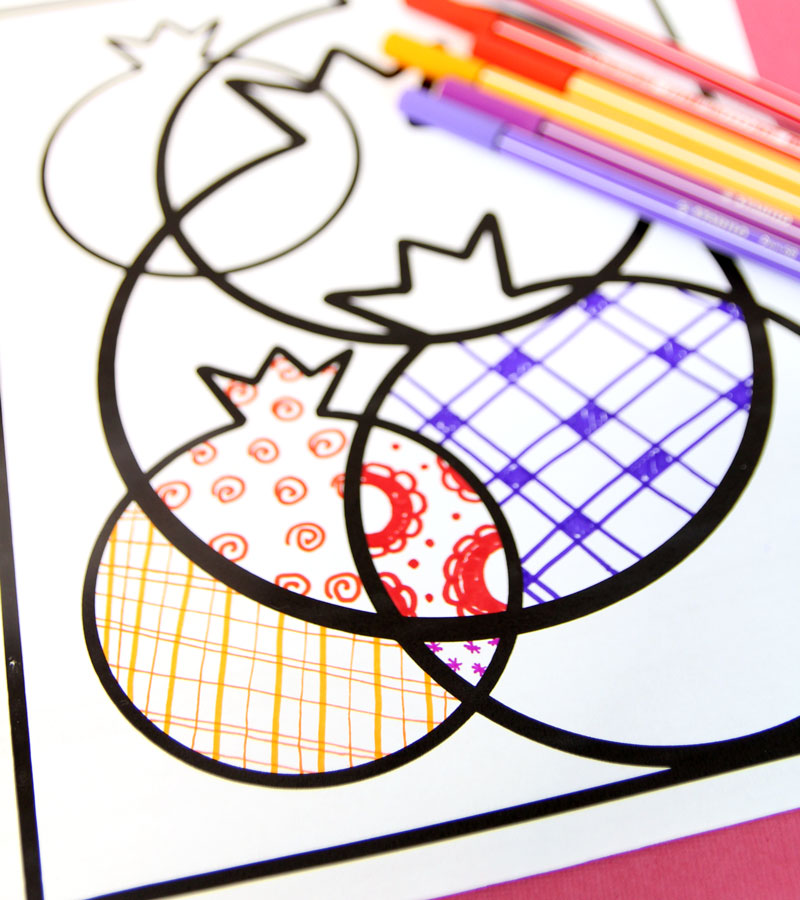 I love encouraging creativity, but especially in tweens and teens and this is perfect for them! Why should I hand you an almost finished product if I can show you how to make your own?!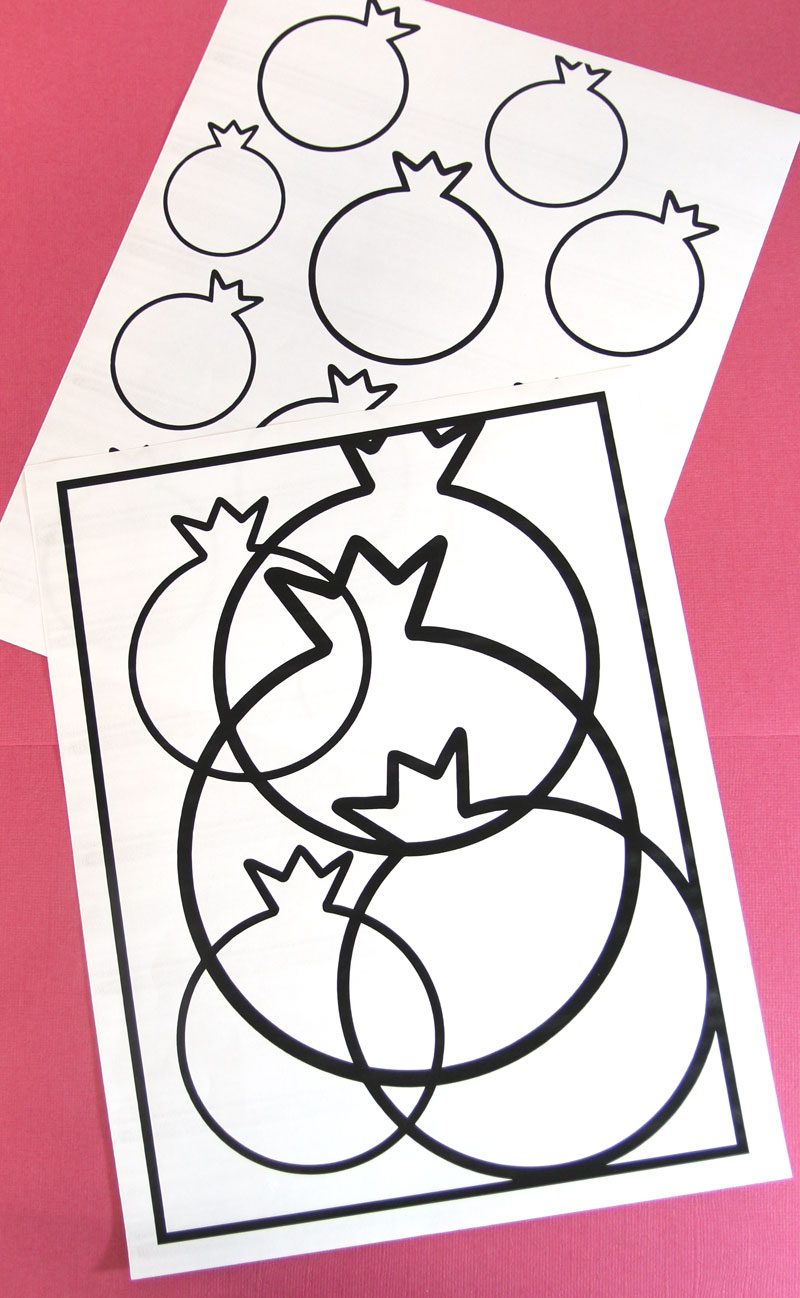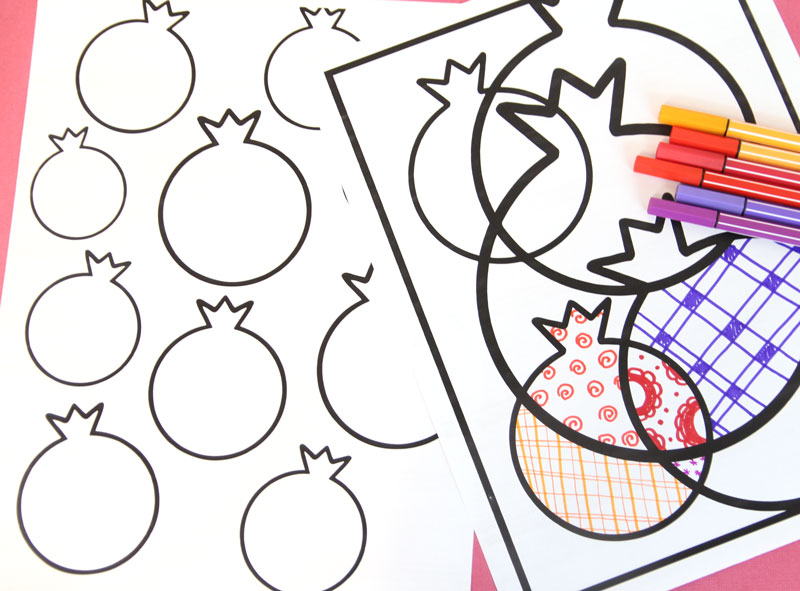 How to create your own pomegranate doodle art
The doodle art template comes with two styles of pages. One is a "stained glass" look with overlapping pomegranates. One has small, separate pomegranates to fill in with patterns.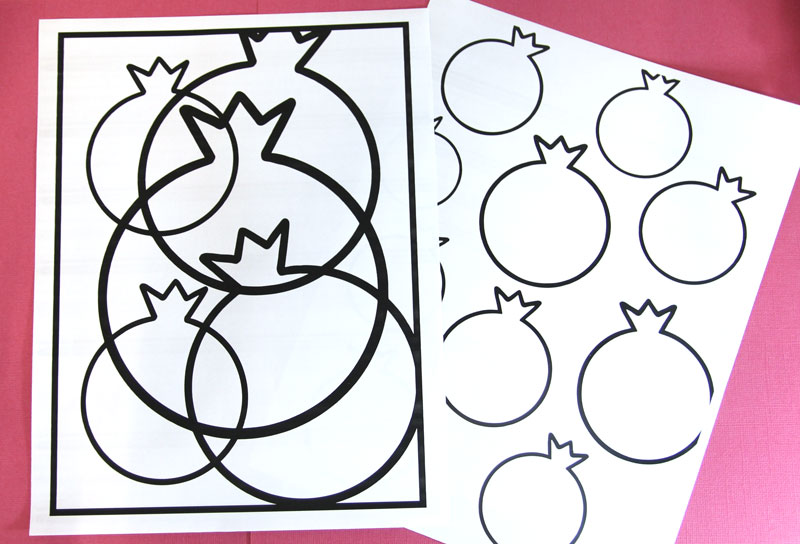 Tip: as you can see mine is cut off at the ends! When you print, choose the "fit to page" option (or whatever your printer calls it. This will make sure that it's not cut off if you don't have edge-to-edge printing.
Pomegranate doodle art makes a fabulous DIY Sukkah decoration! It's a low-key activity that can be presented in a classroom to early finishers. It can be stopped and started and completed at home. It's relaxing and mindful.
Print it on cardstock for use in the Sukkah and laminate it when it's complete.
Print it on paper if you're doing it just for fun.
Simply take your favorite markers for doodling and fill in the spaces with different patterns! You may want to look around the room for pattern inspiration. Are there any patterned items? Can you whittle that down to a few lines and recreate something similar? Is there anything that's arranged to form a pattern? What about the top-view of your markers? You can even stick to different arrangements of colored stripes if you're not feeling artsy.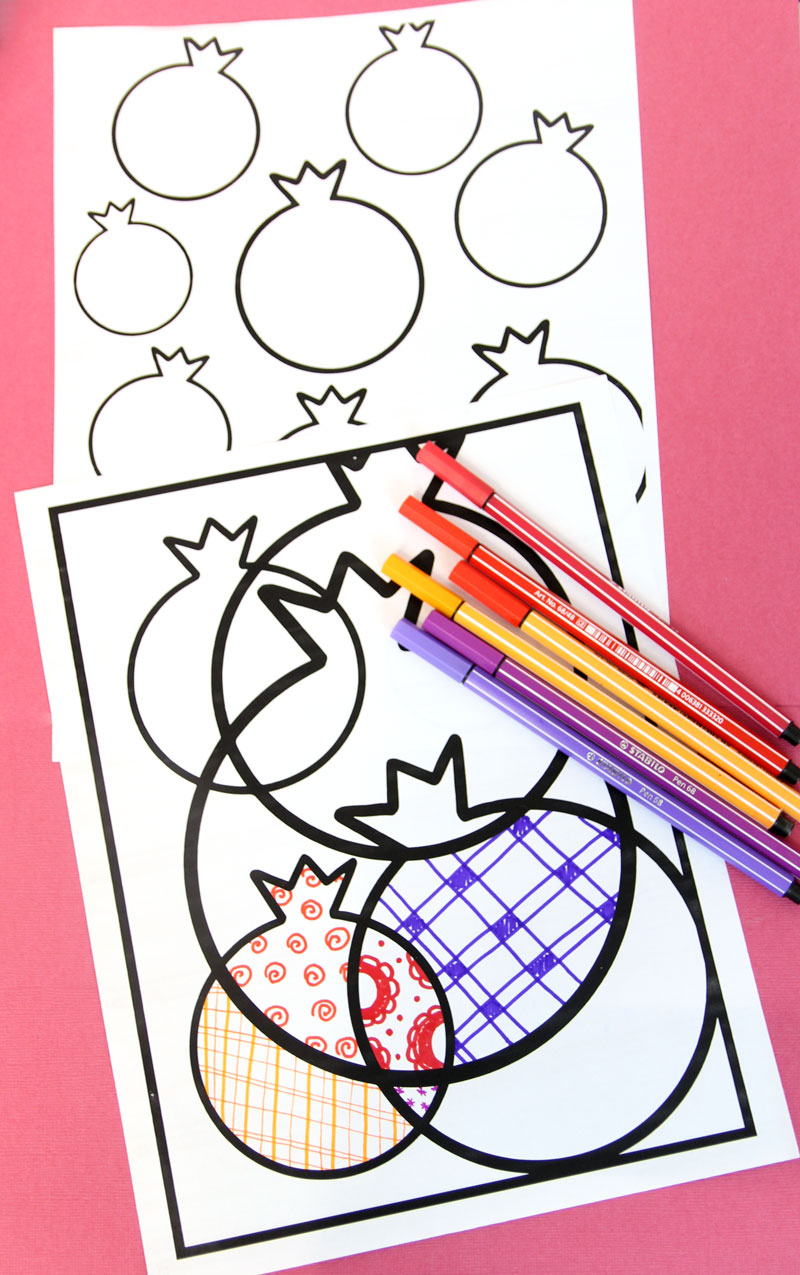 Download the free printable pomegranate doodle art templates
Download your free template! It'll arrive right in your inbox. By downloading, you're subscribing to our FREE newsletter with updates on cool printables like this, ideas to simplify Jewish life, and more. Unsubscribe at any time at the bottom my emails. I respect your privacy and the law, and won't share or sell your email address.
Want the coloring pages that started it all? Six complex coloring pages are relaxing and mindful to fill in! And they make fabulous Sukkah posters too!
Want to make your Tishrei prep easier, your holiday table more beautiful, and your kids' happier and busier? Get the printable Tishrei bundle today for 65% off the full value! It's full of loads of planners, coloring pages, sukkah decor, as well as cool table decorations and place cards!
Which markers are my favorite for doodling
Presenting kids with great coloring supplies is a great way to encourage creativity. Here are a few favorites: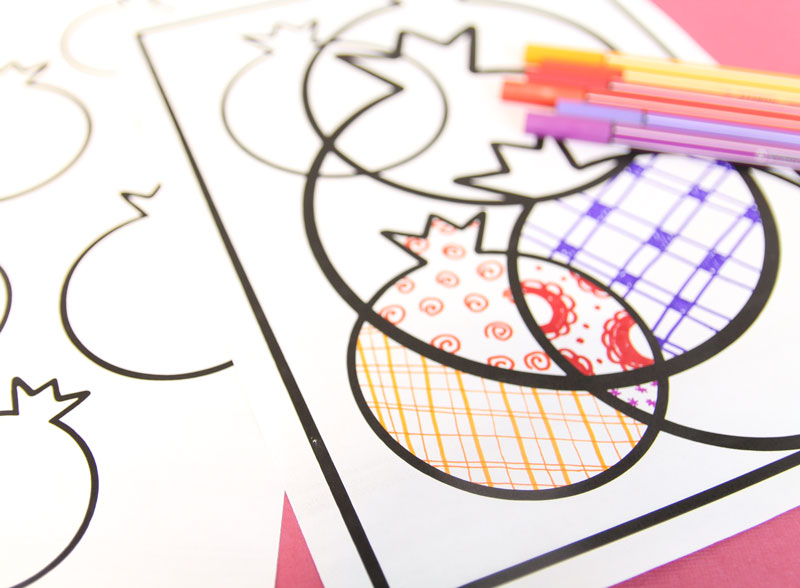 What will you be doing with this pomegranate doodle art activity? Will you be using it as a sukkah decoration? Comment below!