These pomegranate coloring pages are perfect for Rosh Hashanah – or any time you want to color pretty pomegranates! If you love this, check out my free Rosh Hashanah coloring page for kids too! This post contains affiliate links.
---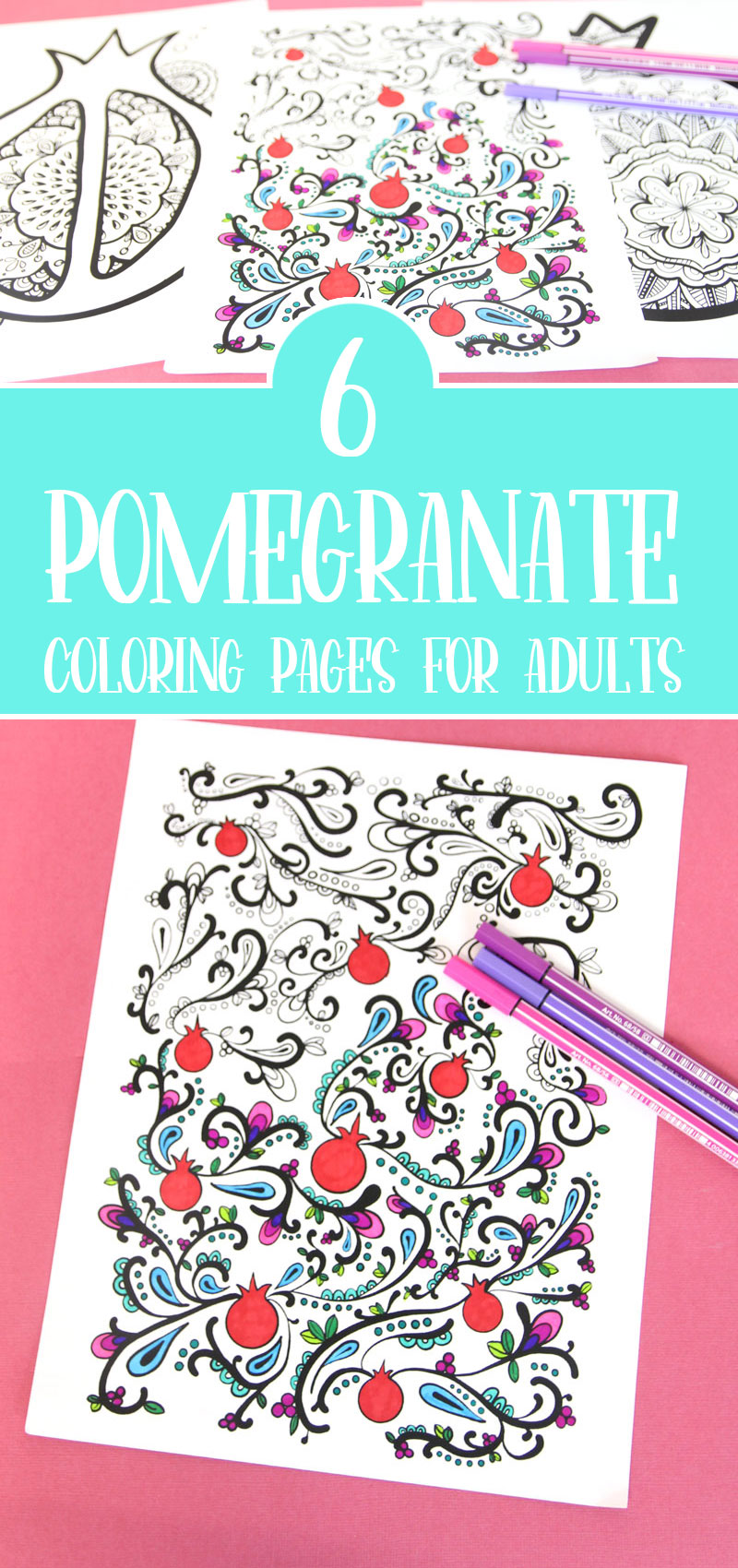 While I've had a pretty set of overall Tishrei adult coloring pages in my Etsy shop for a while (and it's included in our Tishrei bundle too), I wanted one that was prettier, and focused on pomegranates.
I decided to illustrate a bundle of six pomegranate coloring pages for adults – that are perfect for big kids too!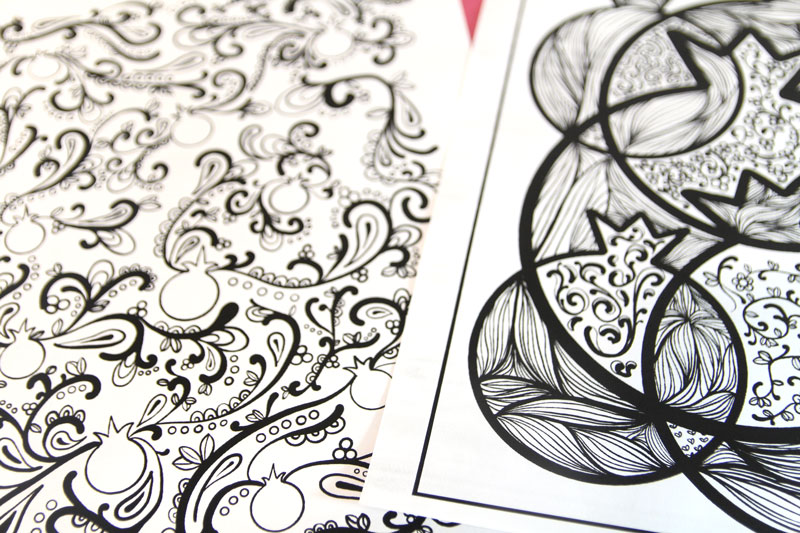 These pomegranates were illustrated on my Surface Pro using a Surface Pen. That means that it was hand illustrated (not created from clipart or digitally rendered) directly onto my laptop.
To color my sample, I used Stabilo Pen 68 markers. I love them because they have a rich, even color. They're also a fabulous size for these adult coloring pages. The tip is fine enough for detailed work but it's thick enough that it's not annoying to fill in small spaces.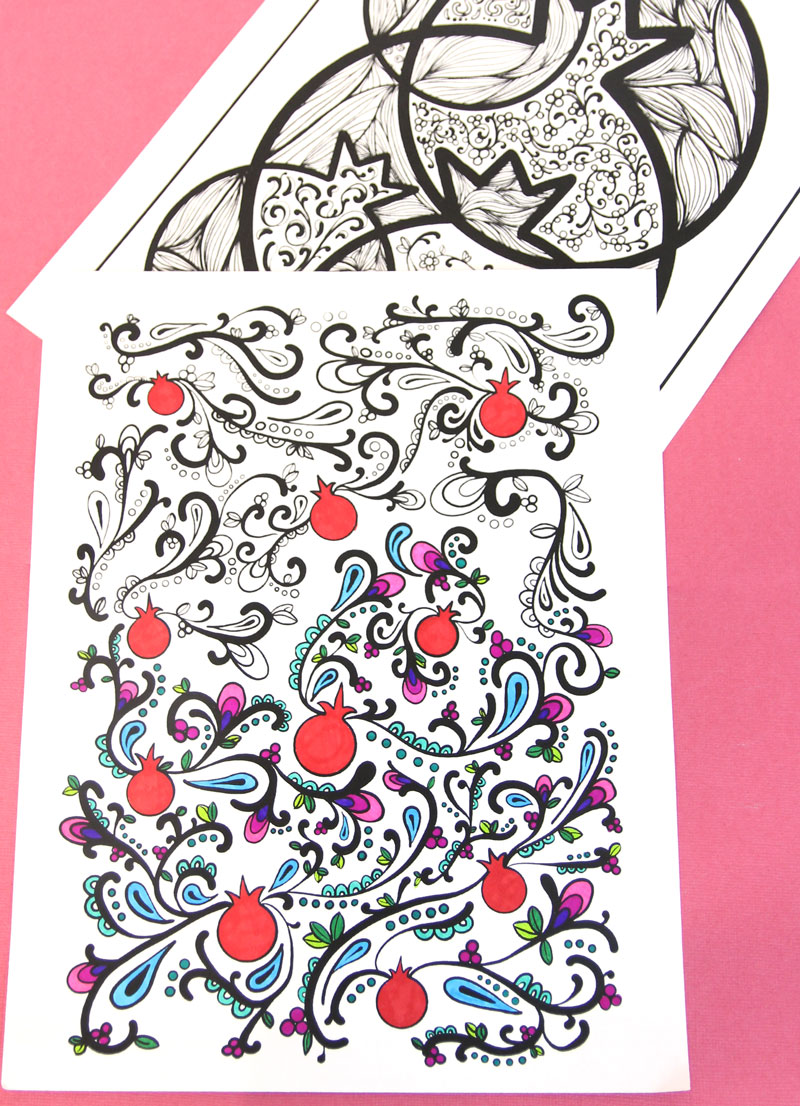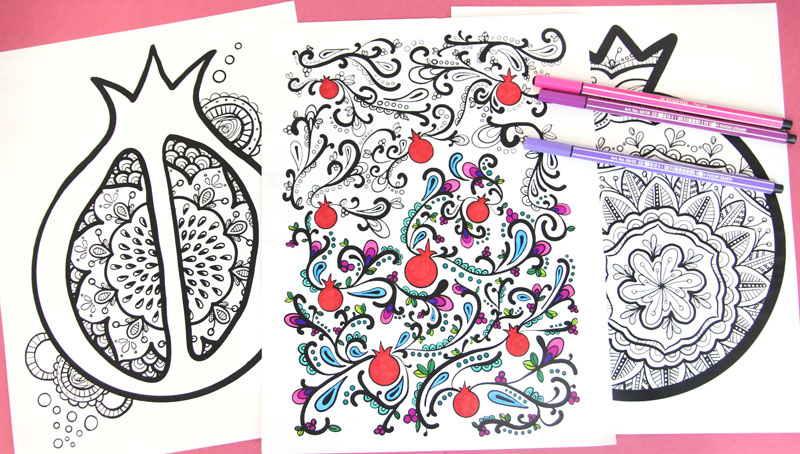 If you like to sit and delicately fill in small spaces gel pens (gelly rolls are the best I've tried) or Point 88 fineliners are fabulous too.
Laminate these and turn them into a Sukkah poster. Or cut out the ones with the solid outlines, color a few as a group project, and string them into a garland (laminated too, of course!) The entire family can color these! Younger kids should just focus more on the larger sections, rather than worrying about filling in each small detail.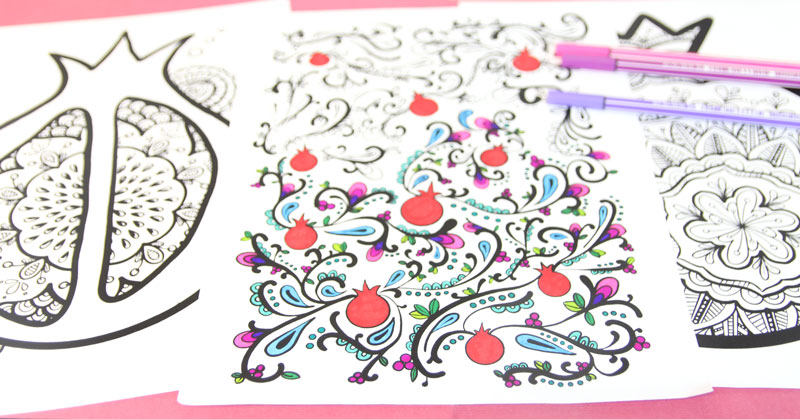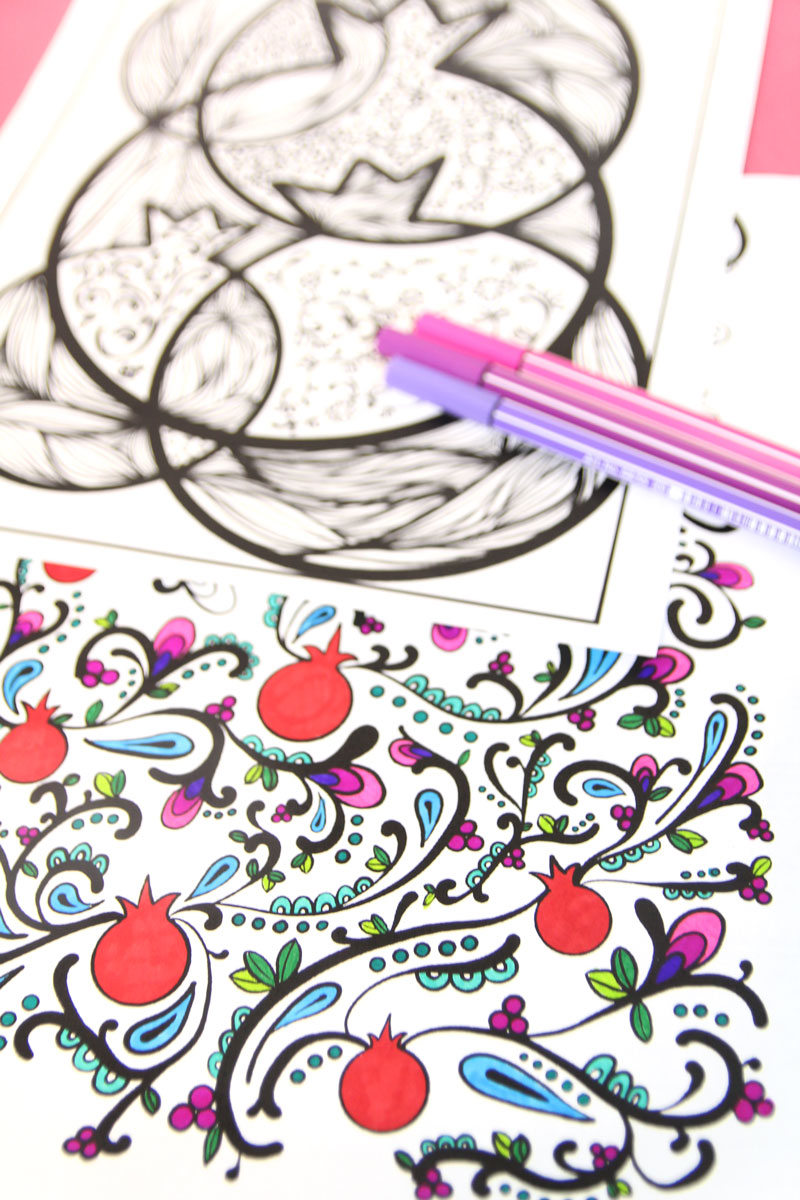 Get them here, or scroll for more images and details:
About the Pomegranate Coloring Pages
The pomegranate coloring pages were illustrated by me in Sketchbook on my Surface Pro. There are six beautiful designs, which also make for a great in-classroom activity and Sukkah decoration.
There are two pomegranate coloring pages with mandalas with very different designs. One is a center-focused floral. It has a huge central flower to ground it. The second is also floral, but off-centered, and with lots of leaves.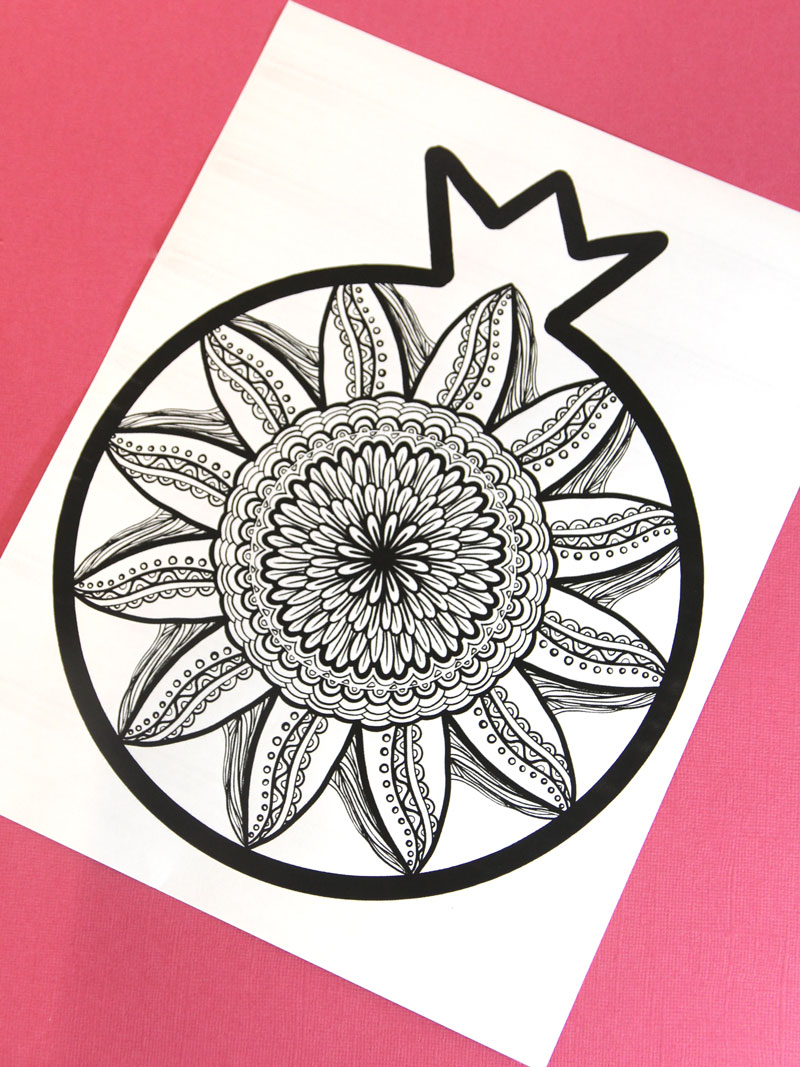 You have one page with separated pomegranates, each with a different doodle. The little pomegranates make for lighter, low-key coloring. With these types of coloring pages, I like to choose a few shades of a single color to fill in each element.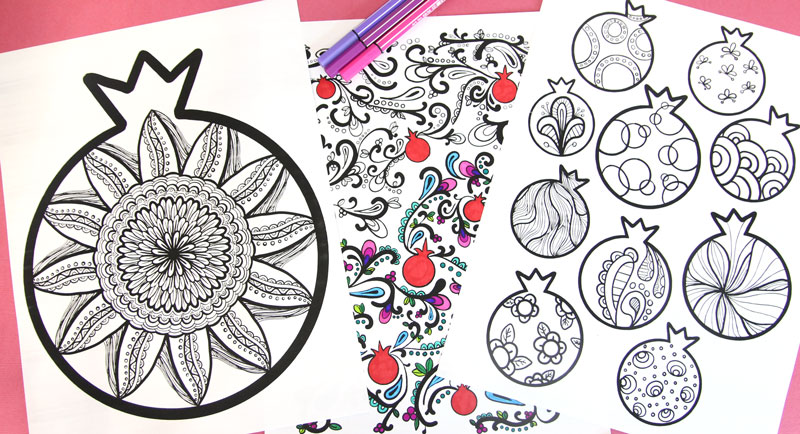 I created one with a "paisley lite" pattern – each individual element was separately illustrated for a gorgeous effect. This is one of my favorites, and I chose it to color as a sample.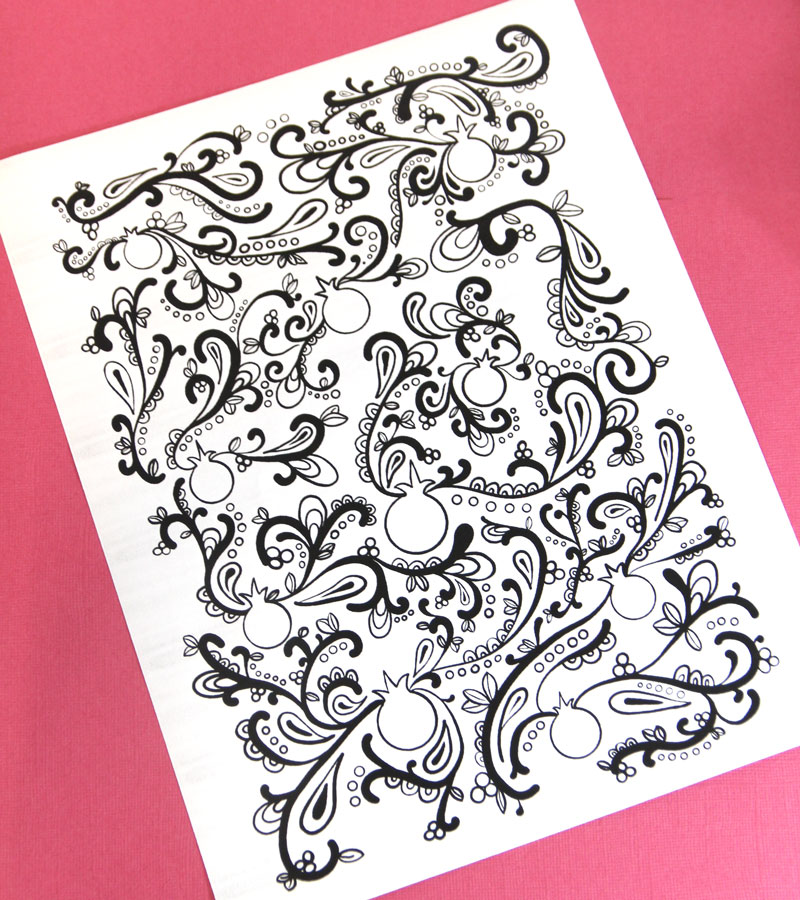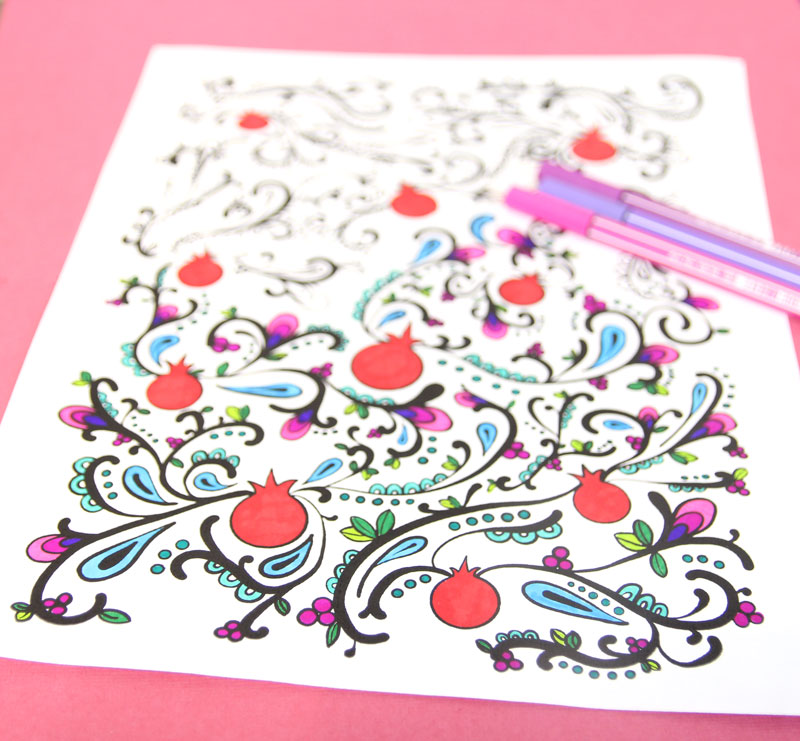 Another favorite is the one with a pomegranate seed-based decorative pattern on the inside.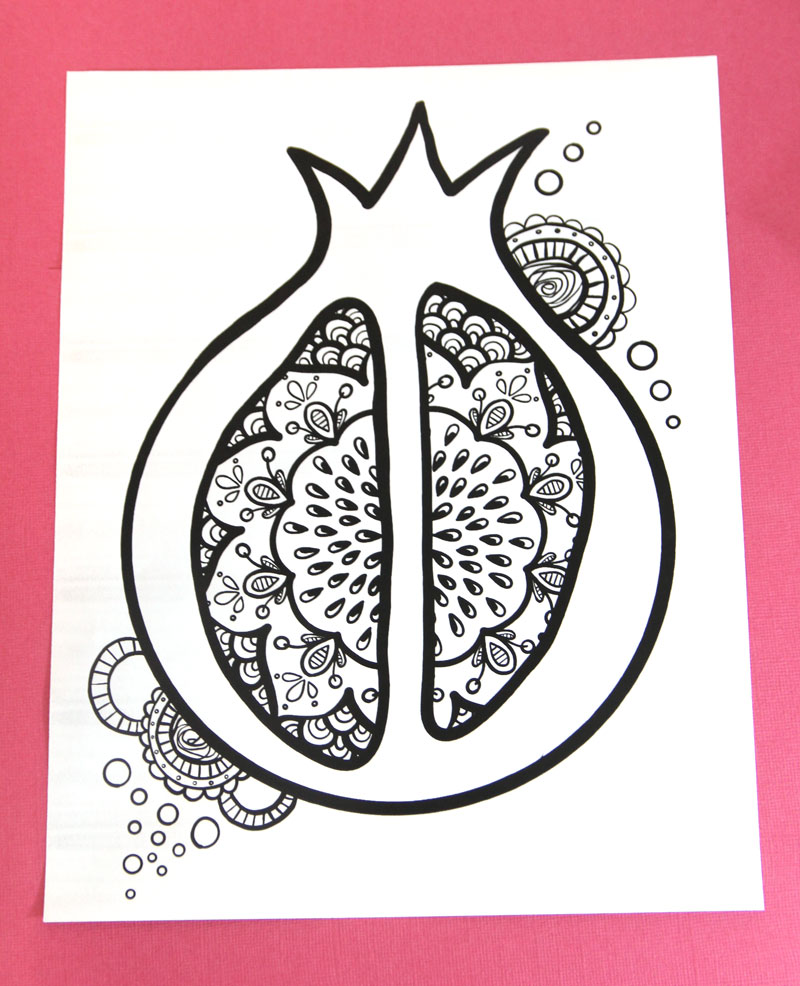 And finally, you have the "stained glass" pomegranates that overlap with different patterns.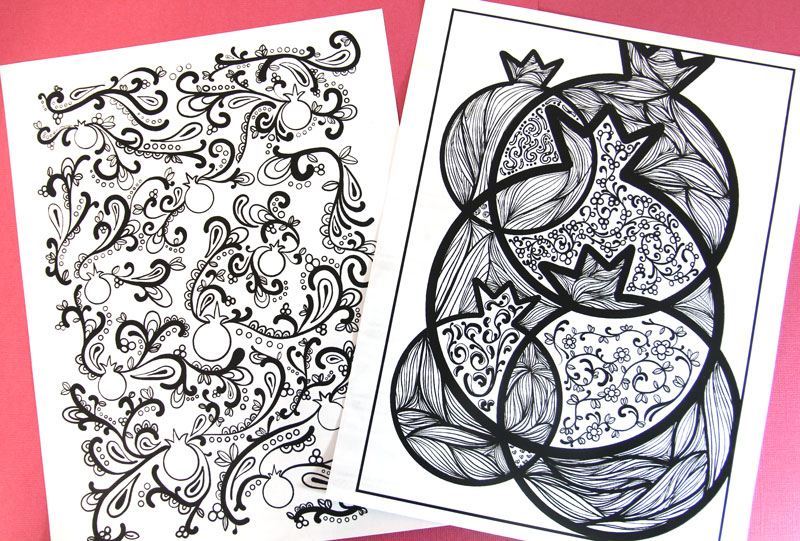 Get the pomegranate coloring pages
You can get the coloring pages here. It includes a 6-page PDF file for personal or classroom use.
I took it a step further and offered the blank templates of two of the page as a pomegranate doodle art activity – and it's free to download too!
Want to make your Tishrei prep easier, your holiday table more beautiful, and your kids' happier and busier? Get the printable Tishrei bundle today for 65% off the full value! It's full of loads of planners, coloring pages, sukkah decor, as well as cool table decorations and place cards!