Craft a Rosh Hashanah centerpiece that's so simple, classy, and cost-effective! If you loved this, check out the Rosh Hashanah cards you can download and print for free! This post contains affiliate links.
---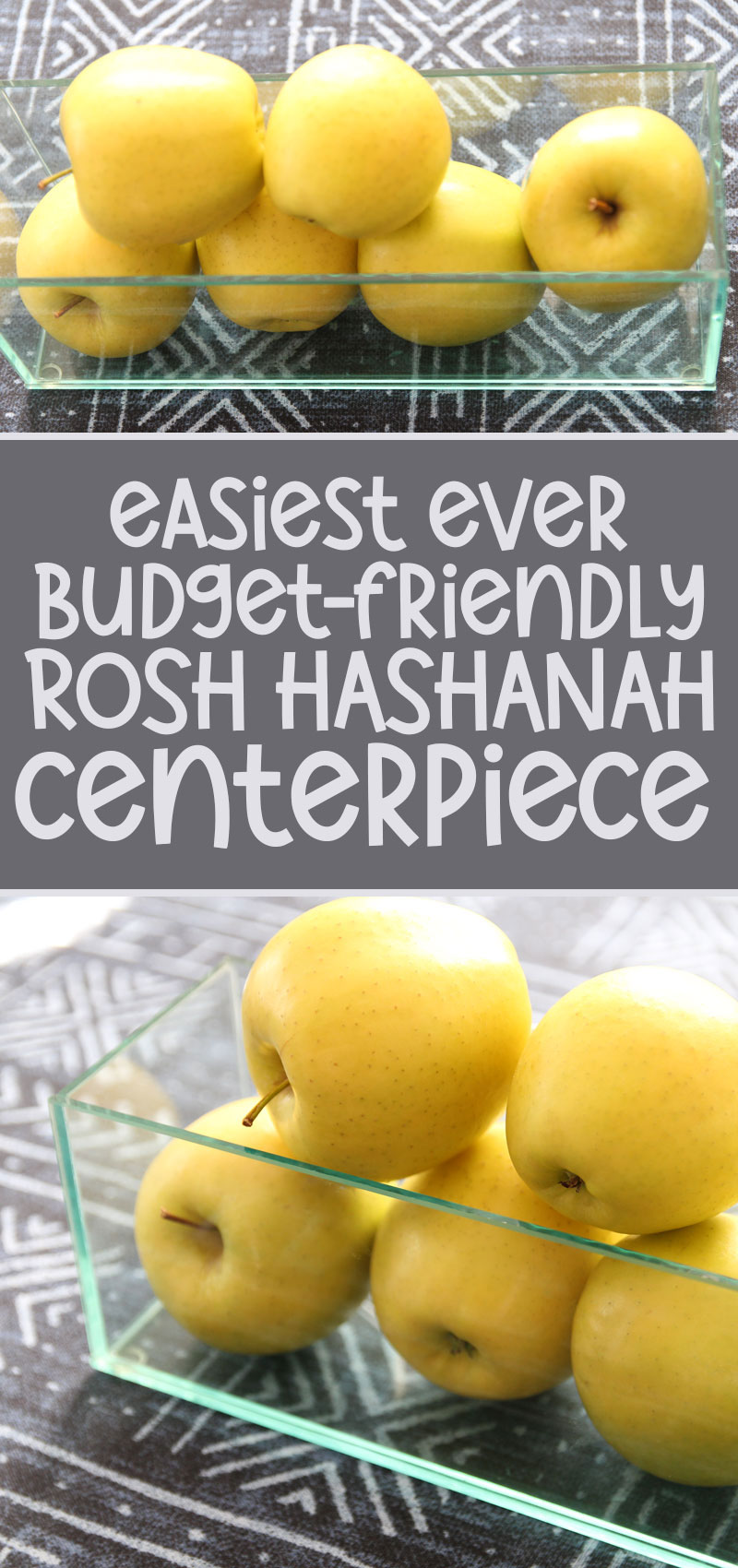 Last year, I needed a last minute Rosh Hashanah centerpiece. You know the scenario: you're setting your table and you think: something is missing!
I searched my house for what I can put together and the Rosh Hashanah centerpiece became obvious: apples.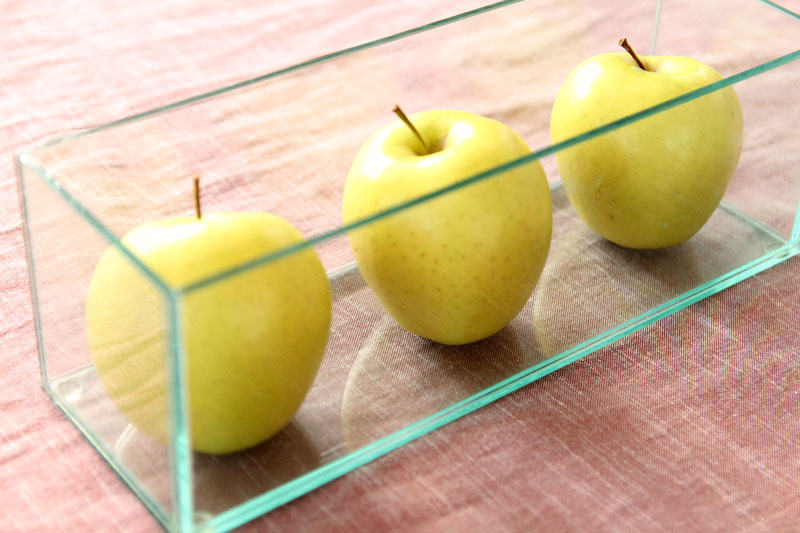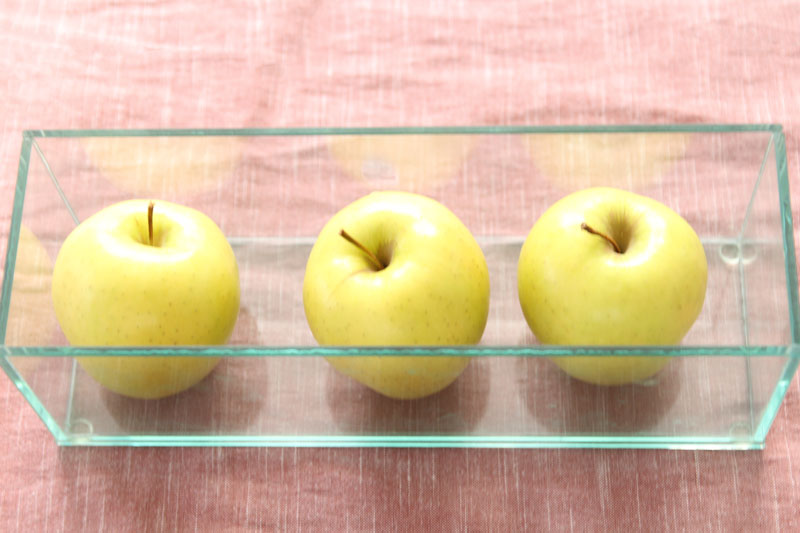 The premise is simple:
Start with a clear glass vase – preferably in a modern shape with clean lines.
Fill it loosely with a single holiday-themed item. Aim for something that can be used after, or saved from year to year.
Reuse the vases from holiday to holiday.
You can gather a few different shapes of vases together to fill more of the table (I prefer not to, as when we have guests we need to take things off to clear space.)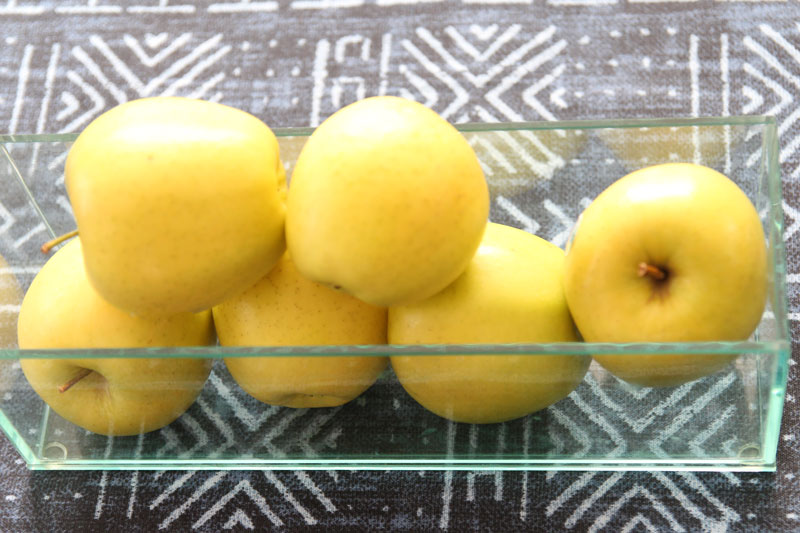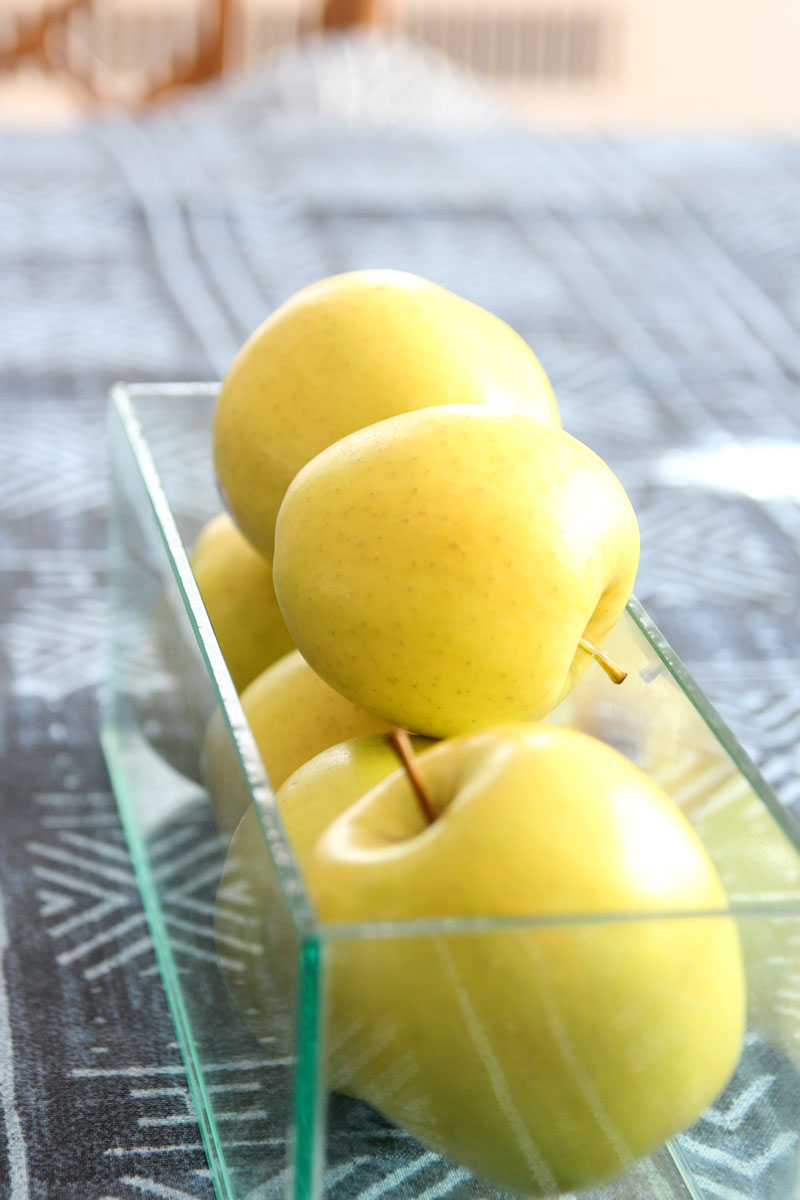 Want to make your Tishrei prep easier, your holiday table more beautiful, and your kids' happier and busier? Get the printable Tishrei bundle today for 65% off the full value! It's full of loads of planners, coloring pages, sukkah decor, as well as cool table decorations and place cards!
Different ways to put together an easy apple centerpiece
You can see from my recreation of last year's Rosh Hashanah centerpiece that I already displayed it simply in two different ways.
The first, the way that I did it last Rosh Hashanah, was simply to fill it as much as you can. You may get a better result with smaller apples if you do this, unless your vase is very big.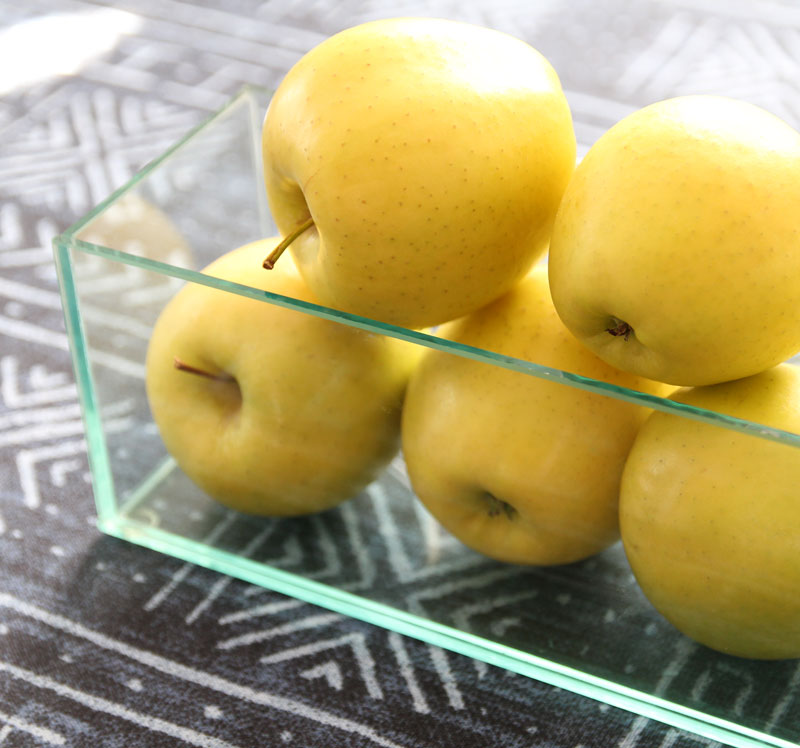 There's the modern/minimalist way. I lined up three apples side-by-side with space. This is a great option either for after your apple stash has gone down a bit, or if you prefer things simpler.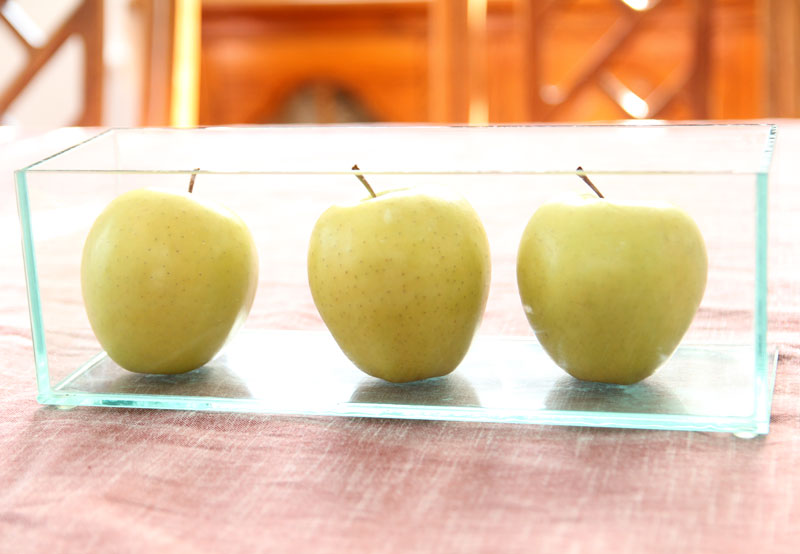 If you're using a more standard tall vase for this, simply use one narrow enough to stack three (or another visually-appealing number).
More Rosh Hashanah Table Ideas
And here's a glimpse of last year's table! Sadly, I didn't take good photos that included the Rosh Hashanah centerpiece. I had to recreate it this year, which obviously wasn't complicated…
But it does mean that I couldn't get you a full view of the centerpiece on the table. You can see that I did use smaller apples, which filled the vase better.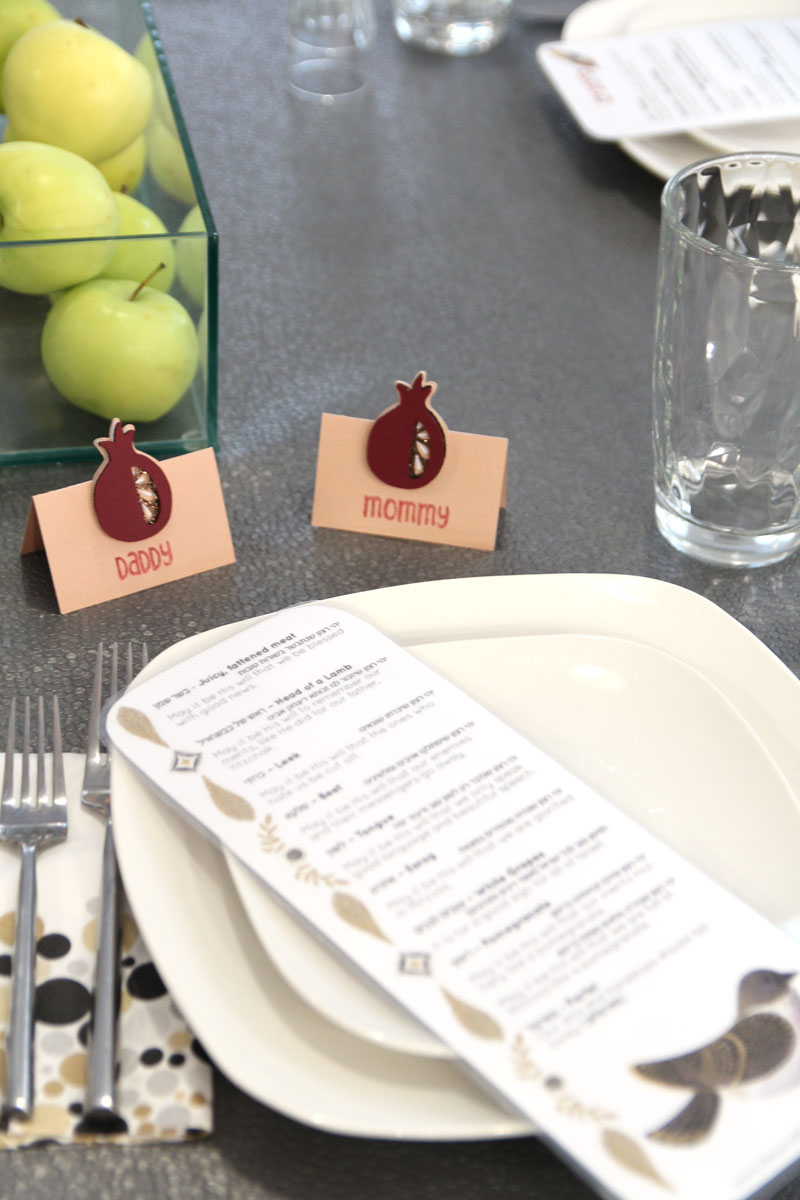 To give you a few more table decor ideas that go with the Rosh Hashanah centerpiece, I figured I'd share some of the things you see on our table!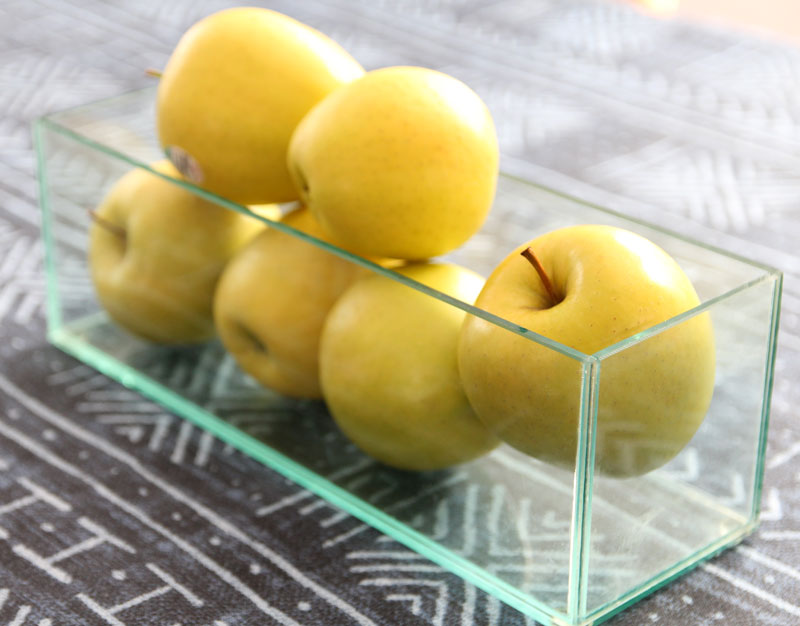 Update: check out how we switched this up for Sukkot here!
More ideas to put inside your Rosh Hashanah centerpiece
Beyond Rosh Hashanah, you can fill it with other seasonal items, however, here are a few more ideas for what you can do with it for Rosh Hashanah:
Pomegranates – Especially if your other decor is pomegranate-centric, you can fill your vase with a few of these. It's a great option if your family enjoys pomegranates even after the holiday. Or, get faux pomegranates to reuse year after year, and for Sukkot.
Decorative honey jars – You can line up (or stack) a few jars of artisan/flavored honey in a glass vase. Just keep in mind that if you're actually using the honey, the vase may get sticky and will need to be cleaned after each meal.
New fruit assortment – The tradition is to eat a new fruit on the second night. You can fill your vase with a few exotic fruit.
Dried/fake/potpourri apples – Purchase decorative apples instead of real ones and save it from year to year.
Gourds – Use a larger vase and gather a few gourds inside. You can use these for your Sukkot meals after the holiday. If they need to be used sooner than two weeks, you can make soups and freeze them.
Apple garlands – if you can find faux flower garlands that have apples on them (a popular item for the Sukkah too), you can gather these in clear vases instead.
I hope you enjoyed the Rosh Hashanah centerpiece inspo! What are your favorite last minute centerpieces? Comment below!