Assemble these versatile Sukkot centerpieces that can be reused again and again for other holidays too! They go fabulously with these Sukkot napkin rings from Etrog slices. This post contains affiliate links.
---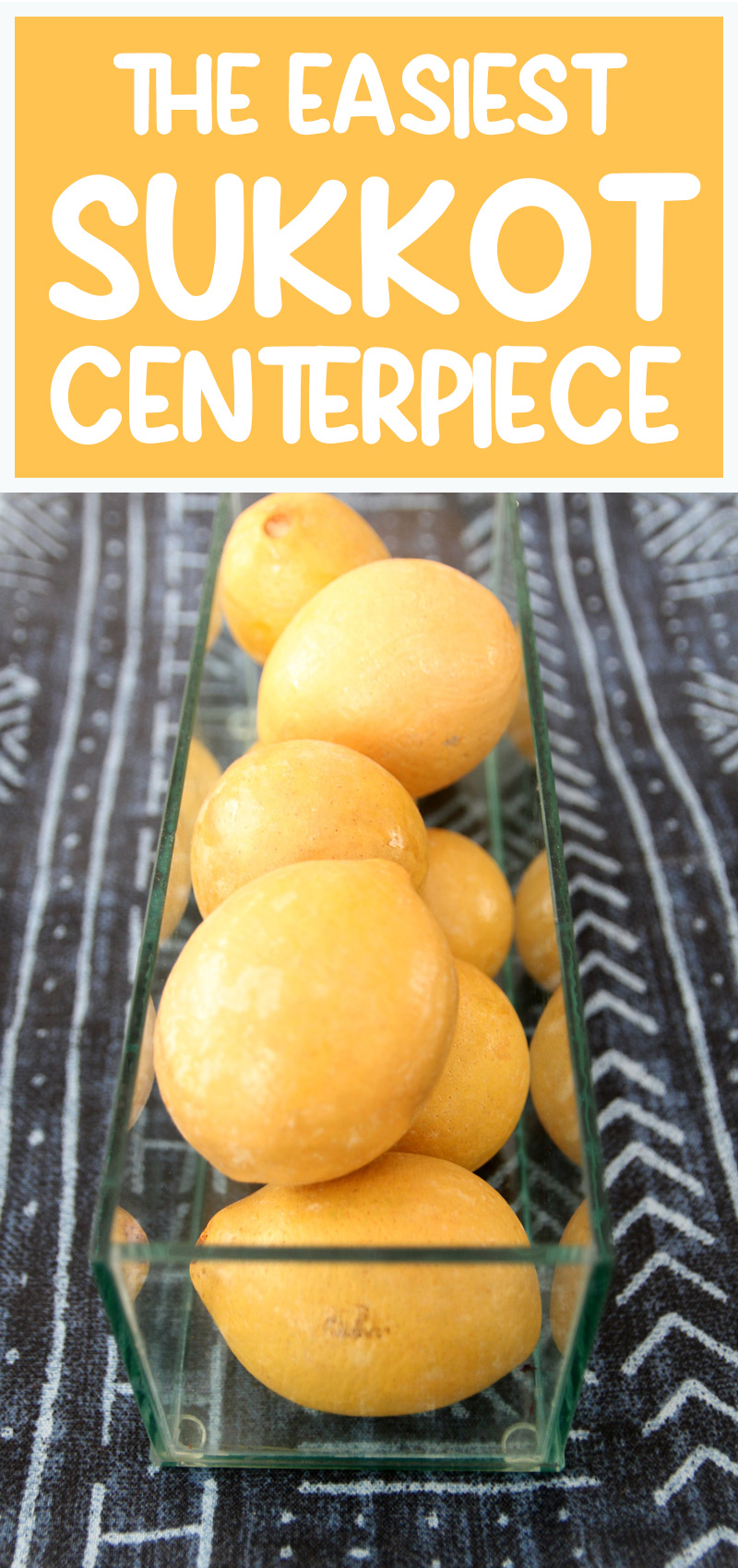 A few weeks ago, I shared a fun Rosh Hashanah centerpiece. I'm now sharing how I took the same exact base and turned it into Sukkot centerpieces – just to demonstrate how versatile this can be!
Instead of apples, I used dried potpourri-style lemons! And yes, you can give this a go with real lemons too.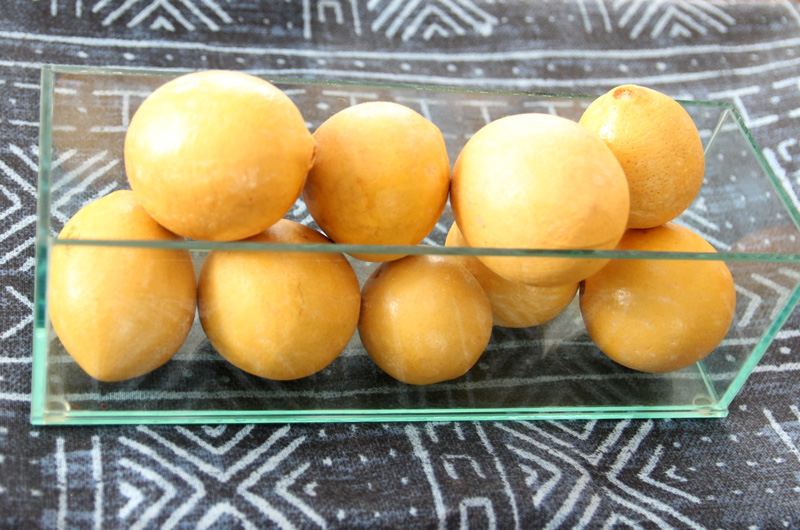 I'm going to start by saying: an etrog is NOT a lemon and a lemon won't pass for an Etrog. It's a Citron – a different citrus
But they look similar and you can totally get an Etrog vibe using potpourri lemons (try finding this in an Etrog…)
I placed one in the center of the table. While I'm always tempted to create a huge tablescape (as my friend Rochel did with this Hanukkah tablescape), we tend to have guests and need every inch of the table to be available for food.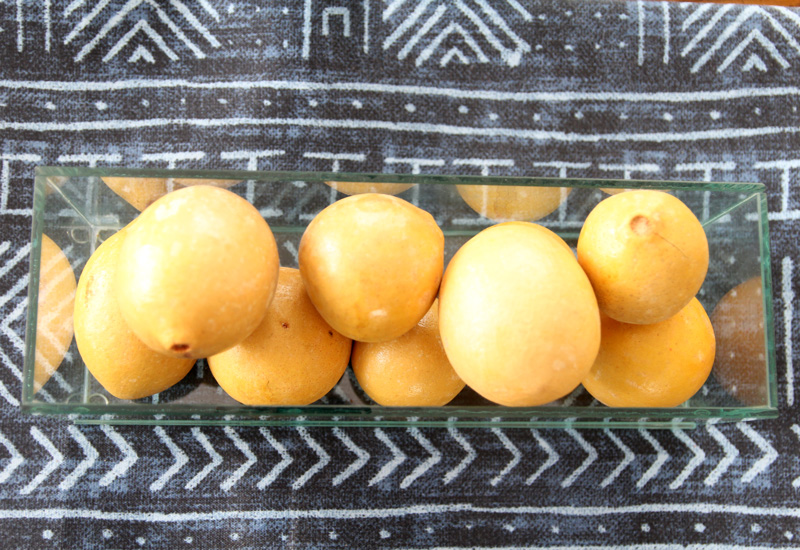 If you're more of the grand tablescape type, just adapt this idea: place three vases along the table, on a runner, intertwined with vines or other natural garlands – or whatever floats your boat.
And for Sukkot, you may anyway want to do that!
Since we eat outdoors in the Sukkah, I used this as our indoor centerpiece. So technically, we could have made a grand tablescape.
Outdoors, we used dollar store vases with silk flowers that we didn't mind getting rained on. We grouped three and removed them from the table when the food came out if we had guests.
This one is less hardy and waterproof.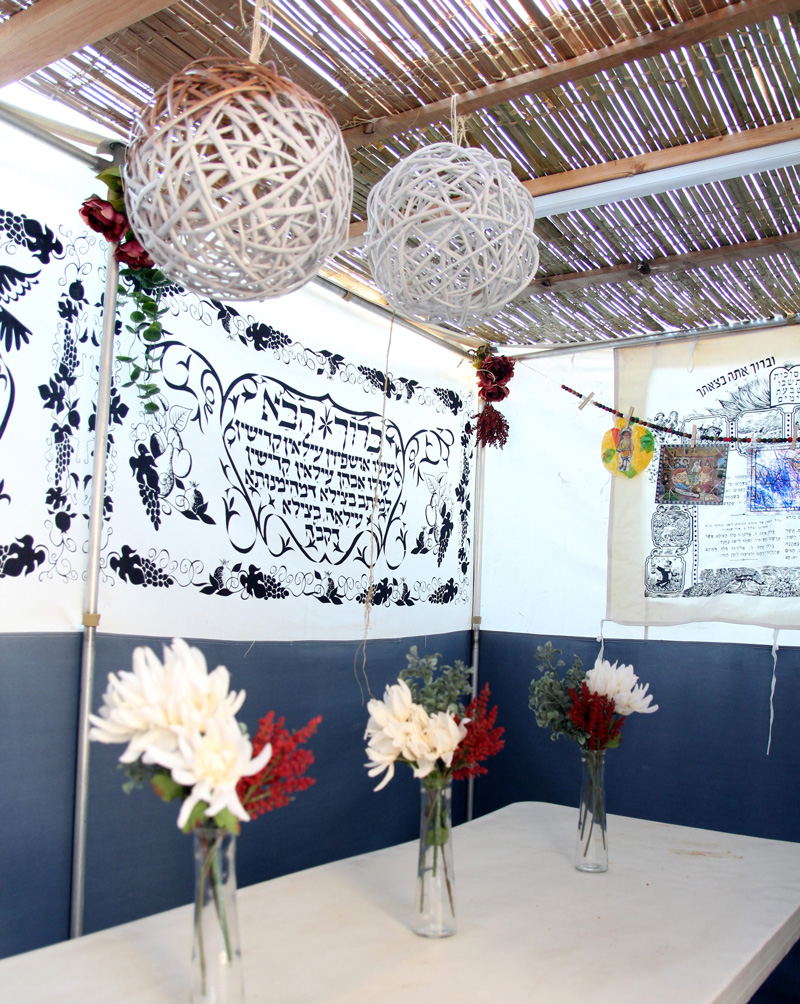 How to assemble gorgeous Sukkot centerpieces
The ideas is very straightforward:
Start with a clear glass vase – preferably in a modern shape with clean lines.
Fill it loosely with a single holiday-themed item. Aim for something that can be used after, or saved from year to year.
Reuse the vases from holiday to holiday, as we did for Rosh Hashanah and Sukkot.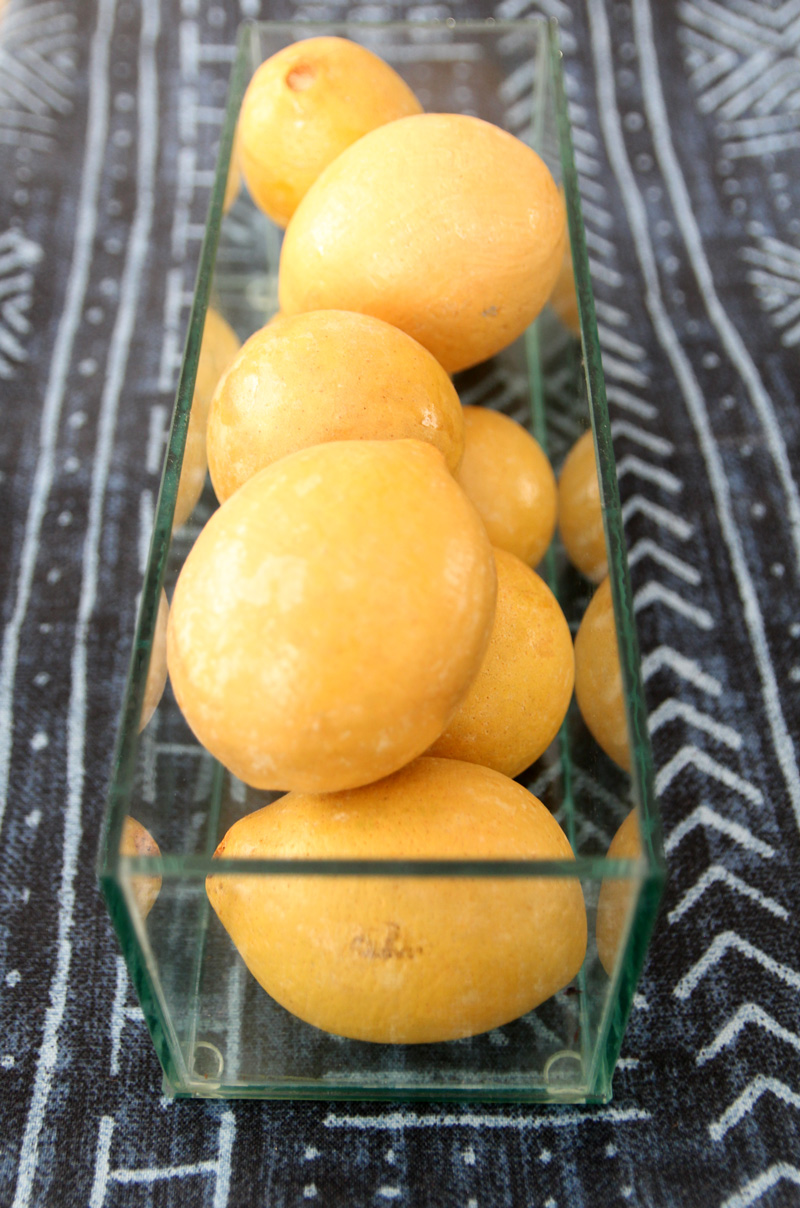 If you're going grand table-scape style, you can gather a few different proportions of vases together.
When I used this concept with apples, I showed how to do it two ways. For one, I just filled it. For the other, I lined up three for a minimalist look.
For Sukkot, since the lemons are smaller, I recommend filling your vase.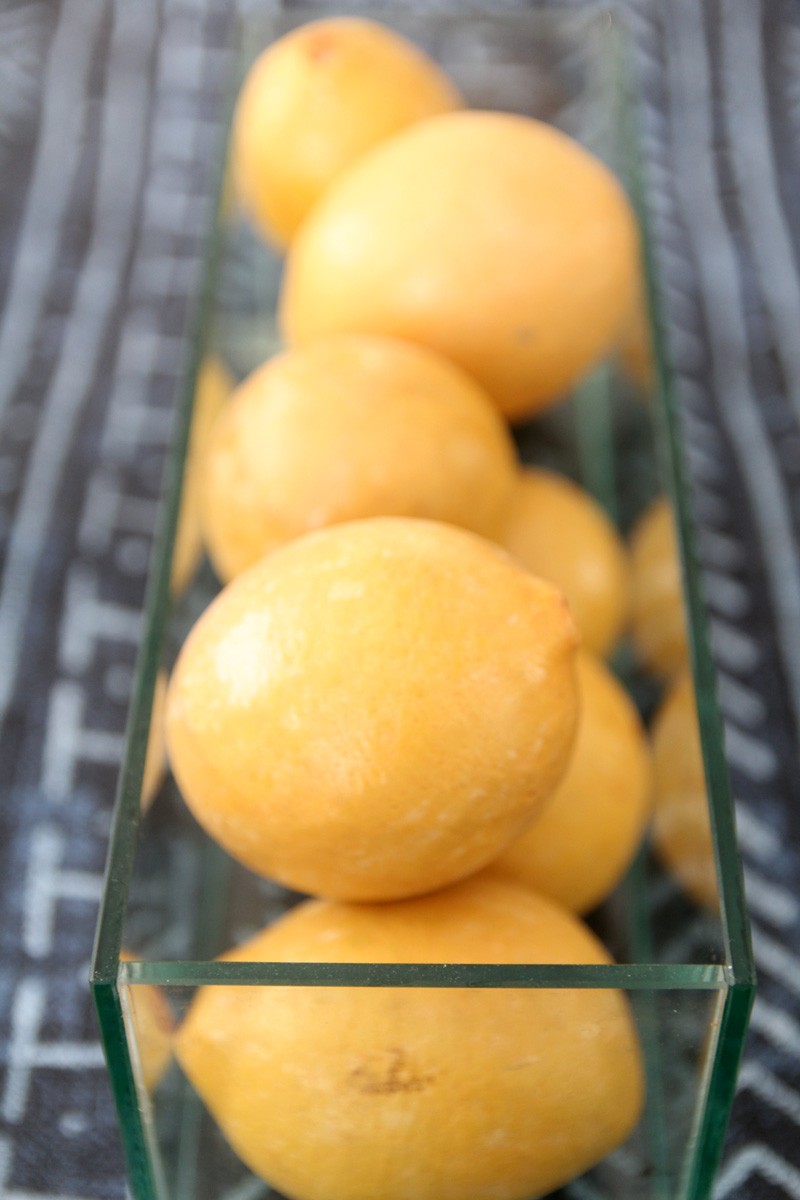 I also tried it using a more standard tall vase. This is a fabulous option if you're looking for more height. And if you have a very large vase, you can use the lemons as filler and place a dried Lulav branch from last year in the center!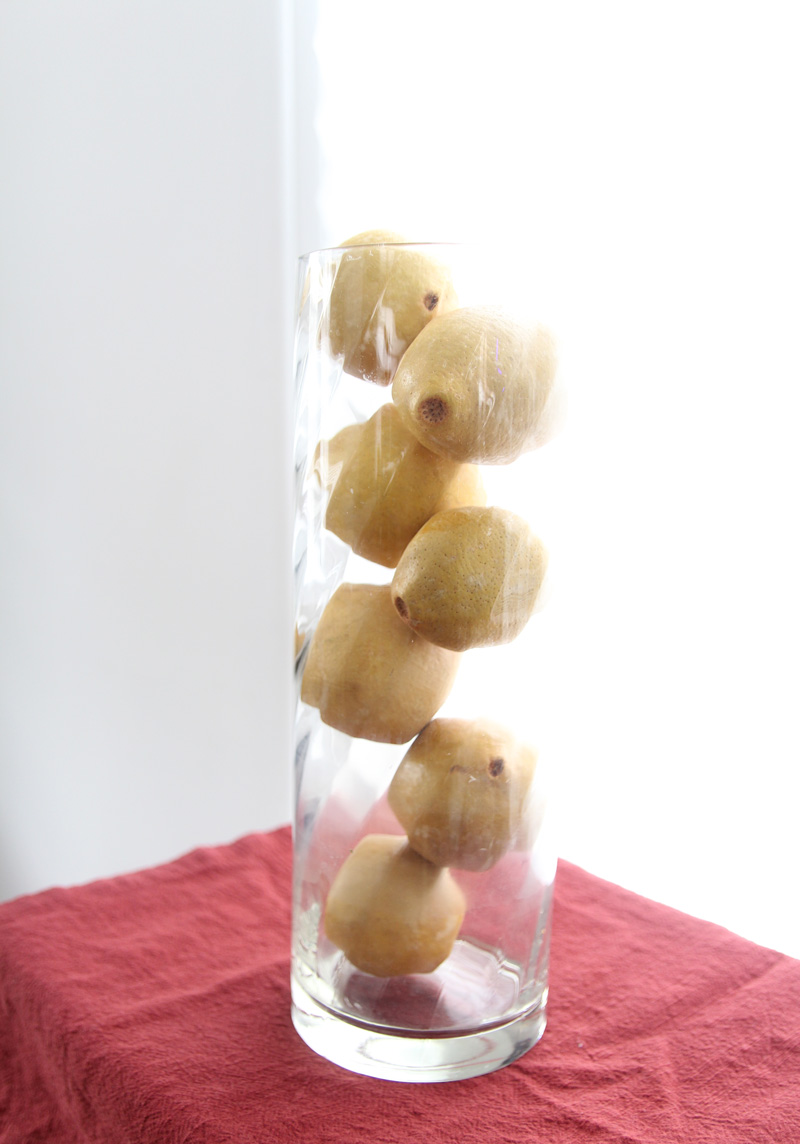 More ideas to put into the Sukkot centerpieces
Not quite digging the "lemons as etrogim" concept? Here are a few more ideas!
If you can get enough of them, try dried etrog slices.
Fill it with fall foliage and similar garlands.
Sukkot celebrates the fall harvest as well! Fill it with fun mini gourds. Trader Joe's always has an interesting selection (or get fake ones.)
If you can find waterproof ones, or if you're leaving it indoors, try filling it with battery operated LED fairy lights!
Pomegranates totally retain the sukkot vibe! Use faux ones from Rosh Hashanah through Sukkot, or simply replace your stash.
I hope you enjoyed this super simple idea for Sukkot centerpieces! Got any variation to add? Comment below!