As a follow-up to my Aleph Bet Animals puppet craft, and to launch my new coloring book, I'm excited to share this free printable Aleph Bet coloring page! This post contains affiliate links.
---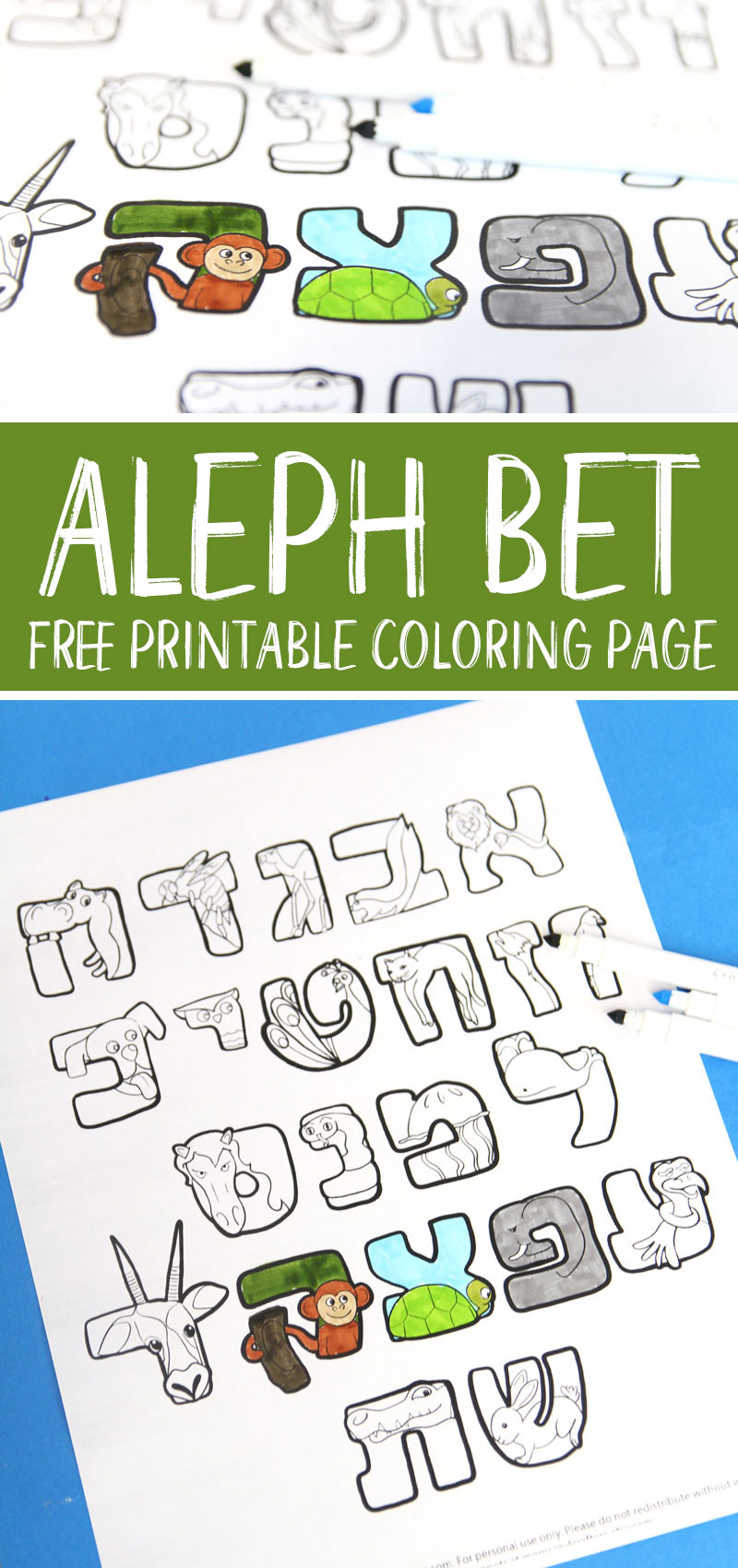 If you're looking for fun ways to teach the Aleph Bet in a creative and kid-friendly fashion, these Aleph Bet Animal coloring pages are perfect for you!
And I decided to share a single coloring page featuring all the letters as a free download to thank my subscribers!
The coloring book features each animal letter on a separate page and is available for purchase as a printable here.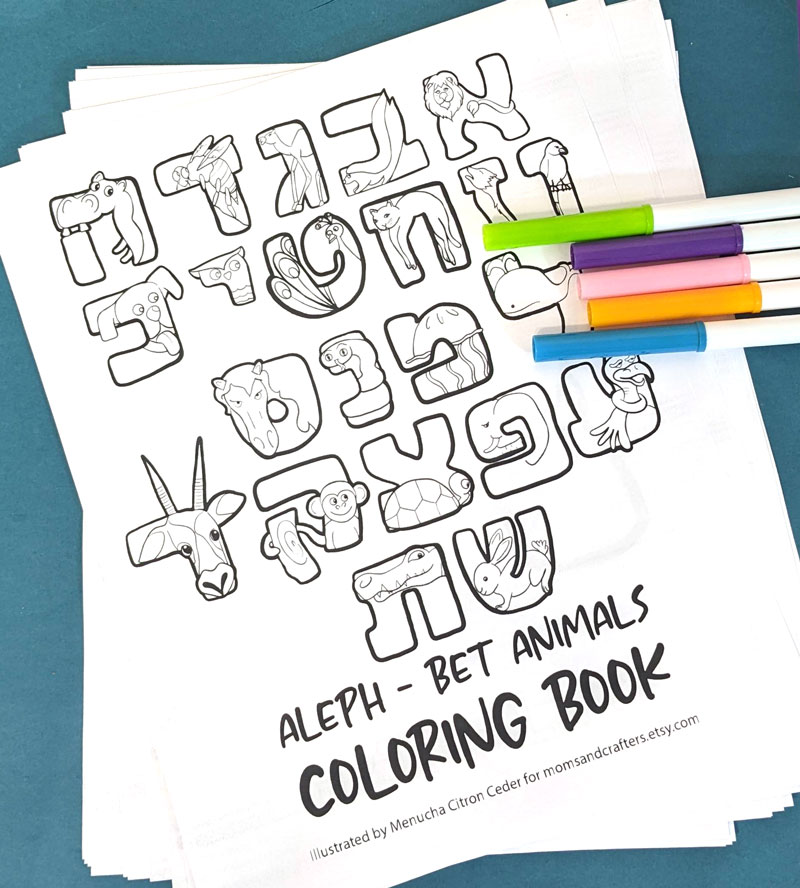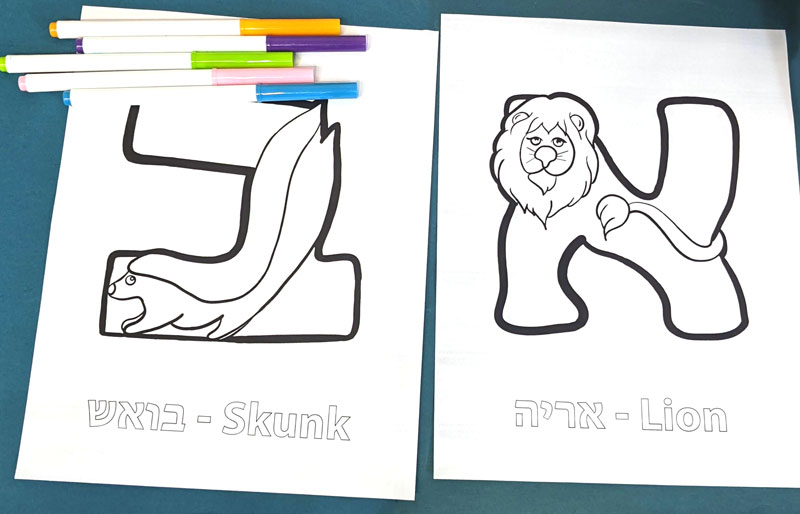 The free printable is a single coloring page (that also comes with your coloring book) as a sampler/single use page and is available as a free download later in this post (look for the form that has a photo of the coloring page). It's fabulous for use at preschool orientations, when you are introducing the beginning of learning aleph-bet, or as post-learning review.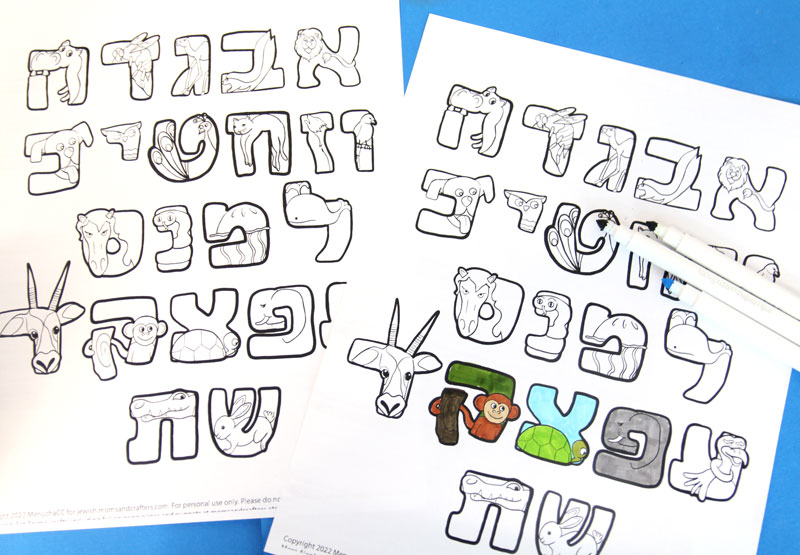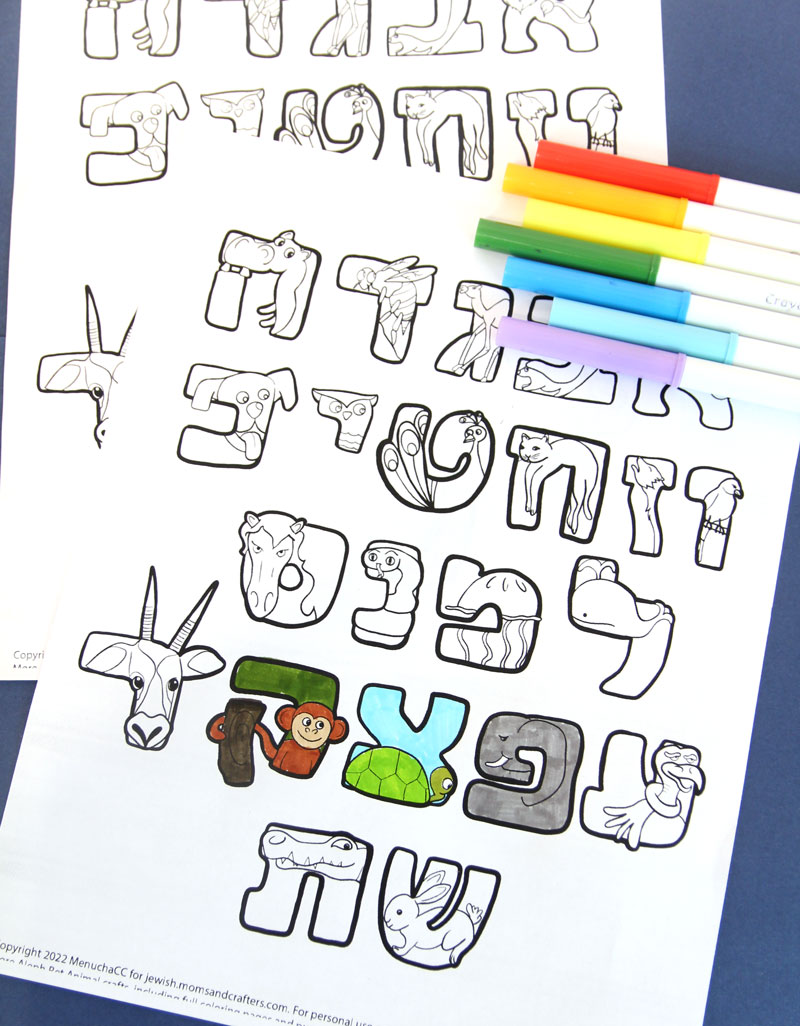 To make the aleph bet coloring book more accessible for different needs, the download comes with three versions:
Hebrew only (with a Hebrew cover – the main text only)
Hebrew with English translation (English cover)
And finally, Hebrew-English translated, plus the transliteration so you know how to pronounce the Hebrew words.
How to teach the Aleph Bet with these coloring pages
While young kids love to color, and that alone is a fun way to create these, you can also use it in other ways! Why stop at simply coloring?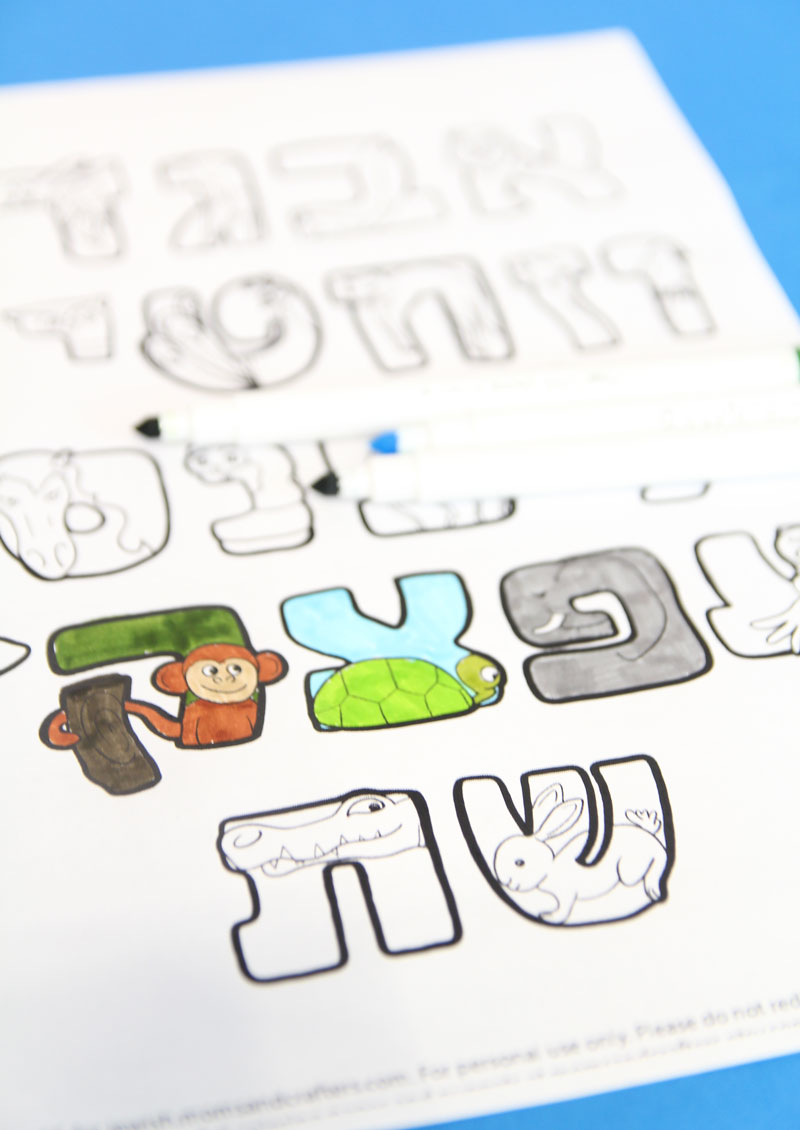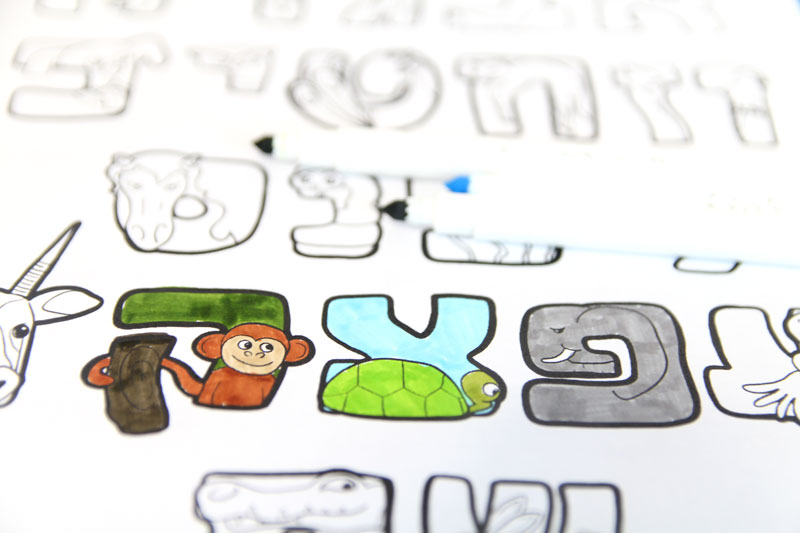 The full sized coloring pages can be created as standalone crafts as each letter is learned. If you print it on cardstock, cut out the letters and add elements to the coloring pages (googly eyes, glitter glue, feathers, craft fur, leaves….) you can make each page more of a craft.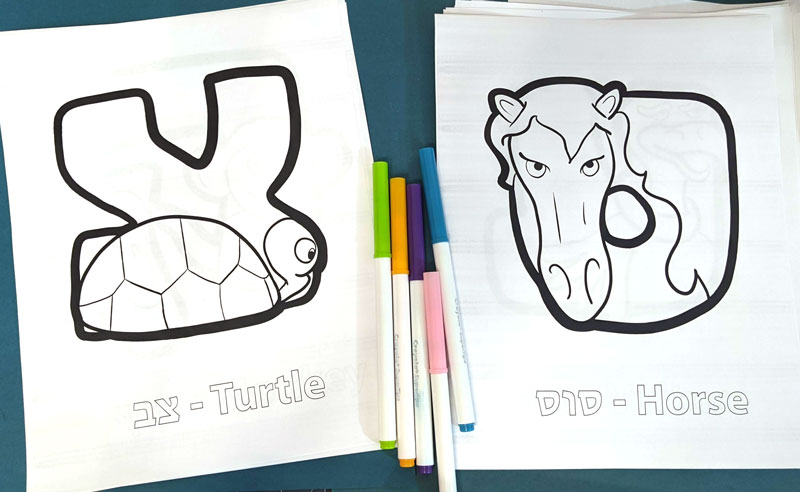 The animals featured in the Aleph Bet Coloring Pages
Here's a full rundown of the Aleph Bet animals that I illustrated. My goal was to use animals that aren't just translations but are spoken Hebrew, and recognizable (as much as possible) to Hebrew speaking children. So while some letters (Hay – Hippopatam) are very similar to the English, most Israeli kids will know it.
א – Aryeh Lion – אריה
ב – Boash Skunk – בואש
ג – Gamal Camel – גמל
ד – Devorah Bee – דבורה
ה – Hippopotam Hippopotamus – היפופוטם
ו – Vardit Sinai – Sinai Rose Finch – ורדית סיני
ז – Ze'ev – Wolf – זאב
ח – Chatul Cat – חתול
ט – Tavas Peacock – טווס
י – Yanshuf Owl – ינשוף
כ – Kelev Dog – כלב
ל – Livyatan Whale – לוויתן
מ – Meduza Jellyfish – מדוזה
נ – Nachash Snake – נחש
ס – Sus Horse – סוס
ע – Ayit Vulture – עיט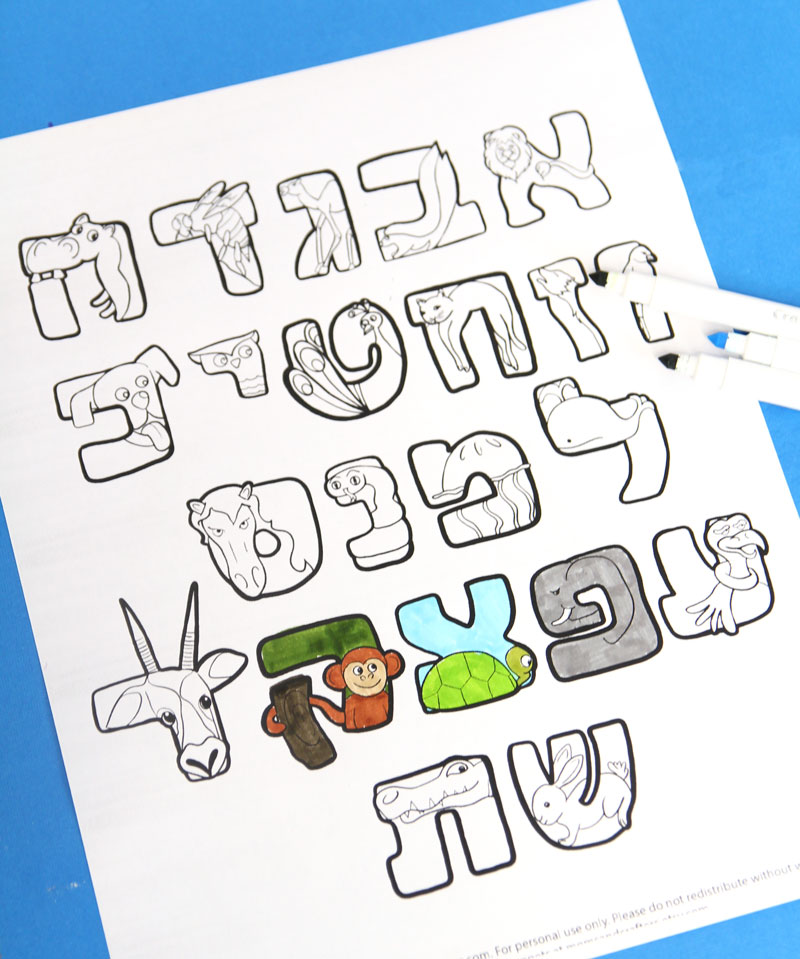 פ – Peel Elephant – פיל
צ – Tzav Turtle – צב
ק – Kof Monkey – קוף
ר – Re'em Oryx – ראם
ש – Shafan Bunny – שפן
ת – Tanin Crocodile – תנין
The name of each animal is on each page, offering a double lesson for your child! Even older kids can enjoy coloring these as you
Download the free printable Aleph Bet coloring page
Download your free coloring page! It'll arrive right in your inbox. By downloading, you're subscribing to our FREE newsletter with updates on cool printables like this, ideas to simplify Jewish life, and more. Unsubscribe at any time at the bottom my emails. I respect your privacy and the law, and won't share or sell your email address.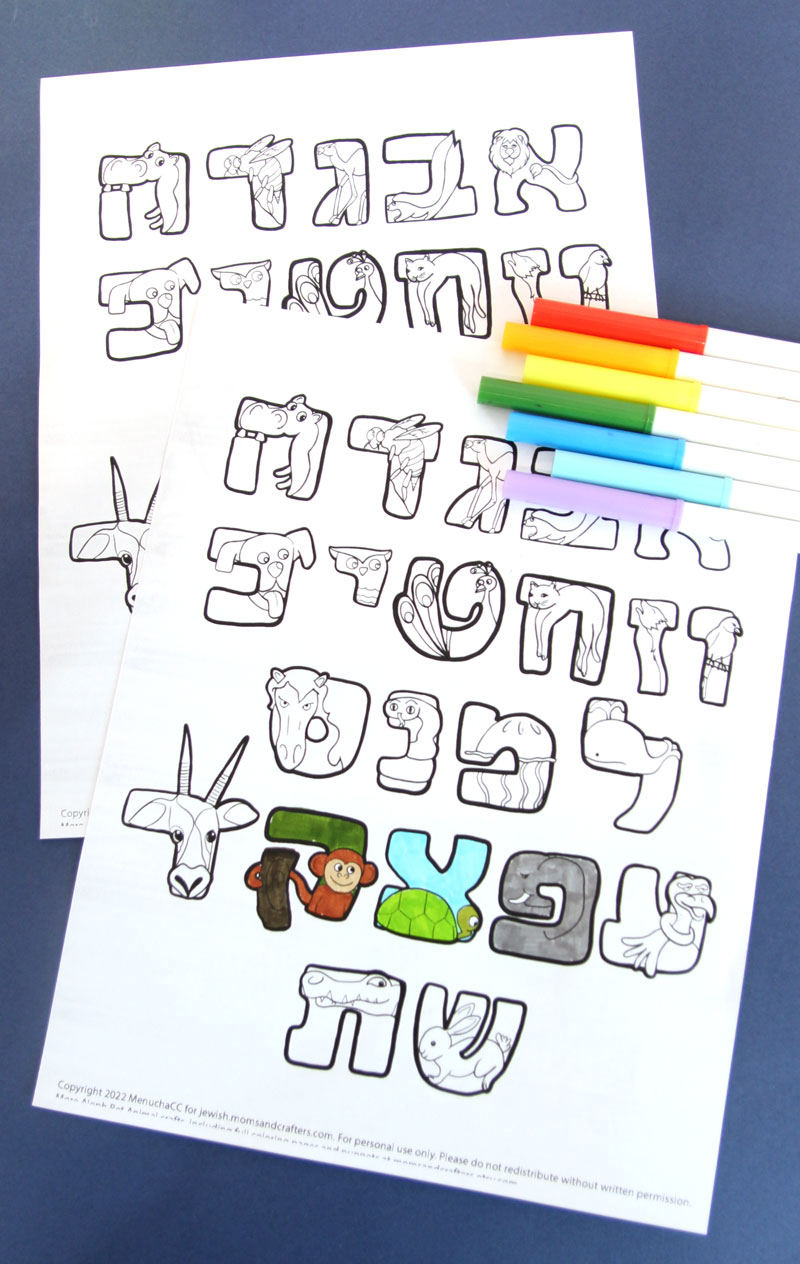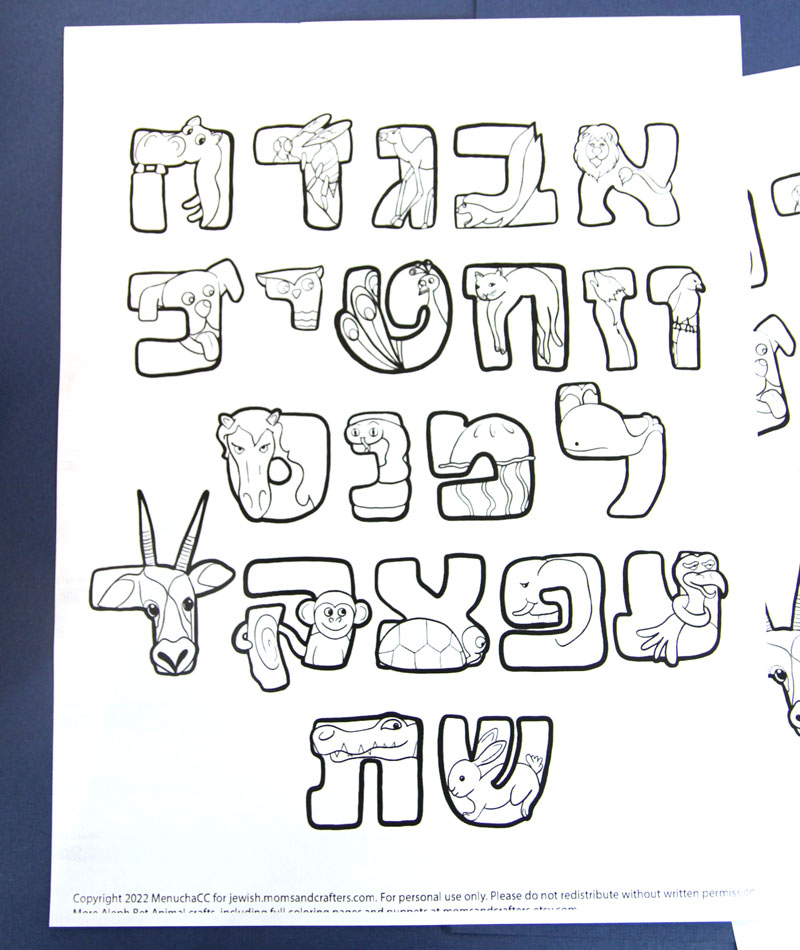 More images + Get the Aleph Bet Coloring Book
Here are a few more images of the coloring book: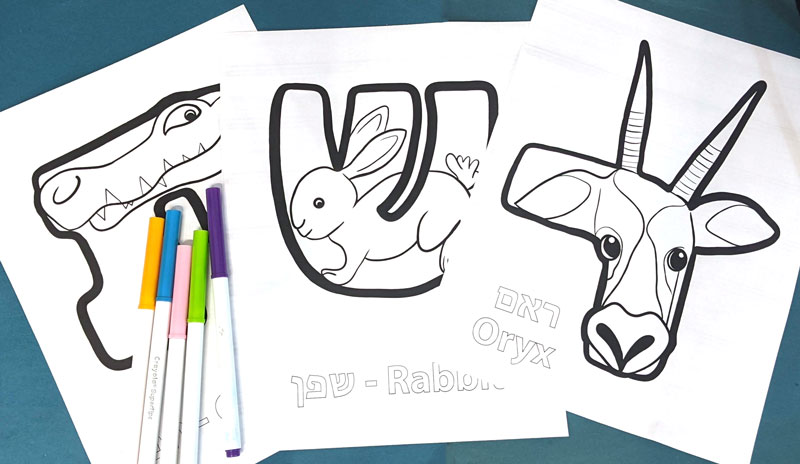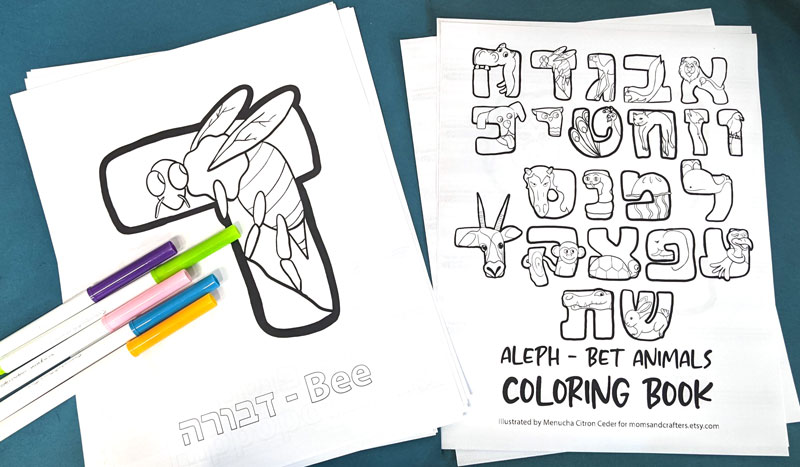 And the single coloring page: