Want some help organizing your Shabbat menu? If you've already enjoyed some of our Shabbat recipes such as our Instant Pot Chicken Soup recipe, you'll love this free printable menu planner to organize it all! Disclosure: this post contains commissioned links.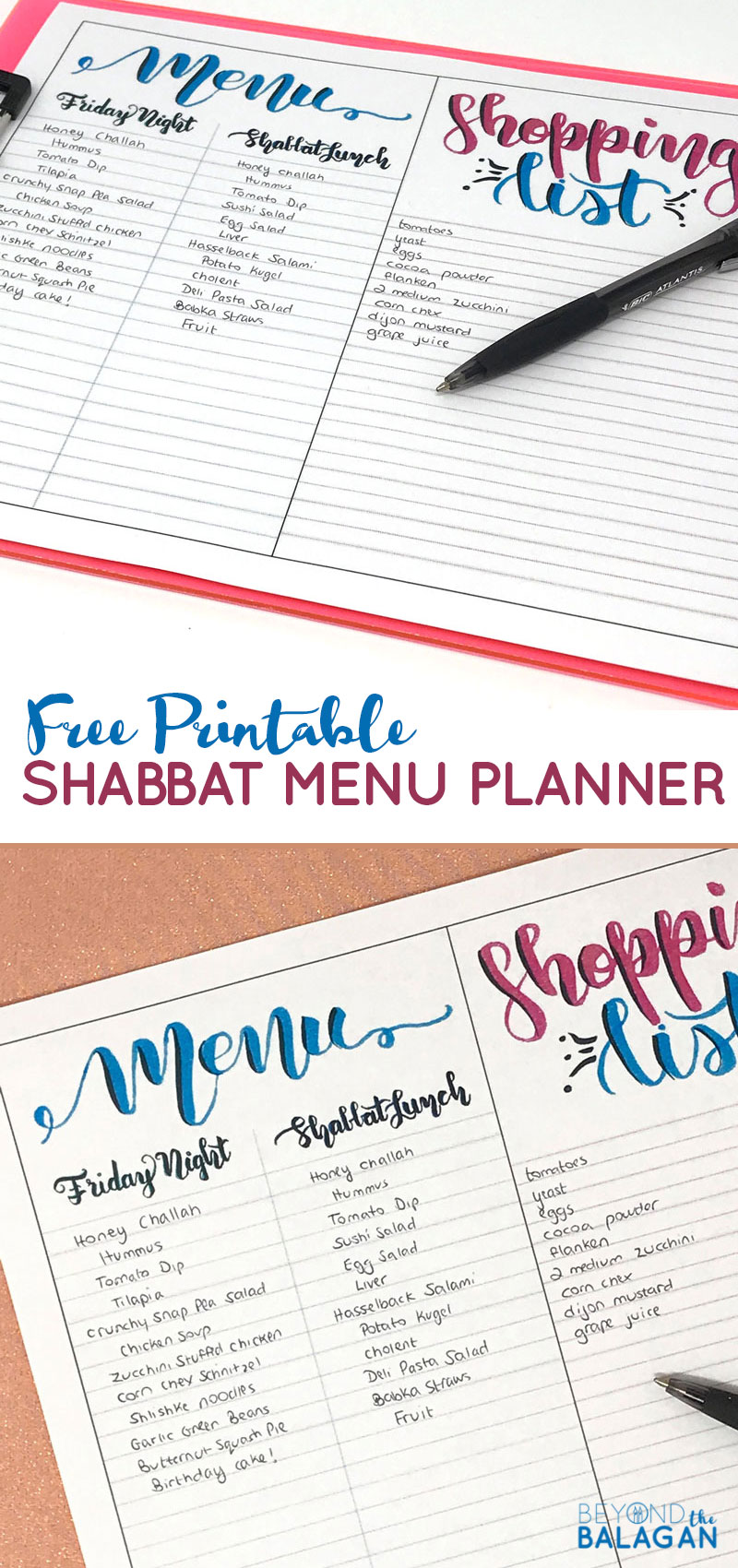 My favorite tip for making Shabbat prep a bit calmer is to allow yourself to do crazy things like sitting and brush lettering your menu, or whatever it is that makes YOU feel better and calmer. It's more important to have a calm home erev Shabbat than to have a sparkling spotless one at the expense of your sanity, don't you agree?
A few weeks ago, before Shabbat, I got into a bit of a mood. I didn't feel like prepping just yet, so instead of doing what I was supposed to do, I sat on the couch with some brush lettering pens and made the Shabbat menu to beat all Shabbat menus.
And after I did it again another week because I had too much fun with it, I finally decided to share it with you as a free printable!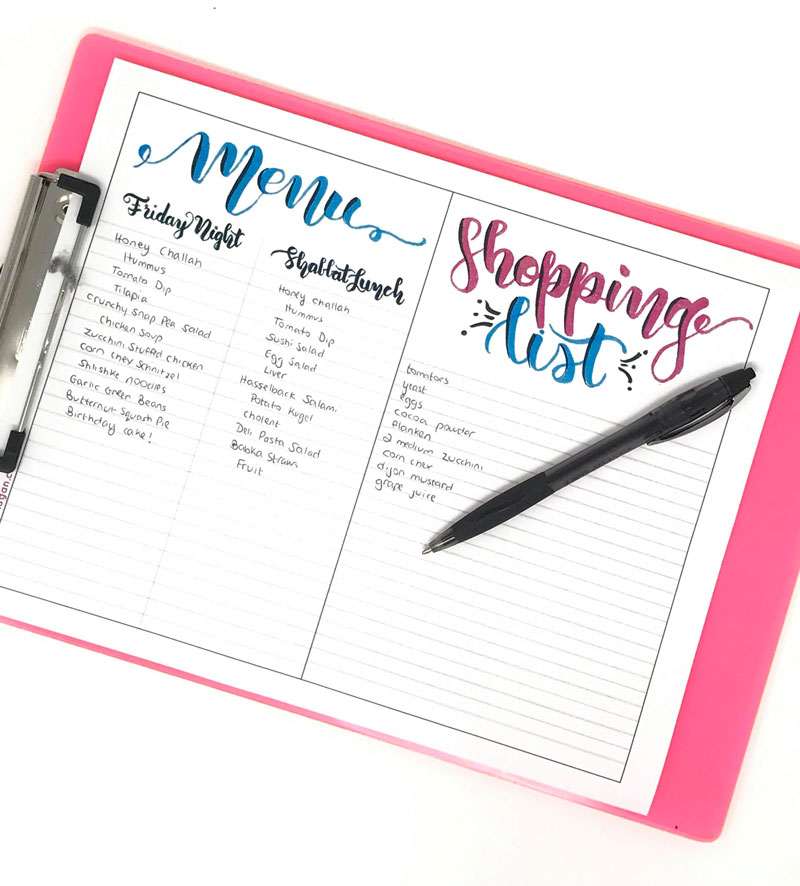 Brush lettering is a low-key, relaxing, mess-free hobby. Bonus points: it makes your Shabbos menu look fantastic on your fridge! But not everyone does brush lettering so I figured I'll share mine in a cool free download.
I took the best elements from my shopping lists and menus and made a one page spread that you can use for both your Shabbat menu and shopping list – or cut in half if you prefer to separate it!
Download your Shabbat Menu Planner:
By downloading it, you agree to sign up for my free newsletter. I respect your privacy and will not share or sell your information to anyone. It will be used only for the Jewish Moms & Crafters newsletter. Unsubscribe at the bottom of any email.
I also decided to create print versions of it for those of you who prefer not to print it fresh every week! I made two mini notepads – one for the menu, one for the shopping list, as well as a full-page side-by-side version just like the printable! These make amazing hostess gifts for when you're going away for Shabbat!
I also created whiteboard versions of both the Shabbat menu planner as well as the shopping list (which of course also make great hostess gifts).

As you plan your menu, I hope you include my best cholent recipe that I shared a few weeks ago! We have lots of delicious Shabbat dishes for you to try – all really simple. Rochel has also shared right here on Jewish Moms & Crafters a handy Erev Shabbat Checklist as well as menu planners for the assorted Jewish holidays.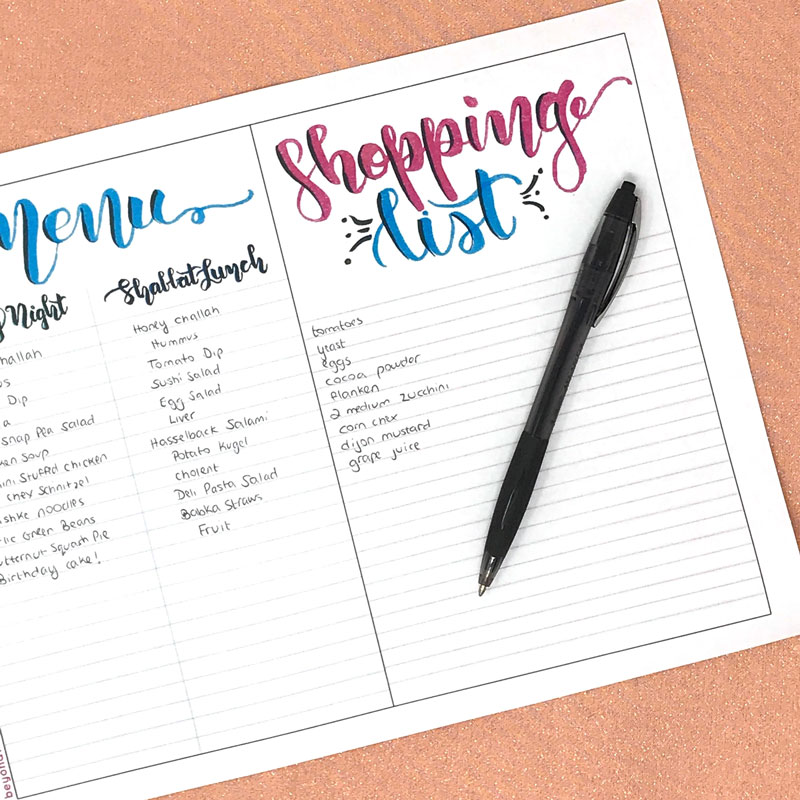 What's on your Shabbos menu this week? What are your best tips for planning your Shabbat meals? Comment below!