Download this free printable sefirah chart to count the omer with kids! Love this but want something more grown up? Download this sefirat haomer calendar instead. This post contains affiliate links.
---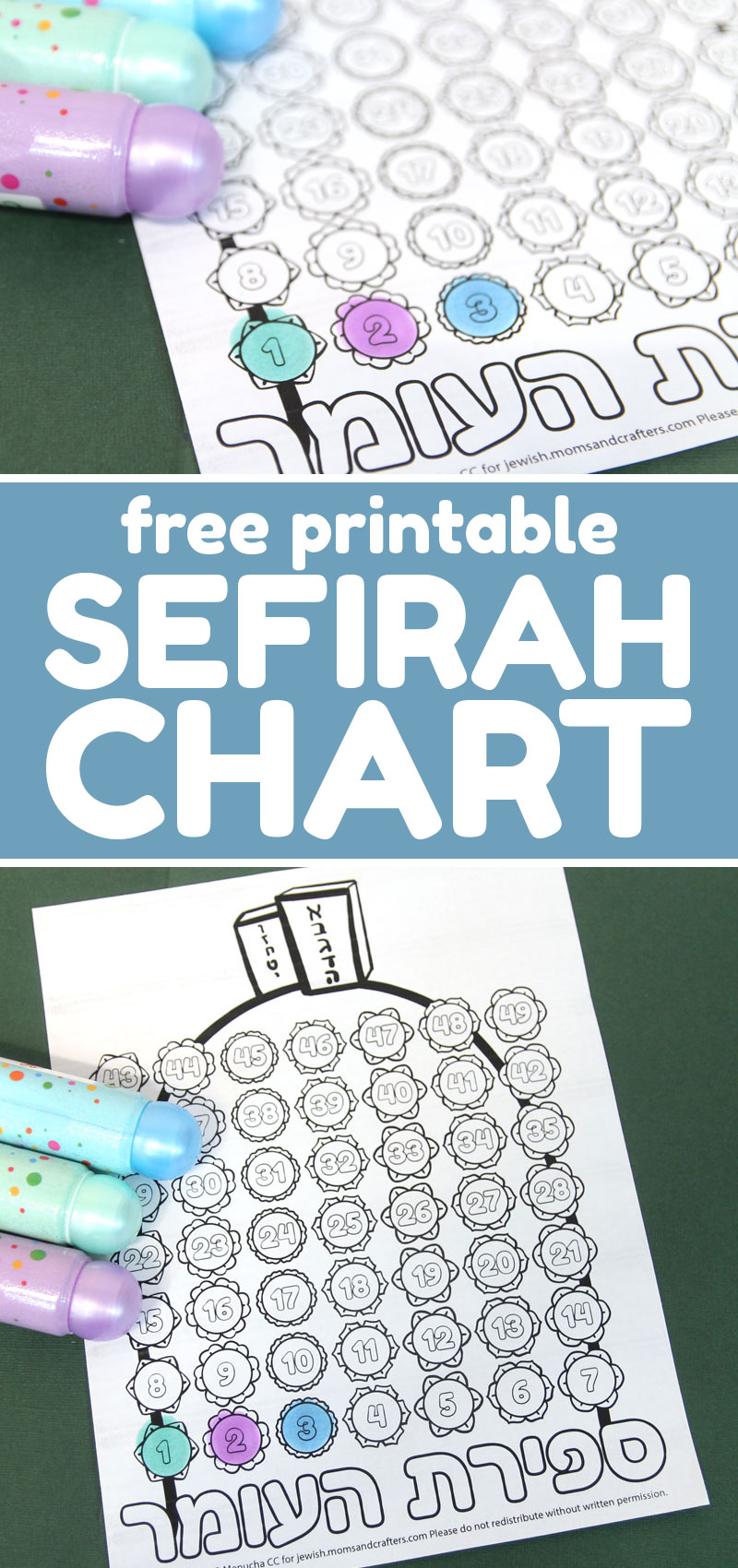 One of the perks of reviving and getting ads on this blog is that finally I can offer those free printables I've had on my "to do" list basically forever… As is the case with this free printable sefirah chart.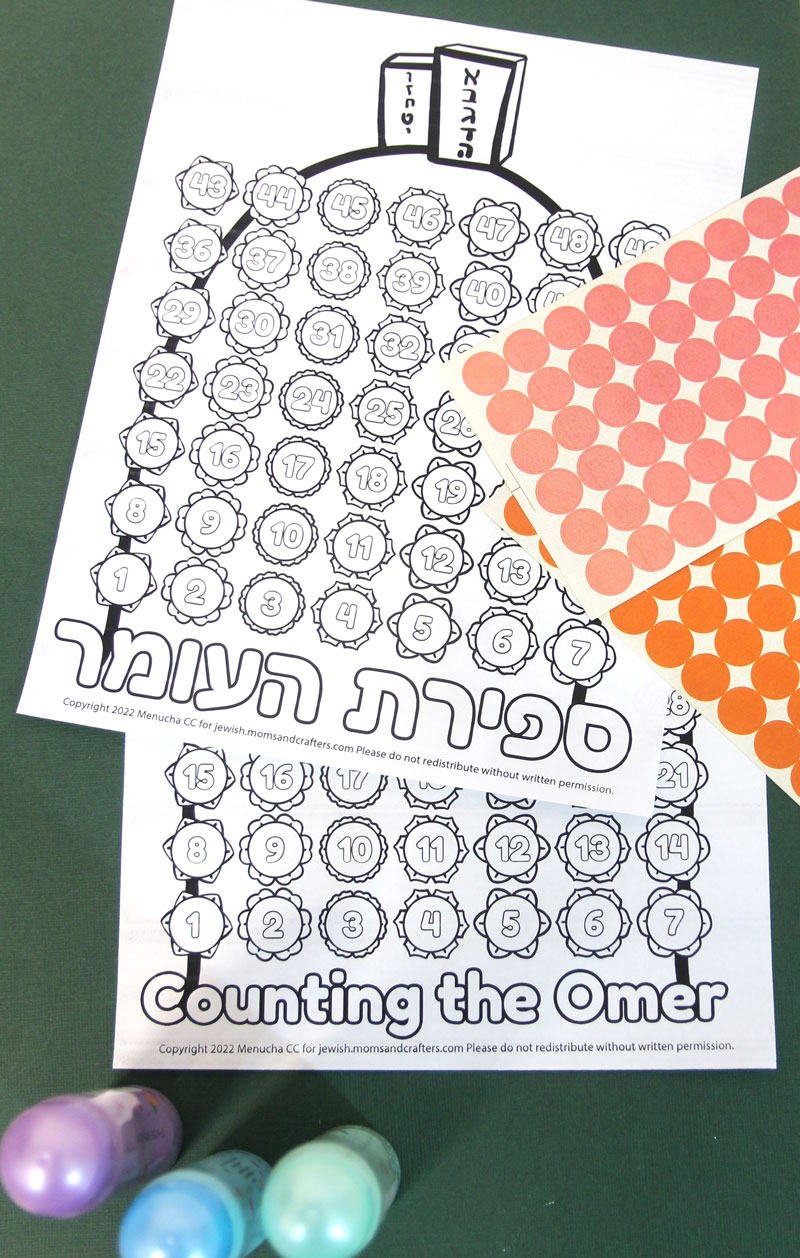 Years ago, I jotted "make do a dot sefirah" on my to do list and it moved from year to year… and finally I am thrilled to be sharing it with you!
Frankly, it was a bit more complicated than I'd anticipated. The flowers were too big to fit and I had to redesign them a few times until I came up with this design – with "barely there" petals. But I still love it!
The flowers climb up Mt. Sinai to reach the luchot tablets and celebrate Shavuot when we received the Torah. This is a two-page printable with one page saying Sefirat Ha'omer in Hebrew and other Counting the Omer in English.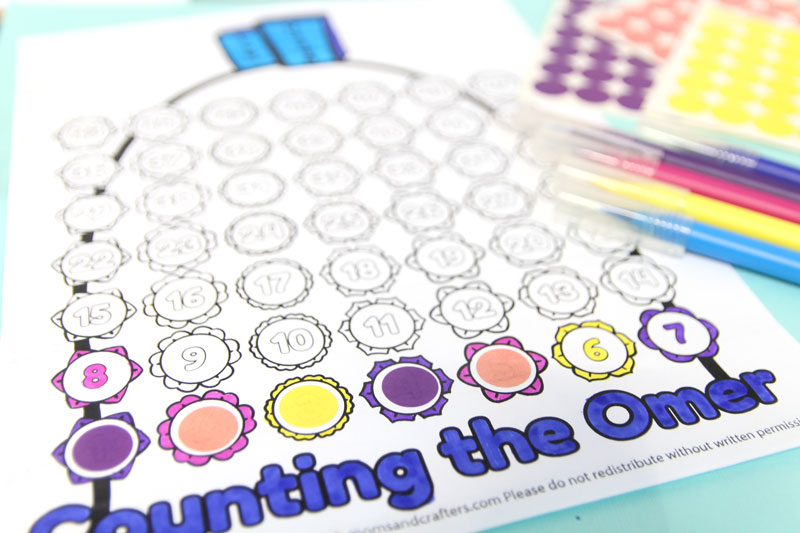 How to use your dot Sefirah chart
Of course, you can just check off the days as they come, but here are some more ideas for different age groups – from preschool and beyond. I also share ideas for different settings – at home, start in school and take home, and in school.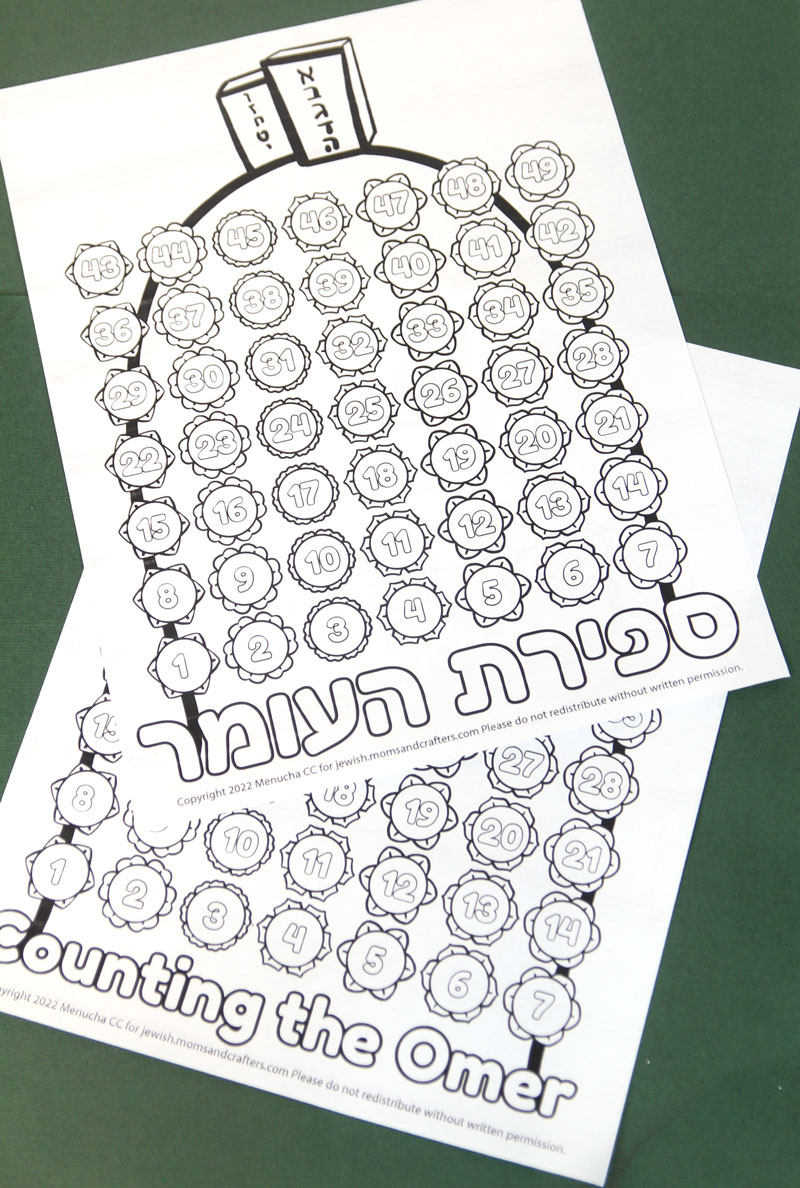 What you can use to fill in your sefirah chart and make it fun
While we love bingo marker crafts, with a sefirah chart, where you check off one day at a time, it can be a bit impractical. That's why I also had dot stickers in mind to use with this. I do share some ideas below this for each setting.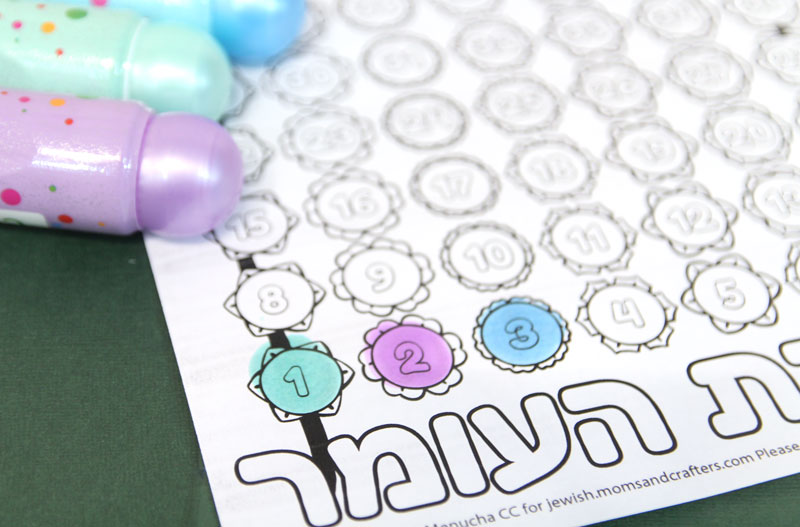 How to fill out your sefirah chart:
Bingo Markers – otherwise known as Do a Dot or Dip Dot (as my kids call it). I purchased mine in Michaels. These are Creatology brand and have a slight shimmer that's fun for spring. Unless you have a high budget and a small class, it can be impractical to send each child home with a bingo marker, and I wouldn't assume they have them at home.
1/2 inch or 3/4 inch dot stickers – Children as young as toddlers can have fun practicing fine motor skills by adding dot stickers to the center of each flower. The dots are all 3/4 of an inch in size. Choose 3/4 inch stickers for children who will be able to place them carefully, and 1/2 inch for kids who need more leeway.The stickers I used are half-inch ones.
Round flower stickers – Yes, you can cover my design! When searching for these make sure that each sticker will somewhat fit the flower.
Just color it in – Especially older kids who can be more exact in their coloring may prefer to simply color! They can color it all in advance so it looks pretty, leaving the numbers white. Then, color the number on the correct day. Or they can color the background only in advance, coloring a flower each day.
Here's how I suggest using it in a classroom setting
Since dot markers aren't so practical, here are a few ideas for the classroom.
Have the kids color it in class. Don't worry if they color in the flowers! The numbers are likely to still show, especially if they use crayons and not markers.
Send it home with a sheet or two of 50 total dot stickers.
Kids can then count the omer at home with their families.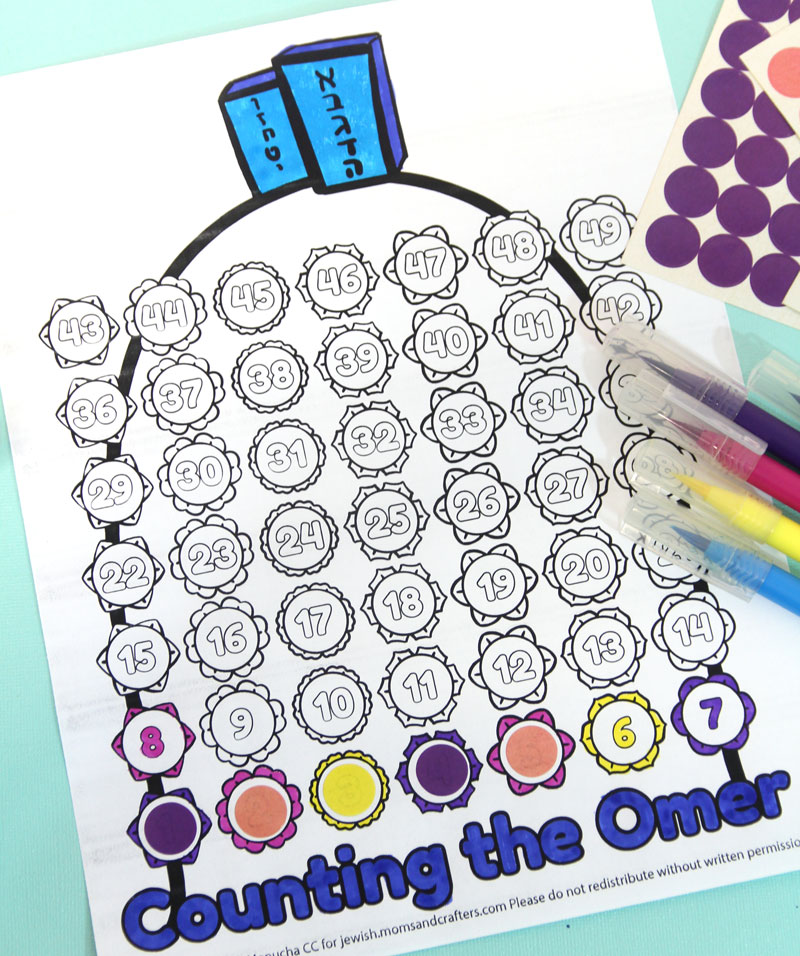 Want to use it with dot markers instead?
To do this in a classroom setting, you can have each child take it out for a few minutes each day (prayer time is perfect) and Bingo marker it. They can have a few extra minutes to color if you'd like.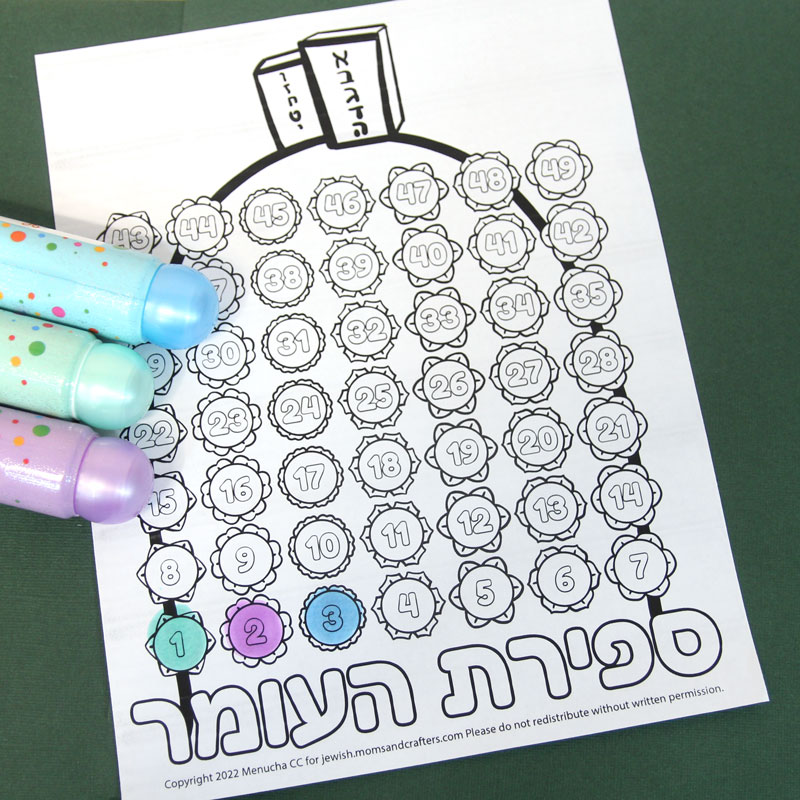 Download your free printable Sefirah Chart below
Download your free coloring page! It'll arrive right in your inbox. By downloading, you're subscribing to our FREE newsletter with updates on cool printables like this, ideas to simplify Jewish life, and more. Unsubscribe at any time at the bottom my emails. I respect your privacy and the law, and won't share or sell your email address.
I hope you enjoyed your sefirah chart for kids! How will you be filling yours in? Got any ideas to add? Comment below!