Ready for some super fun Chanukah coloring pages? Today I'm sharing some free coloring pages for kids, as well as more options for kids and adults! When you're done, check out these Hanukkah suncatchers too! This post contains affiliate links.
---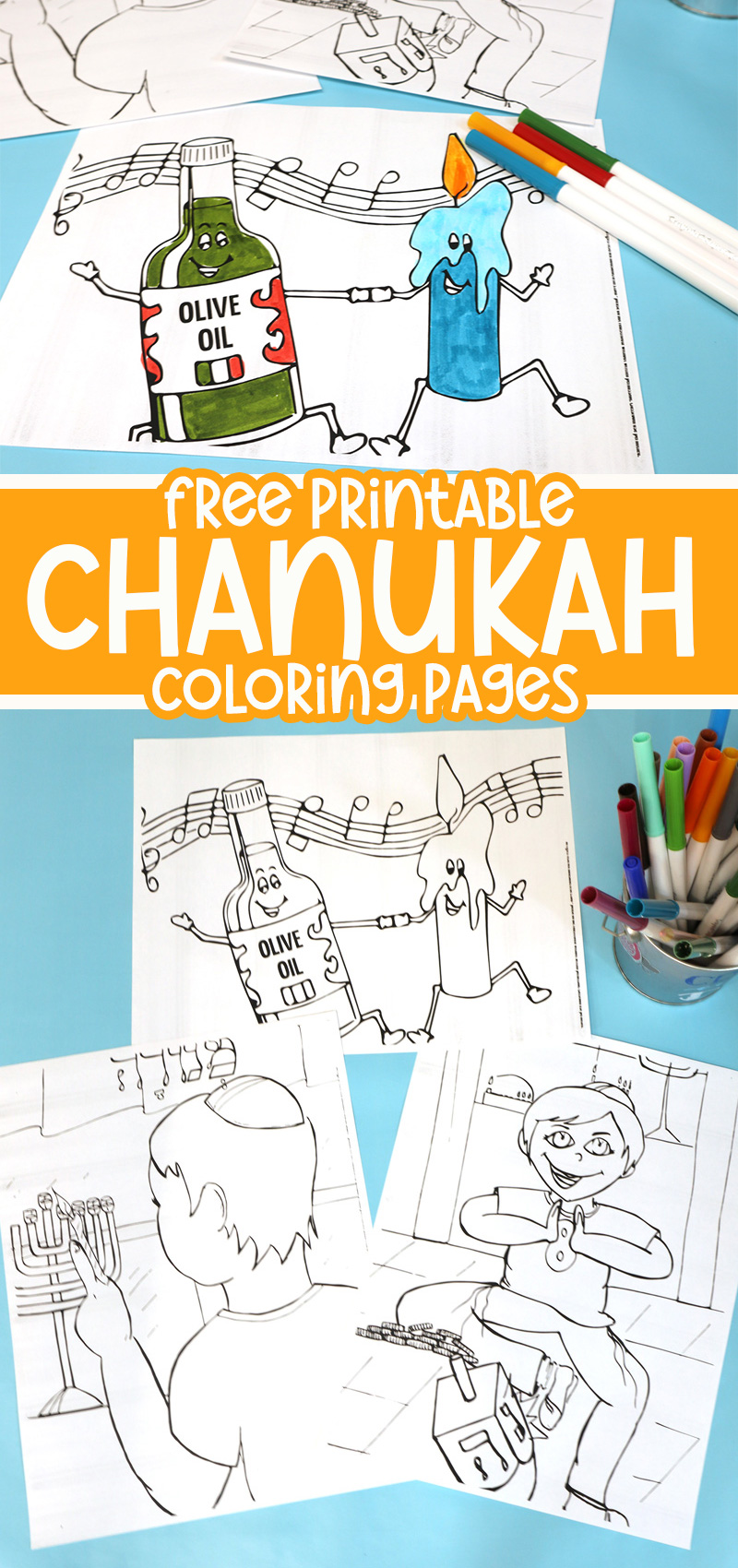 When it comes to crafts for Hanukkah, especially for the youngest set, there's nothing quite as easy as good old coloring pages!
I've decided to take the opportunity to share some Chanukah coloring pages for kids, adults, and everyone in between.
In this post, you'll find a free download within the post, and links to more options and downloads (free and premium).
One of the things I've discovered when looking around for Chanukah coloring pages is that so many of the options out there are either in poor taste, or look like a few pieces of outlined clip art plopped on the page.
While I do appreciate that so many people are helping Chanukah to become a thing, part of the essence of the holiday is that it needs to be celebrated in a way that's true to its history. Chanukah is about resisting efforts at forced assimilation, at the risk of life itself, so when I see a Chanukah coloring page with holly and Christmas lights in the background, it does cut deep.
3 Free printable Chanukah coloring pages for kids
First, I'm sharing a fun set of Chanukah coloring pages for kids that you can download for free right in this blog post.
About the coloring pages
This coloring page set was originally illustrated way before I started blogging. I created it for a friend of mine in France who was teaching some young boys (which is why there are boys in the photos – my apologies to the girls!)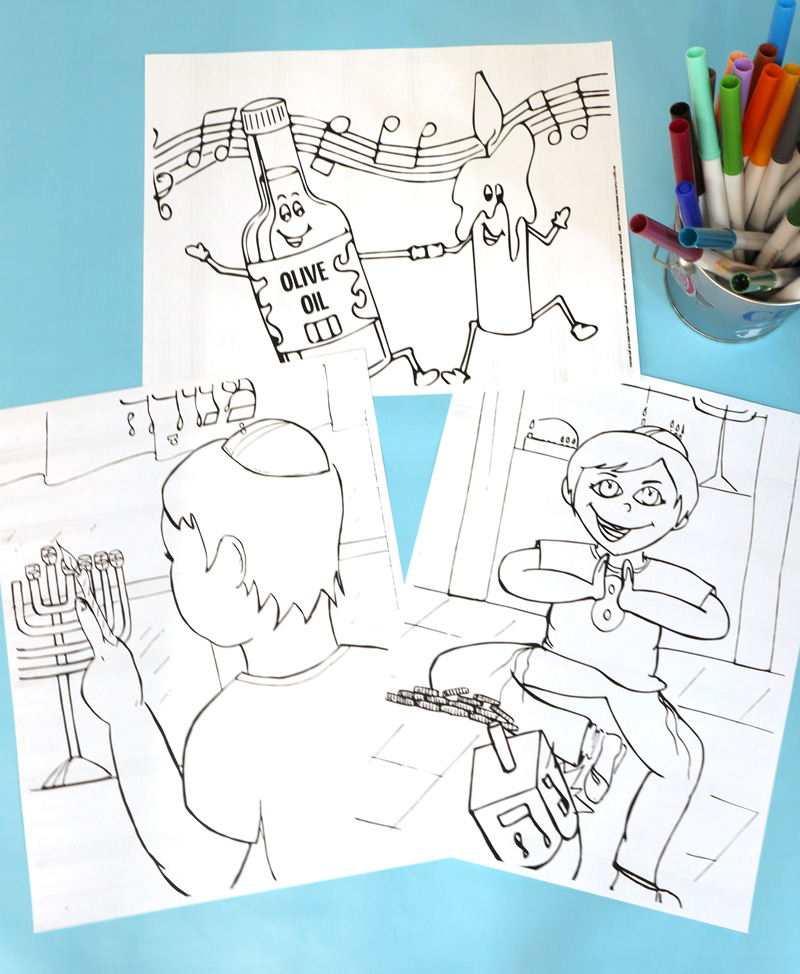 I created three pages:
One of a boy lighting a menorah by the window
One of a boy playing dreidel
And finally, a slightly quirkier page with a bottle of olive oil and a candle dancing to some music, to symbolize the different ways that people light. The original, of course, said huile d'olive but I anglicized it for the sake of my English language blog.
It's a three page PDF which I hope that you and your kids really enjoy!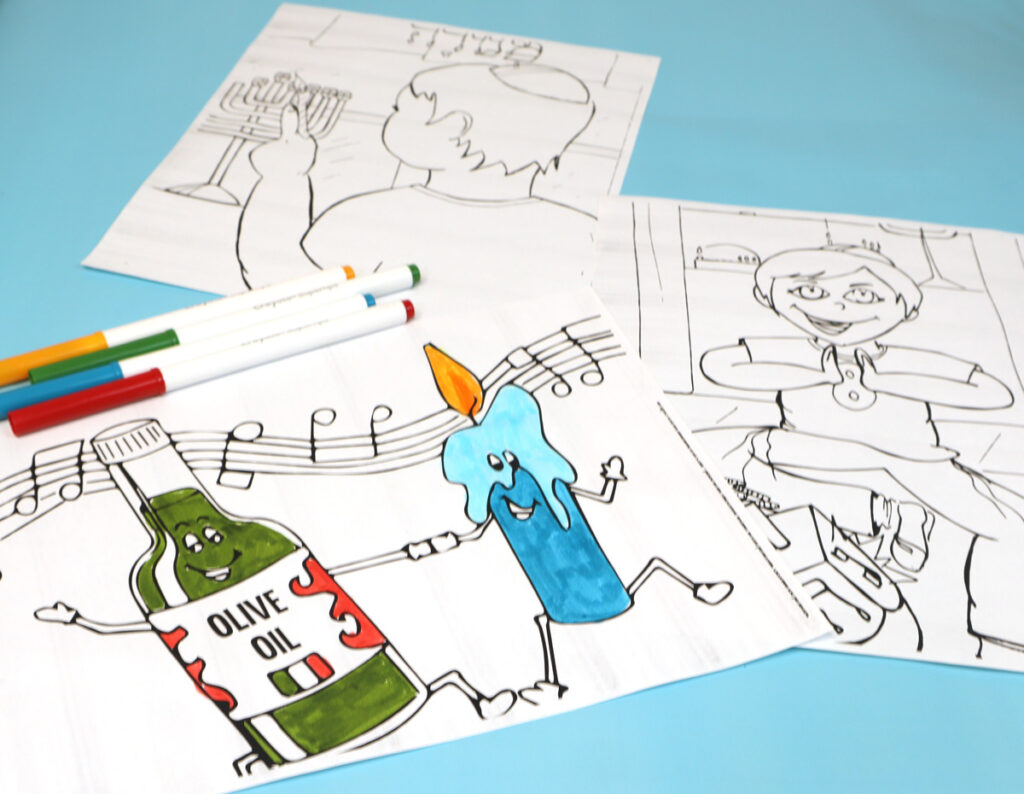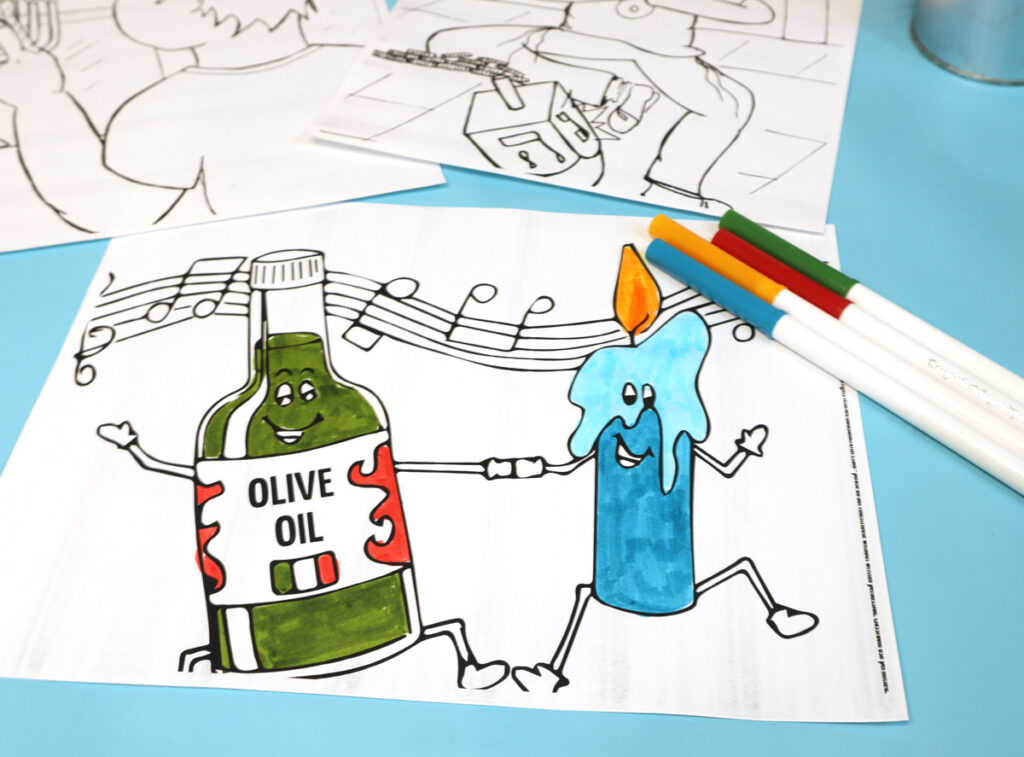 Download your free Chanukah coloring pages for kids
Download your free coloring page! It'll arrive right in your inbox. By downloading, you're subscribing to our FREE newsletter with updates on cool printables like this, ideas to simplify Jewish life, and more. Unsubscribe at any time at the bottom my emails. I respect your privacy and the law, and won't share or sell your email address.
More Chanukah Coloring Pages for Kids
This year, I added a few additional Chanukah coloring pages for kids to my Etsy shop. Thankfully, my skills HAVE improved so I hope you enjoy these!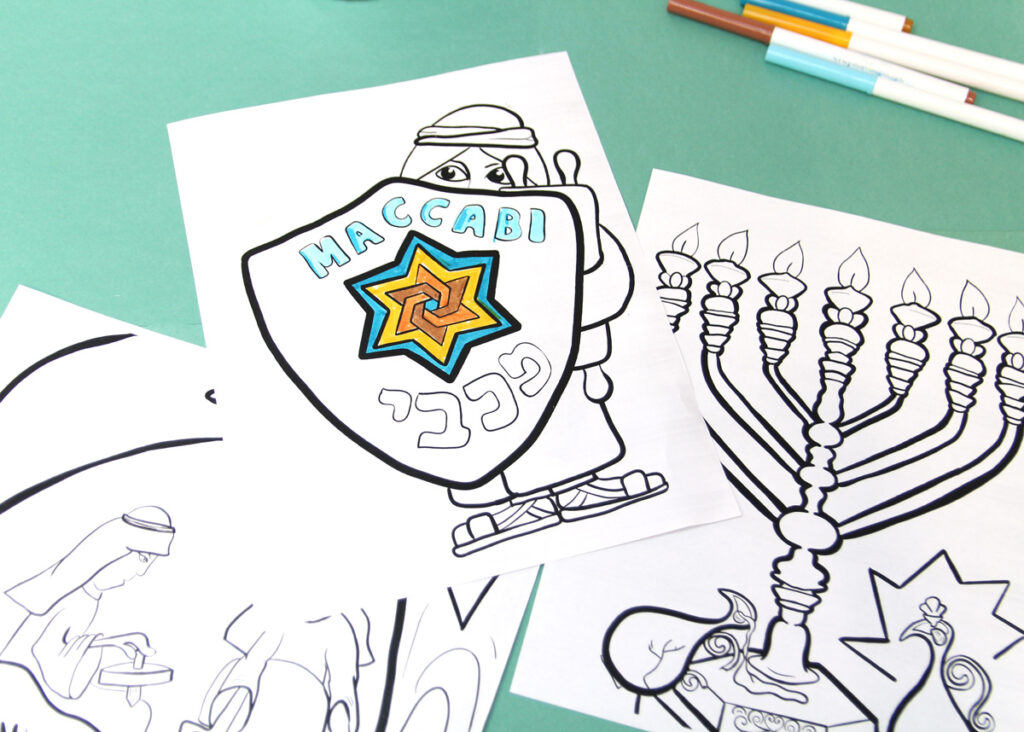 I created two sets of three (with bonuses).
The first focuses on the Chanukah story! It includes:
Kids hiding a scroll in a cave while pulling out spinning tops (to symbolize hiding their learning and disguising it with playing dreidel)
A Maccabee hiding behind a shield with a Torah scroll
The 7 branched Menorah that was in the Beit Hamikdash/Temple. There are two jugs of olive oil next to it. One has the seal broken and is contaminated. The other is the one jug with the seal intact that will miraculously last for 8 days.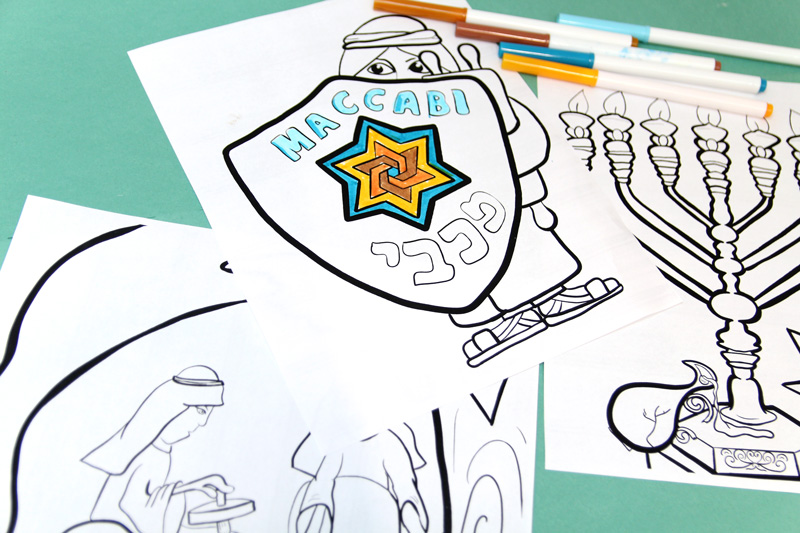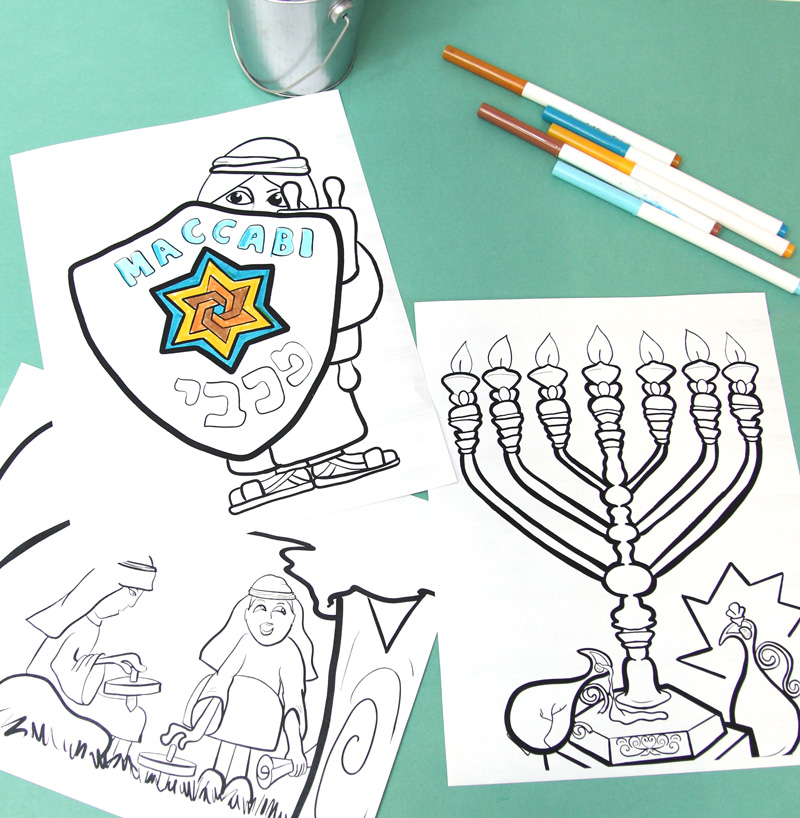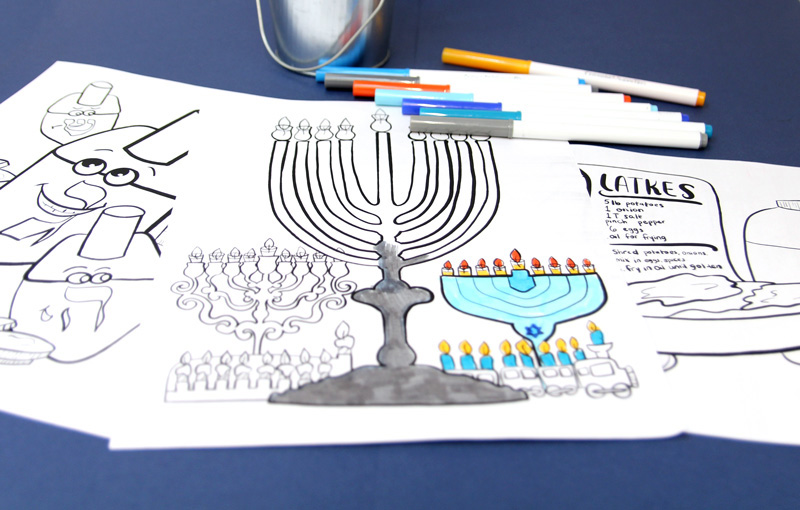 The second focuses on the traditions of Hanukkah! It includes:
A family of Chanukiyah/Hanukkah Menorahs. I tried to include different styles – the large, silver main family one, an overly ornate silver plated one, a ceramic one, a tin disposable menorah, and a kids' train menorah.
Dreidels playing dreidel – Each dreidel has an expression to match the game rules! So nun is somewhat indifferent, gimmel is gleeful, hey, is quite satisfied, and shin looks devastated. I did create a "pey" alternative for those of you in Israel.
Frying Latkes – of course, I made a Hanukkah-themed oven mitt! And it includes a copy of the latke recipe too. I created an alternative in Hebrew for Ivrit classes or those of you in Israel.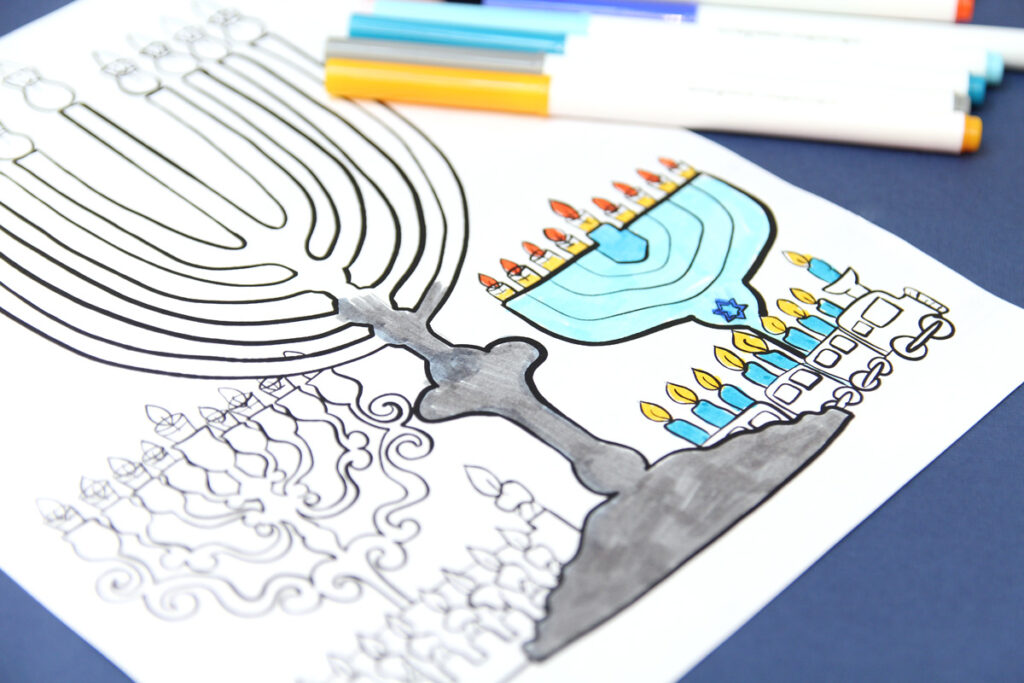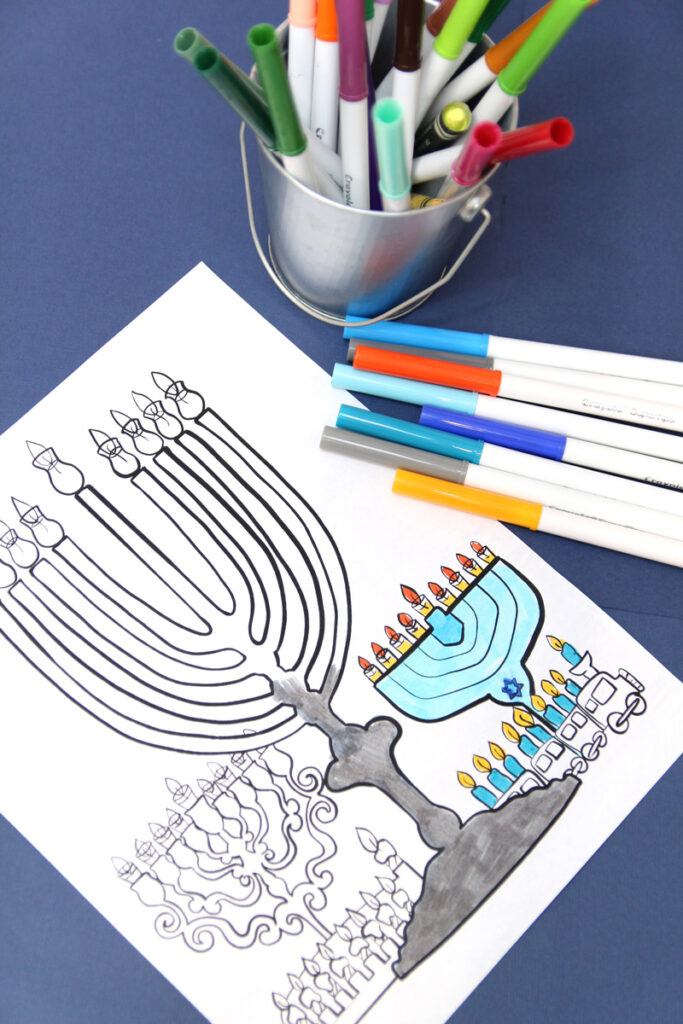 Hanukkah Coloring Pages for Adults
I created a few adult coloring pages too over the years, one freebie that I offer on this blog, as well as a paid bundle.
A free printable
The free printable Hanukkah coloring page for adults is a star of David Menorah with flames. It's quite simple, making it perfect for tweens and teens too.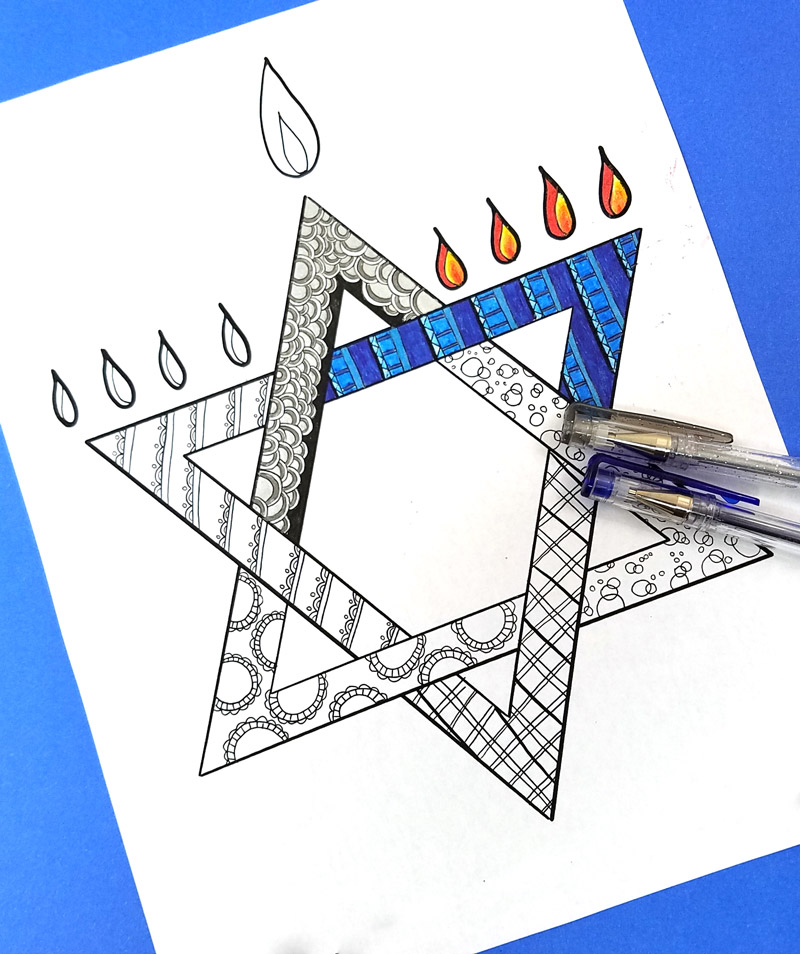 More fun adult Chanukah coloring pages
Even before I created the freebie above, and before I started this blog, I illustrated a 5-page adult coloring set for my Etsy shop. These are also fabulous for big kids.
This set includes:
An intricate Menorah (Chanukkiyah)
A designer dreidel, inspired by collector and art dreidels I've seen
Donuts of course!
A pattern page with dreidels. But look closer! There are menorahs in the "white space"
And finally, a very nostalgic one of the Brooklyn brownstones with menorahs in the windows. This one is based on childhood memories of going to my grandmother's Hanukkah party at night and seeing all those menorahs.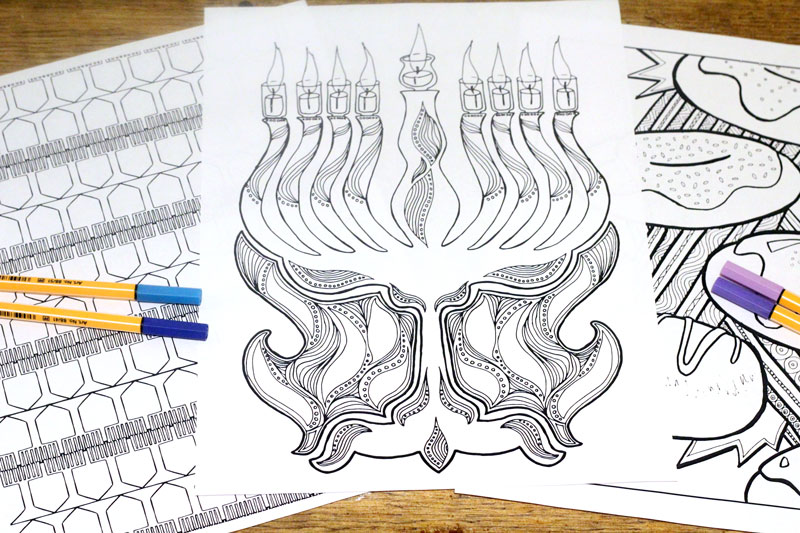 Coloring Crafts for Hanukkah
Some of my favorite Chanukah coloring pages are in fact crafts built around coloring pages. These fun ideas are fabulous for toddlers and up!
Coloring Glasses craft
Which preschooler doesn't just love some pretend glasses? These paper glasses for Hanukkah include a free sample as well as a full bundle with 8 more designs – for 8 nights of Hanukkah!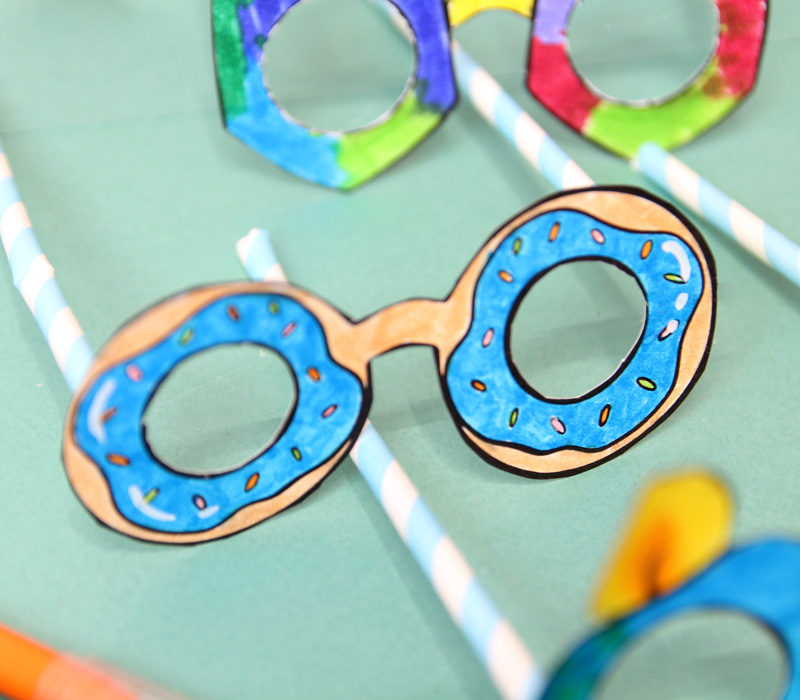 Hanukkah puppets
There's nothing quite like engaging with the story of Chanukah in an interactive way! These Hanukkah puppets include both traditions and story character options.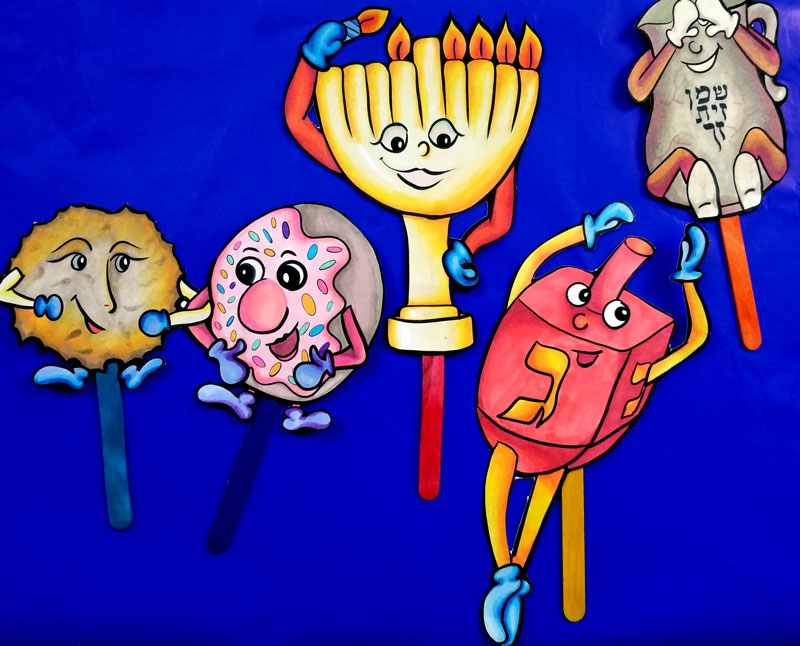 Color & Craft Clothespin Menorah
Years ago, a blog post/tutorial for a clothespin menorah was a big score. More recently, I created a printable set that kids can color to make the process even easier!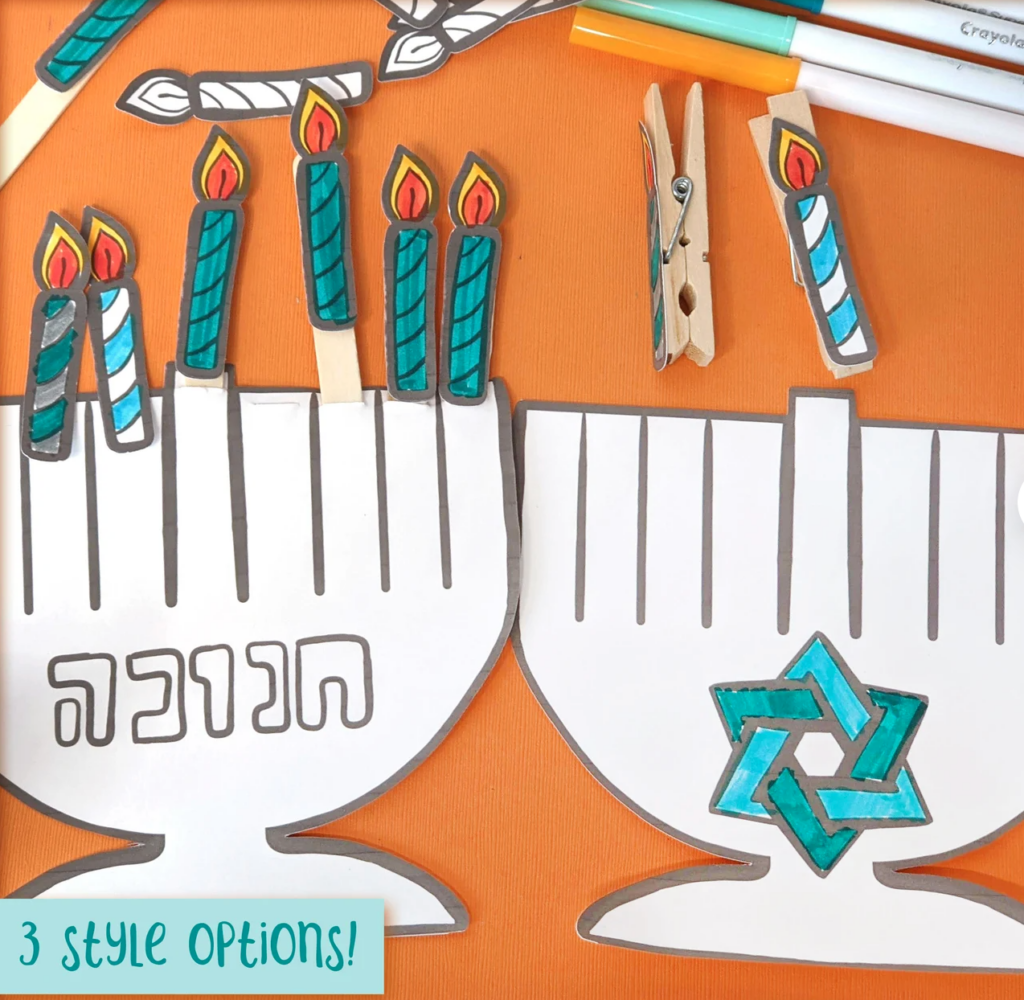 Color & Craft Paper Dreidels
And finally, if you're looking to create a fun, 3D craft from a coloring pages, these color, cut, & fold dreidels are such fun – and there are choices for how complex you want them!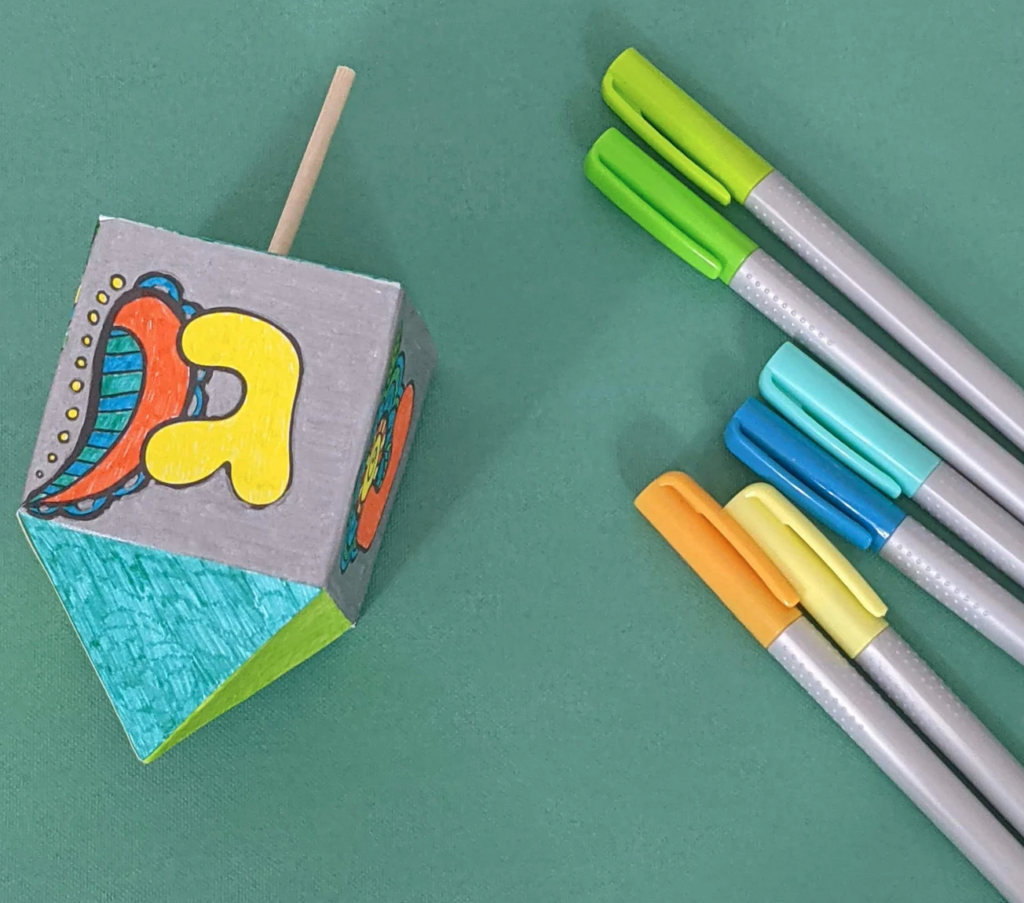 Got any favorite Chanukah coloring pages? Comment below!