Craft a fun little pop up Menorah card with this Hanukkah card template! Then check out these Chanukah coloring pages too. This post contains affiliate links.
---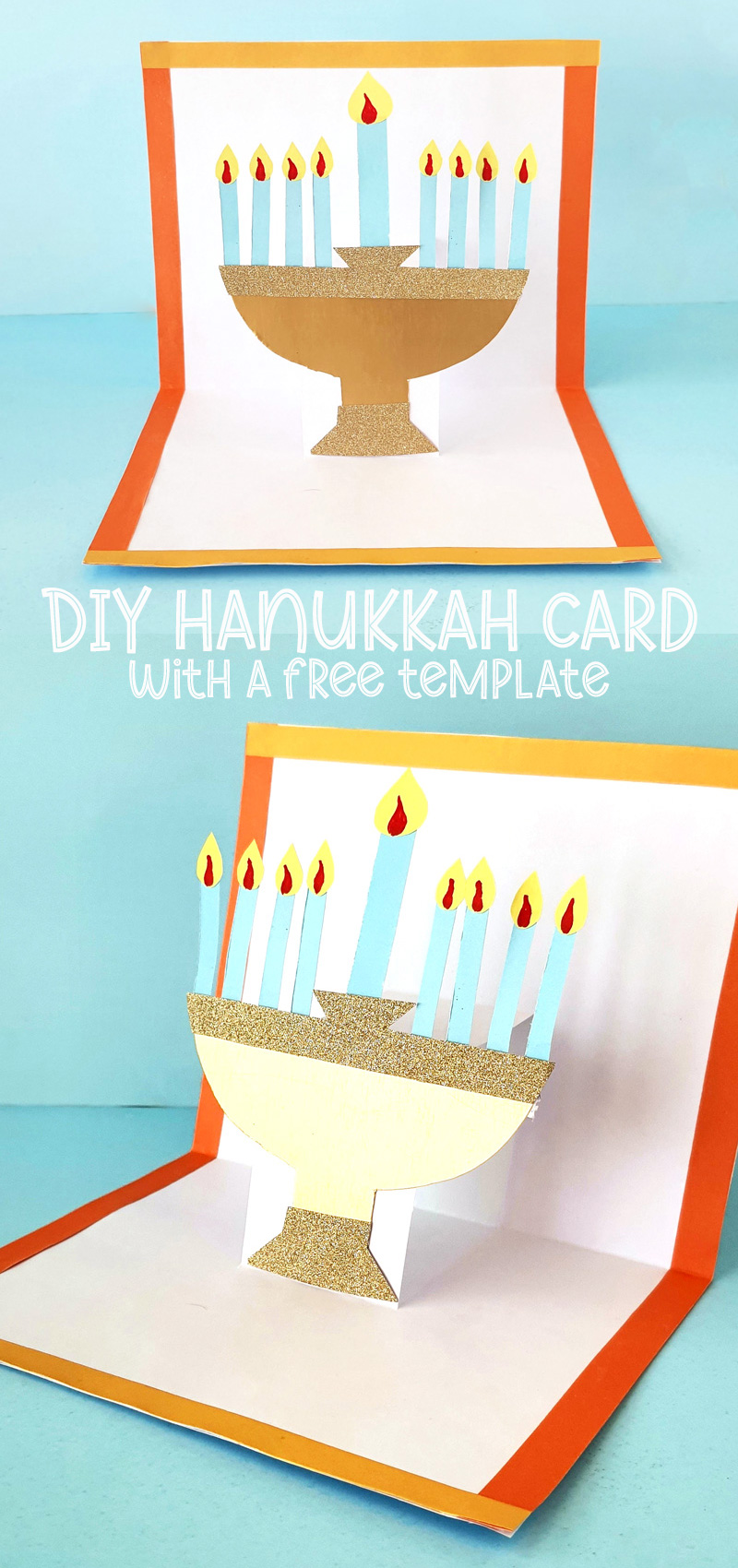 There's nothing quite like a handmade card to really upgrade a gift – whether it's for a favorite teacher, a housekeeper, a family member, or your neighbor.
This menorah pop up card is quite simple to make and when you're done, you'll want to give it a go with a dreidel – and possibly a donut – too!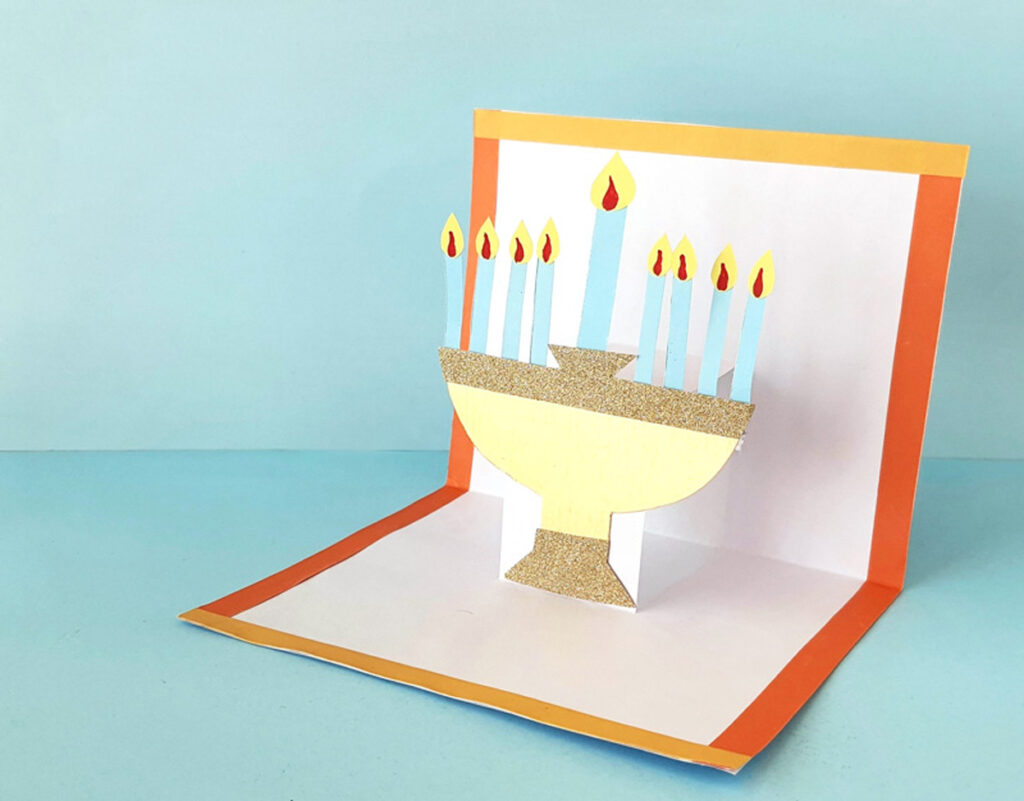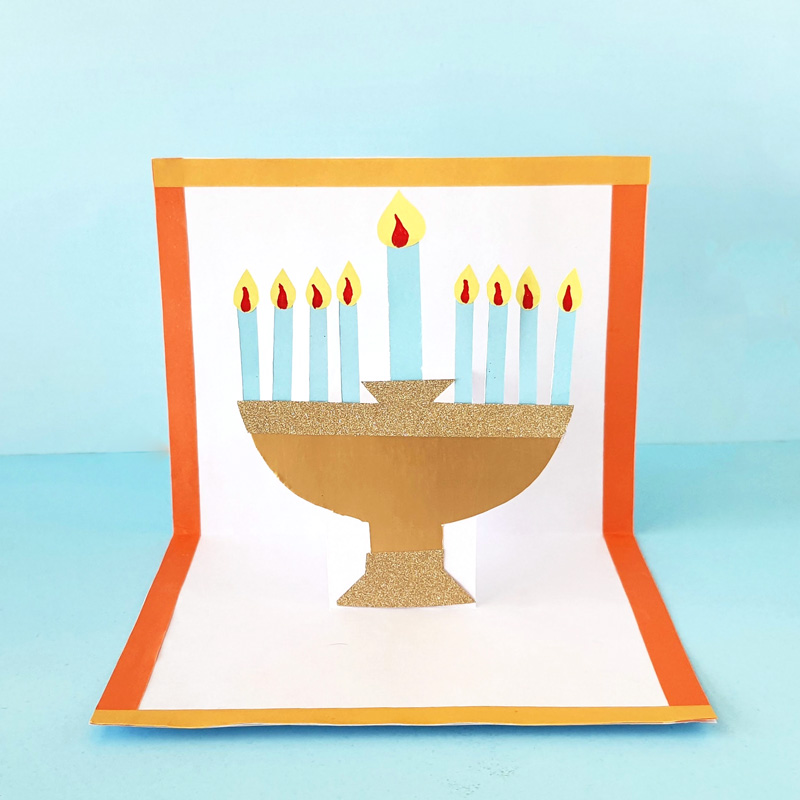 The trick to making a pop up card with any image is simple: you cut a slit and invert it in the center of your card "lining". Anything attached to the front will pop up when the card is opened.
Confused? Don't stress! This post features step by step instructions so you'll be able to craft it quite simply. I also share a Hanukkah card template featuring the Menorah to go with it.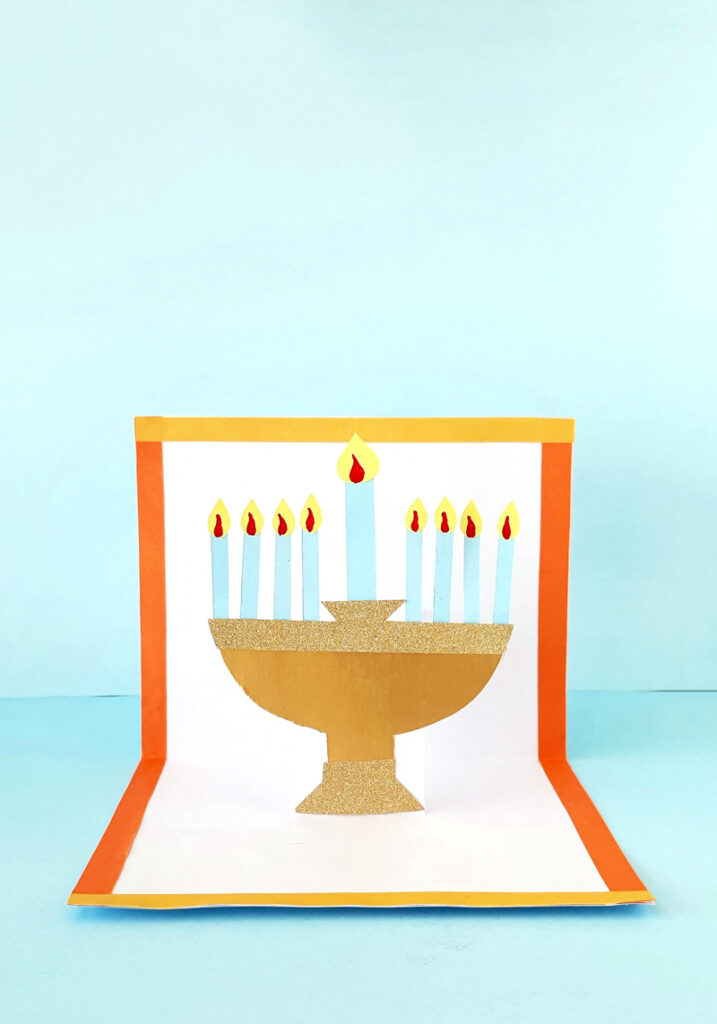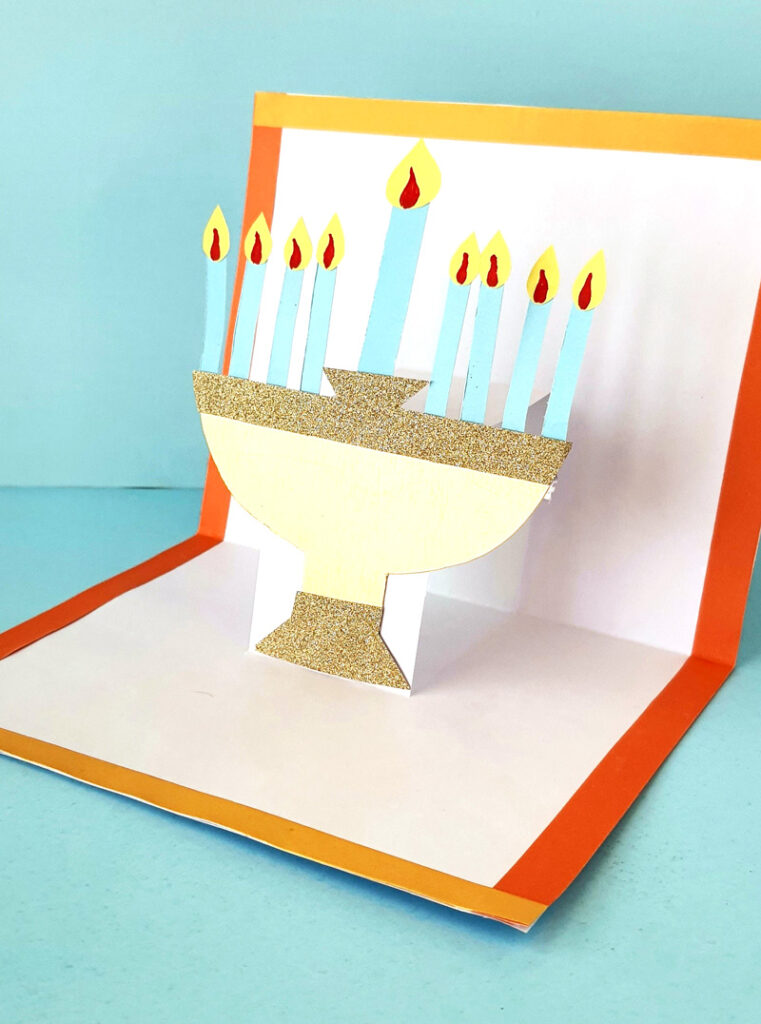 The cool thing about a craft like this is that you can truly get creative. You're given a basic framework to craft within and you can stick to it or embellish. Here are some ideas:
Get creative with the materials and trim for the menorah.
Cut flames out of tissue paper squares instead of paper and fluff them up.
Add filigree designs to the menorah using metallic puffy paint.
Add designs to your candles to reflect real Hanukkah candles.
I definitely encourage you to get creative and add your own twist!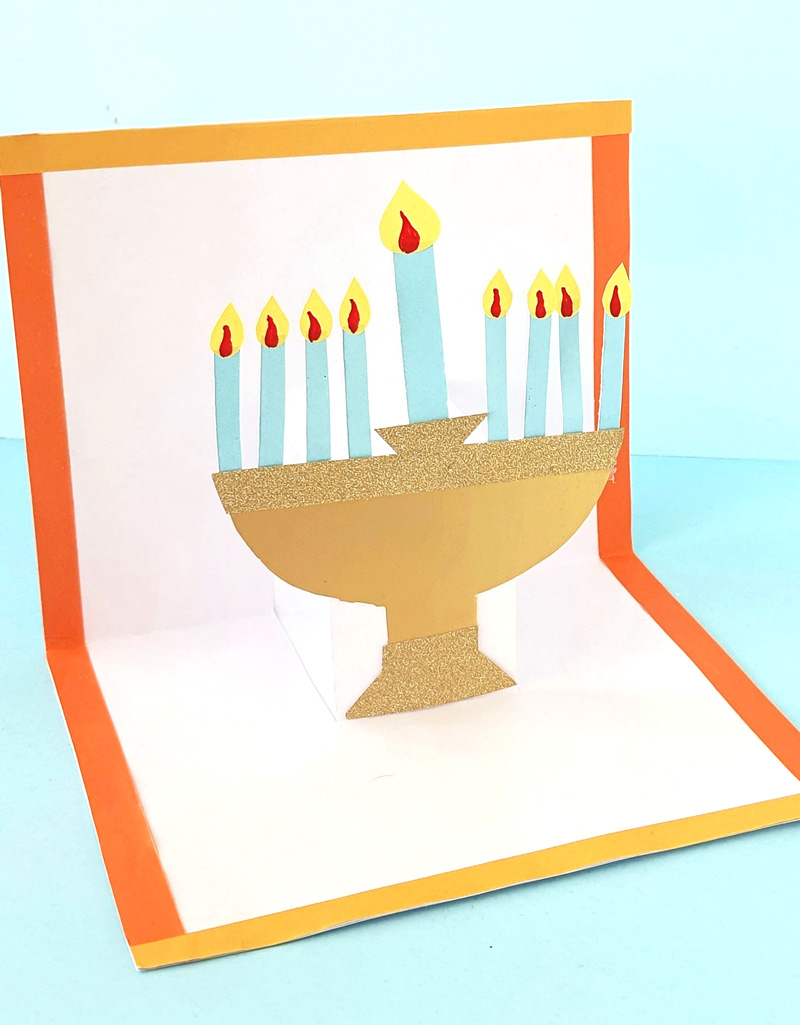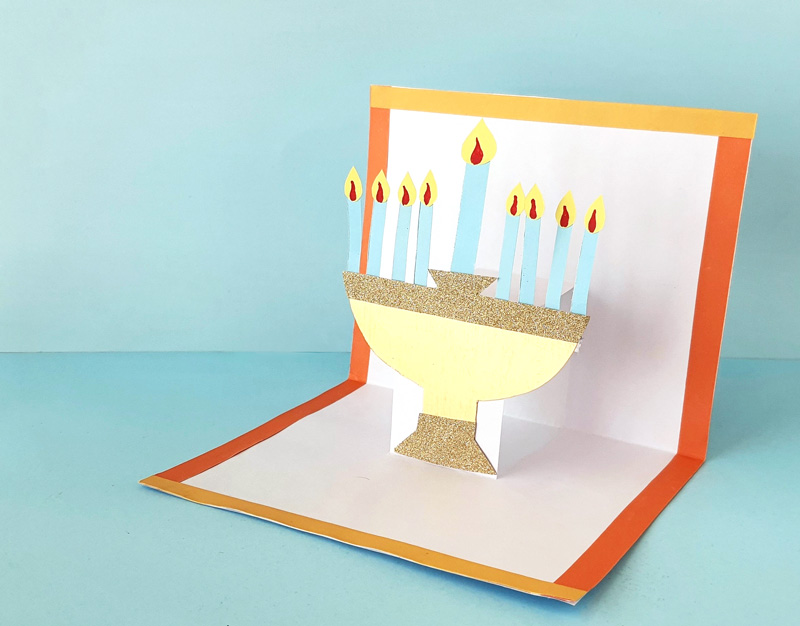 Download your Hanukkah card template
Download your free template! It'll arrive right in your inbox. By downloading, you're subscribing to our FREE newsletter with updates on cool printables like this, ideas to simplify Jewish life, and more. Unsubscribe at any time at the bottom my emails. I respect your privacy and the law, and won't share or sell your email address.
What you need
Pencil – to trace the template
How to assemble a menorah pop-up card
1. You can use the Hanukkah card template provided, with the tutorial or you can simply follow the basic pop-up card making process. Print and cut out the Menorah and candle templates. Trace onto the correct colored paper and cut out.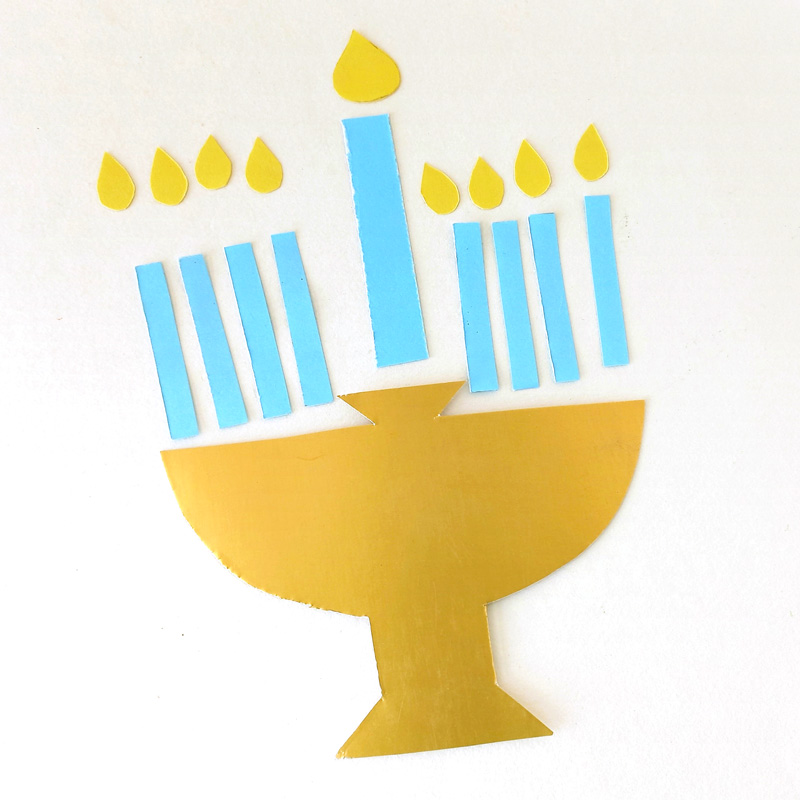 2. Glue a flame onto each candle.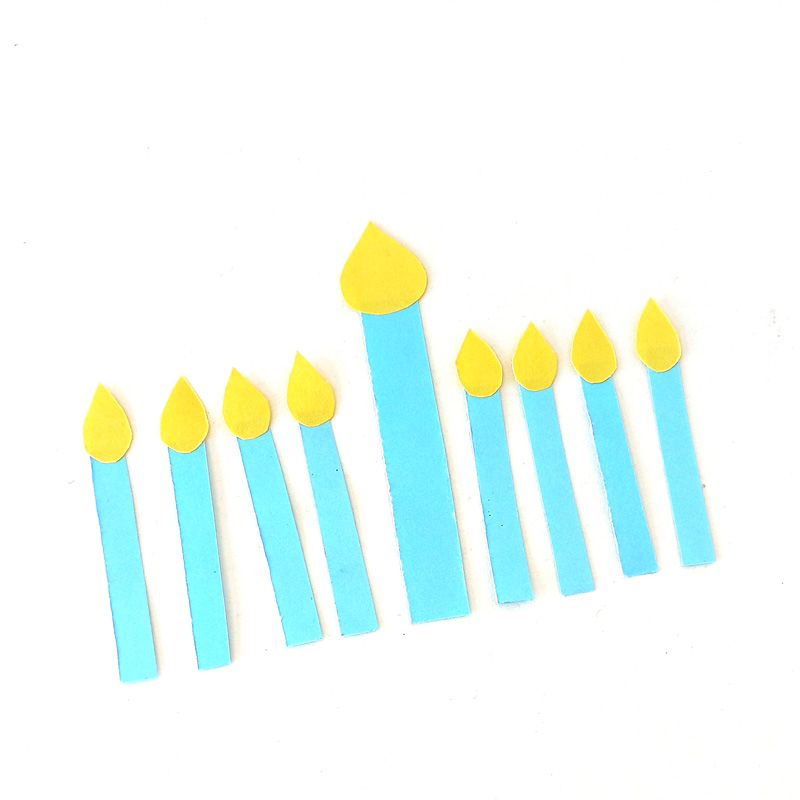 3. Take the Menorah and glue the large candle in the center part that protrudes for the shamash.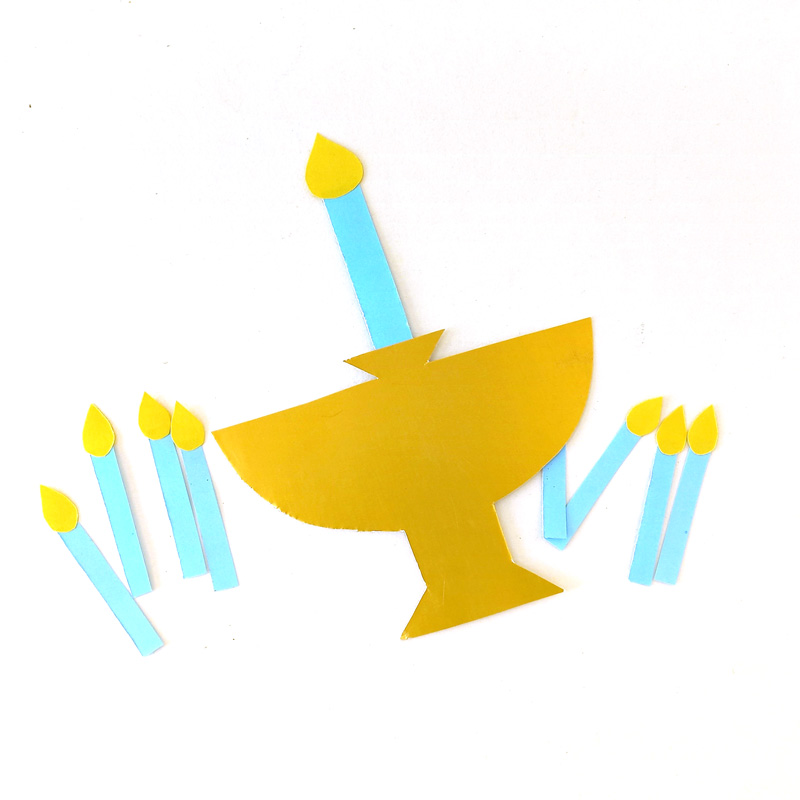 4. Glue the rest of the candles – 4 each side – evenly spaced.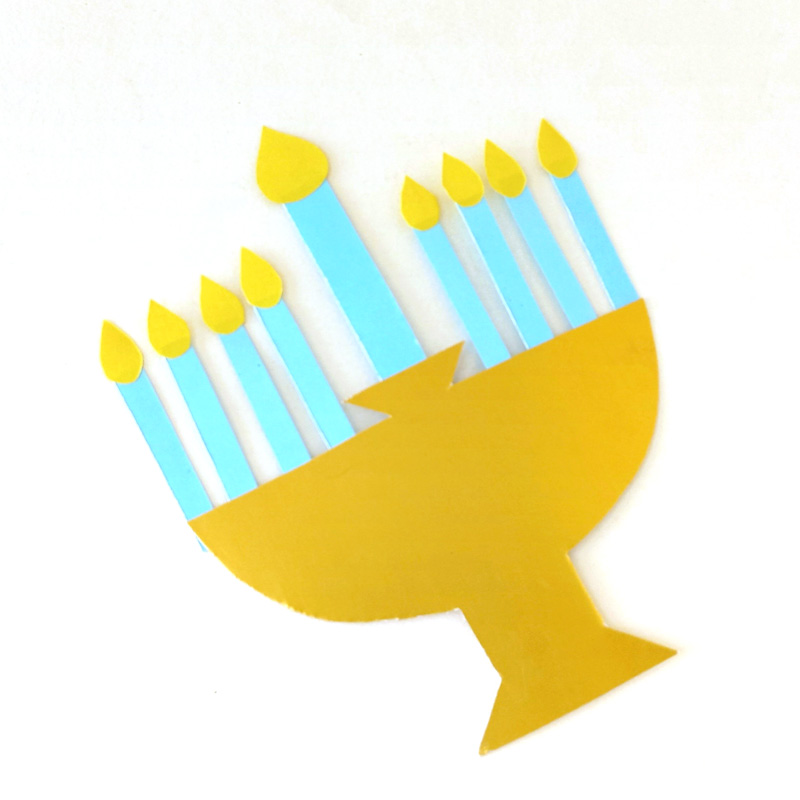 5. Use a red or orange marker to add a little depth to your flames.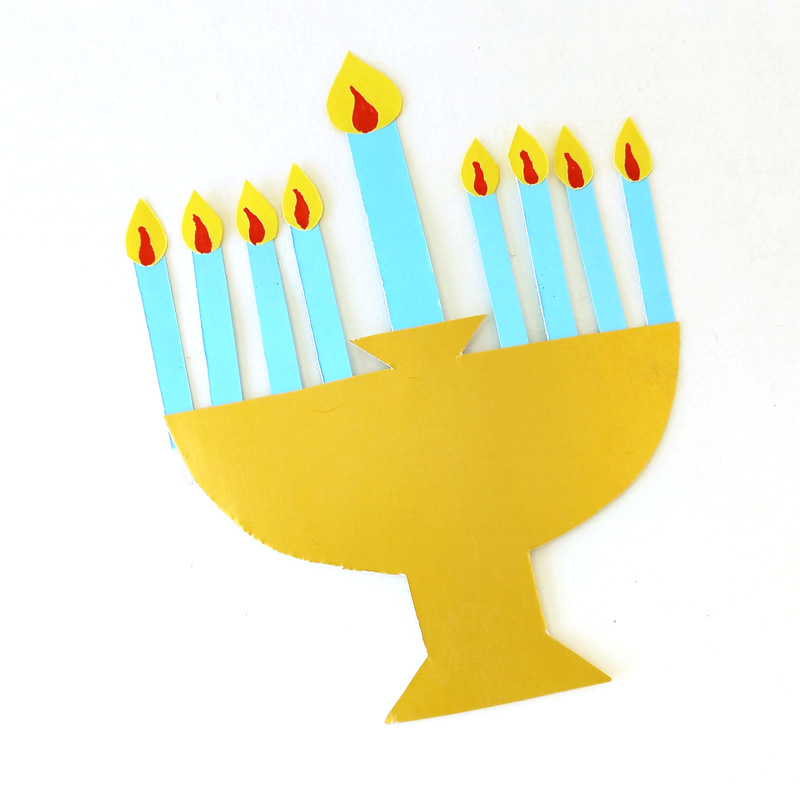 6. Trace and cut out the Menorah details from glitter or another accent paper to give it a decorative look. Glue it on the Menorah.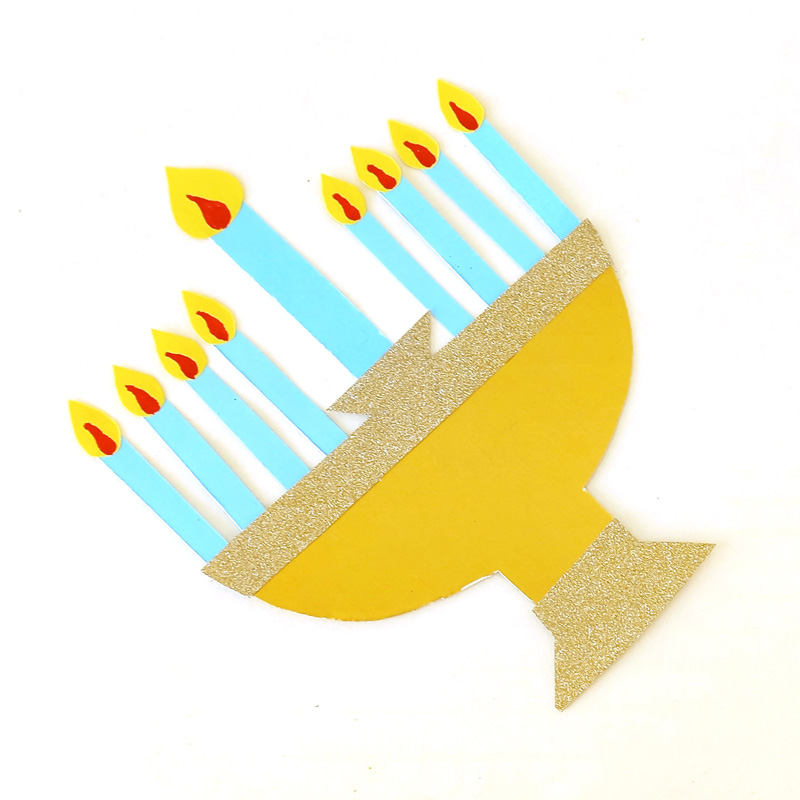 7. Prepare a thick piece of paper or cardstock paper for the inner card. It doesn't have to be white, but keep in mind how you plan to add your message to it and make sure you have the tools to color on that kind of surface.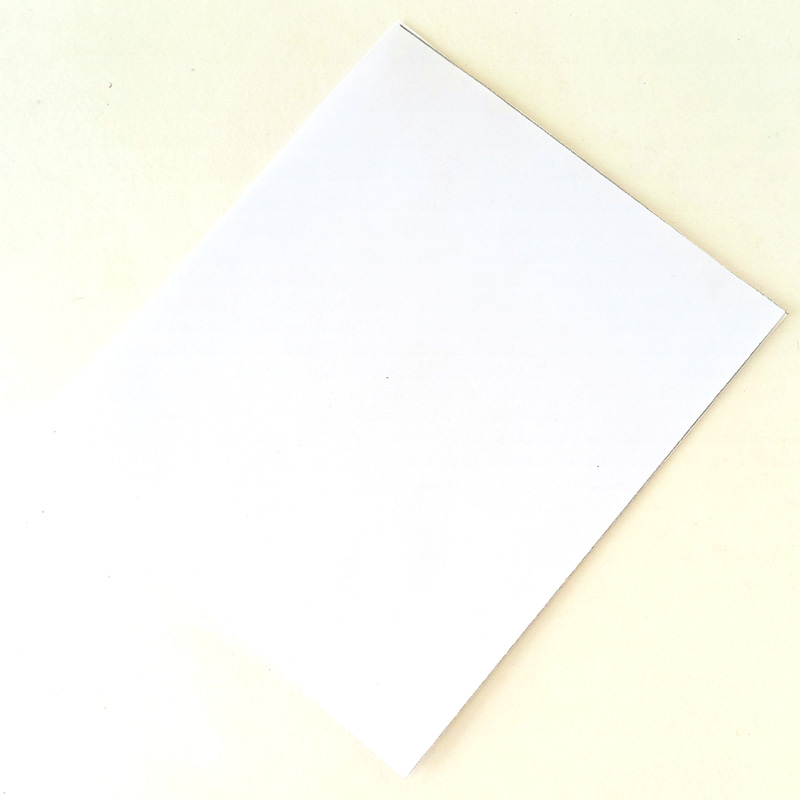 8. Cut a backing for your card. It should stick out a little around the edges. You can add strips in a contrasting color for interest.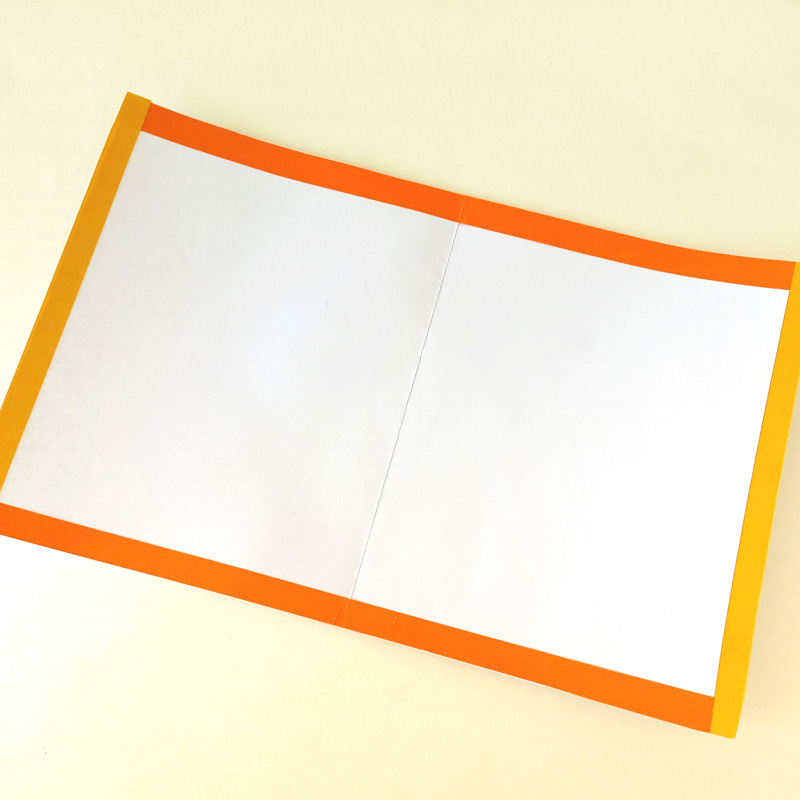 9. Fold the insert card in half and trace the pop-up card template on the fold. Cut two slits in the sides.
10. Then fold up on the horizontal line.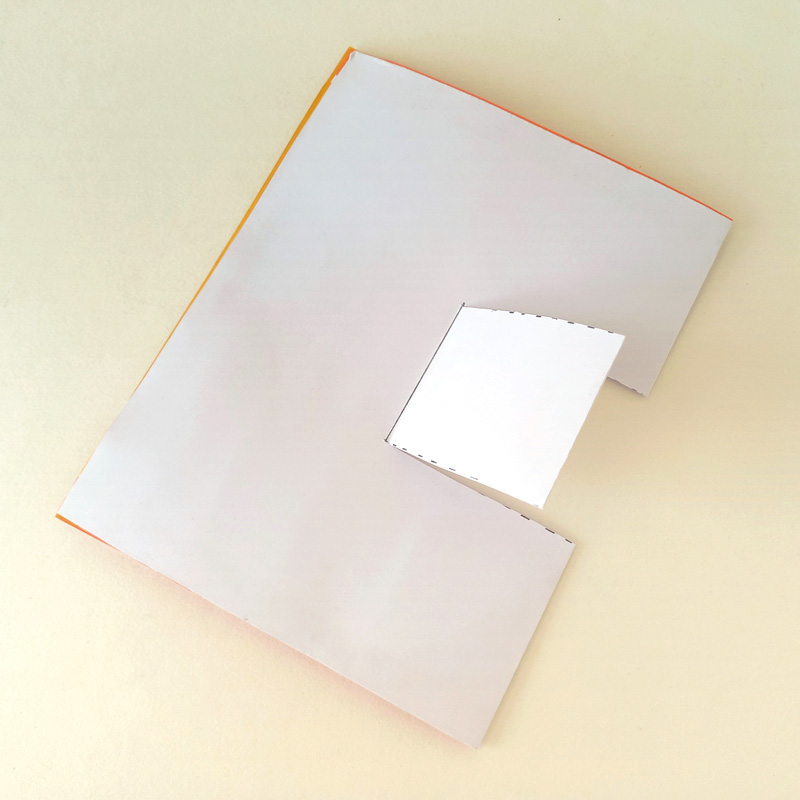 11. Open your insert and fold the cut part at a 90 degree angle in the opposite direction of the way the card opens. Now glue your card base to the backing.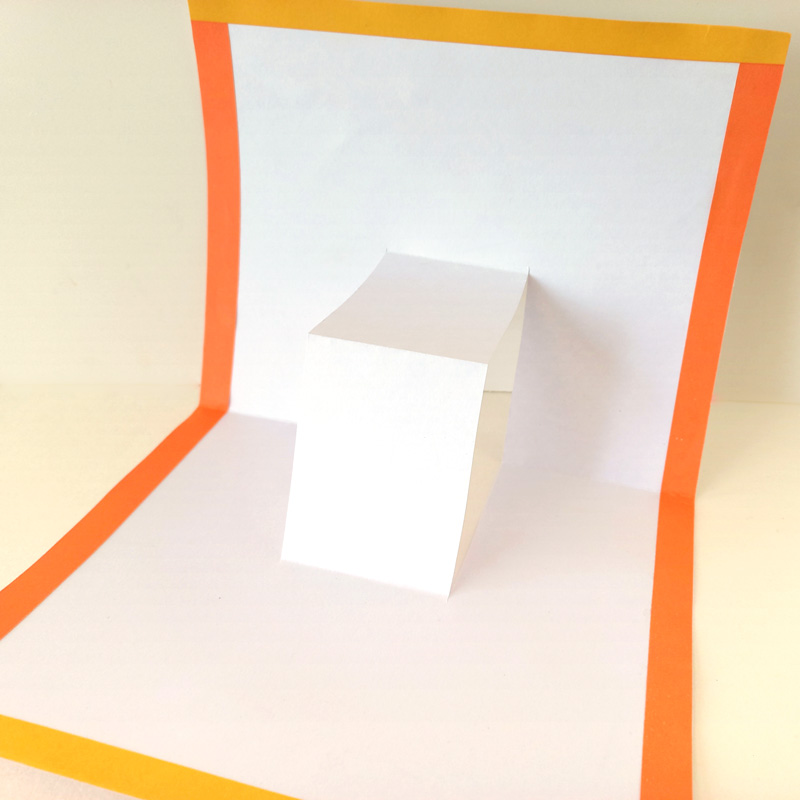 12. Glue the Menorah by its base to the front f the pop-up portion. Your pop up Menorah card is complete!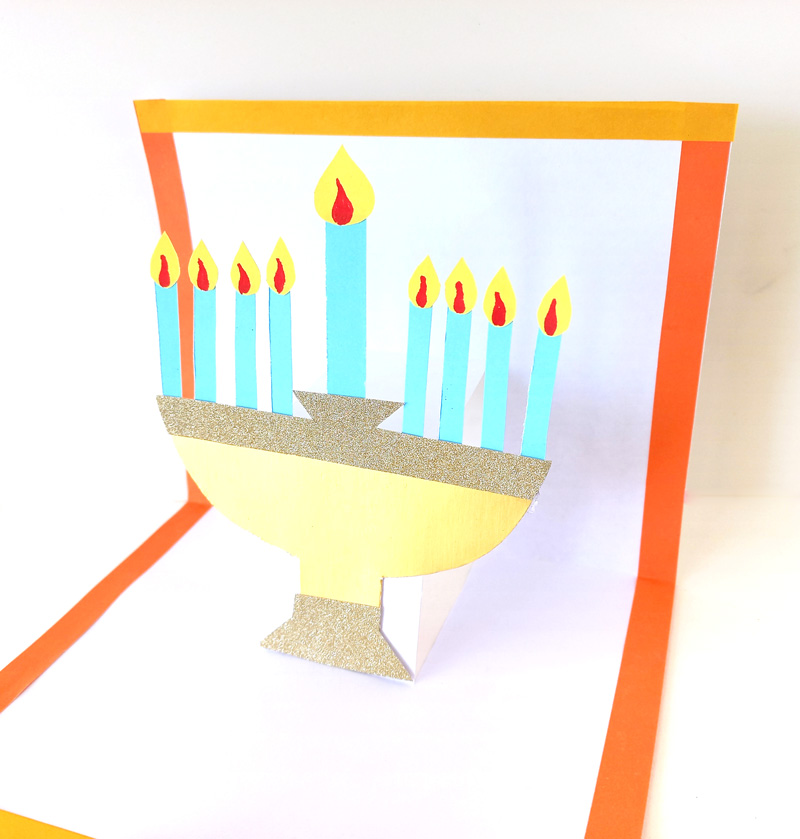 Did you enjoy this Hanukkah card template? Who will you be gifting yours too? Comment below!