I love dressing my boys in coordinating outfits – that is, not matching, but close enough that you get a great photo shoot. I am thrilled to partner with art & eden to share with you these fun coordinating kids outfits. Disclosure: this post contains commissioned links.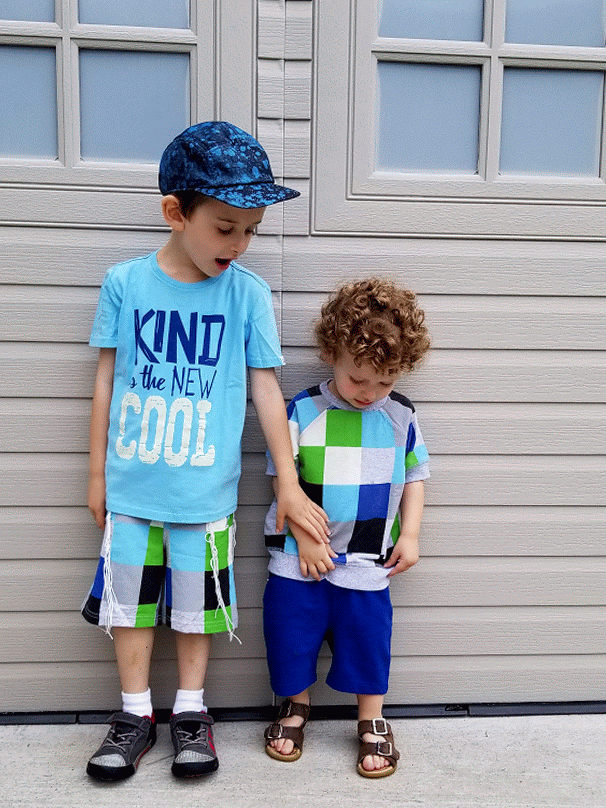 I love dressing my boys in adorable outfits that coordinate. I personally am not the biggest fan of "matching". I find it harder to shop for things that coordinate WITHOUT matching than to find matching outfits. I was so pleased to find that art & eden's selection not only included matching outfits, but they also have a beautiful selection of mix 'n match tops, bottoms, and dresses for boys and girls.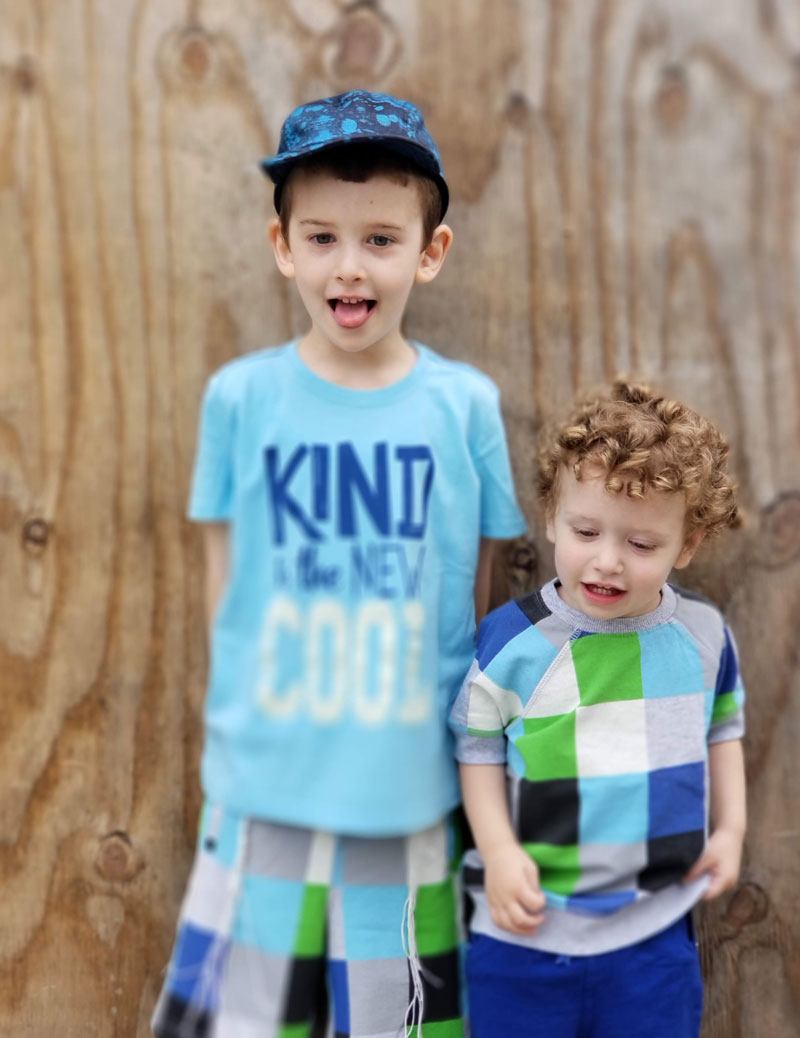 Here's another challenge I have when purchasing clothing for my boys: the sassy sayings. By that, I mean, that it's really cute to put a one year old in a shirt that says something along the lines of "addicted to video games" and "I'm Mommy's superhero" but as kids get older and understand more of what their shirts say, I find those messages not in line with my parenting goals.
And I find that it's unrealistic to dress them in these outfits and expect it to go over their heads.
This is what made me fall instantly in love with the Joseph "Kind is the New Cool" t-shirt from art & eden. It's the kind of message I want my son to see, know, and live by.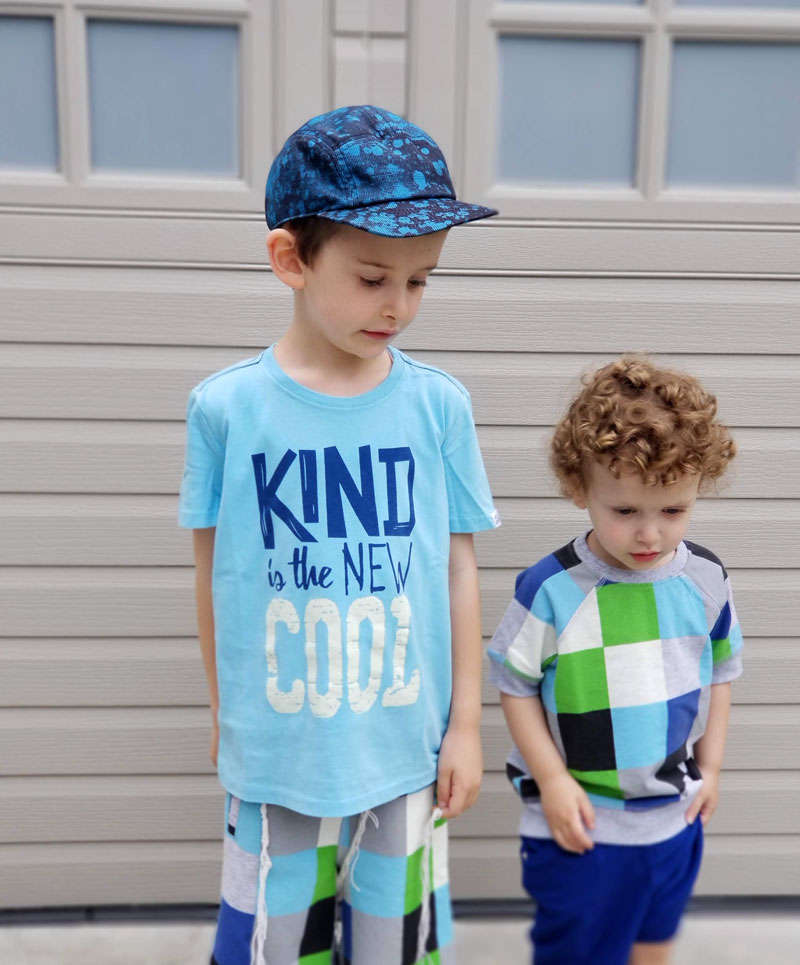 I paired it with the beautiful, bold, modern print on the Lucas short. To coordinate Baby Y, I chose the Aiden crew neck – which has the same print as the Lucas short. I matched it with a simple and practical Mini Anthony short in navy blue.
M's t-shirt is made out of 100% organic cotton and is a nice, cool summer pick for little boys. The shorts and Baby Y's top are all 100% organic cotton french terry. Baby' Y's top is like a shorter sleeve sweatshirt, and perfect for those sunny days that aren't as humid.
These are outfits that they can move around in, be active, and stay comfortable.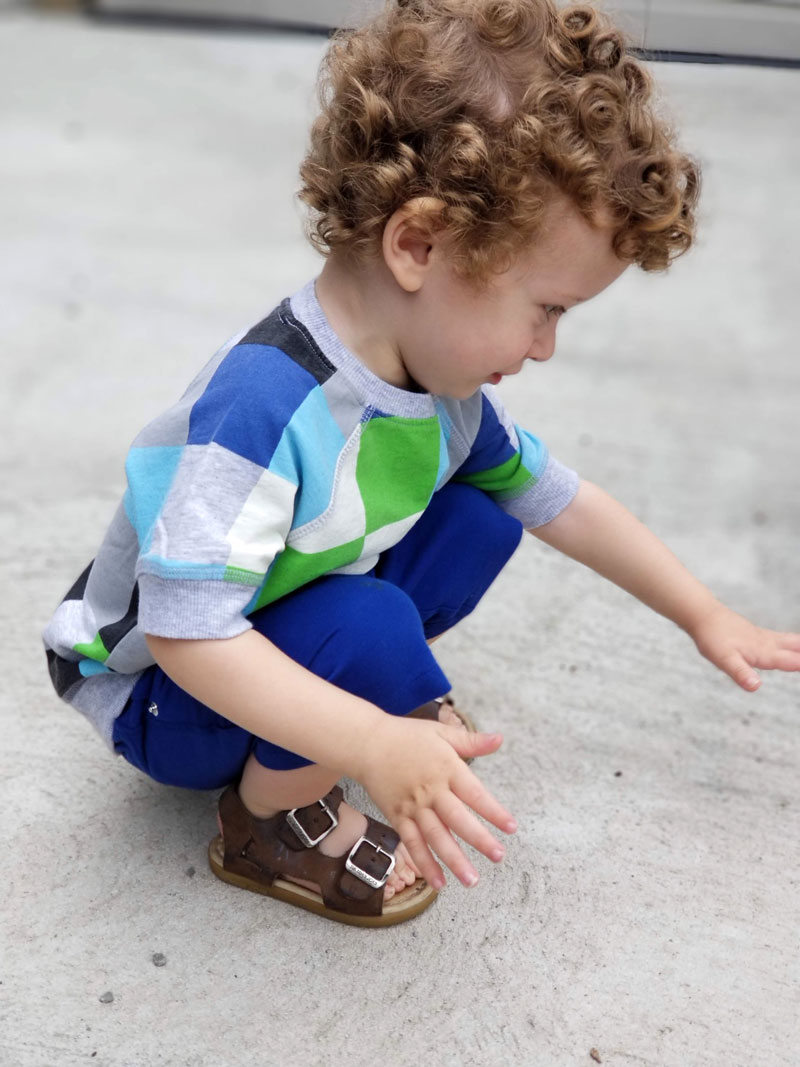 I did find that the sizing of the clothing ran slightly larger than I'm used to. M's t-shirt fit him perfectly, but both pairs of pants were very loose. I'll be taking them in. M never really fits drawstring pants – I always need to take them in. Baby Y typically fits a pair of size 24 months drawstring pants perfectly, but these were loose on him. Had I known, I'd have probably sized down. Baby Y's top did seem slightly larger than the typical 2T top, but it doesn't matter because of the style. I'm figuring that the French Terry products run slightly large and the regular cotton would run typically.
More about Art + Eden's coordinating kids outfits:
They are an eco-friendly brand, use 100% recyclable packaging and use sustainable methods to make all their clothing and fabric.
They use non-toxic low-impact dyes, as well as organic cotton, that are gentle on your child's skin.
They collaborate with artists worldwide to design their prints, and give back as well – both locally and internationally!
They cater to the frum community, featuring longer dresses and pretty prints that are perfect for Shabbos and Yom tov!
Because they have the same lines in kids' and baby/toddler sizes it's easier to coordinate or match your kids!
You can purchase their products online (see the art & eden discount code at the end of this page!) or at over 360 specialty stores in the US. You can also purchase their clothing at Nordstrom.
In a nutshell, art & eden offers something you don't see a lot – bold, trendy prints, more coverage on the girls' outfits and fun sayings in line with our values.
Their clothing is comfortable and easy on kids' skin, and it's super easy to put together both matching and coordinating kids outfits across different size groups.
Exclusive Beyond the Balagan art & eden discount code:
The people behind art & eden have offered an exclusive discount code for Beyond the Balagan readers. Just enter code BTB15 at checkout for a 15% discount on your purchase. This discount ends on 7/31/18.
What is your favorite outfit from art & eden? What is your best tip for putting together coordinating kids outfits? Comment below!