Enjoy these easy Mishloach Manot ideas that make fabulous packages without overwhelming your life or your budget! Then read more of my tips for a cheaper Purim. This post contains affiliate links.
---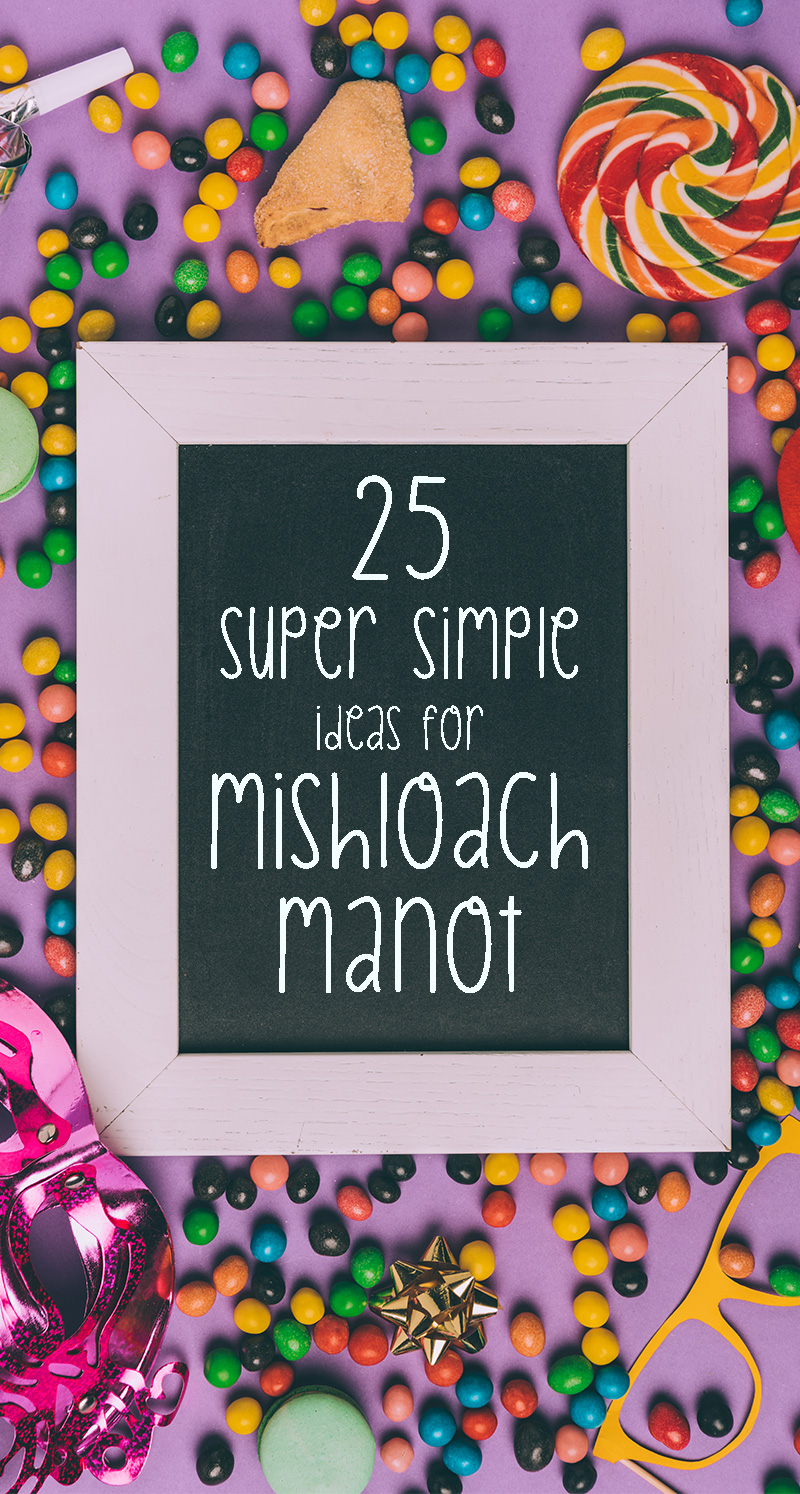 I've shared so many Purim ideas here – from well over 100 Purim themes including loads of Mishloach manot ideas, to my dedicated list of Mishloach manot ideas that teaches the basics of assembling a pretty package from start to finish.
I thought I talked it through thoroughly, but after a few requests for stupid simple Mishloach Manot ideas, I decided to work on a new list dedicated exclusively to those who just don't want to invest too much effort – or who can't.
The goal of this list is as follows:
Keep the costs down
Keep the DIY down
Easily accessible ingredients
Things that are fun to get
However, some work this better than others, so I hope you'll find that one thing that works for you!
Since my goal was to keep things cheap, I included the cheaper choices. So for example, where I share to give a grape juice with challah rolls, you can also do a wine with a nicer challah option if you're just looking for easy and not just cheap.
Choose larger package sizes for larger packages – or mix and match ideas, include more than one variety of the specified food to add an additional item…
I mixed up ideas to give kids with adult ideas, since it's not always so black and white what works for which. I mean, sometimes it is (don't give kids kugel and beer – or anything alcoholic!) Instead, I sorted it by effort – purchased, homemade, or you choose buy or DIY.
Enjoy and I hope you find some cheap and easy Mishloach Manot ideas in this list to carry you through!
Important: I try to find Kosher Certified links for food items, however things change, sometimes packaging isn't accurate, standards differ – please verify Kashrut of anything you plan to use!
Easy Mishloach Manot Ideas – all purchased
Note: some of these have a bit of DIY in the assembly to make them "cute", however, not significantly more than you have packaging anything together!
Soda and chips – The ultimate snack is a good old bag of chips with a can of soda. To upgrade this, you can try to pick up a more "special" gourmet flavored snack, and a better drink.
1-2 Color Scheme – I have said this a hundred times: if you simply go with a color scheme, your package will look fabulous no matter what you do! Go to the grocery, start with what's on sale, and you're good to go! Package it in a matching party favor bag or a clear bag with a matching ribbon for a gorgeous low-key Mishloach Manot.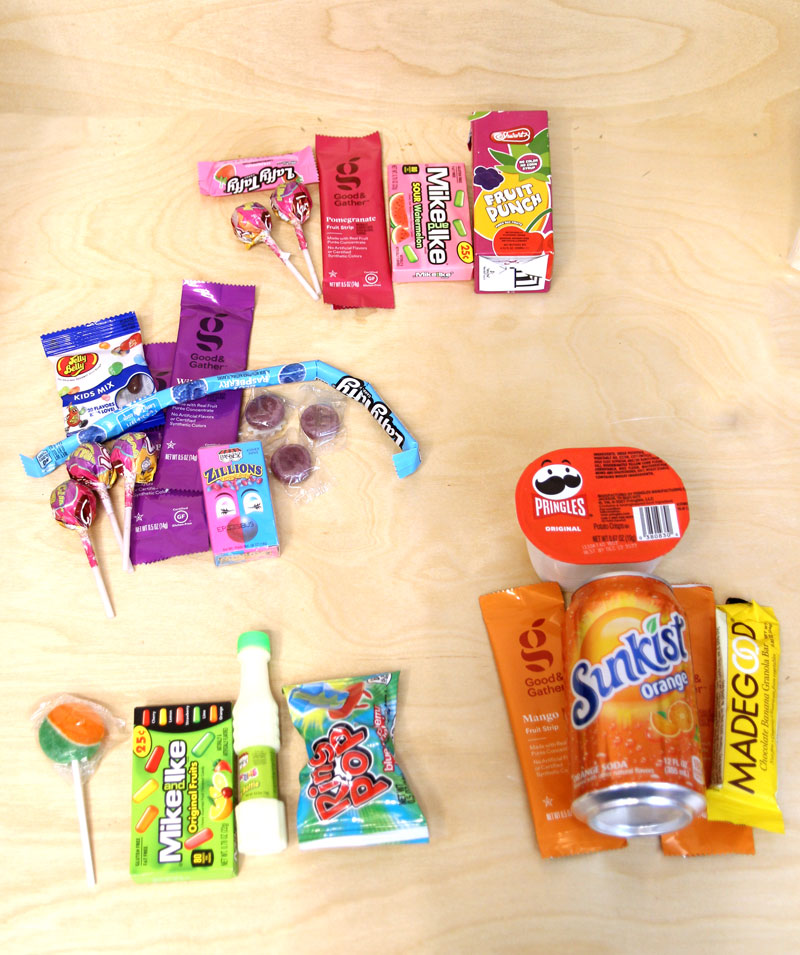 Fruit – possibly one of the most underrated easy Mishloach Manot ideas is fruit. Growing up, I had a neighbor who always gave a bottle of grape juice (the tall skinny glass kind) and a pineapple in a paper gift bag. We always looked forward to it!
You can, of course, simply go with what's on sale. Give 8 oz grape juices with a few clementines instead for a more budget-friendly version. Or pair it with a pint of blueberries…
Gragger – For a cute kids' package, attach a rectangular wrapped wafer to a laffy taffy rope and you have a Gragger!
Comfort food/cold package: orange juice or tea, paired with ramen noodle soup. It might not be the real deal but it's a whole lot easier! You can toss in some candies too.
Sweet Dips: Pair pretzels – ideally rods but not a must – or breadsticks with single serve dips such as nutella or peanut butter (only to families without an allergy.)
Pencil Pouch – One of my favorite ideas – that we are doing this year – is to take a pencil case and fill it with goodies for kids. It's just so easy. The pencil pouches I purchased were so cheap (if you buy in bulk), yet they serve as a gift, so even if you're not putting much inside, it still feels substantial.
Older kids will get Sippies candies, along with a couple of Dum Dums and maybe another small item. Toddlers will receive a fruit strip, a packet of craisins, and possibly another small item.
It's so easy to assemble, with no tying, taping, or other packaging necessary, possibly cheaper than paper bags with handles can get, and even the kids can help fill them. You can a tag to the zipper.
Again, this works best if you're doing a bulk Mishloach Manot for kids, or if you're using the pencil cases for other things. I bought these to help my kids organize their "stuff" and for my craft room, so it came out to a very very low price (about 40 cents a piece, and maybe a dollar to fill it – probably less!)
Cereal and milk: yes, literally that. Get individual cereals and small milk cartons (bonus points if you can find the juice box ones that are shelf stable). You can make it a bigger pack by getting dollar tree mid-sized cereals and quart milks.
Or the grown up version: a coffee cup stuffed with instant coffee packets (or brew bags), sugar and/or sweetener, and a granola or Kind bar.
Orange you glad it's Purim? Pair an orange juice with an orange – or anything orange flavored!
Drink on the rocks – Smirnoff Ice with some rock candy... Brr! Or pair any drink with rock candy for an "on the rocks" vibe.
Pitzuchim – Any fizzy drink (alcoholic or not) goes great with sunflower seeds and is a fun grown-up nosh.
Candy shots – Shot glasses are presentation winners. So are mini disposable condiment containers. Take your pick and fill one, two, or three with candies of different types and colors. They're small so it'll go a long way, and putting it in a container of sorts makes it look and feel more substantial. Stack three, put two side by side, and pair with a drink . You can also lay a flat chocolate bar down and place two candy shots on top, then wrap with cellophane.
Butterflies – Butterfly clothespin bags are so stupid simple and so cute for kids – whether they fit with a theme or not! And it can cost pennies to make. You're literally using snack sized ziploc bags and clothespins – available for cheap at the Dollar tree. Fill it with whatever's on sale at the grocery. Make it even easier by using washi tape to cover the clothespin. Or, you can twist the center with a chenille stem and skip the clothespin – just curl the ends into antennae like this creator did. Your kids will have fun helping to assemble these!
Mishloach Manot Ideas that include EASY homemade items
To home make or not to home make? It's a very controversial issue. My personal opinion is that you give the homemade one to those who are close enough to you that they'd eat by you for a Shabbat dinner or you'd cook dinner for them if they needed it. Everyone else gets an alternate.
Kugel and seltzer – while kugel isn't as simple as you might like, it definitely is wholesome. If you're not making too many packages – the equivalent of 5-10 lbs of potatoes – and you're not hosting the Purim feast, you may find it simple enough. Beer is another fabulous pairing for Kugel, although not as cheap.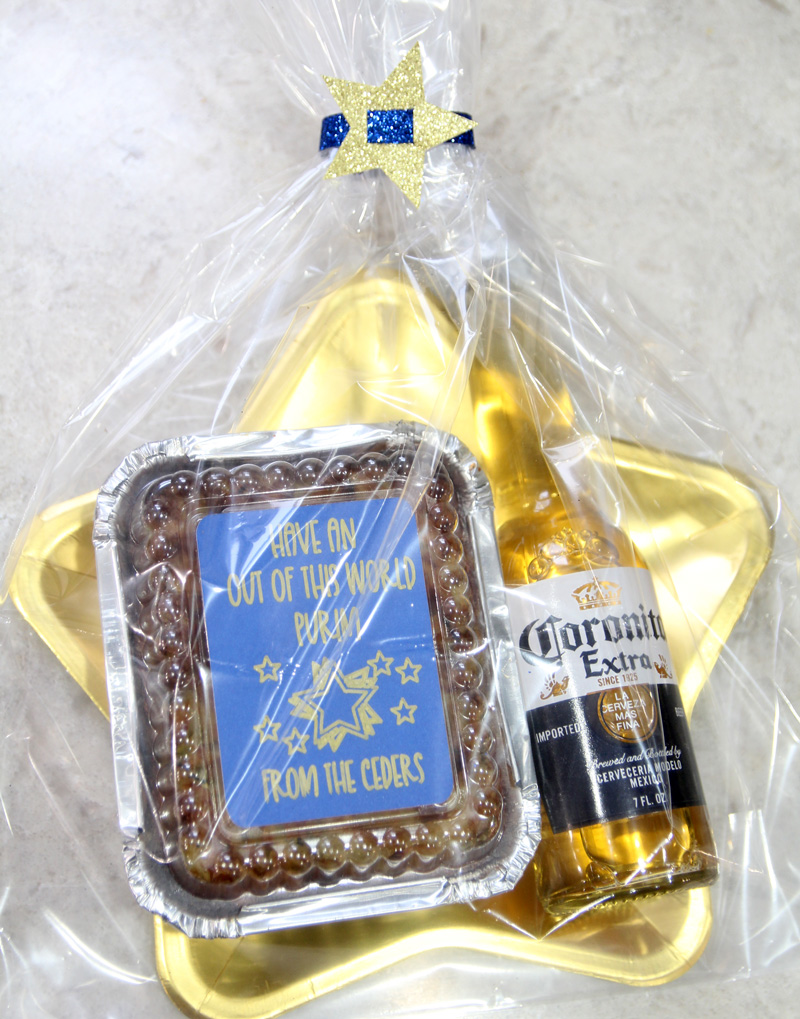 Pasta salad and iced tea – I gave this combo years ago, making crowd-pleasing sesame noodles (before our sesame allergy days), along with Arizona iced tea. Since it's a fresh food, it does need to be done the day before Purim but it's as easy as cooking pasta and throwing together a dressing.
It can give off a picnic or potluck type of vibe as a pairing.
Garlic bread and soup – if you want a simple, wholesome, homemade pairing that can be eaten on the spot, make up a big batch of soup and give them out in small enough containers to be practical. Make garlic bread using large baguettes, and give each recipient a few slices.
About those baked goods – If you'd like to include a homemade baked good, cake is always going to be easier than cookies. If you'd like to do cookies, you can do bar ones rather than ones you need to roll out or shape. Another great idea for homemade-type cookies is saltine brittle.
Cake (or cookie mix) in a jar: stack the dry ingredients to your favorite recipe in a mason jar, and print a note with the rest of the recipe (wet ingredients + instructions). You'll need to get a smaller scale recipe for this. It's also not technically kosher to fulfill the mitzvah of Mishloach Manot, so make sure you send a kosher version to one person too (two ready-to-eat foods).
Easy Mishloach Manot Ideas that can go either way: buy OR DIY!
Some things can swing either way, so that you can choose what option suits you best.
Milk and cookies – a simple chocolate milk ("shoko besakit" if you're in Israel) along with a jumbo cookie, as a reader suggested. You can buy bakery cookies or bake them.
Challah rolls and a dip or two. Some dips are very easy to make, and giving them in 4 oz containers help a batch go further. For example hummus is a quick toss-together in the food processor. Or, purchase dips. Of course, you can purchase the challah too! You can stack 2-3 such containers with olives, mini hot peppers, or pickles as well.
Challah and grape juice is another fabulous pairing, and totally practical!
Coffee and a croissant or muffin – hit up the bakery to make it easier!
Popcorn – It's so easy to make or give in bulk, especially if you use these cute popcorn bags. You can theme it in so many directions, but it pairs very well with any drink because it's salty. You can up it by making different flavors. But you don't need to if you'd like to keep it simple.
Veggie and dips – If your budget isn't VERY tight, but you're short on time, get a small sectional food prep tray. Pair mini bell peppers, baby carrots, and other ready-cut munchies with a dip such as hummus, ranch, or anything that goes! Make or buy the dips.
More tips to simplify things
Paper gift/favor bags with handles are pricey but make very quick packages. Paper bags without handles are much cheaper, but can quickly look like packed lunch. Tip: Fold over the top of a solid colored bag twice (to hide the edge), punch two holes and tie your ribbon through those holes – after filling – to up the classy factor!
You can also use a pretty sticker to seal fold-top bags, just make sure it's a very high quality sticker, and big enough, so that it stays closed.
Self-sealing bags are much cheaper and also easy, but more specific with what you put in. I used those this year and they're so, so easy and classy! It's like cellophane but without the waste, fluff, and plastic bits all over.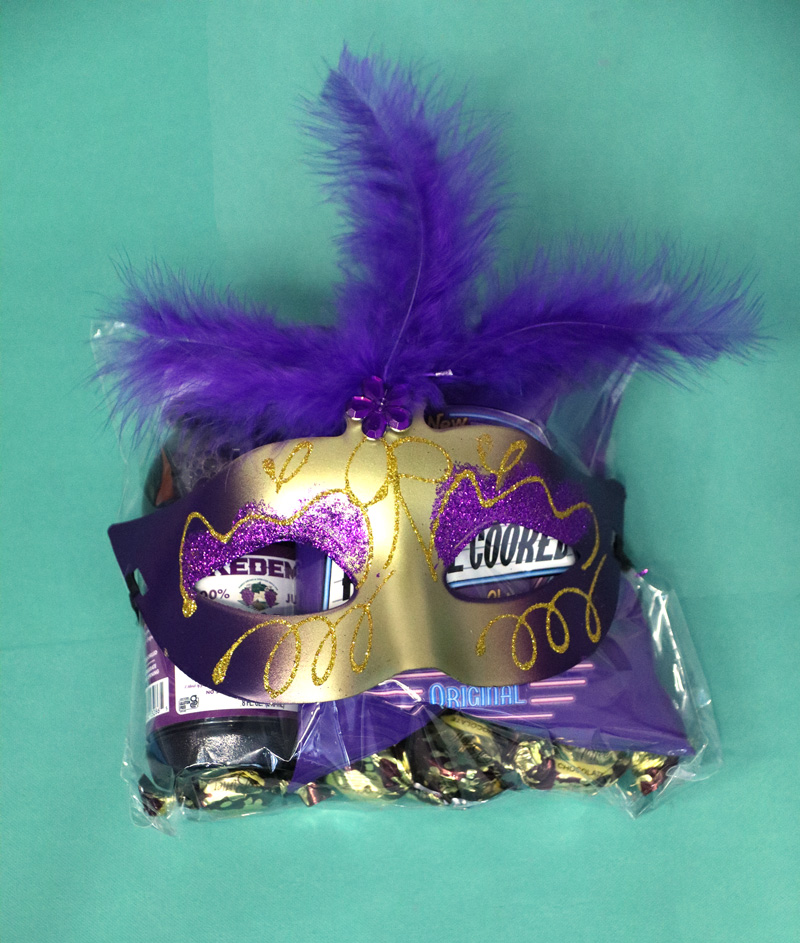 Print a pretty tag or label to upgrade the package in a low-key way. Or, if prioritizing time is more important than saving money, buy Purim stickers from the store.
As I shared above with the pencil pouch idea, sometimes getting an adorable gift-type package in bulk means you can fill it with anything in seconds and have a really nice, sweet (pun intended) package. Depending on your budget, some ideas can be:
Got any other super easy and cheap Mishloach Manot ideas to add to the list? Comment below!