Eons ago, before I had any clue what I was doing, I wrote a post called "ten ways to save this Purim" to share how we did a cheap Purim on a shoestring budget. Now, I wanted to reshare with you these tips to ago along with my slightly more ambitious list of Purim ideas.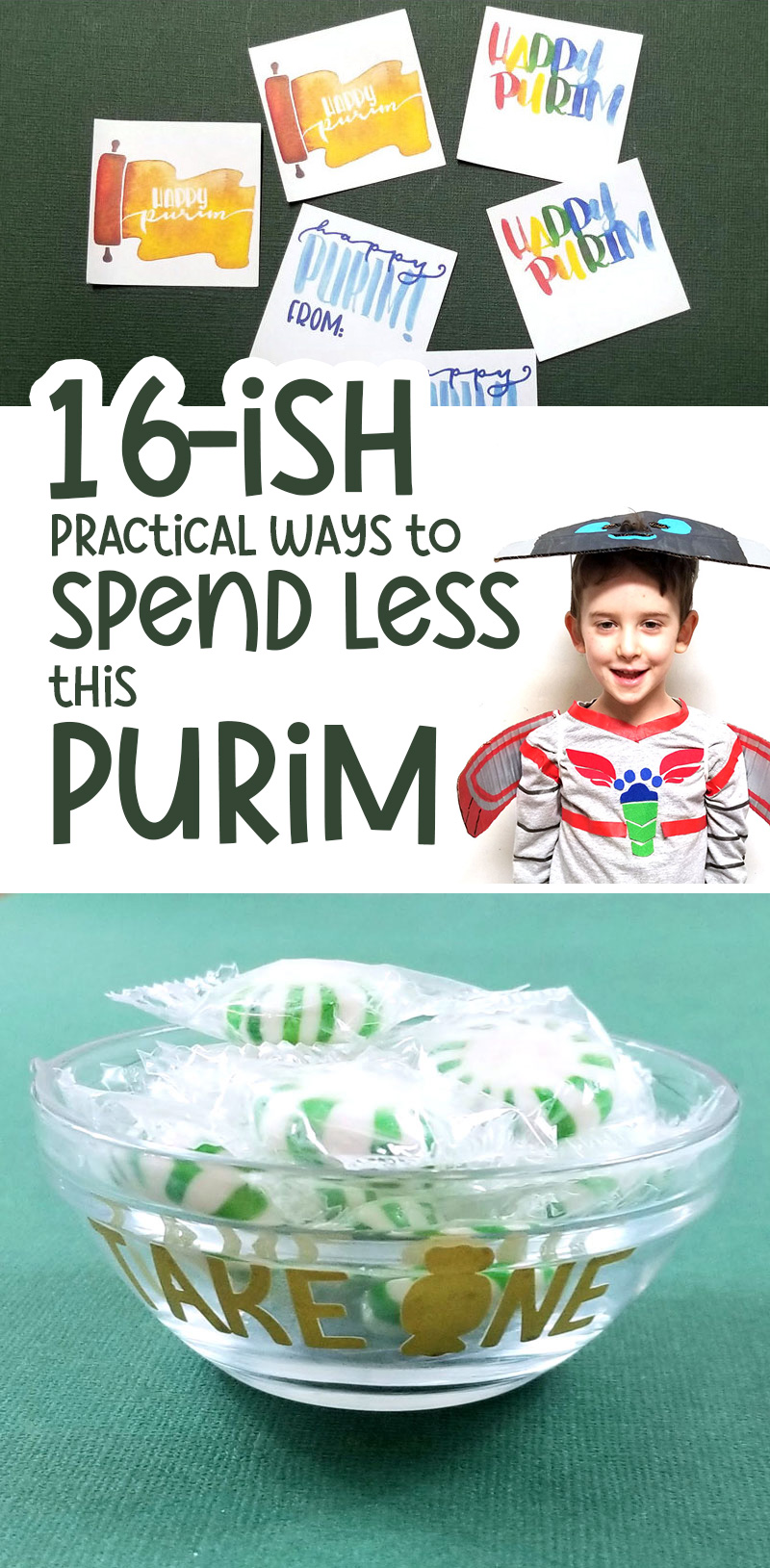 When I first wrote this post, we were pinching pennies – I mean literally pinching every last penny.
One of the advantages I have sharing ideas is that I really have gone insanely cheap during certain periods of my life. However, considering that close to eight years have passed since I first wrote this post on my Blogspot blog, I've also gained a more moderate experience that might be more realistic for more of you.
I'll rewrote these tips for a cheap Purim (or cheaper, at least) with this new perspective. The basics are the same but I've adjusted so that more of you can benefit – even if you can't go too cheap.
16 Realistic Tips for a Cheap Purim
One of the big pitfalls of Purim budget-wise is that it's back to back with Pesach. You're about to blow your budget on matzah and wine. You might even be paying up day camp deposits – or even full fees – while still paying tuition – plus next year's school registration fees!
Time to figure out a few ways to save on single-use costumes and way too much junk, right?
How to Save on Purim Costumes
1. DIY re-wearables
DIY can get pricey once you're done buying all the elements and it's not always a money saving endeavor (unless you're like me and have a fully stocked craft room).
However, you can find ways to make easy costumes from normal clothes – whether it's items you already own that make up the costume components (think blazers for a professor costume, oversized white shirt as a lab coat) or basics you'll buy but can reuse (red shirts and jogger pants to pair with this hat and make an Elmo costume). Instead of a character costume, buy a character blanket sleeper that'll double as the coziest pajamas ever after Purim. Or, take that old stained tee and craft it into the perfect themed costume.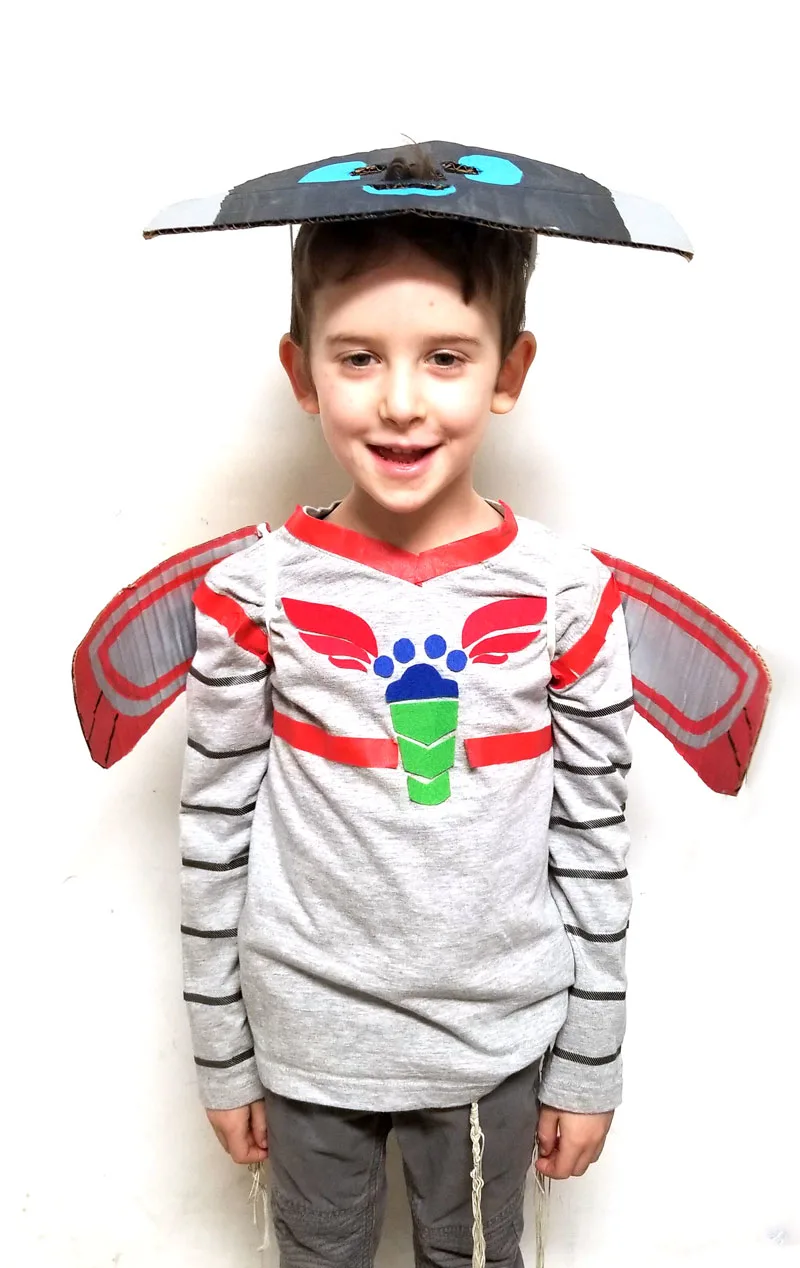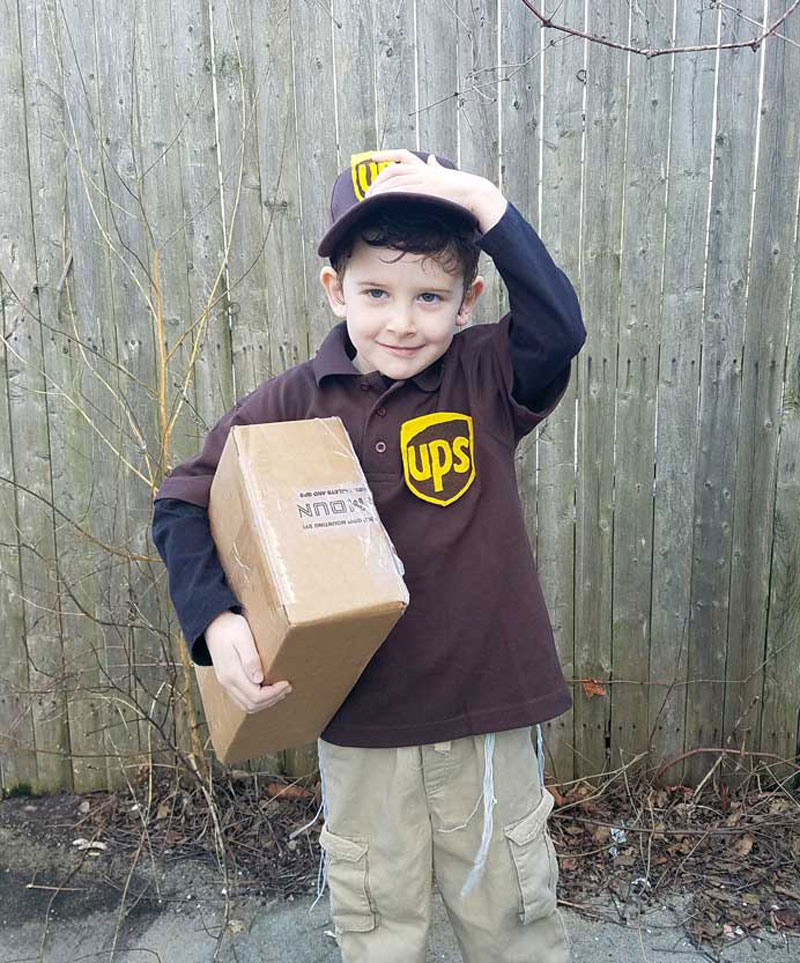 2. Buy after Halloween
If your kids must have their own choice of super cool costume, buy after Halloween. The best sales are in-store, but we've gotten great deals on costumes online too (Walmart is our best bet.)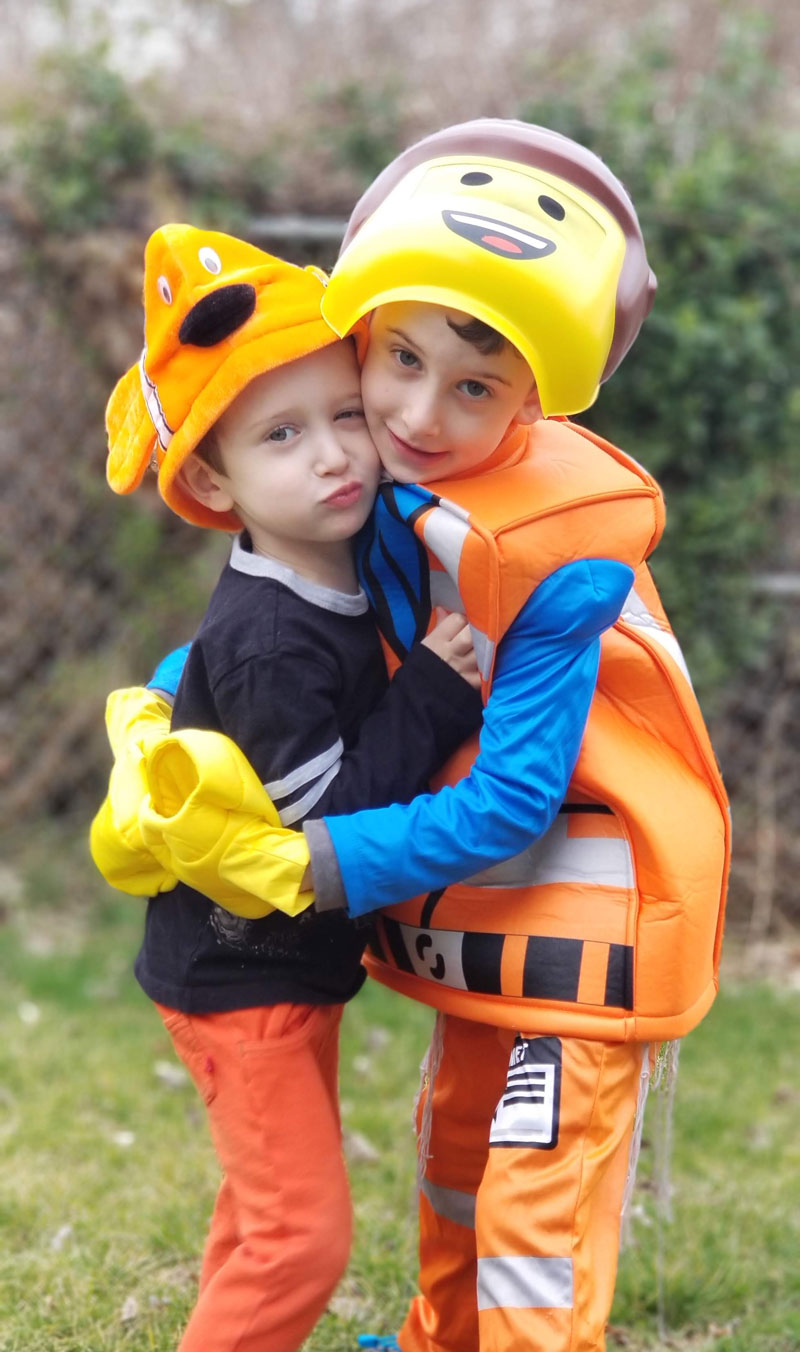 3. Borrow from friends and neighbors
If you have neighborhood chats, definitely post your requests there. You might be able to borrow (or even buy for cheaper) that costume that you really were looking for to complete your family theme. You can even base a theme on what people are looking to give away!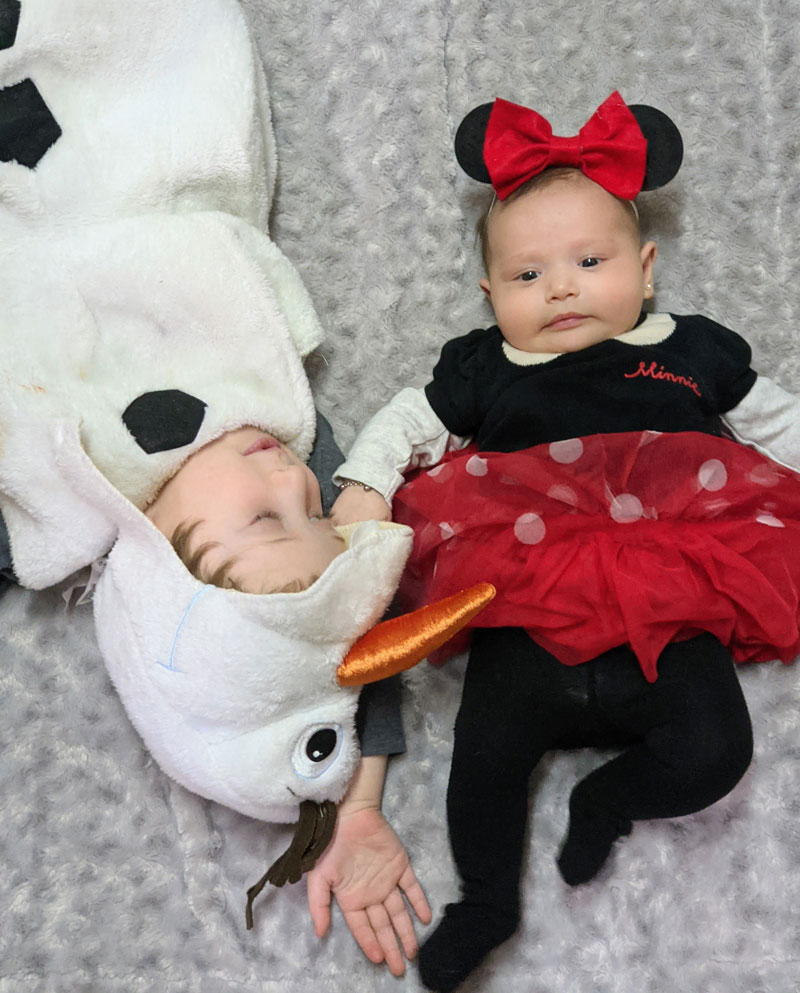 How to save on Mishloach Manot
4. DIY where it makes sense.
DIY is a touchy issue because it's food. Not everyone wants to eat from everyone's kitchen. But for those you're closer with, making a big batch of challah and dips, the pasta salad everyone compliments you on + iced tea, or any other inexpensive food combination, can allow you to put together very cheap packages.
You can also DIY your packaging to help you save. I customized the cheapest tin containers in the store to fit with my theme, as well as 4/$1 glass bowls.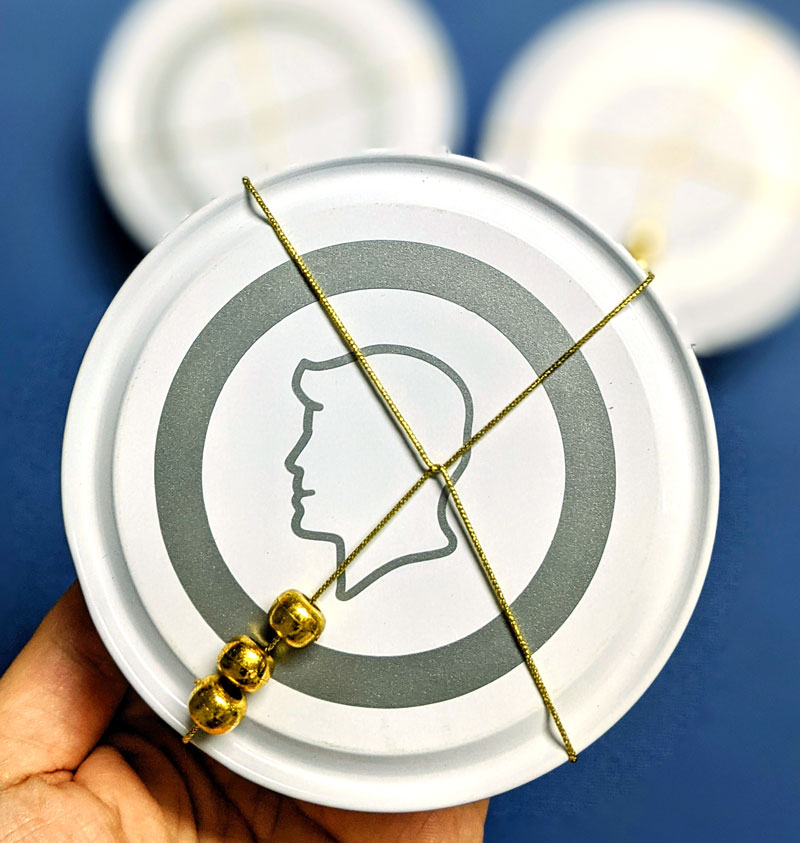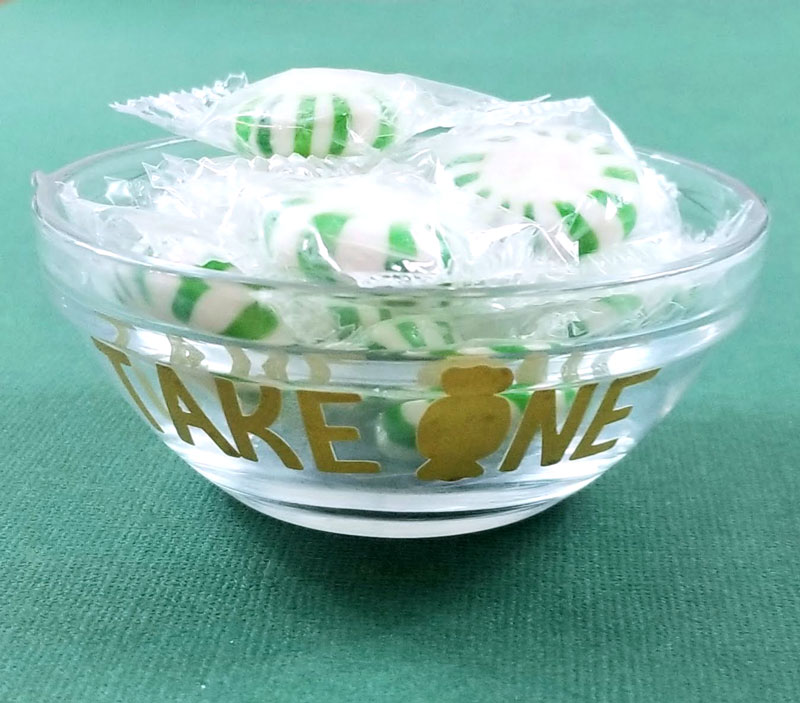 You can also DIY smaller packaging elements from paper, repackaging smaller loose items into pretty cone gift boxes or similar concepts.
5. Buy in bulk
Buy in bulk if it makes sense and repackage if necessary – but don't forget to include allergy warnings!
Buying in bulk usually works if you really have a lot of people to give to. I've combined what I give to kids as well as class parties so that I can bulk-buy things like Twizzlers, juice boxes, etc.
You can also bulk buy loose candy, however, do include package information on a slip of paper or labels.
You can buy your packaging in bulk too if you stick to the same concept year after year, can lay out the initial money for it, and are willing to store it.
6. Have a good plan
I find that without a good plan – lists, lists, lists – I overbuy. Or I underbuy and scramble last minute. Make a plan. Include a budget with that plan.
Planning helps to avoid "just tossing in one more thing syndrome" which is a huge budget buster. If you're the visual type, you can sketch out your idea. Measure your containers. Make a sample before purchasing everything.
Don't make too many extras.
Do keep a few nice, fresh bags handy to repackage closed packages that you've received in case you undercounted.
7. Learn the laws
The law is that one must give two kinds of food to one person. There is no reason to go beyond that unless you can afford it. People take advantage of Purim to thank those that have done them good (teachers, etc) but you do not have to do this.
So if you're literally going broke, you can break away from our overhyped habits instead. Tell people who deliver you're just doing the minimal mitzvah this year, and you're giving that to your parents (or someone similar).
You can even simply give out a nice card (look for something you can print) to those who come to show them you care!
More ways to have a classy but cheap Purim
Here are some more broad ideas to cut back costs on costumes, decorations, Mishloach Manot, and more.

8. Craft store Coupons
Crafts stores, such as Michaels, are one of the most underrated resources for Purim. They are full of all sorts of party supplies, those piles of felt that turn an old t-shirt into a cool costume, and more! I am always visiting Michaels a few times before Purim, even when I'm not DIYing much.
If you're a rewards member (free) you'll often get coupons for a discount on non-sale purchases. Since you're looking for very specific items, they're likely not on sale.
So if you get that 40% off coupon, use it on your highest ticket Purim item.
9. DIY from recyclables
During my most frugal Purim – the year I originally wrote this post – I actually collected pasta sauce jars as well as large tin cans – the size that crushed tomatoes would come in. The cans were all opened using a can opener that doesn't leave sharp edges.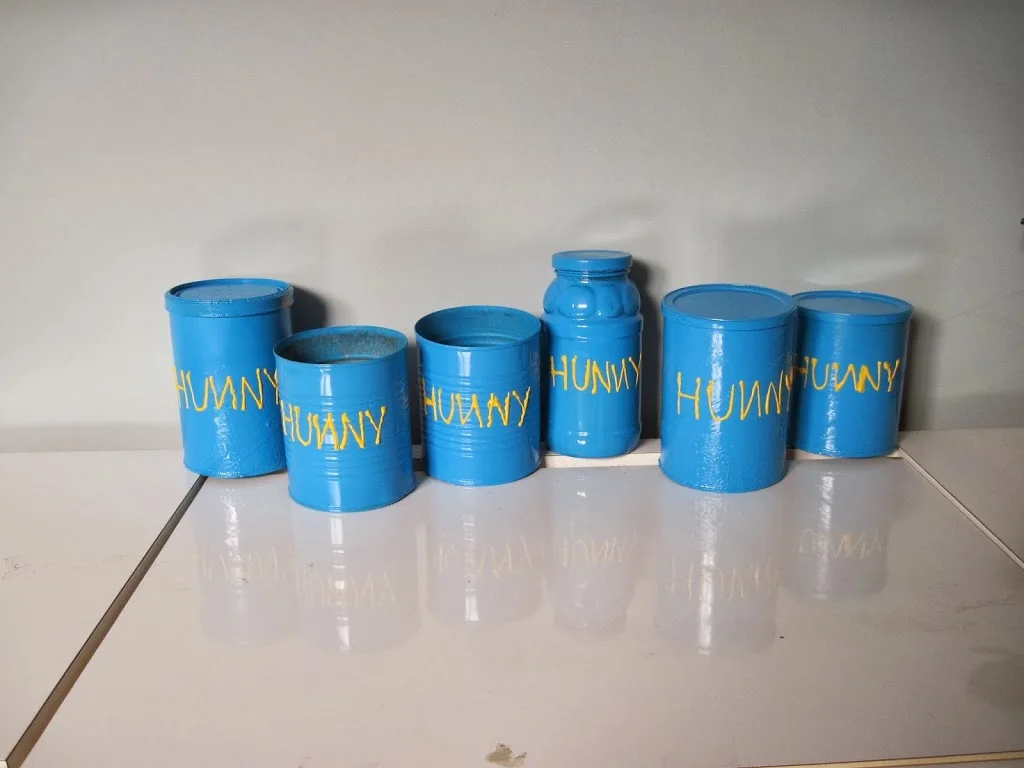 I spray painted them aqua – using the cheapest spray I could find since they were really single use – and wrote HUNNY with yellow puffy paint. It was fabulous with our Winnie the Pooh theme.
While this might not work for everyone, turning trash to treasure can make things really cheap.
More trash-to-treasure ideas:
Making a base for food using cardboard boxes. You can wrap them with wrapping paper and finish it off with cellophane.
Use old clothes to sew costumes. Cut up old jeans and sew them into drawstring bags.
If you don't sew, use old t-shirts as your base (the dollar tree sometimes has t-shirts too) and embellish with appliques made from old costumes.
Turn paper towel rolls – or any un-germy cardboard tube – into pillow boxes.
Use scrap fabric, upcycled ribbons, or anything else that'll work to make your own bows. You can sew bows from fabric, or learn how to make no sew fabric bows here.
10. Think ahead
People tend to grab the cheap items first. Scour dollar stores and other discount shops earlier in the season so that you're not stuck with whatever's left over.
Thinking WAY ahead can also help you get post-holiday discounts. You can get Easter basket clearance for the next year. Halloween sometimes features fun baskets that you can repurpose. End-of-summer beach pails can make cool packaging for kids. Valentine's and heart shaped items are perfectly seasoned to go on sale Purim time.
You can even choose a family theme according to what you'll find on sale!
11. Take notes for next year
This is my most common pitfall – I forget to write things down! Lately, I've been sending myself an email, and snoozing it (yes, you can do that in gmail!) to pop back into my inbox around the time I start planning for the season.
Keeping notes can help you remember things that might otherwise induce costly mistakes. For example:
We only need one package of napkins, even with a big crowd.
I already bought plain cellphane bags just in case. We have plenty.
We also already own sternos for the seudah/feast, it's stored behind the Chanukah box….
Dollar tree has glue dots.
And similar notes…
12. Keep a "purim box" for decor and extra supplies
To expand on the previous point, having a centralized – and labeled – spot to store extra supplies can help you avoid repurchasing. Limit the space to what you can afford to dedicate to that particular need. And when it gets full, you know to cull what you don't really need to store.
Pull it out as you plan your Purim shopping to see what you don't need.
You can even keep an inventory list on the outside of the box (redo it from scratch yearly) so that you don't need to pull out the box before you start shopping. Date it so you know it's current.
This also allows you to actually reuse things like decorations, if you're the decorating type. I mean, we always PLAN to reuse, but we have to actually know where it is, right?
12. Plan around what you find instead of vice versa
When you have a vision in mind ahead of time, it's harder to stick to that budget. When you go shopping first, find what's affordable, and make your plan accordingly, you can save lots of gelt.
I personally think that the biggest budget busters are the things we splurge on to go with that holy grail of a vision that we had that we just can't depart from.
13. Deliver early
This is relevant to you only if you live a busy Jewish area where traffic gets crazy. I learned this trick early on…
You might not have thought of the gas costs – but gas costs! These days, especially. And the least efficient way to use gas is in stop and start traffic. One year, my husband and I went to a 6:00 megillah reading so we can be out delivering by 9:00. There was NO TRAFFIC! And I'm talking in Lakewood, as we ere spending it with my parents that year.
I mean it was even less traffic than on a usual day as the entire town was out at the megillah reading. It was amazing!
Most homes had someone home with the children who were too young for the reading, and the ones that didn't got left at the door (very few – and always include a note saying who it's from!)
14. Include a note, recipe, or other filler
Got a package that's not quite there yet, despite your plan to stop where you're at? This is another bad budget buster – the "I think we should just add a chocolate bar, juice box, fill in the blank".
Instead, you can roll up a fun note. Include the recipe, turn it into a scroll, and tie it with a ribbon. What you might normally tack to the outside can be placed in the inside to make it feel fuller.
Get a package of tissue paper, cut it into quarters, fluff it up, and nest your foods on that (do NOT get shredded paper if you care the tiniest bit about the recipients' sanity).
But only do this if you need the space filled! Otherwise, SKIP all these extras because they will bust your budget.
Printable crafts work too – and are a FABULOUS choice for teachers and others who give to a crowd. And I've got loads of that here on the blog! Grab my Purim puppets, print it on cardstock, throw in some popsicle sticks, and you have a fun little addition to kids' packages. (For personal use only). You can even pre-assemble the full-color puppets using craft sticks and glue lines for ZERO dry time.
Find more ideas for Purim crafts you can print and put in Mishloach Manot here.
15. Printable Labels, cards, and other elements
On that note, anything that you can print at home – even if it's a purchased printable – can be reused from year to year. Printable labels are a fabulous example. You can save money by purchasing sticker sheets (which are often cheaper and are less specific) rather than the correct size labels and simply cutting them out by hand.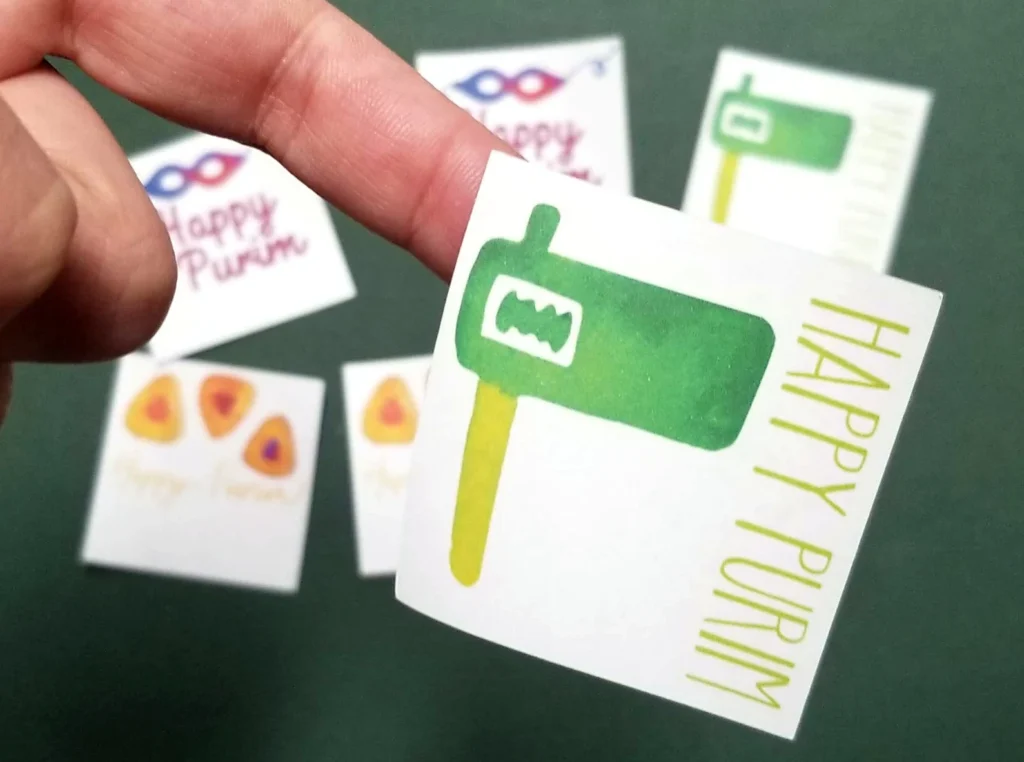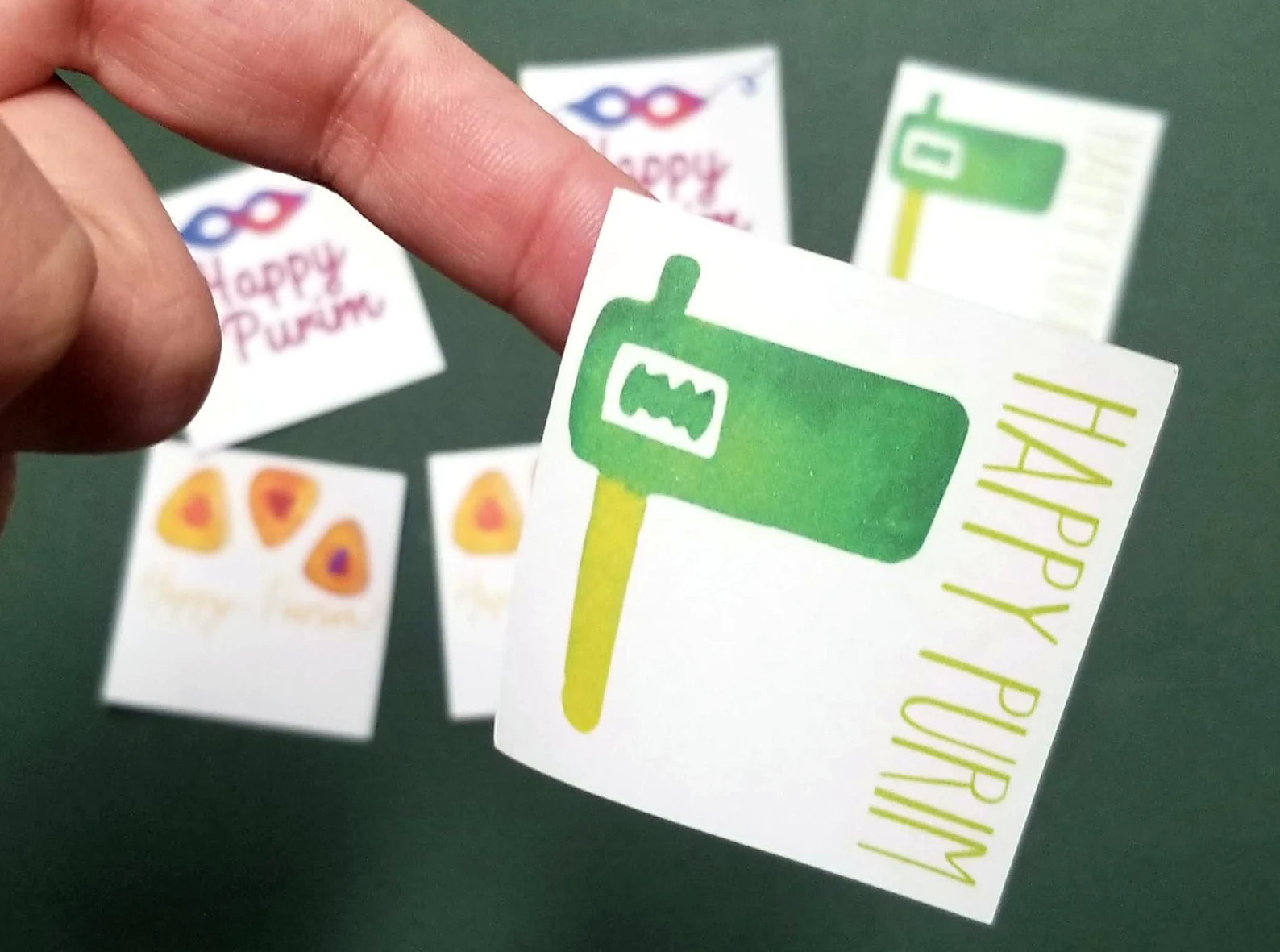 16. Remember the purpose of the day
It's not meant to be insta-worthy, the talk of the town, or super fancy. If you really want to save, you can go simple and minimalist. Don't worry about having crystal clear acrylic containers with perfectly paired mini liqueurs and custom made cookies that no one wants to eat besides for the over-junked 5 year old anyway.
Choose seasonal fruit, pair it with an inexpensive drink, and you've got your Purim nailed. Let each kid choose a costume from the local gemach, put one together from elements you own, and you're ready to make noise and drown out Haman.
Happy Purim!