This huge list of Purim themes and ideas for Mishloach Manot and costumes is designed for the family that chooses to go all out with themes! If you're just looking for Mishloach Manot ideas and tips, I have you covered there too! This post contains affiliate links.
---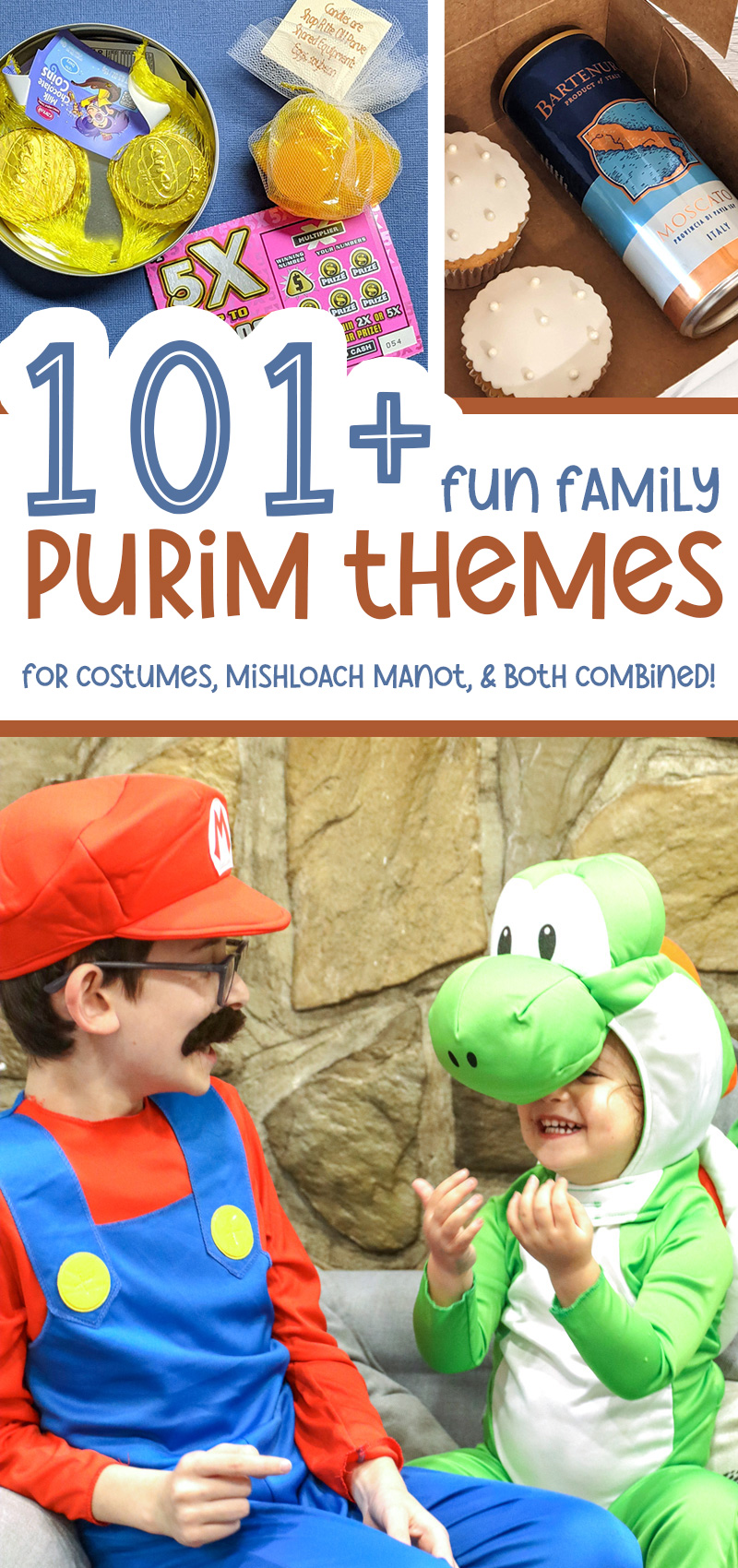 Are you a family that loves to build your Purim around a theme? We are too!
While I don't always do this, when I a have the energy for it, it really tickles my creative bone. I just love the challenge.
This post is absolutely not meant to create pressure around Purim. In fact, you can ready my best tips for a cheaper Purim here – and some years we just stick to hand-me-down costumes.
It's meant to be a sort of "directory" for families that want to have a Purim theme to be able to skim and choose, or get inspired to come up with something new!
I tried to keep things as adaptable to different family sizes as possible, and as expandable as I could. Some might require DIY, some are all costumes you can buy, and some are a mix of all of the above.
I included some costume themes, and some Mishloach Manot themes without costumes attached too.
Some are combinable, however if it makes a great Mishloach package on its own, I decided to include it as a separate list.
I hope you enjoy these 101 Purim themes for Mishloach Manot, costumes, and beyond!
Purim Themes for Family Costumes
Got young kids? My best bit of advice is to let THEM be the starting point for your theme! What are they into these days? Do they have an idea of they want to dress up as? Maybe you can give them a list of options that would work for you and make your final decision based on that?
However you choose to go about finalizing your plans, these Purim themes are all super fun:
Super Mario – This will be our theme this year! I'll be Princess Peach, my husband will be Bowser, M is Mario, Y is Luigi, and A is Yoshi because that's the cutest costume ever.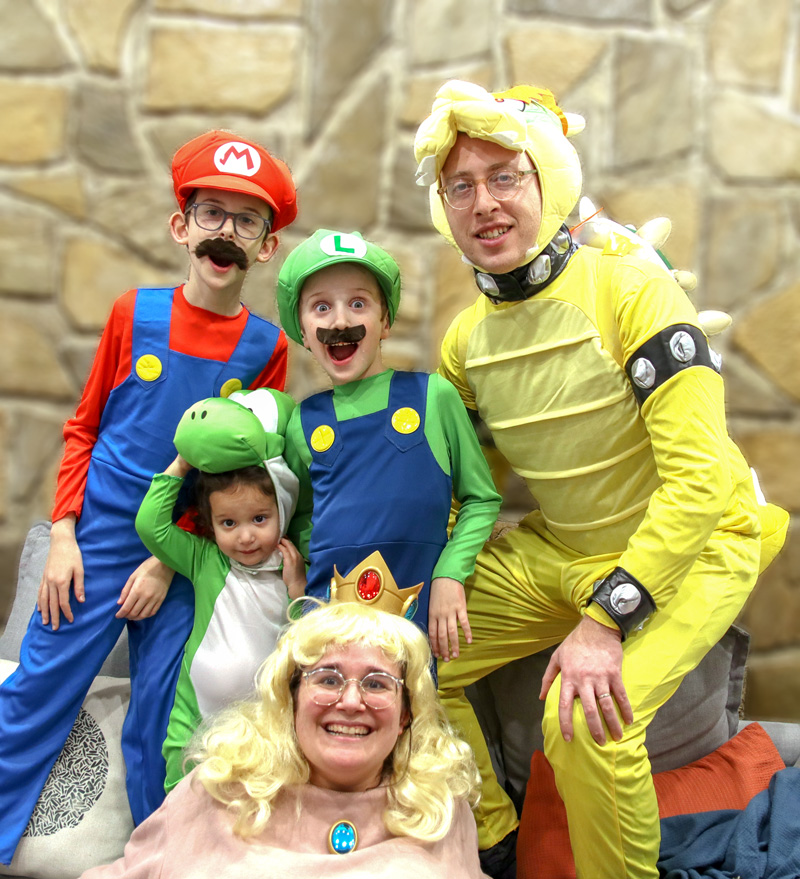 Iconic toys or games – You can do one toy for the whole family or each person another toy. Some are listed individually but here are more ideas:
Playing Cards – queen of hearts, king of spades, joker, etc
Monopoly – you can go for different elements of the game, the characters, or the iconic playing pieces.
Birds of a feather – Peacock, swan, raven, cardinal, flamingo, etc
Lego – Just bricks and figures or the movie characters. We were actually going to do this this year but then we pivoted to the Super Mario theme above.
Crayons – Or a mix of supplies.
Monuments – Eiffel Tower, Statue of Liberty, Mt. Rushmore, etc. You can even turn this into a whole travel theme (and yes, I have a separate idea for a travel theme below.)
Characters – Choose your favorite show and intersperse the characters between family members. This is popular with kids' costumes but can be done with adults costumes too. From PJ Masks or Paw Patrol to Harry Potter and other more mature shows, start with what your kids are into these days!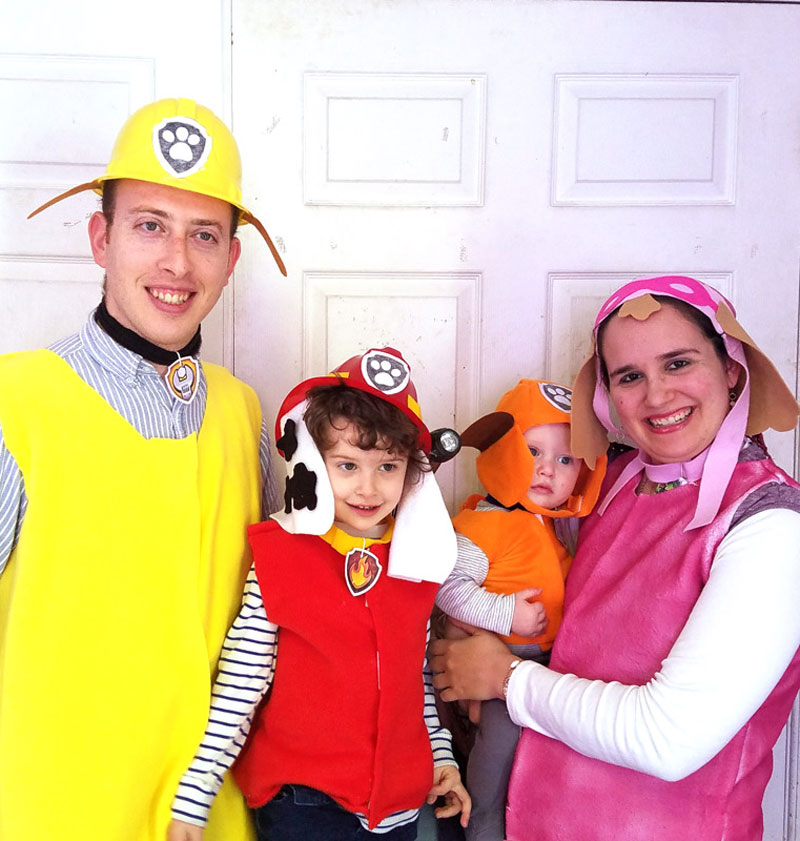 More specific ideas:
Wizard of Oz
Addams family – But beware that the spooky factor might make it feel Halloween-y.
Toy Story
Monsters, inc
Alladin
Incredibles
Mickey and Minnie – plus Pluto, Donald & Daisy, Goofy…
Sesame Street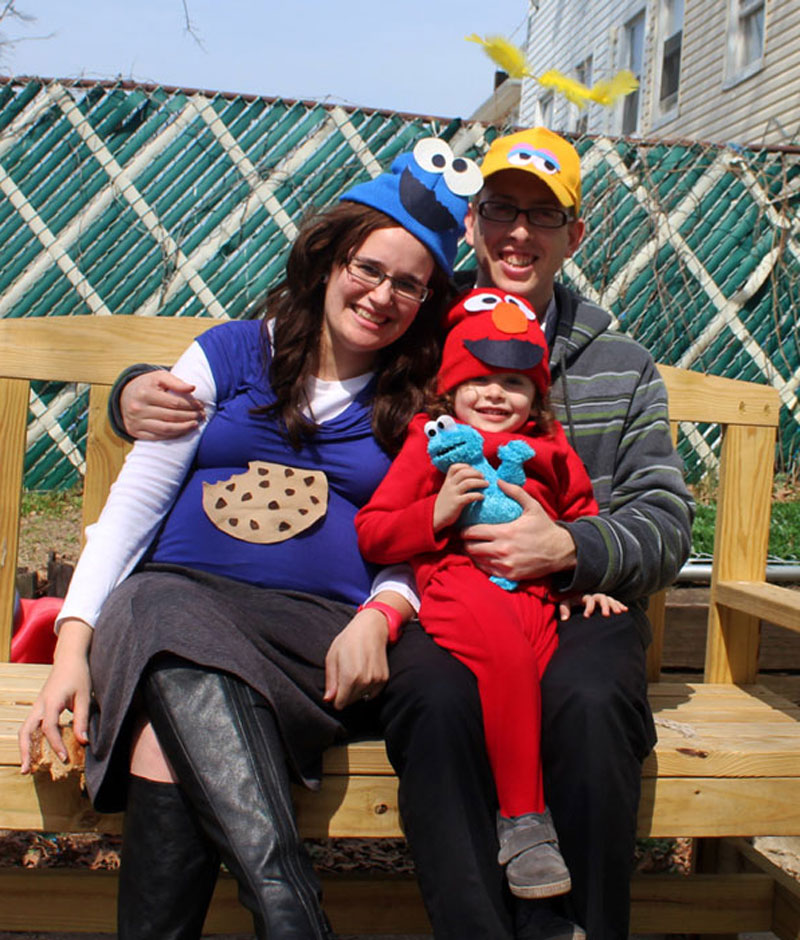 Book Characters – Or choose any iconic storybook and start from there (and yes, there is some controversial overlap with the previous!) It can be Eric Carle books, Mimi & Simmy, or whatever it is you're digging. Since kids sometimes dress up as these for school, there are LOADS of DIY ideas out there.
More specific ideas:
Savta Simcha
Harold + Purple Crayon +
Madeline & friends – great for an all-girls family! Daddy can be Dr. Cohn
Elephant & Piggy (and the pigeon)
Different books from the If you Give a Mouse a Cookie series
Clifford book characters – little Clifford, big Clifford, Emily Elizabeth, T-bone…
Dog Man characters
Curious George
Toy soldiers or trophies – Dress up like a soldier or athlete – only make everyone solid one color. Do khaki for toy soldiers, gold/silver/bronze for trophy.
The Jews of Israel – Go show off the diversity of Israel – without caricaturizing or making fun! Dress up as Na'Nach, settler-style, taxi driver, Yerushalmi…
Cops & Robbers – Parents can be cops and the kids the robbers! Catch me if you can!
Marathon runners – complete with numbered shirts, running shoes, and sweatbands.
Space – Sun, moon, stars, astronaut, Nasa scientist. We did this last year – and yes, you can find more details in my big list of costume ideas for Purim.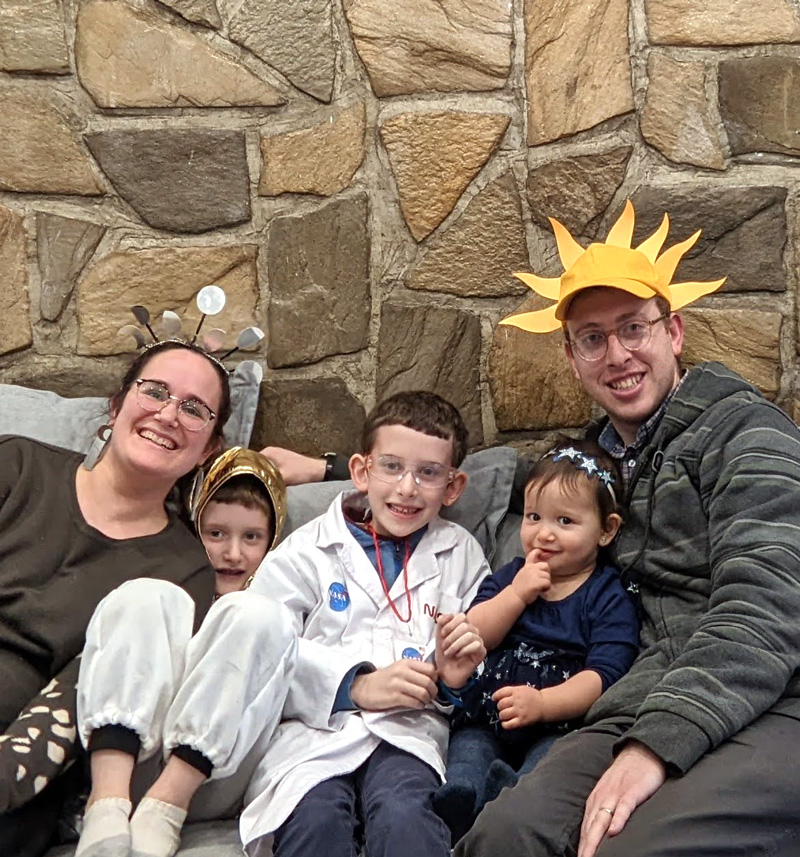 Superhero – Go all-out with Marvel goodness! You can all be the same one, or opt to be different ones. Spiderman, Superman, Hulk, Iron-man, Batman… and of course you need a Wonder Woman!
Where's Waldo – This is a popular theme that never fails to be totally adorable. You can switch it up a bit by dressing up like different characters – Waldo, Odlaw, Wenda, Wizard Whitebeard… Bonus points if you have a dog to dress up as Woof!
Circus – There are many ways to do a circus theme. You can all be decked-out circus animals, circus performers, or a mix.
Animal Grouping: Safari, farm animal, etc – add a birthday hat and you're party animals. Use leftover hats to package your Mishloach Manot.
Millennials – or gen Z. Or any other generation.
Community helpers – either each one different, or any one as a family theme
Firefighters – you can have dalmatians too
Police
Nurses
Doctors
Ambulance drivers
Mail Carriers…
Dinosaurs/prehistoric – You can be different types of dinosaurs, or different prehistoric animals in addition to dinosaurs.
Explorers – You can mix this with safari animals, or all dress up as explorers.
Park rangers – mix with US wild animals – wolves, bears, eagles.
Sharks – just plain sharks, or go for the Baby Shark family.
Mythical creatures – Mermaids, unicorns, dragons, trolls, fairies, ogres, cyclops, goblins, gnomes…
Comic book characters – and I don't mean specific ones! Here's a good example of what I mean. You can build on the comic book cake trend for this.
Historical figures: George Washington, Alexander the Great, Napoleon, Cleopatra, Shakespeare…
Inventors: Albert Einstein, Nicola Tesla, Thomas Edison, Marie Curie, Benjamin Franklin…
Iconic presidents – George Washington, Abe Lincoln, FDR, Eisenhower, Kennedy…
Purim Themes for Mishloach Manot
On a tight budget? When choosing Purim themes for Mishloach Manot, I do recommend starting with the supplies you can find and building around that, especially if you have lots of people to give.
Color – Stick to a simple color-focused theme. I recommend purchasing acetate boxes and arranging a few items in 1-2 similar colors or color families together for a gorgeous, low-effort package. Cool accessories can make all the difference.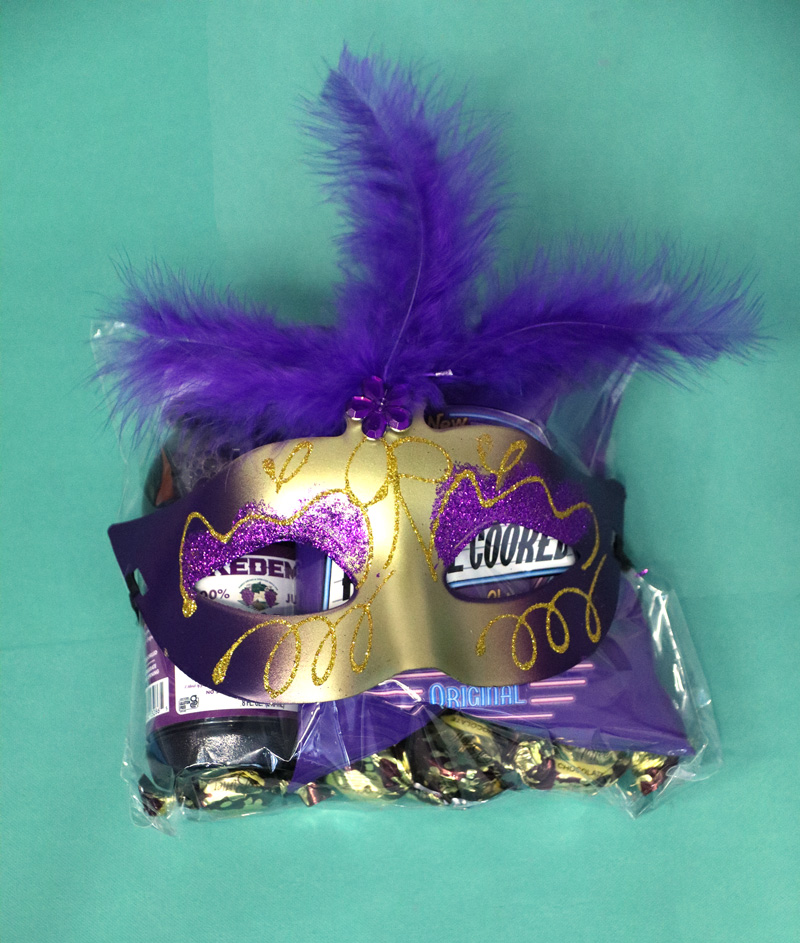 Flavor – Similar to color, you can stick to an all-flavor theme (orange, chocolate, mint, cheese)
Fruit – It's not that hard to get fruit themed foods, including fruit candy!
Fruit basket – I've done this in mini and maxi. Mini included berries and grapes in a small glass bowl. I used these incredibly inexpensive prep bowls two years in a row (for the candies below too). Maxi was an actual basket with fresh fruit – get what's on sale – and possibly a fruit juice. You can also combine this idea with the previous AND the next and make a mini fruit basket candy bowl.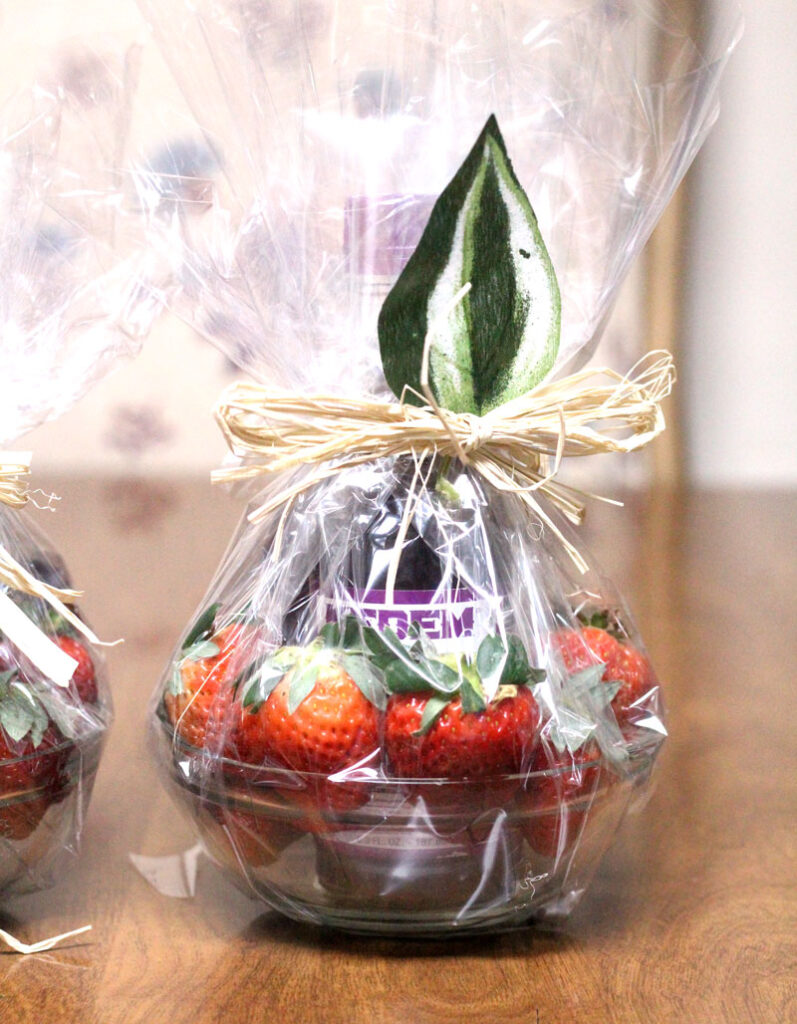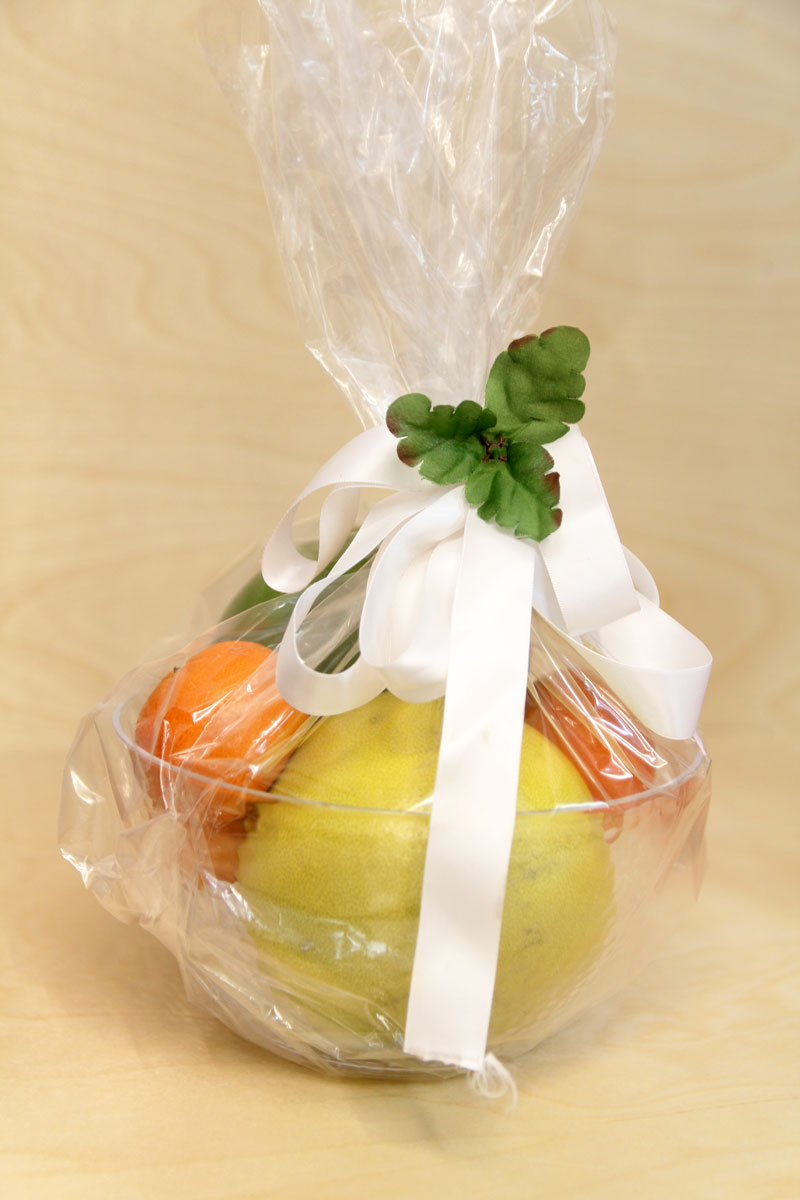 Candy bowl – I made a mini candy bowl that says "take one" one year, and combined it with chocolate and a mini liqueur.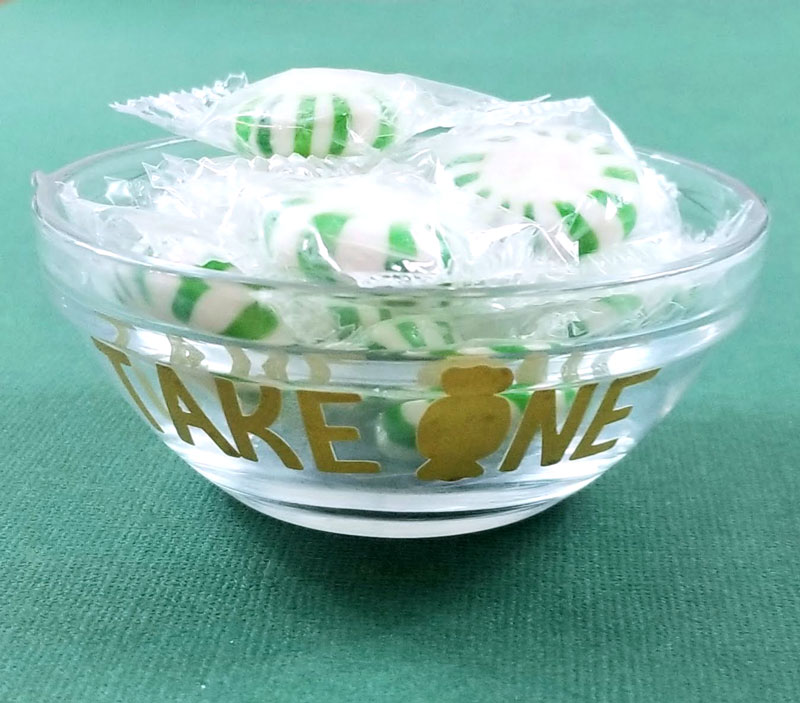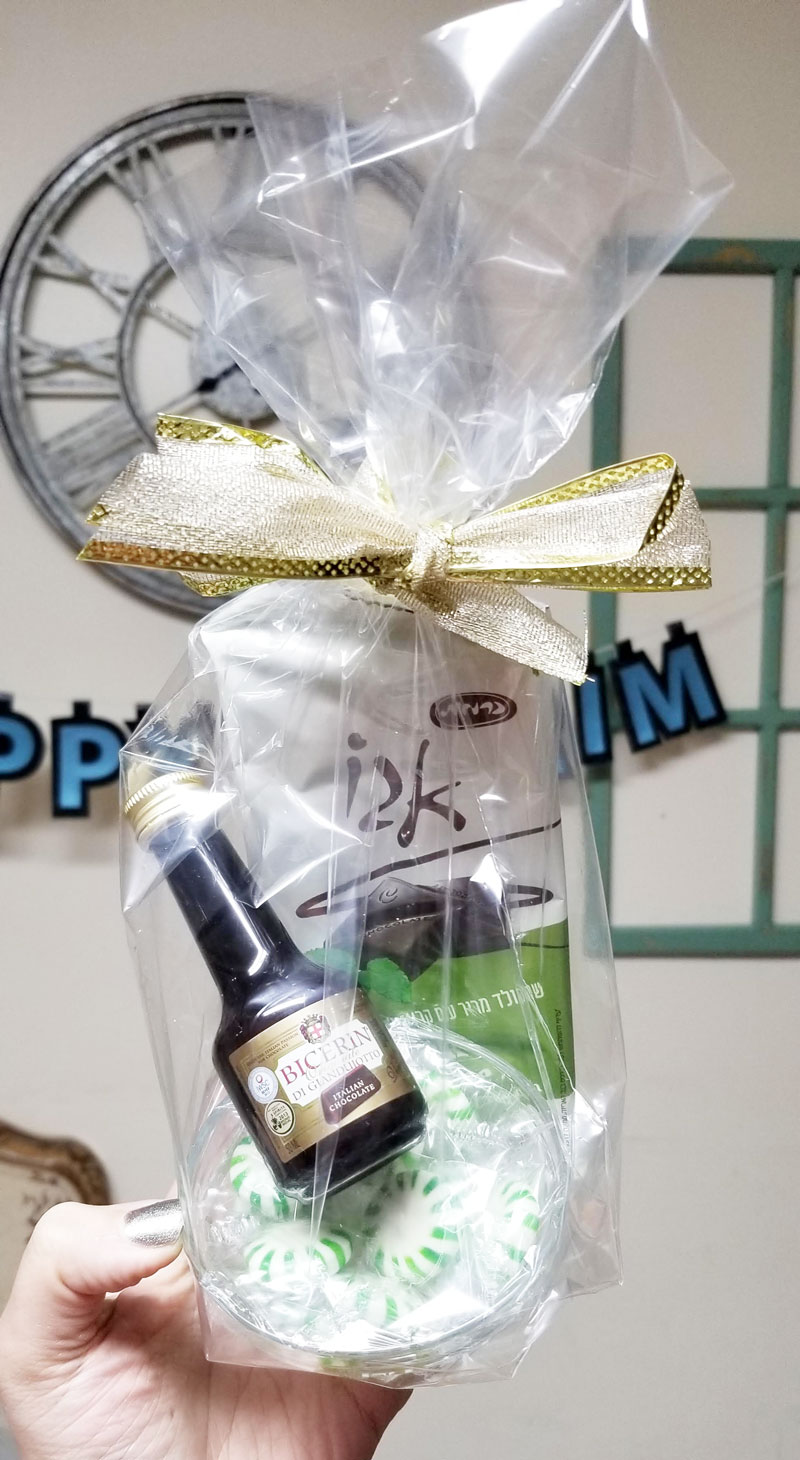 Israel – Any grouped Israel theme can work here:
Israeli cuisine (falafel, hummus)
or Shivat Haminim (Medjool dates, grape juice, pomegranate bark…)
Flavors of the Shuk – you can include bourekas, pitzuchim (sunflower and watermelon seeds) or other nuts in paper bags with tops rolled down, gummy candies in pastic bags tied with a loose knot at the top, dried fruit, flavored olives, etc.
Of course, you can group this with one of your Israel costume themes.
Smoothie bowl (fixings) – Some fresh blueberries, a small almond milk, granola and whatever else you'd like to include.
Cookout – Include anything bbq and/or s'mores themed. Package them using gingham fast food trays.
Shabbat Foods – There are so many ways to do this, and while it's a popular theme for Friday Purims, you can do it any year! Go for challah with dips – my friend once did a garlic confit that was easy but so good. Toss in a grape juice.
Trader Joe's – or Aldi if that's more your vibe. IYKYK.
Candy Shots – Not really a theme but beautiful presentation by my friend. It's perfect for when you want to give a nice gift. You can also scale it down with two shot glasses packaged in cellophane.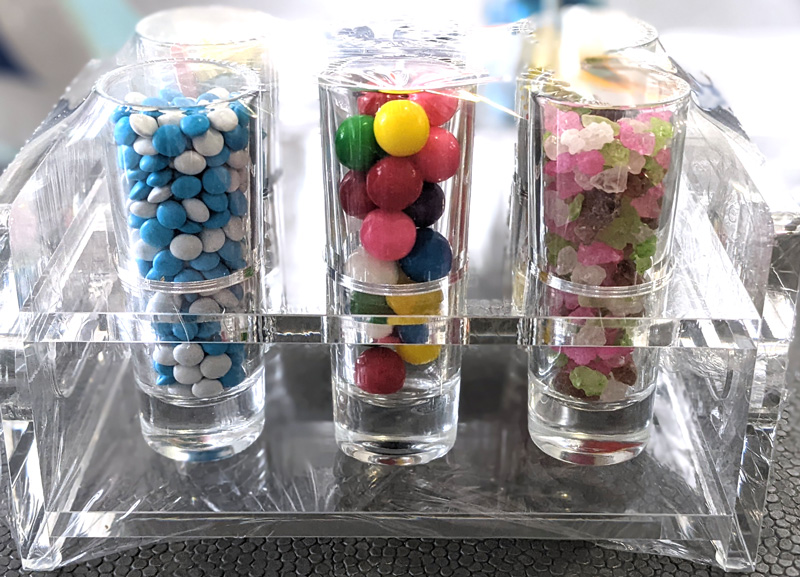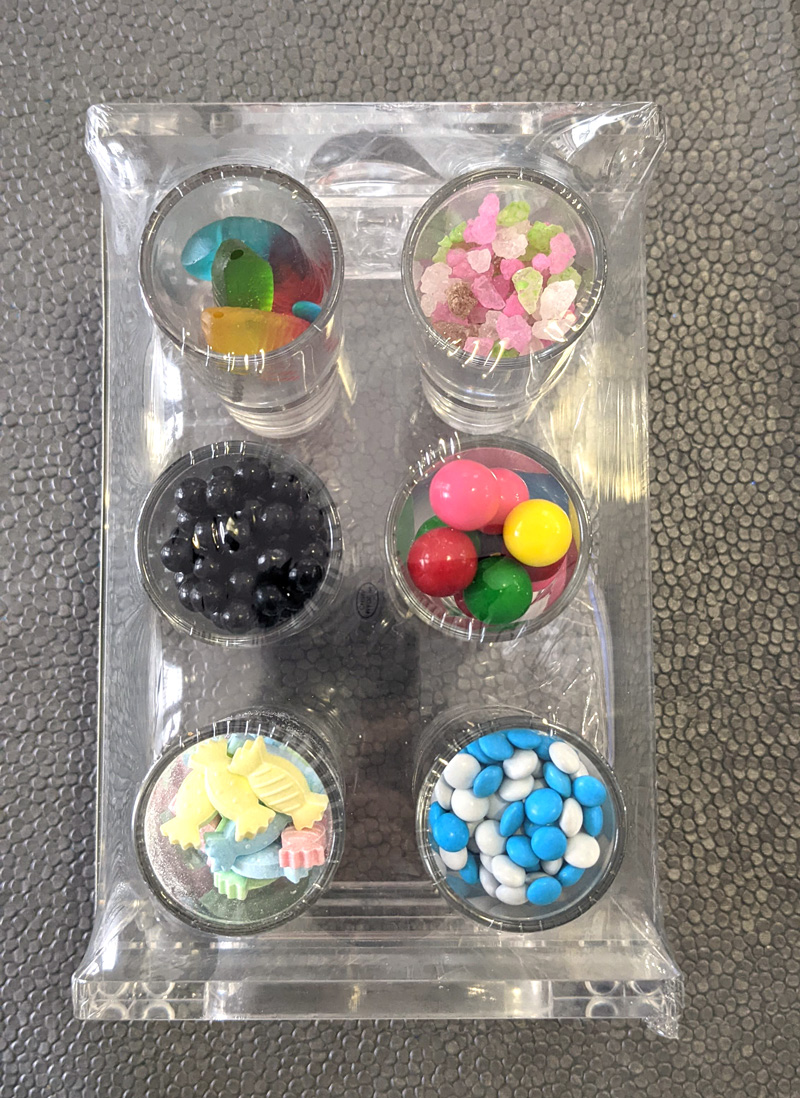 Millennial foodie: avocado toast – or fixings for it – sourdough of course, cold brewed coffee or matcha tea, cauliflower anything, other than cauliflower itself, overnight oats in a mason jar of course, or any other trendy foods.
Tea Party – Pair tea bags with biscuits, a little bit of honey, or a tasty pastry.
Secret chocolate stash – I actually made this as a fun Chanukah gift, but since it's food it's fabulous for Purim too! Just put in two different kinds. A mini chocolate liqueur can work too.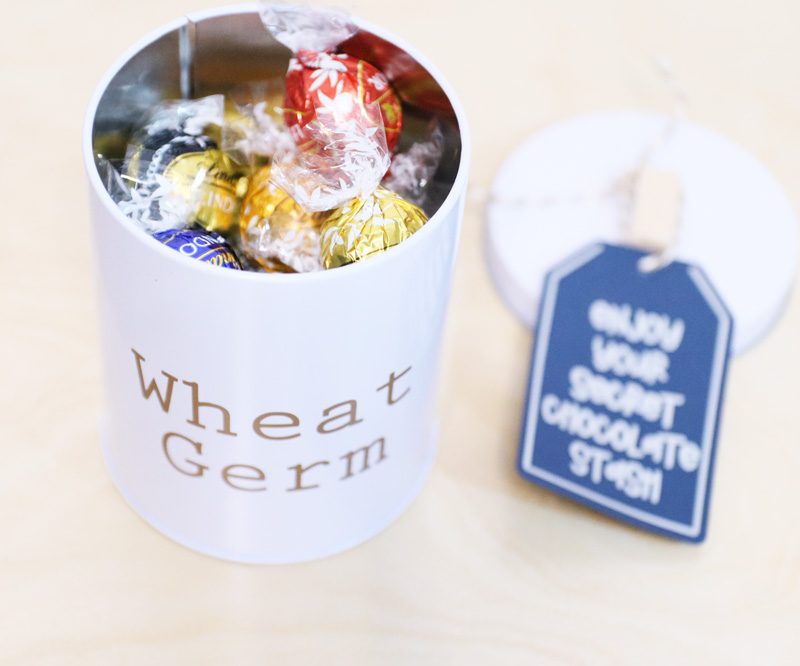 Smiles – For a Mishenichnas Adar Marbim Besimcha theme (highlighting the idea of the Hebrew month of Adar being a time of extra joy.) Your base should be yellow. Twizzlers smiles, candy eyes, smiley face gumballs… there are more options out there but you can also simply fill in with yellow foods.
Emojis – The above but get emoji packaging. Mix in heart shaped foods, candy drops for tears, and anything else you can find!
Rainbow – You can make all the colors of the rainbow individually, or find a few full-rainbows to include.
Fast food – Hot dogs in buns with the fixings, a bottle or can of coke, fries if you can make them fresh…
Milk & Cookies – Just exactly that. You can give small cartons of milk with packets of two chocolate chip cookies. Or give any kind of prepackaged cookies with chocolate milk.
Bartender – Combine cocktail fixings in a small glass from the dollar tree. For upgraded packages, include a cocktail shaker as a gift.
Comfort food – Chicken noodle soup, potato chips, chocolate….
Sushi – You can theme it with add-ons, or just give sushi. Yum!
Asian-food – or any other favorite cultural food group. I did a soft-Asian themed one with sesame noodles and the Arizona tea that has in it Ginseng and honey. It's a great combo too!
More ideas:
Mexican
Indian – Ethiopian to symbolize King Achashverosh's kingdom
Or, just Persian…
Italian
Kiddush/Shabbat Lunch – Another great combo is potato kugel and beer! This was my husband's genius, actually. We actually softly-tied it into our space theme one year, but that can be done with any food.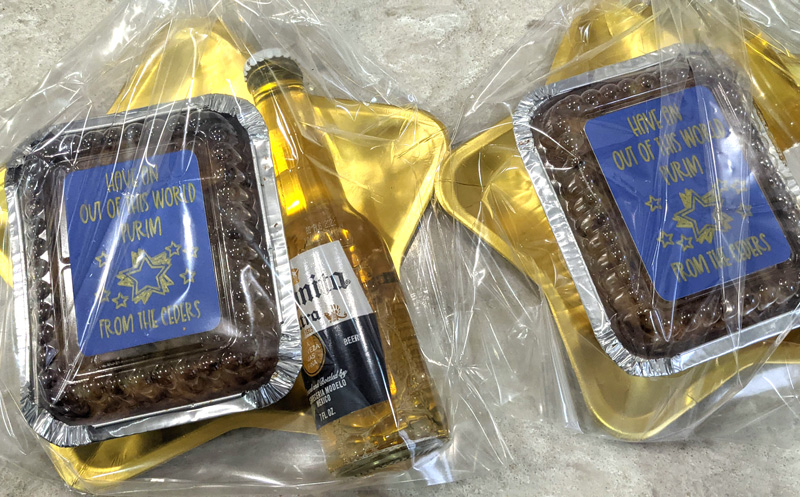 US themed – Go around the US and choose different foods from different states. You'll need to stick with just a few to make it doable, or choose your home state and make it exclusively based on that. Some ideas: Arizona teas, Wisconsin cheese, etc.
Boards – Make a mini "board" on a dollar tree cutting board. Heads up: this one can get pricey. Go for the dairy or meat version.
Do a dairy cheese board with cheese, olives, grapes, crackers.
A meat charcuterie can have deli meats, nuts, pickles, and mustard.
Purim Themes for Both
The costumes here mostly work as their own costumes as well, without a matching Mishloach. A lot of the Mishloach Manot ideas here can seem a bit odd on their own – but some work that way too. I have more tips below for tying anything in with anything so if you don't find what you need, just keep scrolling!
Purim – Lottery: Dress up like the nouveau riche – in a tasteless blinged-up costume and hand out a lottery ticket (or money) themed Mishloach Manot. We did the lottery angle and gave out an actual scratch-off. We added in chocolate coins and butterscotch candies in a tulle round "money sack". We just wore dollar store beaded necklaces as our costume. Our kids dressed up as whatever they wanted.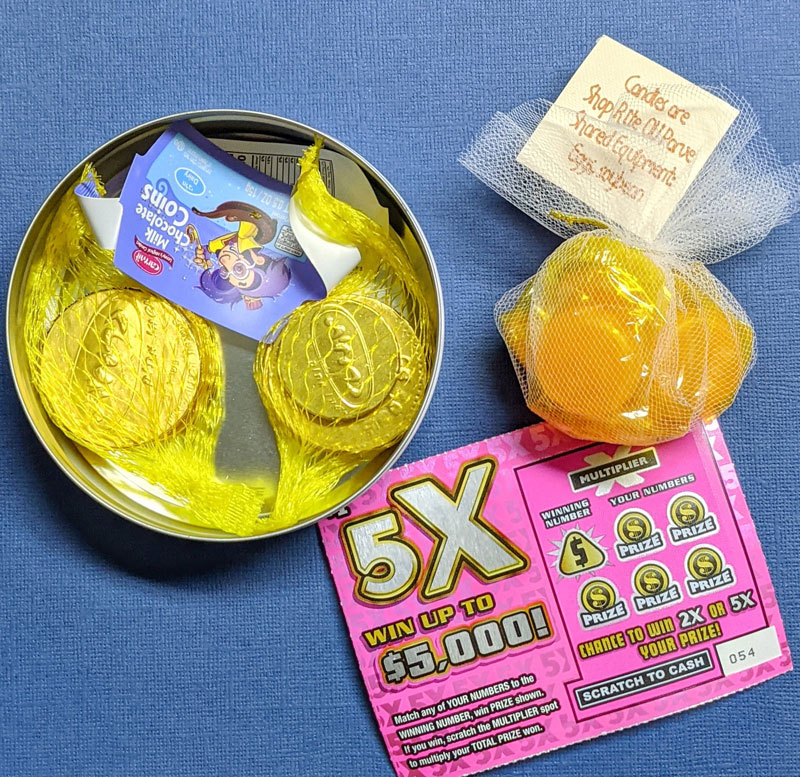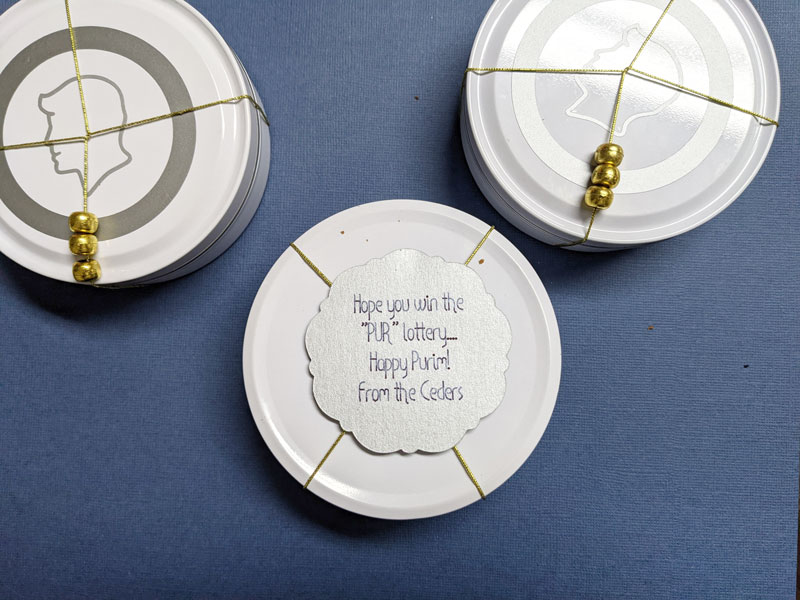 Coffee – The family can dress up like Starbucks or Dunkin staff and give out a coffee themed (or branded) Mishloach Manot. Don't forget the donut!
Special Deliveries – Dress up as UPS, FedEx, USPS, and/or Amazon staff and give out packages (with anything inside) in cardboard boxes or bubble mailers with shipping label-stye labels. Tie off with packaging twine. Tip: get simple Kraft boxes to mimic delivery boxes.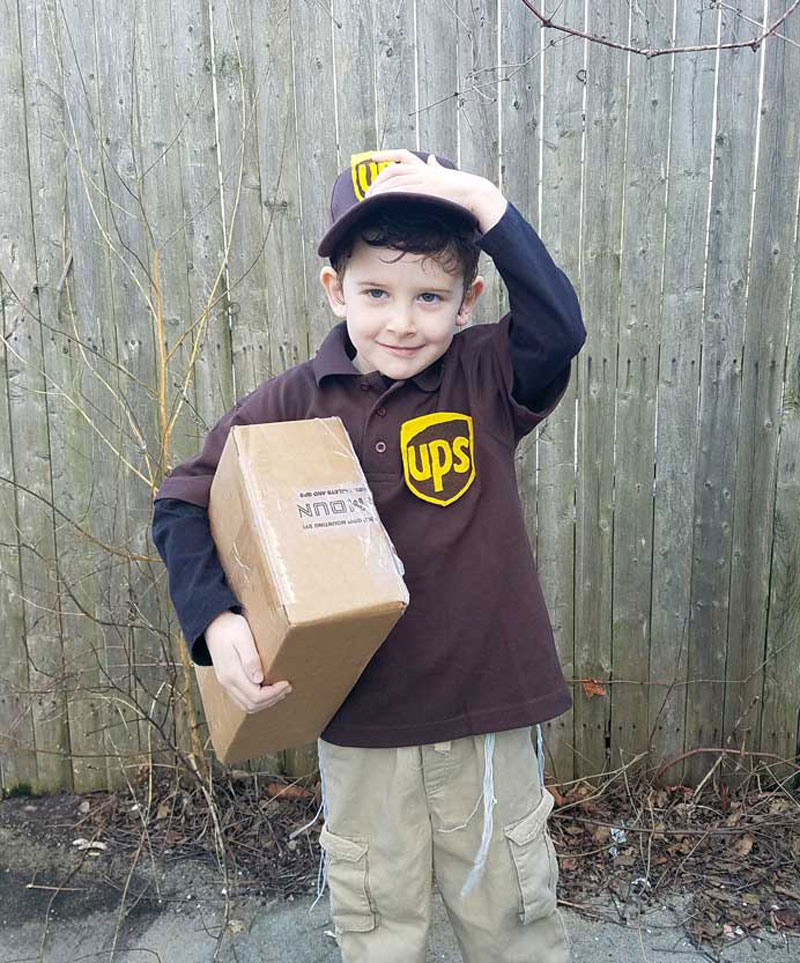 Newsies – and wrap your packages in newspaper!
Minions – And of course, give out a banana themed package.
Sports – Dress up as the athletes of your favorite sport to follow and give out the foods you'd be served at the game.
Under the Sea – Dress up as different sea items – octopus, mermaid, fish, seaweed, Loch Ness… and give out something fishy! It can be sushi, fake sushi (I've seen this done with rice krispie treats, etc) or just assorted sea themed items. Or package your usual in a boat-shaped package.
Charlie & the Chocolate Factory – Make a chocolate themed mishloach (bars + liqueur + brownies) or opt for the different themes that the kids got trapped in – blueberry, bubble gum, etc.
Farmers – and give out farm-fresh themed foods! Egg salad, chocolate milk, and maybe some fresh bread to go with the egg salad.
Construction – For Mishloach manot, give out LEGO candies, mekupelet chocolate logs, or any other building material types of things you can find.
Decades or eras – You can go as far as the cavemen, or as recent as the 90s. Give out foods from that era or that were popular then. If you do a more recent decades, you can give out any candy that existed then – if you can find clear enough photos of the wrappers how they were then (assuming they were rebranded since). Mock them up into new wrappers! So cool!
Winnie the Pooh – and give out a hunny themed Mishloach!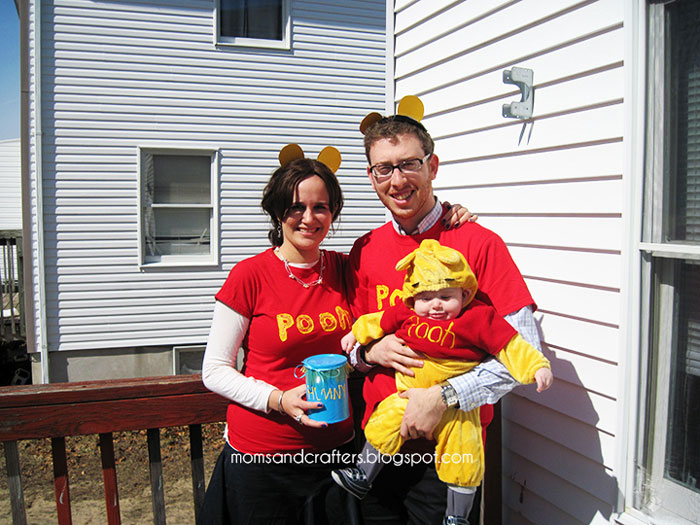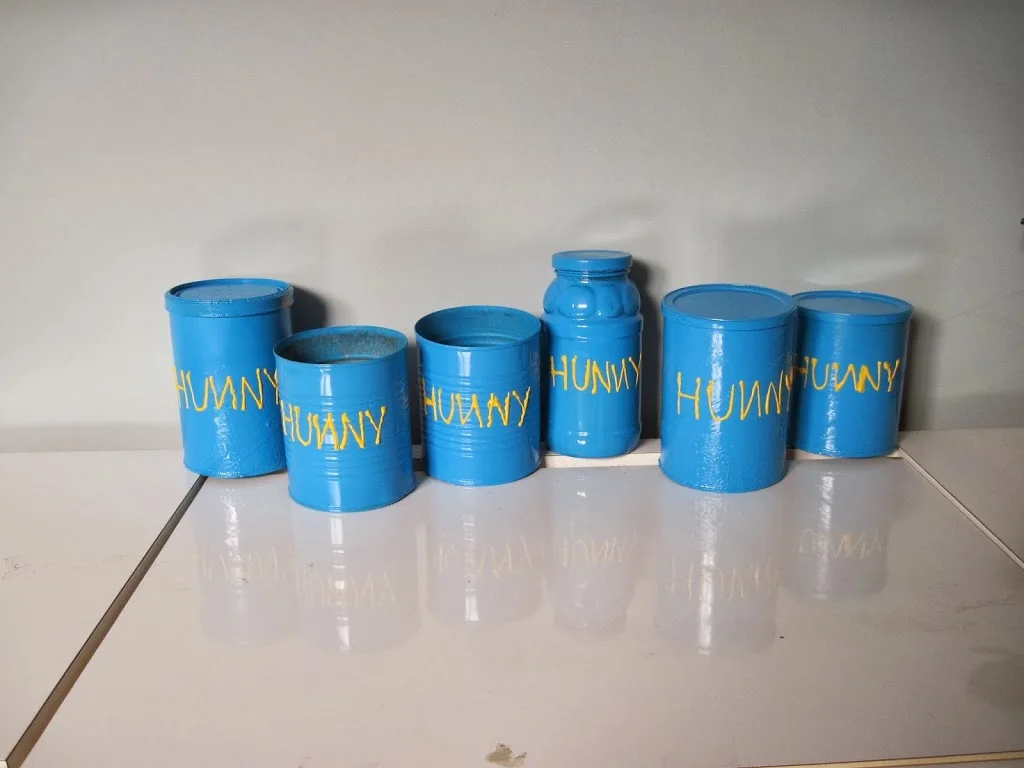 Monkeys – with a banana themed Mishloach Manot. You can wear nightcaps or pajamas on top of monkey costumes and then you're no more monkeys jumping on the bed.
Bridal – Got little girlies who need to be a "kallah" (bride) year after year? My sister humored hers by making a bridal themed Mishloach to match. She decorated simple cupcakes with white fondant and pearls and paired it with a can of Bartenura Moscato – YUM!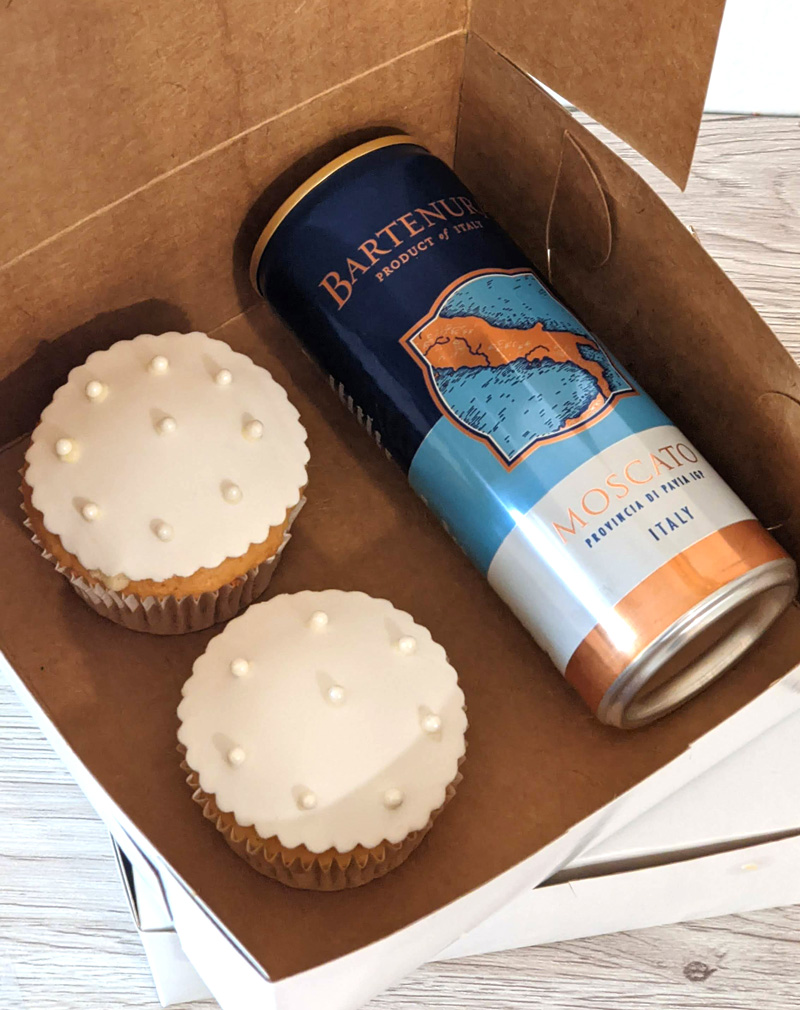 Weather – you can choose seasons – fall, winter, spring – or weather elements – rain, snow, wind. Choose candies and foods that fit, such as Smirnoff ice, cotton candy – clouds, popcorn snow balls, etc.
Dr Seuss – Dress up as characters from any of his books. Give out either fantastical foods based on his books (cotton candy, etc) or give out simple rhymes: fish (jelly fish) in a dish, rice (krispy treats) shaped like dice, etc. You can even just make it teal, red, and white to vibe with his books.
Parents to be – IF you're expecting and want a simple, low energy theme, you can literally just exaggerate your current condition. Dad leave a 5:00 shadow, wear pajamas – bonus points for oversized – and sneakers, paint bags under your eyes, carry a beer or two… Mom, wear the biggest hoodie you can find, a mom bun (if you can swing that). Mishloach is wine or beer, tums, a frozen (yes, frozen) container of soup, all packaged in an aluminum pan.
Food groups – You can dress up as actual foods and match your Mishloach Manot to your costumes. A few ideas:
Condiments – dress up like ketchup, mustard, mayo… and then you can give out any foods that go with that, along with restaurant packets of food. French fries, hot dogs in buns, etc
Cereal and milk – and of course, give out a breakfast package! You can even dress up like cereal mascots.
Candy bars – and pair them with the same bars in your package
Artists – give out pencil cases full of colorful foods. You can even toss in a few actual art supplies.
Hearts – Take advantage of post Valentine's sales and give a heart themed Mishloach Manot. Make sure to dress up all heartsy too. You can dress up as heart cards: Queen of Hearts, King of Hearts, Jack… etc. Kids can dress up as their number in the family or their age if single digits.
Drunkin Grownups – If you're a DIYer, or you can find parody shirts, you can go Purim-friendly with a Drunkin Grownups theme. Give out beer, rumballs, Some next-day Dunkin coffee, or whatever else might fit. You might want to skip this if you have kids.
Masquerade – If you want to take advantage of post Mardi gras sales, you can do a masquerade theme. You can use simple eye masks as the basis for your Mishloach Manot package. And if you want to get really creative, wrap your foods – any foods – in deceptive packaging.
Candyland – The best way to do this is to pull out the Candyland board game and see if you can become the characters! And then give out the different foods: peppermint candies, twirly lollies, gummies, caramels, some sort of chocolate, and of course, ice cream candies. You can also dress up as the candies themselves.
Careers – I have called some out above (DON'T tell me artist isn't a career!!) but here are some more quick ideas:
Sailor – and match it with the under the sea themed package above.
Architect – You can give anything in a house-shaped box or unfinished wood birdhouse.
Lawyer
Accountant – Give one drink, two bags of chips, three twizzlers (individually wrapped), four cookies, five candies, etc.
Writer – If you're not giving too many and you have time, you can use this free printable pencil box template I designed years ago.
Influencer – you can have lots of fun with this! Dress up over-hyped with fashion, grab a camera and a selfie stick, and give out: applesauce cups – but replace the cover with a face cream brand, some sort of container of vitamins, and if you can find a camera themed candy you're covered! Otherwise, cover a chocolate bar with a phone wrapper. You might need to custom design that.
Tropical – Dress up Hawaiian, or tropical in another way – maybe even as Pineapples. Give pineapple + Hawaiian punch, tropical Mike & Ikes…
The anti costume – There was one year that I just didn't want to costume. Turned out, I was in early pregnancy and yes, it WAS 2020. How did you guess? My kids chose what they wanted. And I made shirts for me and my husband that said on it: Superhero in Disguise.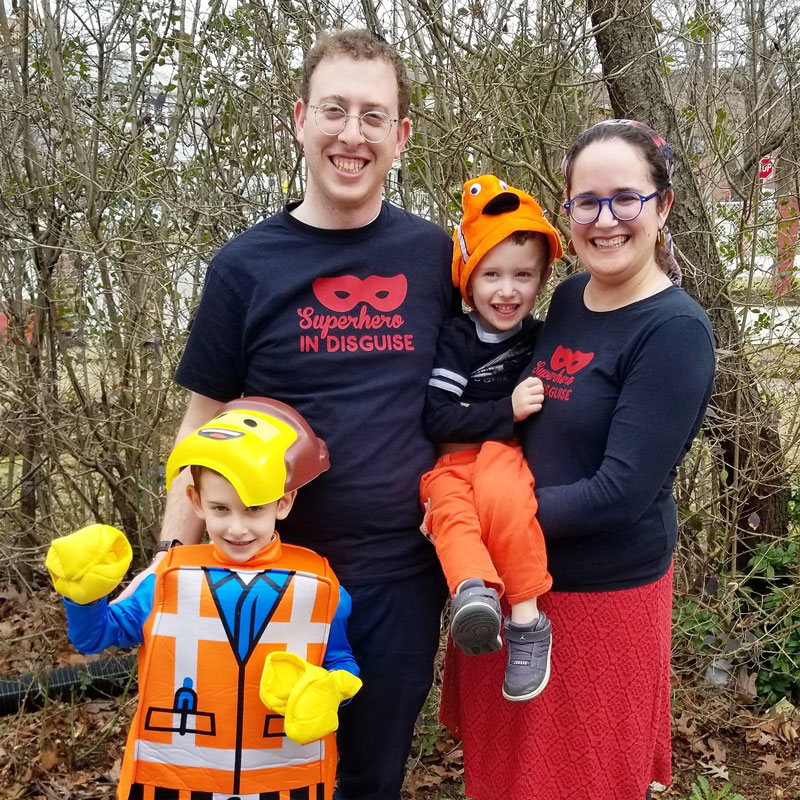 You can also do:
If you want to theme it, give out drinks that say "I just came for the booze". And something else because you need to… Label the second item as "the second min".
Villains Jewish edition – Haman, Antiochus, Pharaoh and give out all black and red or something else that can signify evil. Snakes (or gummy worms), maybe hot things too…
Alice in Wonderland: And give out the tea party themed Mishloach Manot above. You can even package it in a top hat, with bunnies, and hearts….
Tourists – Go all in on the cameras, sandals, and sun hats. Dad should definitely wear awkward huge shorts. Package it in a suitcase or map bags, and toss in a few foods from destinations you might go to – California raisins, Israeli Bissli, Florida citrus…
Buckingham Palace Guards – And of course, pair it with a Mishloach full of English foods. Digestives, Twinings tea with a small carton of milk, fish & chips…
More theme tie in tips
Last year, I proved that you can tie anything in with anything based on packaging. To make a Mishloach Manot that fit with our family's space theme, I packaged the potato kugel and beer I wanted to give anyway in the spirit of things. I got star plates as a base, and made custom labels on my Cricut for the kugel pan covers that said "have an out of this world Purim".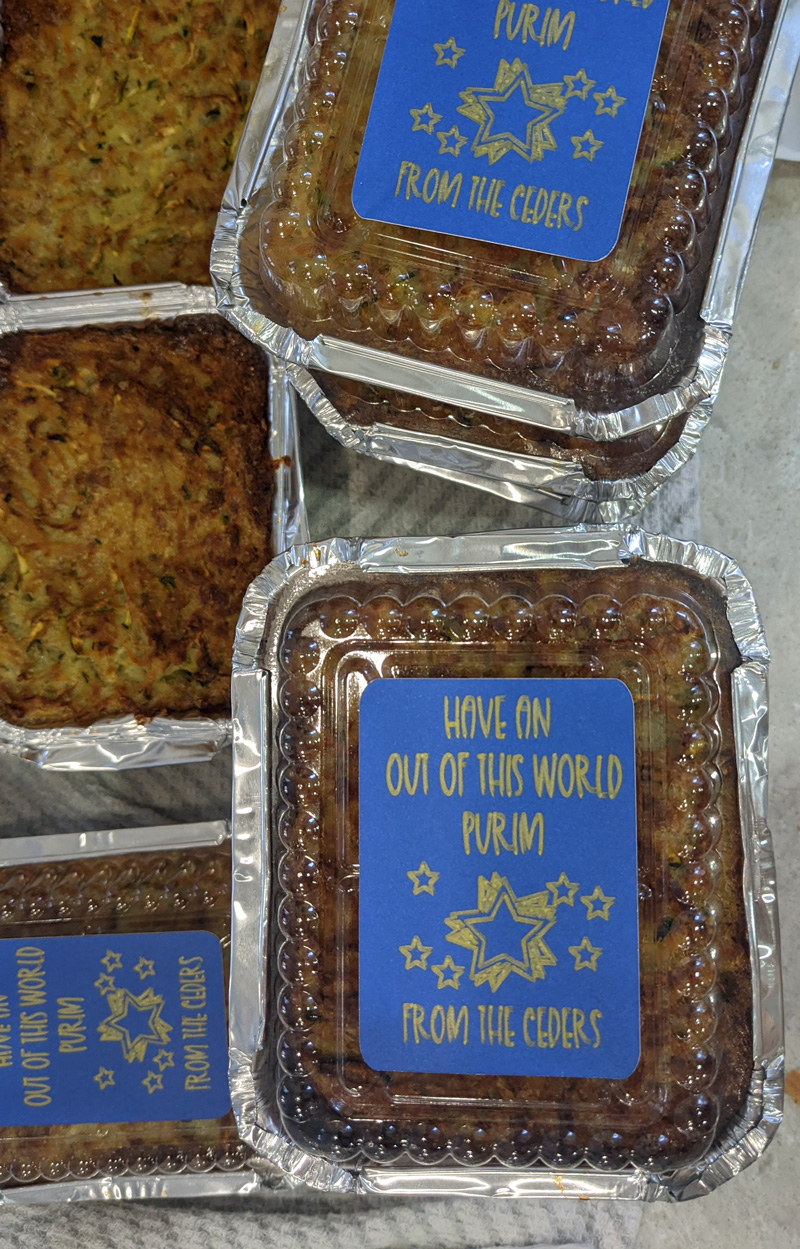 The Coronita bottles that were in most packages matched the whole navy and gold aesthetic. I cut small star ribbon sliders on my Cricut and used contrasting navy and gold ribbons.
I could have taken it a step further by including my "out of this world" kugel recipe, and sharing that if you drink too much beer, you'll black out and see stars, but I ditched that.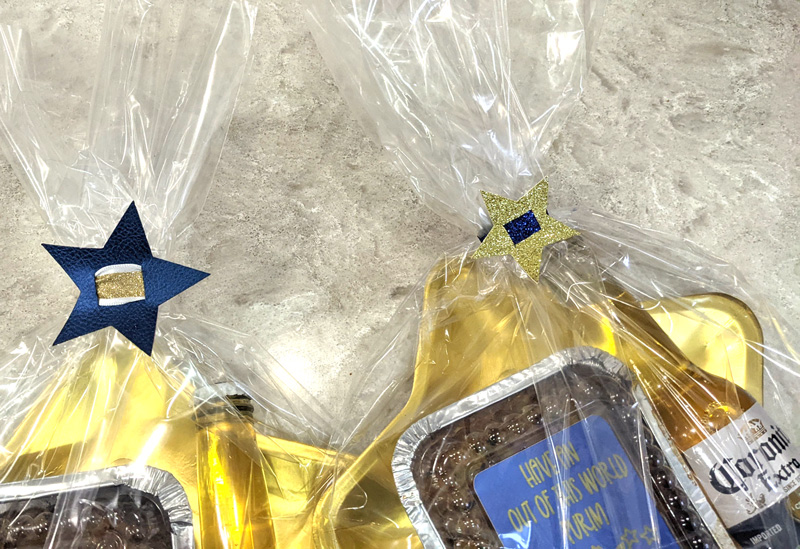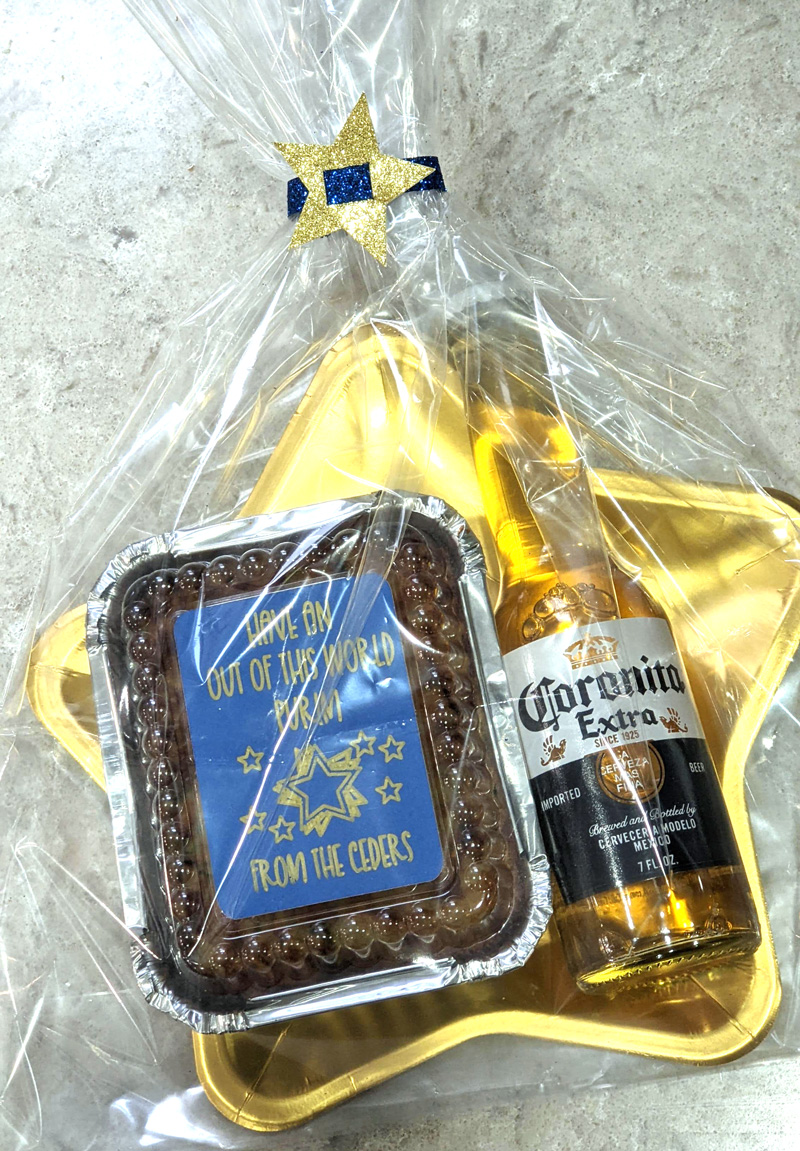 So here's my strategy for making what you want to give anyway fit with your theme in a low-key, easy way:
Make the packaging match
Scour themed party supplies for goody bags or other favors you can include.
Scour Etsy for themed party printables for water bottles, chip bags, chocolate bars…
There are so many themed printables and party supplies out there already that you might just find what you need if you're a little creative! Many kids' tv shows create party printables for parents to use when making themed parties.
I do recommend sticking to a simple color scheme, like I did with the kugels above. But even if you don't, it can be really cute!
When the family dressed up as PJ Masks, I grabbed some printables from their website to use to wrap fruit leathers and add "flags" to wrapped individual Twizzlers. You can do that with ANY straw topper printable. I included some stickers and foam flyers for the preschoolers we were giving them to.
And finally, if you do Purim themes year after year, and find yourself often getting elements customized, it might be time to invest in a Cricut. Since most of what you'll want to customize will be with vinyl or paper, the basic full-sized model – the Explore (Air 2 or 3) – will be perfect.
The Joy won't allow you to bulk-produce as much as you might like.
If you have tween or teenage kids, they can help you with doing all that work.
Got any Purim themes or tips to add to the list? Comment below!