This list of Mishloach Manot ideas is a combination of things we've done in the past, additional ideas we've considered and received, as well as tips for putting together a classy package. If you're looking for themed ideas with costumes, check out this list of Purim themes on a budget. This post contains affiliate links.
---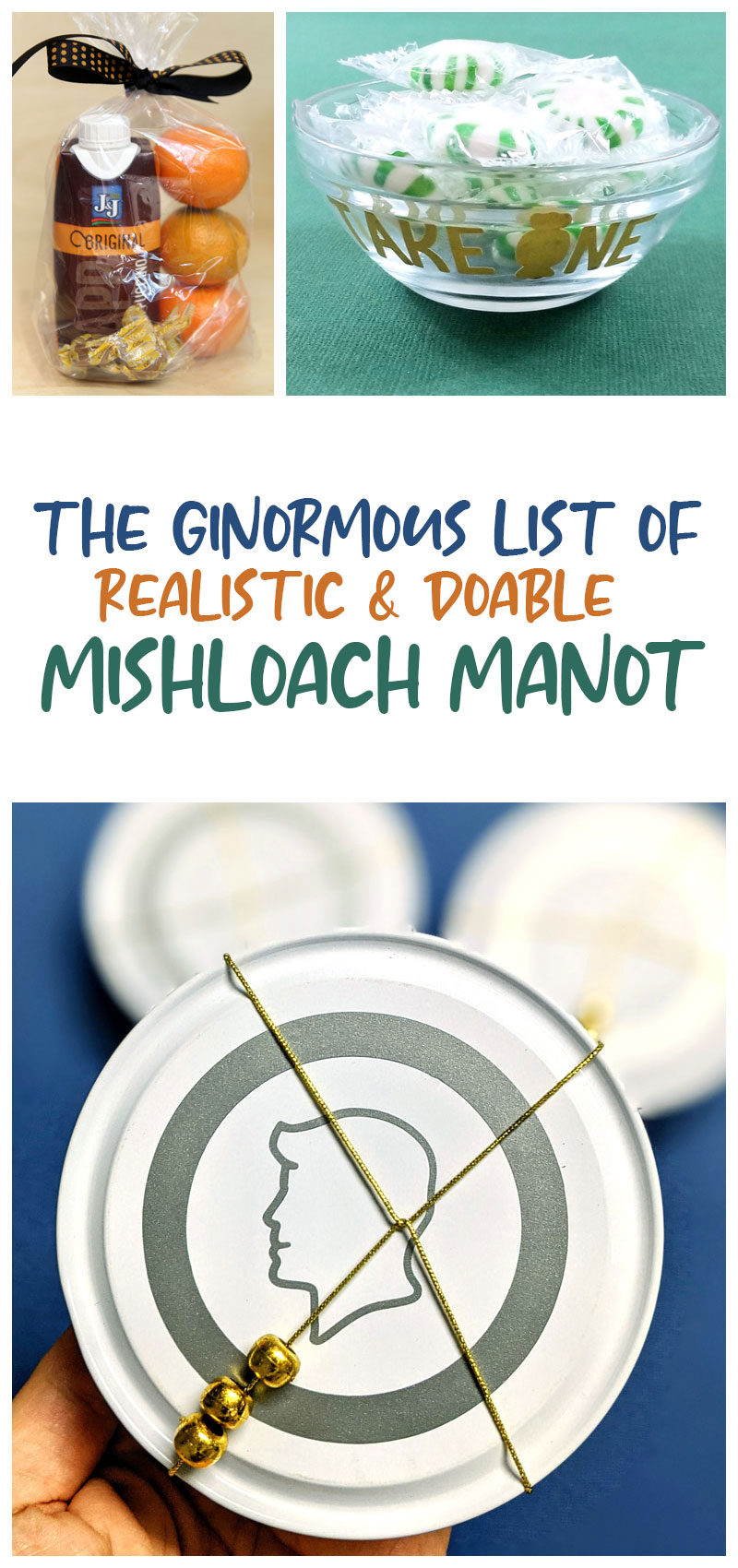 It's a matter of pride and creativity for Jewish women (and maybe men too) everywhere: creating a classy and beautiful Mishloach Manot package to distribute. Personally, I like to make things look really nice, but without going broke.
While these mishloach manot ideas do NOT focus on cost effectiveness, they'll naturally be more realistic than what you might see in other publications as that's just my style: I don't like to overspend. So while budget is very personal, and I have definitely accommodated a few different budget types here, these will mostly not be crazy.
Now, before those of you who may have burnt out before yell at me: no, you do NOT have to do this. The mitzvah is two foods to one person. That is all.
Many people, however, want to give more to say thanks, be neighborly, welcome someone, and participate in the overall atmosphere of togetherness that Mishloach Manot creates.
Others (like me) thrive on the creative outlet that it provides. And frankly, while not all my packages have been picture-perfect, I love thinking of a craft to include (there are a few ideas below but most of these don't require crafting).
How to Build a Classy Mishloach Manot Package
First and foremost, the ability to put together a classy package will be a powerful tool in your arsenal whatever it is you're doing. Especially if you're not working with a specific theme, you'll want to assemble something aesthetically pleasing.
And it's not that hard to create something that looks like it came off the shelves of a local candy store!
My goal here is to teach everyone that they can put together a gorgeous package. I had intended to go out and stage a some packages for you, however unfortunately a certain preschooler got in the way. I did create a few new options, using overlapping products for different budgets and results, just to show you how you can seriously adjust and customize for your needs.
Container ideas for Mishloach Manot
When focusing on aesthetics, I tend to start with the container. The reasoning is simple: the contents need to fit the container. Contents seem to have infinite choices, and I do find containers to be more limiting.
Obviously, you can reverse that, but it just seems better that way to me.
Here are a few container ideas for mishloach manot:
Most budget friendly: cellophane bags. Since most of what you'll want to do will require a little cellophane or outer wrap, why not get sturdy clear bags and assemble a classy package in one of those? No need for a "middle" container. Just line things up neatly, tie with a ribbon and you're done. Don't forget that label so that everyone knows who it came from!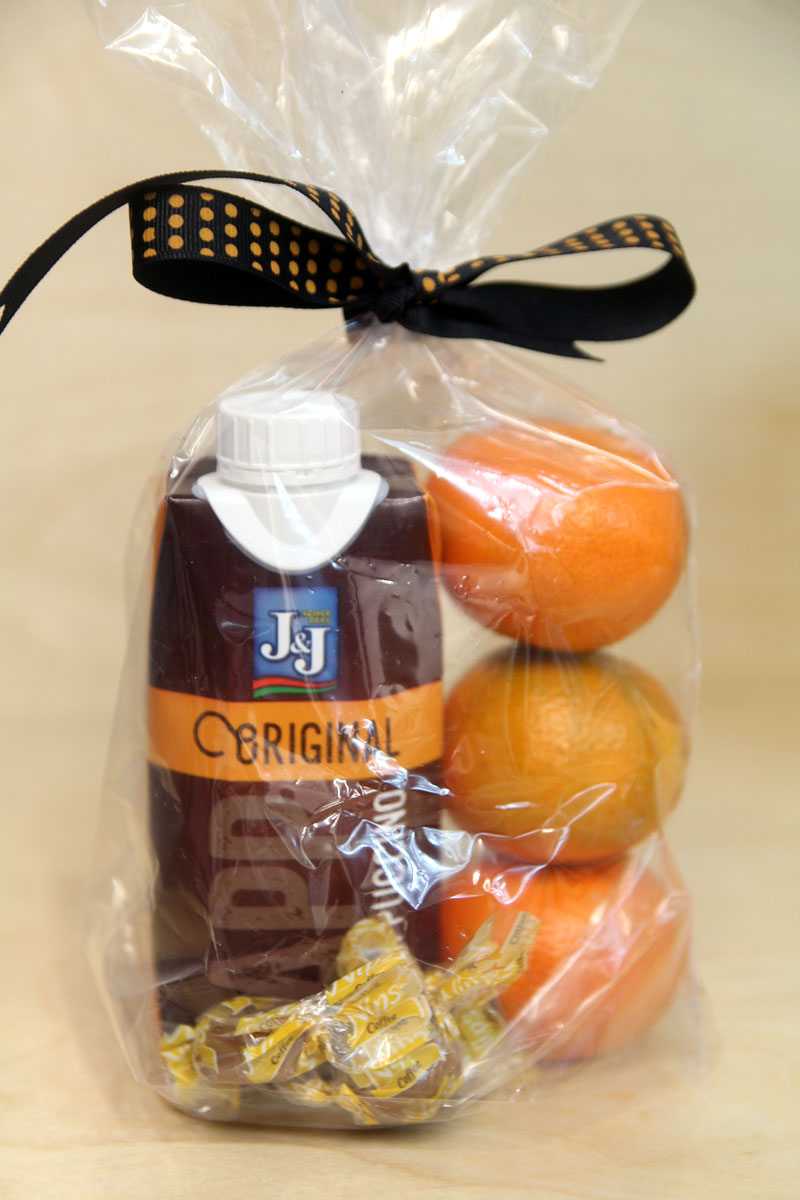 Clear acrylic- Lucite is a trend that may go away, but for now, its minimalism makes things easy. It can be pricey and is more of a gift package. Go neat and spare with the contents. Clear plastic is fantastic if you're going for a pop of color, as the container will really highlight that. And you can find all sorts of lucite gifts to incorporate! Washing cups, cosmetic organizers or trays, and more make great containers and gifts. If you want a more budget-friendly alternative, go for thinner clear acrylic. It's not as gift-worthy, but you can make gorgeous minimalist packages with it.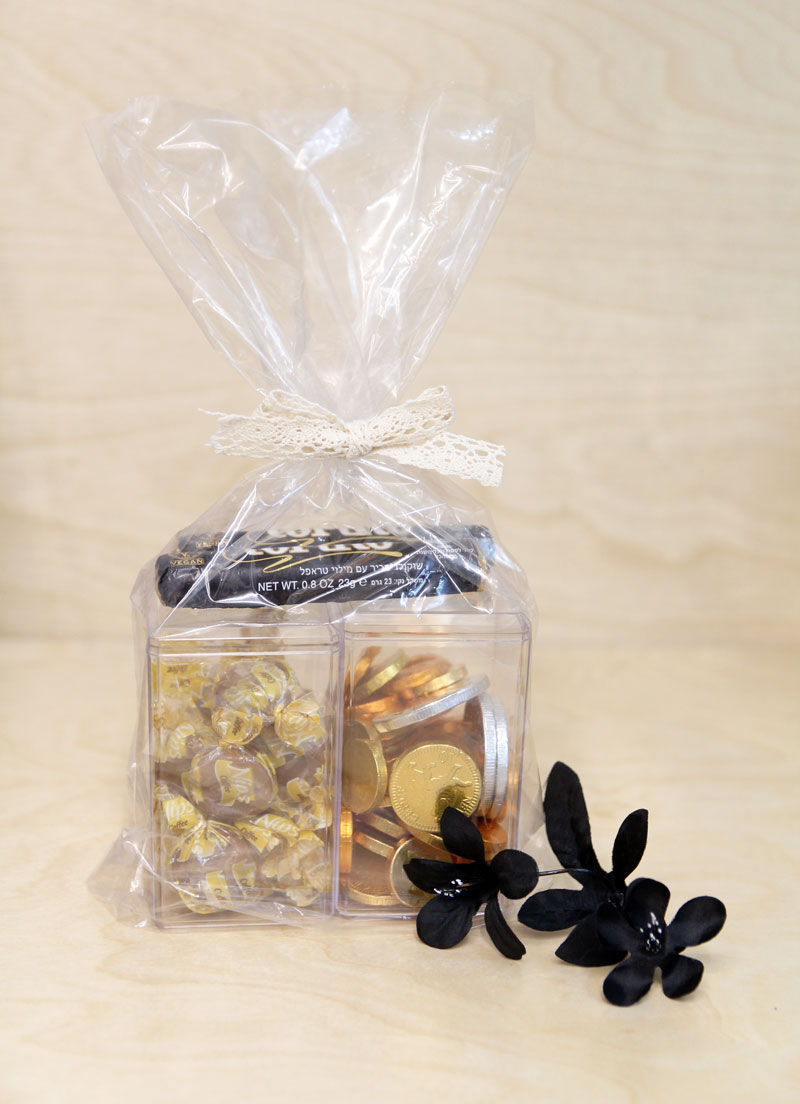 Studier than cellophane but cheaper than lucite, you'll find that acetate boxes look fantastic. The only drawback is, they definitely are throwaways.
Serving trays and food canisters are great options if you want to go a step above. We've hit up the dollar store for classier bowls that can be repurposed as serving dishes. If you're looking for a more gift-type package, dip dishes as well as actual platters are so pretty.
I love the look of wooden trays and boxes. As a crafter, I repurpose these when I receive them, but others might not.
Reusable baskets: If creating higher end packages in baskets, opt for fabric rather than wicker, as they're more likely to be reused as home decor.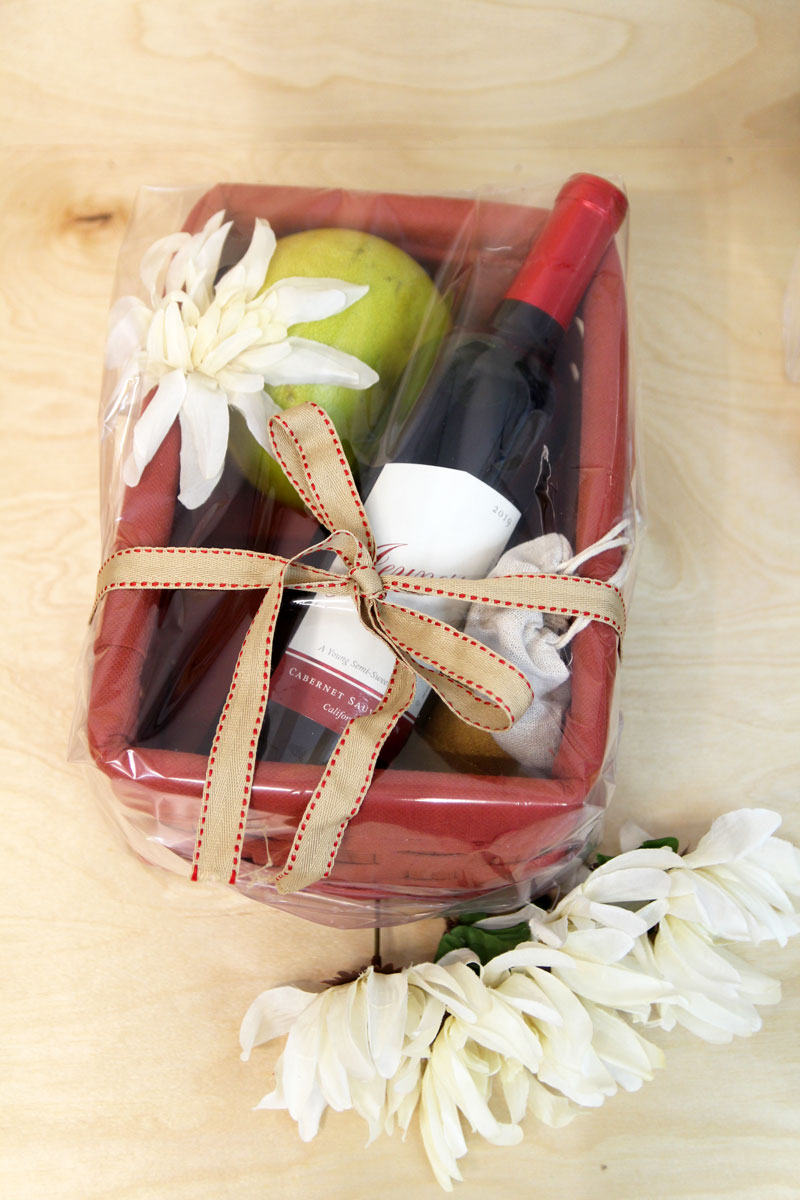 What to put inside your Mishloach Manot
Contents can be such a tricky issue. There's so much waste that happens – people simply receive too much junk they don't need. There's the "homemade things are the BEST" camp and the "NO ONE wants your cooking" camp. I'm somewhere in the middle. I like to give people I know well homemade the years that I can swing it, but for others, especially those who get hundreds of packages and might miss perishables, be pickier with kashrut, etc, skip the homemade.
Ideas by category
Here are some tips for choosing your contents for aesthetically pleasing mishloach manot ideas as well as some additional thought-starters.
Stick to a color scheme – that doesn't mean that it needs to be all one color. Unless you want it to be. Warm colors or cool colors, neutrals or even black and white – these schemes will create themselves. Some years, I've just started with that one sale item or wine I wanted to put in and then build around those. You can even aim for all creams and golds – how gorgeous would that be?!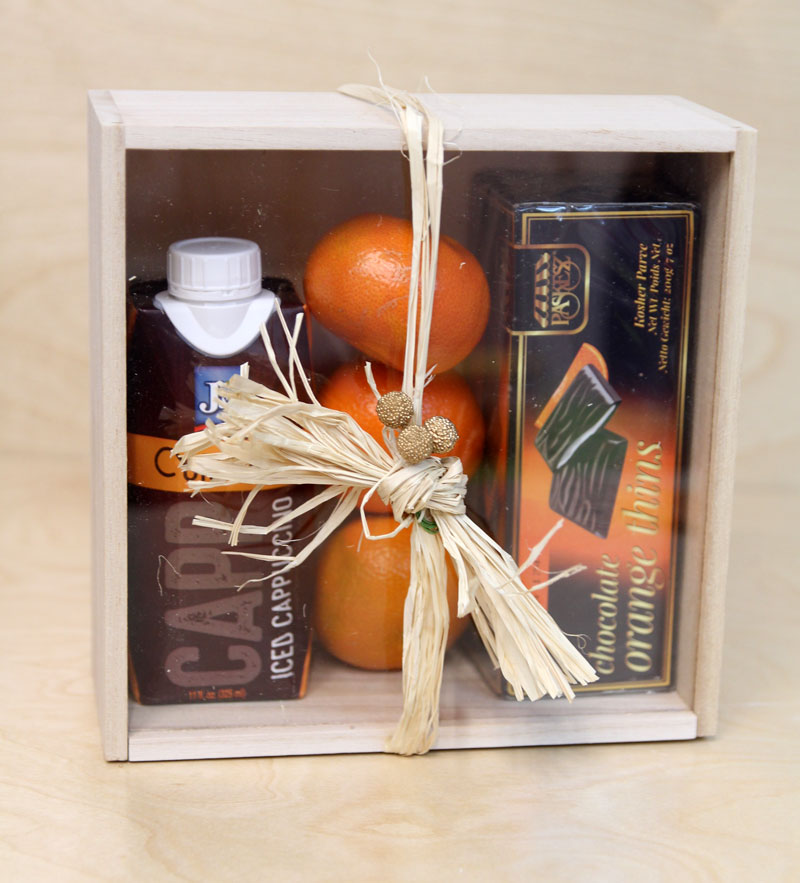 For kids, especially, all you need is a color plan. Pack it in cellophane bags and you're good to go.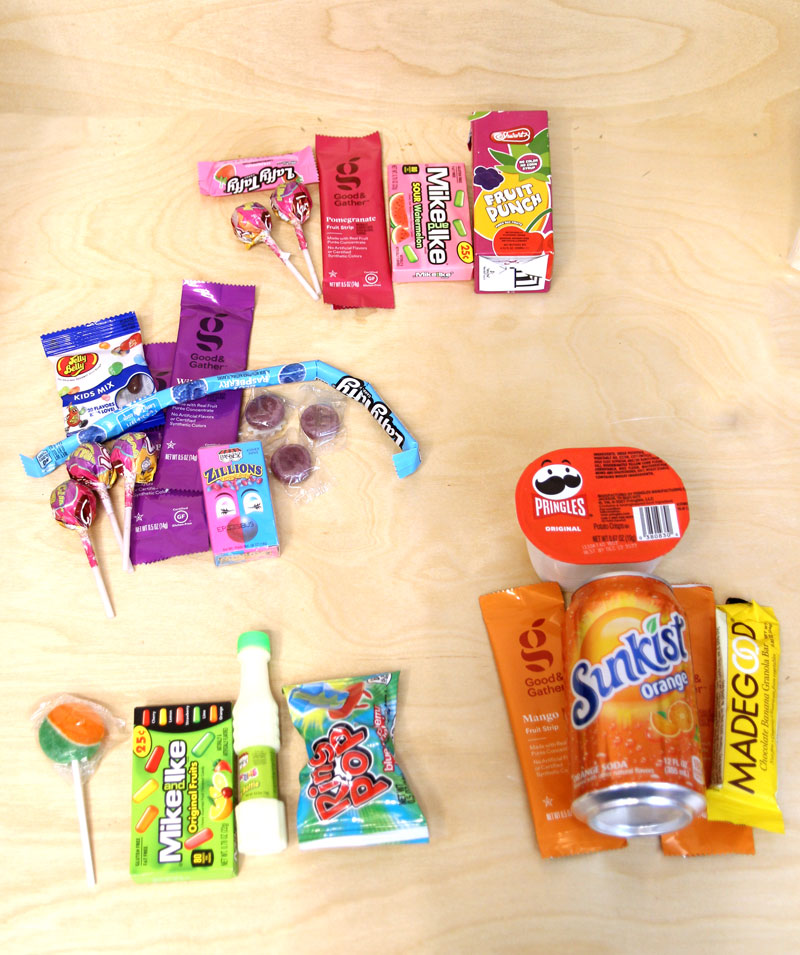 Flavor theme – you can also build loads of mishloach manot ideas around flavor themes. Lemon or citrus, chocolate, mint – there really are endless choices once you start thinking that way.
Get ideas from store sales – This might seem like odd advice, but really, it's good. Start with that item that really catches you. Build around that – even if it's not all the sale items. When building fancier "thank you" packages, we've started with the sale chocolate bars, and moved on to other products that matched.
Non-Chometz items: People get so much garbage on Purim. If you give non-chometz items, such as chocolate bars, candies, and drinks, they won't need to get rid of it before Pesach (not everyone sells their chametz). Also, you can even give Kosher for Passover for some items!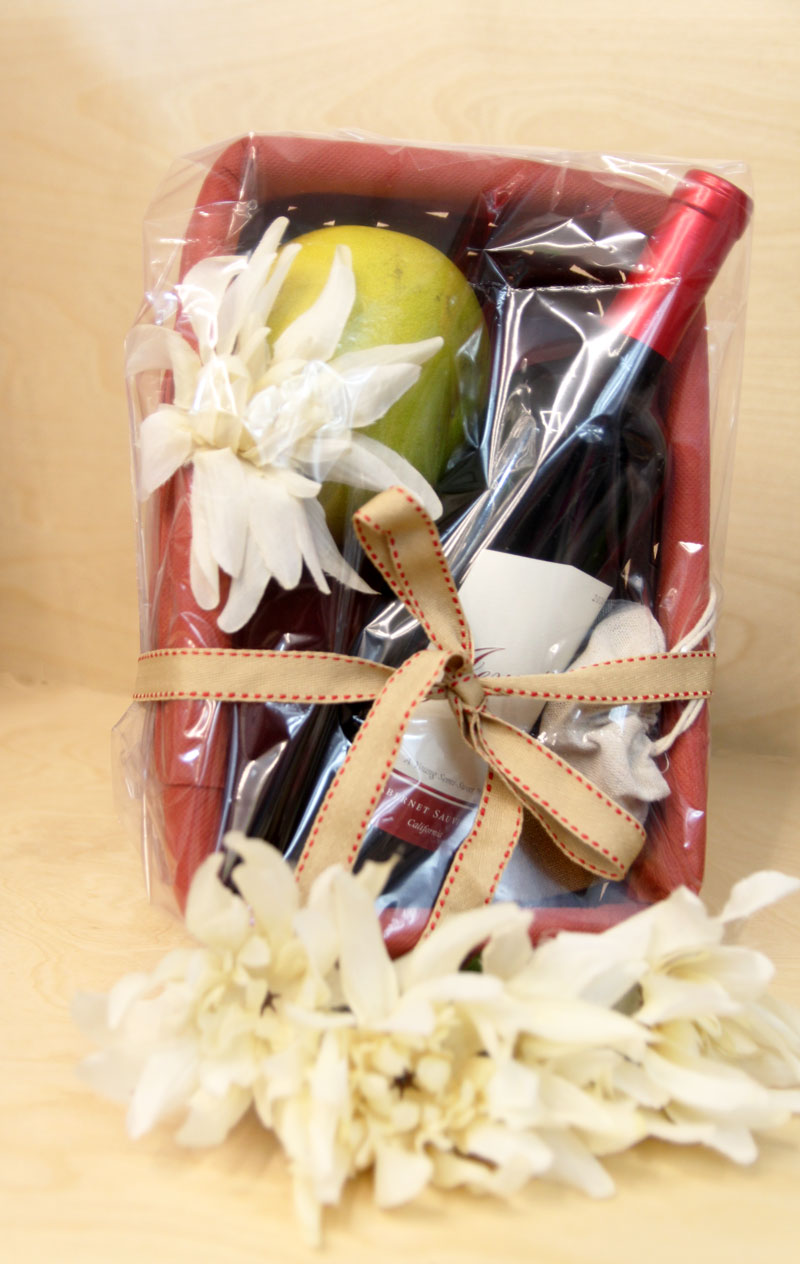 Real Food: We tend to forget to eat on Purim, and so real food can be really welcome. Also, the original goal of Mishloach Manot was to provide for the Purim feast. This goes back to the homemade vs non-homemade debate, so definitely do what works for you. Some Real food ideas: fruit, salad, whichever recipe everyone goes crazy over every time you make it, kugels, bourekas, sourdough challah… I included some more ideas for homemade mishloach manot later in this post.
Drinks: Wines can be expensive. Grape juice is the obvious choice but the more creative tend to shun it as too obvious. You can also give cheaper alcoholic drinks: beer, Smirnoff Ice, hard seltzer, hard cider, regular seltzer. Mini liqueurs aren't usually prohibitive either and are very classy. Iced coffee or shelf-stable cappuccino is delish and mini juices are practical too.
A note about allergies: as a mother of a child who is seriously allergic to traces of nuts and sesame, it's always nice to receive items with allergen information intact. Many people repackage. And honestly, I get very anxious at the sight of pistachios (his most serious nut that's also very messy and dusty). I don't have that nut in my home at all. So while it's impossible to accommodate everyone, it is a wise choice to get in the habit of doing the following, so that Purim can continue to be fun for everyone:
Avoid top 9 allergens where you have the choice, especially when it comes to crumby, repackaged, or messy foods. I understand that not everyone will accommodate everyone (especially all top nine), but if you're holding two options in your hands, why not choose the one that'll bring more simchat yom tov to more people?
Include allergen information on your packages. If repackaging items, add a sticker with allergen info. A slip of paper in the package can work as well.
If including homemade items, consider listing ingredients on what you include as well.
Some allergy-free snack ideas for kids
When it comes to kids, it's incredibly kind to keep things allergy-friendly to some degree. Here are some great things you can get online that veer more allergy-friendly:
Adding that Extra Touch
Finishing your package right adds the touch that makes all the difference. Here are some ideas and "don't forgets"
Don't forget the labels!
How many years have you forgotten about labels? Unless you're serious about your theme and get custom cards printed in advance, it's easy to overlook them. It's probably the most commonly overlooked item. I know my best day for selling my printable labels is on Purim!! Don't forget the labels! You'll probably be dropping at least one package at a door handing it to a kid or a spouse that doesn't know you. Having a label on it means they know it came from you.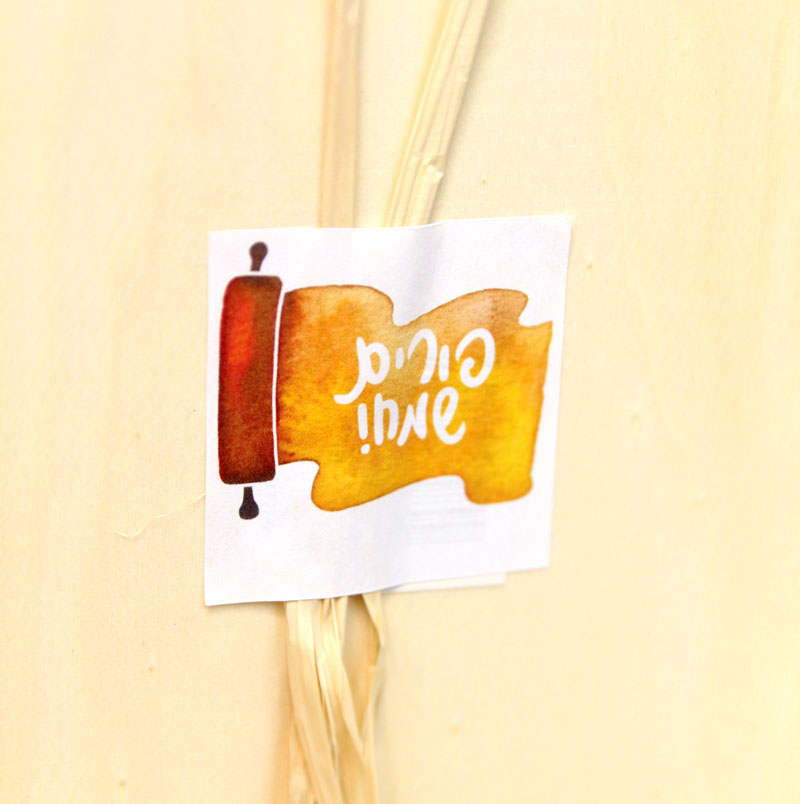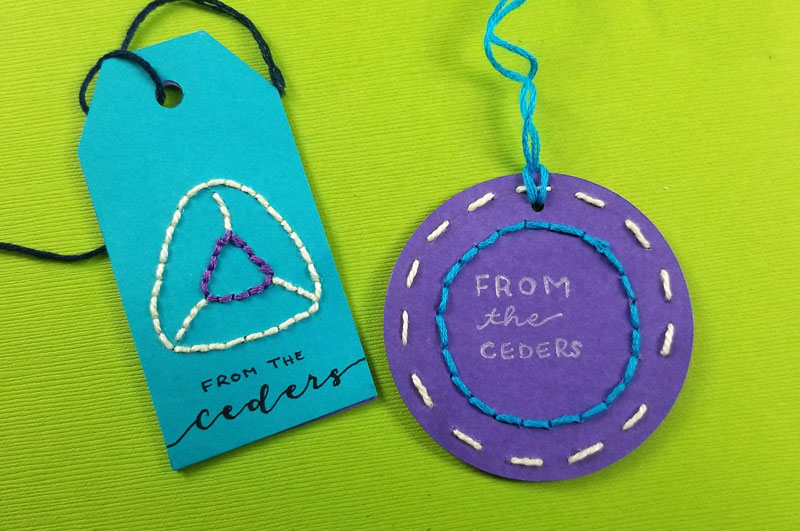 Outer Package
if you're not using a bag to begin with, you'll likely want to cello wrap your package. I highly recommend investing in cellophane bags (make sure you choose the correct size.) It'll make your wrapping much easier, and if you have a baby or toddler, you don't want those cellophane scraps from your packaging endeavors.
Tie it up
Whichever type of package you create, adding a color-coordinated ribbon makes a huge difference. Actually, your ribbon can be your whole theme tie-in – great idea if you want to do a theme but not go all out. Just get a ribbon that works with your costumes and you have a theme! Tip: prices seem to be all over the place: check roll size!! Some cheap rolls will only cover a couple of packages.
Some great options:
Raffia for a more organic look
Colorful wired organza ribbon
Textured ribbon such as this lace one
Of course, adding loads of layers of curling ribbon can also look nice.
Premade ribbons and pull bows save loads of time and are great if you want a professional finish but aren't great at it.
Finishing touches
There are so many ways you can give a professional final touch. Just add something to the front of your bow, or tuck it into the ribbon. Some favorites:
Dried florals – lavender stems, for example would look gorgeous paired with raffia
Themed shapes – I plan to cut stars on my Cricut and add that to the bow on my packages
Gift tags – these serve as double duty labels and finishing touches if you make 'em pretty. See these Purim tags if you're into DIY or buy some and tack your label on.
Mishloach Manot I've done over the years
My original goal with this post was to create a yearly-updated list of mishloach manot ideas based on what we've done. However, I realized my style is very specific so I expanded above. But I still hope to update this list yearly with the details of what we've done!
There are some holes in the list as I didn't feel it important to share the years we brought a huge bag of chocolate from Costco to my in-laws in Israel and called it mishloach manot (and of course other years we missed).
2022 – Kugel & Beer: I made 1 lb potato kugels and packaged it with beer – we got coronitas, which are smaller Coronas. I tied it in with our outer space costumes – showing how anything can be turned into a theme.

I got star plates to use as a tray to hold it together and I wrapped it in basket bags with blue and gold ribbon.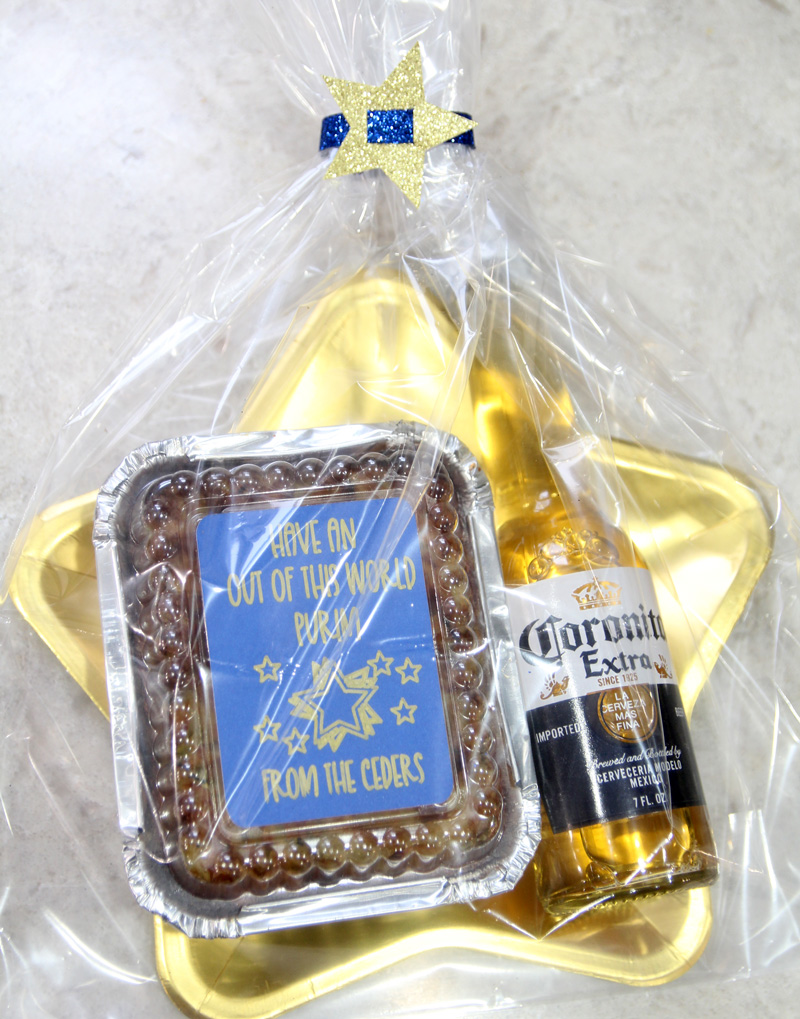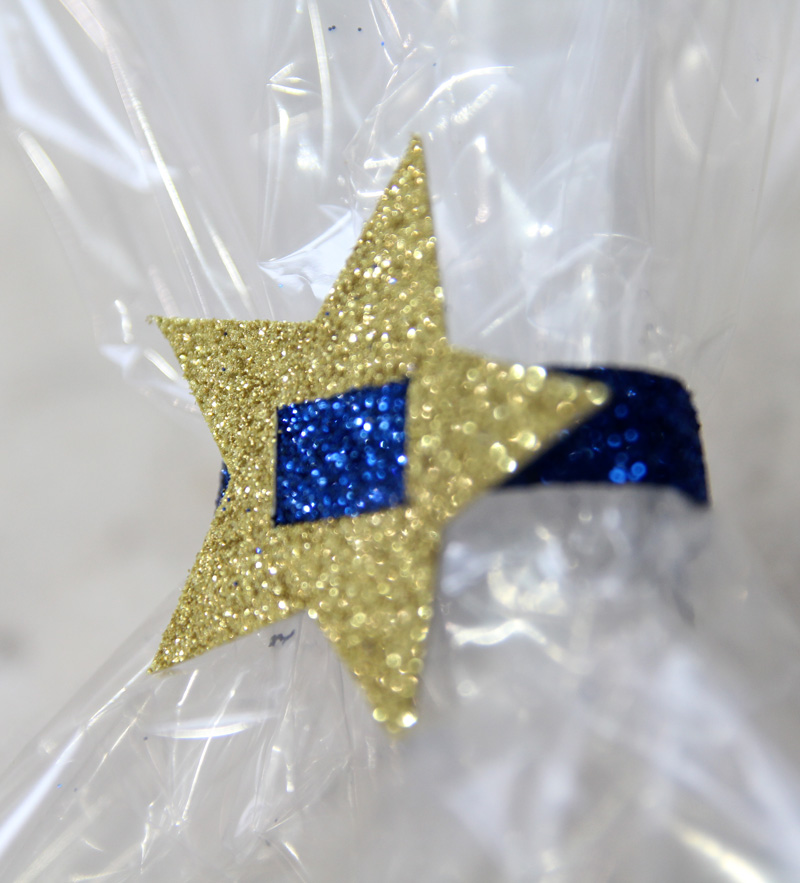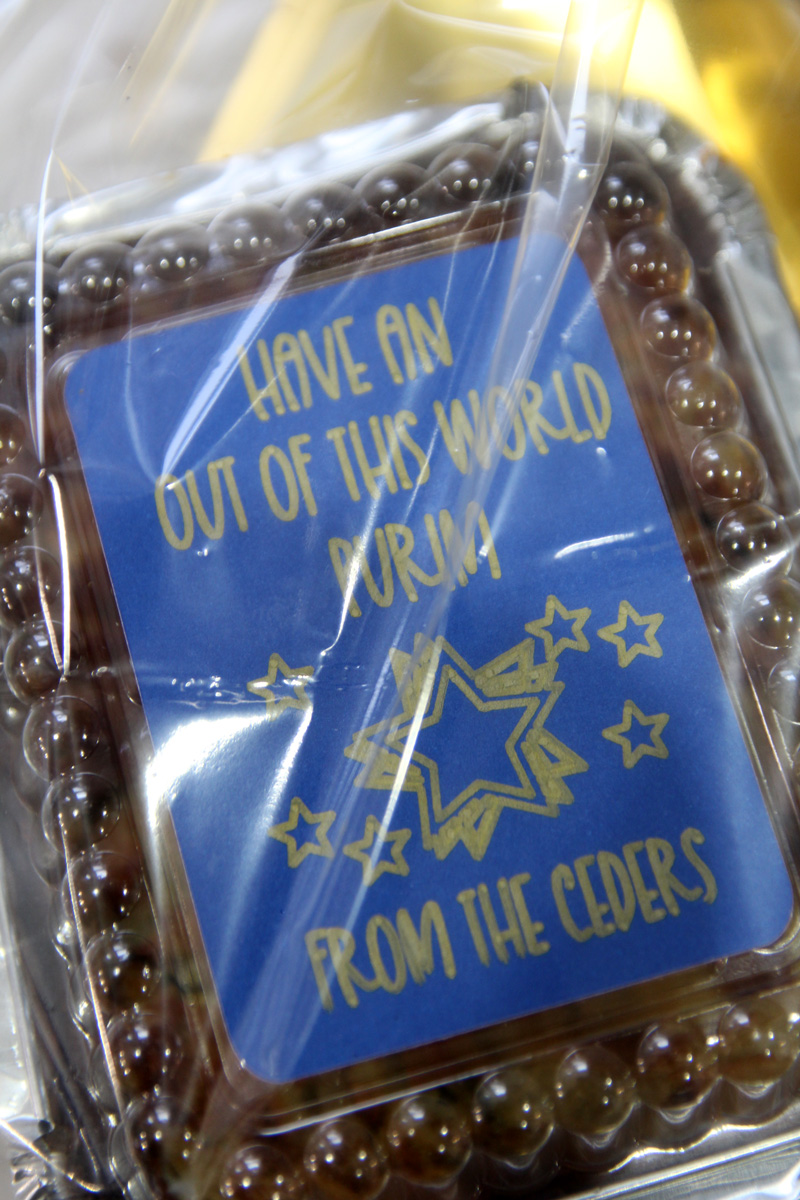 2021 – Purim: Last year, we decided to go with a unique theme: "Pur" from Purim means lottery (as in drawing lots for which day is best to commit genocide) so we used that to go with a lottery theme. I got round metal tins (it's much cheaper if you have an Amazing Savings near you), added coin faces with my Cricut, and put in each one: a dollar scratch off, a "sack of gold" – a few butterscotch candies in an organza round, and chocolate coins. I included the ingredients/hechsher of the repackaged candies on a note. I wrapped it with gold elastic and added a few plastic beads as a finishing touch.

If I'm gonna be frank, this idea was born of my skepticism regarding the amount of food waste that happens on Purim… But maybe lottery tickets are more wasteful? It's definitely not for everyone. Regardless, it was a cute gimmick and a few recipients won $1-2.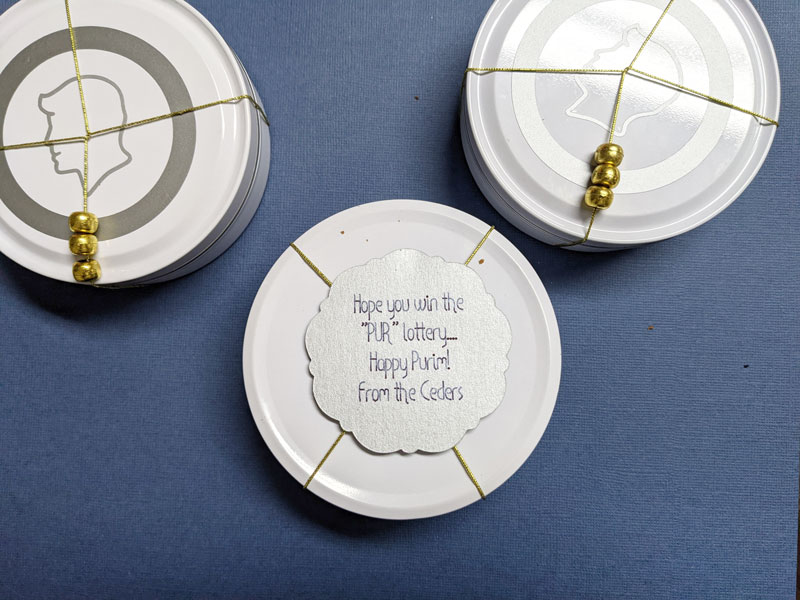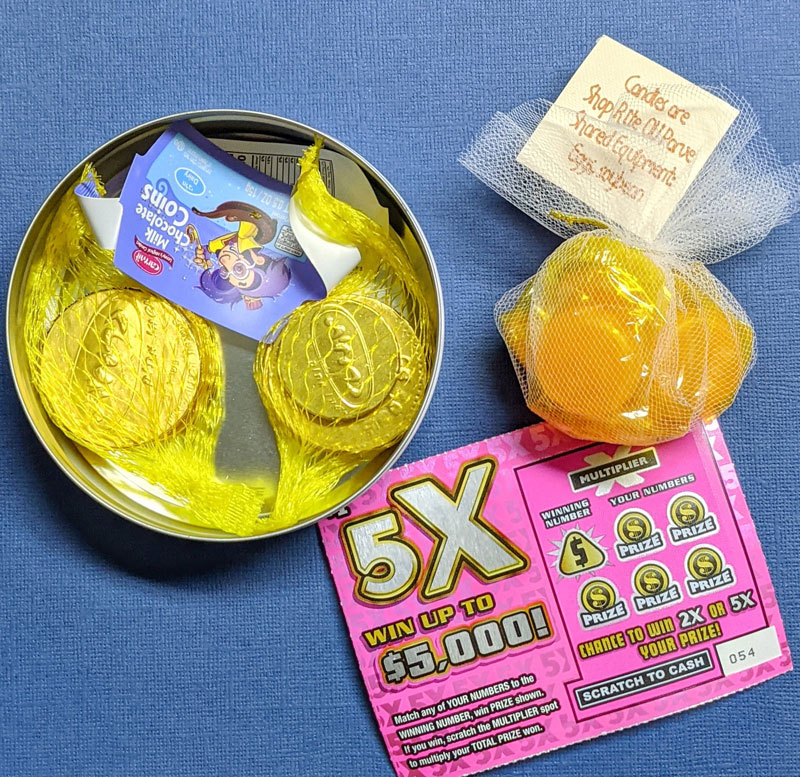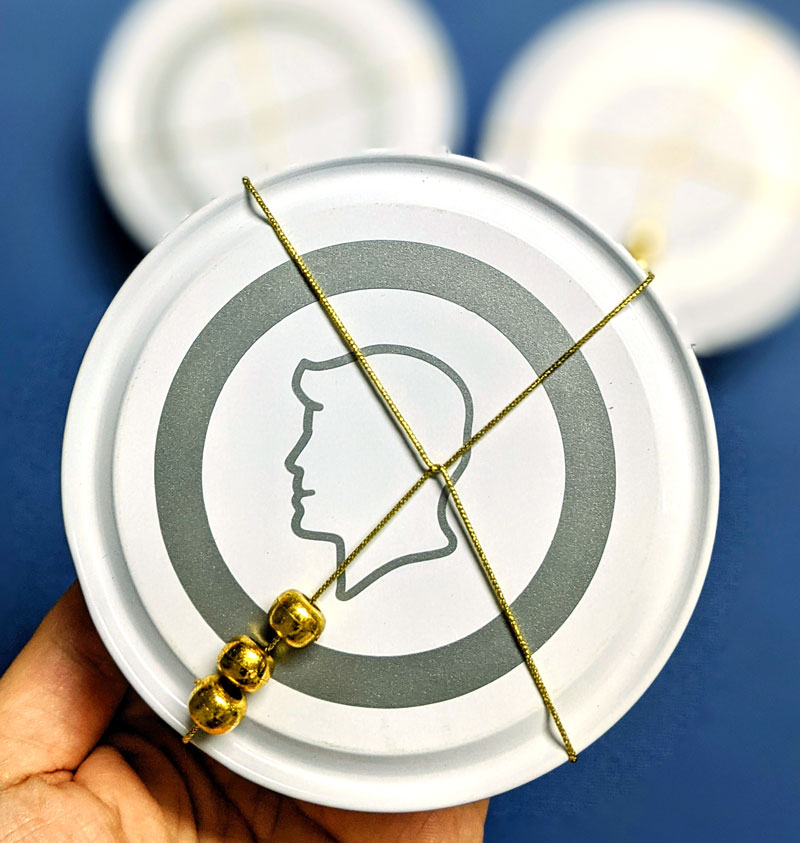 2020 – Candy Bowls: As my first year with a Cricut, I decided to make something simple to personalize super cheap glass food prep bowls. I find these to be so versatile for dips, and I had some leftover from another year, so I just got more and personalized them. I added "take one" with a candy to each, filled it with candy, and paired it with chocolate and a mini liqueur. I really like how small and easy to transport these were and you can see how the green, gold, and brown color scheme kept things classy. They really hit home with people who have a lot of foot traffic in their offices or homes, however my timing on this was way off…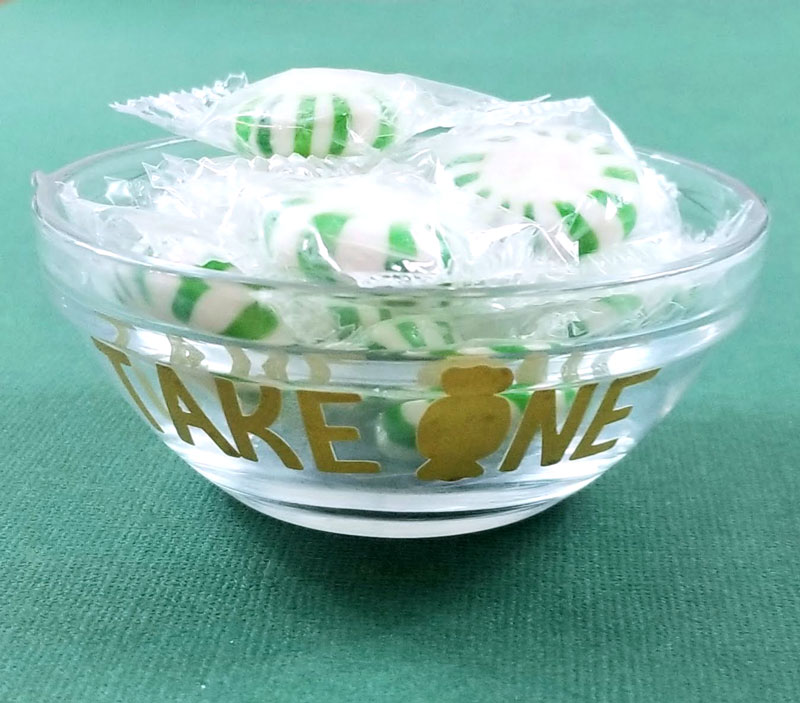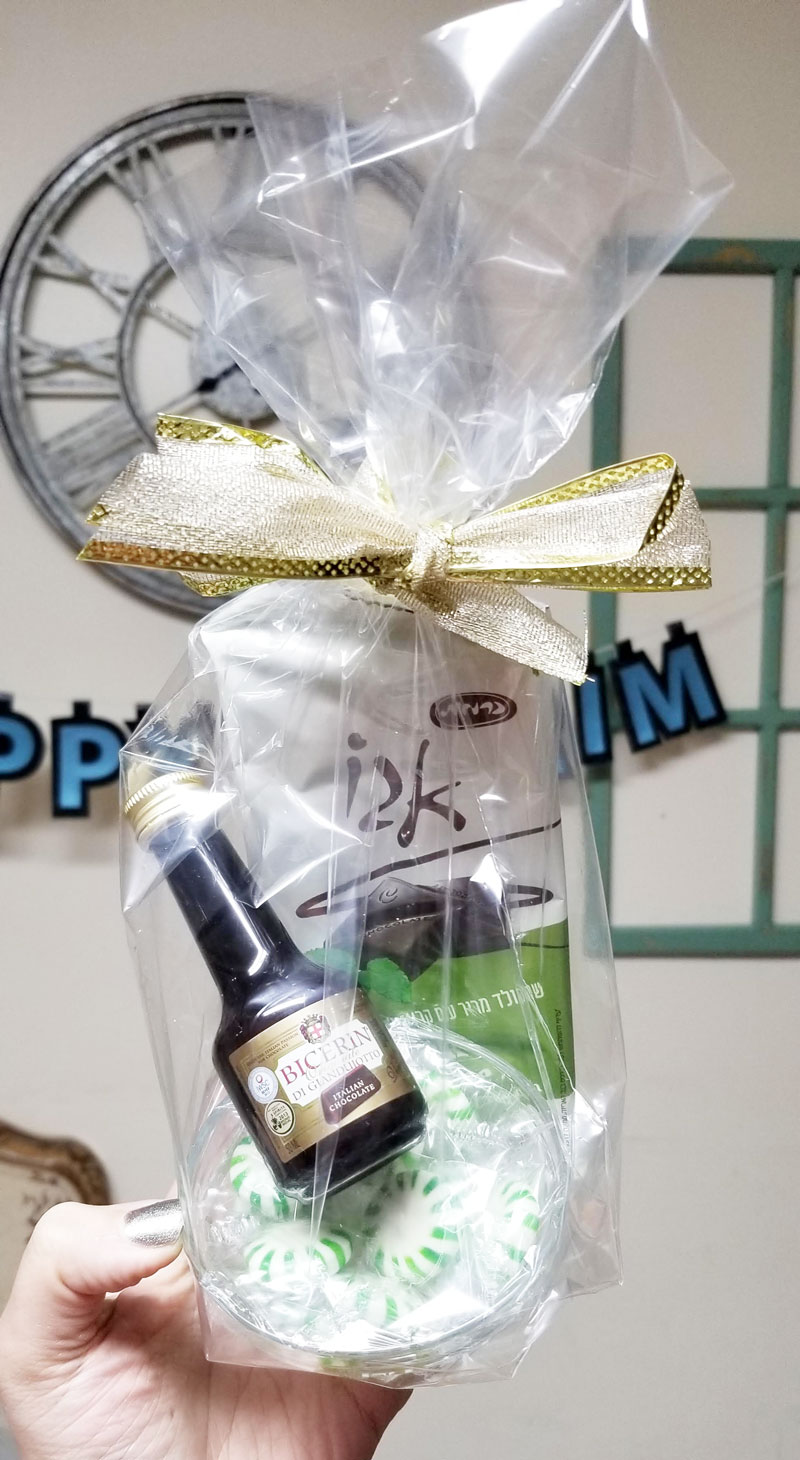 2019 – Kugel and beer: This was the first time I did kugel and beer. It was a great combo, however I made the mistake of making nine inch round kugels. No one needs that much and it was just too much for me to prep considering I was hosting a big crowd the next day.
2018 – Fruit bowl – This is the first year I used the dollar store glass food prep bowls, only I made mini fruit "baskets". The size is very small in the four pack. Dollar Tree used to carry three packs that were a bit larger and worked better for these. I stuck to strawberries and grapes, however you can put in any in-season produce to cut costs. I'd even recommend sticking to berries – it didn't work as well with grapes. Using a larger bowl might even work better for you!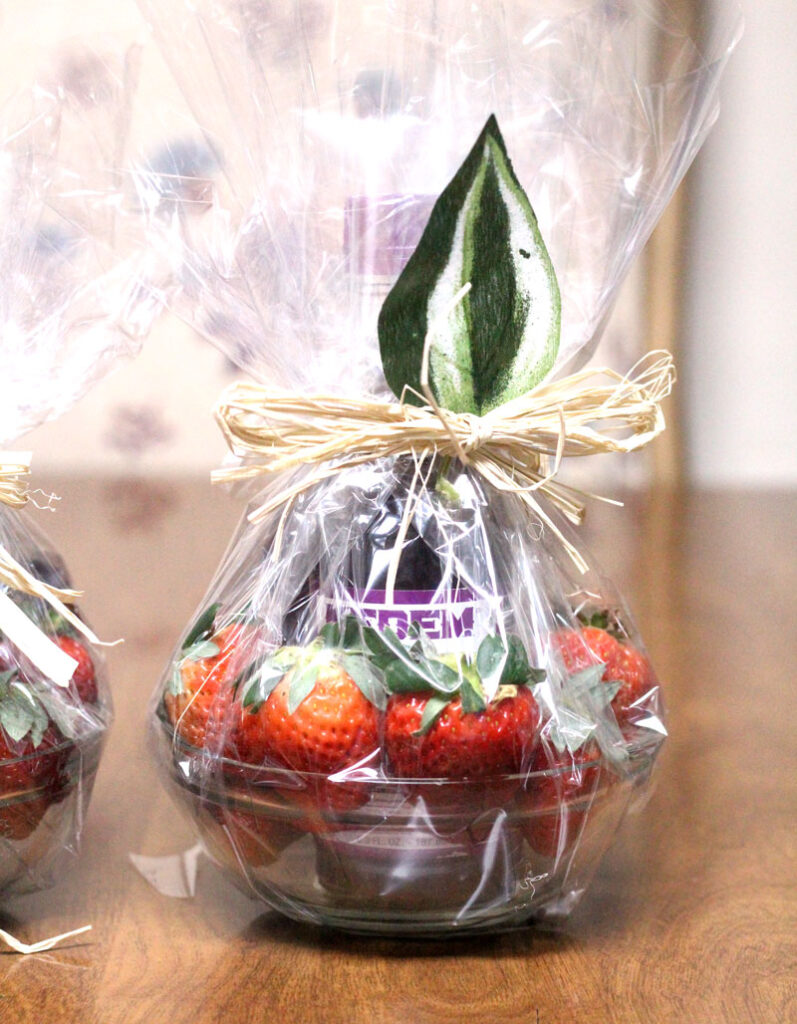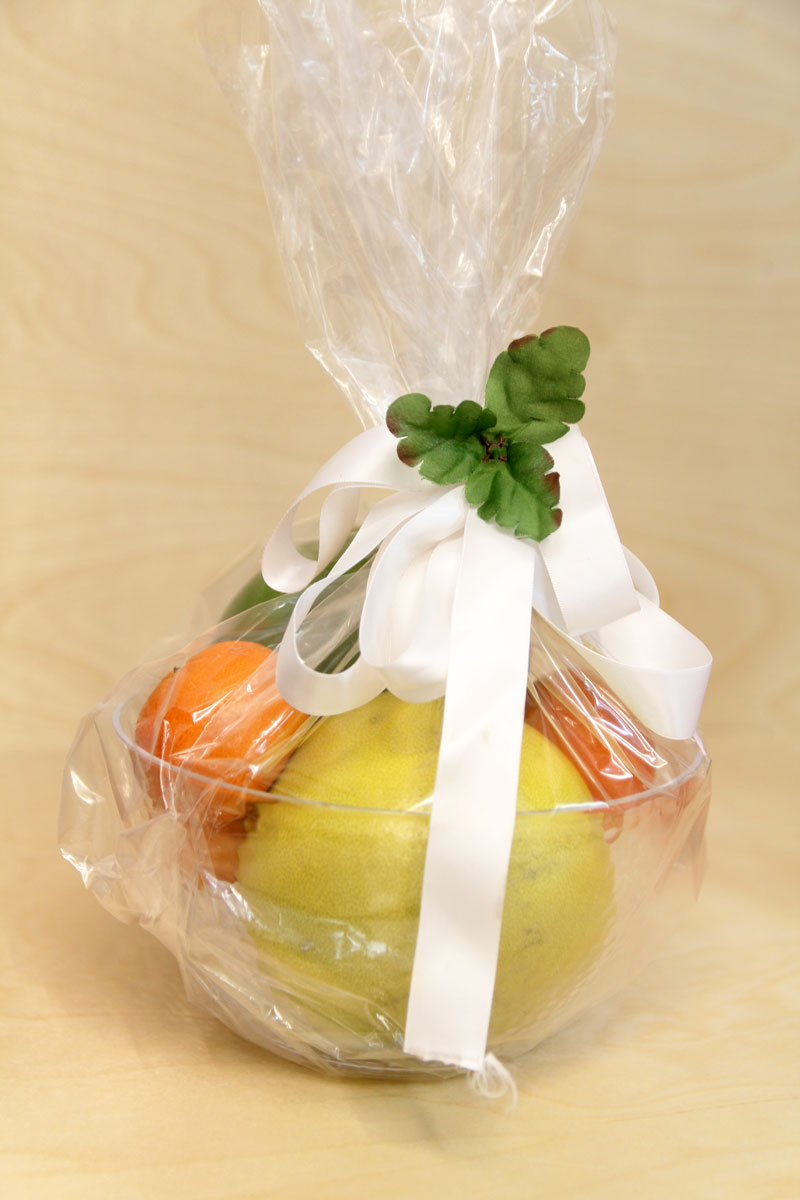 Fruit Basket (full) – I don't remember everything we did the years we lived in Israel, however I do know we only gave to a handful of people, one of them being my in-laws. So we spent a bit more, putting together beautiful fruit baskets, in actual baskets, with a fruit juice as well. People very much appreciate receiving fruit. Some ideas can include mandarin oranges, mangos, pineapples… Often, one costs what adding in a coffee or wafer rolls would and it's so much more useful!
2010 – Sesame noodles: The first year after we got married, I made delicious sesame noodles (before I even had a real inkling of what food allergies were…) We paired it with Arizona tea. We got lots of thanks! Most people were gifted it in cute ceramic dollar store bowls, however, for those we felt might have fuller houses on Purim, we used glass pie dishes.
More ideas for Mishloach Manot
Mishloach Manot Themes
Breakfast theme – Coffee, granola, bananas or oranges, orange juice
Chocolate and chocolate with more chocolate – chocolate milk, obviously chocolate, chocolate cookies, etc
Nautical: this is an easy one to pull off, with a focus on navy blues and rope, anchor cutouts…
Shabbat themed packages are popular for years when Purim is Thursday or Friday.
I hope to pull together a bigger list dedicated to themes next year!
Homemade ideas and real food
Challah and dips (hummus, matbucha)
Kugel and seltzer (if you don't want to go with beer or another light alcoholic beverage)
Salad bar
Pasta salad and iced tea (for a picnic vibe)
Chips and salsa
Cut veggies with a dipping sauce
Mini charcuterie – if you have the fridge space!
Mini cheese board
Savory hamantaschen – see our favorite hamantaschen recipes here.
Cool ideas from other online creatives
Got any Mishloach Manot ideas to add to the list? Comment below!