Purim is headed closer and closer, meaning it's time to gather some hamantaschen recipes to try this year! I'm putting these right into my Purim planner to give a try! This post contains affiliate links.
---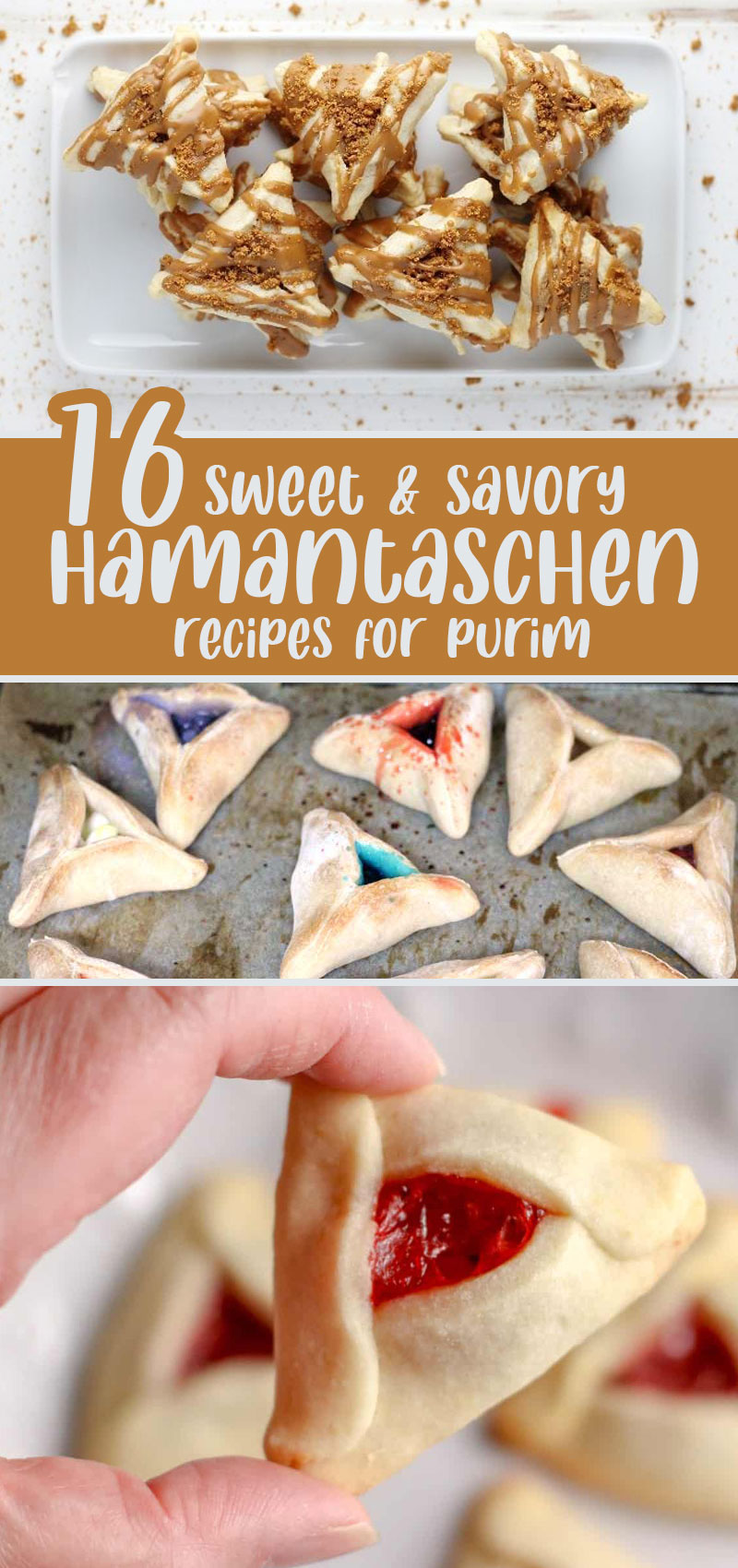 Every Jewish holiday has its traditional food associated with it. Before Shavuot we start searching for cheese cake recipes, latkes for Hannukah. Now that Purim is approaching it's time to start hunting and gathering some hamantaschen themed recipes.
On Purim Jews celebrate surviving Hamans evil genocidal plot. Haman wanted to wipe out all the
Jews but his plan was foiled, and now we celebrate by….eating cookies shaped like his hat?
It's a weird origin story for a cookie, but who cares if the results are delicious? They tried to kill us, we survived, let's eat, right?
I've gathered hamantaschen recipes from around the web so that you have all kinds of quirky and original options. They include sweet and savory options because who says Hamantaschen can only be sweet?
Sweet Hamantaschen Recipes
The classic when you think of hamantaschen, these sweet Purim cookies are a real treat! You'll love the different variations that go way beyond your Bubby's poppy seeds!
Speculoos (cookie butter) Hamantaschen by Sheri Silver
Imagine combining hamantaschen with the decadence of cookie butter. How good does that sound? In this recipe we fill the insides of the hamantaschen with cookie butter dip and then drizzle melted cookie butter on top once the cookies come out the oven.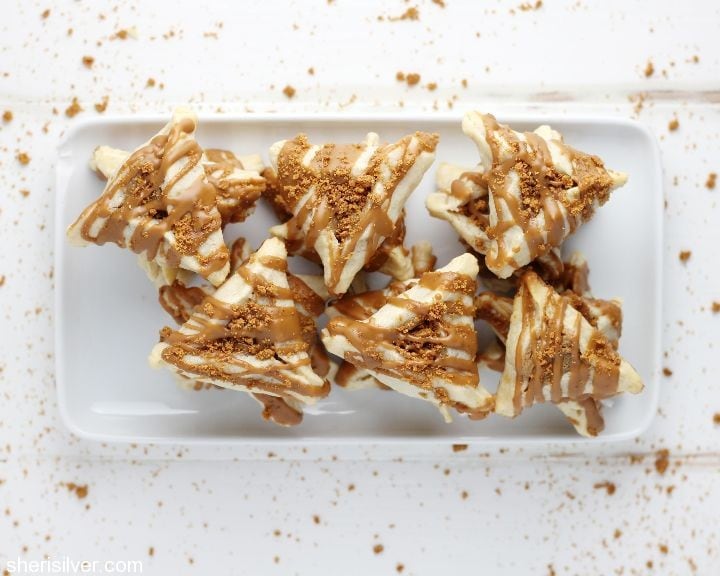 How do we take hamantaschen and make them totally unique, colorful and fun? Add Jelly Bellies of course. This recipe is the happy result of a slight mix up between jelly and jelly bellies. They're fun and easy to make. I even have a time saving option if you want really quick and easy home made hamantaschen.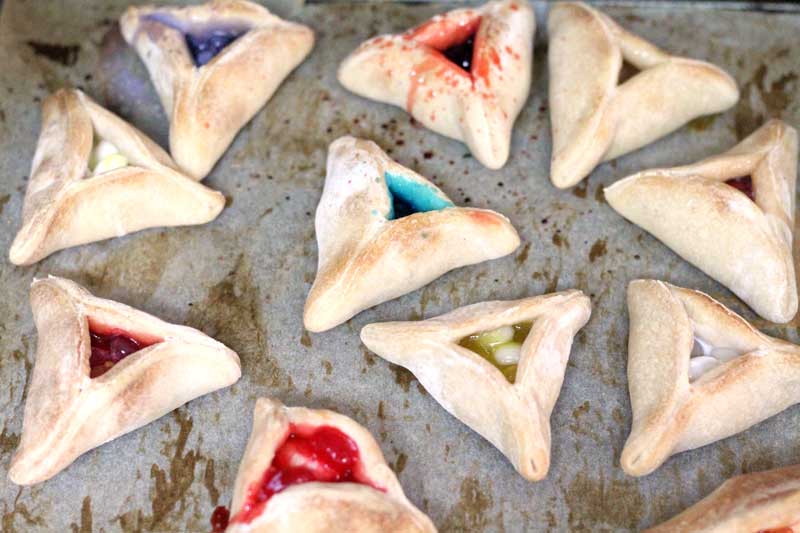 Fluffernutter Hamantaschen by Sheri Silver
These hamantaschen incorporate peanut butter and mini marshmallows, in the filling and the topping. It's an unusual, yet delightful combo!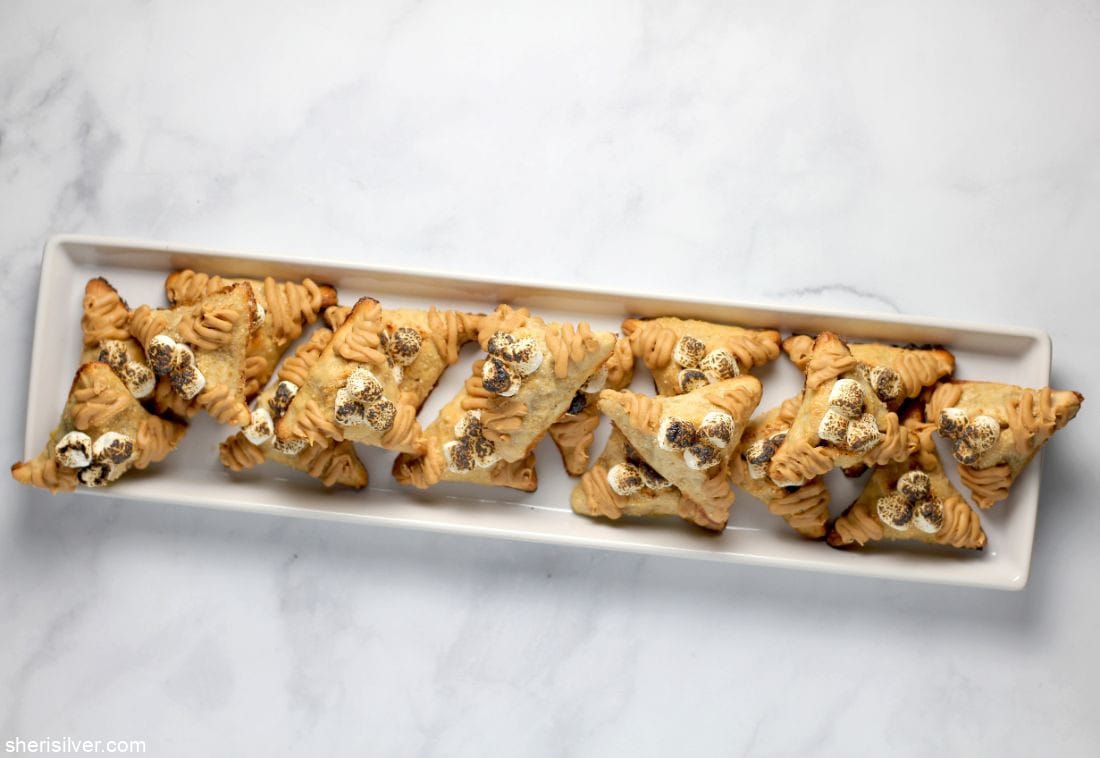 Easy Strawberry Hamantaschen by Hispana Global
If you're looking for an easy, back to basics kinda hamantaschen, then this one's for you. You can switch it up by choosing a different filling of course, but this is a quick and simple hamantaschen recipe.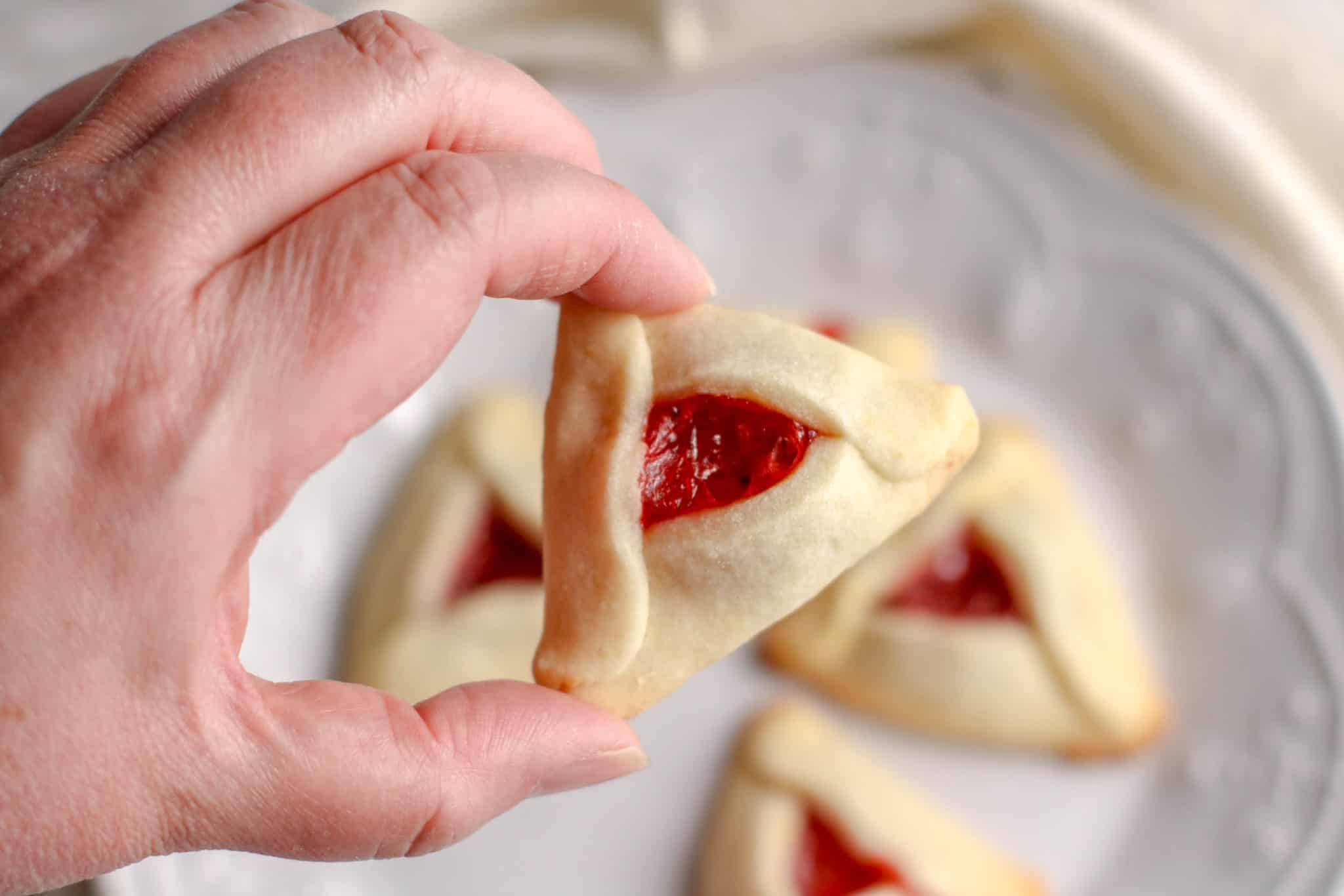 Snickerdoodle Hamantaschen by Lil' Miss Cakes
Crisp on the outside, soft towards the center and infused with the cinnamon sugar sensation of snickerdoodles. These soft and sweet hamantaschen won't disappoint. It's based on my favorite cookie ever making it a win on my end!
Apple Pie Hamantaschen by Veena Azmanov
How do you Americanize Hamantaschen? Apple Pie is always the answer!
Shortbread cookie on the outside, apple pie filling on the inside. If that doesn't sound like comfort food, I don't know what does. The dough is easy to make and the results are delicious.
Chocolate Covered Strawberry Hamantaschen by Pass the Challah
These cookies have a strawberry preserve filling and are dipped in melted chocolate. The chocolate dipping has the added advantage of hiding imperfections in your hamantaschen, and of course it looks and tastes incredible.
---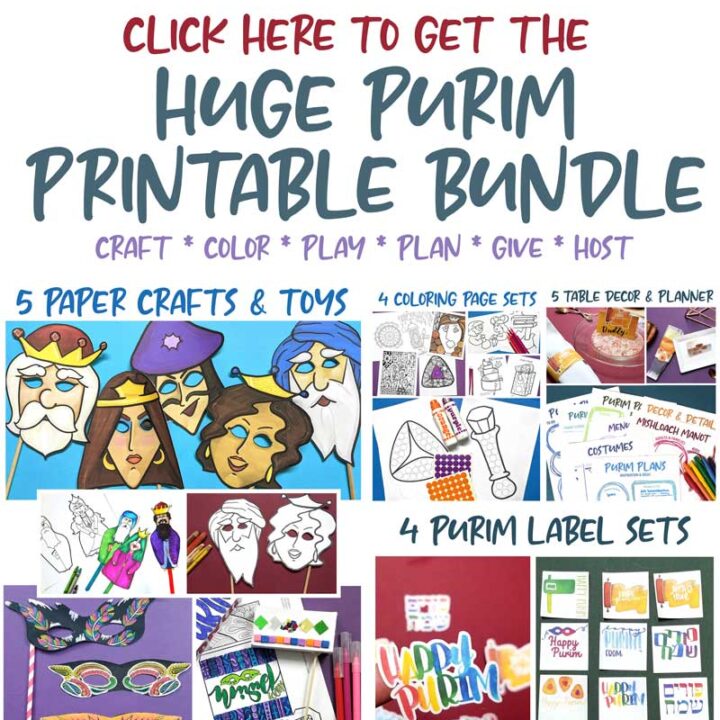 ---
Savory Hamantaschen
Savory hamantaschen recipes are perfect as appetizers and side dishes for your Purim party or seudah! I'm actually a huge fan of savory hamantaschen. I am not big in the baking arena but love getting creative cooking. Savory hamantaschen allow for experimentation – and the use of premade pizza dough rounds or won ton wrappers to save you LOTS of time.
Savory Hamantaschen Bar with 6 Different Fillings by Little Ferraro Kitchen
Add a unique twist to your Purim party this year with these "around the world" savory hamantaschen. With flavors ranging from "Everything Bagel" to "Mediterranean" you can give your family and guests a globally inspired savory hamantaschen bar to choose from.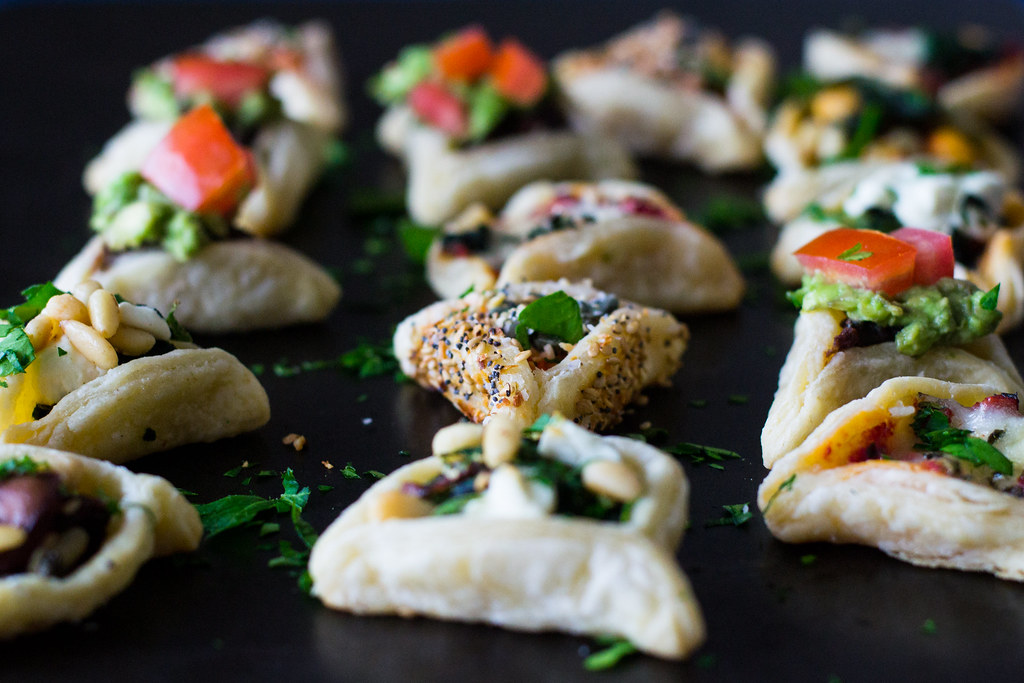 Easy, delicious, fun to make and eat. With the vegetable letcho filling these hamantaschen are a bit more nutritious than most sweet hamantaschen. You can make these super easy by substituting wonton wrappers or pizza rounds instead of making the dough.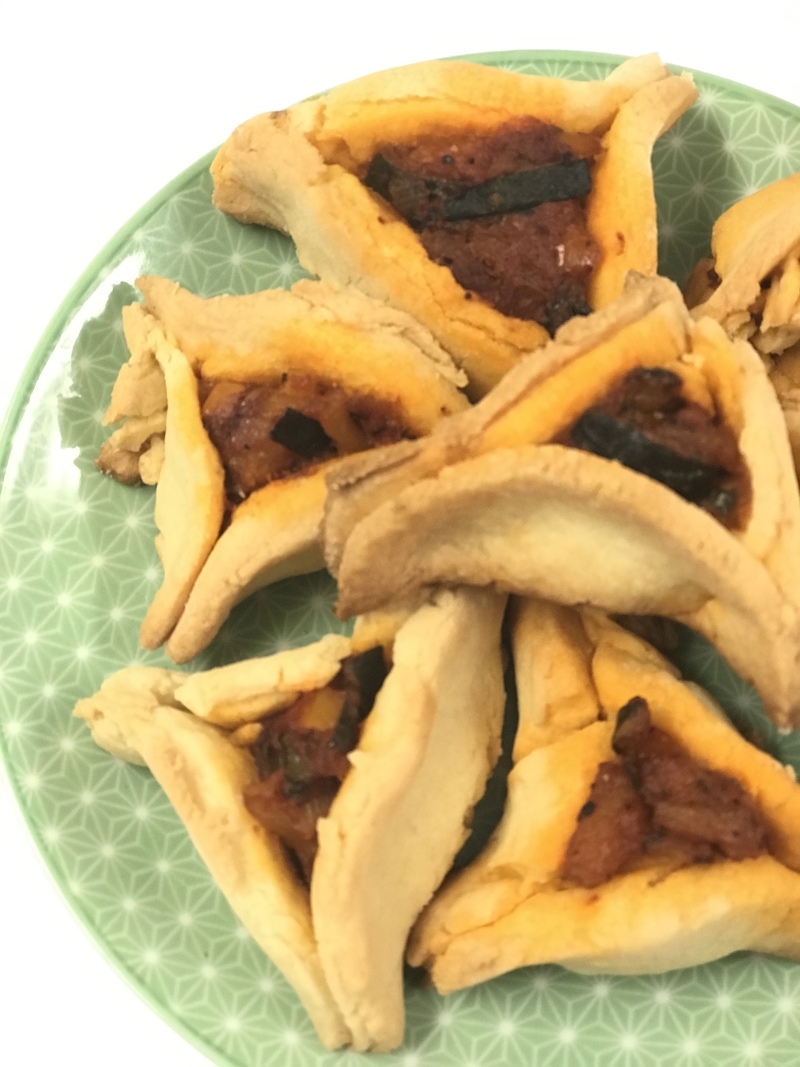 BBQ Meatball Hamantaschen by Overtime Cook
These BBQ meatball hamantaschen are super easy to make. It's a fantastic "bonus meat side" for a large gathering that feels like meat but actually uses very little of it. Add ground beef with a little bit of a kick to them for the filling.
Pizza Hamantaschen by Family Friends Food
Chewy pizza crust exterior, mozzarella, tomato and olive interior. This is sure to be a hit with family and friends because who doesn't love pizza? You won't even have to wait long for this savory treat since they only take ten minutes to bake.
Bialy Hamantaschen by What Jew Wanna Eat
Make yeasted bialy dough, fill it with cream cheese, top it with caramelized onions and poppy seeds and what do you get? A mouthwatering and distinctive savory delicacy.
Savory Leek and Feta Hamantaschen Recipe by The Nosher
Inspired by quiche, these delectable hamantaschen have a filling that includes leek, and two types of cheese. The filling is enclosed by a buttery pie crust dough. They make for a delightful appetizer or side dish at any Purim party.
Hamantaschen Shaped Treats
Not in the mood or don't like hamantschen but want something in the spirit of? These hamantaschen themed treats are a twist on the classic Purim cookies but so so cute.
Purim Cake that's insanely easy to make!
One of the many fun things about Purim is that you can make almost any food Purim themed if you shape it into a triangle. Making a hamantaschen shaped cake is absurdly easy, and a fun decorating activity that the kids can enjoy too.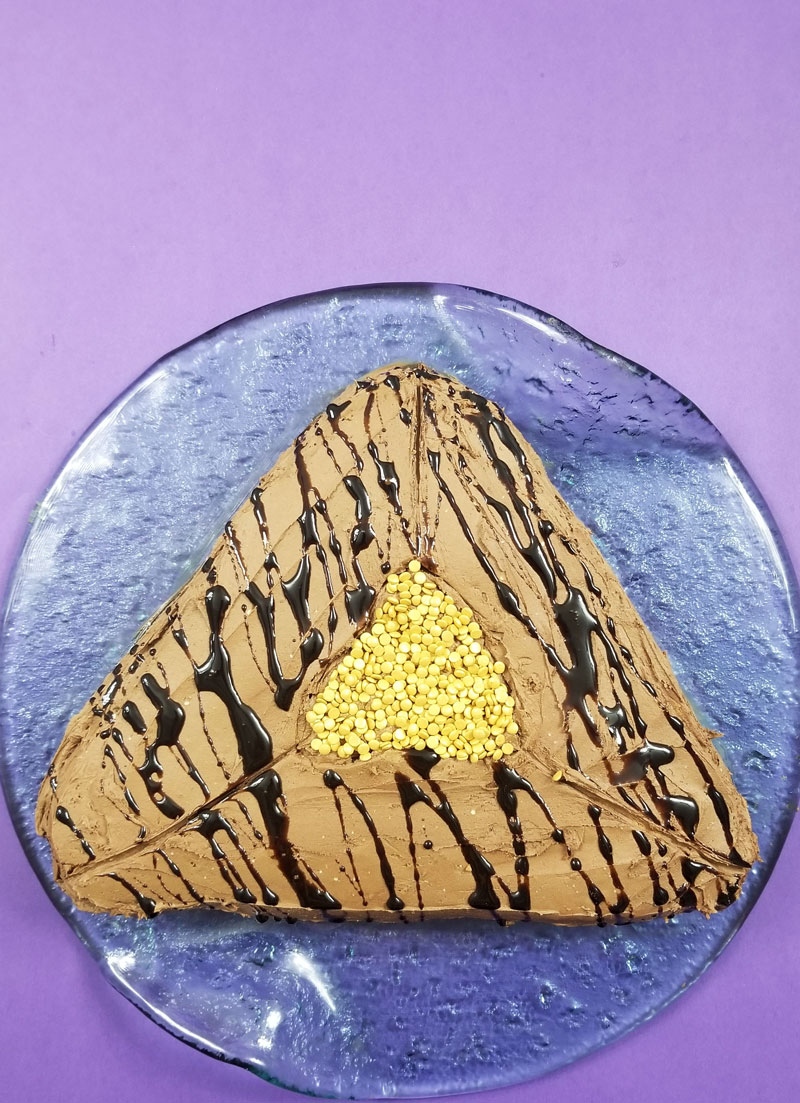 Rice Krispie Treat Hamantaschen by Chabad.org
What do you get if you take the concept of rice krispie treats and add a little Purim twist to it? This recipe calls for using sugar, corn syrup and peanut butter instead of marshmallow fluff but it still keeps all the fun of old school rice krispie treats.
Pop Tart Hamantaschen by Kosher in the Kitch
These pop tart hamantaschen are not only fun and original, but can also be vegan. Use a jam filling, frosting and sprinkles to get that pop tart look and taste. And they're not really hamantaschen in the traditional sense!
Want to make your Purim prep easier, your feast table more beautiful, and your kids' happier and busier? Get the printable Purim bundle today for 75% off the full value! It's full of table decor planners, kids' crafts, coloring pages, and more as well as mishloach manot labels
What are your favorite hamantaschen recipes and fillings? Comment below with any ideas you'd like to add!