I illustrated this No Chametz sign for you to mark the rooms that are clean for Passover! If you love this free printable, check out this printable Haggadah for preschool kids. This post contains affiliate links.
---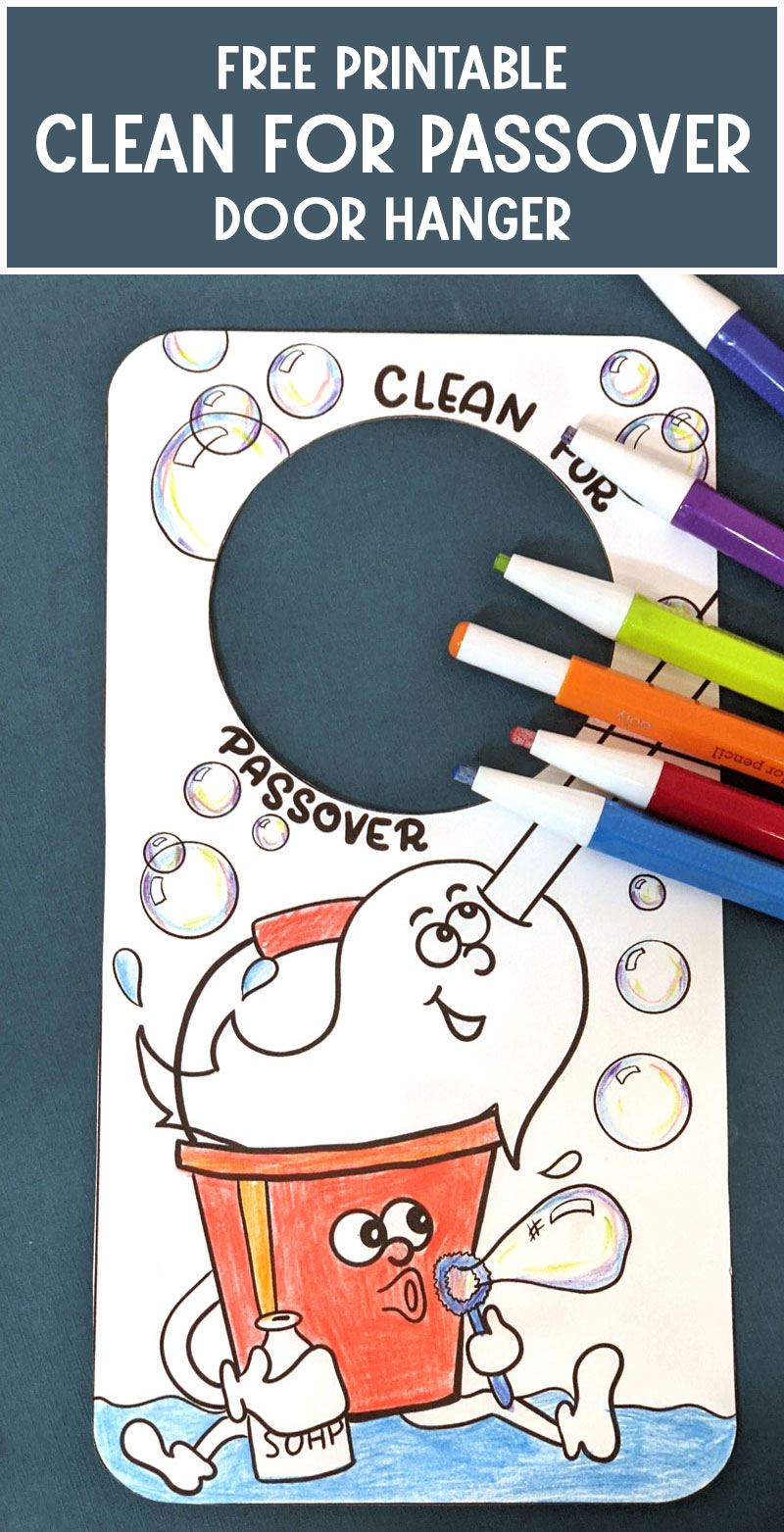 Whether the kids are "helping" you clean or not, they can definitely help you keep things clean. And oh, they'd better!
Today, I'm sharing a free printable no Chametz sign for you to hang on the "dance off those crumbs before entering" rooms. It's a simple illustrated door hanger with an adorable cartoon drawing of a pail with a mop, blowing some bubbles, because clearly that's what mops and pails do when no one is looking.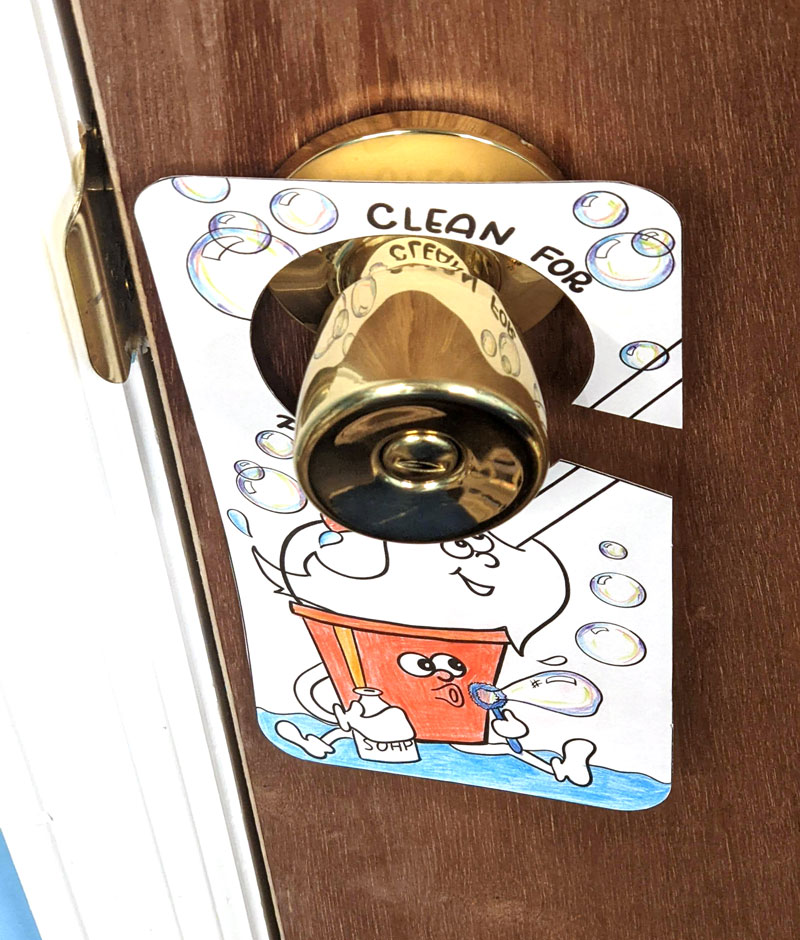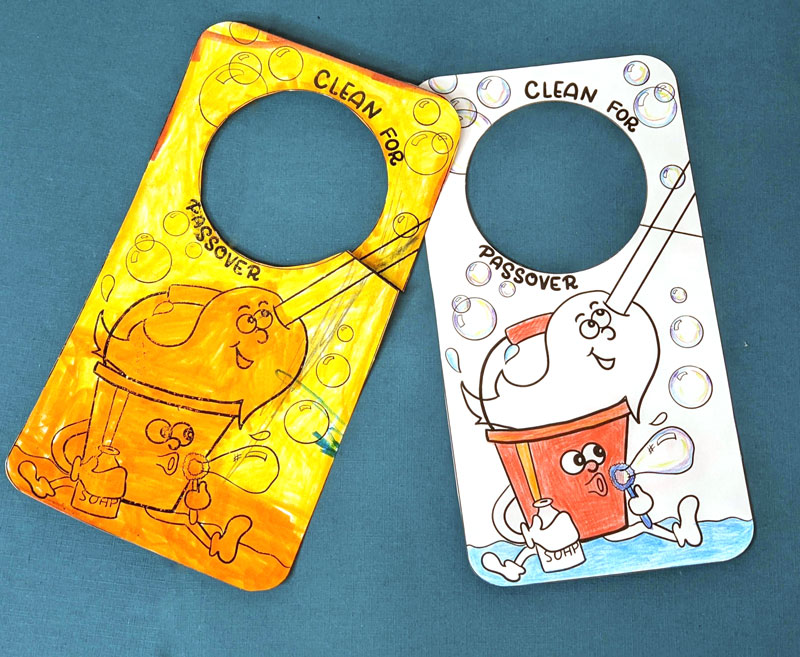 Okay, don't panic. I know when I, as a blogger trying to plan content months in advance say the "P" word people tend to get that heard thud of impending doom.
Frankly, I'm a Pesach Lite kind of person. I clean where we take food, and I don't do my Spring cleaning then either. Just Pesach. So I'll be the first to tell you, that even though it might seem like everyone has their act together don't worry. I don't. I'm probably going to panic about a week after Purim that we're only three Sundays till Pesach and help! And then during bedikat Chametz I'll be frantically cleaning those last things.
For those of you who are more type A you'll love my mom's Pesach cleaning checklist.
And for those of you who are up to it, for the teachers who plan in advance, here are some no chametz sign templates for you to enjoy.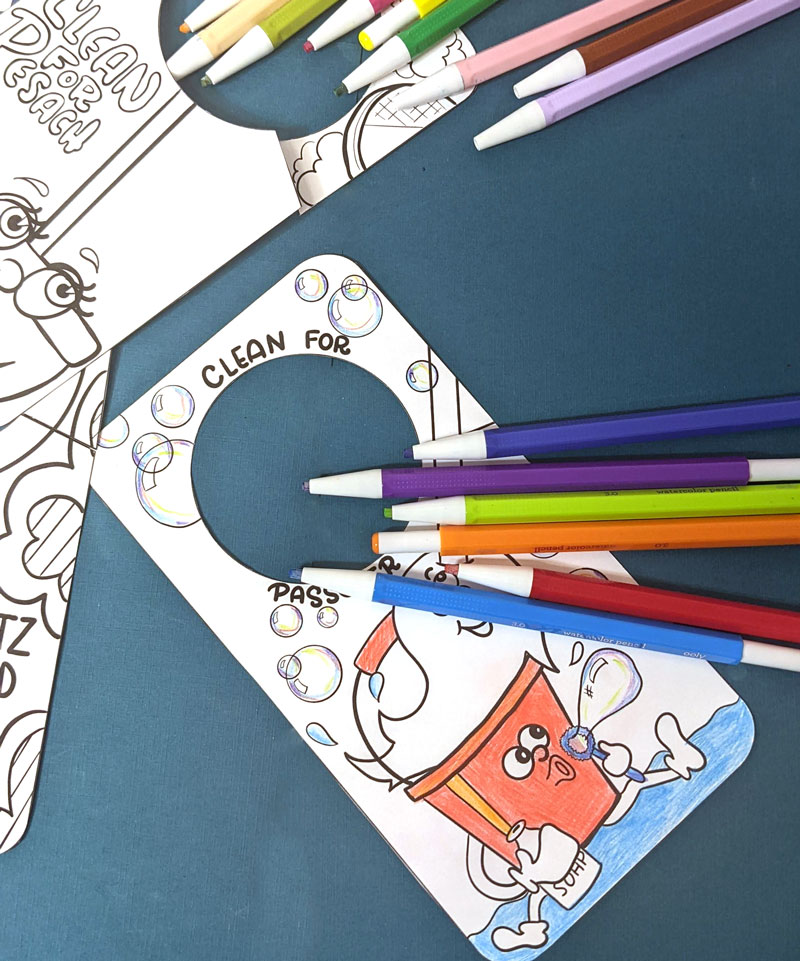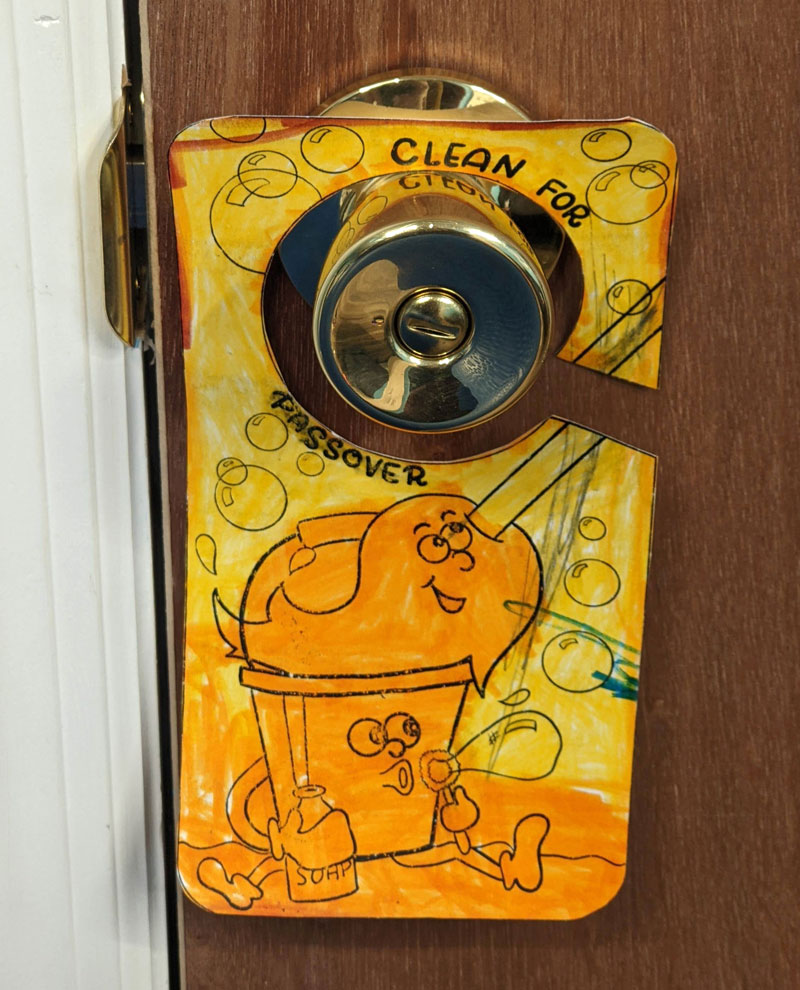 About the Clean for Passover door hangers
These door hangers are simple: just cut a slit on the diagonal line on the right. Cut out the hole. This allows you to slip it onto any doorknob. Door hangers are more exciting for kids than a plain no chametz sign. They feel more like a craft. And parents don't need to leave it on a counter until they procure tape – it can just be slipped right into place.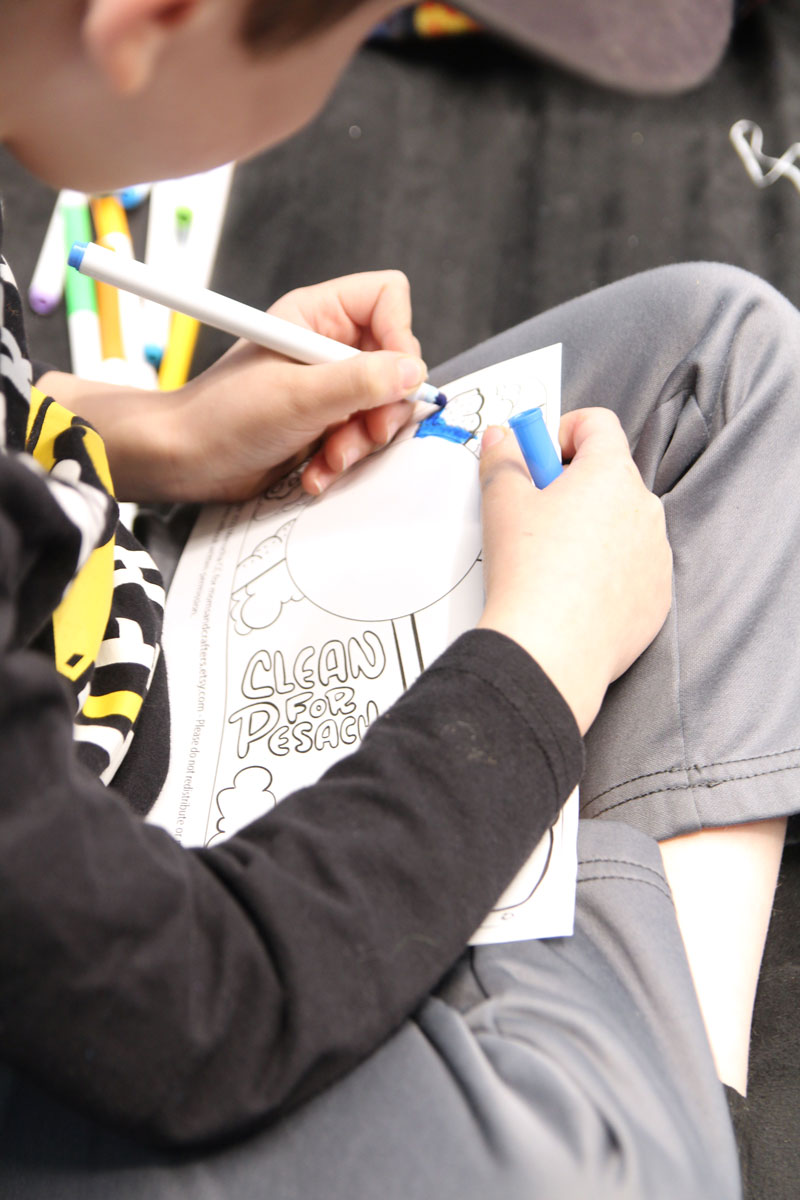 Download your free printable clean for Passover sign
Download your free template! It'll arrive right in your inbox. By downloading, you're subscribing to our FREE newsletter with updates on cool printables like this, ideas to simplify Jewish life, and more. Unsubscribe at any time at the bottom my emails. I respect your privacy and the law, and won't share or sell your email address.
Get the full No Chametz sign bundle
This free printable says on it "Clean for Passover" and is a sample from my full set of six no Chametz signs. My boys actually helped me come up with these ideas!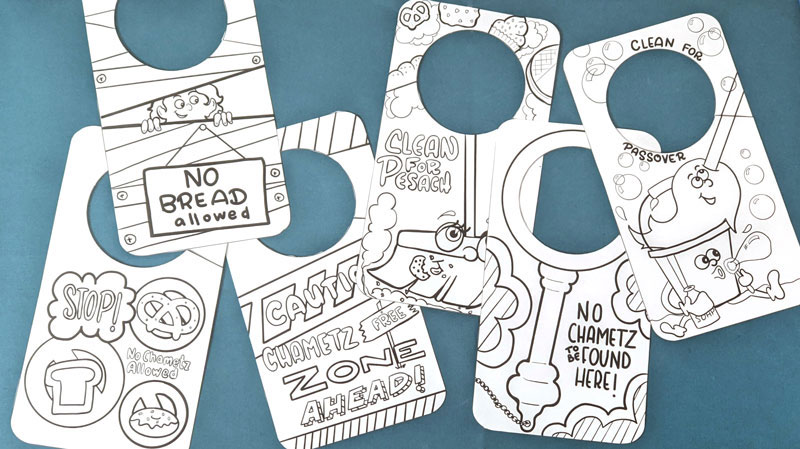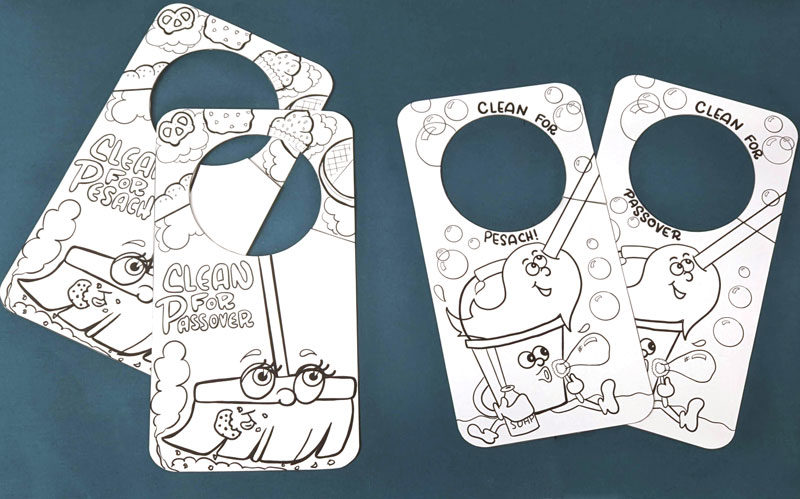 The No Chametz sign bundle includes adorable illustrations in different themes:
A broom eating the Chametz crumbs – with Clean for Pesach and Passover options.
This bubble-blowing pail and mop, also with Pesach and Passover options.
No Chametz to be found here magnifying glass
No Bread Allowed exclusive clubhouse
Chametz Free Zone Ahead hazard/construction theme
A straightforward Stop! No Chametz Allowed with different chametz foods.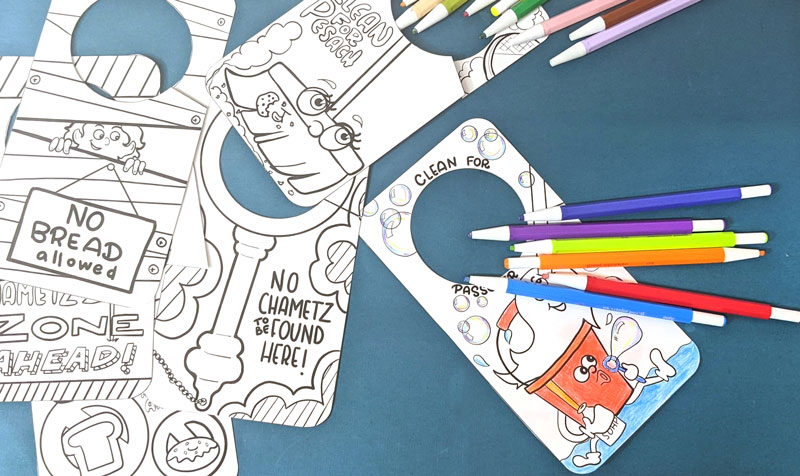 It also comes with a blank door hanger template so that you can make your own if you'd like. And you also get PNG images of the designs in case you need that!
This full bundle is fantastic for classrooms, or if you don't want to have the same sign on every door of your house!
How to assemble your no chametz sign
Print your desired no chametz sign on white cardstock
The full bundle comes 2 to a page, so separate your two if you're printing this for multiple kids
Color it in
Cut it out around the perimeter
Cut the diagonal slit on the right of the door hanger and then cut out the circle.
Hang from your door and enjoy!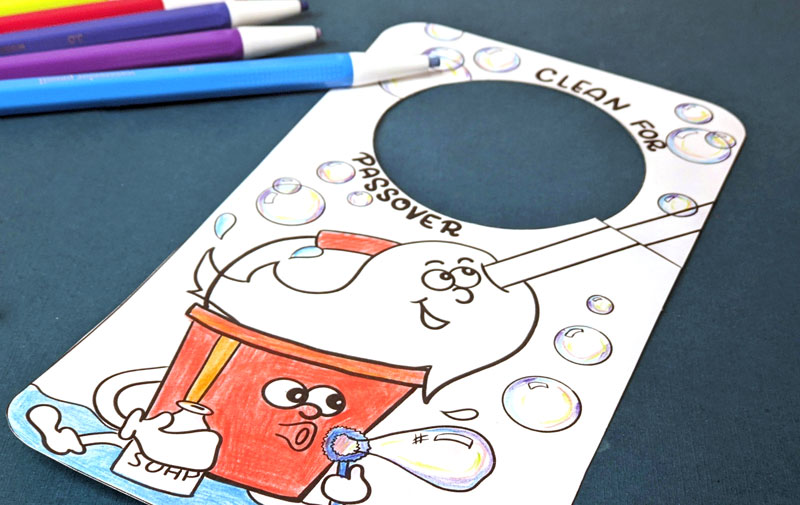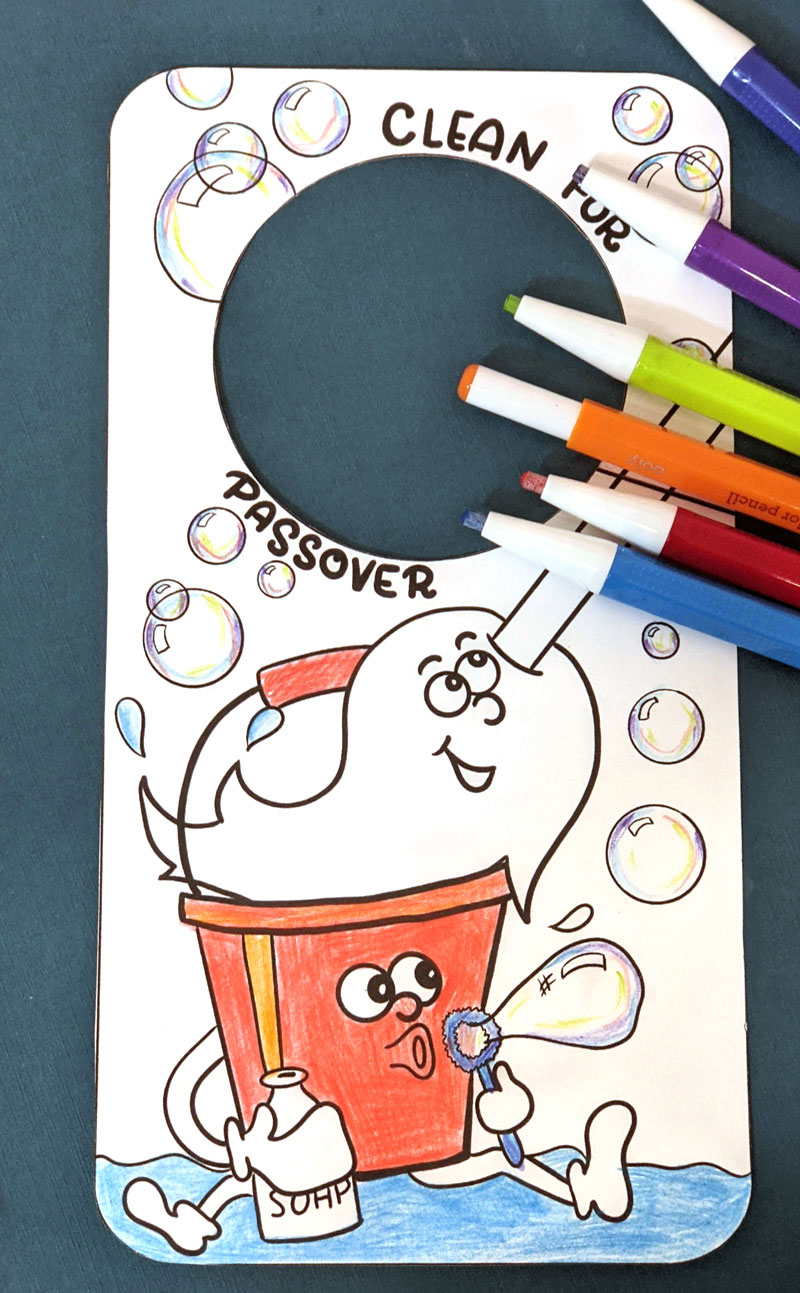 These work on both knob and handle style doorknobs. They're easy for children to put on as well and will give them a sense of pride, especially if you hang these where they cleaned!
You can definitely reinforce these by taping the opening. You also don't have to cut the slit as the holes are large enough for most doorknobs.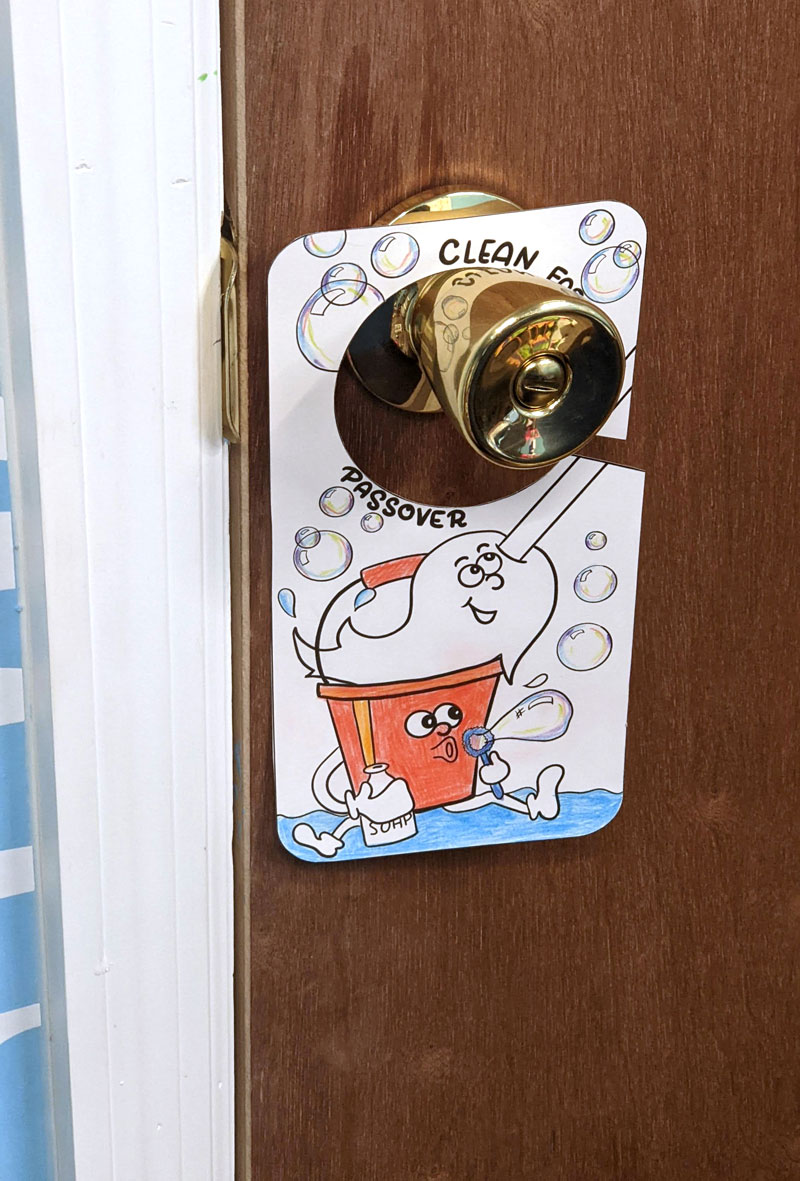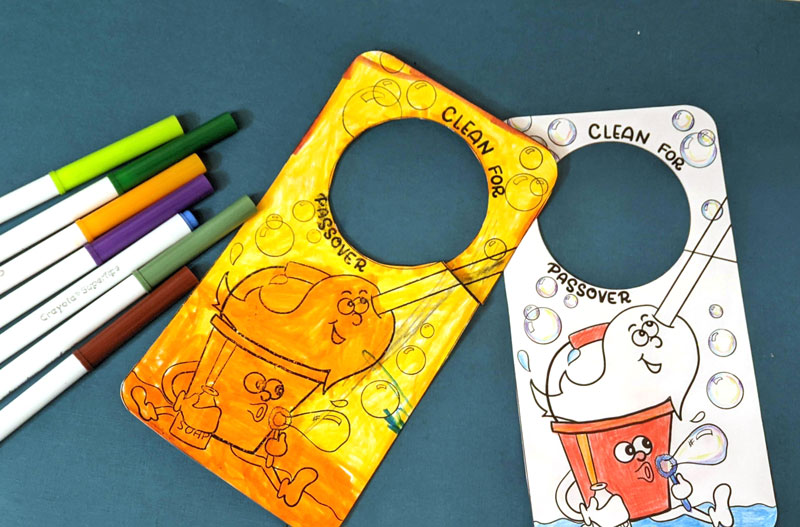 Want to play this Passover craft up a bit? You can add gems, glitter glue, use paint sticks or dot markers to color it. My boys had fun coloring theirs and it served as an ongoing activity for the last month since I designed them.
Your kids will have fun with them too!
I hope you enjoyed making your own No Chametz sign! When do you start cleaning for Pesach? Got any tips? Comment below!