This sweet little Megillah craft for kids turns your little ones' favorite Purim coloring pages into a roll-up Megillah so that they can tell the story of Purim in style! When you're done, check out these super fun Purim crafts. This post contains affiliate links.
---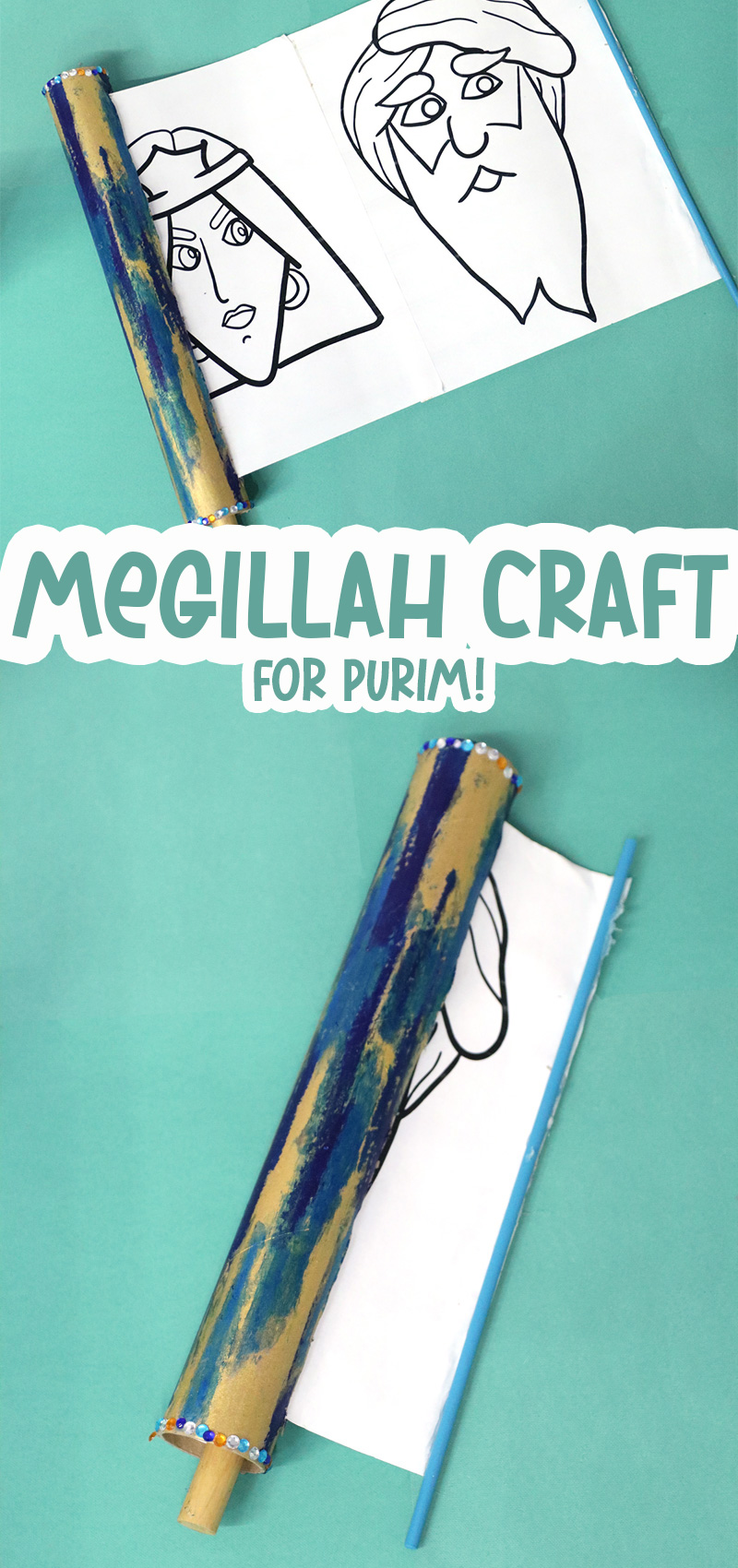 Little kids love to tell the story from their own roll-up megillah, so I decided to create a preschool-friendly craft that can be used this way.
To make this megillah craft, you can use any coloring pages. I used the Purim character coloring pages included in this Purim Masks craft to outline the content of the Purim story that young kids might relate to.
You can also use Purim story coloring pages, lifestyle coloring pages, dot art pages, or whatever you'd like.
Coloring pages are connected using double sided tape, rolled around a large dowel, inserted into a cardboard tube with a slit, and then secured with a thinner dowel.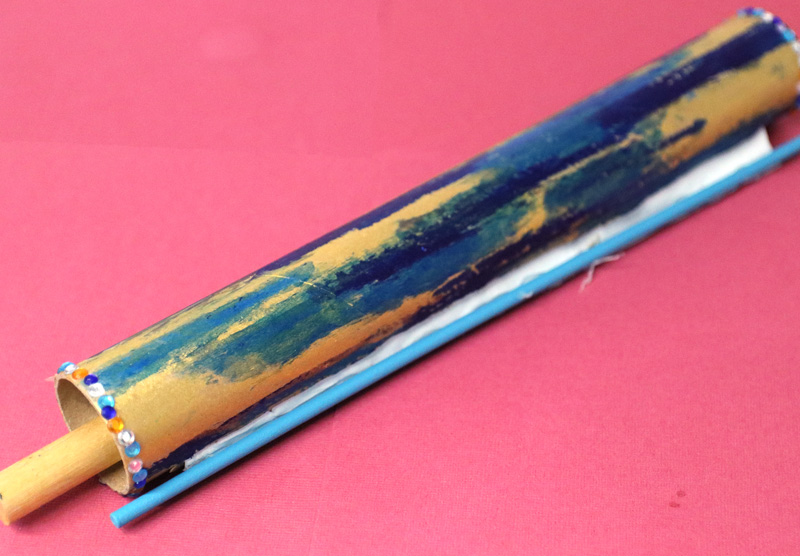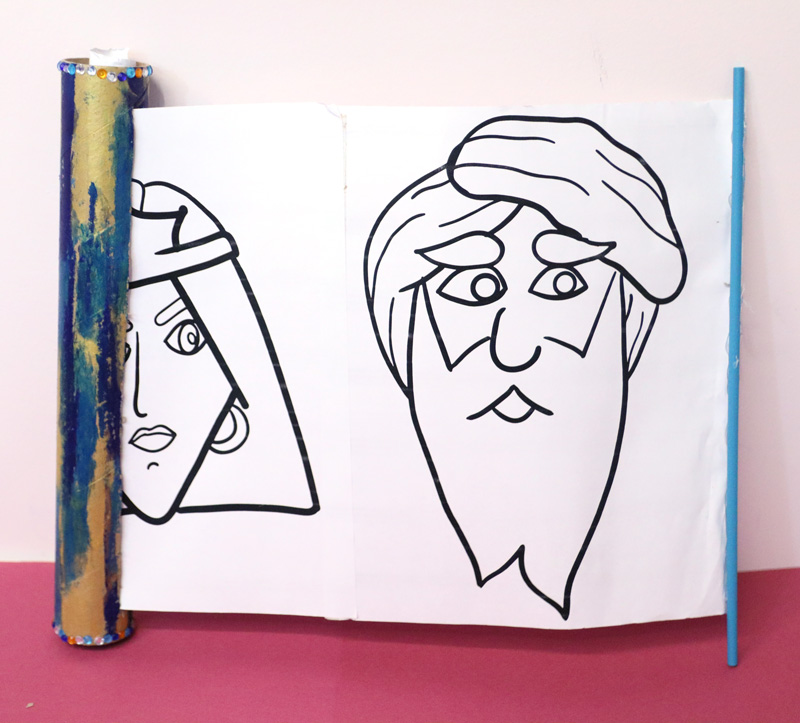 I'm not gonna lie: this is a kids' craft. It's not perfect. You need to extra-roll the the dowel to get it in. But it's a cute presentation for your kids' coloring pages and has loads of independently-crafted hours that even very young kids can do.
Tips and variations for this Megillah craft
Parts that young kids will need help with
I often hesitate to offer actual guidelines for what adults should do (beyond safety) and what kids should do, since so many crafts depend on age group. But since this one is less of an independent craft, I figured I'd share it in advance.
You'll definitely want to cut the slit in the cardboard for kids of all ages.
Taping the coloring sheets together can be done by younger grade-schoolers, but anyone younger than that will struggle with it.
Same with gluing and rolling it on the dowels, and attaching the other dowel. If you have a kid doing this, use tacky glue and not hot glue, and allow it to dry completely before steps.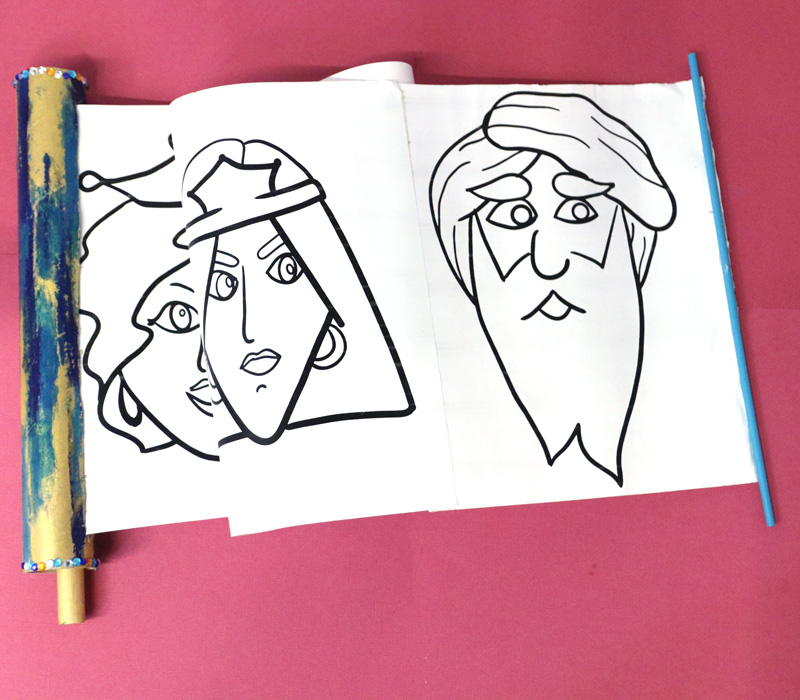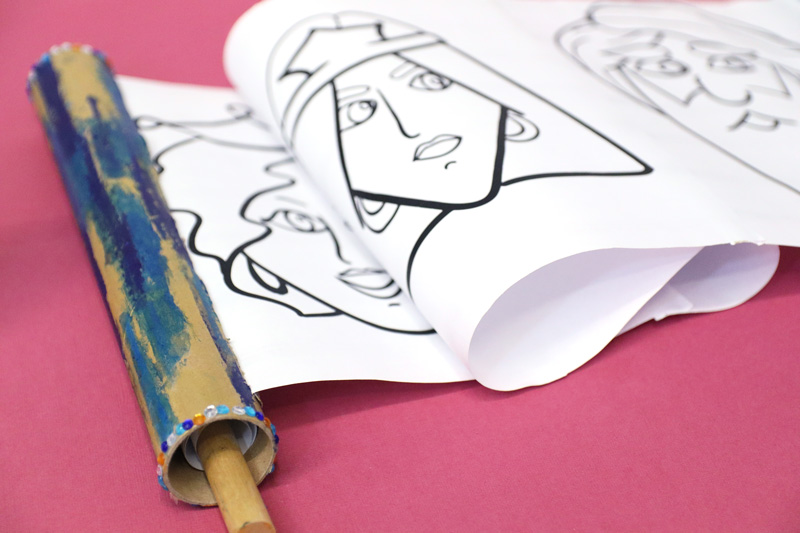 For a typical preschool classroom, teacher involvement would look like:
Adding a slit to the rolls before they decorate it.
After the kids are done crafting, connecting coloring sheets, gluing them to a dowel, rolling it up and inserting it into the roll, pulling out the end, and gluing on another dowel.
For faster dry time, you may prefer to use hot glue, which should only be done by an adult.
Independently-crafted portions
So what do this kids do? What I love about this Megillah craft is that the kids play a real role in how it looks.
Kids have a blast decorating the cardboard tube using paint sticks or washable paint, craft gems, stickers, or whatever you feel like supplying them with. They can also paint the dowels. The thinner one will show fully (I used a colorful dowel for that) and the thicker one will show the bottom two-ish inches (I used paint sticks to color it gold).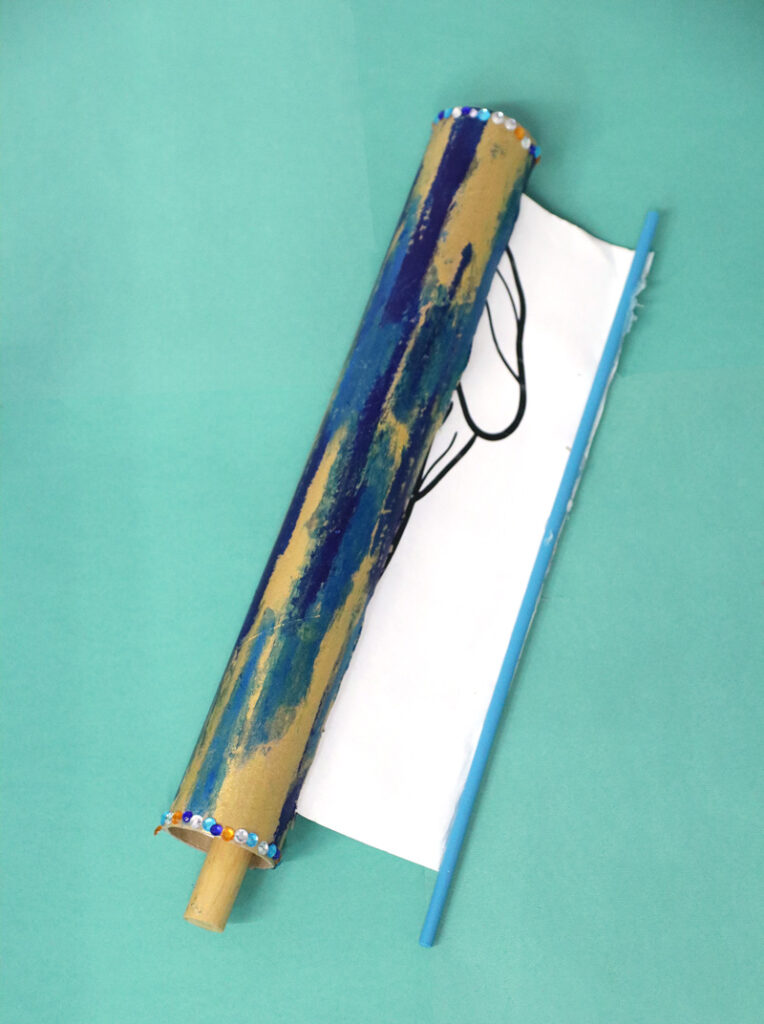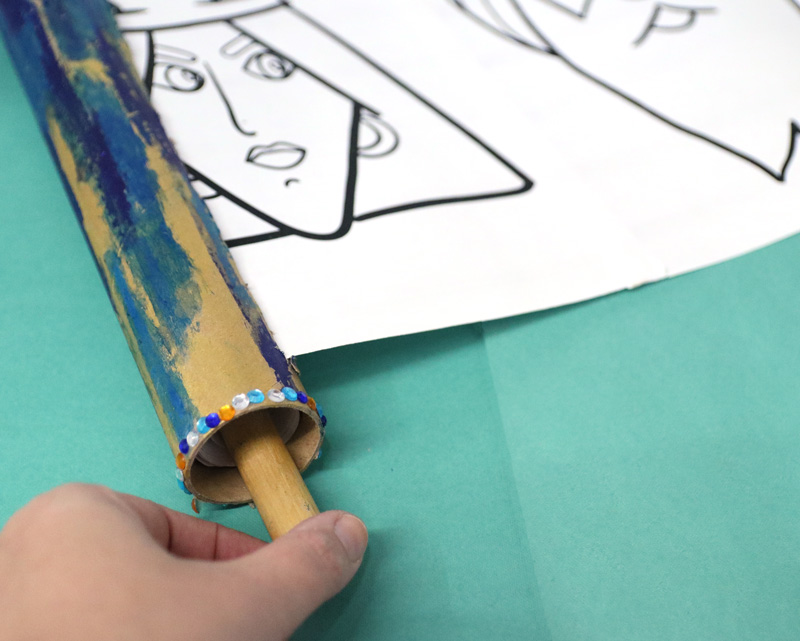 This also serves as an "album" for their coloring pages. That's something the kids should definitely do independently!
Materials I used vs. good alternatives
For the cardboard tube, I used one that's from rolls of adhesive vinyl, commonly used for Cricut crafting. It's similar in size to paper towel rolls, but much thicker.
The obvious choice to use instead is paper towel rolls. It'll be much easier to cut a slit in those.
You can purchase 10 inch craft tubes and cut your papers down a bit more (or use them horizontally.) These tend to also be thicker than paper towel rolls.
You can cut longer cardboard tubes – such as wrapping paper tubes – to size, or use ones from aluminum foil, if you want a thicker option.
If you'd like to make this much smaller, using toilet-paper sized rolls will work! You'll just need to print your coloring pages smaller so that they'll fit.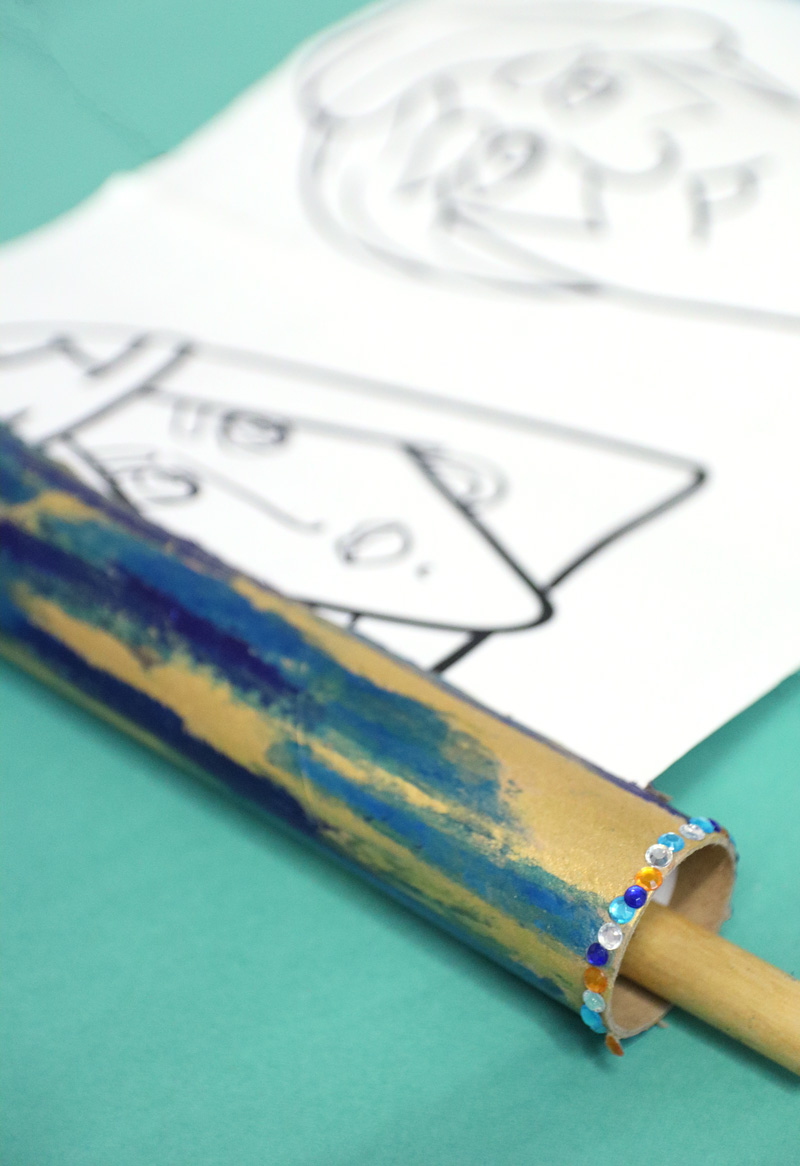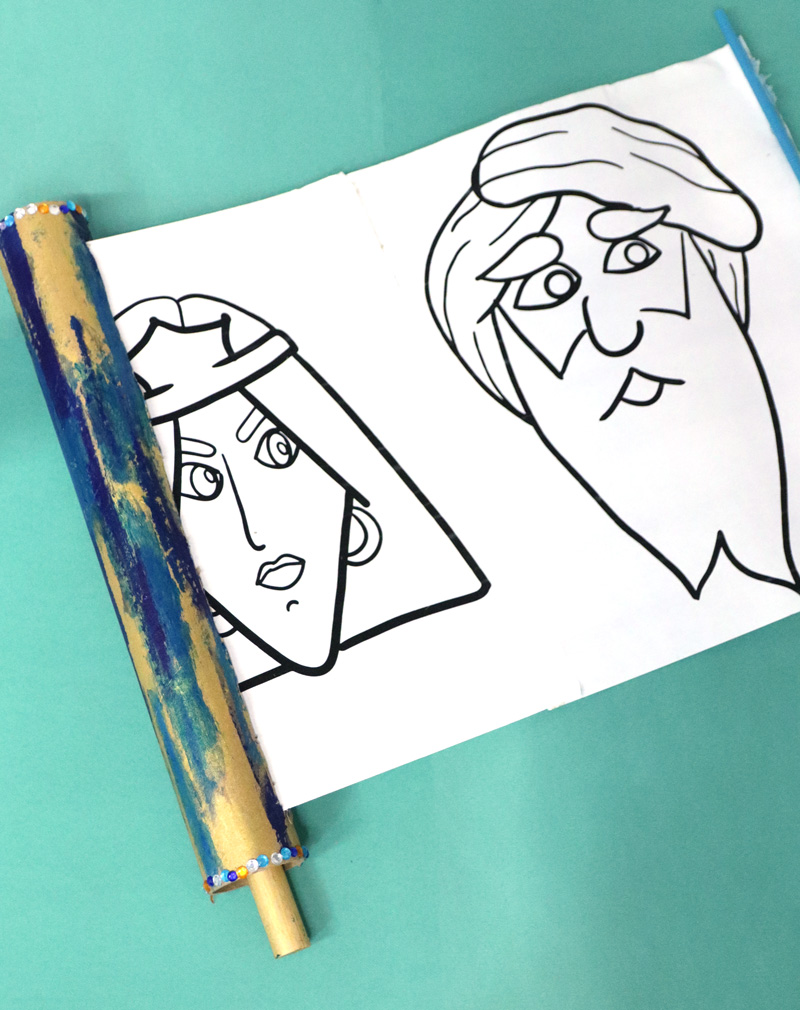 To decorate, I used fast-drying, low-mess paint sticks. They are amazing! You can also use washable paint or even markers.
Decorate with whatever you want. I used small rhinestones, but you can use larger craft gems, stickers of any type (perfect for toddlers,) feathers, pom poms, ric-rac trim, or whatever you'd like.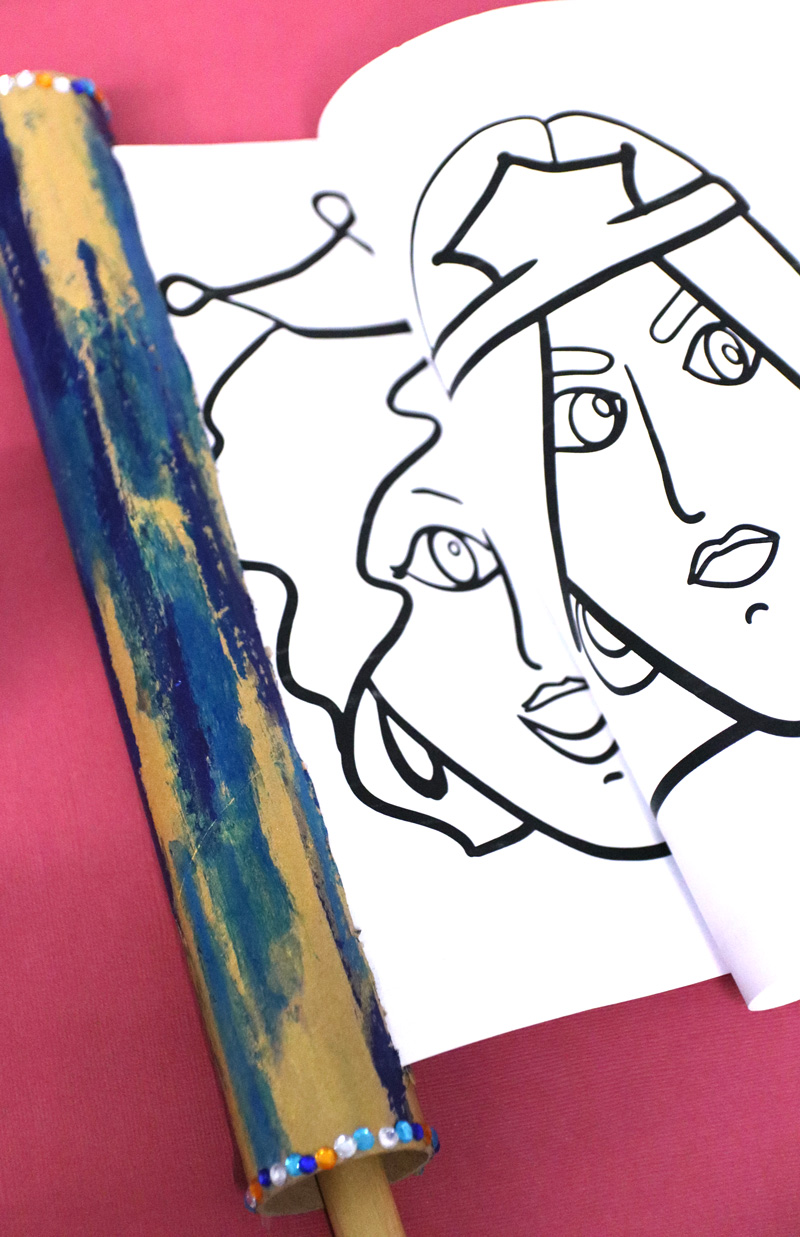 I used a wider dowel to roll the scroll around. However, you can also use a thinner tube, two craft sticks, a rolled up piece of cardstock, or whatever else will give you a good handle sticking out to roll up your megillah craft.
How to make a Purim Megillah craft for kids
What you need
Want to make your Purim prep easier, your feast table more beautiful, and your kids' happier and busier? Get the printable Purim bundle today for 75% off the full value! It's full of table decor planners, kids' crafts, coloring pages, and more as well as mishloach manot labels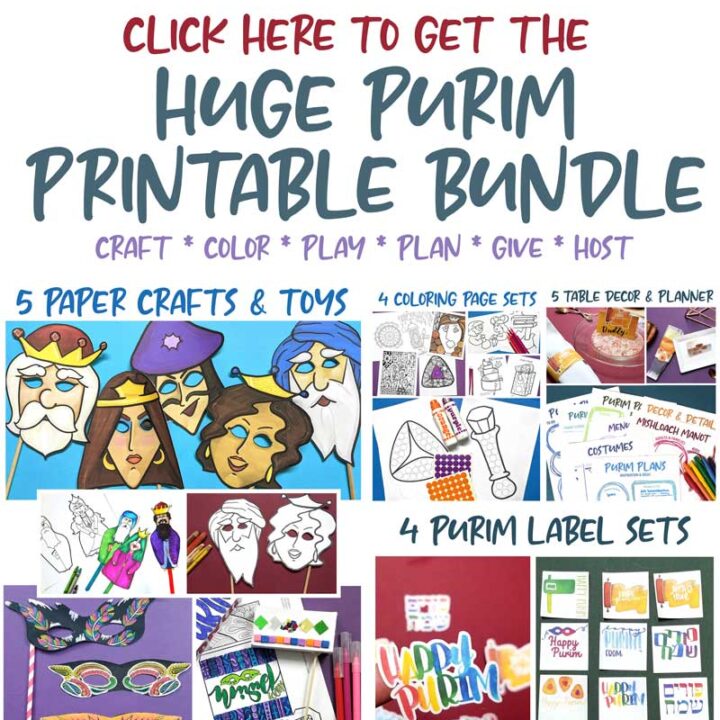 Step by Step instructions
1. Trim your coloring pages to size if you need to. Make it about an inch smaller than your roll on top and on bottom. You may want to do this part before kids color it, in case you cut anything off. I did five pages at a time successfully. I trimmed off about an inch total.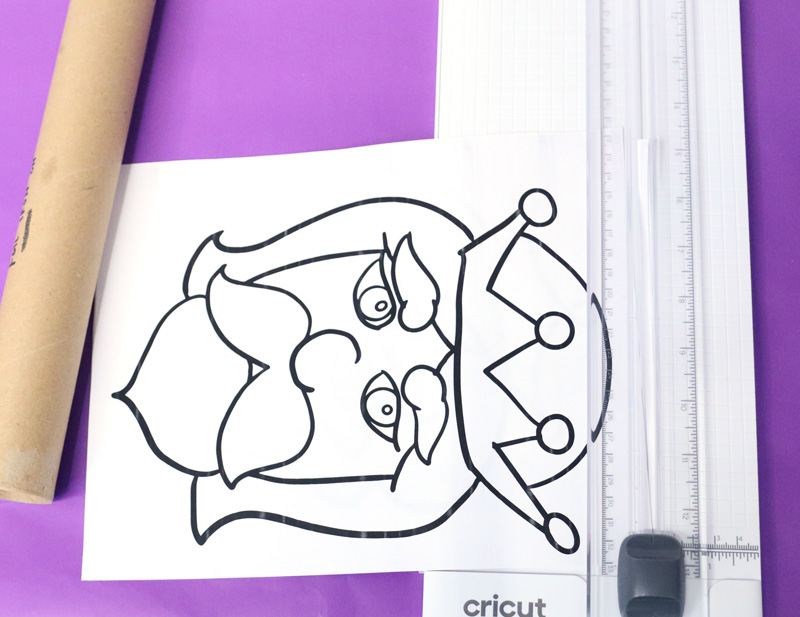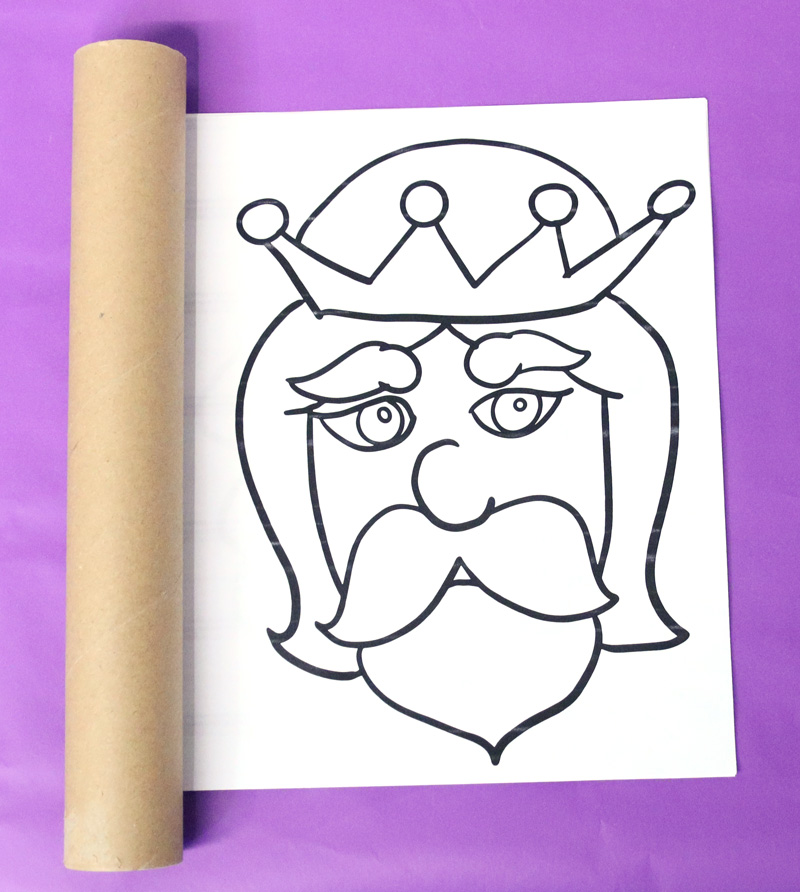 2. Mark where the paper goes until and cut a slit slightly longer than the paper to allow for wiggle room. I recommend cutting the slit a couple of mm wide to make the papers slide in and out smoother. If your roll is thick, this is a bit more challenging, but with a thinner roll it should be very smooth.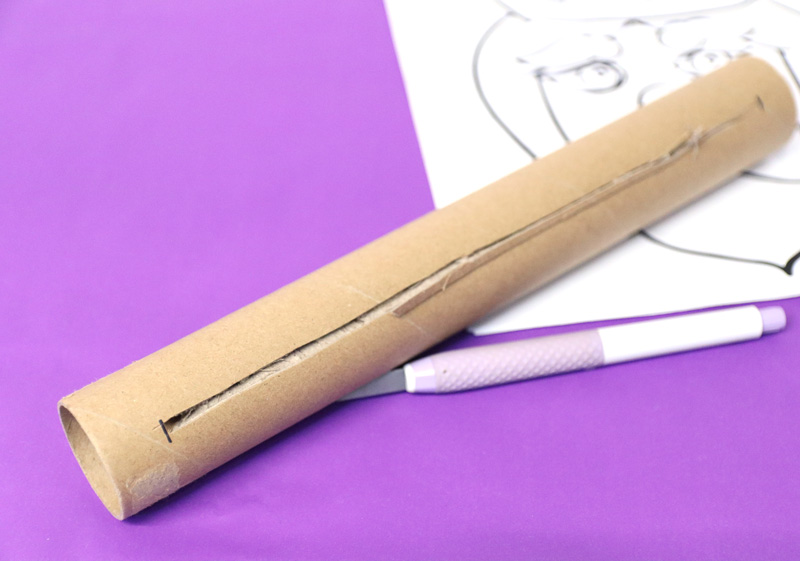 3. Time for the kids to decorate their cardboard tubes! First, paint it.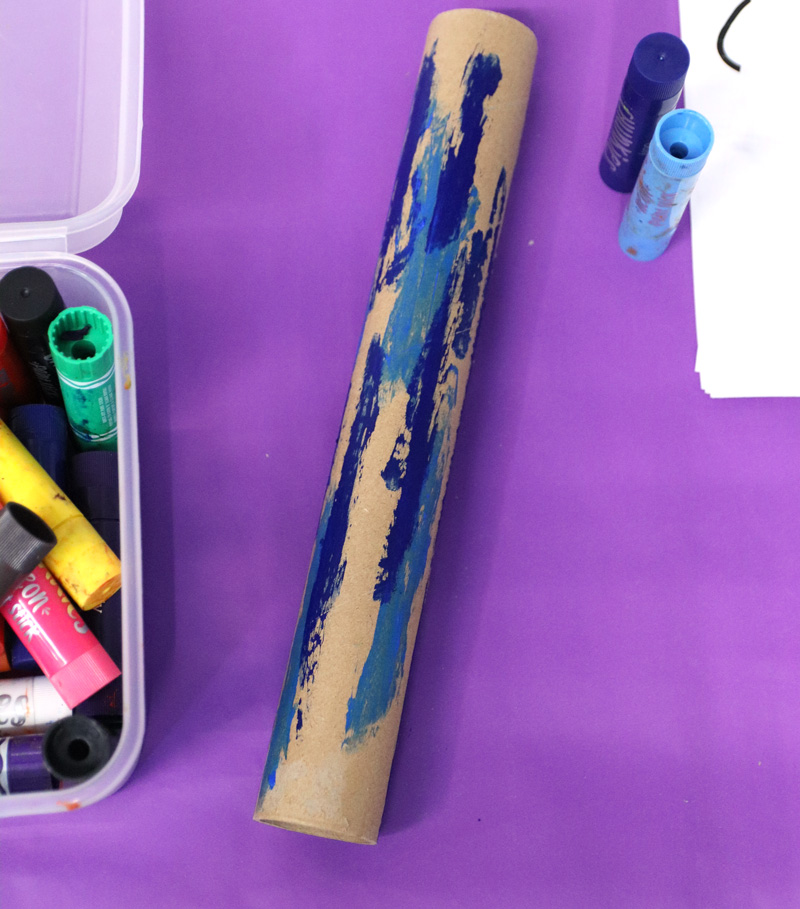 Then, add embellishments using tacky glue!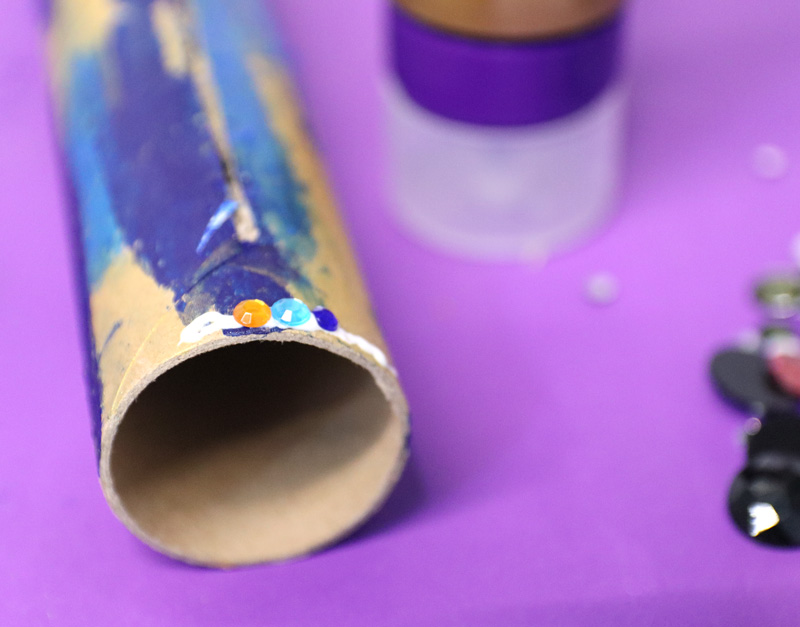 4. Turn the coloring pages into a scroll by taping them together. I used double sided tape to do this super quickly. Don't worry if it's not perfectly aligned – you left some leeway in the height of your slit!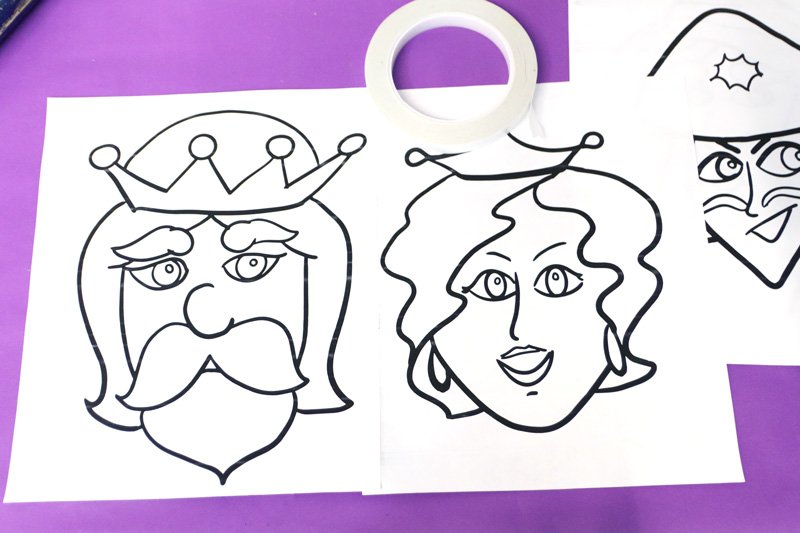 5. If you'd like, decorate the bottom two inches of your wider wooden dowel. Glue it to the back of the left-most coloring page, so that the top is flush with the top of the pages, and the bottom sticks out about 2 inches.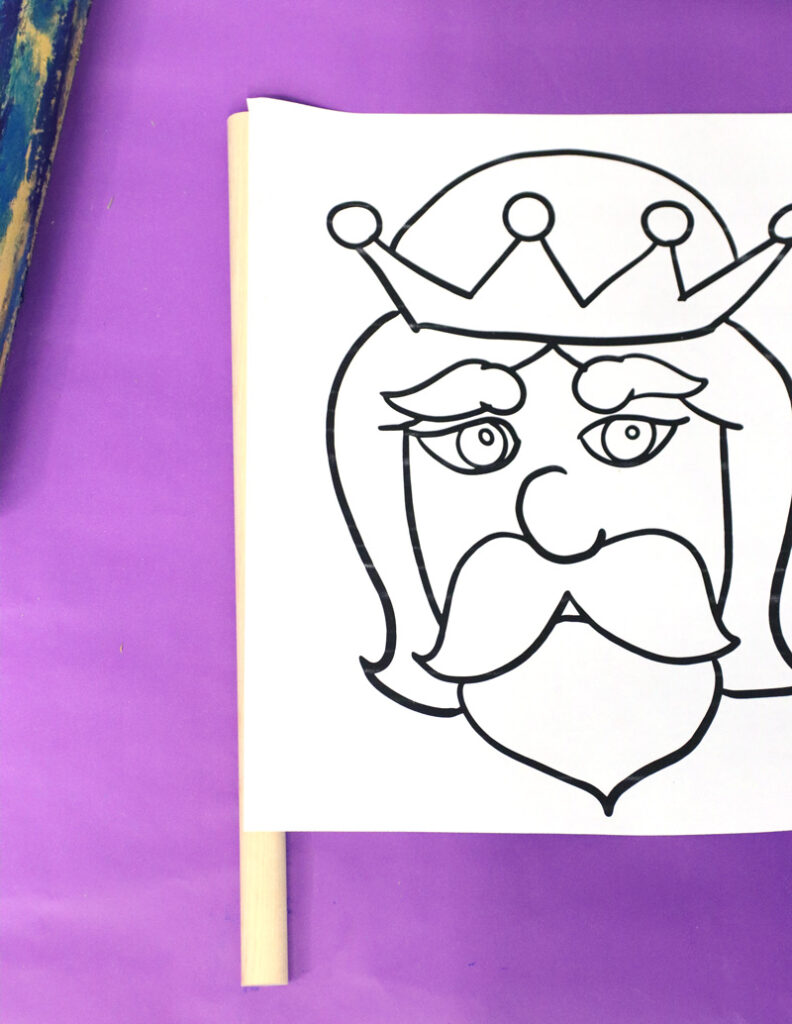 6. Roll up your scroll around the dowel.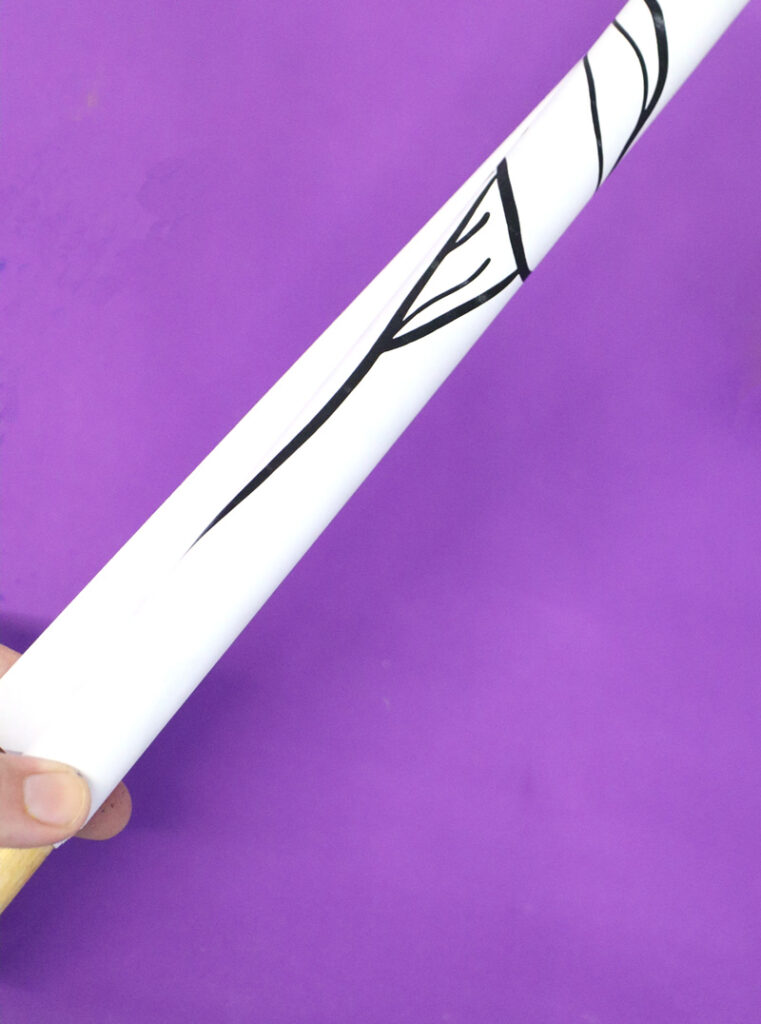 7. Insert it into the tube. Pull out the first little bit of the scroll. This part is slightly tricky – you'll need to force open the slit a little to do it, and your paper ends might get a bit distressed. Don't worry if it does. The very edge will be concealed and glued to a dowel. And if it really bothers you, you can trim it a little.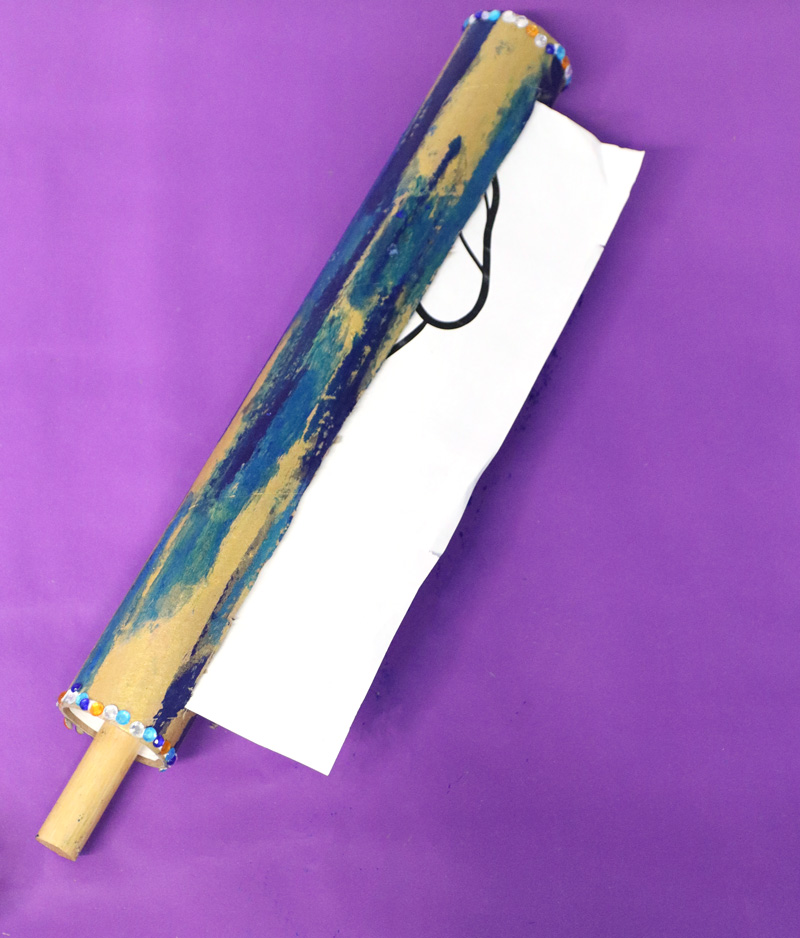 8. Glue your thin dowel to serve as a "stopper" centered on the edge of the paer.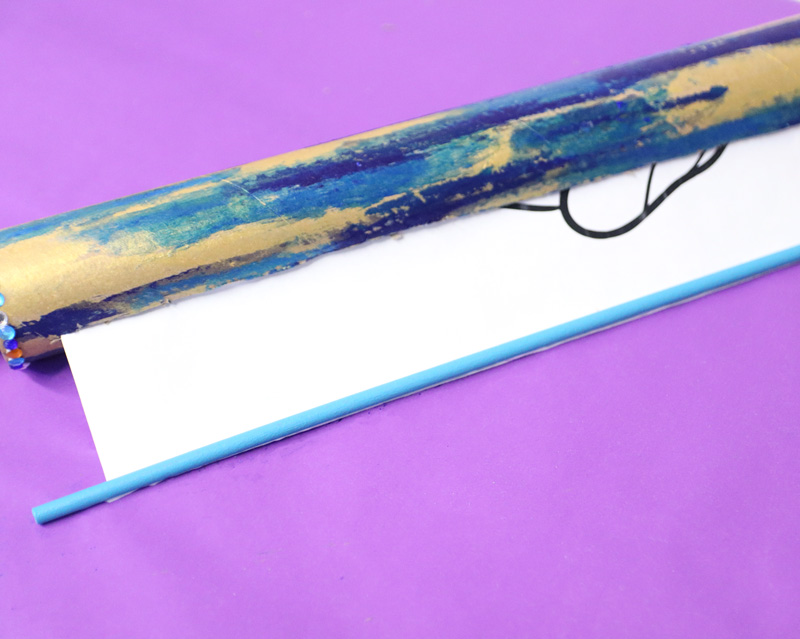 Your Megillah craft for kids is complete!