Ready to decorate that Purim table? I'm thrilled to share with you last year's Purim tablescape along with all the table decorations we featured! When you're done, you can check out my list of 101+ Purim themes! This post contains affiliate links.
---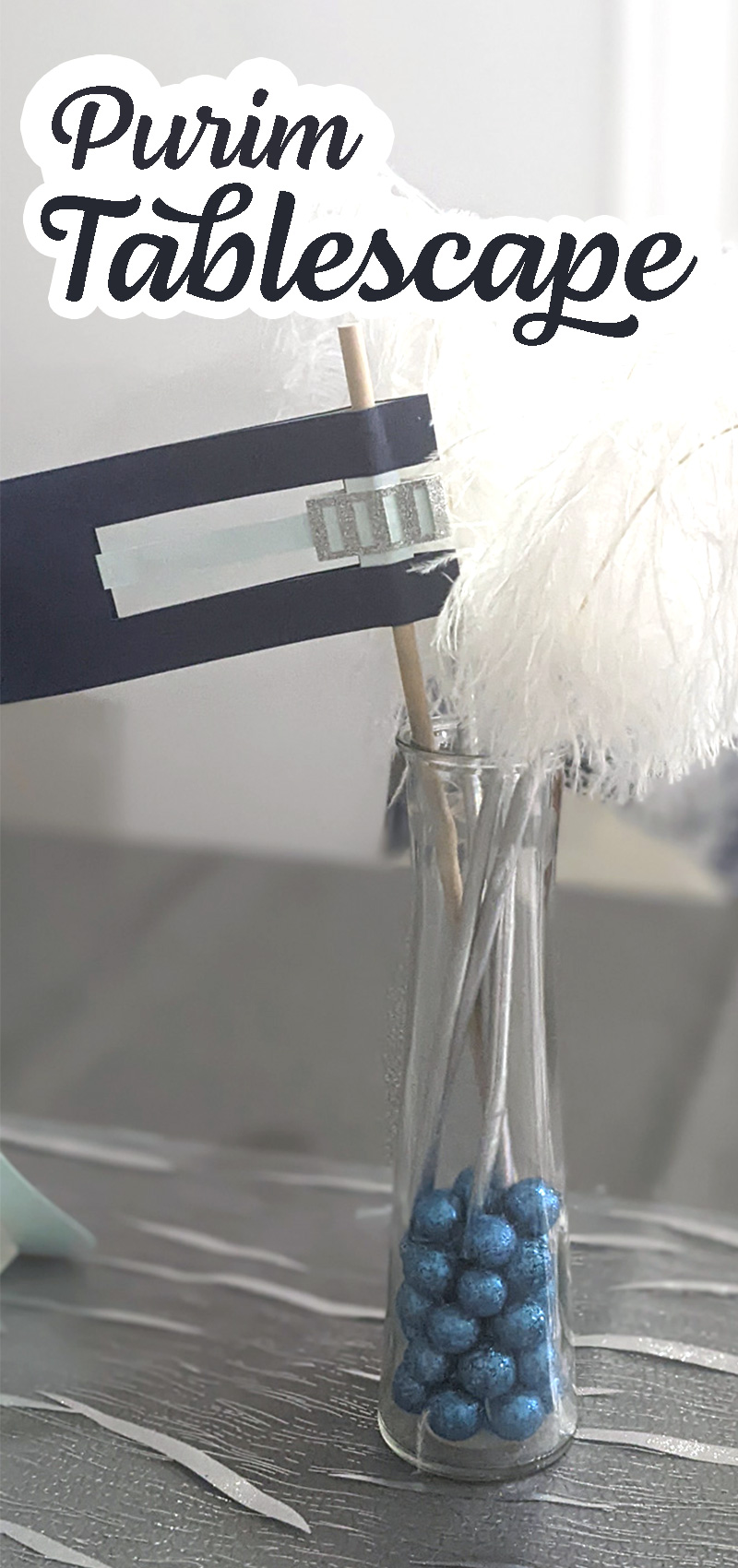 Most years, we host the Purim Seudah for local friends and family. I wanted to create a Purim tablescape post that I can update every year with our new additions and that year's theme and vibe – like I do with my Mishloach Manot ideas and costume ideas for Purim posts. However, I am not hosting this year for a change, and so I may just wait until next. I haven't managed to accumulate all our Purim tablescapes from the previous years (although you can see what we did a few years ago here.)
So for now, this is going to be all about last year's table, and eventually I'll hopefully turn it into a post with a new section added every year with a new Purim tablescape!
About my Purim Tablescape style
When I host Purim, instead of doing a sit-down meal like most people tend to do, I like to keep it a buffet. People's schedules vary and I'd like them to be able to come and go a little.
For those with very busy houses (and no, we're not included) it can allow you to offer drop-ins a bite to eat without having to have a seat at the table for them.
I also find that doing a buffet allows me to enjoy it a little more as I'm not getting up to serve and clear as much. Soups are kept hot in a slow cooker, other hot foods in sternos and on my Shabbat hot plate, and I include a good selection of rolls, dips, and salads.
There is still plenty of table seating available, as well as around-the-room seating.
On that end, you'll find that my tablescape style is based on the central table, which is not set with individual settings. Of course, you can adapt my ideas for settings (and in 2020, I did do settings, which I'll hopefully eventually add to this post).
The central table is usually set with tableware scattered around for people to pick up. I eventually add on drinks as well – since people like to have refills as they eat.
Blue and Silver Purim Tablescape
Last year, I decided to go with a blue , white, and silver tablescape. I used shades of medium to navy blue, with most of it being navy and included lots of airy white.
It was very elegant thanks to the navy and silver but still cheerful thanks to the brighter blue and white.
It does definitely ring more traditional for Chanukah, but who cares? There's no rule saying that these colors are really Chanukah colors, and you can use them for Purim too!
The Base
To start with, I used my faux leather tablecloth that still fit my table (which has since been replaced). It's a dark, almost metalic gray, made by simply buying yardage and rounding out the edges. (I can't find the exact link anymore.)
I got a silver tulle runner that has a gorgeous design on it, made from silver threads and larger elongated leaf-like shapes. It's officially disposable, but you can get a few uses out of it. I got it in-store at Amazing savings, but you can get similar on Amazon.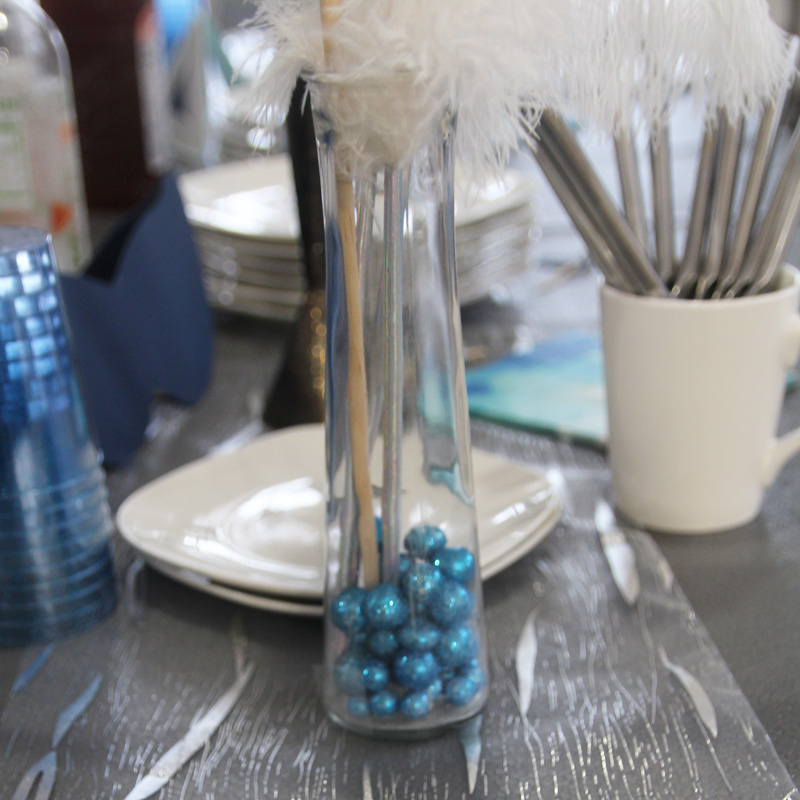 The Tableware
A few years ago – yes, for Purim – I picked up service for 24 dollar tree plates. You can, of course, get even more if you need more. I simply line them all up as my first run in the dishwasher. They're easy to put away and can be loaded as people are done with it, so it makes sense to wash them first.
It has saved me so much money on paper goods, and is much more compatible with buffet-style in-hand eating. Most people don't use both salad and dinner plates when it's a buffet, but I put out both to double the mileage I get out of service for 24. I simply stack them in a few stacks on the table. I do also put some salad plates near the food.
White plates are a blank palette for virtually any tablescape I'll do. The square shape makes them a bit more modern. And while you do miss out on the opportunity that choosing a plate to match your table would lend, I like to keep things realistic, and white plates are just that.
You can get similar at Walmart (I have this set for Passover).
I do also have bowls, but I usually just use hot cups or mugs for soup at buffet meals.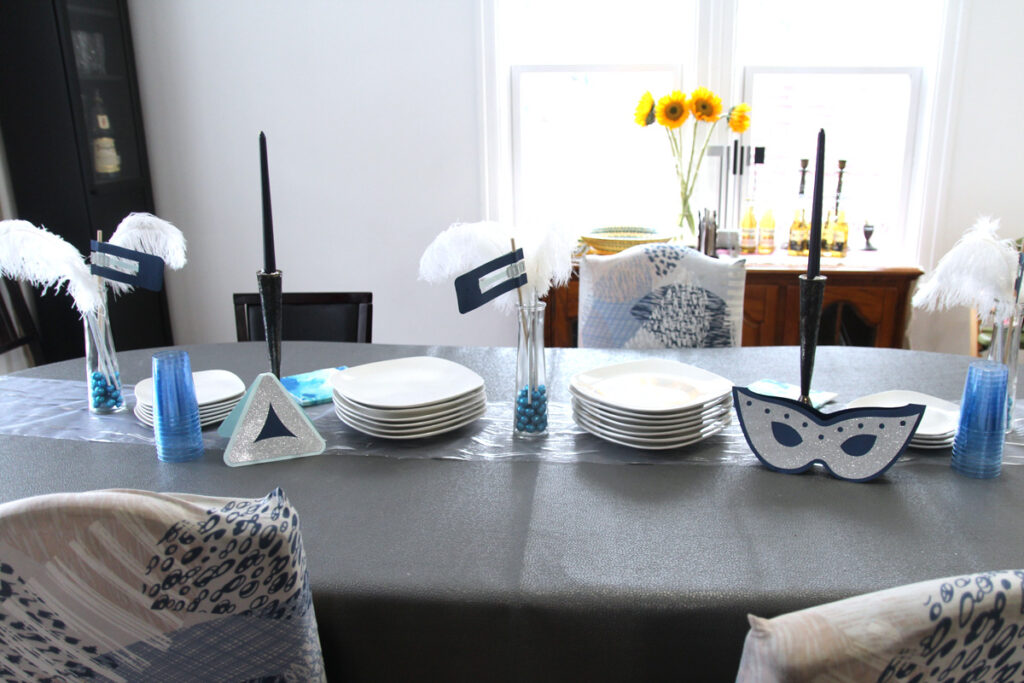 Watercolor printed napkins in shades of blue, and blue glitter tumblers (Lillian Collection from Amazing Savings) added a playful but still sophisticated touch. I'm assuming I used my regular stainless cutlery – although I admit, I can't remember.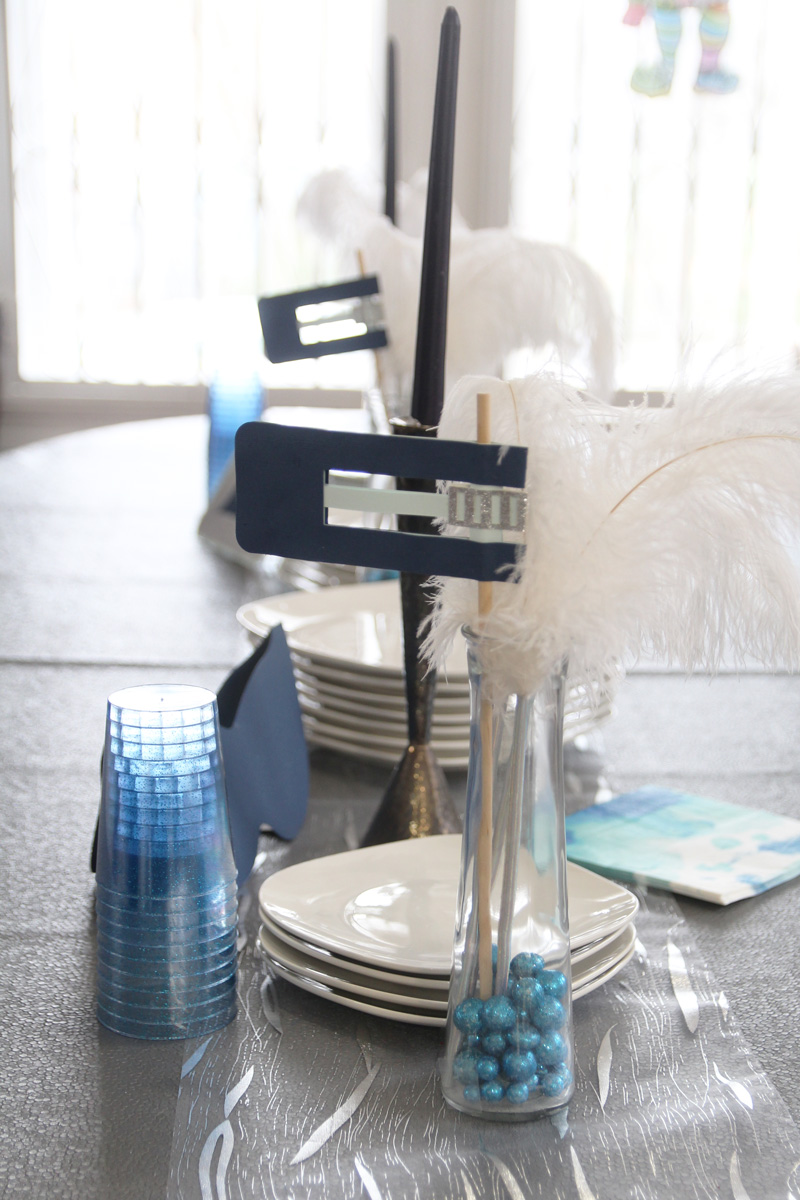 The Purim Tablescape Centerpieces
When it comes to tablescaping, it's the centerpieces where I really have fun. I did do some DIY thanks to my Cricut (which if you host frequently, you'll definitely get a kick out of using!)
I'll share more about those below.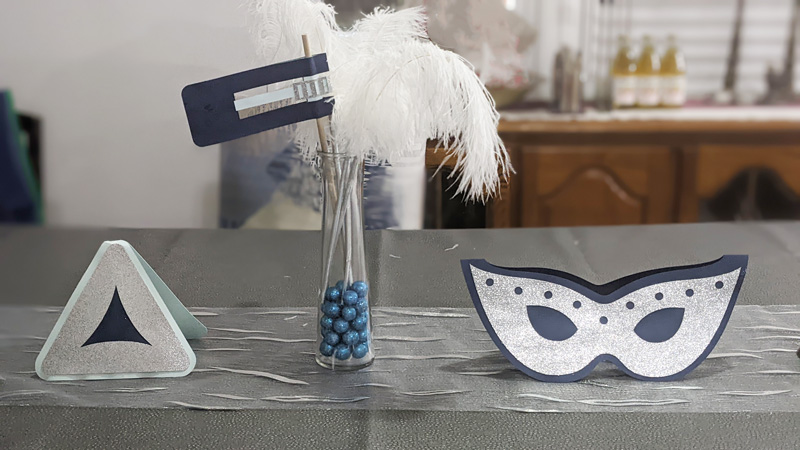 The main centerpiece was actually made from leftovers from A's kiddush: dollar store vases (in the most modern shape I could find) and ostrich feathers. Huge ostrich feathers are so airy and pretty, and make such a statement! And you can see that I store and reuse and get more mileage out of them. Again, they're white, so they can be used for different occasions.
The ostrich feathers aren't really long enough to pop out of vases and overflow to make a statement. To fix that in seconds, I inserted them into silver paper straws. They provide a stiff base and stem for the feathers.
I filled the vases with some glitter foam balls from the dollar tree. In hindsight, glass vase filler, acrylic gems, or sea glass would have been much more elegant.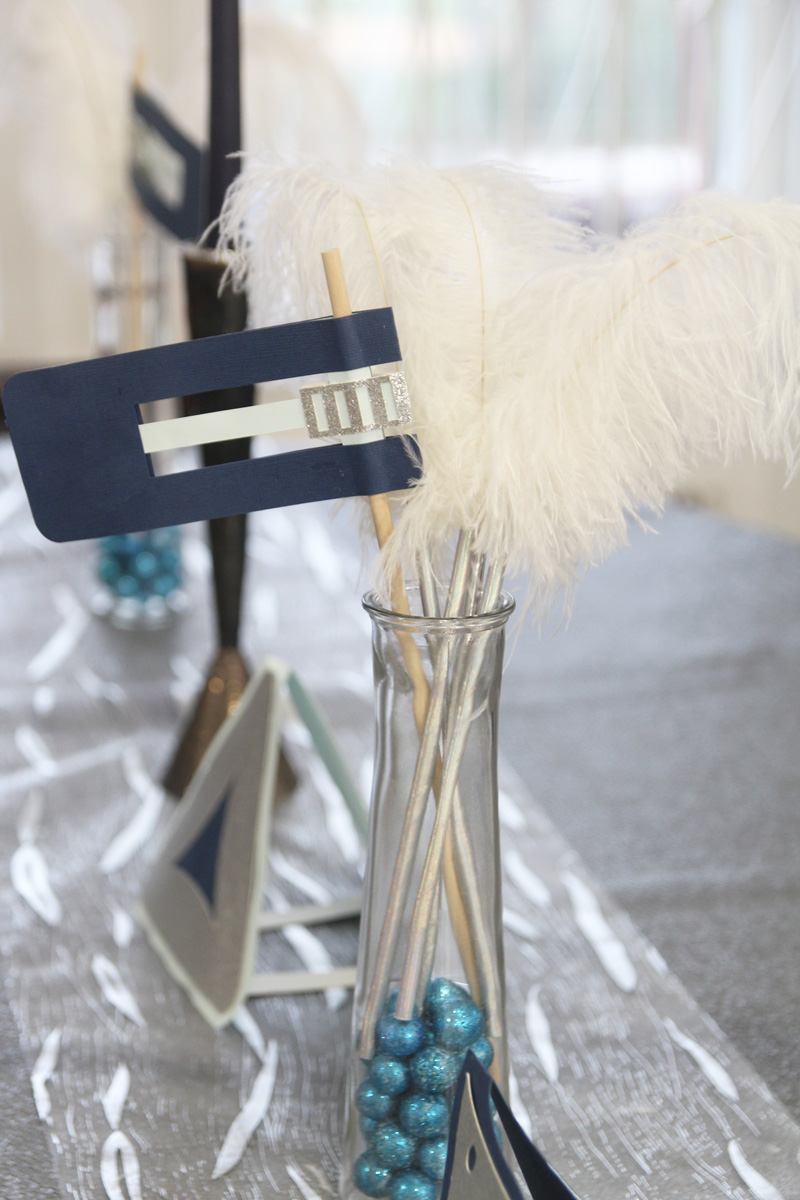 In keeping with tradition, we light two candles at the Purim feast. I got deep navy tapers to match our Purim tablescape. I place these in my hammered silver candlesticks that I light every Friday night. Ironically, since I never polish them, they have a gorgeous purplish-navy patina that totally matched.
The Crafts & Extras
I made a few paper crafts to join our Purim tablescape. I did use my Cricut to create these (and they are Cricut designs), however the shapes are simple enough that if you're creative you can swing it without.
As you can see, in the vases, I also had jumbo Graggers. I cut them using my Cricut and a Cricut Access design. I made large ones, which I glued around dowels and placed in the vases.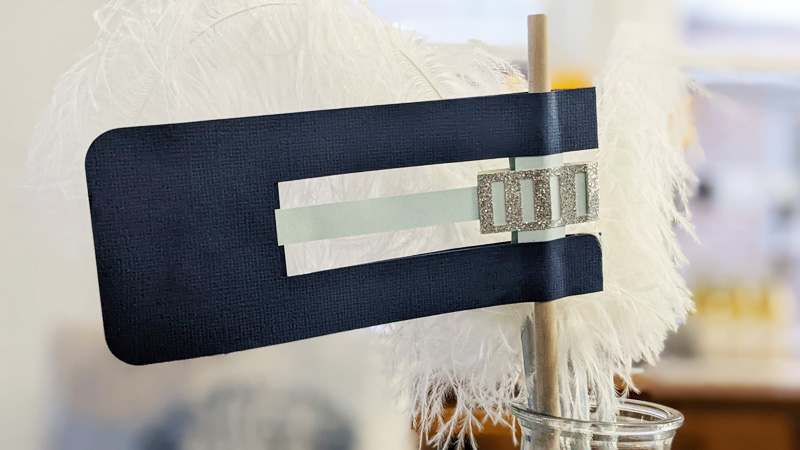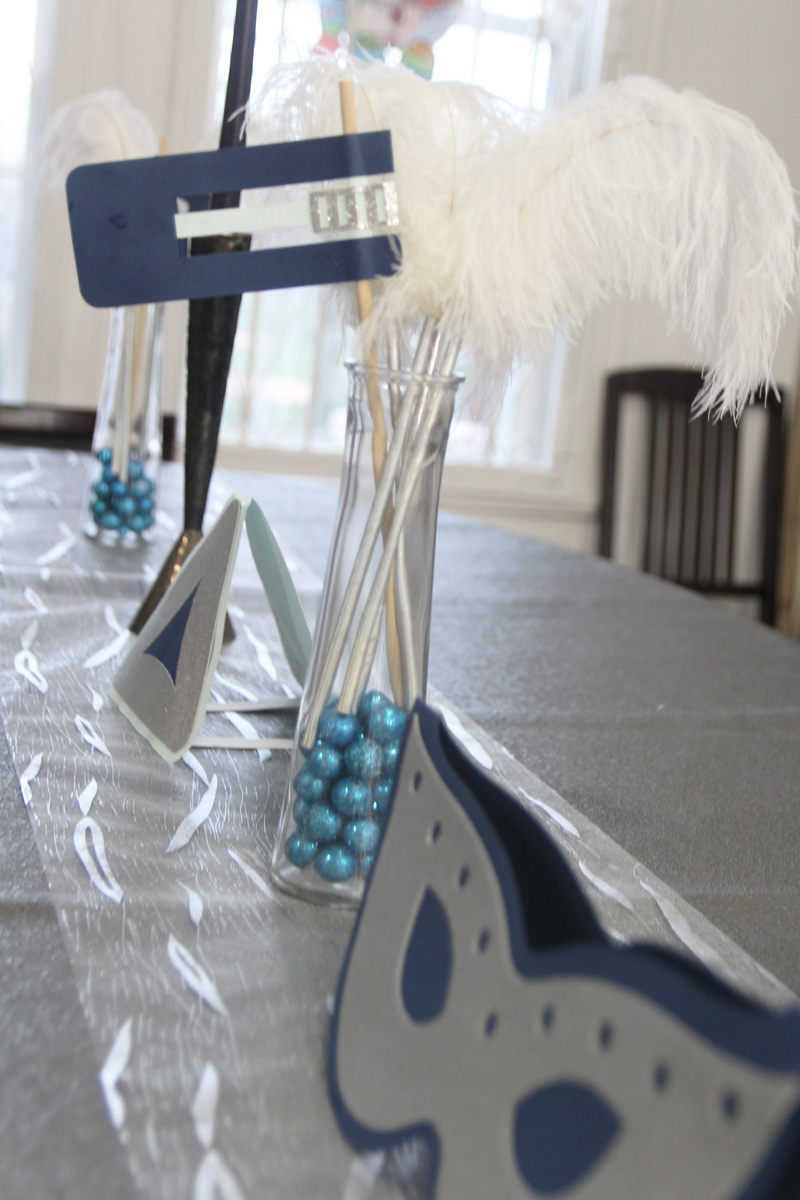 I made the same thing in mini and glued them onto cocktail picks. I placed a few of these on the table and into assorted foods. They are actually a fabulous solution for finger foods too!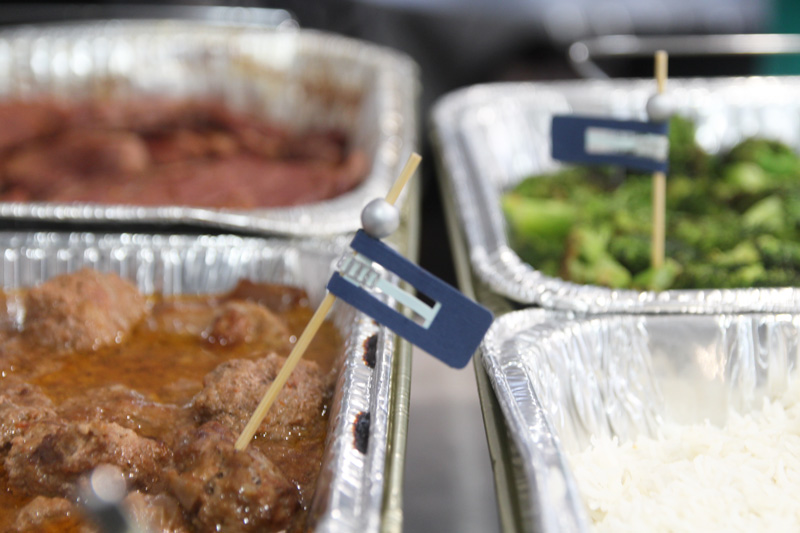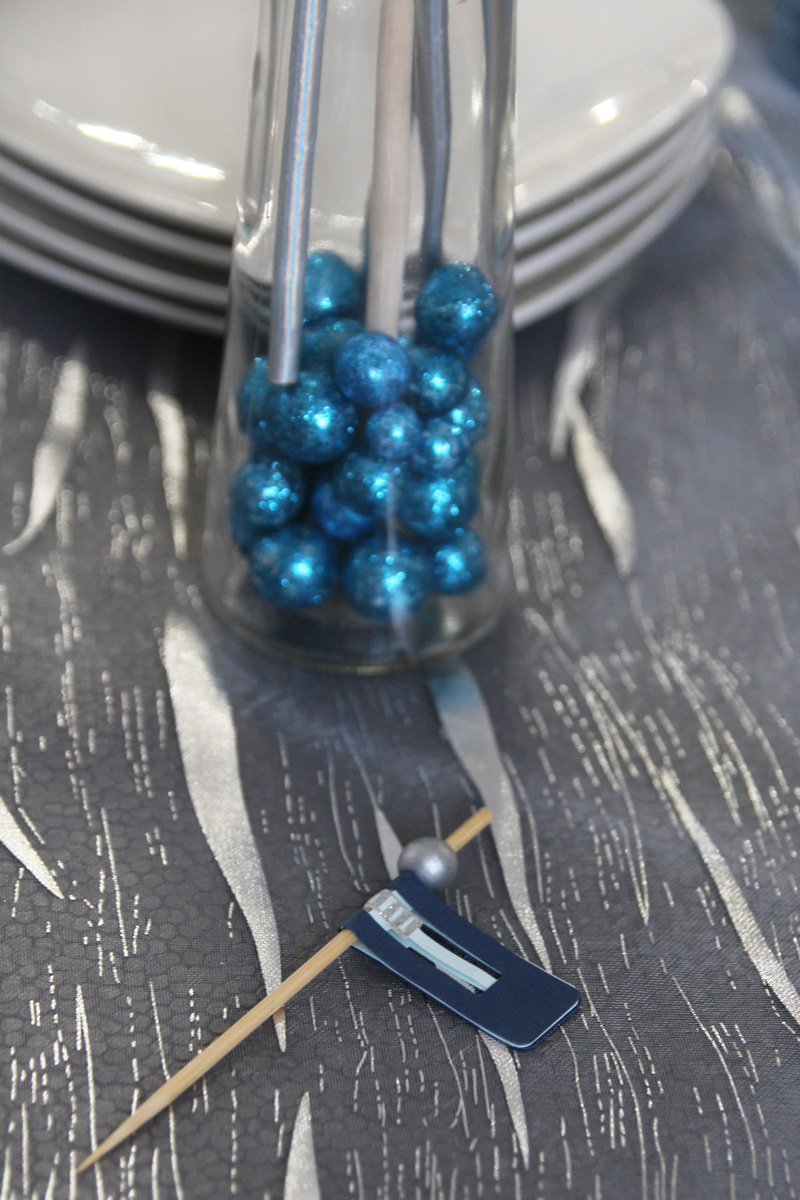 I also created Cricut's mask and hamantasch cake toppers, only I made them as centerpieces. I simply cut two extra strips of cardstock for each, folded up the ends, and glued them to either side of the open end of the folded cut to make them stand.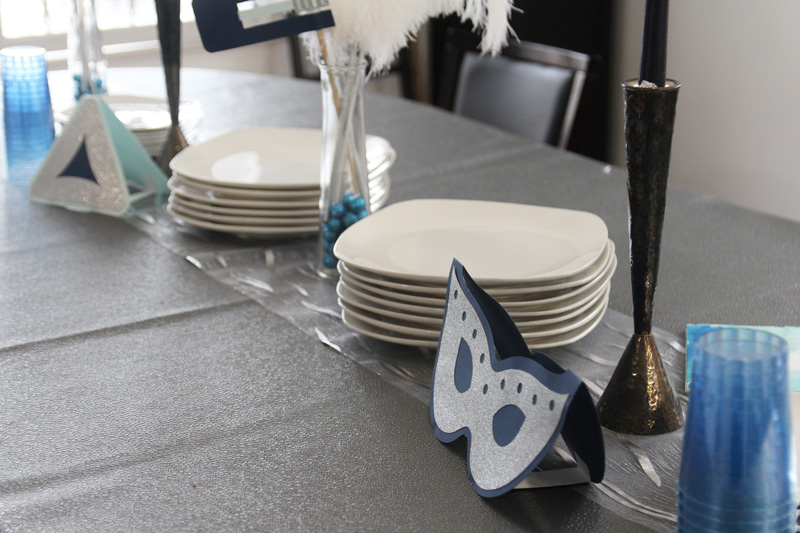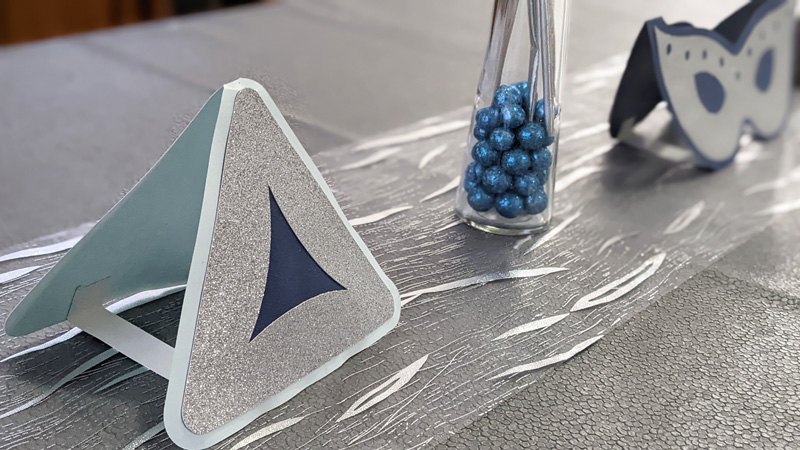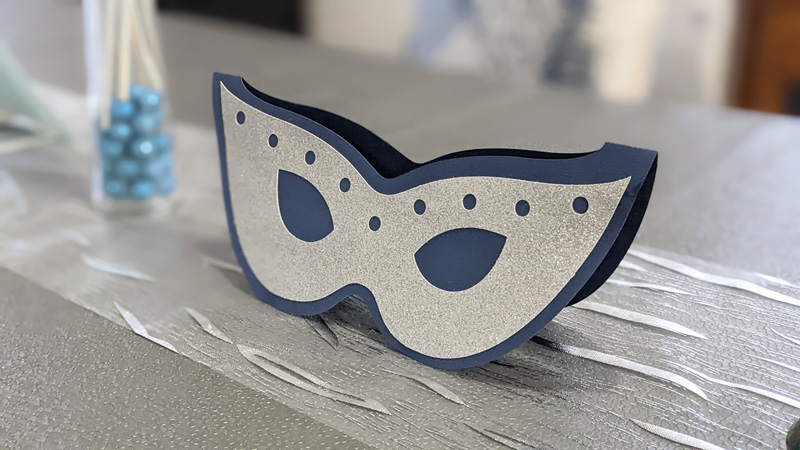 And that's it for last year's Purim tablescape! I hope you got some ideas and inspiration from this! Want to see ideas from previous years? Got your own tips and ideas to share? drop them in the comments below!