Enjoy this master shopping list for Passover – thanks to my mom who shared it! And if you love this, you'll also want to check out the Pesach cleaning checklist I borrowed from her too. This post contains affiliate links.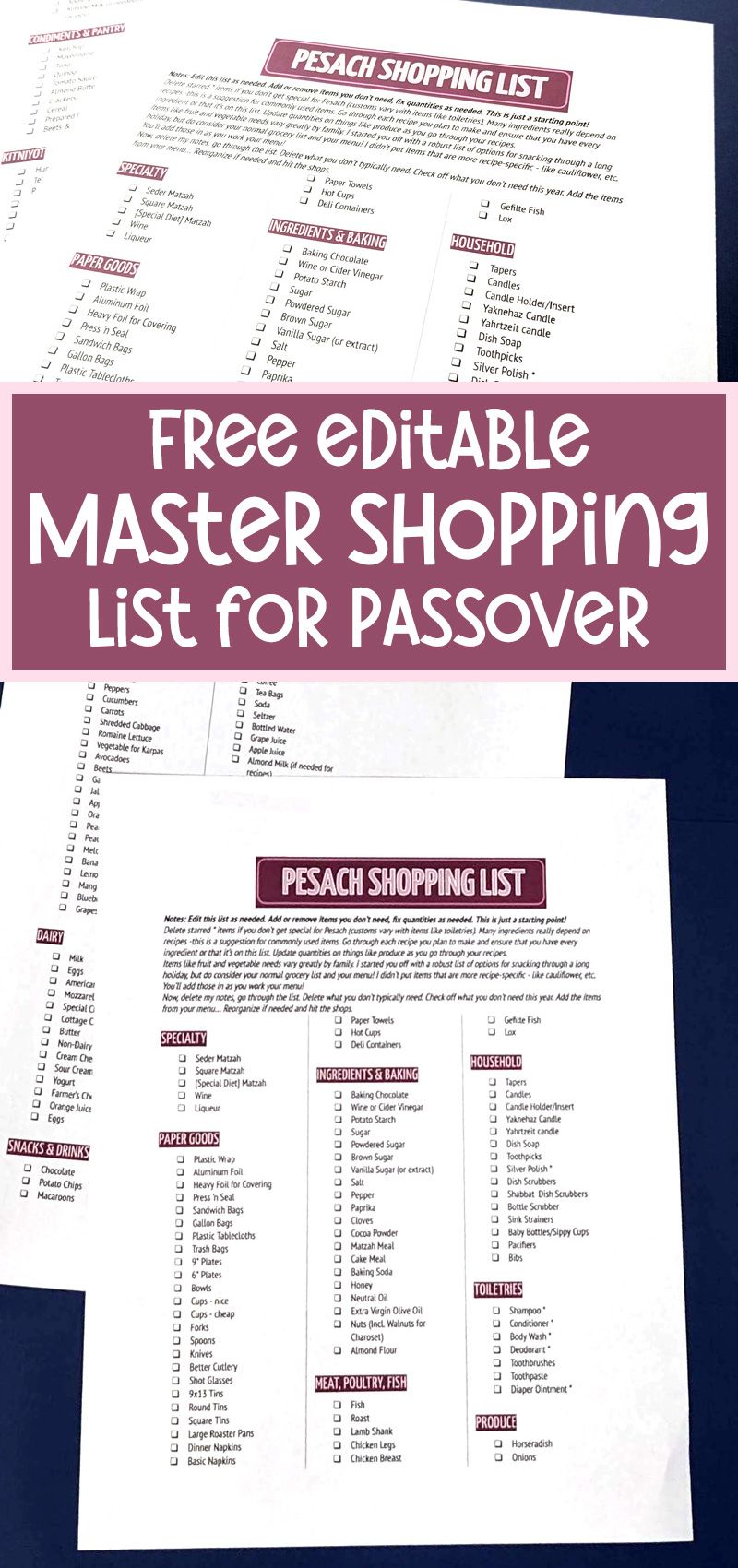 My childhood memories of Pesach center around my mother's lists. Her cleaning checklist was a staple and her shopping list was thorough.
The idea of having reusable lists from year to year is brilliant. It ensures that you start off with half the planning done.
A few years ago, I went and made her cleaning checklist universal so that others can use it as a master list as well. And now, I've taken her yearly Pesach shopping list and turned it into a universal master shopping list for Passover. My mother has decades of Pesach-making experience, which is why this is such a game changer. She's updated it over the years, as diets, kids' ages, and other needs changed.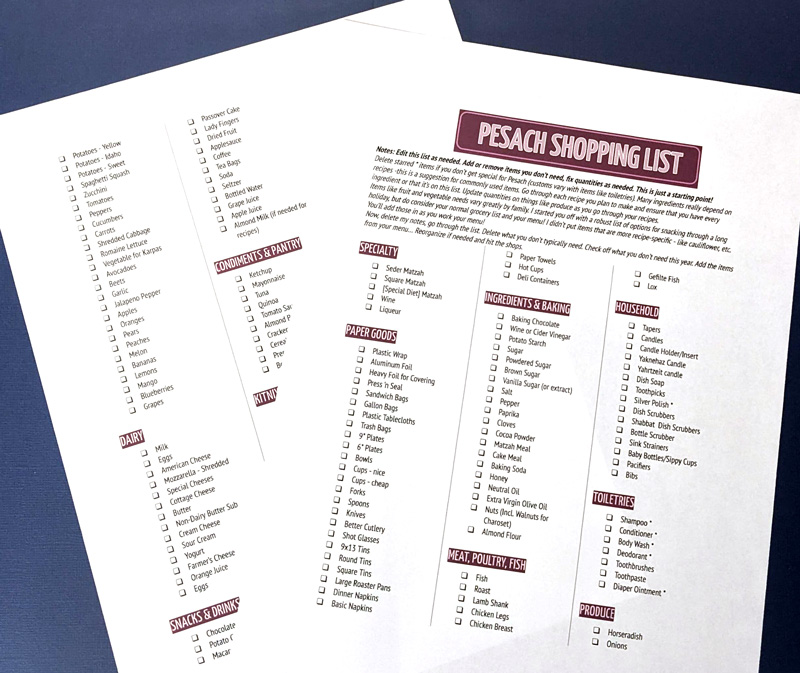 My parents are careful with some extra stringencies so to make it more universal, I:
Added some condiments staples
Added pantry items like crackers and cereal
Added some produce that is difficult to peel (they don't use unpeeled produce)
Included a crowdsourced Kitniyot section that you can delete too.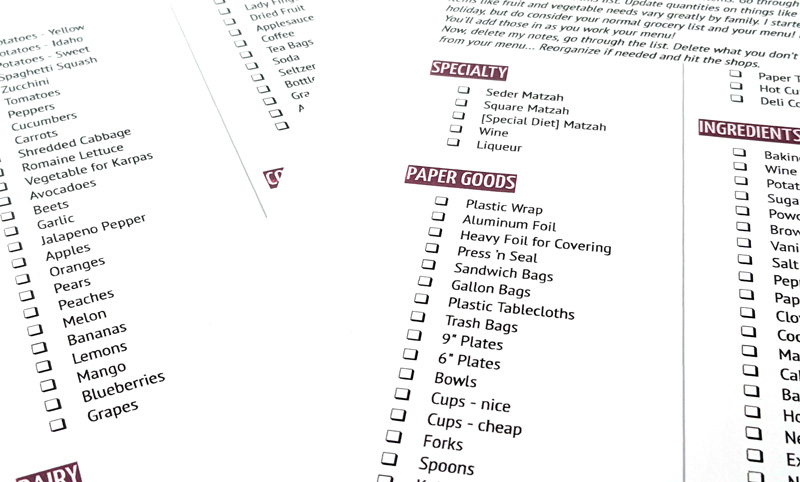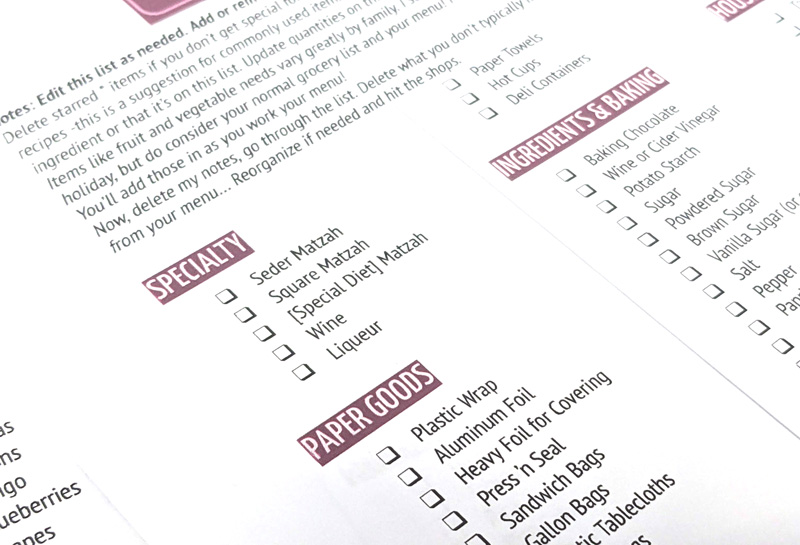 Did I mention this master shopping list for Passover is editable? You get it as a doc file, so that you can edit it in Microsoft Word or Google Docs.
How to use the master shopping list for Passover
Either open the file in Word if you have a subscription.
Or, use Google docs. I recommend using docs since that what I used to create it. Formatting might change if you open it in Word.
For those who don't know how (desktop instructions – if you open this on your phone it'll probably give you the option to use Google docs automatically):
Open docs.google.com
Below the top grayed-out "start a document" area, right above your saved docs, there is a small folder icon off to the right. Click on that.
That gives you the "upload a file" dialog. Click on the tab that says "upload."
You can now click browse to upload a file from your computer (or, if you have the folder with it open, drag and drop).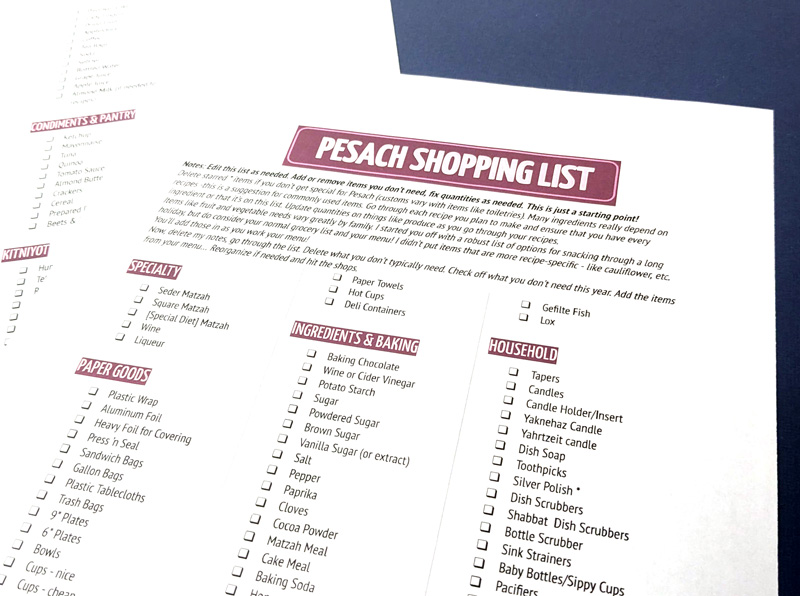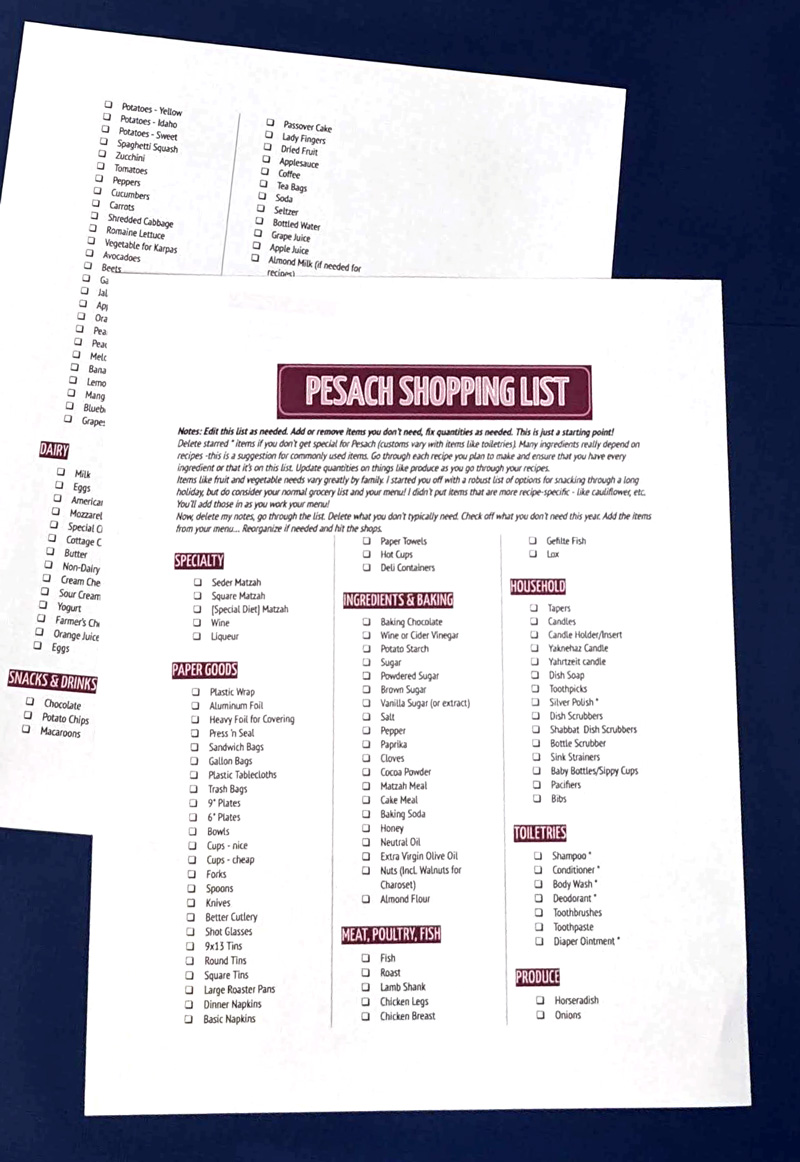 Some things just aren't universal, so I added some notes to the top (which you can delete after using them.) The process for successfully and efficiently using a master list like this is as follows:
Go through it and keep everything you need. Delete what you don't.
Go through your menus and check each ingredient. Make sure it's on the list. Update quantities as needed.
If you'd like to, you can reorganize your list into grocery store departments. Since Passover tends to be organized differently, and you may shop at different stores, it didn't make sense to share the list that way.
You can even copy/paste the content into new documents that you create based on store, errand run, or whatever works for you!
The real value in this is remembering those things you might not have thought of:
Tapers for seder night (so the candles light through the seder). If you light using something else, replace with that!
Yaknehaz candle for years it's helpful (When Pesach falls out right after Shabbat, so you're doing Havdalah seder night)
New toothbrushes
Toothpicks to put out at every single meal matzah is served…
It does NOT include a basic "what you need the first time you make Pesach" list. That is a different beast.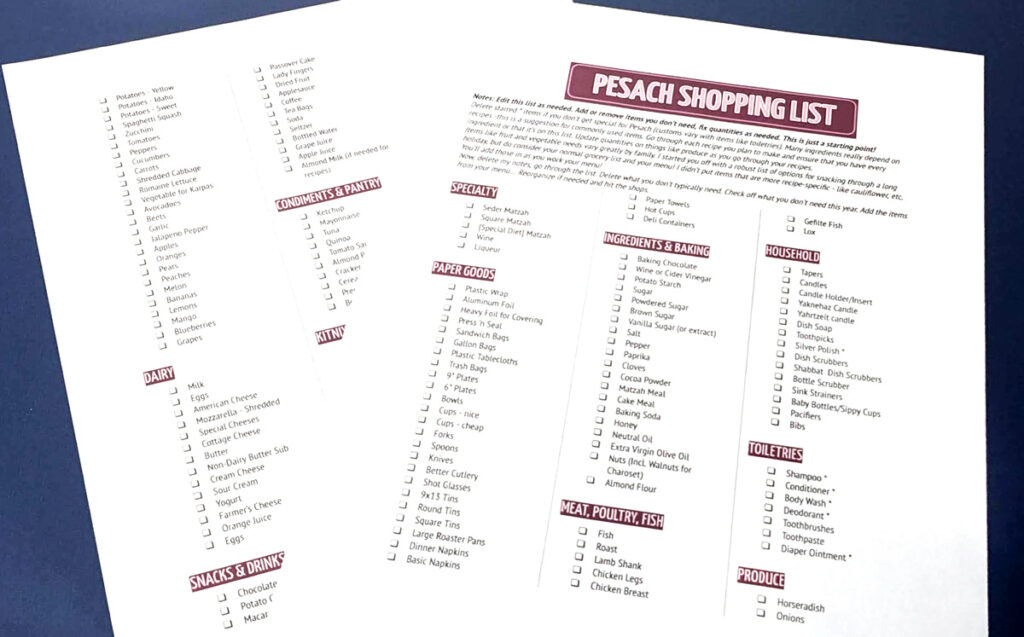 Download your free editable Pesach shopping list
Download your free template! It'll arrive right in your inbox. By downloading, you're subscribing to our FREE newsletter with updates on cool printables like this, ideas to simplify Jewish life, and more. Unsubscribe at any time at the bottom my emails. I respect your privacy and the law, and won't share or sell your email address.
I hope you enjoyed the master shopping list for Passover. Got anything to add to it? Comment below!