Check out these fun Purim cards in Hebrew and English and then download a free sample printable greeting card for your Mishloach Manot packages! This post contains affiliate links.
---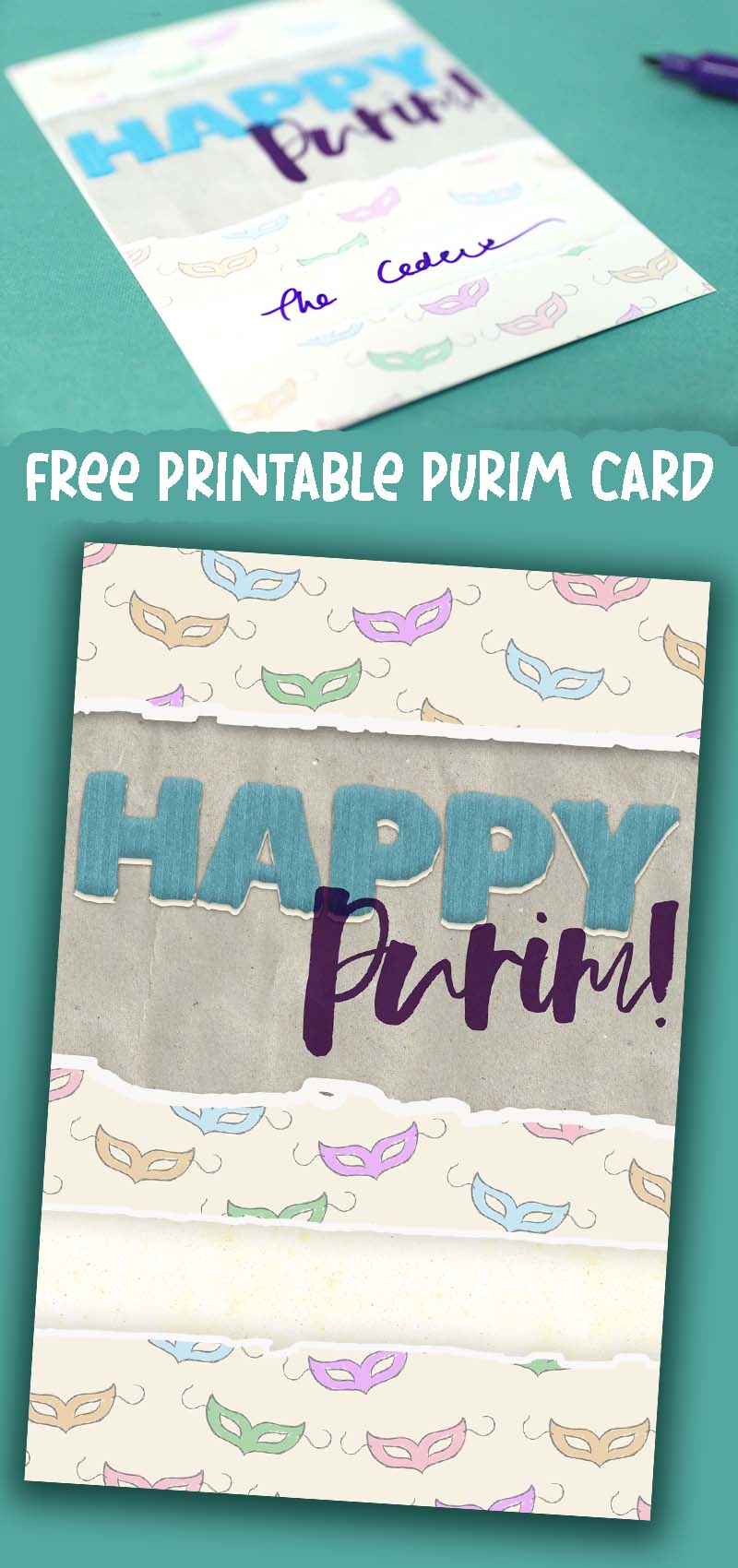 Purim cards are a fun way to add a very cool and classy touch to your Mishloach Manot packages. I designed two new lines of Purim cards this year, available as printables for sale for just a few bucks in my Etsy shop. And I decided to offer the style pictured above – the one with the cream background and the masks – for free!
You will need to be subscribed to my (free) newsletter to download it as my freebies are generally offered to blog subscribers. If you want to skip that and don't mind paying, it's also included as part of my "paper cutout" set on Etsy.
In this post, I'll show you a closer look at all the Purim cards and share with you how I printed mine as labels instead of cards! You can do the same with tags – and we'll be doing that for the kids' packages.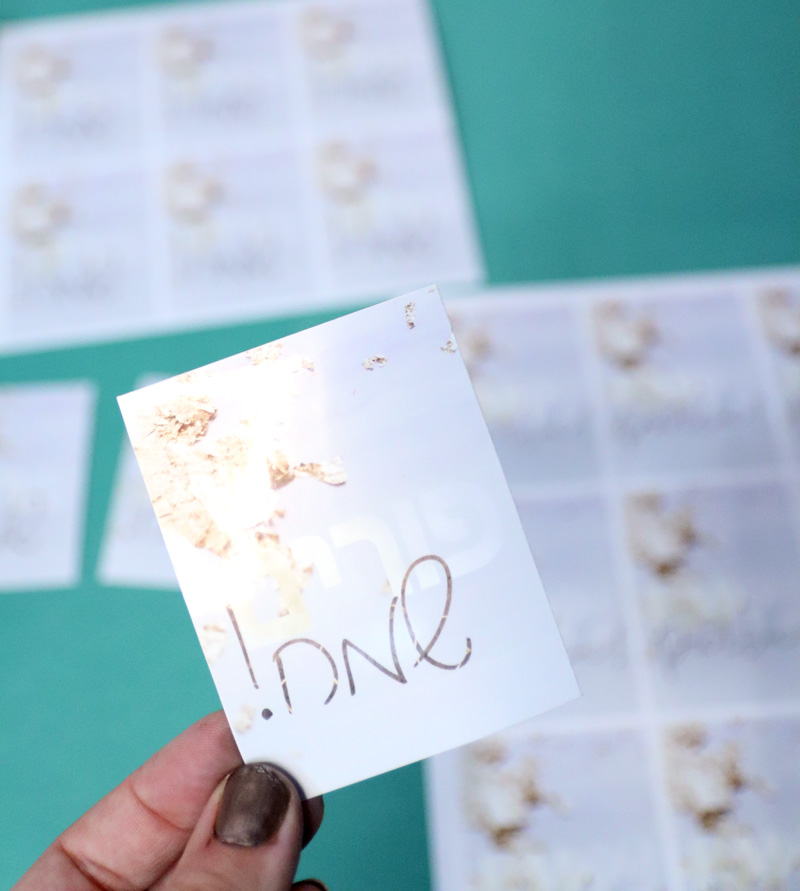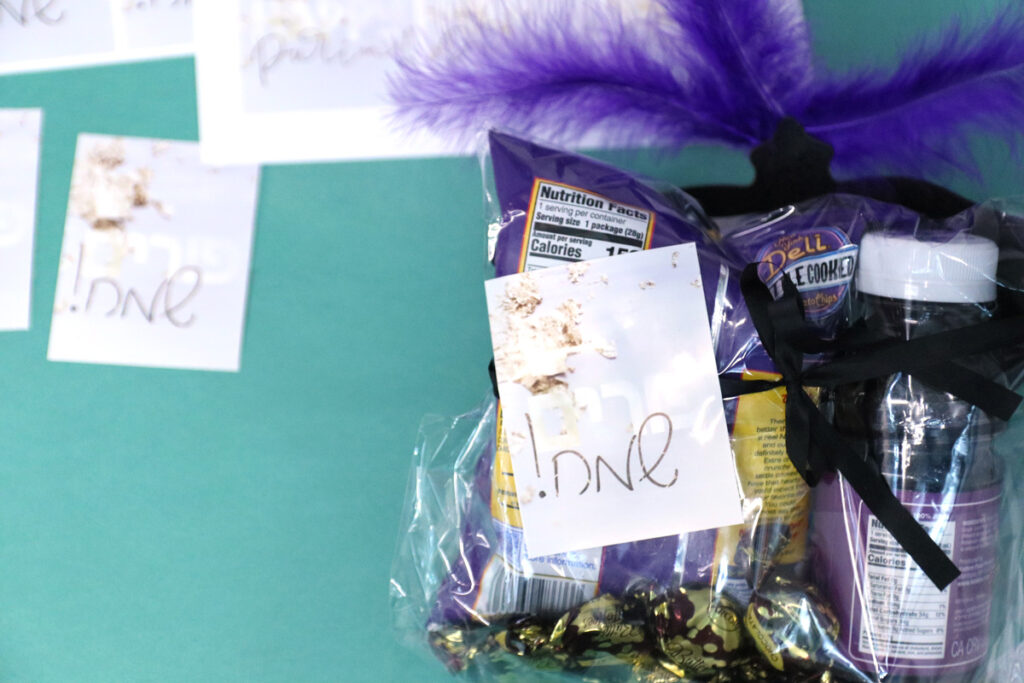 How to Personalize the Purim Cards
Some of these cards have a dedicated space to write a message, and all can have something written on them if you use the correct tools.
For those with light backgrounds, if you've printed on photo paper, a permanent marker is best. If you printed on cardstock, any marker will do.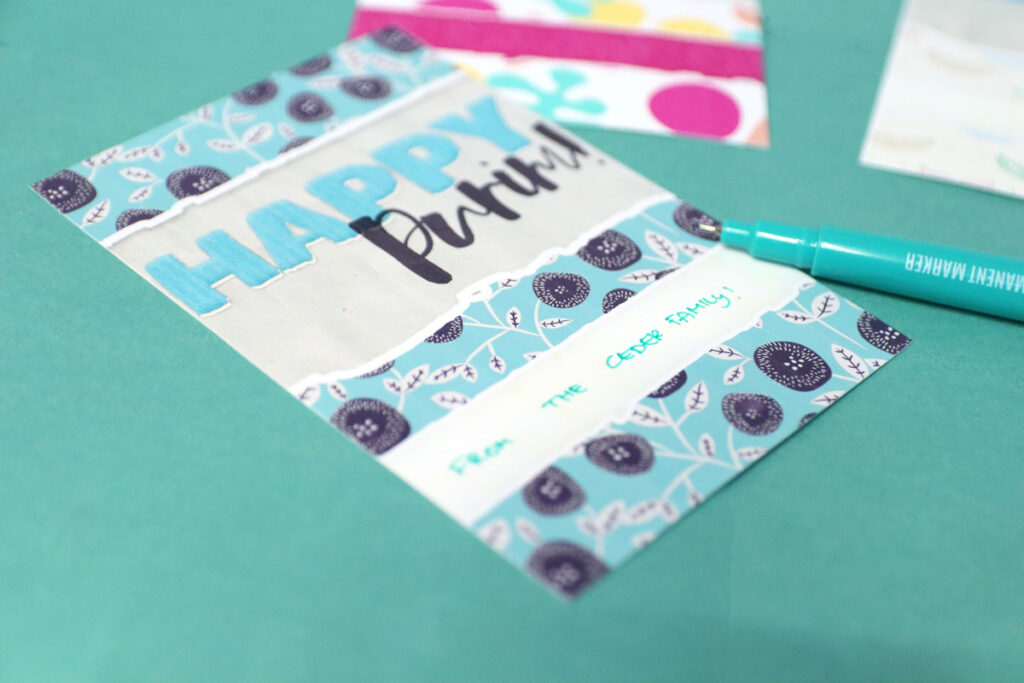 For those with dark backgrounds, a thin paint marker in a light color would work on photo paper, and a dark paper gel pen on cardstock.
All of these cards are JPEG images which means that you can add on a name in any simple image editing program that lets you put text on images. Your native phone or computer apps would even work.
You can also write longer messages on the back. They are all flat cards – that is, they do not fold and have a back.
If you want folded cards, I recommend purchasing blank 4×6 or 5×7 bifold cards and gluing them to the front. You get both sizes of card.
A Closer Look at the Fun Printable Purim Cards!
You'll notice on the images below that the colors vary on the "mockups" vs. the photos of my printed cards. It's actually very challenging to get accurate images of a printed item, AND my printer isn't the greatest with color richness, so they look much more washed out.
The "Mockup" is the actual file colors.
The free mask one
Here's the playful card that you can download for free at the end of this post.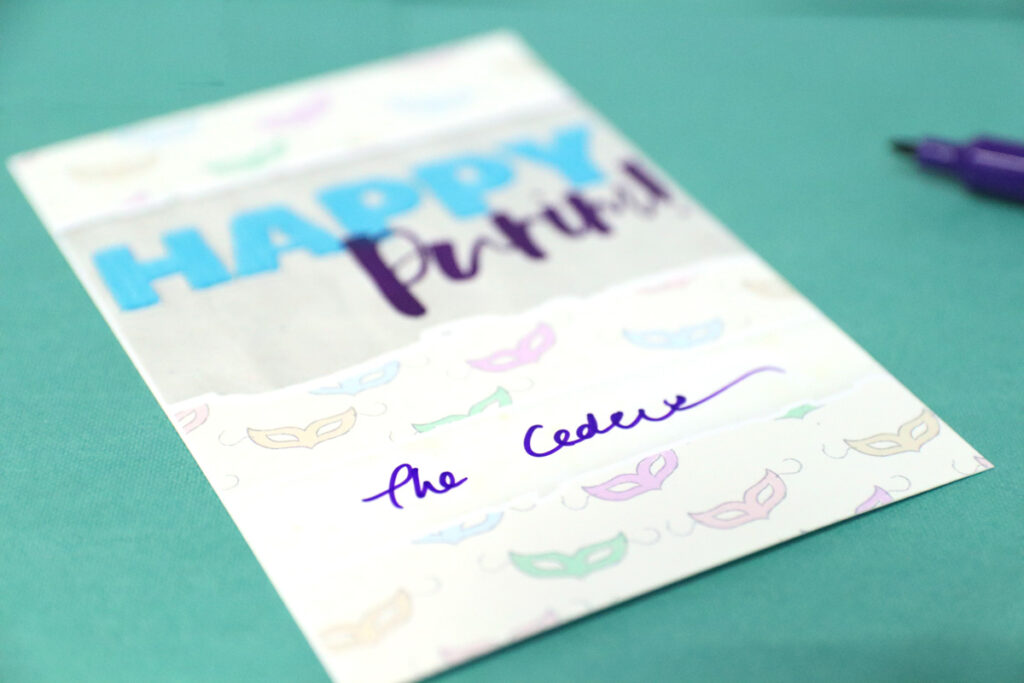 The Paper Cutout Bundle
This is the only set that is only in English. You get three styles including the free mask one. the other two are a modern floral design and a tropical one.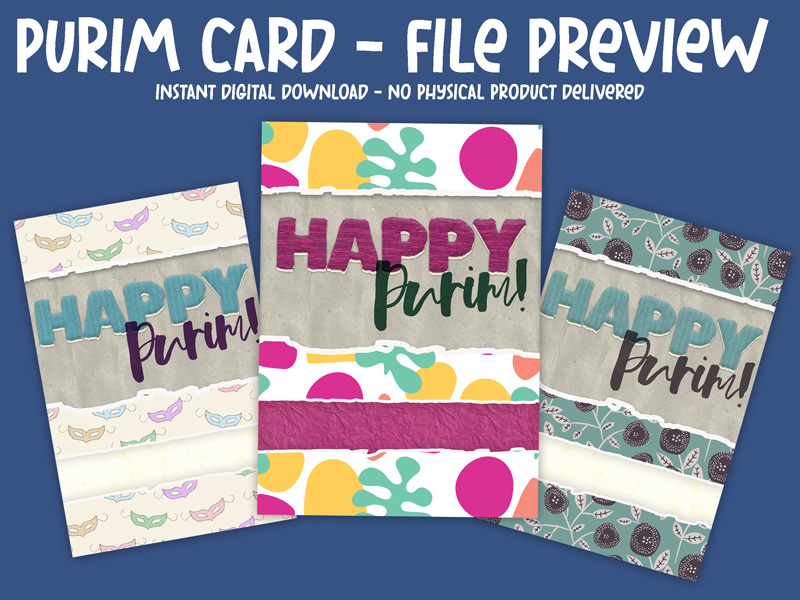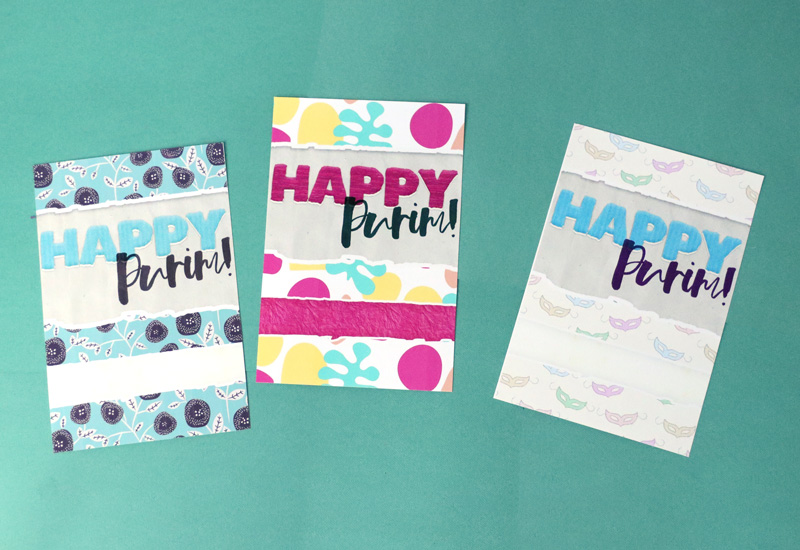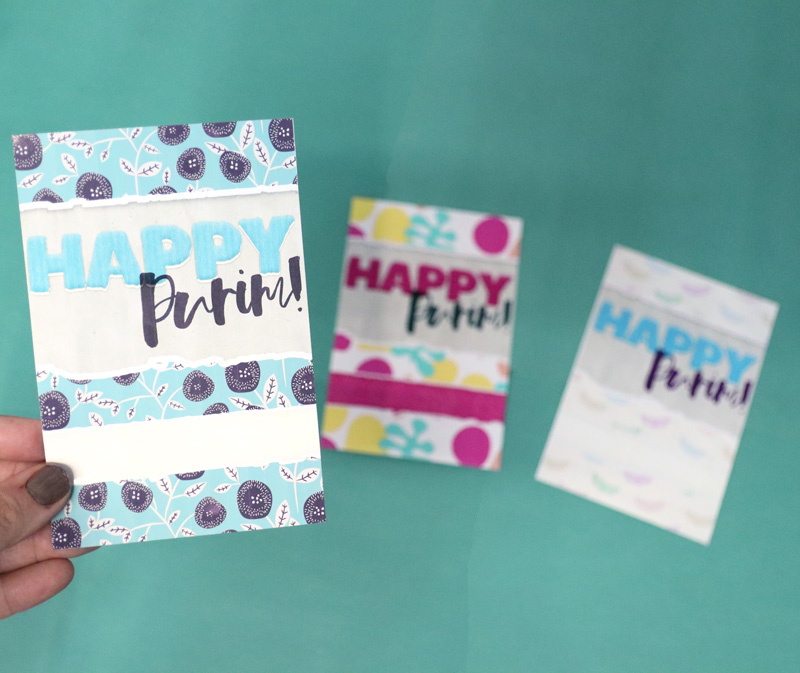 The Gold Leaf Purim Cards
These are the Purim cards that I'm using this year as labels – as demonstrated in the tutorial below. They are so elegant and pretty! I wish they'd photograph nicer – the word Happy (English card) and Purim (Hebrew card) DO show up in real life.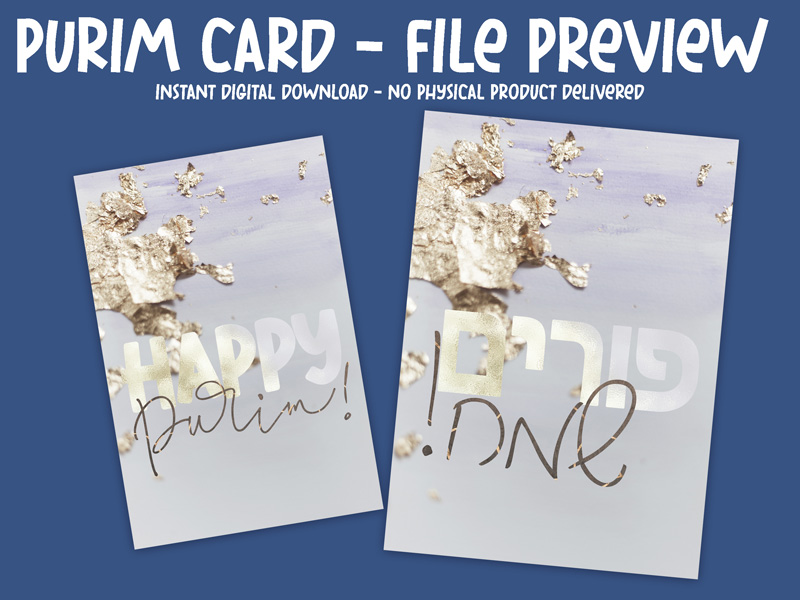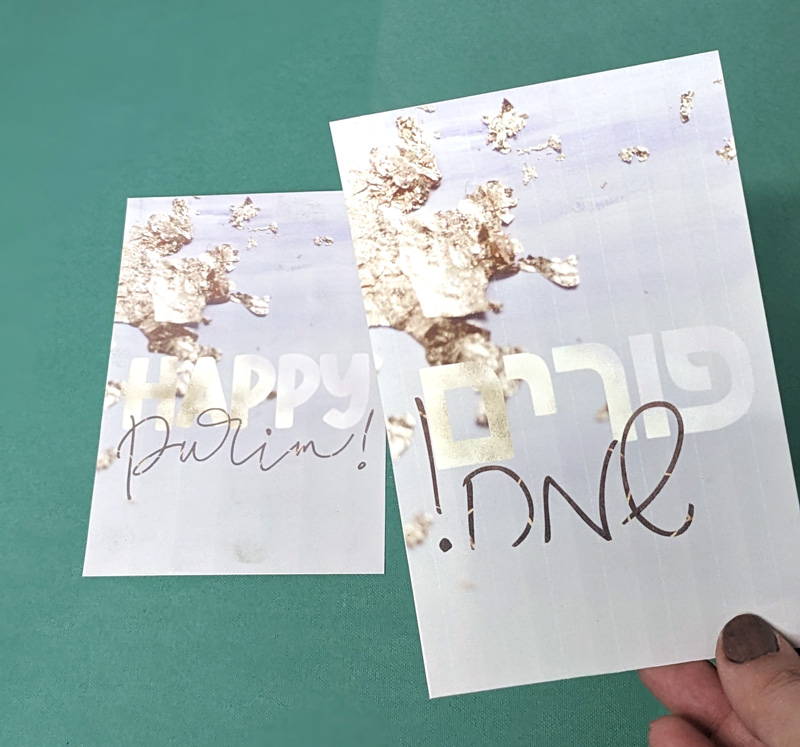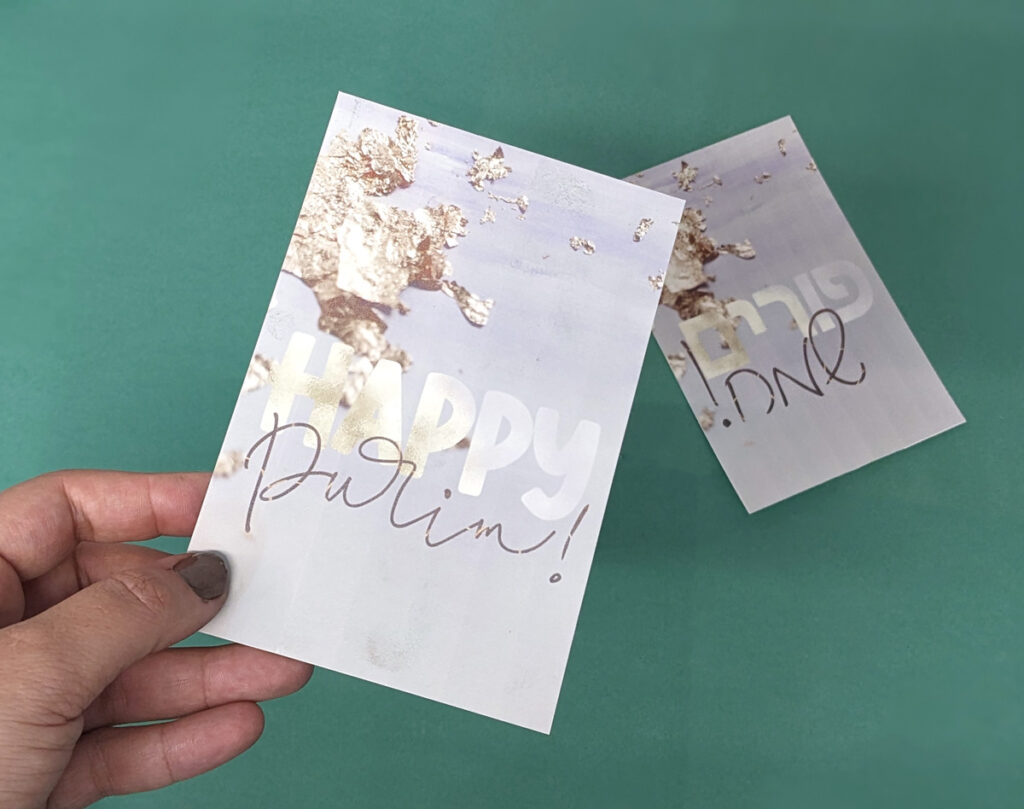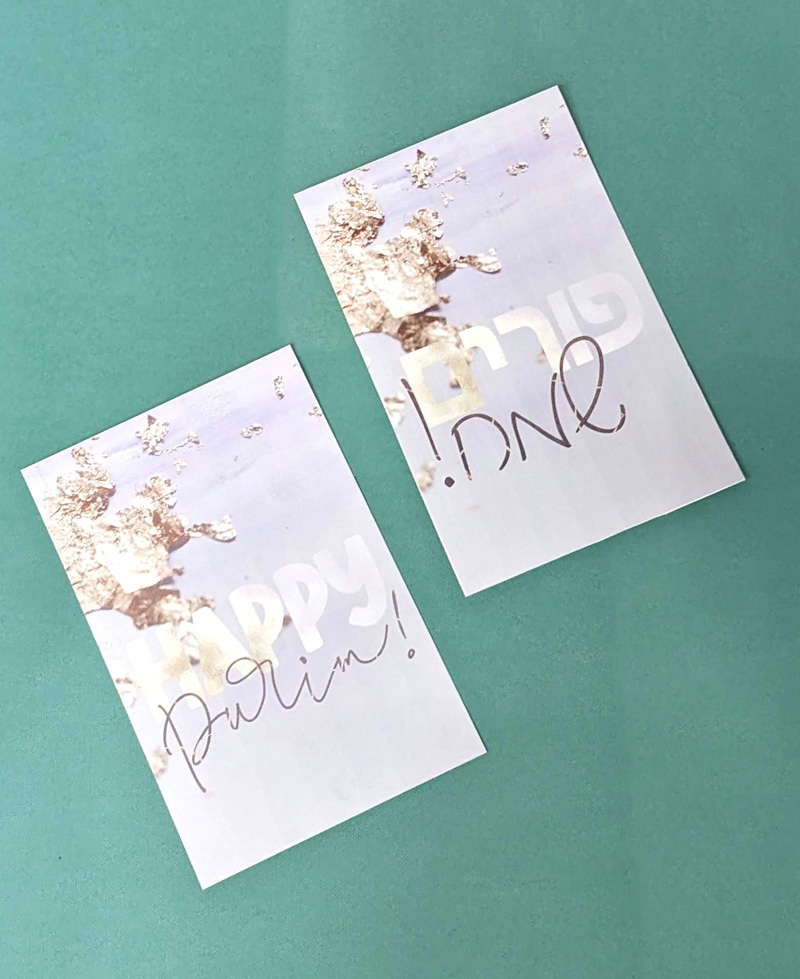 The Chalkboard Purim Cards
To be honest, I didn't love how these came out – it wasn't as I had imagined. However, since I know that many people like to do artist, teacher, and similar themes, and it works very well with those kinds of Purim themes, I decided to offer it. It also did take me the longest to design.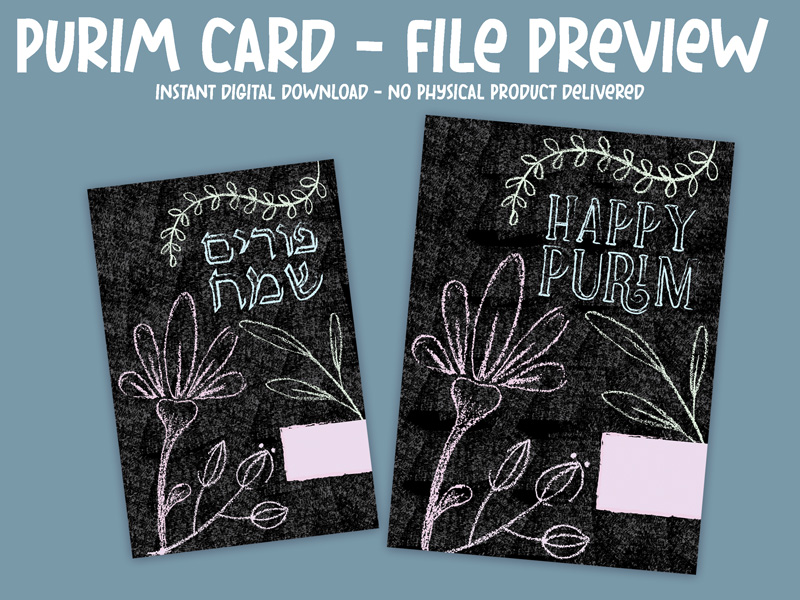 The Mishenichnas Adar Art Card
My absolute favorite card, this one contains the quote "Mishenichnas Adar Marbin Be'Simcha" – When [the Jewish month containing Purim of] Adar arrives, we increase joy. The small "from" box says "Happy Purim From" in English and the Hebrew equivalent on the Hebrew card. The quote is in Hebrew on both. The vivid watercolor background makes this really cheerful, but it's still a classy card with an upscale look.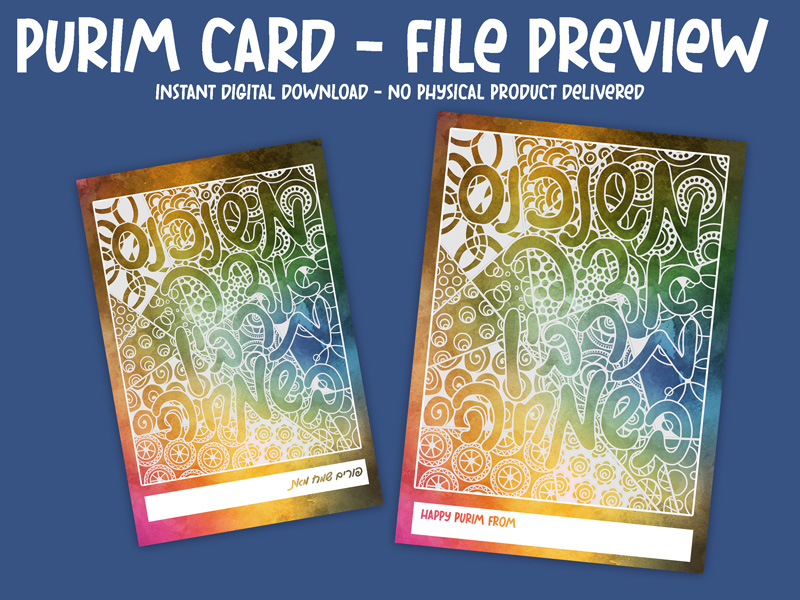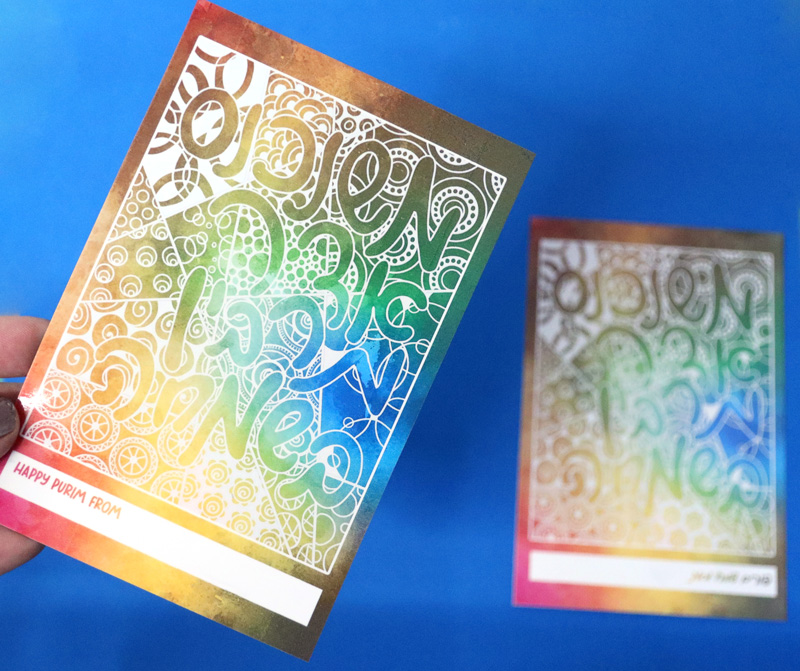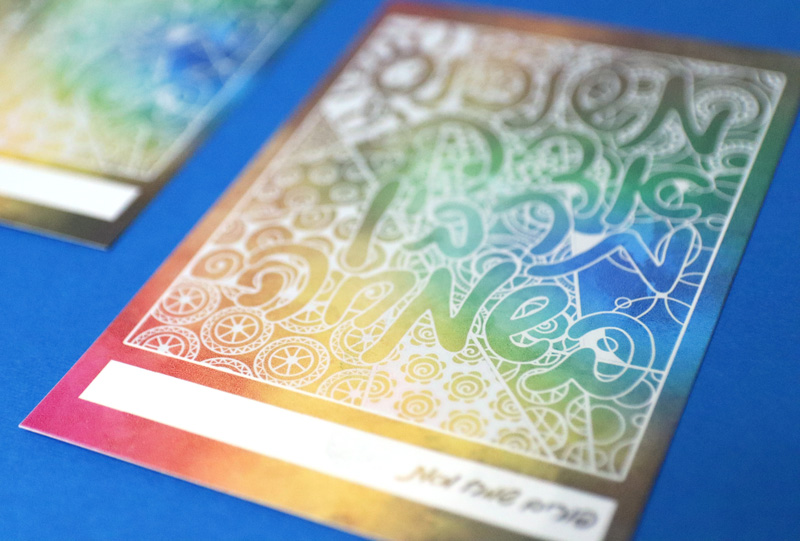 The Rainbow Mandalataschen Purim Cards with Handwritten Text
Another favorite, this one was designed with hand lettered text in both Hebrew and English on each card.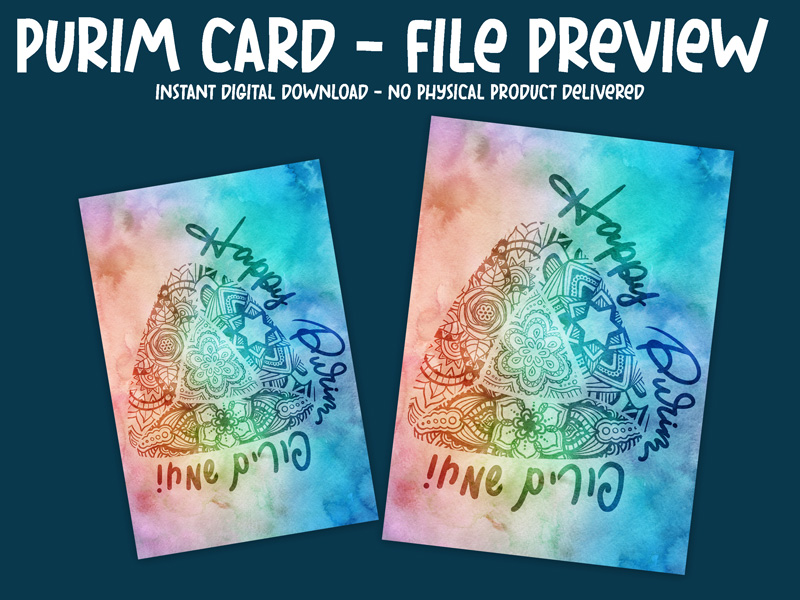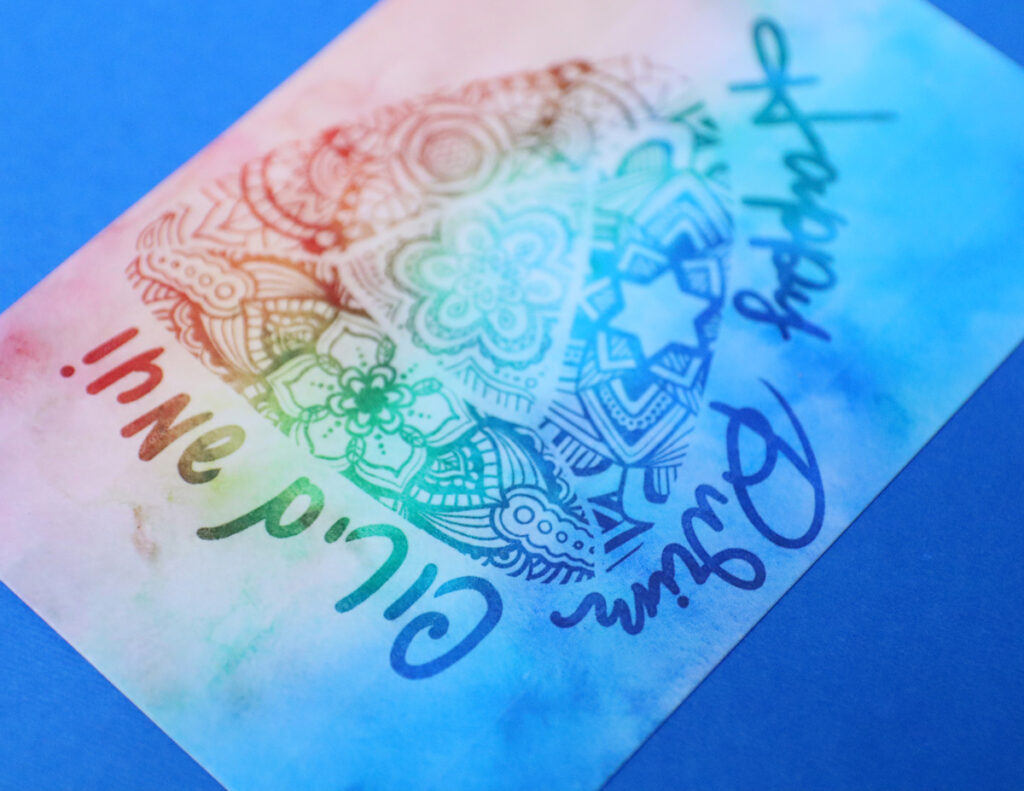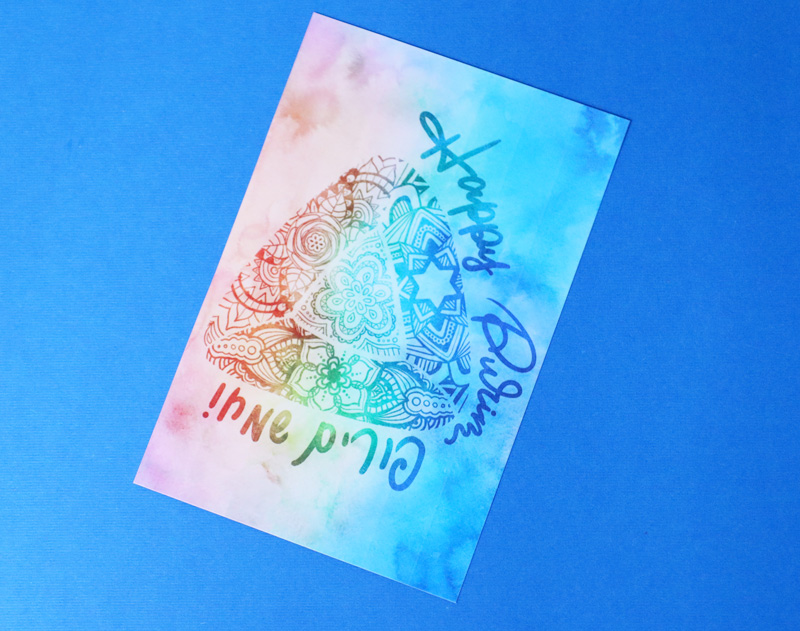 The Blue Mandalataschen
My boys had to contribute to one card. They helped me design this one, insisting on a solid blue. It's fabulous for when you want an artsy card that's more simple, classy, and will work with your color scheme.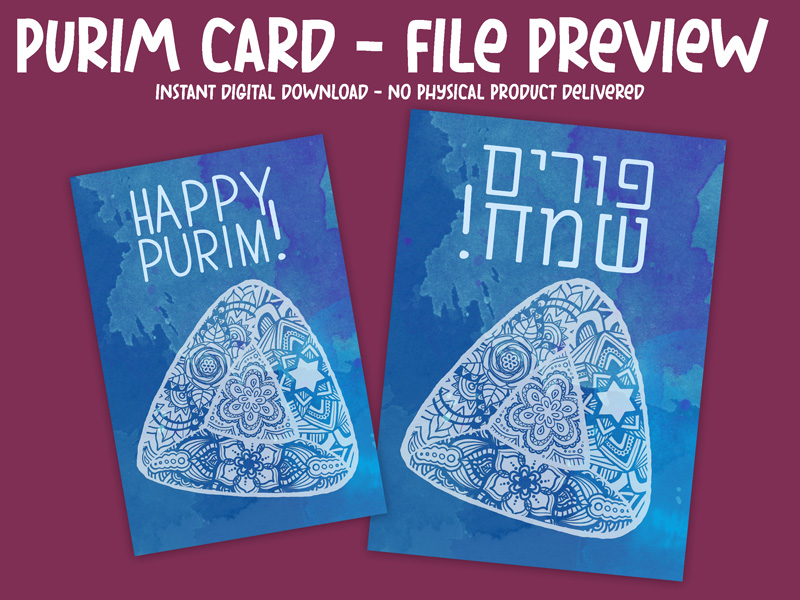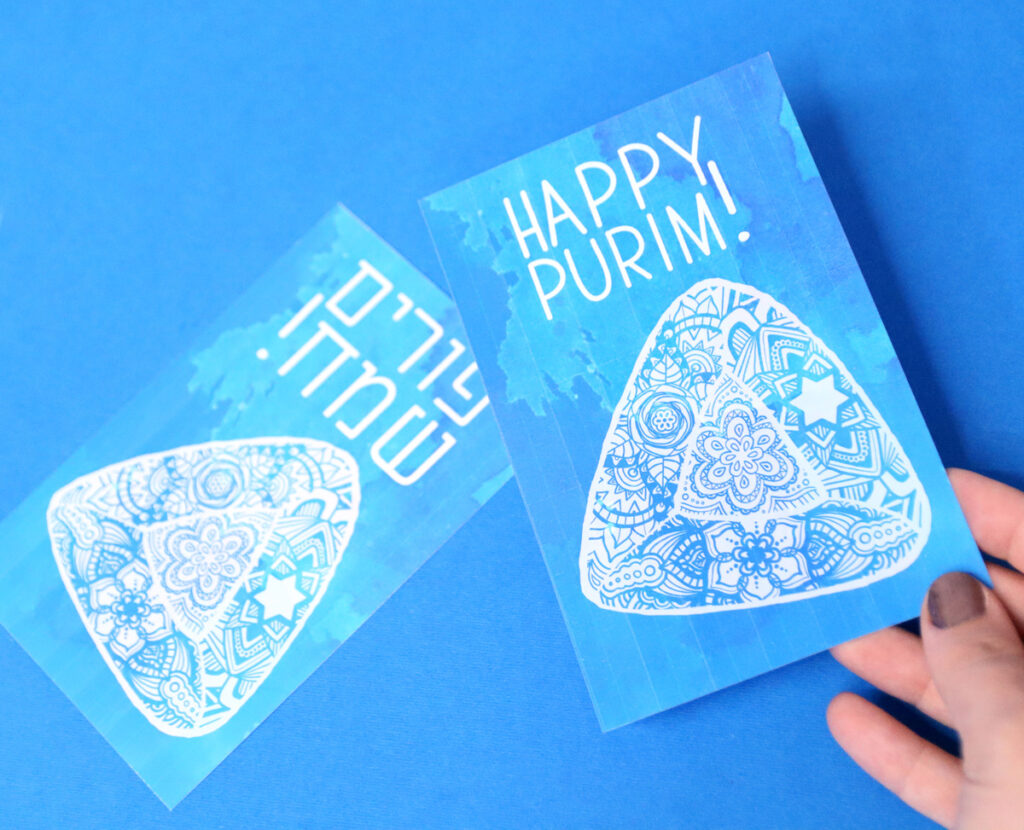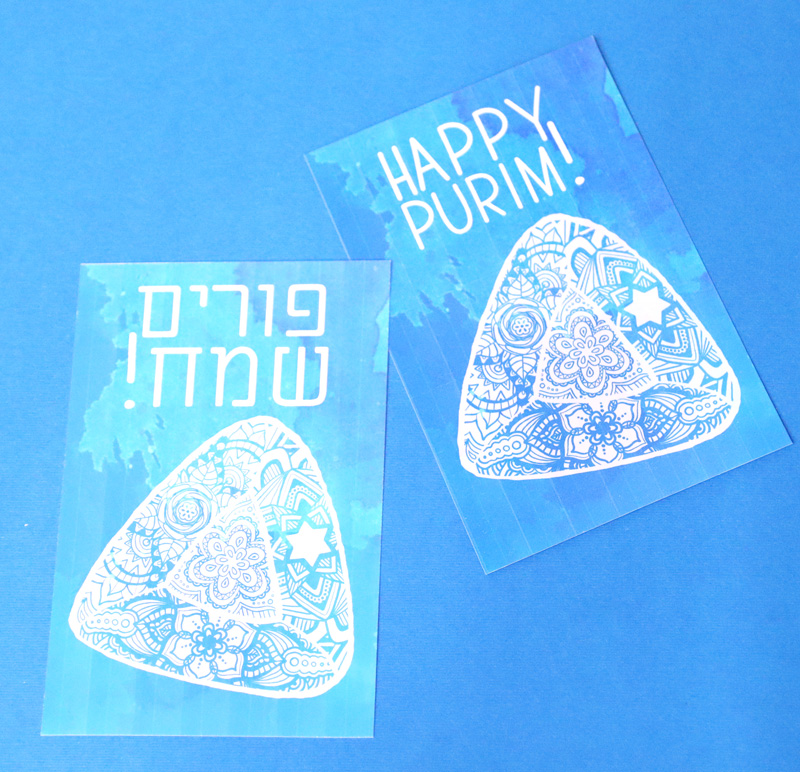 How to print Purim cards as cards, labels, or tags
You'll need
Step by step
1. To print your Purim cards, simply right click on the image in your folder, and choose "print". You may need to choose more options. Choose the size you'd like to print. While you can set the size here, I recommend using the correct size image to begin with, as they are cropped differently – the proportions are slightly different. Increase your copy count as needed.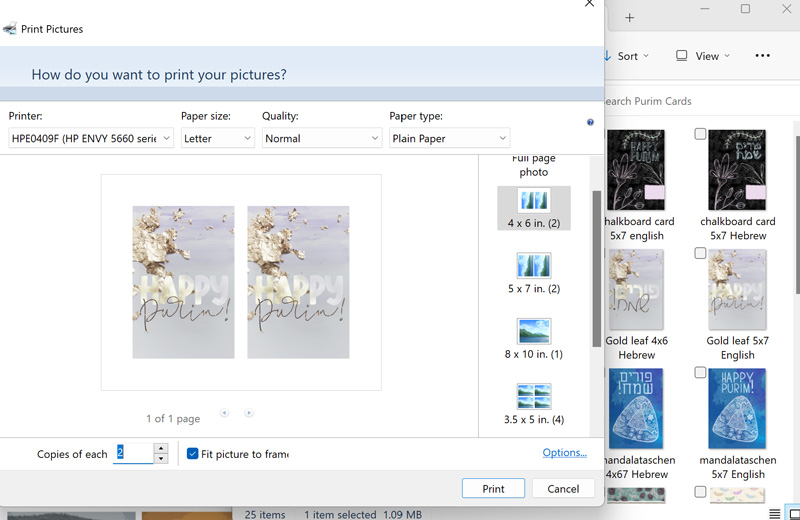 If you're printing tags or labels, choose wallet (9) instead. This will print a nice-sized but not huge label. Increase your copy count as needed.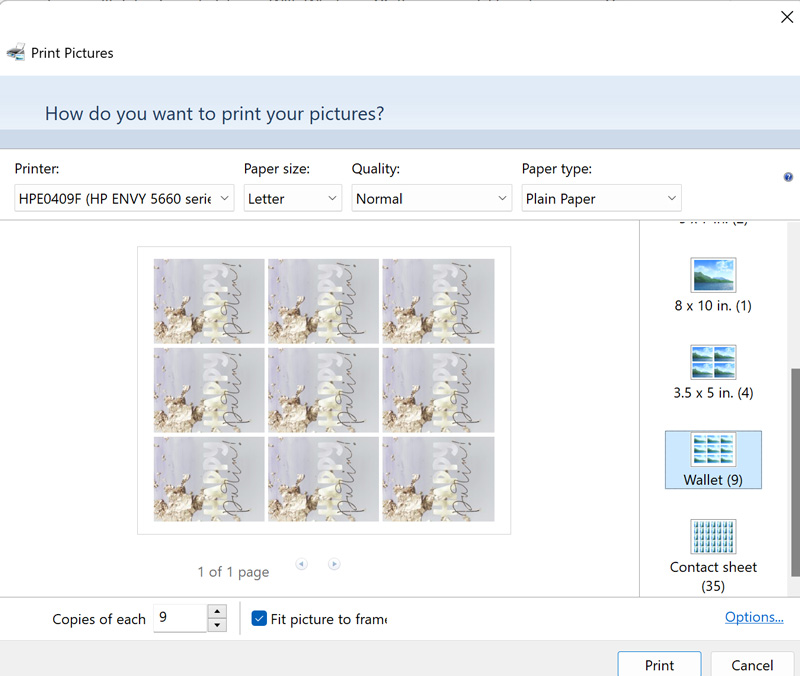 2. Print it out! Use sticker paper or printable vinyl for labels and cardstock for tags or cards.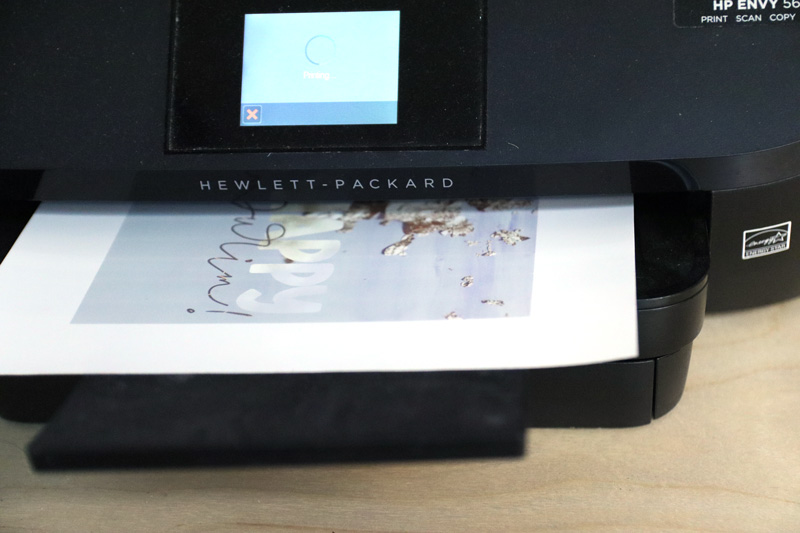 3. Use a paper trimmer to neatly cut out your cards, tags, or labels.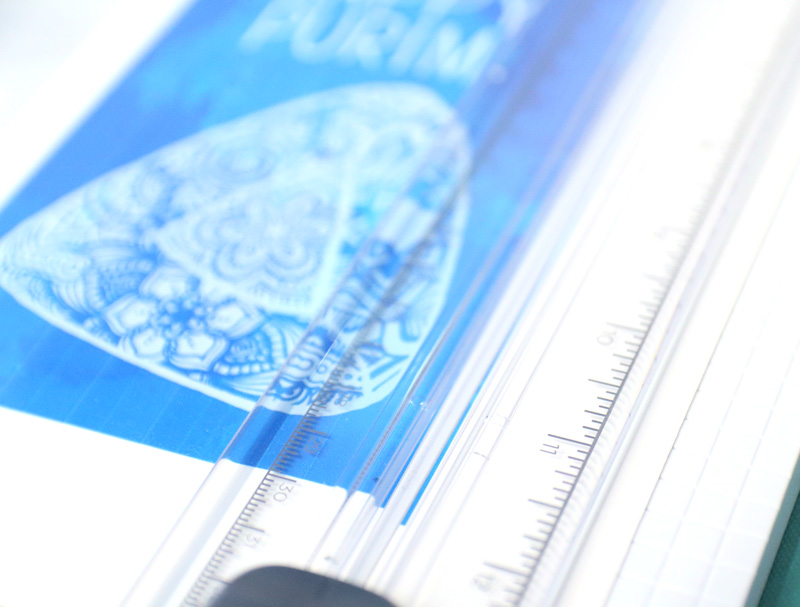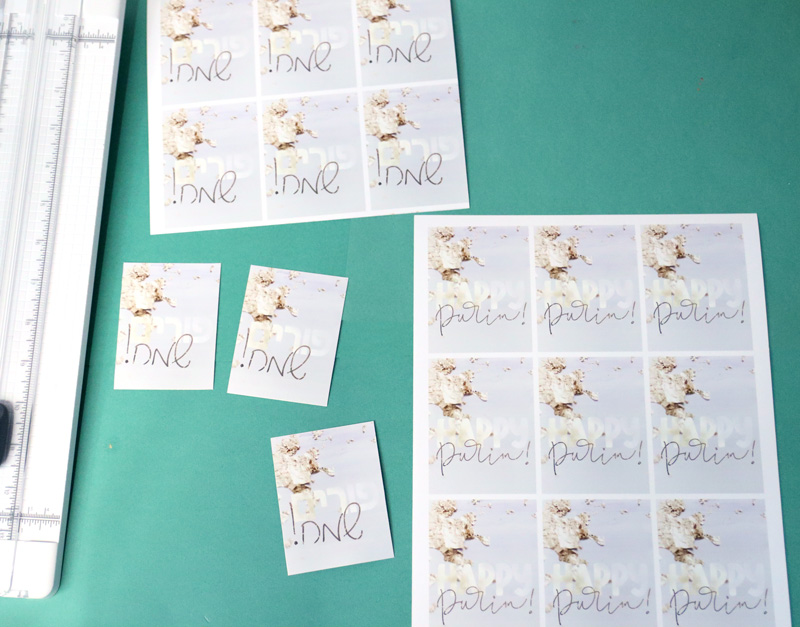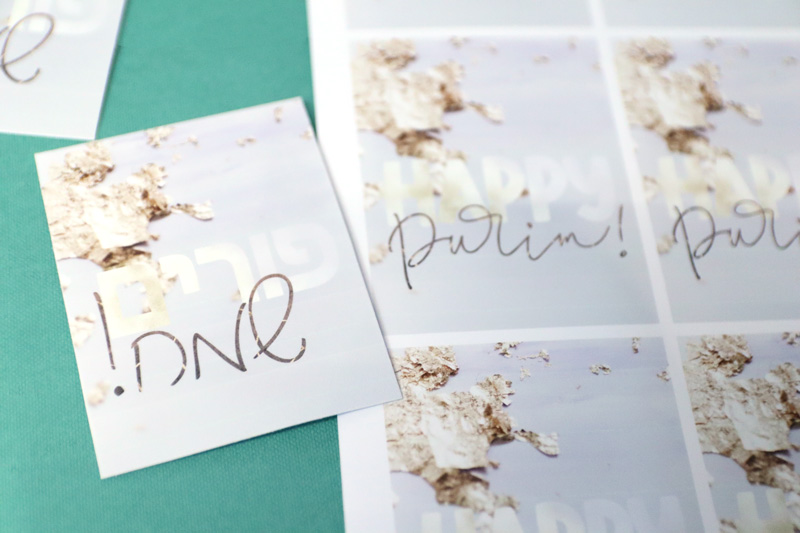 Write a message and share with friends!
For tags, simply punch a hole at the top center.
Download the free printable masks Purim cards
Download your free template! It'll arrive right in your inbox. By downloading, you're subscribing to our FREE newsletter with updates on cool printables like this, ideas to simplify Jewish life, and more. Unsubscribe at any time at the bottom my emails. I respect your privacy and the law, and won't share or sell your email address.
Your download will arrive in a ZIP folder. For information on how to "unzip" see this article. If you're having trouble with it, try again with a Gmail account, since some email providers block ZIP folders.