To help you organize a busy Purim day a little, I've designed a simple but fun Purim menu planner. Of course, Purim is only one day, but between coordinating Purim themes and running around to deliver Mishloach Manot, it's easy to forget to take care of all the details revolving around the meal. Disclosure: this post contains commissioned links.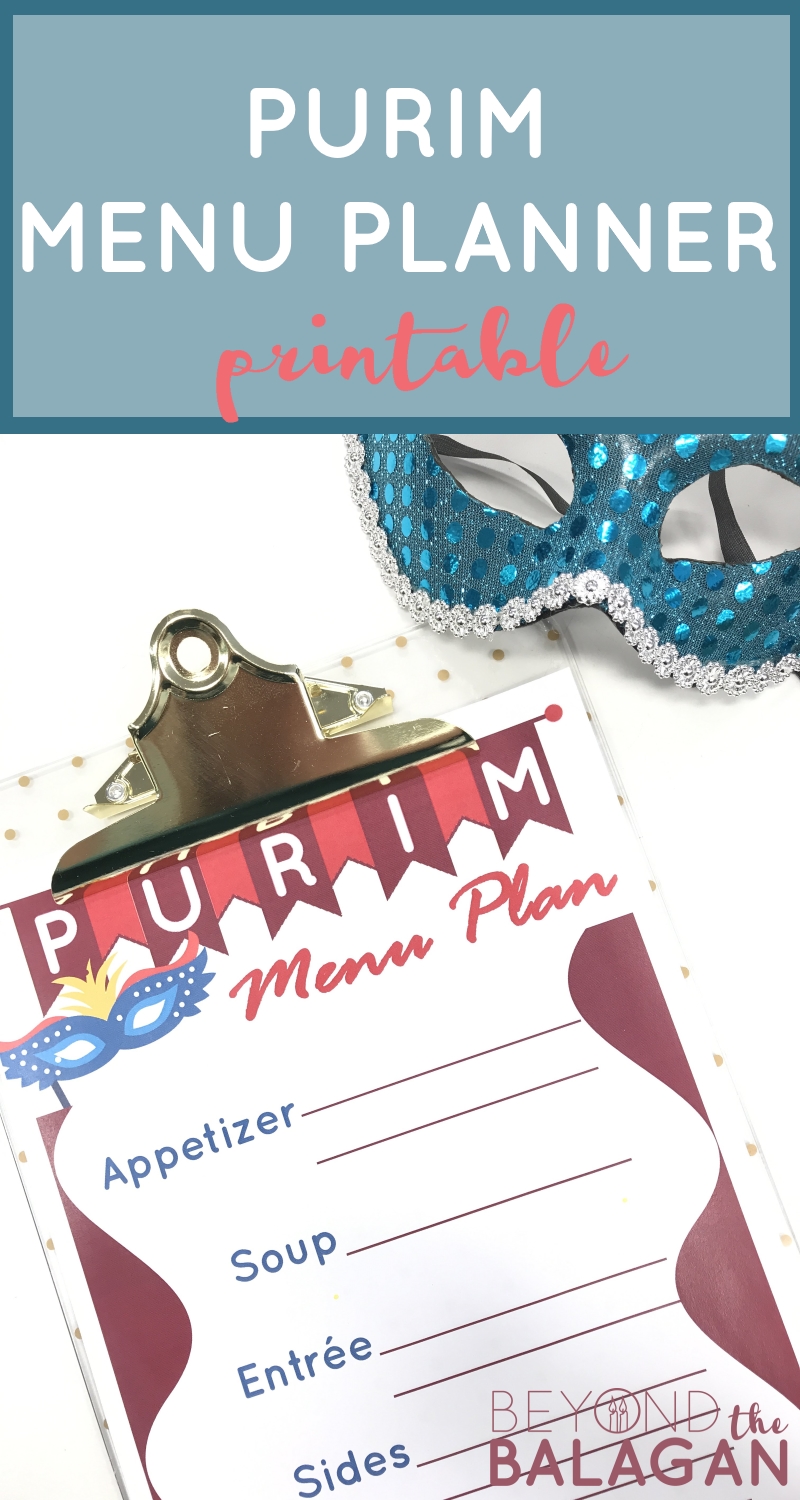 There is only one big meal on Purim day, but it is a big meal and needs to be planned accordingly. This Purim menu planner is bright, fun and easy to use. Just fill out your courses and you're all set. Everyone does things differently, so I tried to include enough lines by each course option so you have enough space for whatever you choose to make.
You can download your printable at the end of this post. Please note that my printer glitched and the menu planner did not print so accurately. The reddish colors you see in my images are actually purple as you can see in the sample below.
More important than the Purim meal though, is to plan for breakfast and lunch. During such a hectic day, it can be so easy to forget to eat proper meals and just grab nosh and junk throughout the day. Make sure that after Megillah, before you start your Mishloach Manot rounds, you and your family sit down to a proper breakfast. This can be as simple as cereal and milk with a fruit thrown in, but the act of sitting and eating will have everyone full and happy.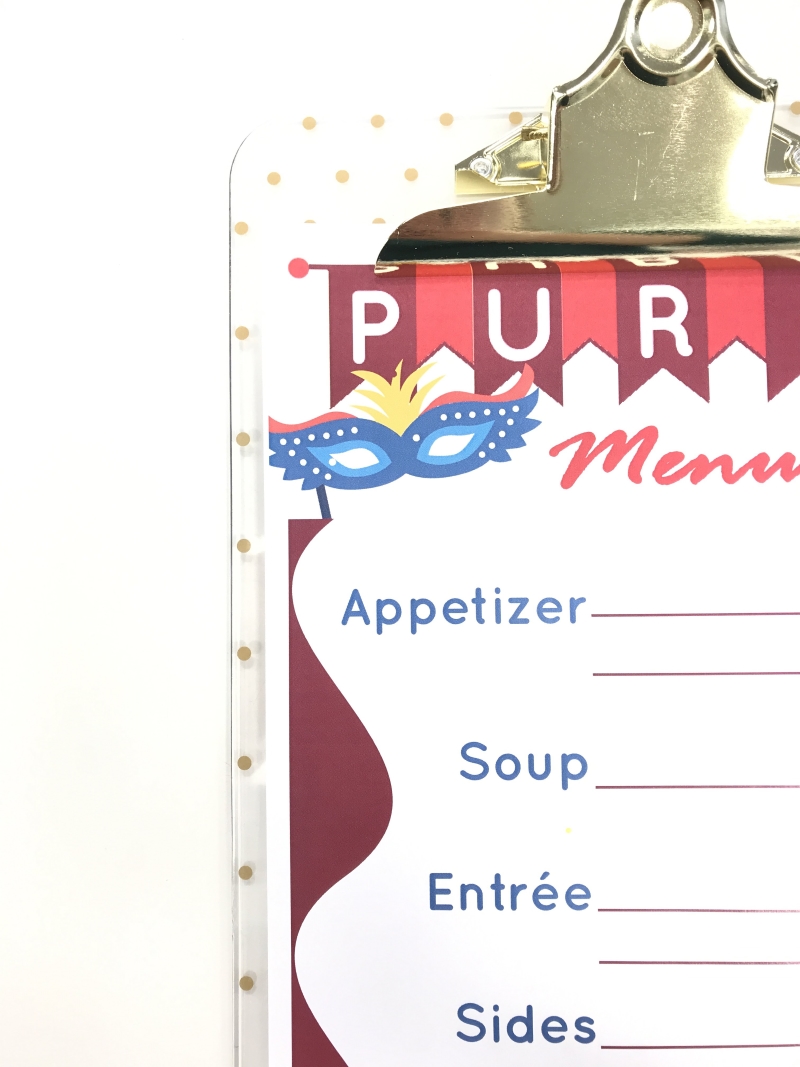 If you'll be in the car during lunch time, make some sandwiches and finger food the night before to take with you. You might get some "real food" throughout the day from friends, but you can't count on it. It also may only be enough for one person to enjoy, not the whole family.
If you're not sure which foods to include on your Purim menu planner, I've rounded up some delicious ideas!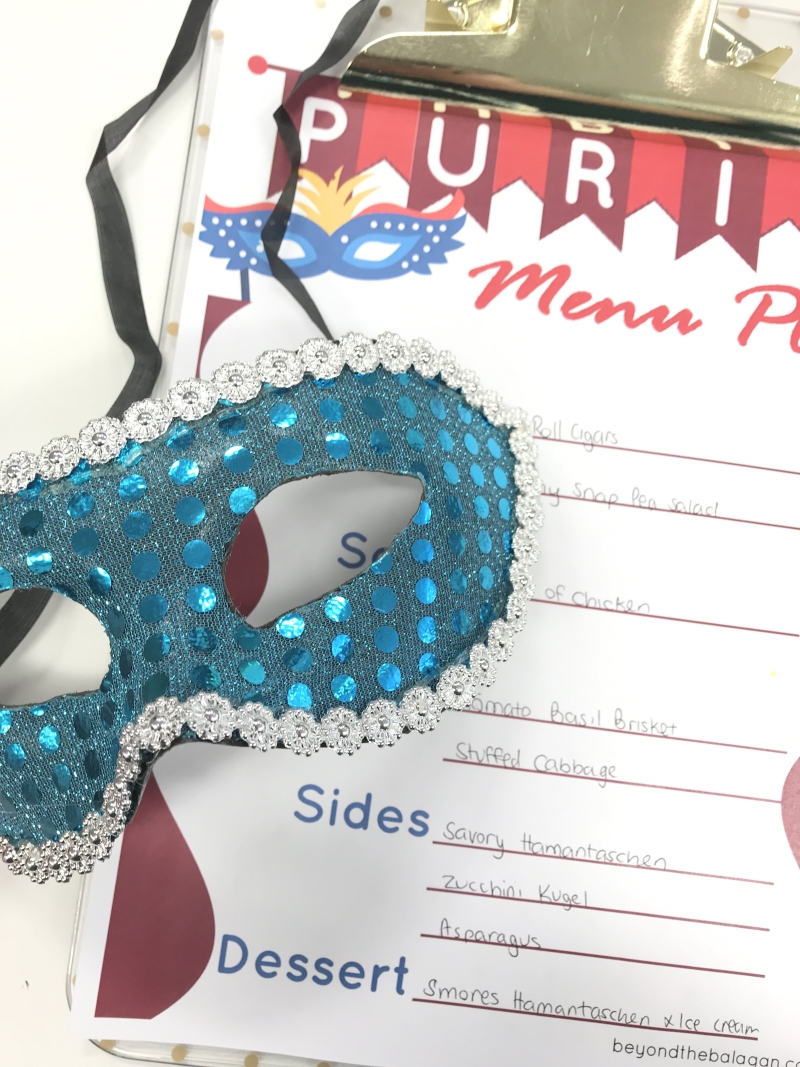 For an appetizer, I like to go with something that just whets the appetite, like my delicious Crunchy Snow Pea Salad or these easy and delicious Veggie Kabobs from Kosher in the Kitch that display beautifully.
For a main dish, this Tomato Basil Brisket from Overtime Cook is one of my all time favorite meat recipes. It does have a few steps but the end result is so worth it.
Some of my favorite sides include these yummy Sticky Pastrami Twists or Busy in Brooklyn's famous Drunken Hasselback Salami.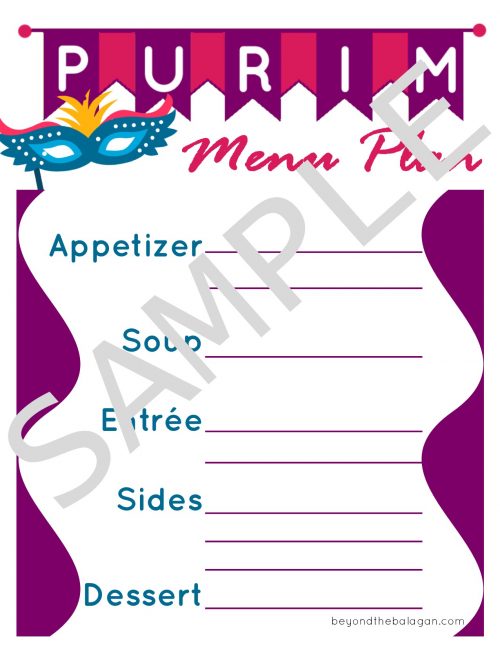 You can download the Purim Menu Planner below (donations are optional, just enter $0 as the price):
What sort of delicious foods will you include on your Purim Menu Planner? Let us know in the comments!
---
Want to make your Purim prep easier, your feast table more beautiful, and your kids' happier and busier? Get the printable Purim bundle today for 75% off the full value! It's full of table decor planners, kids' crafts, coloring pages, and more as well as mishloach manot labels
---