Everyone's got their own list of best kosher cookbooks; the ones you turn to over and over again when cooking for your family. Download my free Menu Inspiration Brain Dump to jot down menu ideas as you peruse your favorite recipes. This post contains affiliate links.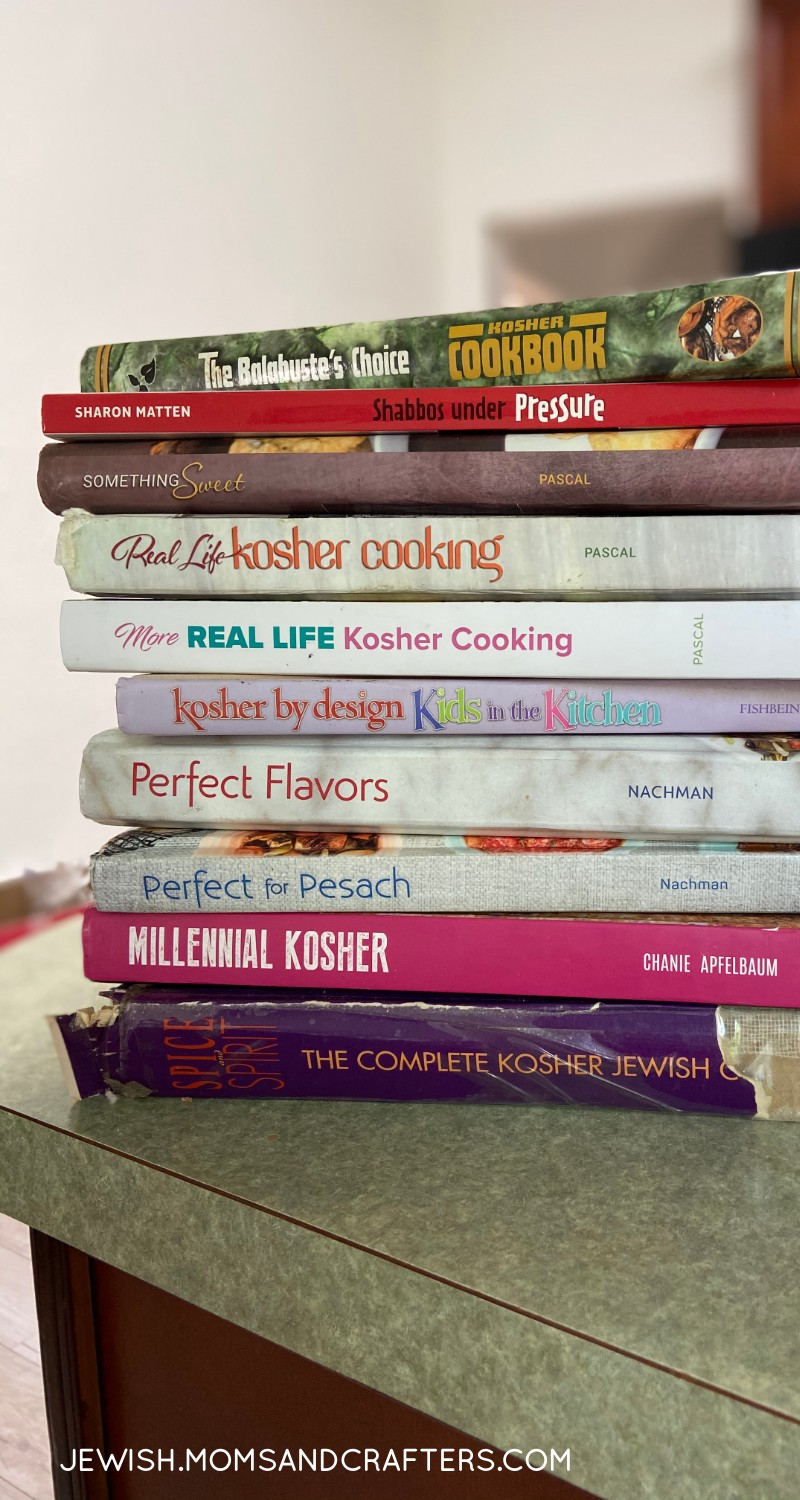 Some people obsess over shoes, or handbags, or makeup. My obsession? Yup, kosher cookbooks. I love a good cookbook. I love the art in the images and the little personal tidbits that I read in the recipe blurbs. I even love reading the dedication page. So much goes into writing a cookbook, it's like reading a part of the author's soul. Especially when it comes to food.
When I buy kosher cookbooks, it's a form of self care. I save it to read during a quiet night, cozy on the couch. I'll read it multiple times, with a pad of sticky page markers before I choose a recipe to kick-start cooking from it. When I was younger, single and before I had children, I would read novels. But when I started having children, I didn't have time to dive deep into a book and not be able to put it down for hours. And slowly, as my kitchen skills improved, cookbooks became my new novels. I can read them over and over again and never get bored. My favorite part of menu planning for a Yom Tov is sitting down with my stack of cookbooks and going through every single recipe until I've composed the perfect menu.
The list is below is MY favorite kosher cookbooks. You may have your own list of favorites- I'd love to hear which kosher cookbooks are your most used. These are my favorites based mainly on usability- how often I use them and how many recipes across the board work for me and my family.
There are a plethora of incredible kosher cookbooks out there, and many I have not yet gotten my hands on, which means that they may be my favorite one day, but I won't include anything on the list that I don't own and love, with dog-eared and food-spattered pages.
My Favorite Kosher Cookbooks
This was the first cookbook (but not the last) that I borrowed (stole?) from my mother's kitchen. It's the classic kosher cookbook that taught me and so many others how to cook the basics. I still refer back to it when I'm looking for a simple, traditional recipe to feed my family. It's no frills, no pictures, just solid, dependable recipes that work every time. There are also excellent guidelines (with drawings!) to keeping kosher throughout the book.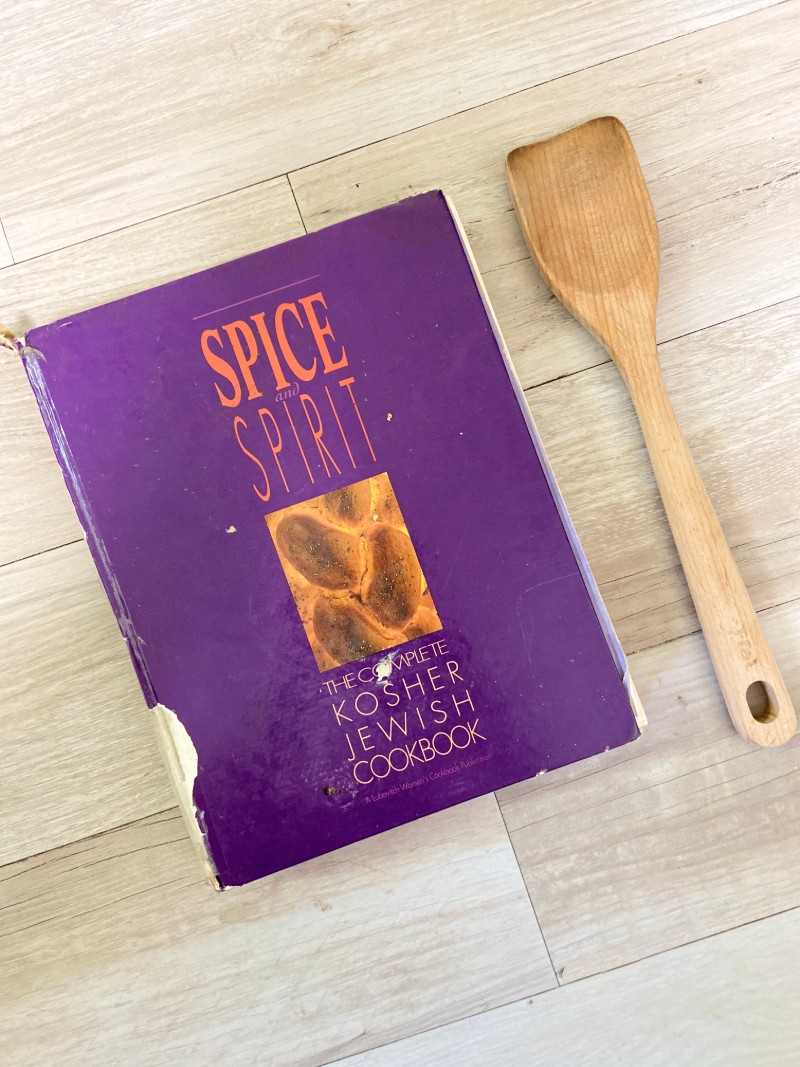 I also love the Spice and Spirit Kosher for Passover cookbook. My family is very limited in our what we can eat on Pesach, as per our traditions. This cookbook has been a godsend in helping me cook delicious meals with very little to work with.
When I used to attempt to bake in my teens, I would flop even the simplest of Duncan Hines cakes. As in, where the instructions had you add in a total of THREE ingredients, I would inevitably forget one. In general, I like the art of cooking a lot more than the science of baking. But Something Sweet is the dessert cookbook that literally taught me how to bake. Miriam Pascal's first cookbook has easy-to-follow recipes that come out finger-licking delicious every single time.
I may as well tell you right now, all three of Miriam Pascal's cookbooks are on this list. Her cooking style is very similar to mine and about 95% of the recipes in her books and on her website overtimecook.com are recipes that I turn to time and time again with excellent results.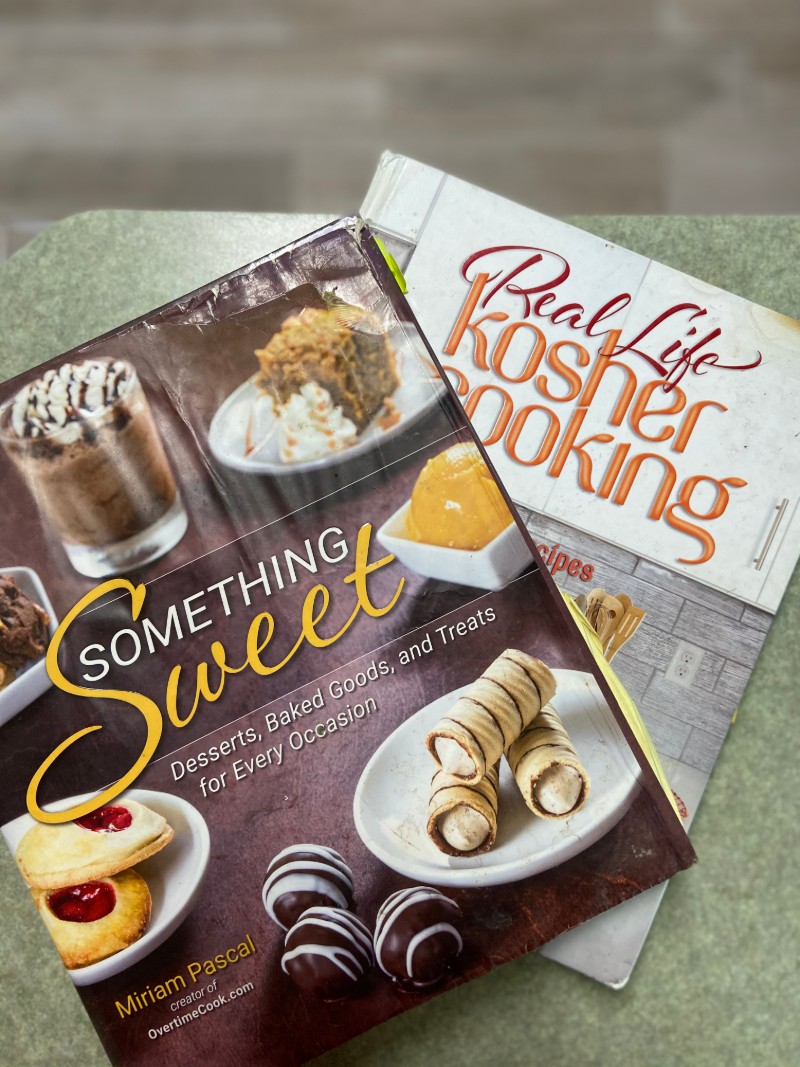 The title says it all. There has yet to be a cookbook written by Miriam that I don't like. They are worth every penny!
While this is technically a Pesach cookbook, I actually use this more frequently year-round than during Pesach itself. There is a handy guide in the back of the book for switching recipes to year-round, but even in their Pesachdig version, the recipes are consistent and yummy! This past Pesach, I was flipping through the cookbook for inspiration, and I came across a recipe for ribs that looked promising, but used ingredients that my family doesn't use on Pesach. Pesach ended on a Thursday night, and after turning my kitchen back to chametz, I defrosted the ribs I had in my freezer. Friday morning, I popped a fully Pesachdig recipe into my oven, and it made for a wonderful Friday night meal.
When it comes to kosher cookbooks, when I like an author, I stick with the author. Naomi Nachman's second cookbook is full of mouthwatering recipes that were inspired by her world travels- but they don't use exotic hard-to-find ingredients! These recipes are tasty and simple to make, and many of them have become staples every week in my home.
Before I became a mother, I worried that I would hate baking cookies with my kids. And I do. Probably because I don't love baking myself. But I absolutely love cooking with them and teaching them how to cook on my own. I love teaching them how to create flavor profiles, how to put a whole, balanced meal together and how to read a recipe. We have a bunch of kosher cookbooks specifically for kids but this one is my favorite. My kids love flipping through it to create a menu for supper and as their reading skills get better, so do their cooking skills. The instructions for each recipe are thorough; the author assumes that the kids cooking are beginners and she details every step with accuracy. Of course, the food is always flavorful as well.
If you're in the market for gorgeous kosher cookbooks with trendy recipes that also taste fantastic, this is the cookbook for you. It's bright and beautiful to read, cover-to-cover. Additionally, the recipes are so interesting, with modern appeal, yet simple to execute. It's not necessarily the cookbook I turn to for my everyday, every Shabbos recipes, but it's definitely the go-to when I want to impress someone or have something new and different to serve.
This cookbook is fairly new on the market, but it is the first one of its kind; a kosher cookbook written specifically for your Instant Pot. If you've read some previous blog posts of mine, you know that I absolutely love my Instant Pot. I have 2, one for year-round and one for Pesach, and they are a huge asset to me in my kitchen. I haven't tried all the recipes in this cookbook yet, but I have used many as inspiration for my own concoctions. I'm also finding it very helpful as a guide on how to utilize your Instant Pot to its maximum capabilities.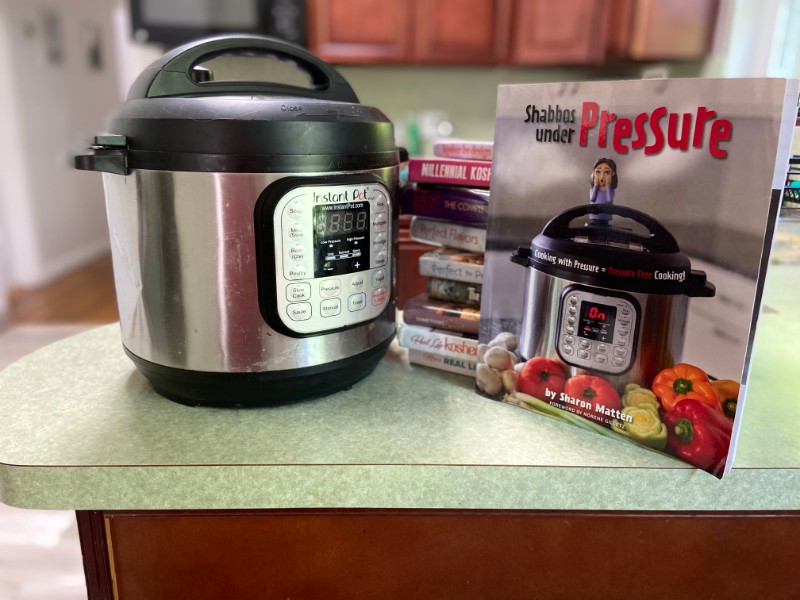 Of all the kosher cookbooks on this list, this one is the most nostalgic for me. It was the first cookbook I received as a gift when I was a new bride and I cooked many, many recipes from it when we started off our marriage in Israel. The pictures are few and outdated and the recipes are simple and traditional. But they are practical recipes, easy to follow and come out tasting like the comfort food your mother used to make when you were a child.
Above, I mentioned preferring cooking over baking, because I can be more creative – and the recipes I play around with in the kitchen draw so much inspiration from the ten kosher cookbooks I've listed.
What are YOUR favorite kosher cookbooks?