I'm always looking for new lunch ideas for work. In the past, I would not plan my lunches well and ended up either forgoing lunch or overspending on takeout. This lunch prep plan has completely changed things around for me. Disclosure: this post contains commissioned links.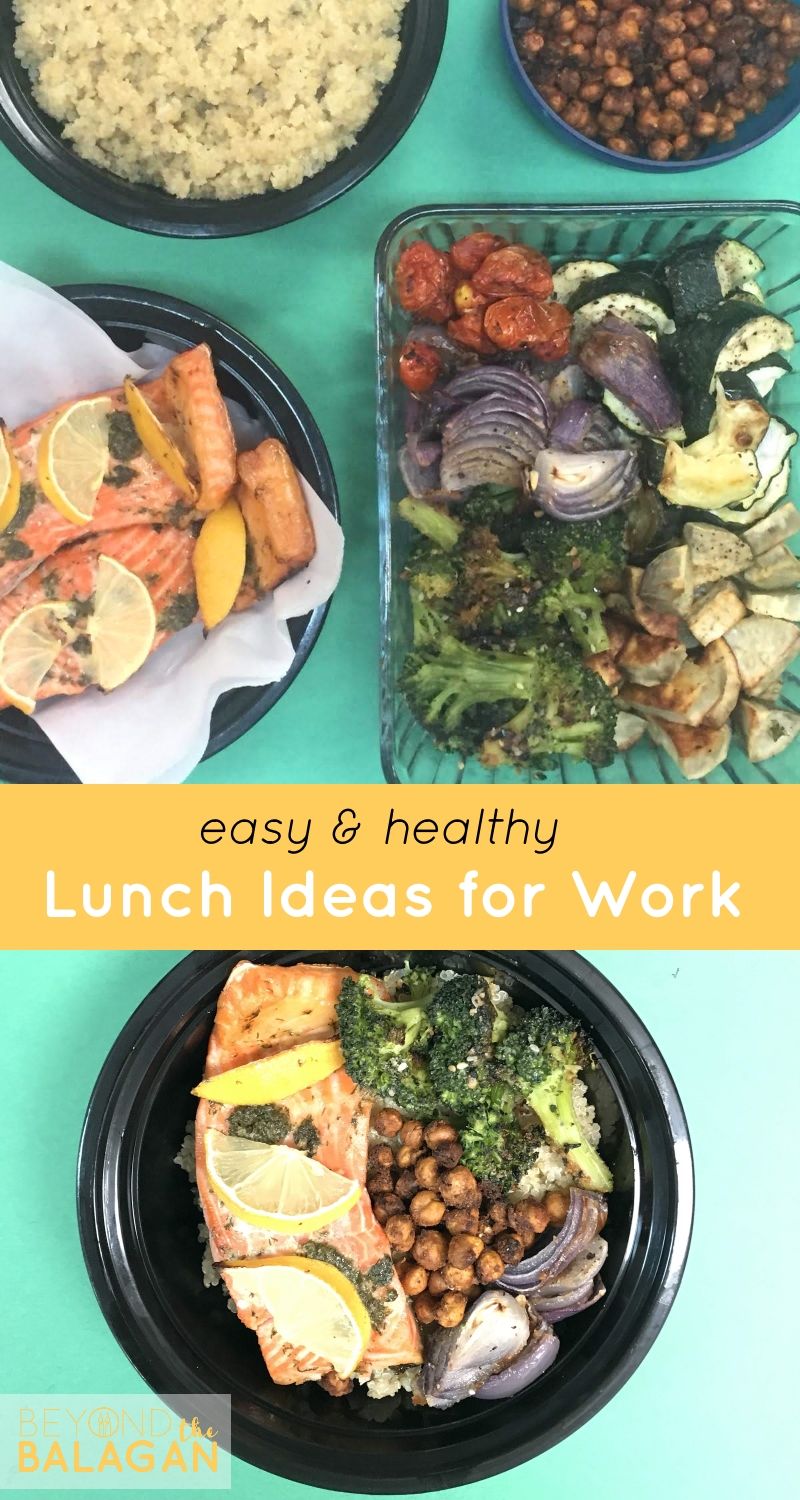 After years of trying to pack myself a decent lunch for work and usually failing, I finally came up with a sensible plan that works. The best part about these lunch ideas for work is that they're A. healthy and easy to assemble and B. require minimal work- if you do it the way I describe below.
There are inspiring meal prep plans all over social media, but the problem is, those are typically geared for dinner, and for a family at that. I decided to come up with my own kind of meal prep meal, but for only one or two people (myself and my husband, occasionally), and specifically for lunches. I wanted food that was filling, healthful and that had just enough variety that I wouldn't get bored. Because I HATE when I get bored of a favorite meal.
Personally, I like to take an item from each section below and create lunch bowls. I start with my base, add a protein, a vegetable or two and a topping. Occasionally, I'll add a dressing, but I prefer to season each item individually when I prepare it and then allow the flavors to meld together in the bowl. While I typically prepare these lunch bowls "macro bowl" style, all the components below would do really well in a wrap as well, if you'd prefer.

All the items below can be made all at once, on Sunday (or whatever day works best for you). If stored properly, I've found that everything below will last at least 5 days in the fridge, which gives you a week worth of lunch ideas for work. Storage is important. While I take each lunch to work in a plastic, disposable container, the food each gets stored individually in glass containers. These keep the food freshest for longest, without any unwanted flavors (i.e. from an aluminum pan) mixing into my food.
I generally spend less than an hour on Sundays preparing these lunches. All the veggies get roasted at once on a large sheet pan– as pictured below, I don't mix the items, I just keep them separate and season them each individually.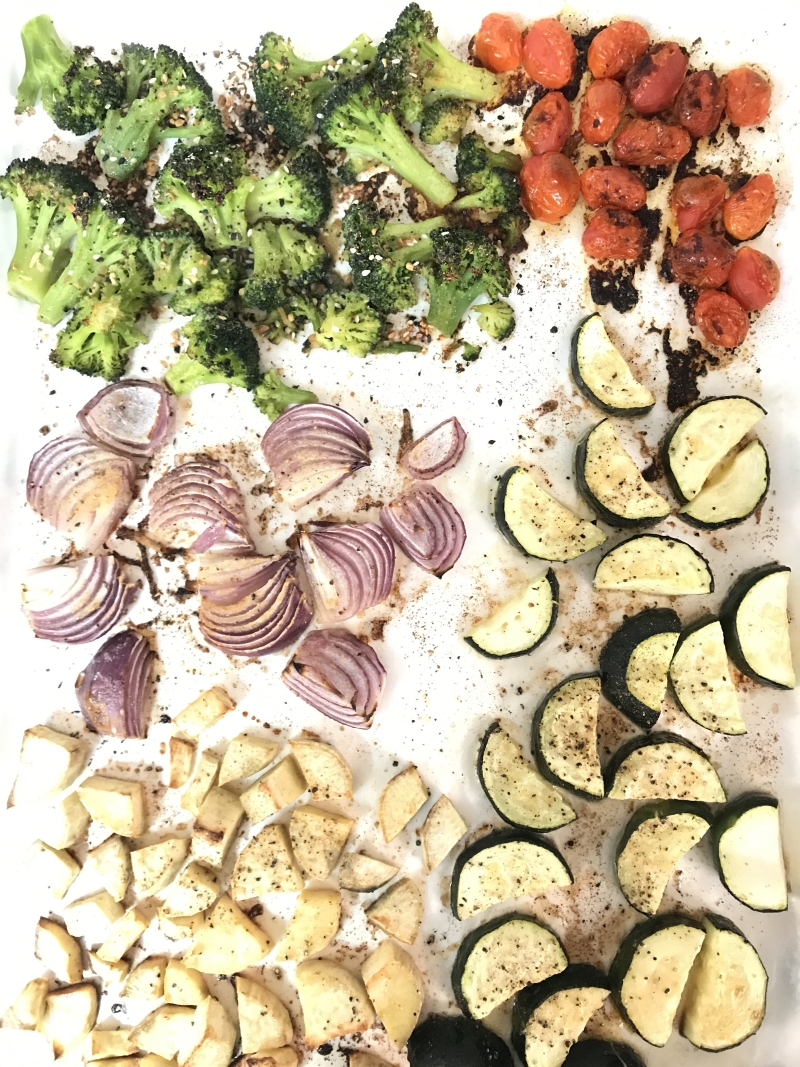 While the vegetables cook, I prepare my base (often a grain) and proteins- I grill chicken, bake salmon, prepare tuna, cook quinoa, etc. I usually prepare two proteins and two lunch bowl bases per week and switch it up every day. The toppings are easy. My favorite is roasted chickpeas which can cook with the vegetables. If you're adding nuts or seeds and dressing, preparing those should take you less than 5 minutes.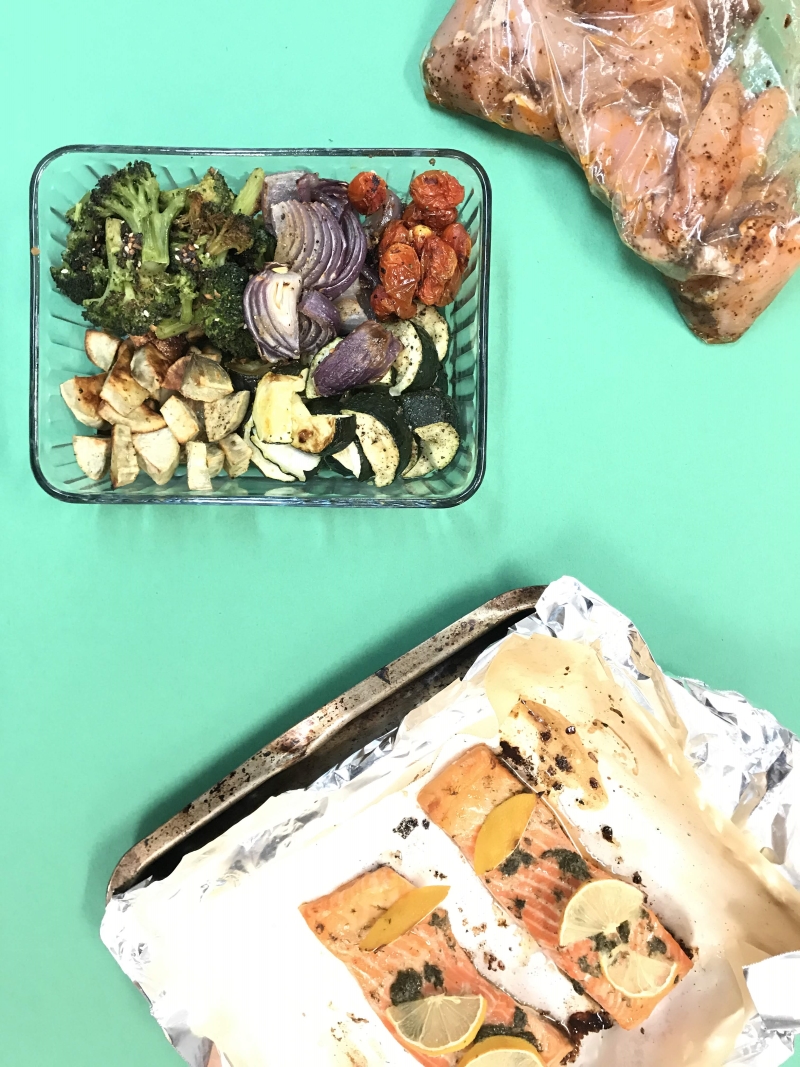 It's important to note that I do NOT make everything below every single week. I pick a few items from each list, prepare it and refrigerate, and then, every morning, assemble my lunch bowl with the various components. I make just enough that every day is a little different.
Lunch Ideas for Work
Lunch Bowl Base Ideas
Spaghetti Squash (I find it easiest to prepare this in my Instant Pot)
Zoodles
Quinoa (my favorite!)
Farro
Brown Rice
Lunch Bowl Protein Ideas
Baked salmon (you can even season a couple of pieces in 2 or 3 different ways and bake them all at once in the same pan)
Grilled chicken
Tuna
Sliced turkey
Lunch Bowl Vegetable Ideas
Broccoli (roasted or fresh)
Sweet potatoes (roasted)
Butternut squash (roasted)
Shredded carrots
Sugar snap peas
Red onion (raw, roasted or pickled)
Roasted Cauliflower
Red cabbage
Roasted zucchini
Cherry tomatoes (raw or roasted)
Leaves/greens of choice (spinach, kale, romaine lettuce, arugula, etc.)
Lunch Bowl Topping Ideas
Roasted chickpeas
Avocado
Nuts
Sunflower seeds
Your favorite salad dressing
If you're not in the mood of making a lunch bowl or wrap, you can also make a big pot of soup for the week, and take some in a thermos every day for work- an especially comforting lunch in the colder months.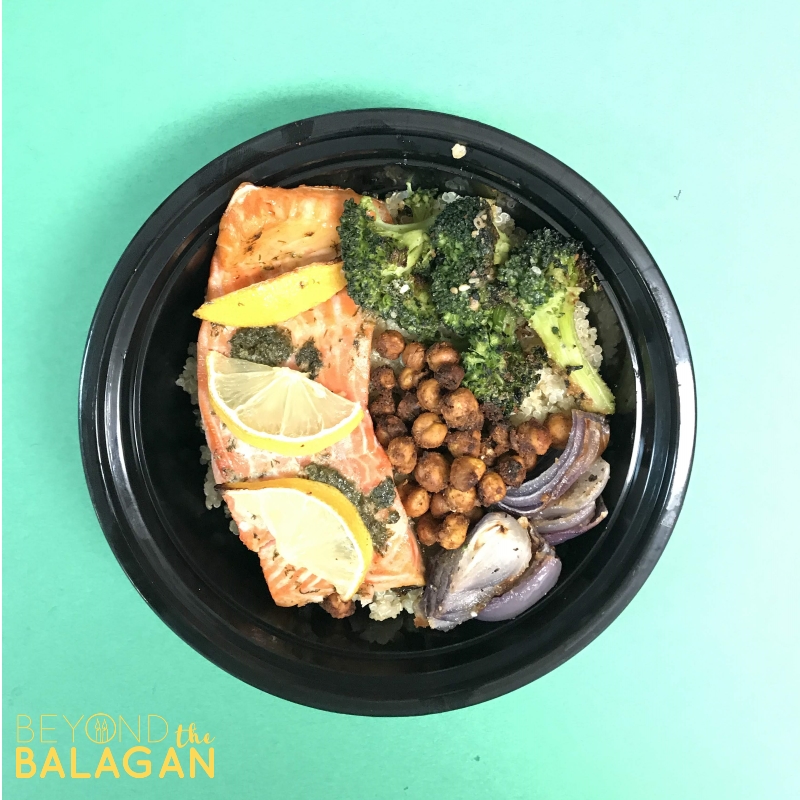 What do you typically take for lunch to work? Do you buy lunch often? Comment below!