This fun Har Sinai craft is so easy and make a fabulous activity for kids ages tween and up! When you're done, you might want to check out this Torah Aleph Bet craft for preschoolers too. This post contains affiliate links.
---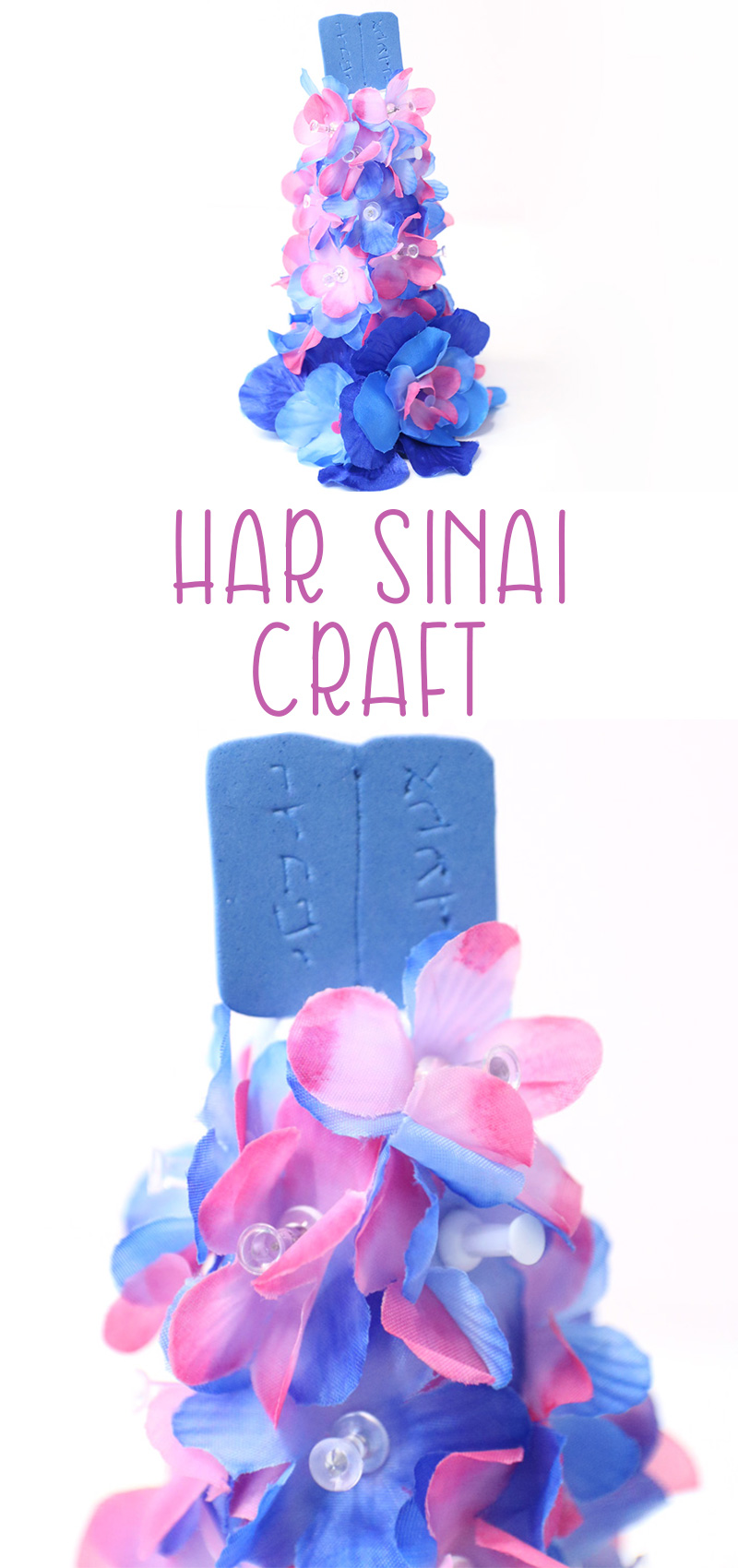 Often when working on craft ideas for different holidays – in this case Shavuot – I end up at the Dollar Tree, hunting down inspiration.
While I've purchased leis for crafting in the past, I never did much. Then, I passed the display of leis this year, and the colors really caught me. These weren't those accordion plastic leis. These were vivid fabric flower leis with full flower shapes.
I knew I had to incorporate this into a fun Shavuot craft – especially since they are sold seasonally at the right time of year! Tip: if you can't get it in-store and don't need it in bulk, try these instead!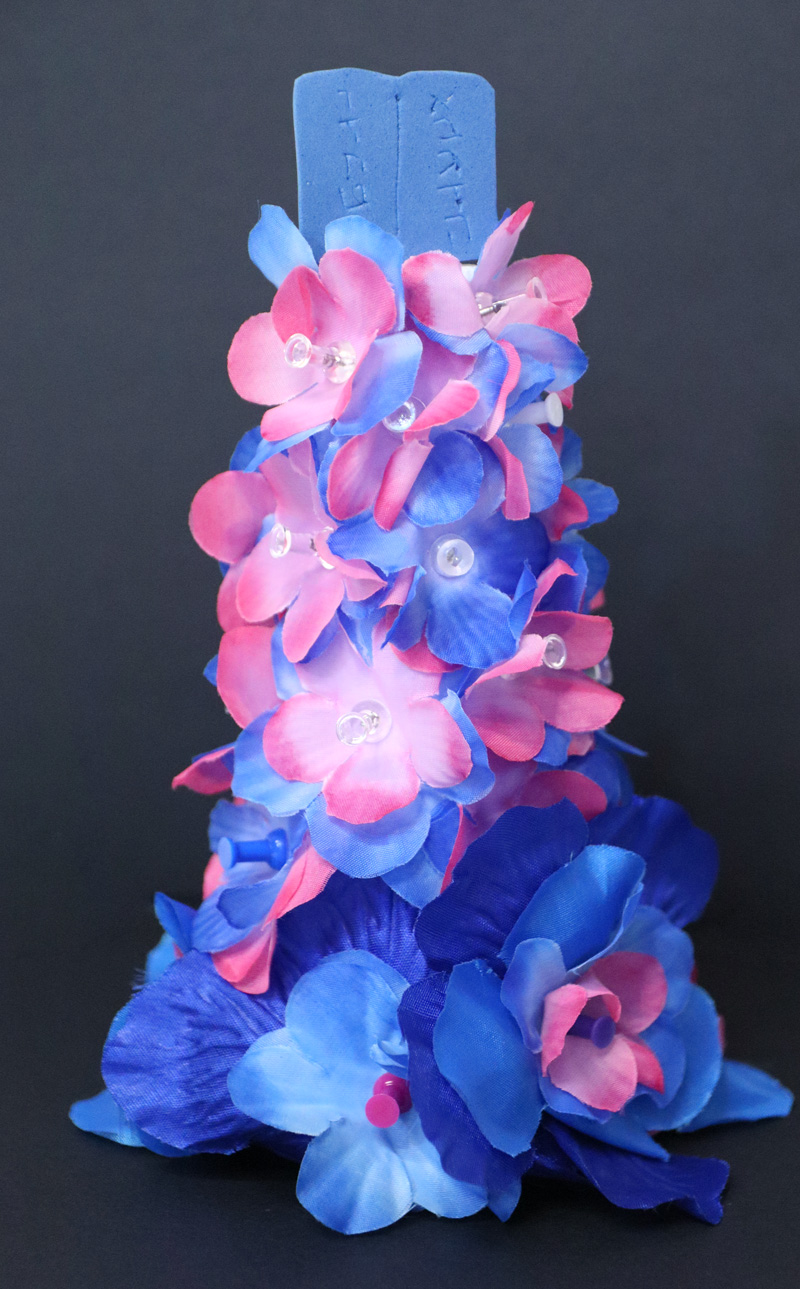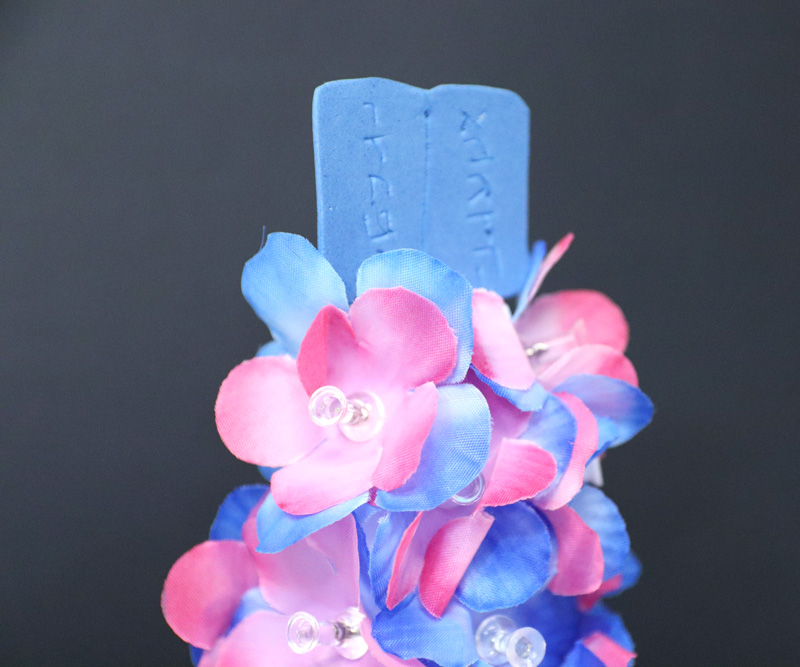 Truth be told, I did not have time to experiment with different ways to make this Har Sinai craft and I definitely have ideas that I'd try to do it better next time. But meanwhile, it still worked out beautifully enough for me to share.
The idea is that it makes a fabulous Shavuot centerpiece. So the foam base that you choose will determine the outcome in a major way. I grabbed a small (maybe six inch) long cone from the Dollar Tree while I was there. If you can get something bigger, that'll definitely stand out more on a set table – but they get pricey fast!
However, if you're doing this in a classroom, smaller (and bulk) is probably a better way to buy.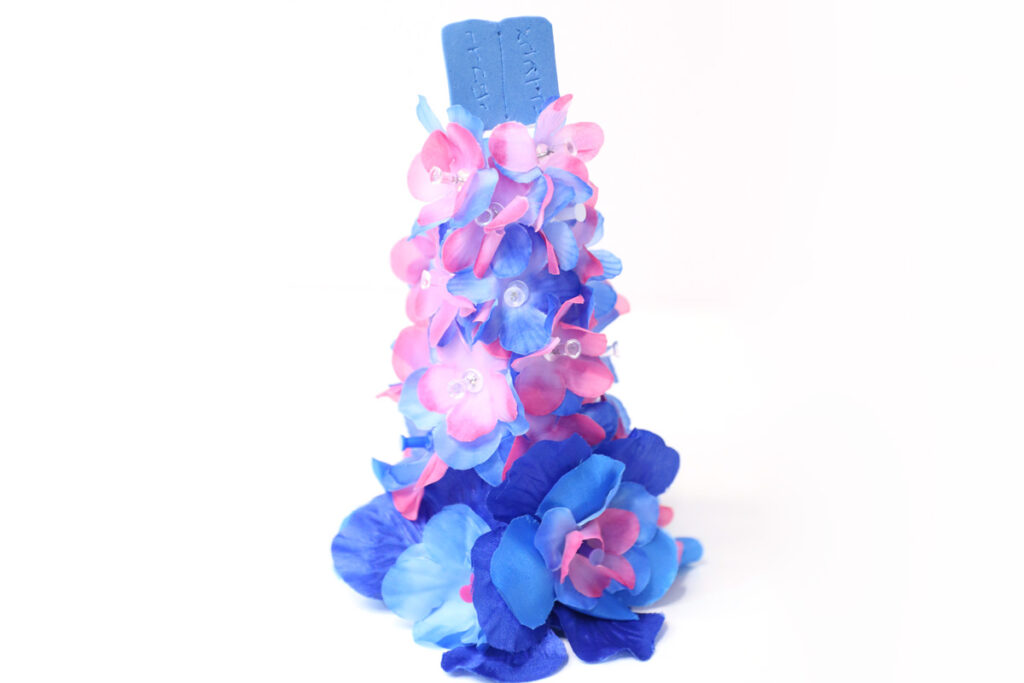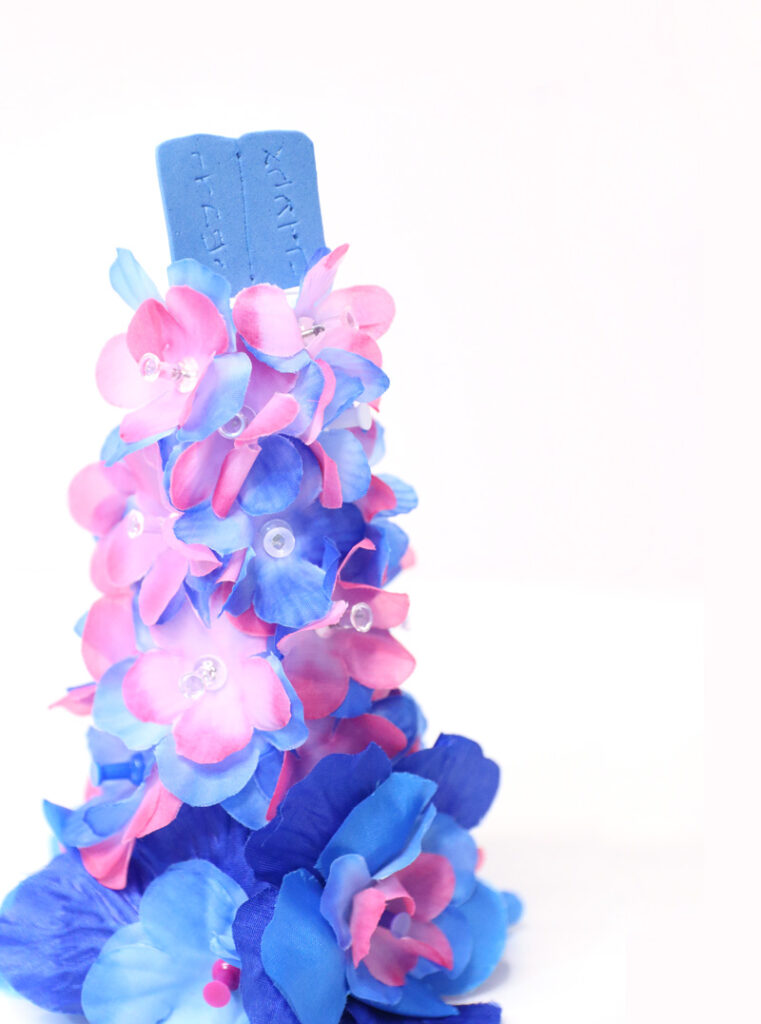 I had purchased three leis for this Har Sinai craft, and I hardly made a dent. I got a few for the colors – one lei can make a few crafts.
I didn't really know what I was doing at first – I though maybe I'd make a topiary, but didn't really have the right supplies. You can actually do that with this as well if you are more equipped than me.
I also contemplated purchasing thumb tacks while I was in the store but then decided that I already have some at home. Of course, when it came time to craft, I didn't have any. So I used some colorful push pins instead.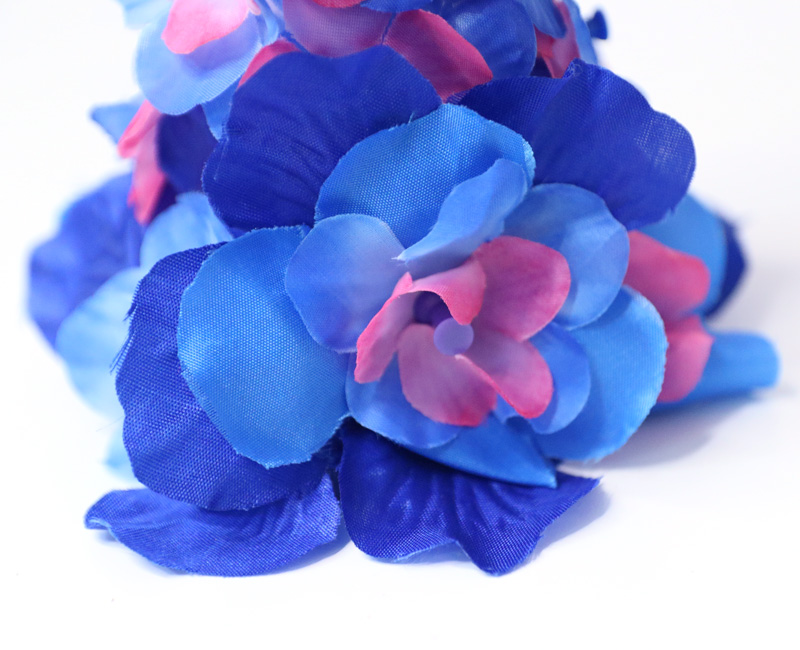 While I would definitely recommend going for thumb tacks – colorful is better – anything that can serve as the center of the flower and is easy to insert is fabulous.
Part of the coolness of this craft is how easy it is to just stack and assemble your flowers, mixing and matching and getting creative, using thumb tacks in the foam base. No hot glue to make a mess, not sticky fingers… It's a really calm, easy craft project for anyone old enough to be trusted with sharp things!
So you can also make a Har Sinai craft using straight pins with sequins or anything like that.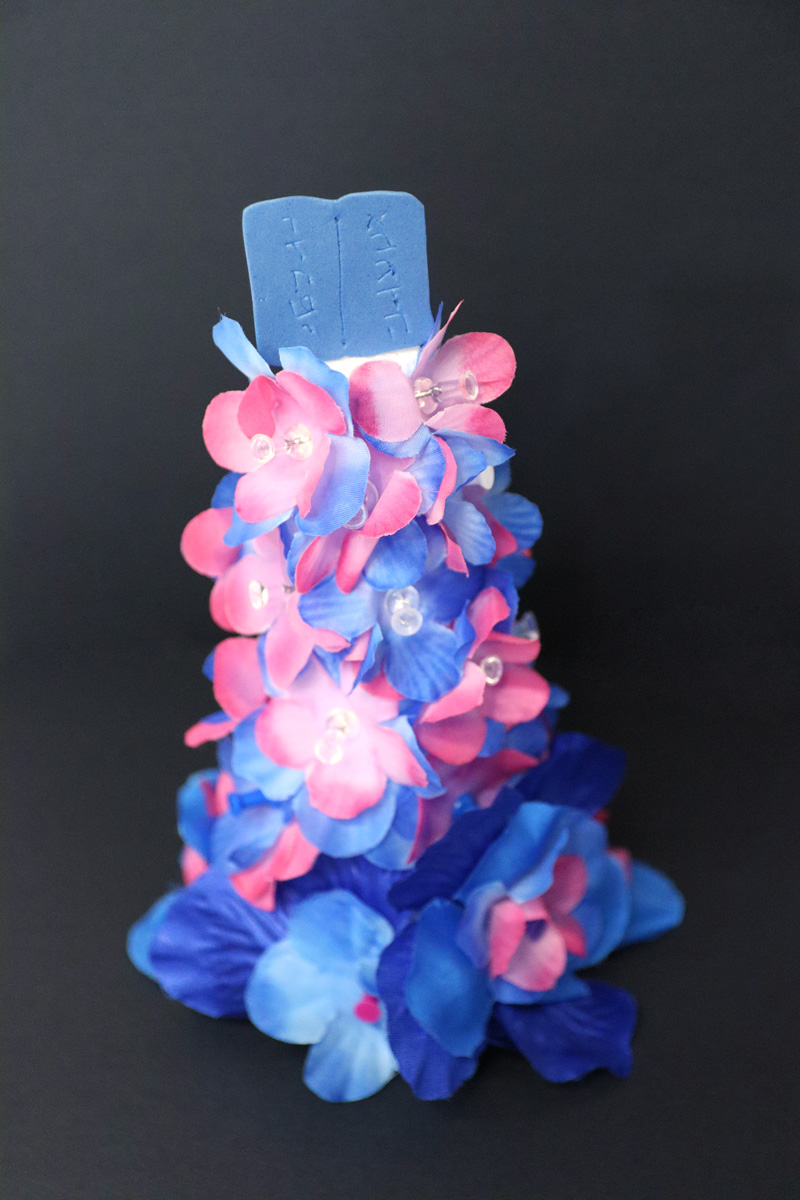 And finally, when I originally planned this as a topiary, I did not intend to add anything to the top. Then when I pivoted to Har Sinai, I made a set of luchot. The shape was really easy to cut roughly out of a piece of craft foam, and I etched it using a toothpick. You can also sketch the shape to cut out using a toothpick.
I then took the same toothpick and used it to attach the Luchot to the top of the Har Sinai craft.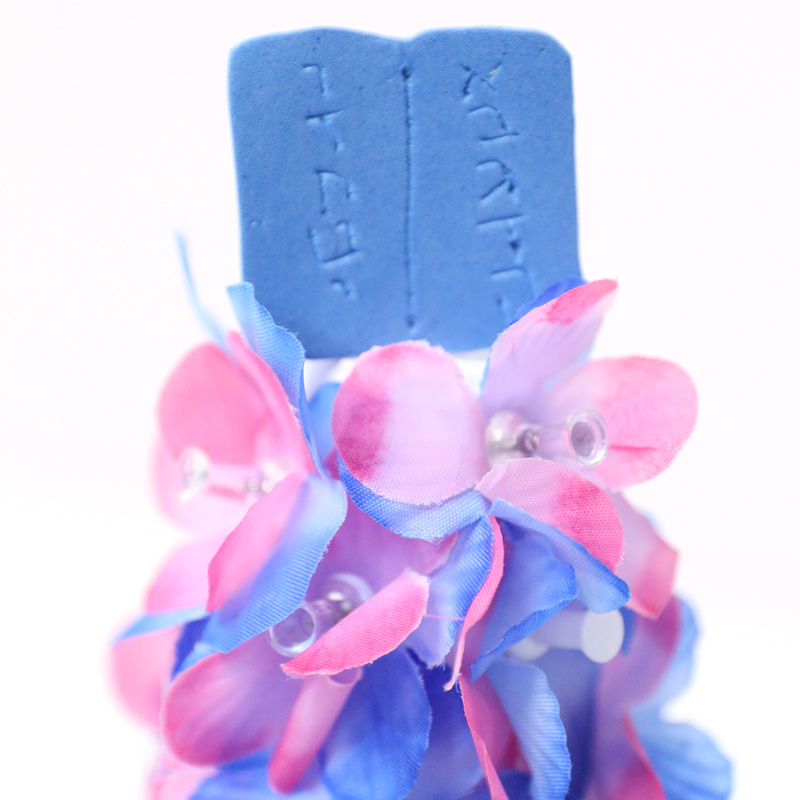 If you'd like, you can also start by painting your foam base a "camouflage" color – one that's similar to your flowers – or green, so that it matters less if it shows through between your flowers.
Ready to dive in? Let's go!
What you'll need:
How to make the Har Sinai Craft
1. Cut open your leis and arrange petals by color.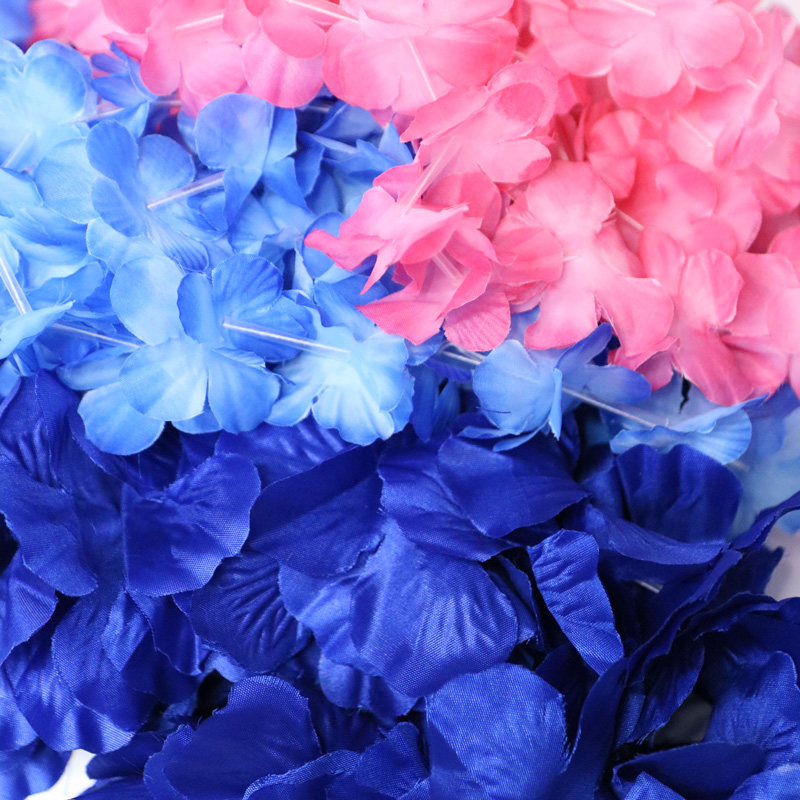 2. Stack two petals, a smaller one on a larger one.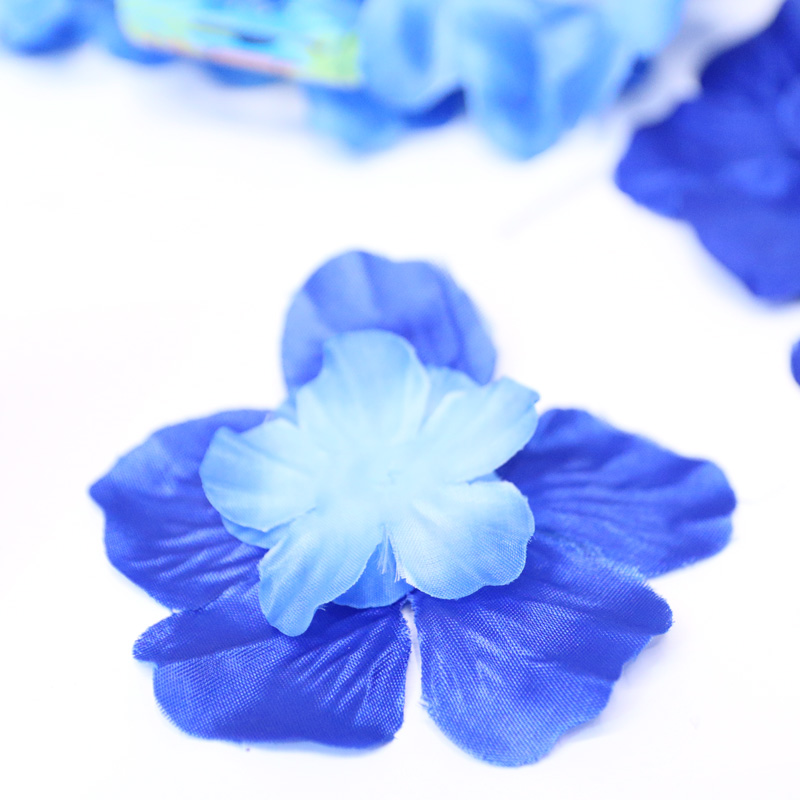 3. Insert a pushpin or thumb tack through the center.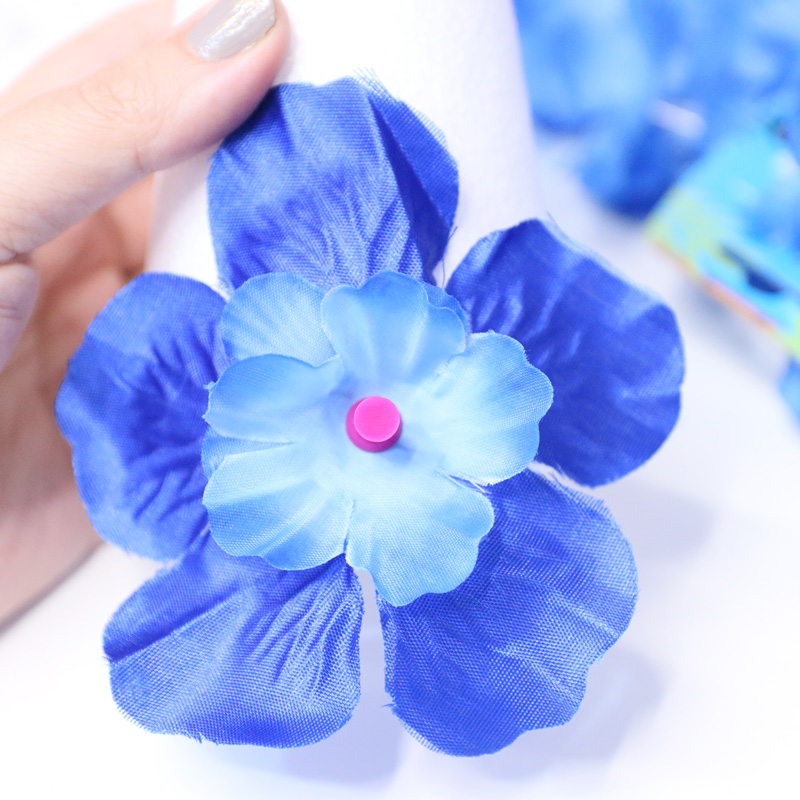 4. And poke it into your foam base!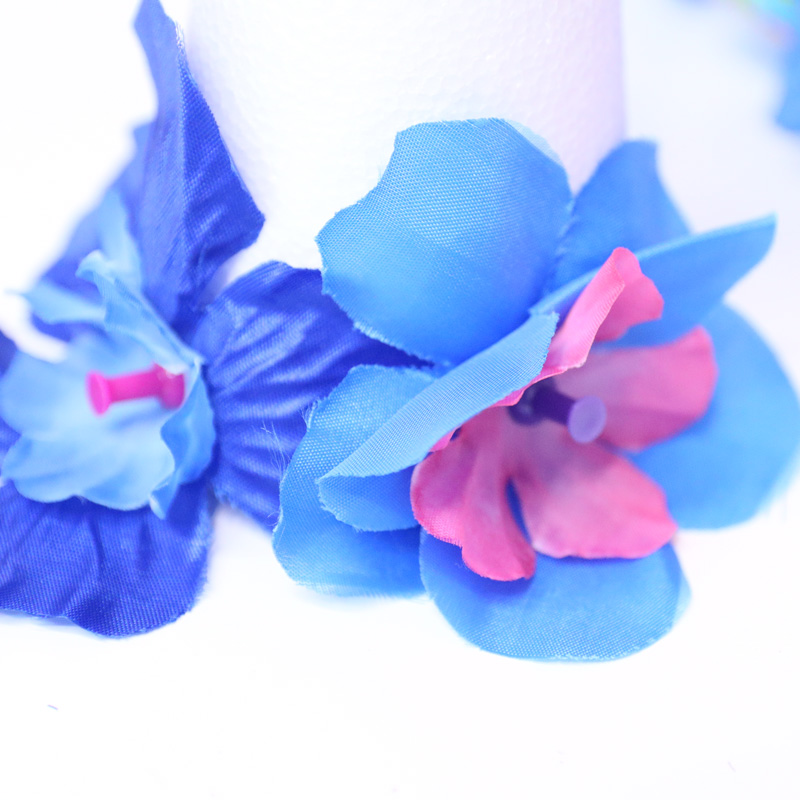 5. Work your way around, letting as little foam show through as you can. Cover your entire cone with flowers.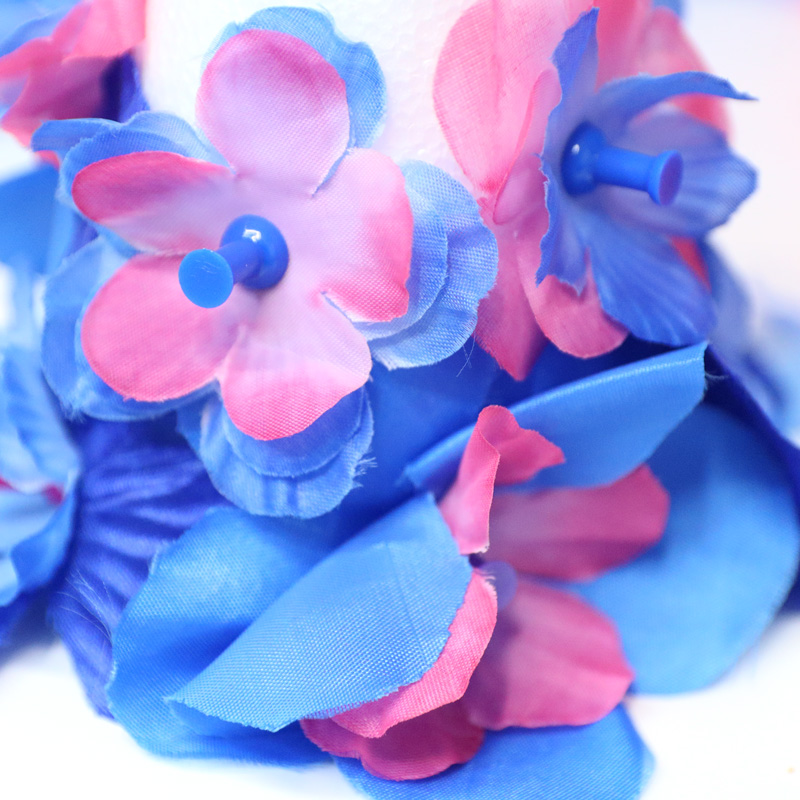 I didn't plan to add luchot at first, so I did a flower at the top but later removed it.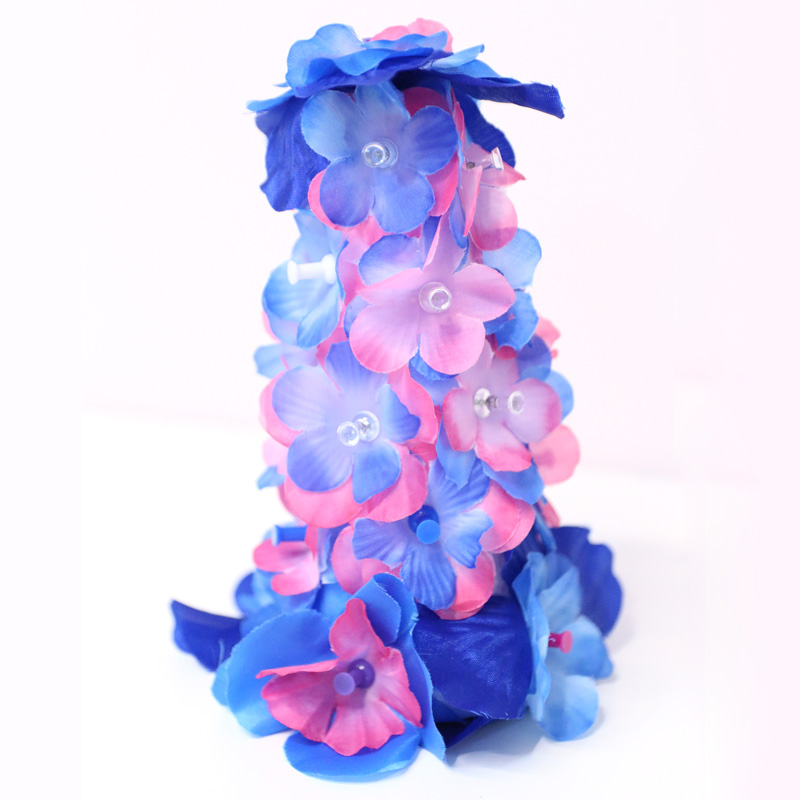 6. Cut out a luchot-shaped piece of craft foam. Etch a line down the center using a toothpick.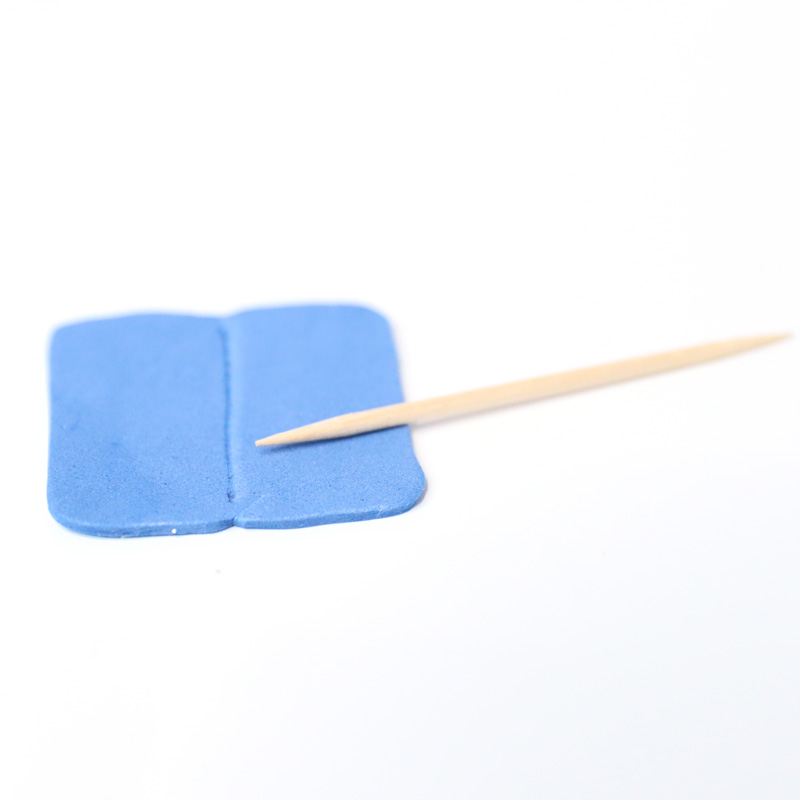 7. Etch the letters of the Hebrew alphabet aleph through yud. Glue the toothpick to the back so that half is on the luchot, and half sticks down (or tape with strong tape). Stick it into the top of your Har Sinai Craft.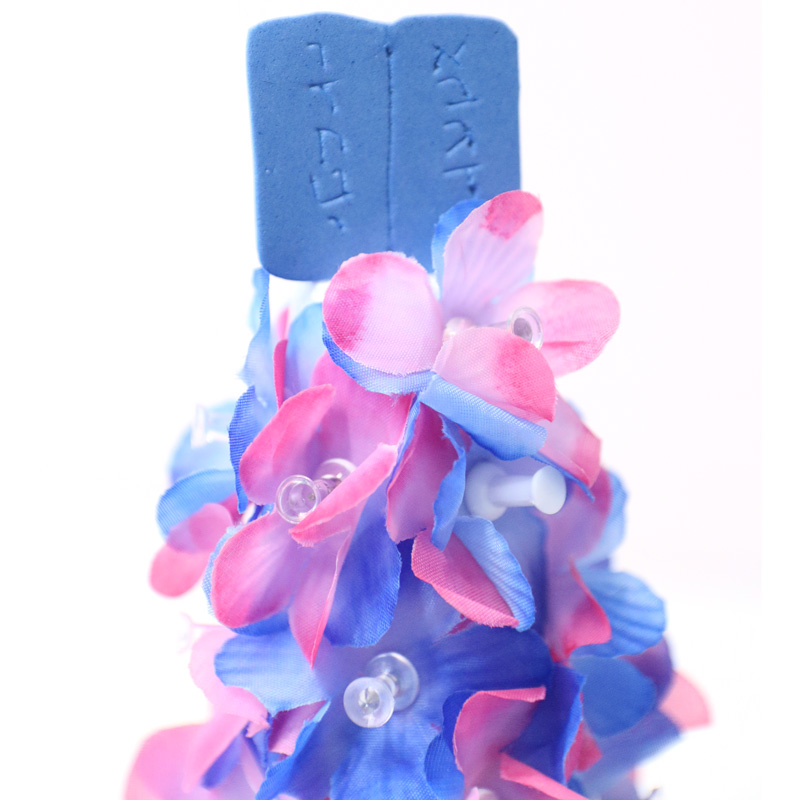 Your floral Har Sinai centerpiece is finished! Got a favorite Shavuot craft to share? Comment below!