When my in-laws were leaving to go back to Israel, and I knew I'd be hosting a huge goodbye dinner, I wanted something easy and not too expensive to send them off. Since I don't have adequate dairy facilities to cook for such a crowd, I created a soup bar – an easy and affordable fleishig (meat) buffet. Disclosure: this post contains affiliate links.

A soup bar makes an amazing Chanukah party if you prefer meat over the traditional dairy. Not only is soup so comforting in the winter, but it's affordable and easy to make.It can also work for Sheva Brachos (you can have a soup bar on the side, with sides actually sitting at the table if you're doing a sit-down affair rather than a buffet.)
It also makes a meat buffet affordable. Usually, when it comes to serving a buffet dinner, you need to have much more food than if you're plating it. And even if you are plating it, having full portions of meat and chicken (especially Kosher) available for all your guests can be so pricey.
By turning it into a soup bar, you still have the substantial aspect of meat, but you need much smaller quantities and cheaper options. It's also so much easier, with less leftovers and people LOVE it!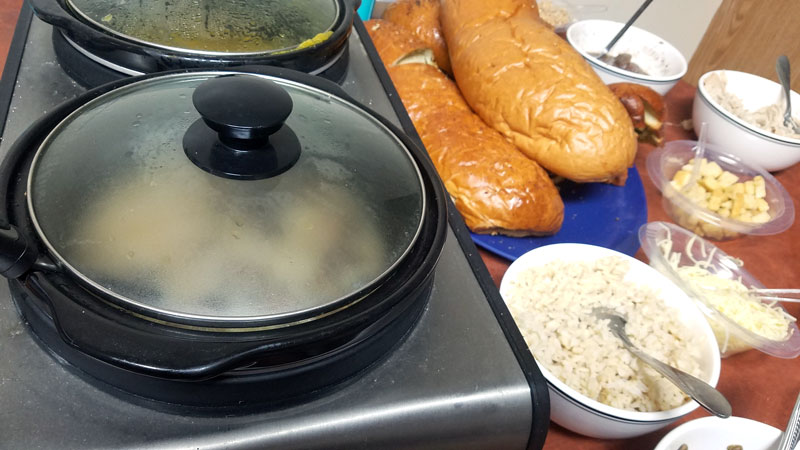 We also had sides, and I "designed" the dishes around full "Mix 'n match" potential. For example, I realized that some of the soup add-ins would also be delicious with rice, so I cooked up some brown rice that people can have with toppings such as lentils, shredded chicken breasts, and more.
I made three types of soups in a triple slow cooker – and kept them in the slow cooker on low for the duration of the party, so that everyone had warm soup, no matter when they arrived. And yes, I DID delegate! Soups are really easy and can be made in advance, so I did those. My sister-in-law helped with the garlic bread and salads. You can have people help with some toppings too, or other sides.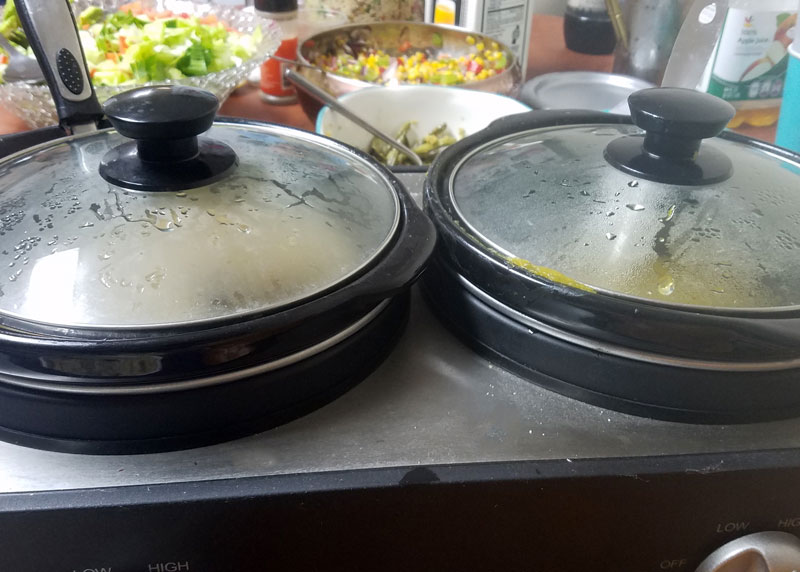 Exactly what you'll want to include in your soup bar will depend on your family's preferences, obviously, but I'll share our soup bar details below, along with some suggestions. The main thing is to offer plenty of choices so that people can customize their own bowls.
I had around twenty adults at my event.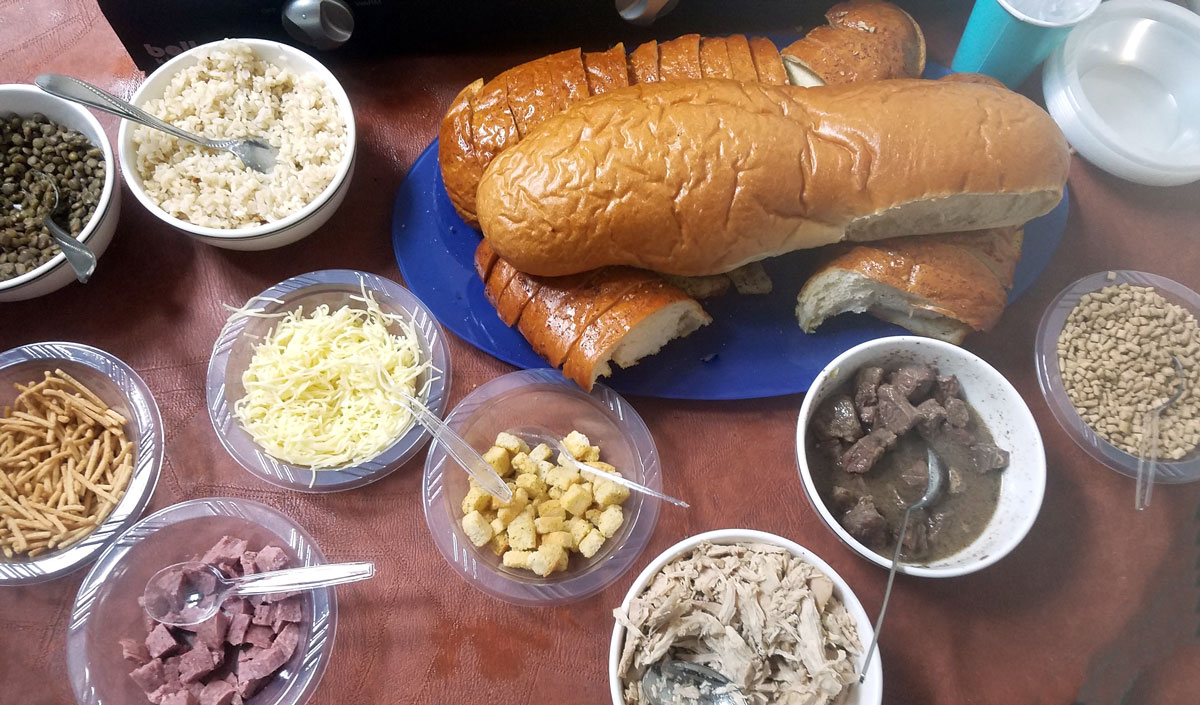 Soups for your Soup Bar:
I aimed for a variety of soups, but wanted them to be filling. We ended up with one thick, blended soup, one hearty soup, and one thinner, more of a comfort soup.
Butternut Squash Soup – alternatives can be any blended soup, such as broccoli
Vegetable Soup – I made it like my chicken soup but without the chicken, and with much more vegetables. You can make an actual chicken soup if you'd like.
Mushroom Barley Soup – the barley makes it very filling, and it's delicious with meat! You can sub this with a split pea soup too – or anything thick and filling.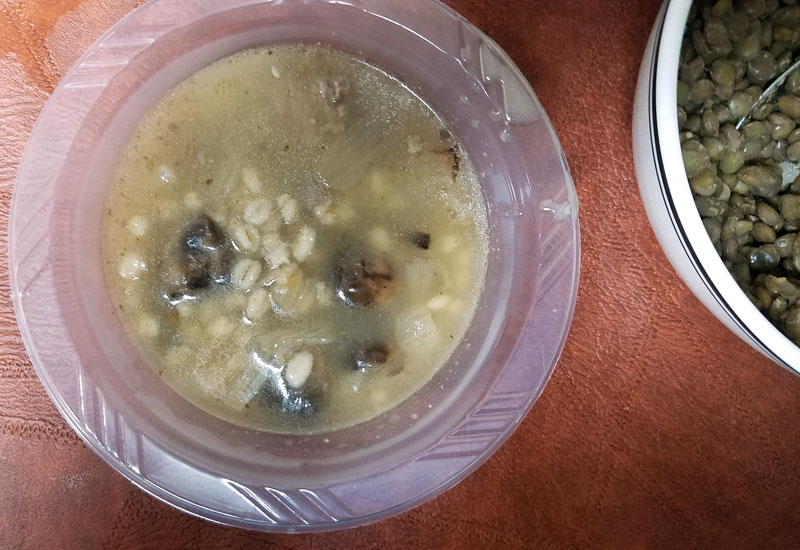 One mistake I made was making these too late and expecting them to cook in the slow cooker! If you plan to actually cook it in the slow cooker, make it way in advance – and you should probably look up a recipe for expected cook times.
Soup Bar Meat Add-ons:
To make it a "substantial" meal, I threw in a few affordable fleishig add-ons. These were obviously finished to the last drop, but only towards the end of the party, when people were already digging in for doubles and triples.
Chicken Breasts – I simply baked these, and then shredded it with two forks.
Deli cubes – I bought salami rolls from Costco and cubed it. This was very popular, and even warranted a refill (although I think people snacked on it too.)
Stew meat – I made one regular sized package and sauteed it until it was cooked through. It also made some delicious gravy, perfect for mixing into the soups and rice.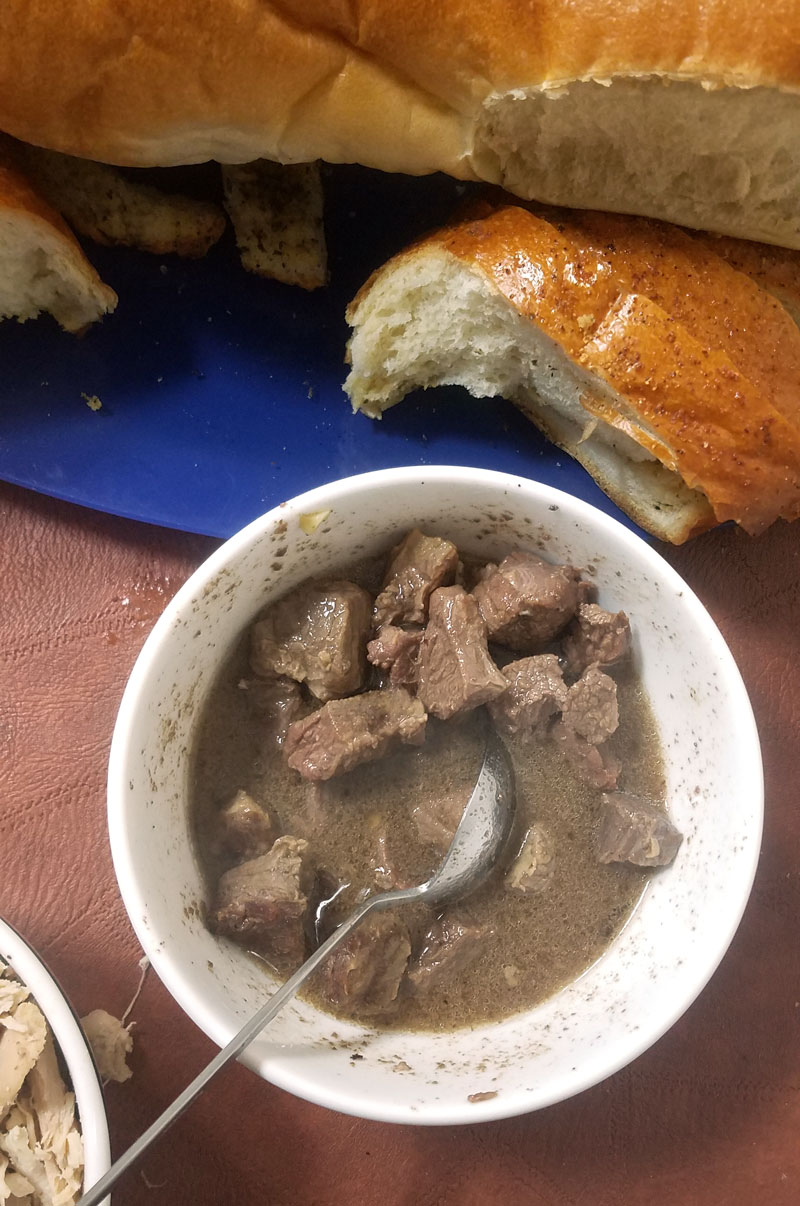 Soup Bar Toppings:
Who doesn't love delicious croutons in a thick butternut squash soup? Here are some conventional soup toppings to put out. The prepackaged ones had lots of leftovers – I think people loved the unique toppings most!
Chow Mein Noodles
Soup Nuts
Croutons
Thin egg noodles (these were totally finished)
Other Soup Bar Elements (and more ideas for you):
Rice (some guests added it to their soup, but I had it in mind for mixing with other things)
Plain cooked lentils
Garlic bread
Baguettes
And here are the things I didn't do but you can:
Cooked cubed vegetables or roasted/sauteed vegetables
Nuts and seeds can be delicious in the thick soups!
Corn/tortilla chips
Purple onions and scallions, diced
Hot dog slices or chunks
Side dishes for your soup bar:
Salads, of course!
Corn relish
Sauteed string beans (or try these delicious sesame snap peas)
Pasta salad or sesame noodles are great fillers!
Guacamole – which goes great if you have chips among the side dishes!
Franks-in-blanks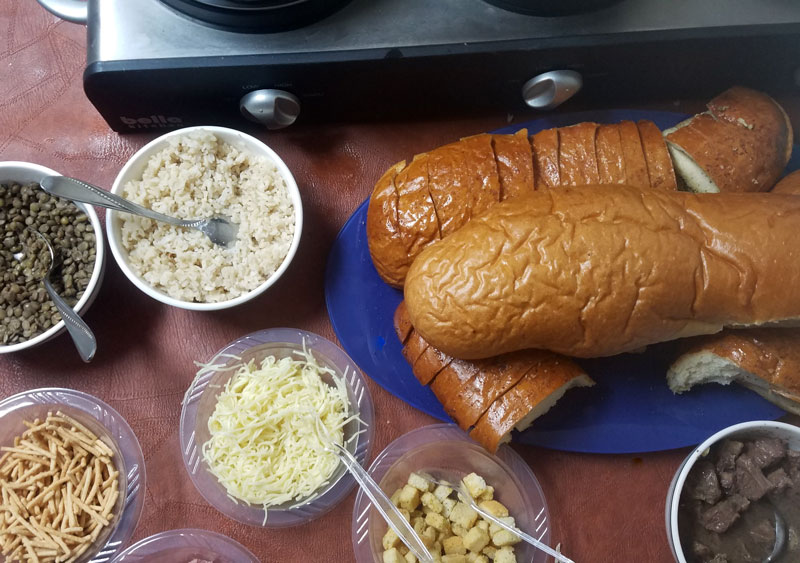 A few more notes about our soup bar:
For those of you who will ask: yes, I did use mostly paper goods where possible! It makes life a lot easier. Maybe if I had a dishwasher I would have used real dishes, but for us it was paper.
If you don't like the idea of soup in paper, you can use dollar store mugs – it makes it easier for people to walk around with. You can use paper plates for the side dishes.
I did not label the soups, and yes, I should have. I did keep explaining to people what everything was.

What would you include in a soup bar? Have you ever tried it? Comment below!