I made this beautiful stained glass pomegranate wall art as a DIY sukkah decoration – that can be moved indoors during the year! Disclosure: this post contains affiliate links.

One of the biggest challenges with figuring out Sukkah crafts is how to make it weatherproof.
I thought it would be cool to upcycle some flea market frames I got ages ago into stained glass wall art special for the Sukkah. Since it's glass and glass paints, it won't get ruined in the rain.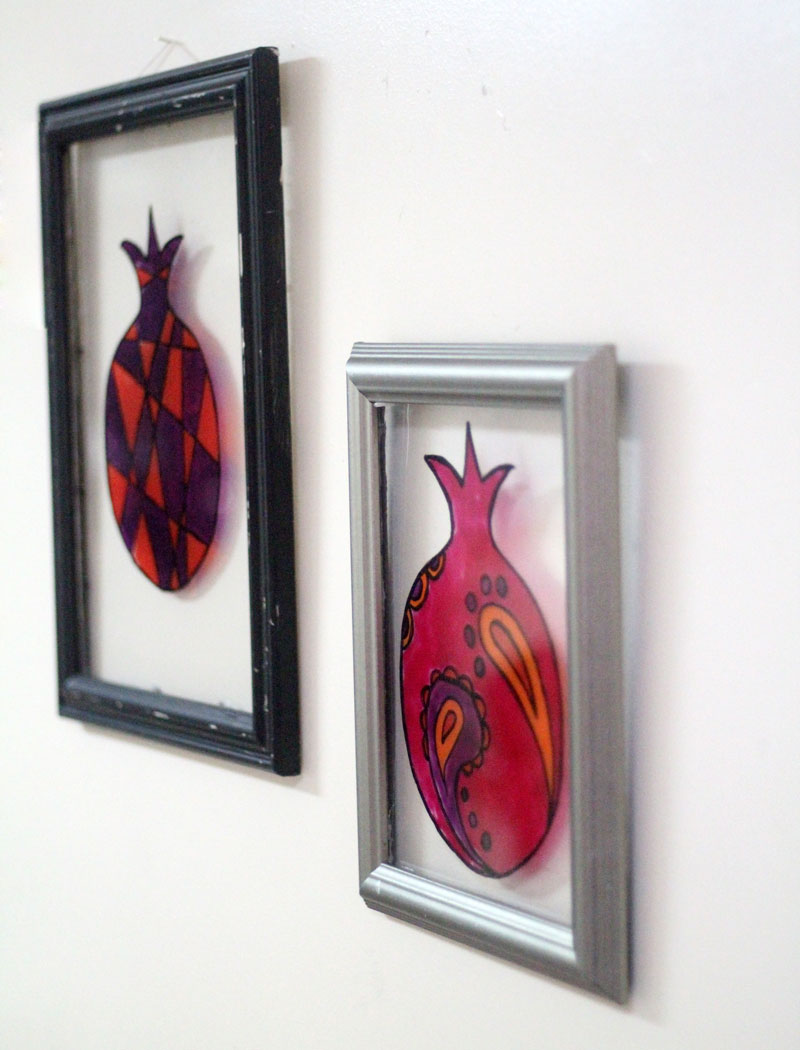 At the same time, I am a bit concerned since I made it this year in advance of Sukkos and haven't yet actually given it a test run. Therefore, I'll warn you to hang it in a place where the wind shouldn't knock it down, and to mount it on your sukkah as securely as possible. Or, use frames with plastic inserts (the glass paints should work on plastic too but just don't bake it!)
For now, it's hanging over the sideboard in my dining room and really adding a pop of color!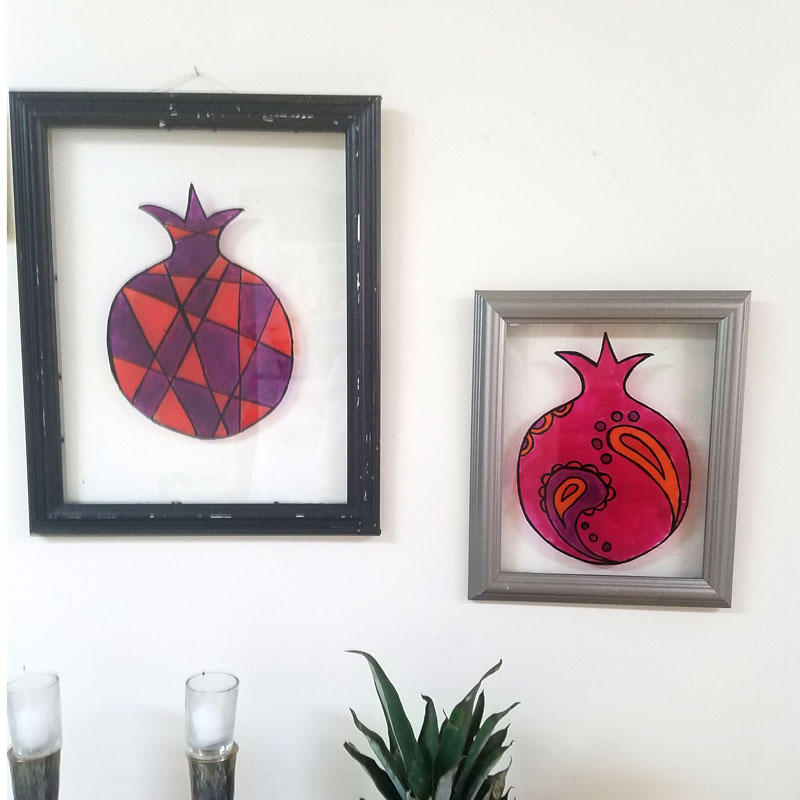 I did create a couple of templates for you to choose from to turn this into an "anyone can do it" kind of project.
However, if you're artsy, you can definitely draw your own design!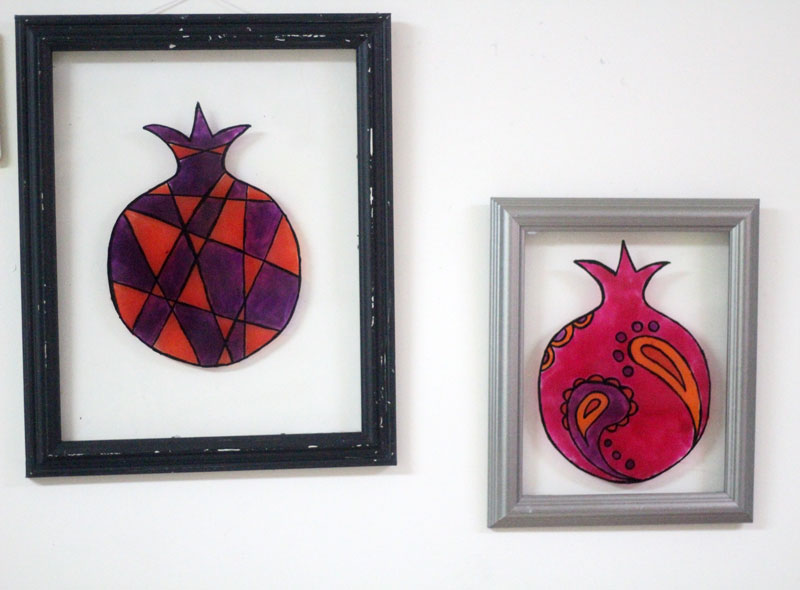 This can be done in a classroom setting too, using dollar store frames. It's perfect for older kids who need a more mature Sukkah decoration craft and who won't break the glass.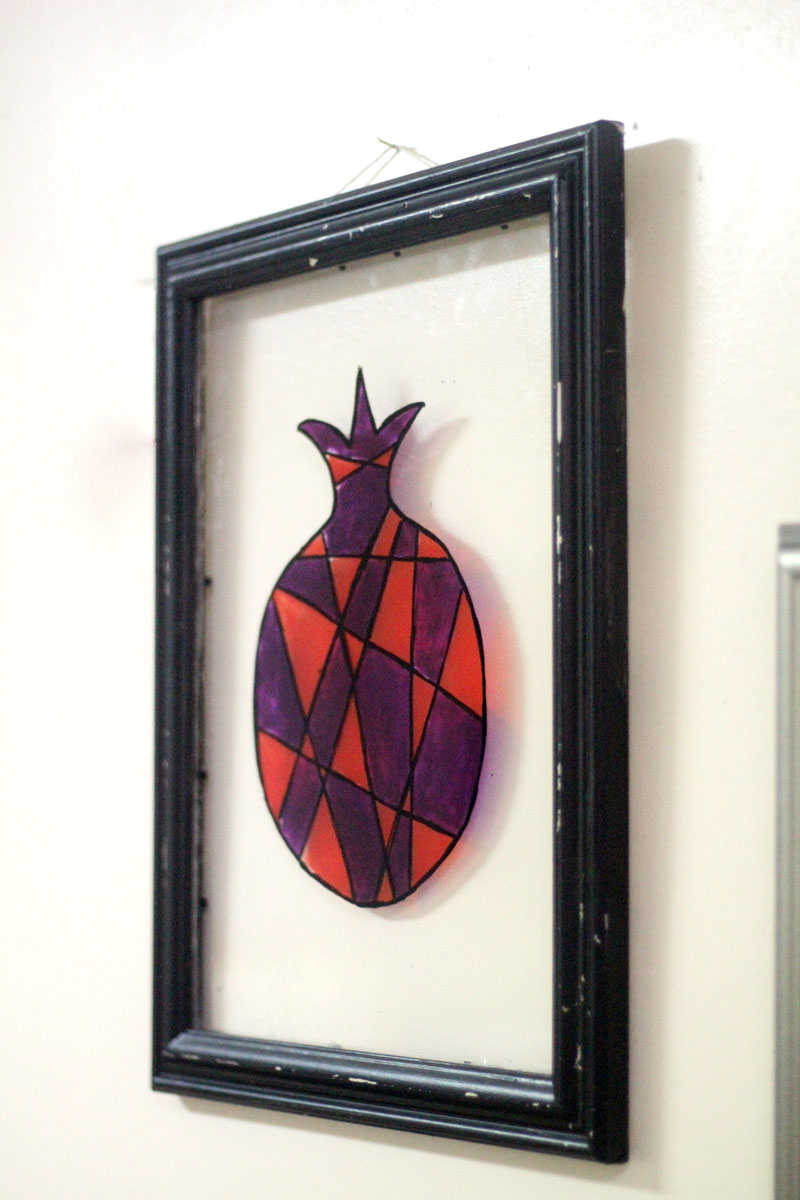 While I DID use glass paints, you can vary that. Glass paints are VERY transparent and not so forgiving. I puddled the paint inside and did a few layers.
If you don't have patience for that, you can use more opaque multi surface acrylics.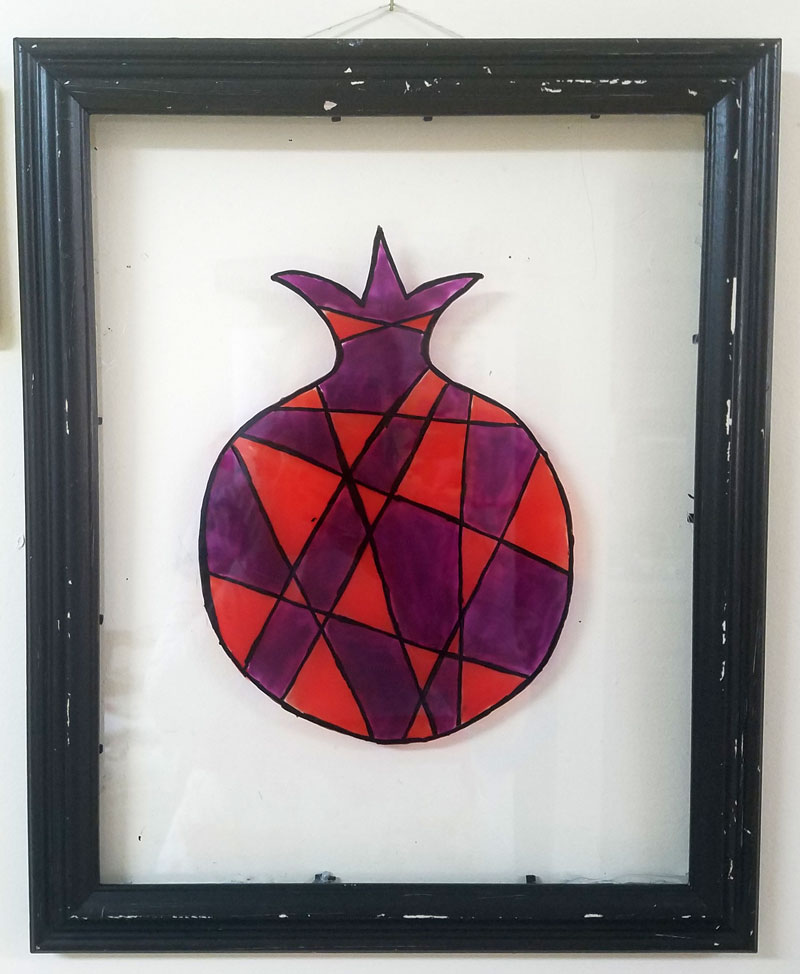 Technically, you can use permanent markers but it may show up streaky as well – but it's the easier, neater version, and possibly the better solution if you're doing it as a classroom project.
What you need to make a stained glass pomegranate DIY Sukkah decoration:
Washi or painters tape
Paintbrushes
Hanging hardware (most picture frames have this on the cardboard insert in the back – double check if yours does too. If it does, you'll need to add your own to the frame itself)
Optional: outdoor paint – if your flea market frame needs to be refinished.
The templates (optional) download them by entering your email address in the form below. Then check your inbox (and your spam folder if you don't find it) for the printable template:

How to make a stained glass Sukkah decoration:
1. If you're refinishing a frame, remove the glass, start by removing the inside, including the glass, and painting your frame.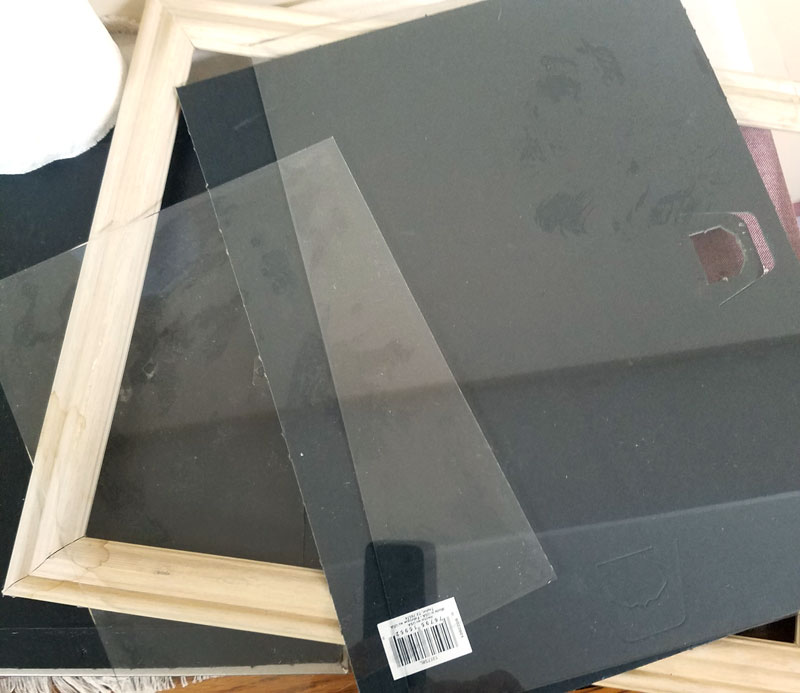 2. If you're starting with a ready-to-go frame, just remove the cardboard backing and insert so that only the glass remains.
3. Use a hot glue gun to secure the glass in place. Important: secure your glass in place before painting. Many of the glass inserts have sharp edges and you can cut yourself. I tried working on the loose glass the first time around and sliced my finger. Only work on your design once the glass is secured in place.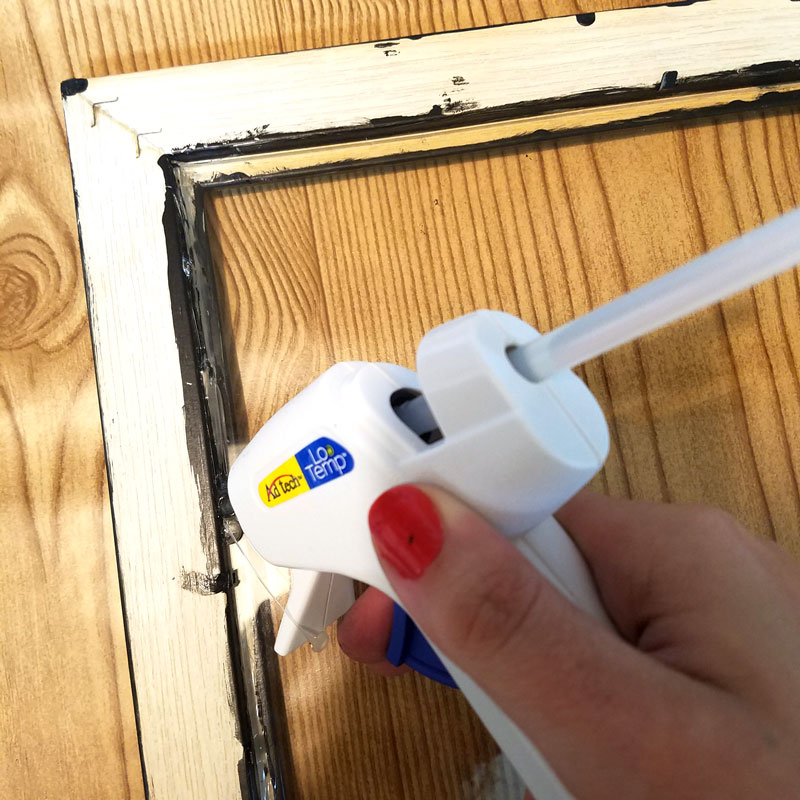 4. Tape your template to the inside of your glass so that the design faces outward.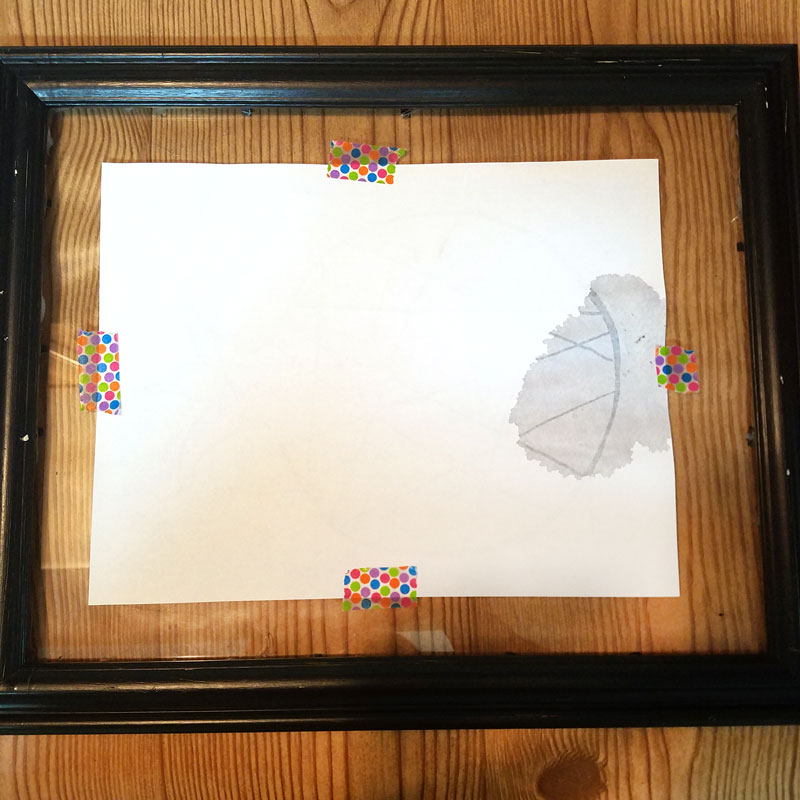 5. Using the glass marker, trace your design.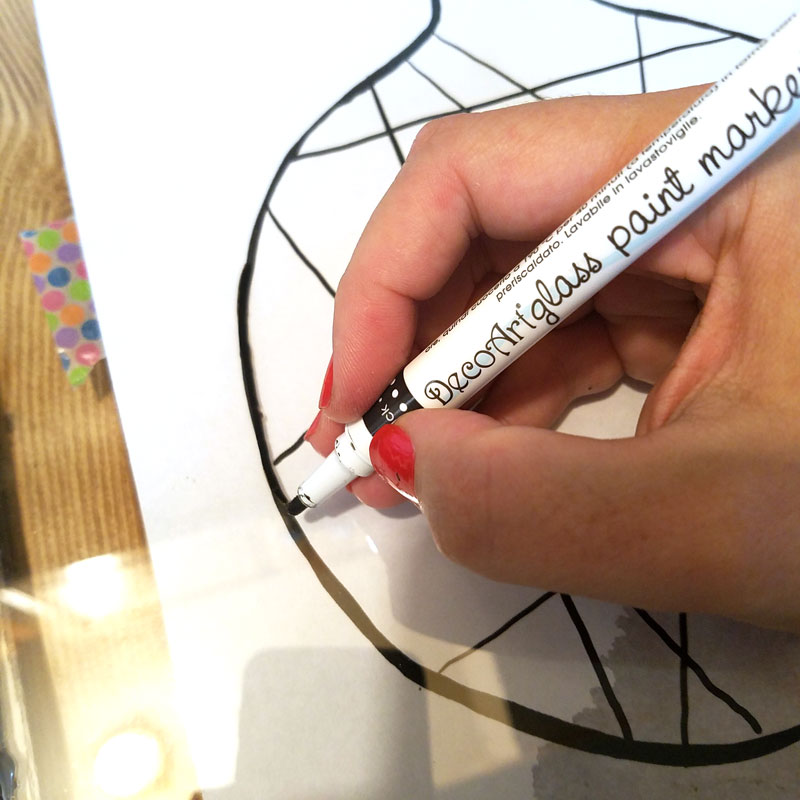 6. Remove the template and flip your frame the other way so that you are now working on the inside.
7. Paint in your sections. I laid on the glass paint really thick and allowed it to pooll . Once you hang it against a wall it does lose some of its transparency, which means it will be more forgiving if it's streaky or uneven. If you hang it on a window as a suncatcher, it will be beautiful but every detail will show. Keep these little details in mind while painting.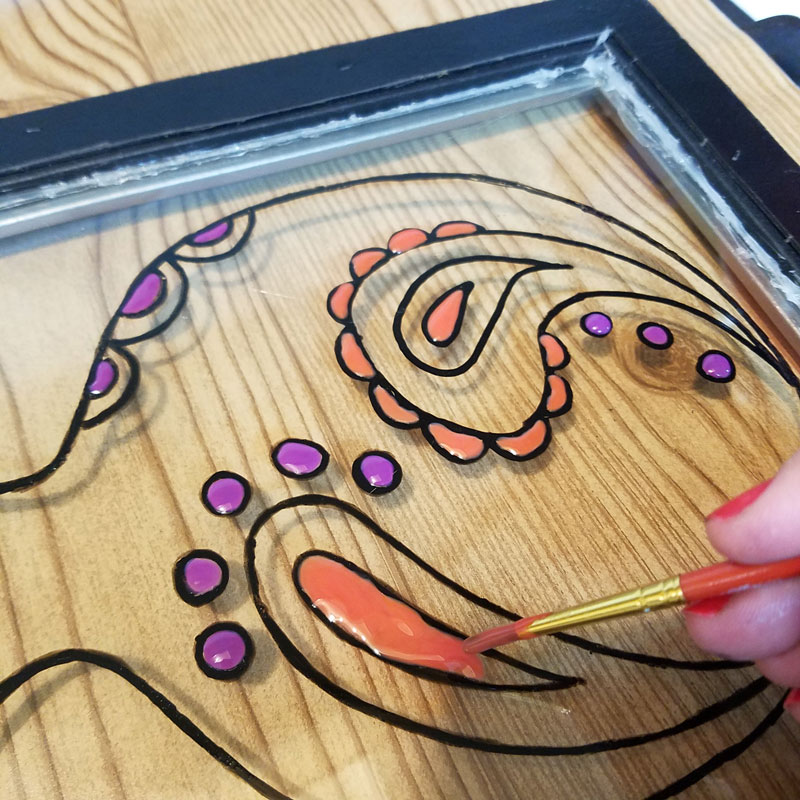 8. Allow it to dry for about 24 hours lying flat. It takes around 24 hours to cure. Since you don't plan on throwing these in the dishwasher, you don't need to worry about baking it to fully cure the glass paints.
9. If needed, add hanging hardware to finish it off.
That's it! When you're done you have a beautiful DIY Sukkah decoration that looks like it came from an Israeli art shop.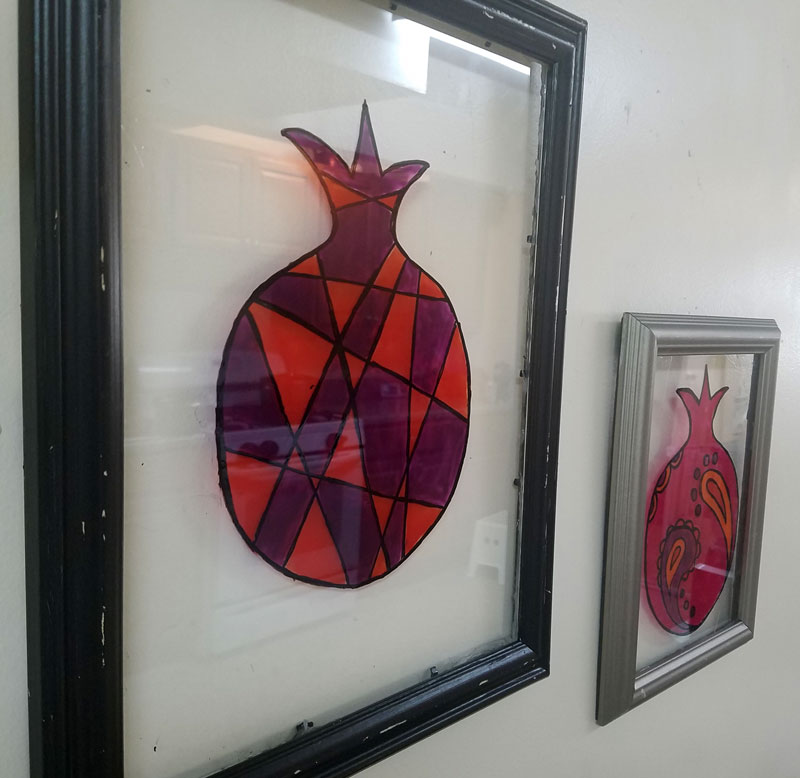 What will you be drawing on this stained glass Sukkah decoration? Will you be using it year round too? Comment below!