Enjoy this gorgeous free printable dreidel coloring page, featuring a floral mandala for big kids and adults! If you want something cute for kids, try this dreidel rules printable coloring page with a cute poem! This post contains affiliate links.
---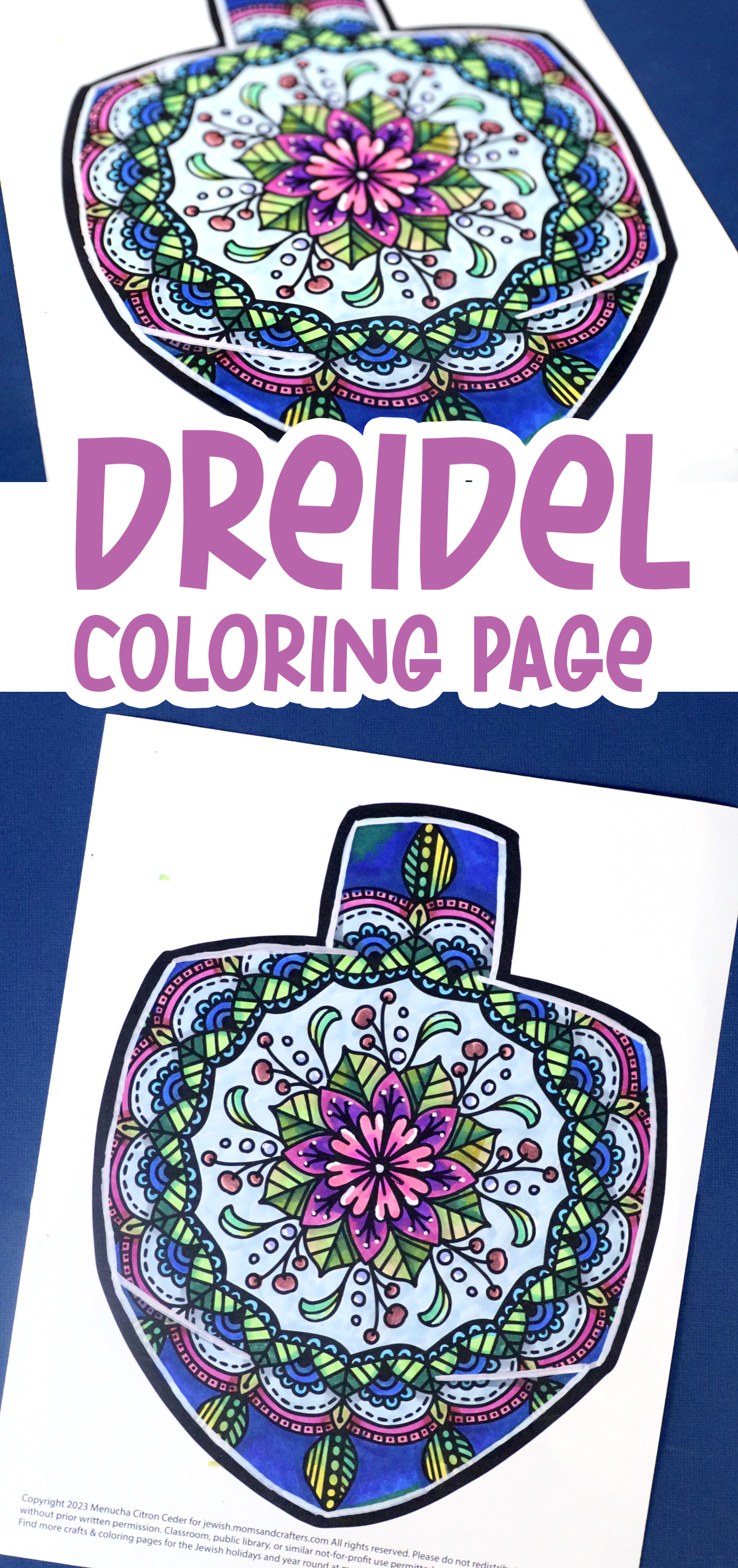 For some reason, I've been having a hard time getting around to sharing an old time favorite type of post: coloring pages!
I love, love, simple, graphic adult coloring pages, because they speak to my inner child. But even more so, I love them because they are not just for adults. They bring bigger kids back into the relaxing coloring mindset that is so wholesome for them.
We colored this dreidel coloring page as a family with my kids getting involved.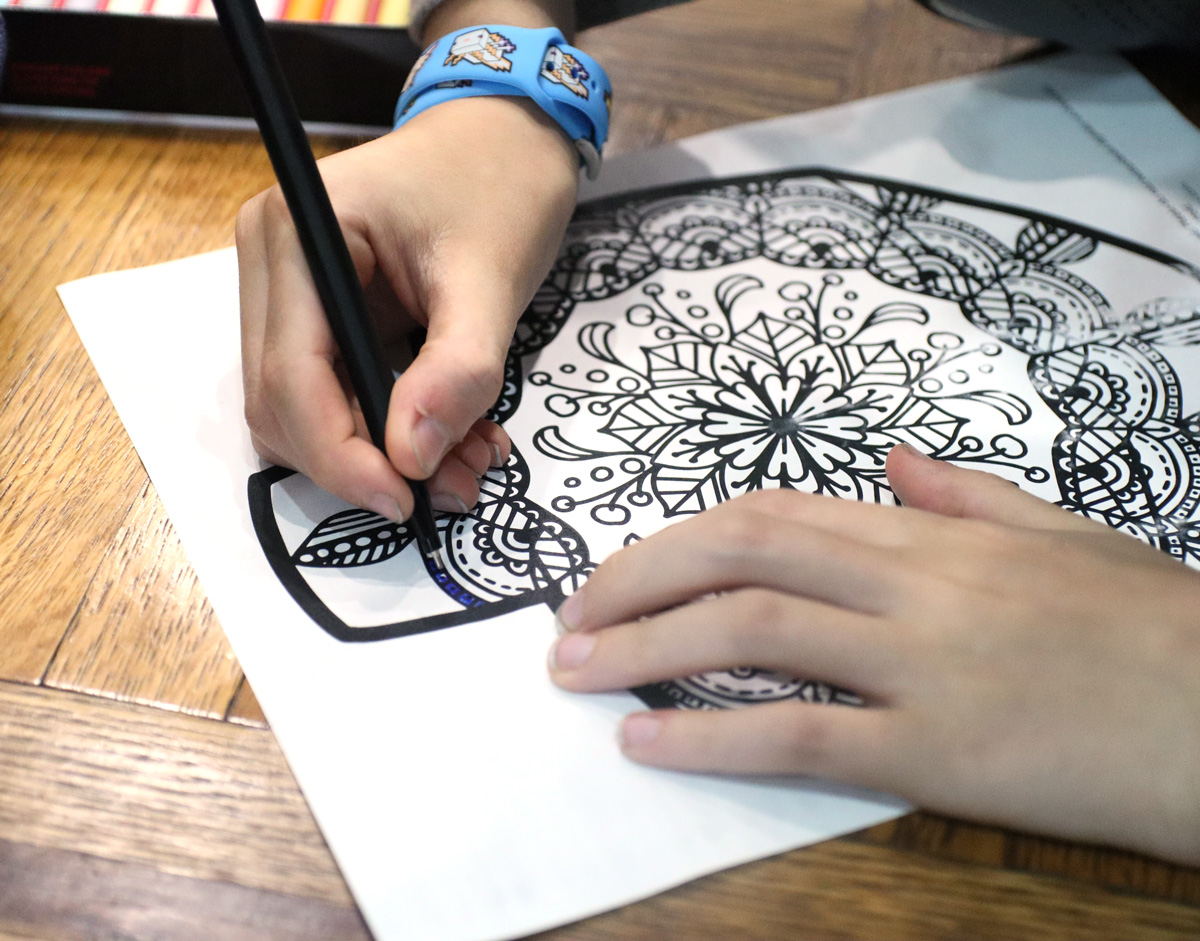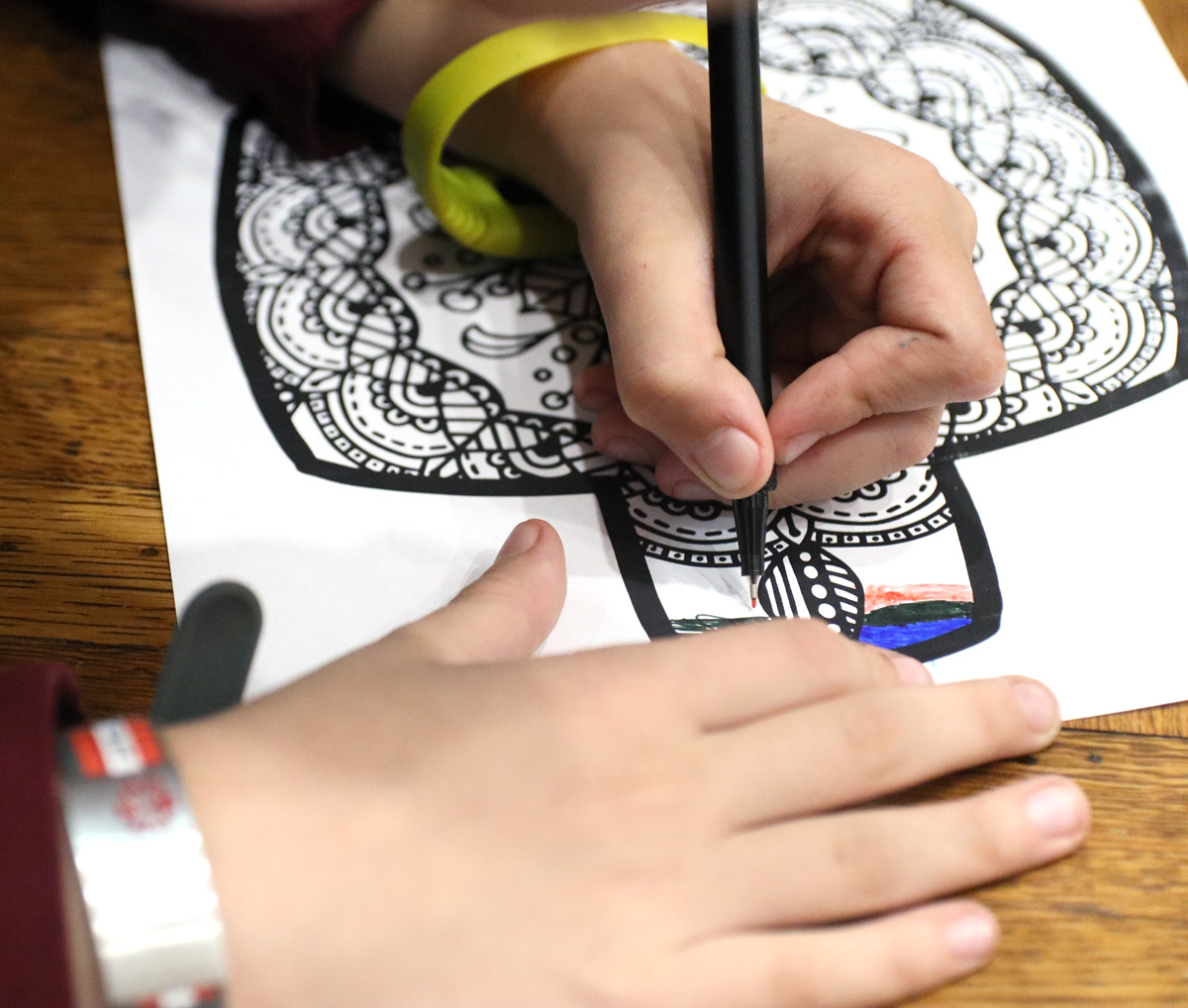 We plan to string our colored dreidel coloring pages into a garland for Hanukkah decorations! You can also make a gallery wall.
If you plan to turn these into a garland, I recommend printing each dreidel coloring page on cardstock to make it stronger.
I enjoyed coloring mine so much that I actually finished it – a rarity for me!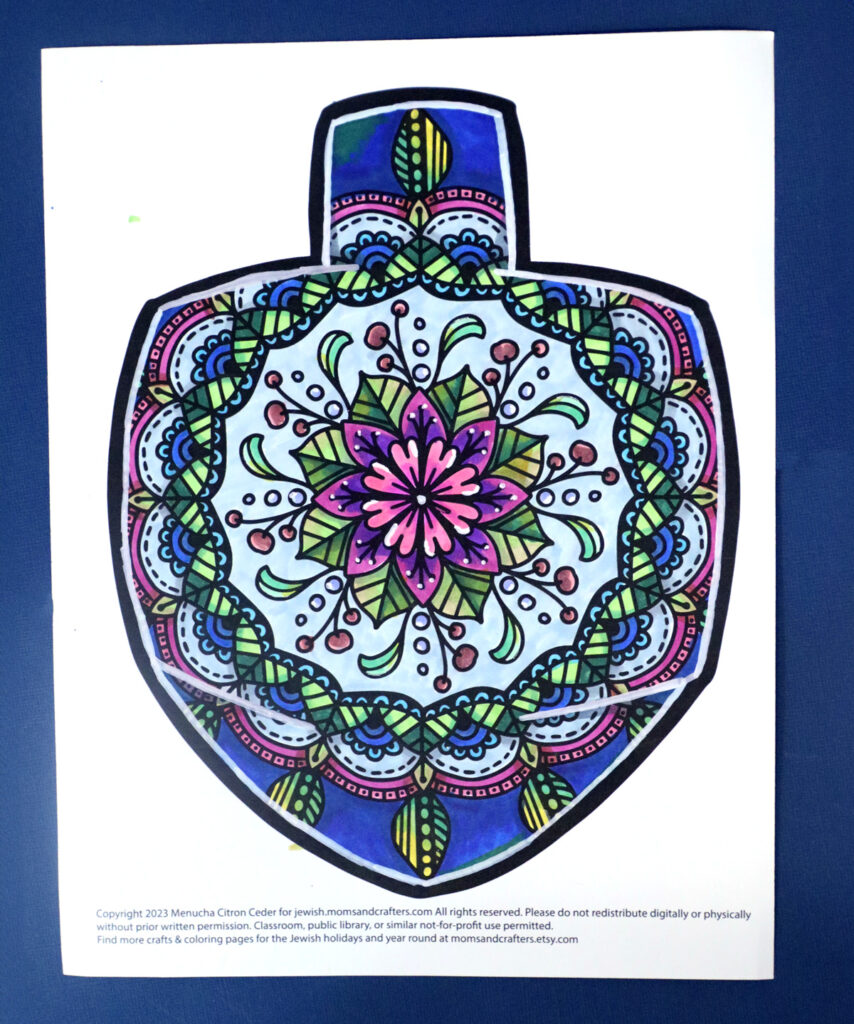 Tips for coloring this dreidel coloring page
To color this, I used Prismacolor Premier alcohol markers. I prefer the brush tip kind because it feels very natural. I printed it on cardstock to make it more durable and allow me to layer.
I find coloring with alcohol markers to be one of my favorite, most relaxing way to color adult coloring pages. It allows me to explore color theory, and create some drama in a low-stress way. I prefer to color in larger areas of color, especially as I tend to get wrist injuries when I overdo things in the craft department.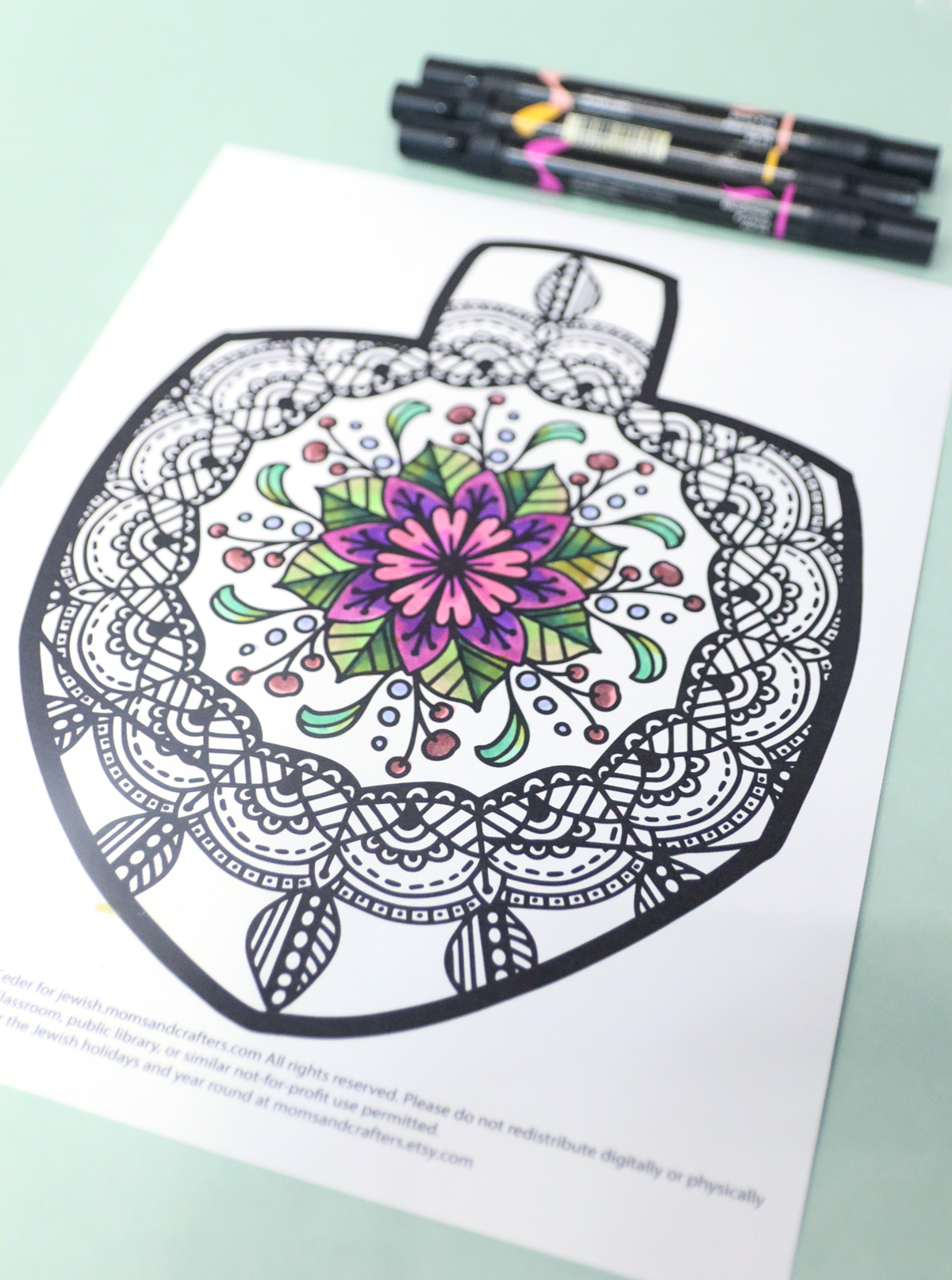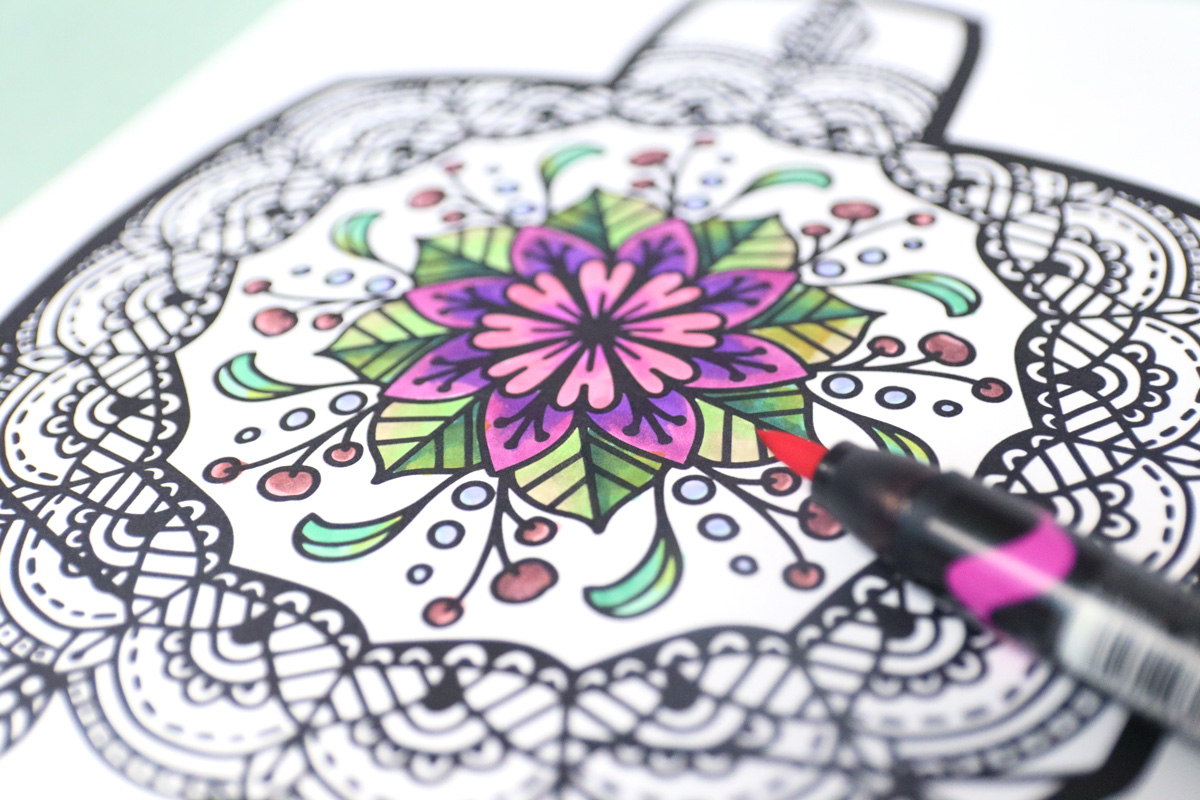 To create drama like I did, think which parts would be shadowed, or lower layers if this was made of a stack of paper cutouts. Color them in a darker shade. Use darker shades and highlight shades to give depth to the leaves and petals.
Alcohol markers are blended by using different tones, and layering. Play around with different areas and explore with them to really see how they work.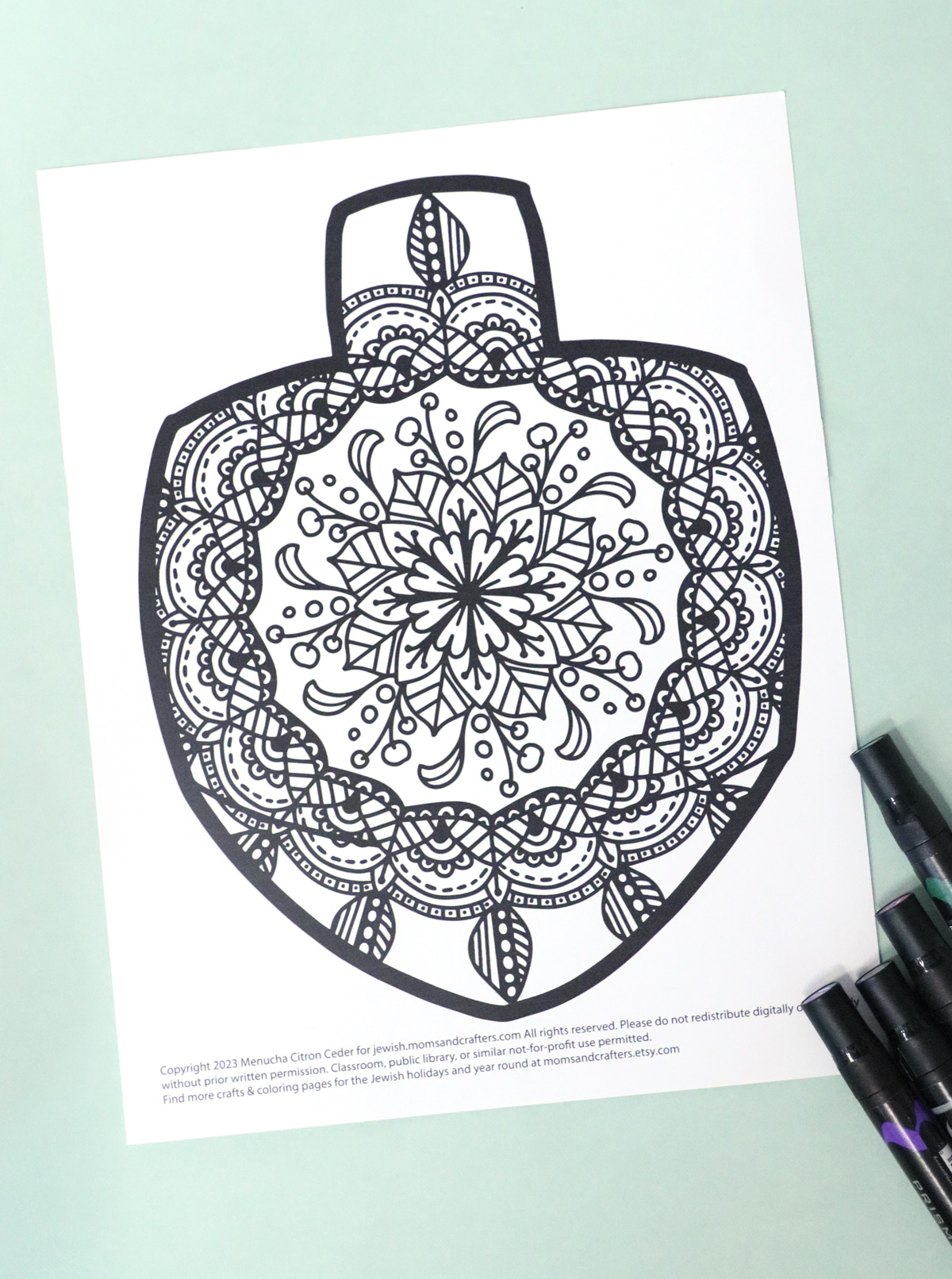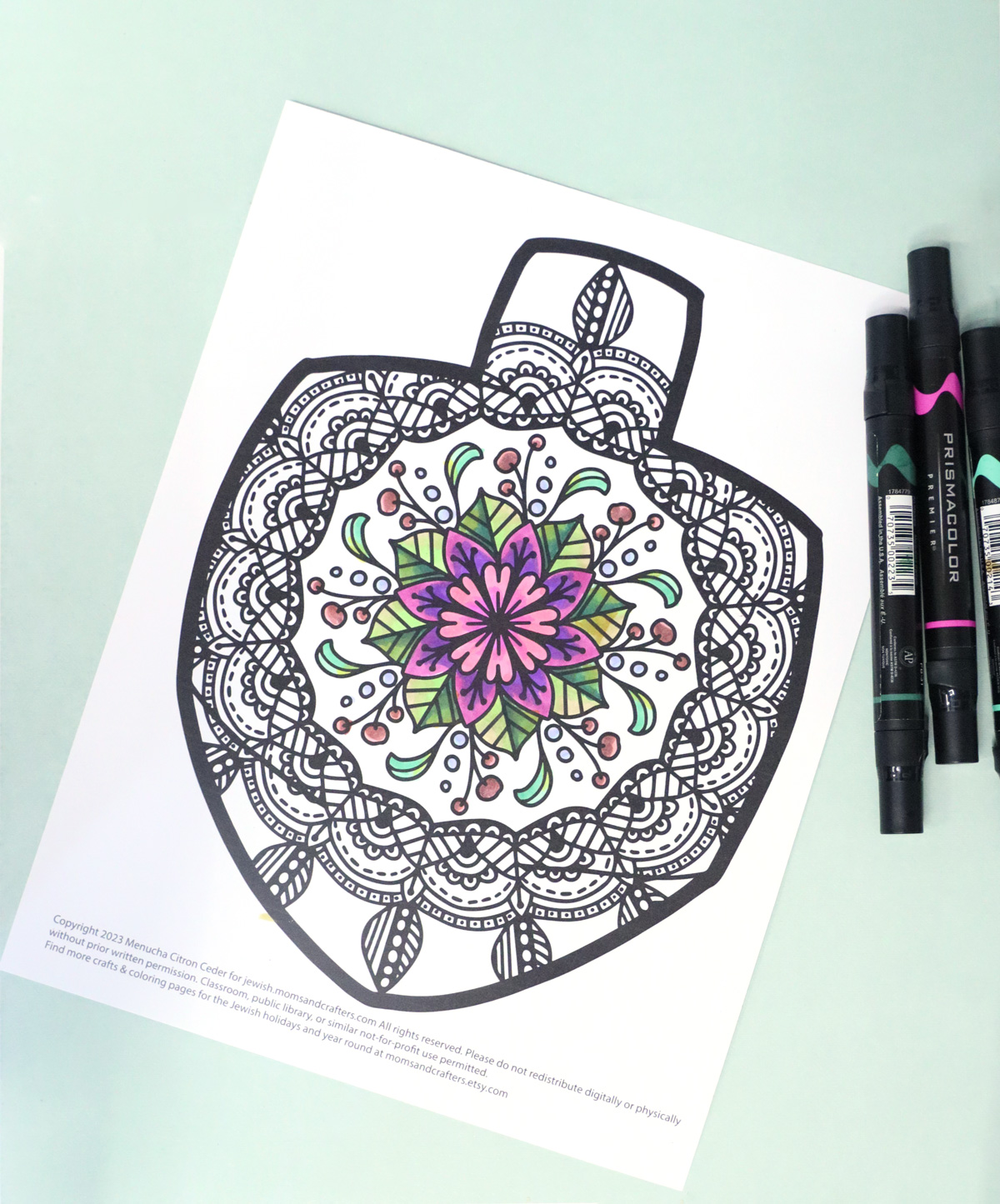 When I was done coloring it in with alcohol markers, I pulled out a white paint marker to add some highlights.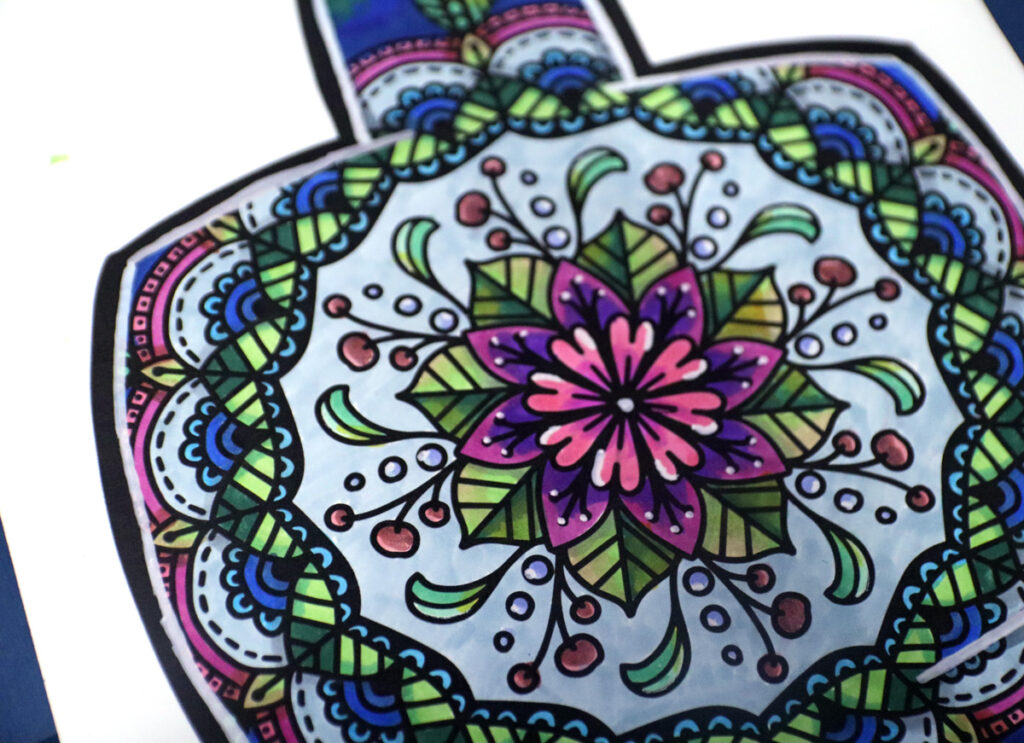 Finally, I oulined the lines that separate the "stick" of the dreidel and the point from the main dreidel with white, I also oulined the whole inside of the dreidel with white to make it more pronounced.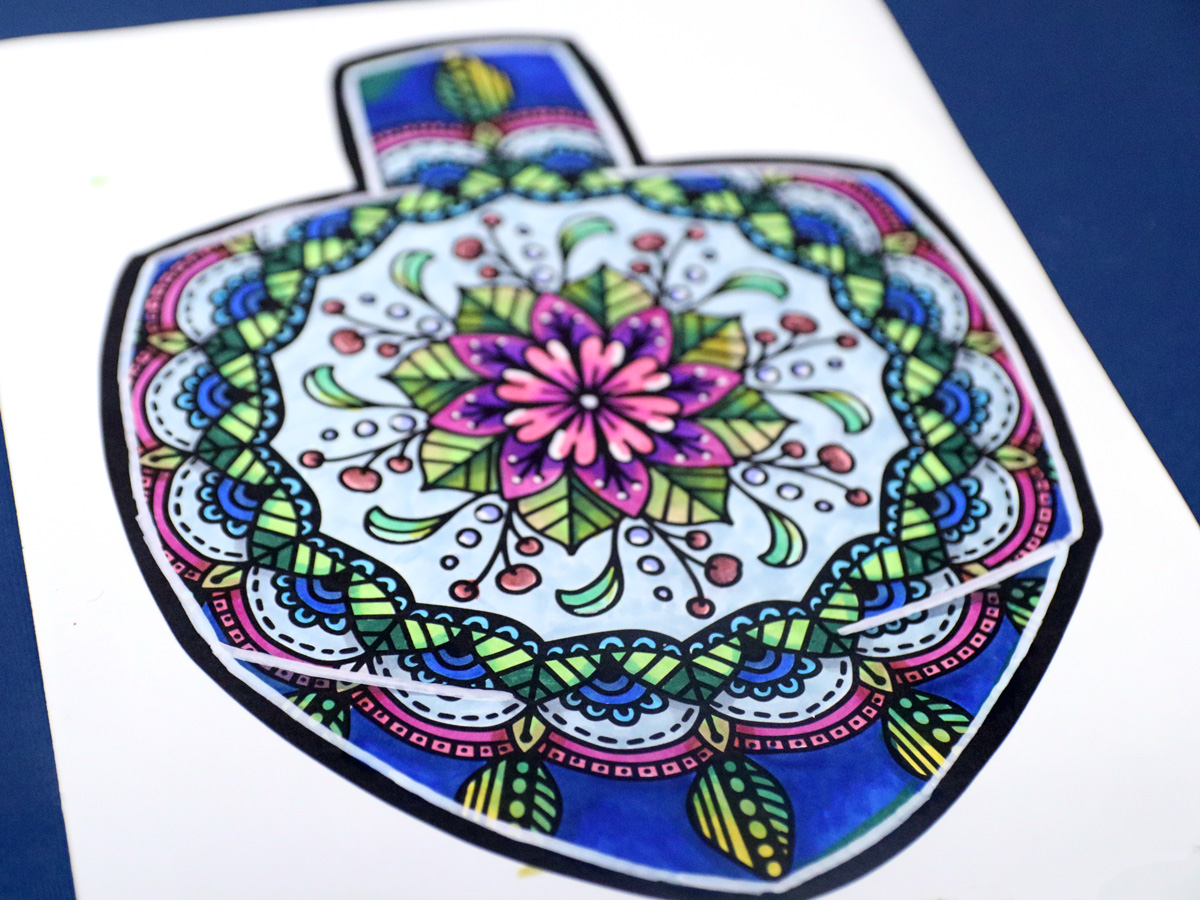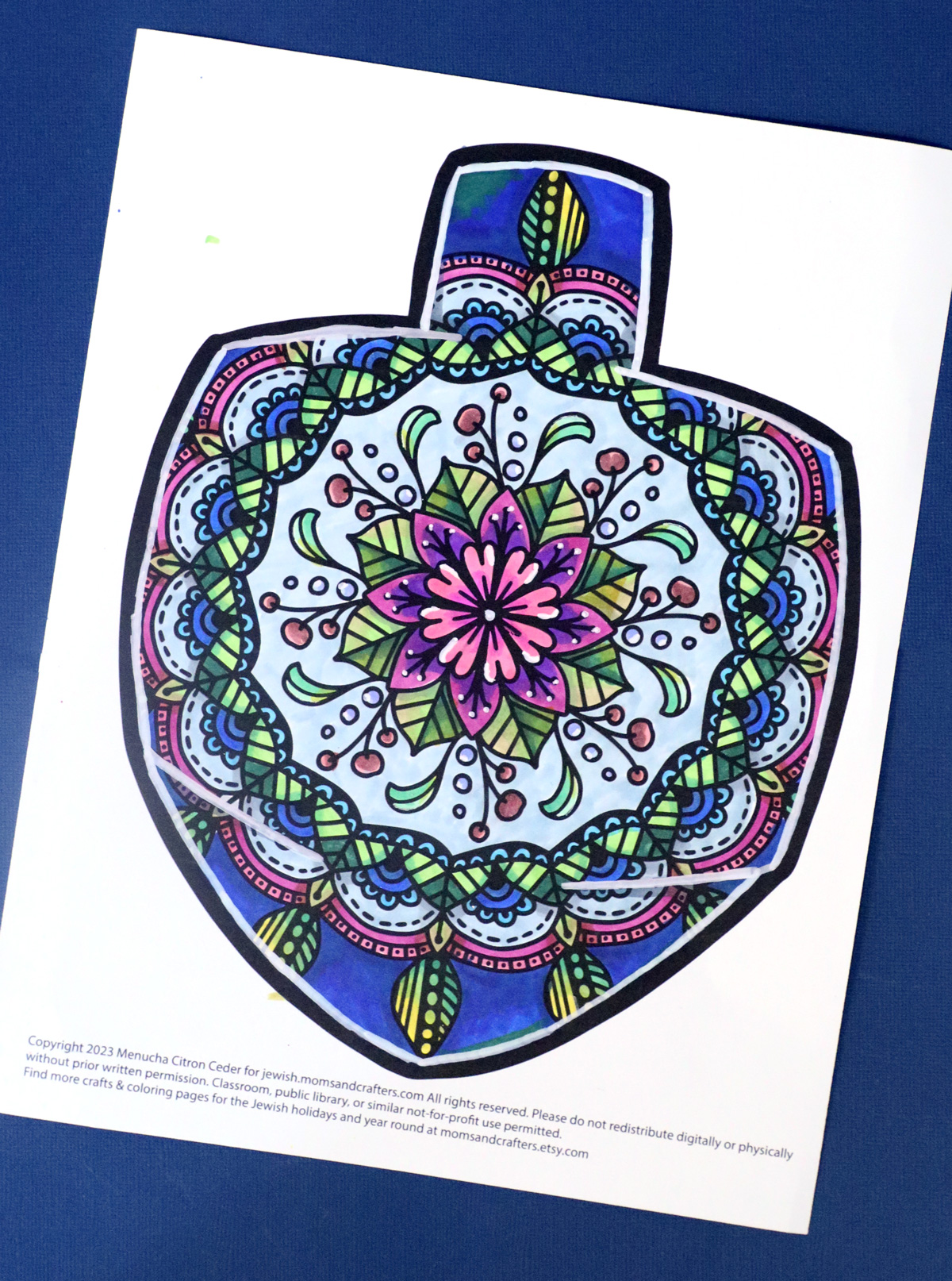 Of course, you can also color this dreidel coloring page with fineliner markers, gel pens, or colored pencils!
Download the free printable dreidel coloring page
Download your free coloring page! It'll arrive right in your inbox. By downloading, you're subscribing to our FREE newsletter with updates on cool printables like this, ideas to simplify Jewish life, and more. Unsubscribe at any time at the bottom my emails. I respect your privacy and the law, and won't share or sell your email address.