Looking for some fun and easy Rosh Hashanah crafts to try? This list features ideas for every age group! This post contains affiliate links.
---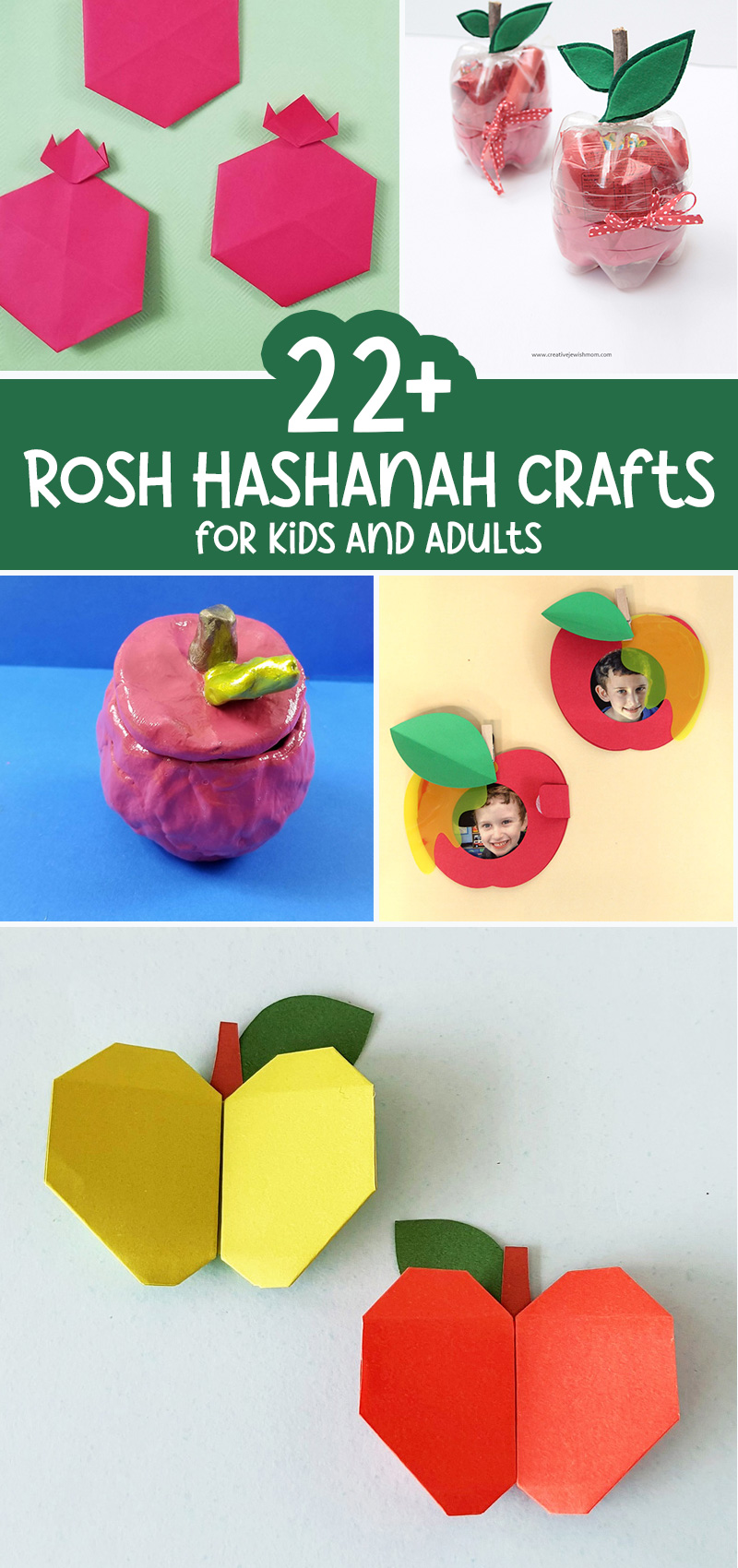 Rosh Hashanah is just around the bend, and there's no time like the present to start crafting! Today I'm excited to share with you a list of Rosh Hashanah crafts to try today.
This list features ideas for every age group – from kid to adult. It's a curated list, which means that some posts are mine and some aren't. Click on each post title to be taken to the tutorial.
Rosh Hashanah is the Jewish new year and the start of the High Holidays – days of repentance and coming closet to G-d. We pray for the year ahead and do things symbolic of a good year.
The classic symbolism of Rosh Hashanah is apples and honey for a sweet new year. Pomegranates also feature strong symbolism, due to their many edible seeds, and our wishes for many merits and good deeds. The Shofar (ram's horn) is blown on Rosh Hashanah. It was actually really hard to find shofar crafts, so I've made a note to feature that on the blog for next year!
I hope you enjoy these Rosh Hashanah crafts, and here's to a sweet new year!
Rosh Hashanah Crafts for kids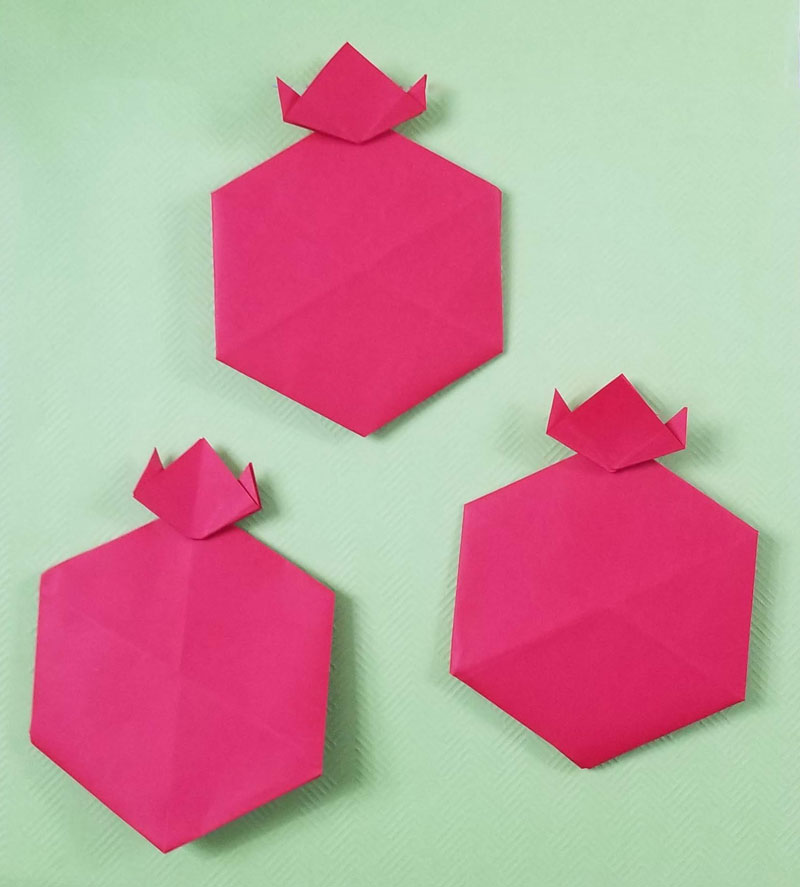 To design these origami pomegranates, I whittled it down to two shapes: a hexagon and a crown. So it's a bit of a break from typical origami – as it comes in two parts. But that also makes it a really easy tutorial to follow.
To make origami pomegranates, I used standard copy paper rather than origami paper.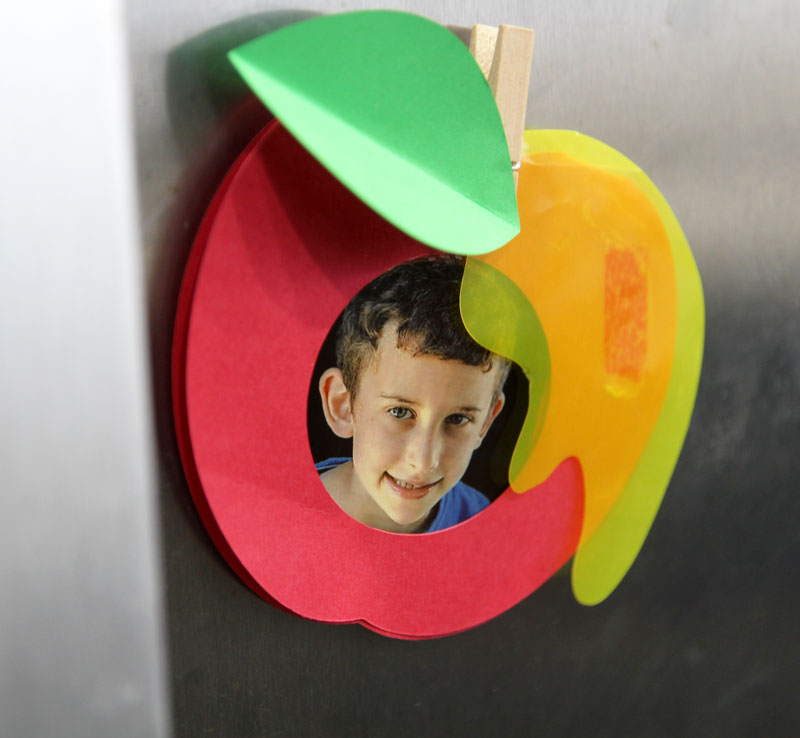 Send Rosh Hashanah greetings with an adorable apple card that's dripping with honey! A spot for a photo turns it into a unique gift. There's a vertical and horizontal template for you to choose from. Can you guess what I used for the drip? It's a plastic divider!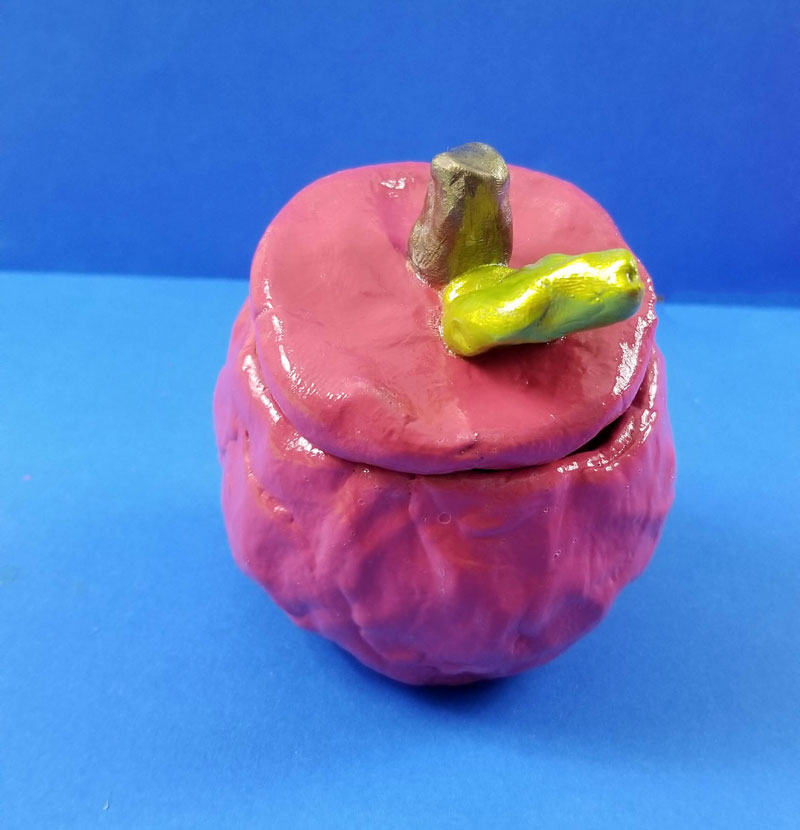 Pinch pots are a fabulous starting point for young kids to start making things with clay. This apple honey jar is made using air dry clay and finished with acrylics and dishwasher safe Mod Podge. While it technically can be dishwasher safe, I don't recommend it, as if you did miss a single spot, the whole thing will melt in your dishwasher and it'll be a mess. I still recommend sealing it with a good hardy sealer so that it's hand-washable.
Another note: while all the supplies are non-toxic, they're not food safe. So you'll want to make it to fit a plastic cup or other insert for actual use. All this said, it's a super fun kid-friendly craft with satisfying results – and a fabulous choice for multi-session workshops.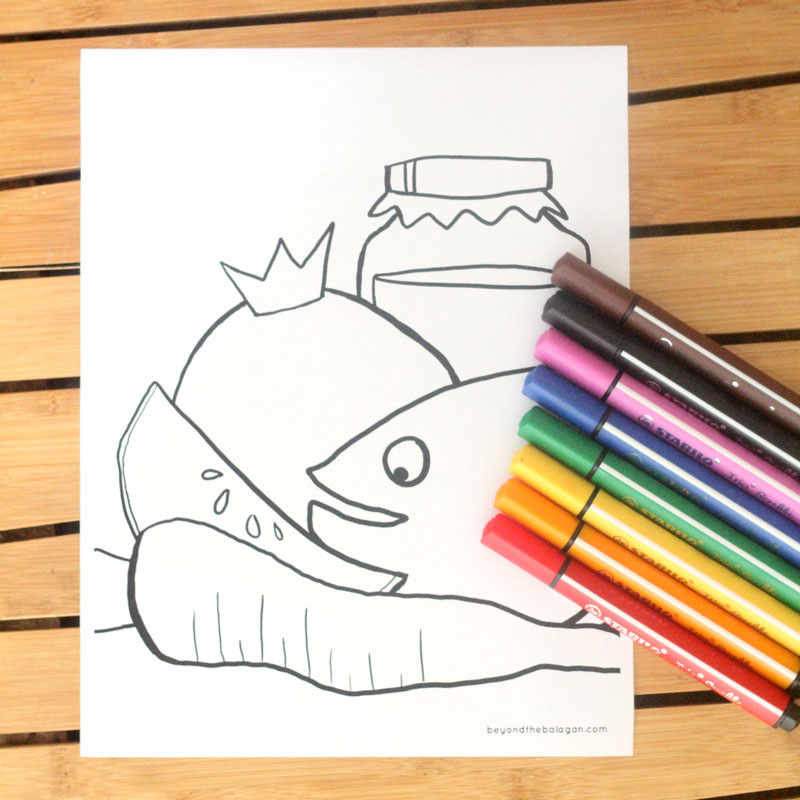 Go back to the basics with a free printable coloring page! Or, get the full bundle of coloring pages here.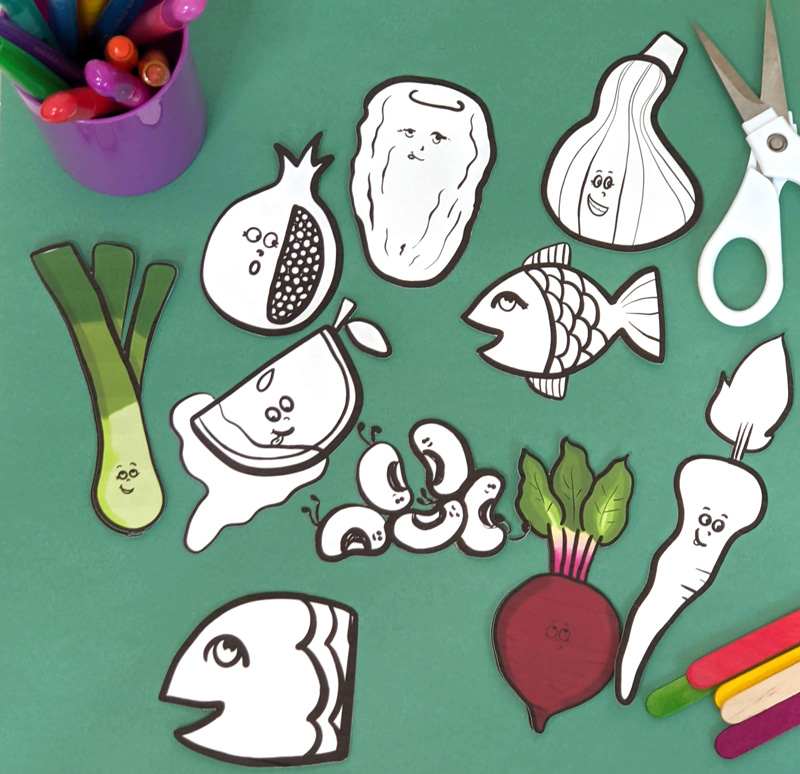 Get kids involved in the symbolic foods for the holiday with these adorable puppets. Kids can color and craft them, and then participate in the meal by holding up the correct puppet as you eat the symbolic foods.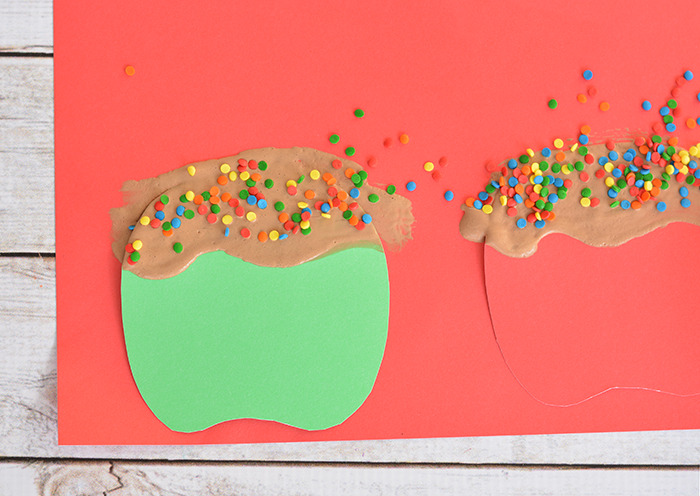 If you want to look outside of Rosh Hashanah specific crafts, try caramel apple crafts instead! Make the caramel yellow instead of brown for honey. This puffy paint craft is a super fun sensory experience for kids as young as toddlers.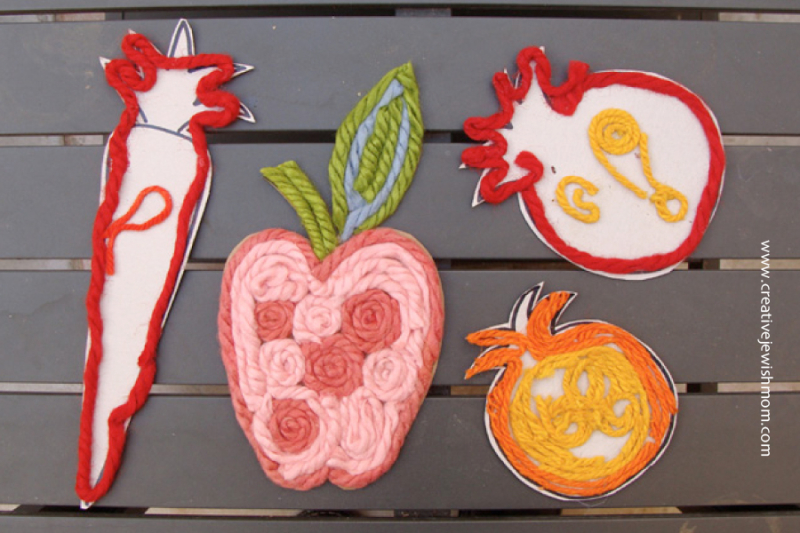 Yarn art is another fun, tactile craft for kids who like sensory exploration through crafting. This one features a few symbolic foods (simanim) and is open-ended. There's no wrong way to make them!
A fun bee themed card is easy for kids to craft. I love this idea as a classroom craft for kids to make in school and gift to their parents! You can even pair it with some honey sticks for a super sweet gift.
Fish are another symbolic food, which means that technically any fish craft could fly for Rosh Hashanah. But this one by Tori Avey was designed special for the holiday.
Another fun kid-made card for Rosh Hashanah, these apple stamped cards are a super cool take-home gift for parents. And if you laminate it, it can double as a honey coaster to catch those drips. Just have sympathy on mom's efforts for a classy tablescape and keep it minimalist!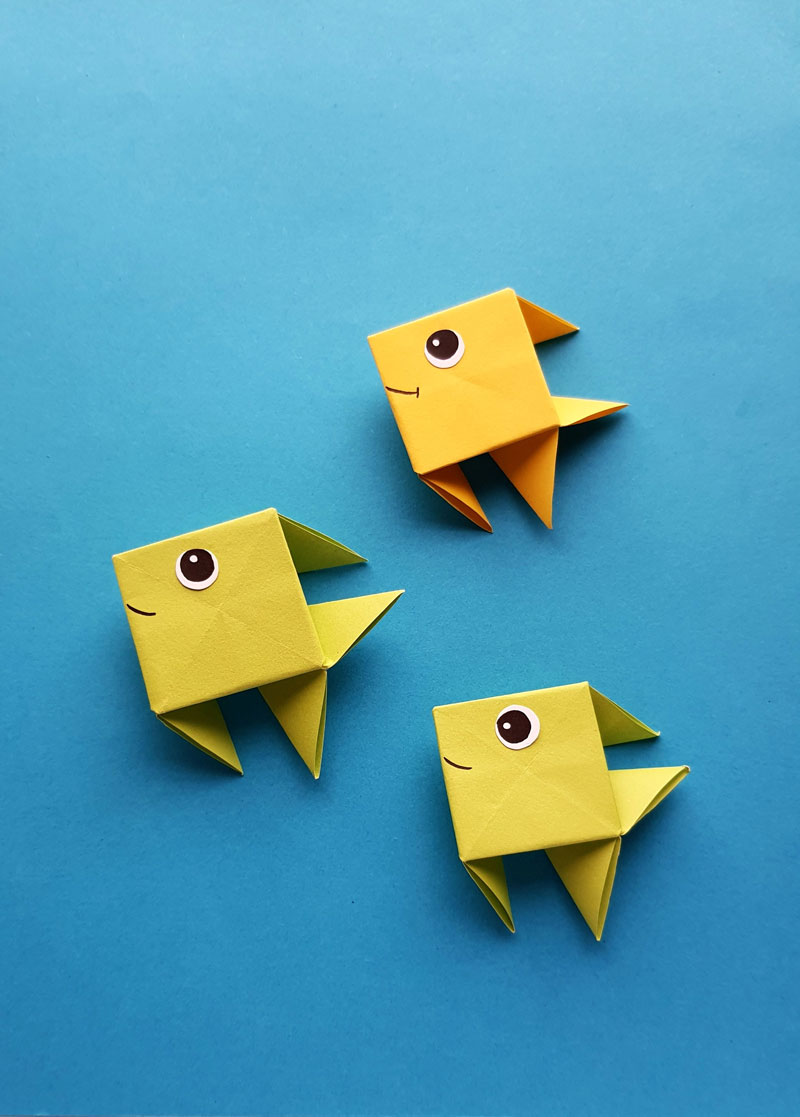 Another fun fish craft that can double as a Rosh Hashanah, origami fish are a classic skill-building craft activity that's great for middle school kids and older.
Rosh Hashanah Crafts for Teens & Adults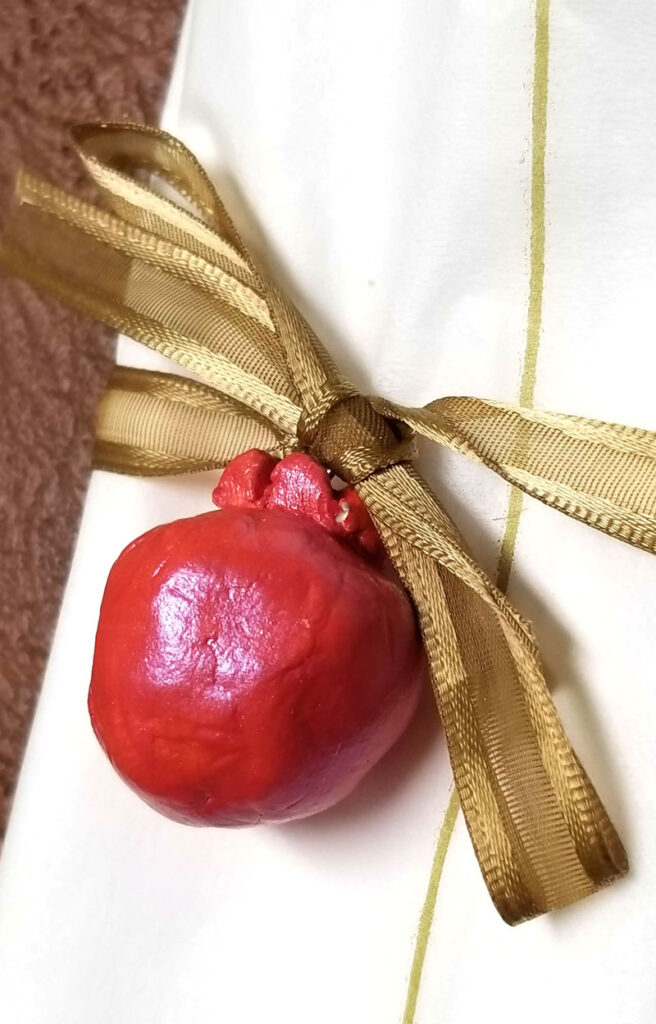 A few years ago, I created some air dry clay pomegranates to play around with. I ended up turning some into earrings and some into dangles to use as napkin rings.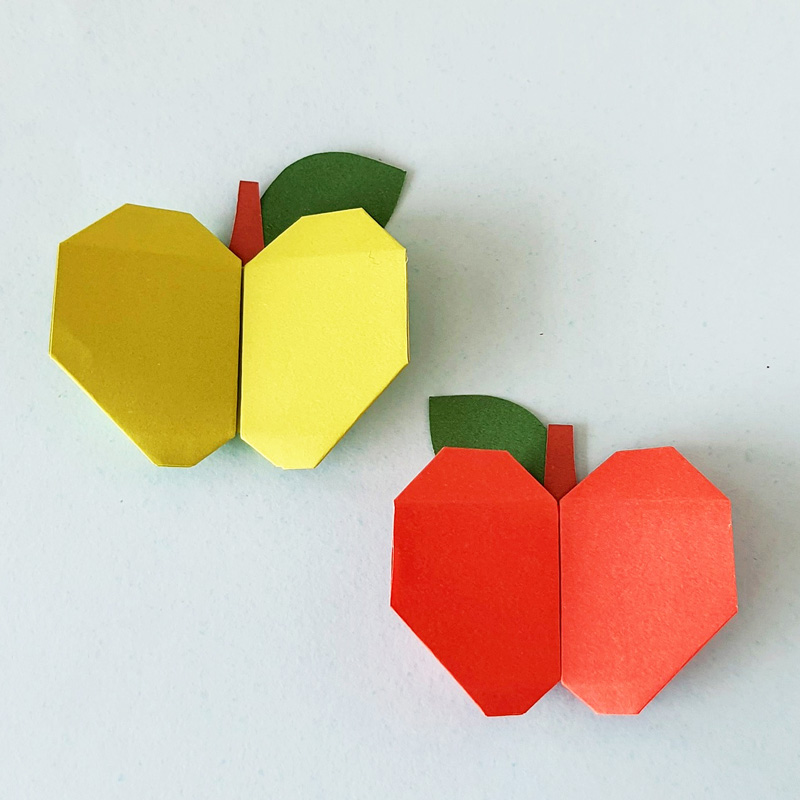 Take your origami skills to the next level by making these origami apples! You can turn them into garlands, place cards, greeting cards, and more. Make them more Rosh-Hashana-esque by adding a honey drip using paint markers.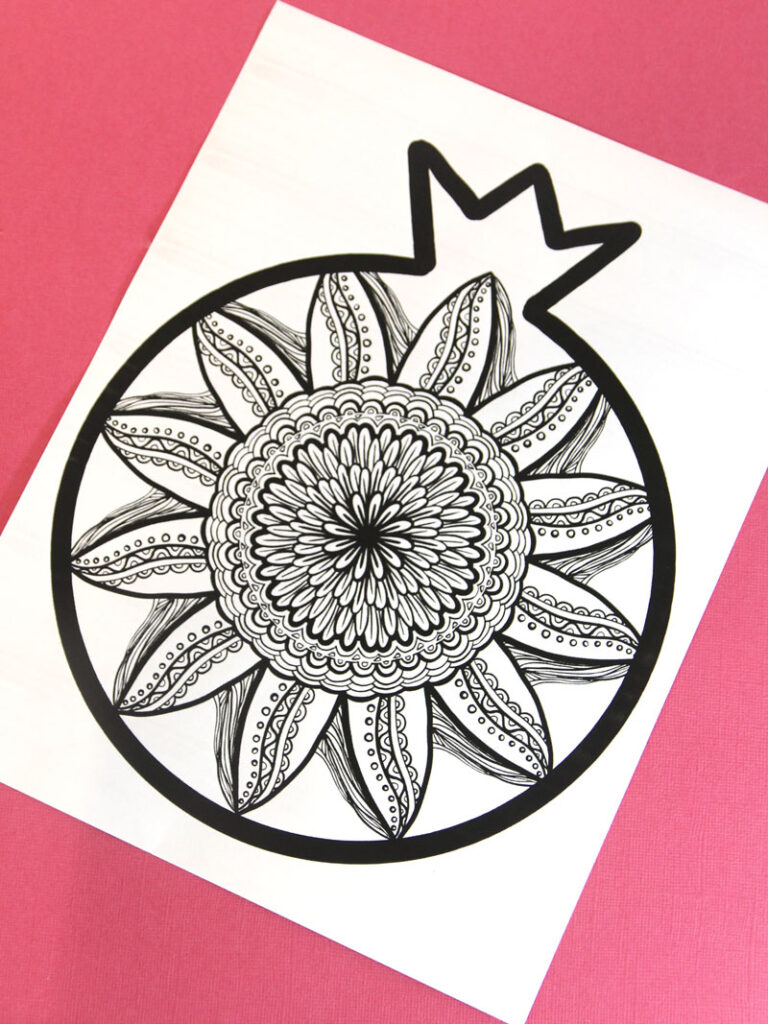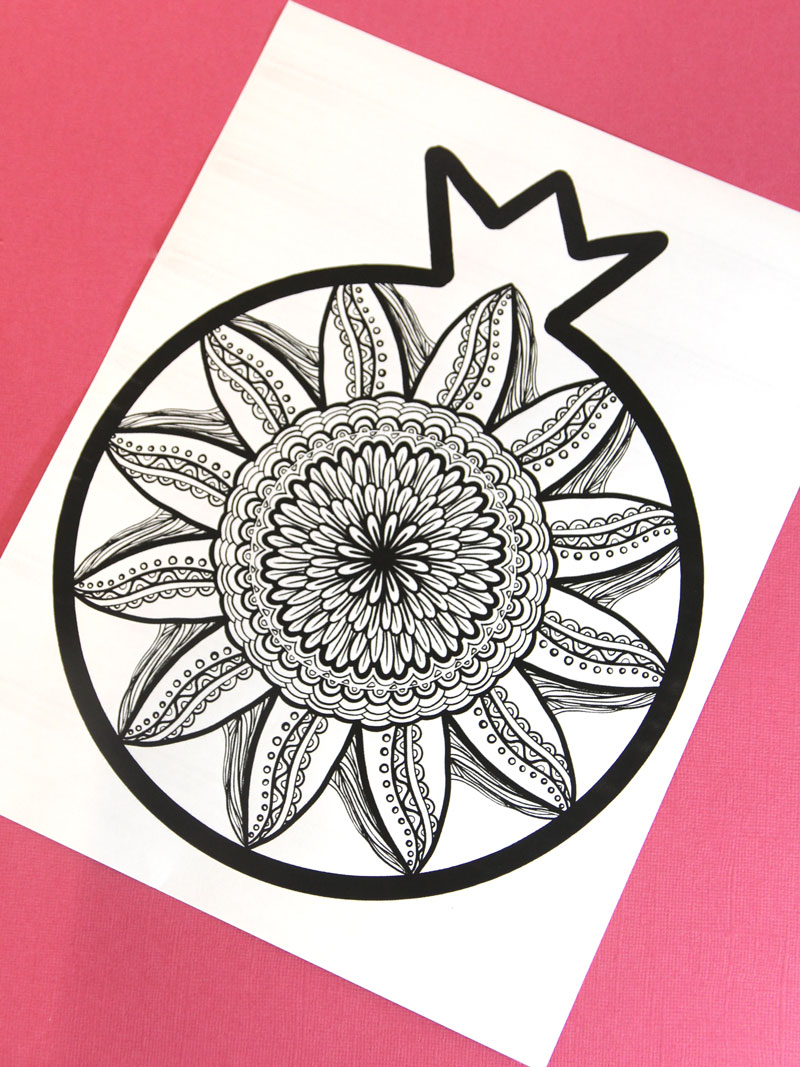 Pomegranates are one of the prettiest features of the chag and that's why I chose them as the focal point for my latest bundle of adult coloring pages for Rosh Hashanah! You can get the printable here.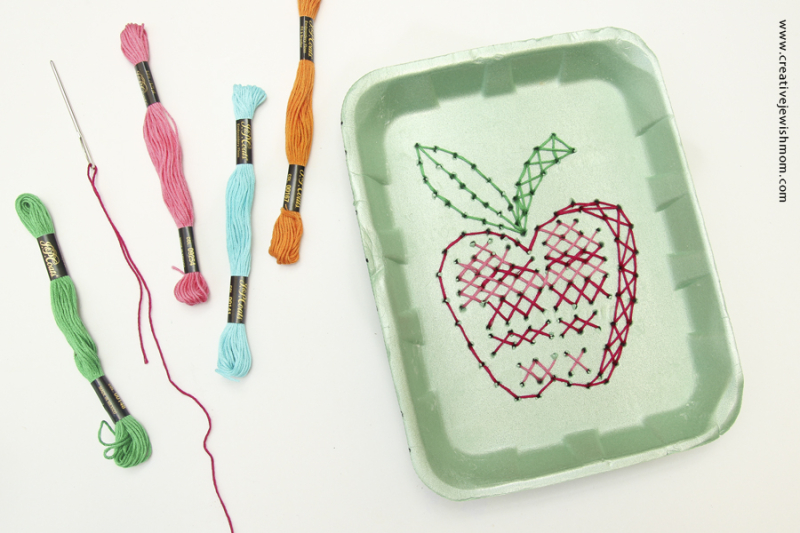 Creative Jewish Mom has taken recyclables to the next level with this egg carton cross stitch tutorial! You can do it for any holiday, with any image, however this particular one was created for Rosh Hashanah.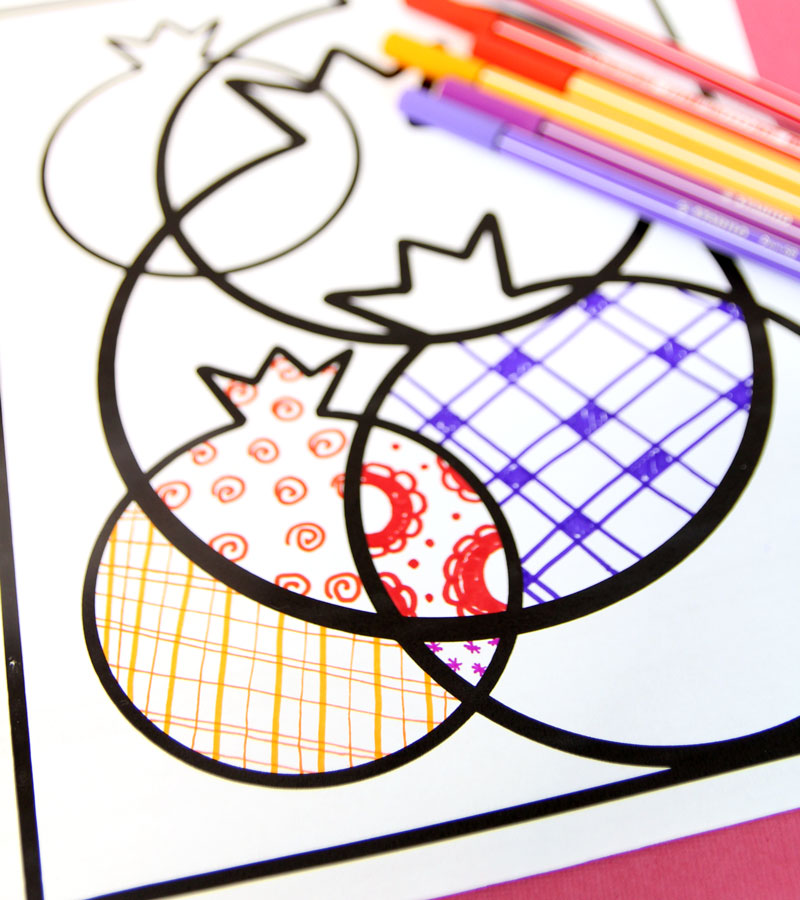 I love a good doodle prompt, and so I turned the framework for some of my pomegranate coloring pages into a blank doodle prompt! This is especially fun for teens who would aspire to one day illustrate their own coloring pages! But it's also fabulous as a doodle prompt for anyone who enjoys creating patterns.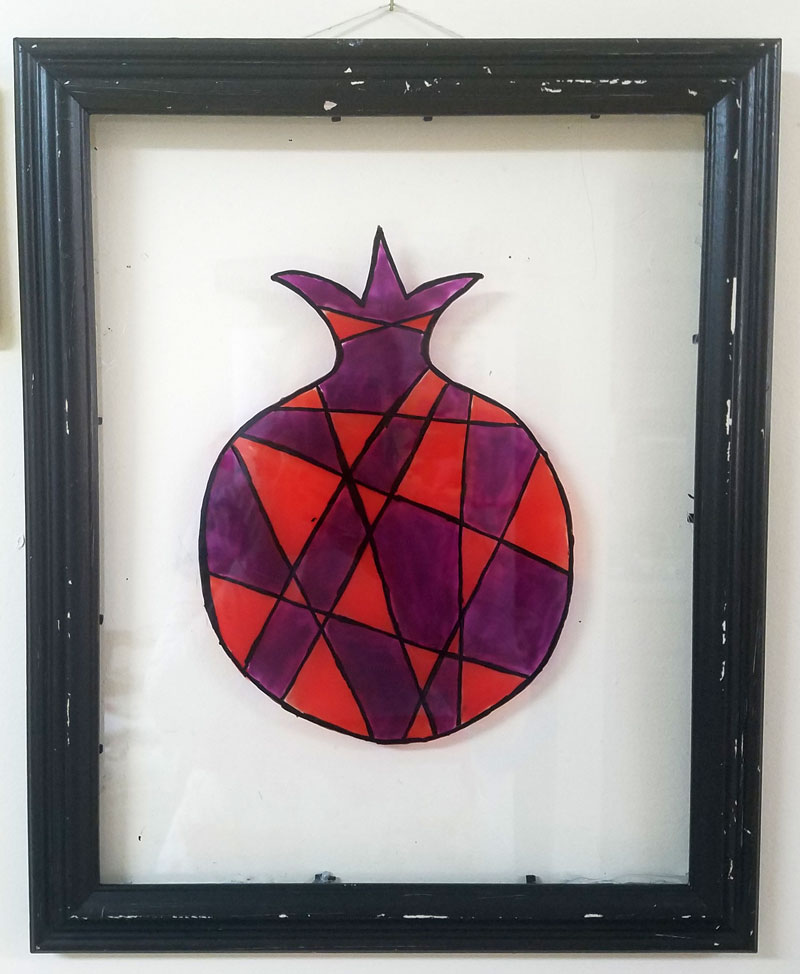 I originally created this stained glass art as a waterproof Sukkah decoration. However, now that we have a fabric Sukkah it simply adorns my home. You can prop it on a bookshelf as DIY Rosh Hashanah decor or hang it year-round.
The other day I spent a fortune on Rosh Hashanah-themed napkins at a local store. I should have simply created my own as Busy in Brookly shares! You can make this for your own tablescape, or craft a set as a hostess gift.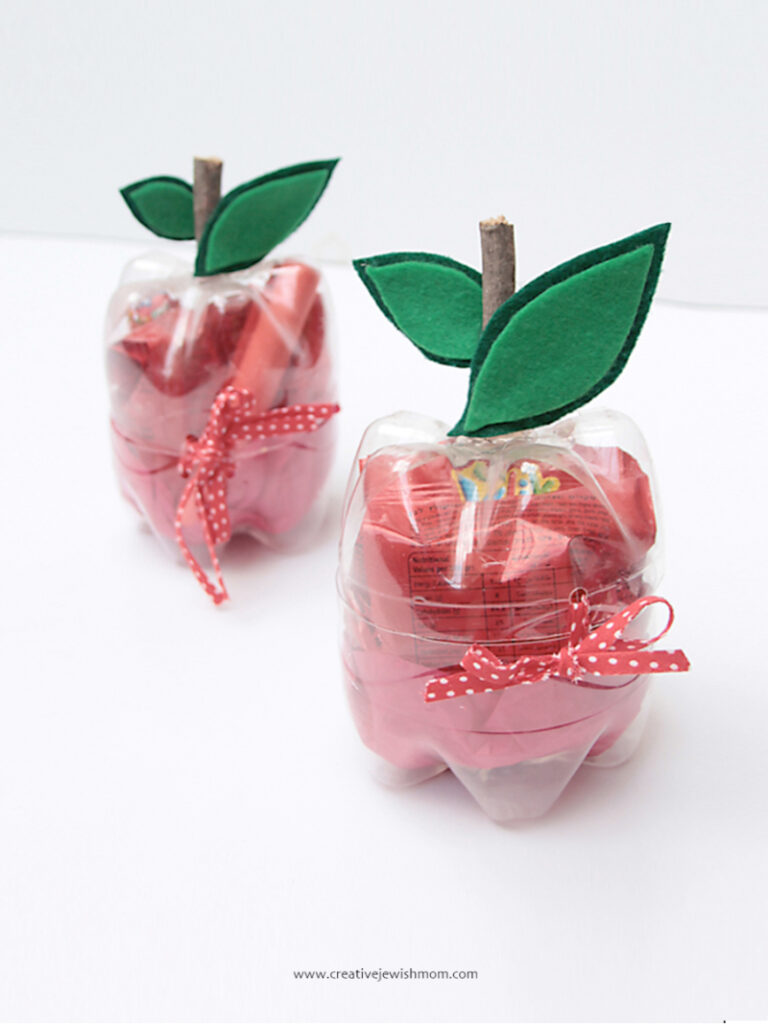 If you're packing some snacks to gently remind your offspring to say silent during Shofar blowing, why not upgrade the package on a dime? Creative Jewish Mom is truly creative (and truly a Jewish Mom) as she updates soda or seltzer bottles into a fun apple treat box. And I love how she doesn't even bother with paint. Red treats are all you need!
Print and Assemble Decor & Crafts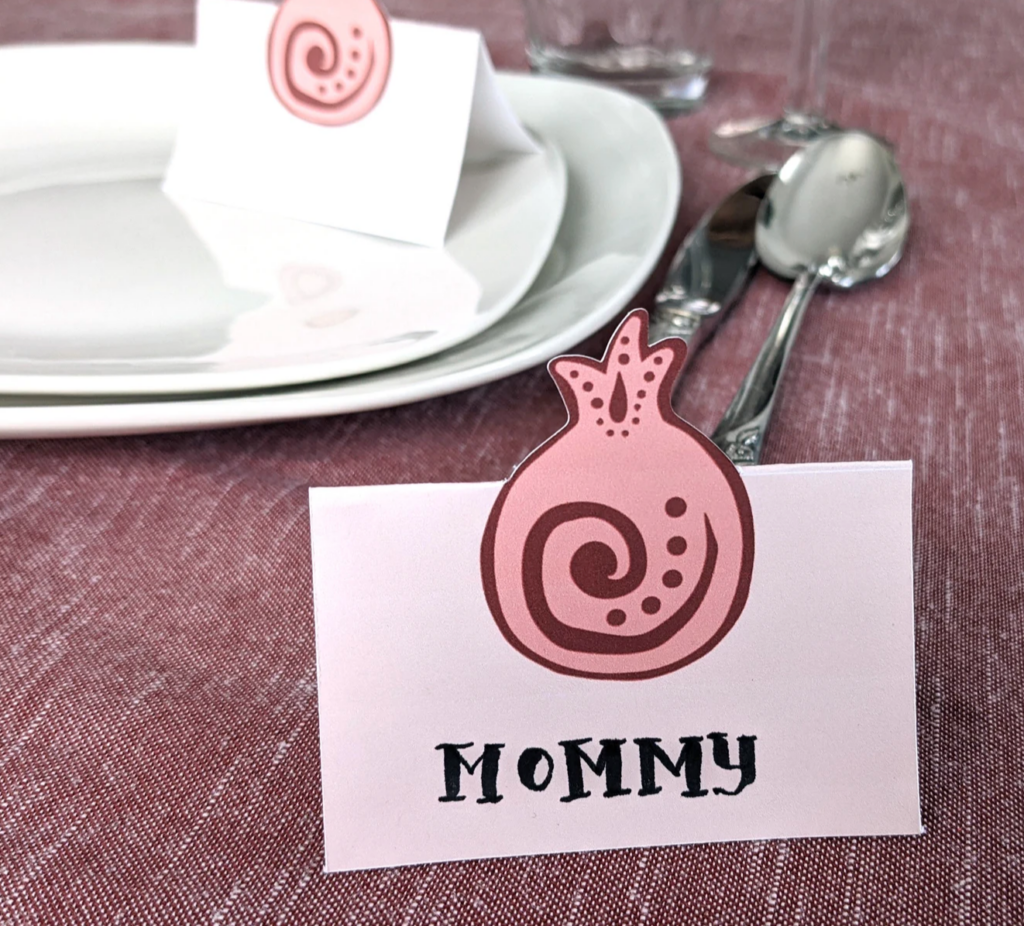 Whether you're hosting lots of people and want to seat them quickly or it's just you and you're decorating, there's something about place cards that add such a fabulous personal touch to any holiday table! I offer a few different designs to suit your style.
Print as many as you'd like for your personal use, and print them again year after year!
Napkin Rings by Jewish Moms and Crafters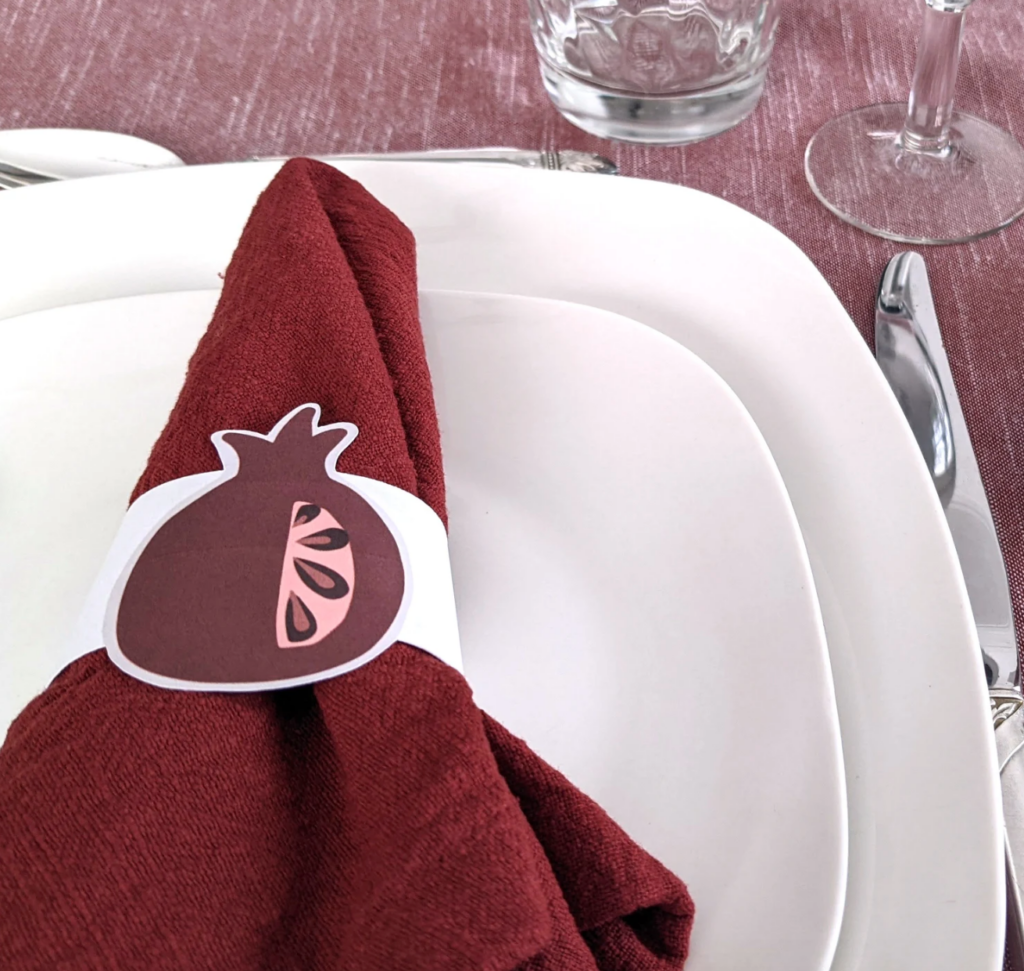 Paper napkin rings? You bet! With these fresh modern designs, this easy print-and-craft idea can be chucked when you're done with it, or stored flat for re-use. Choose your favorites here.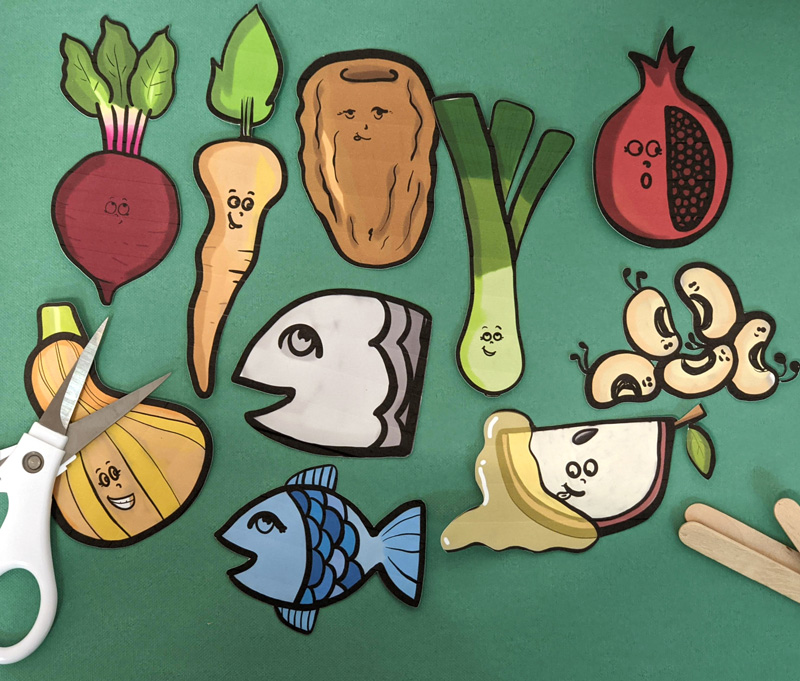 Loved the simanim (symbolic foods) puppets I shared above but don't have time to start coloring? You can make this as a quick and easy DIY toy for the kids too – not just as a craftivity! Just get the full color set, glue them onto popsicle sticks, and you're good to go! You can glue these onto toothpicks too to use as party picks for the simanim.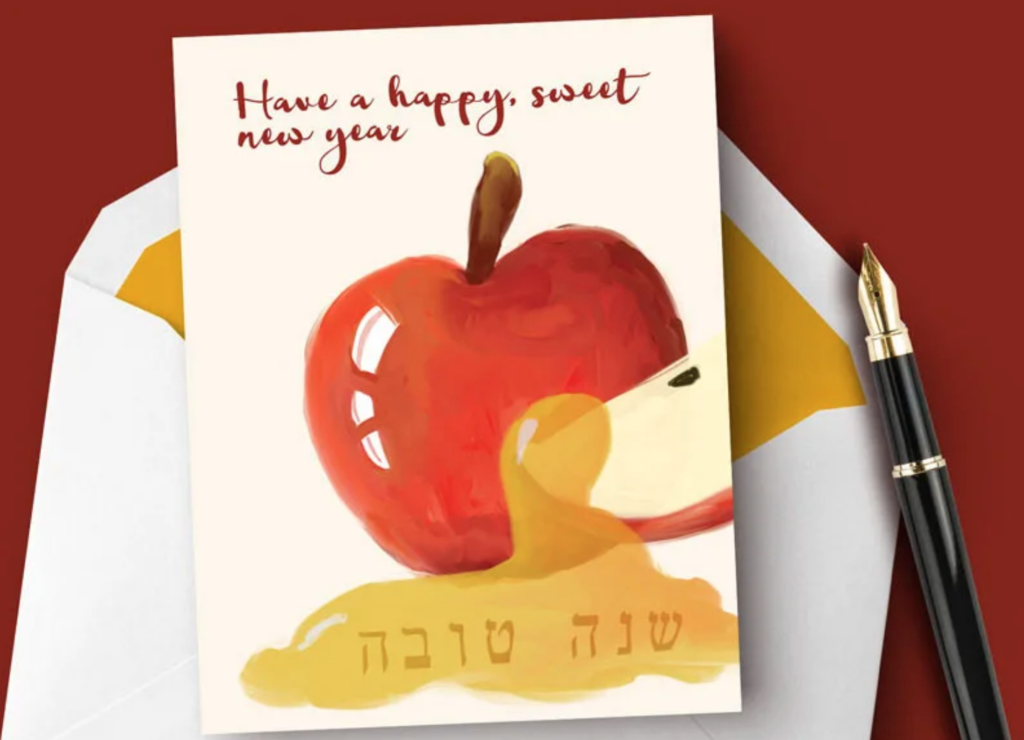 Send Rosh Hashanah grettings to family and friends with this sweet card. You can also explore more modern styles here. The printable means that you can easily print off loads of them for all your family and friends.
What are your favorite Rosh Hashanah crafts? Comment below!