Enjoy these free printable Jewish holiday stickers, designed for calendars and planners! If you like this you'll also love our free Jewish budgeting planner. This post contains affiliate links.
---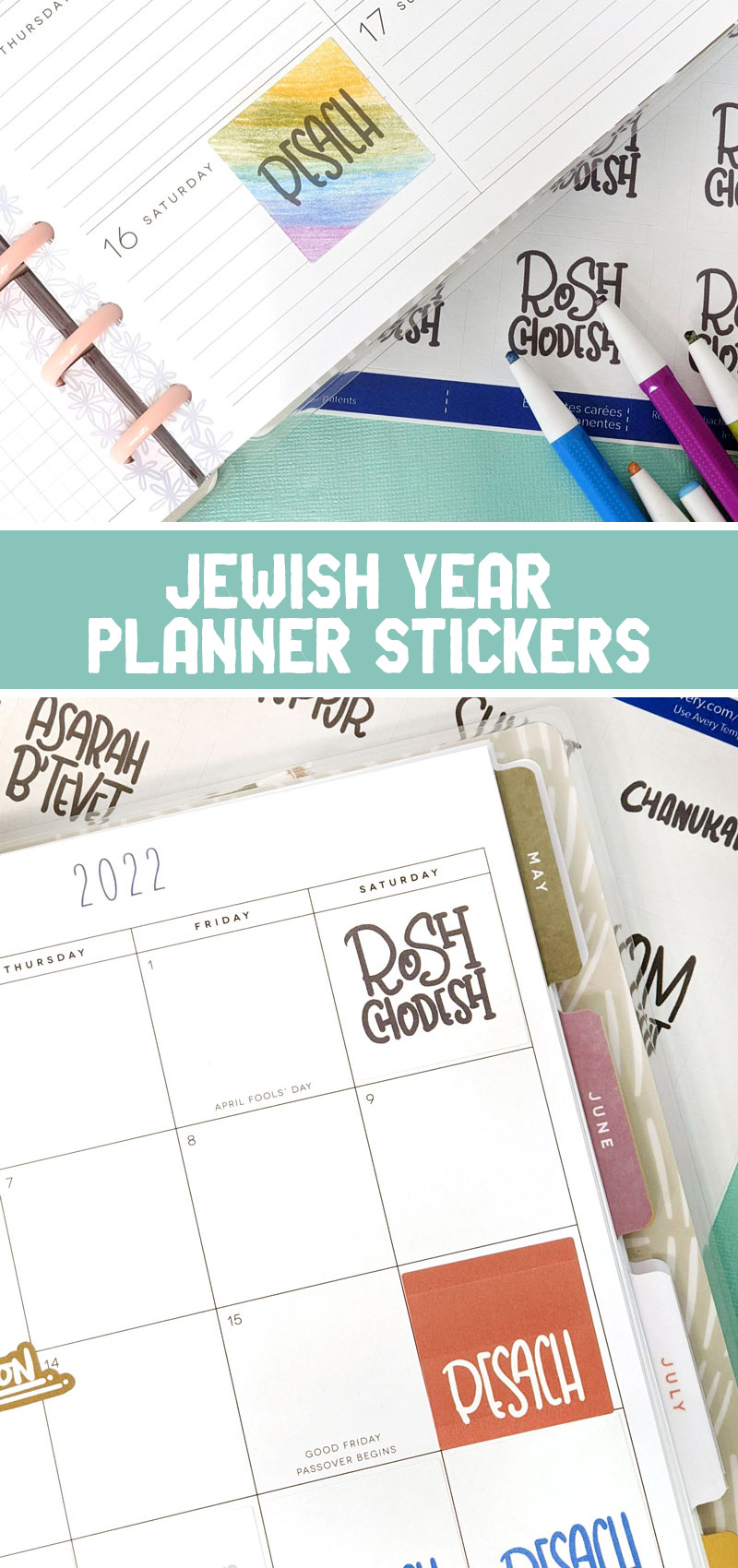 I'm a big fan of paper planners. Actually, I'm a total planner snob.
I have to have a Happy Planner every year. That one year I tried going cheap with a different brand… I gave it away and went right back to my Happy Planner.
But there's the small issue of celebrating completely different holidays than the rest of the world. And since things like Jewish holiday stickers are so hard to come by, I always just scribbled them in.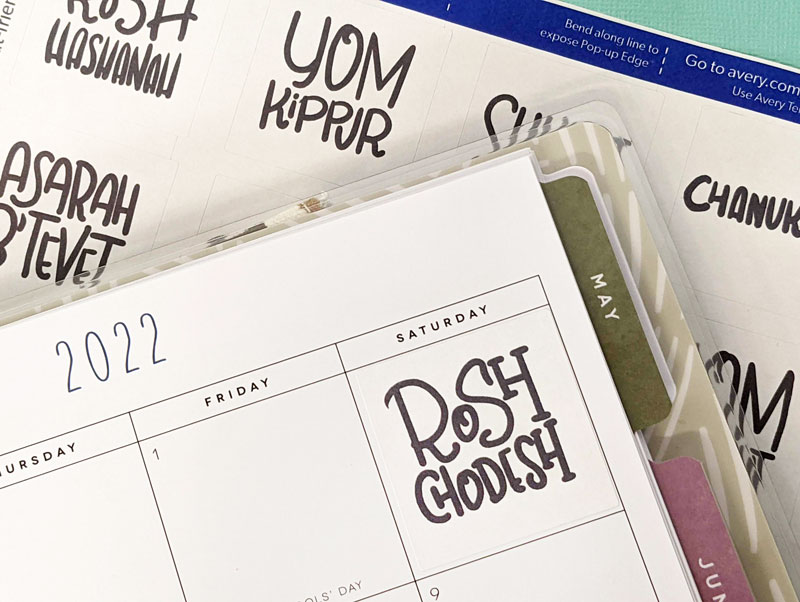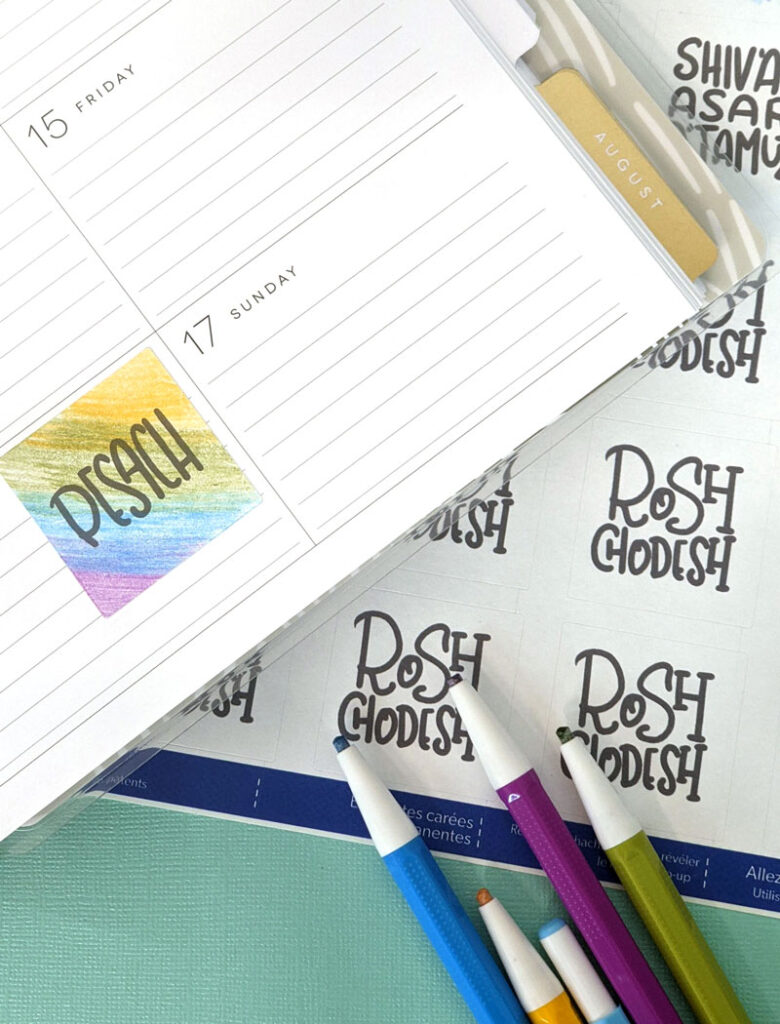 So instead of sitting and thinking "I wish there were more Jewish holiday stickers for my planner readily available" I decided to go ahead and make it more readily available.
I decided to offer these as a printable for a simple reason. For something that needs to be repurchased every year, that you sometimes make mistakes with (case in point, I placed my High Holiday stickers in August instead of September…) it's nice to be able to print out new batches. And this way, you can buy it once and print it for your wall calendar, planner, your kids' planners, your husband's… and do it again next year.
And for those who keep 18 month planners, you no longer need to buy two sets! You're welcome.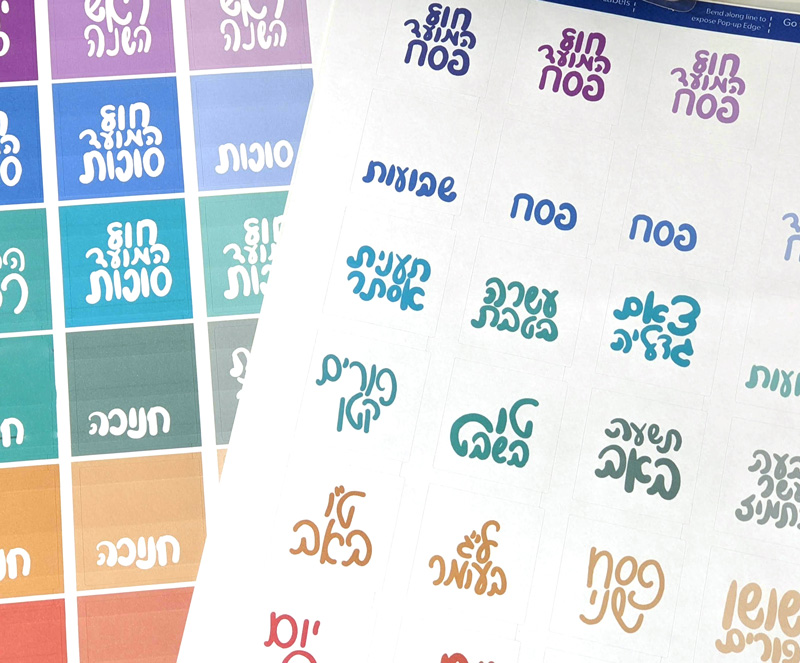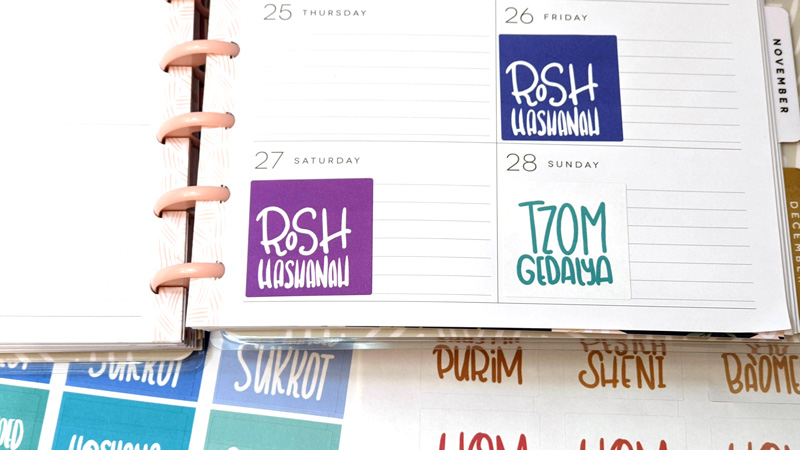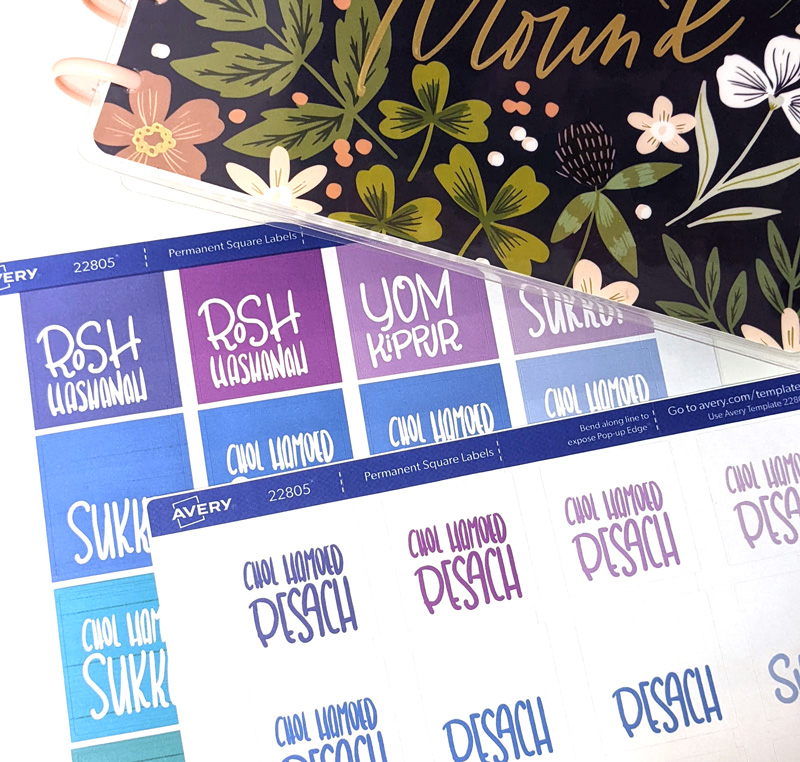 About these Jewish Holiday Calendar Stickers
I hand-lettered (digitally on my Surface Pro, but still drawing it out by hand!) each Jewish holiday in both Hebrew and English text.
I designed these to fit onto 1.5 inch square Avery labels using the template for this set.
If you'd like to resize it, or like to keep generic sticker paper handy, you can simply print it on sticker paper and cut it out by hand (although I recommend using a paper trimmer for neat edges. )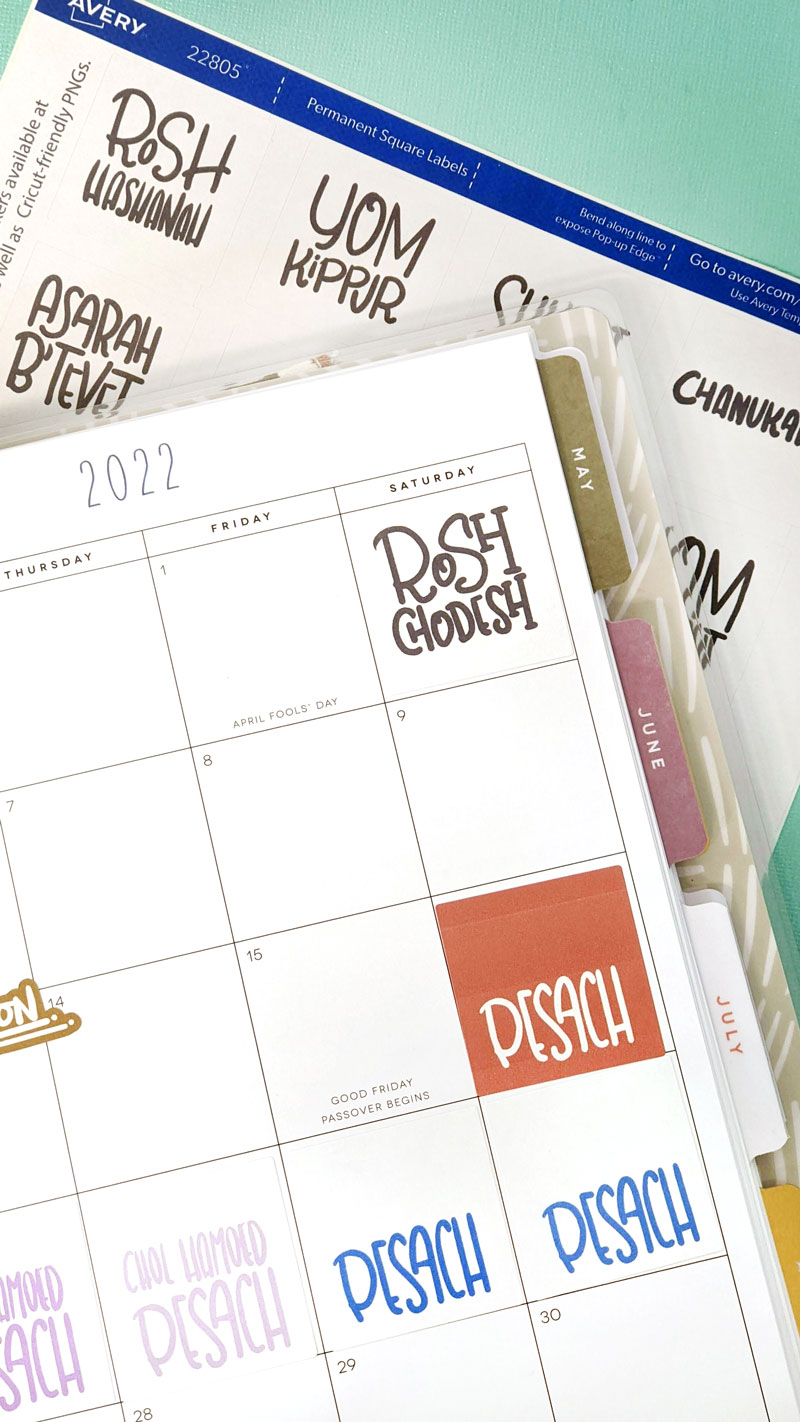 And of course, I also created Cricut Print then Cut versions (instructions included, however you can learn more about how to print then cut stickers on Cricut here)!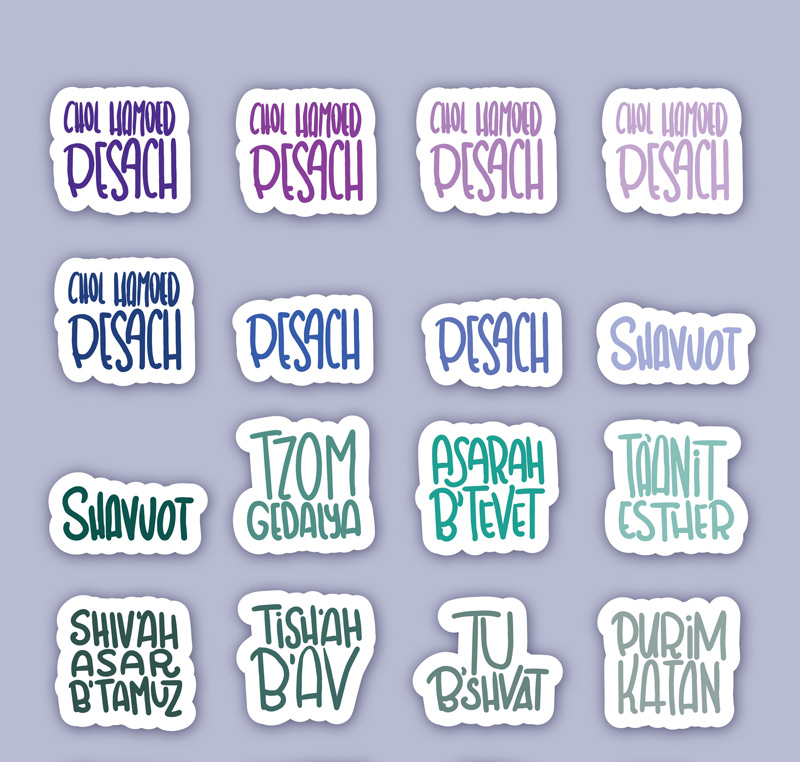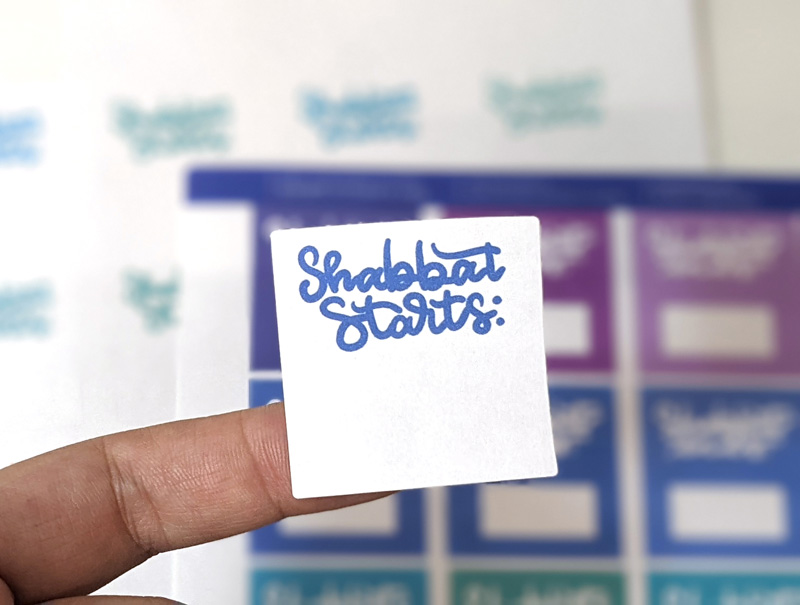 Since it's a printable, that means I can offer you a free sample! This is a fully functional but streamlined PDF sample of my stickers in black and white. It includes single stickers of the main holidays with some Rosh Chodesh stickers so you don't waste labels on the page.
Black and white can be left neutral, or color them on the page (so you don't need to stick to the lines) and then add to your planner, to make things more colorful!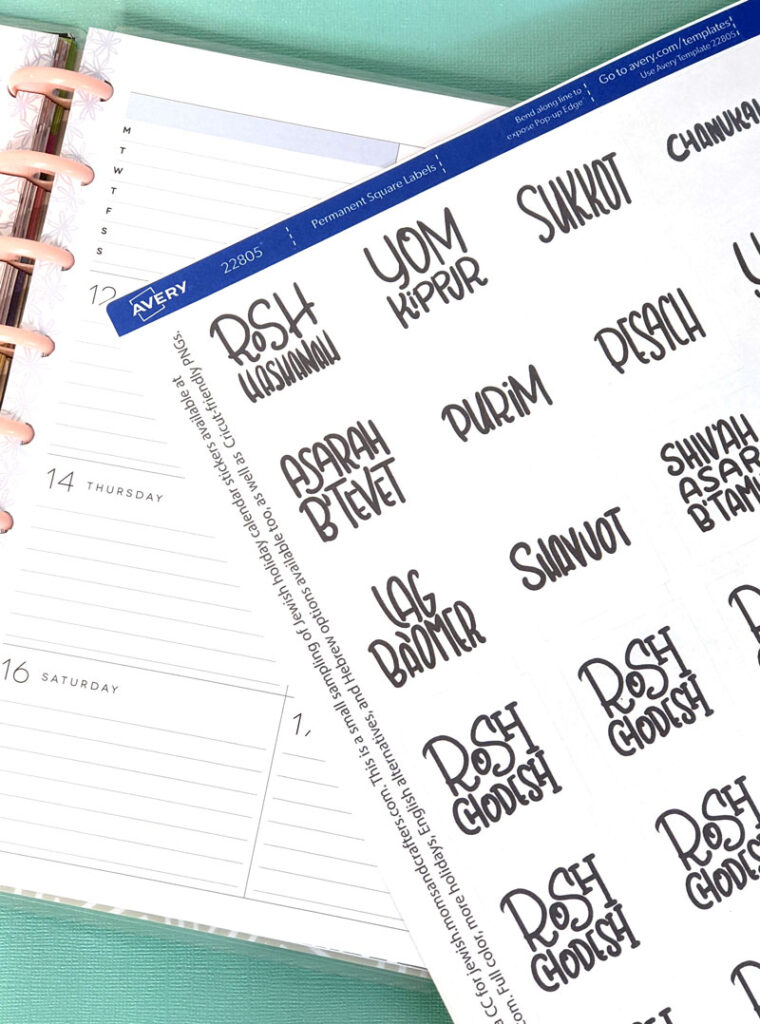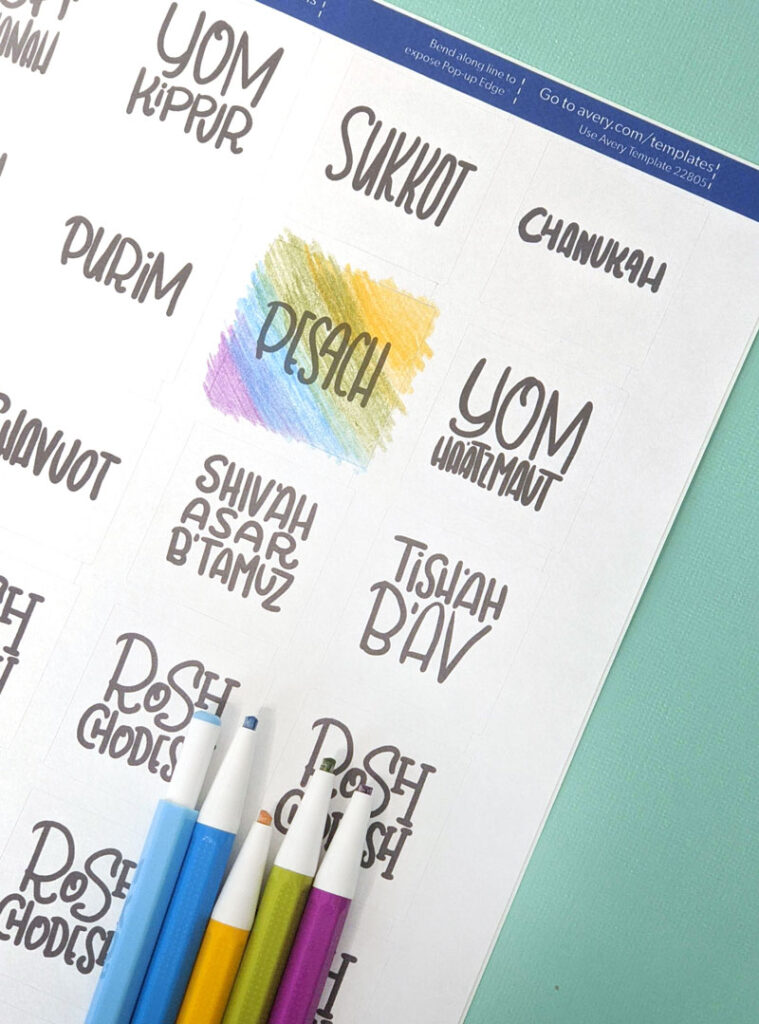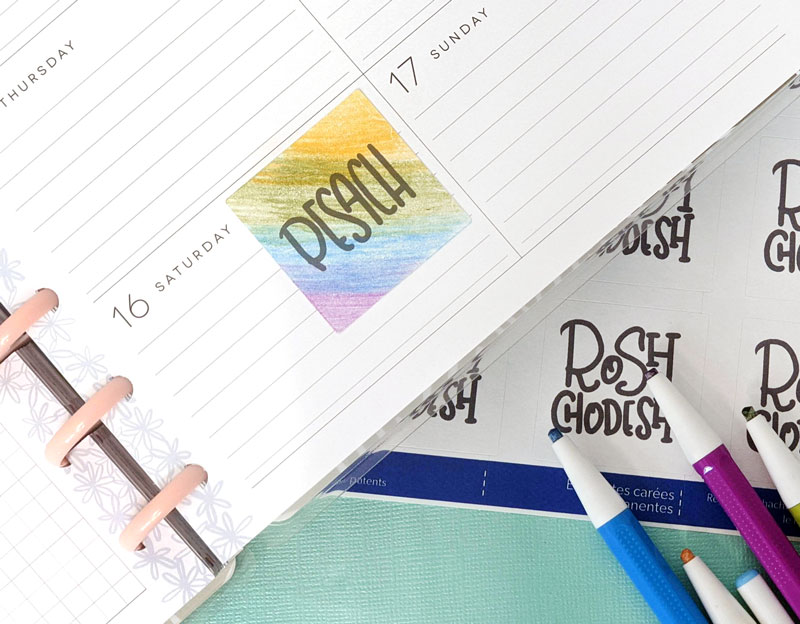 After you download, you'll be redirected to a page with your freebie and an exclusive coupon code in case you want to buy the full color version!
If you prefer, you can scroll below the form for more details and for your purchase options.
Download the free printable sample of my Jewish holiday stickers
Enter your name and email address in the form below. Hit "Send it to me" and I'll send it right to your inbox. You'll also be directed to a page with the download, as well as your purchase options for the full bundle in case you want more, colors, Hebrew, or just to buy me a coffee 😉 .
You'll be signed up for the free Jewish Moms & Crafters newsletter, which you can unsubscribe from at any time by hitting the "unsubscribe" button at the bottom of every email.
The full Jewish planner stickers in full color!
I created more variations so that you can choose the one that suits you best! Click on the image below for the one you want.
Each of these Jewish Holiday stickers sets includes:
Two styles: one with a colorful background and white lettering. And one with colorful lettering and a white background.
PNG images formatted to print then cut with cutting machines: square and outline versions.
All major and minor Jewish and Israel holidays. English stickers also have English pronunciation variations (Passover, Hanukkah) in addition to the Hebrew (Pesach, Chanukah.)

How to use these planner stickers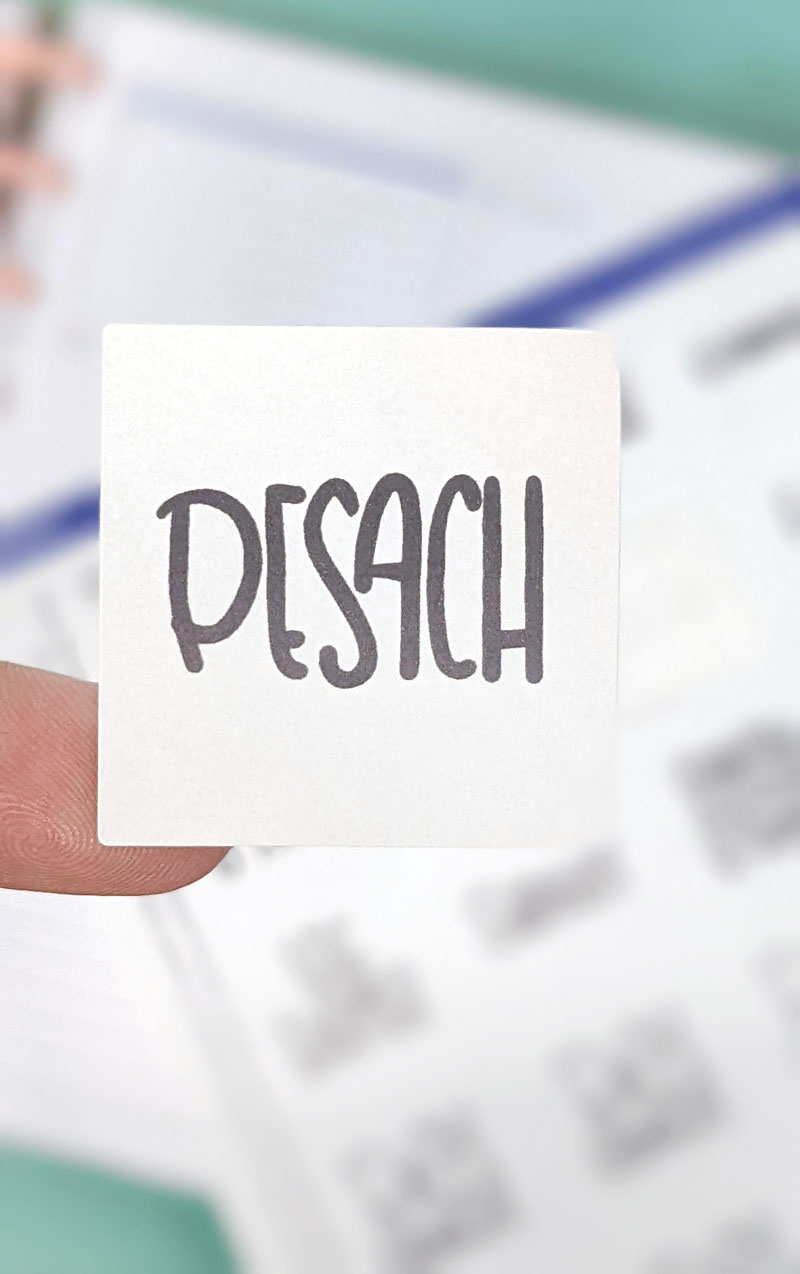 Open the file. Send it to your printer. If printing on Avery 1.5 inch labels, make sure you scale at 100% or print actual size to ensure it prints correctly.
Place stickers on the correct dates!
You can make it smaller to fit a smaller calendar. Just scale proportionately and print on sticker paper.
To use the Cricut Print then Cut (PNG files): Upload each PNG to design space. Make sure you choose complex and "print then cut" image.
Align all of them top and left.
Select all and resize to a max of 6.75×9.25 (which one works will depend on which set you're using).
Load sticker paper into your printer. "Make it" and send to your printer. It'll add a rectangle around it as "registration marks".
Load it into your Cricut and watch it cut!
I hope you enjoyed your free printable Jewish holiday stickers! Find more cool Jewish holiday printables in my Etsy shop.