The day might be a hectic swirl of craziness, but there's one time of day that's priceless for creating that bond and those memories: bedtime. I hope you enjoy these simple ways to make bedtime special. They won't take much from you, but they'll give a lot to your babies. Disclosure: this post contains affiliate links.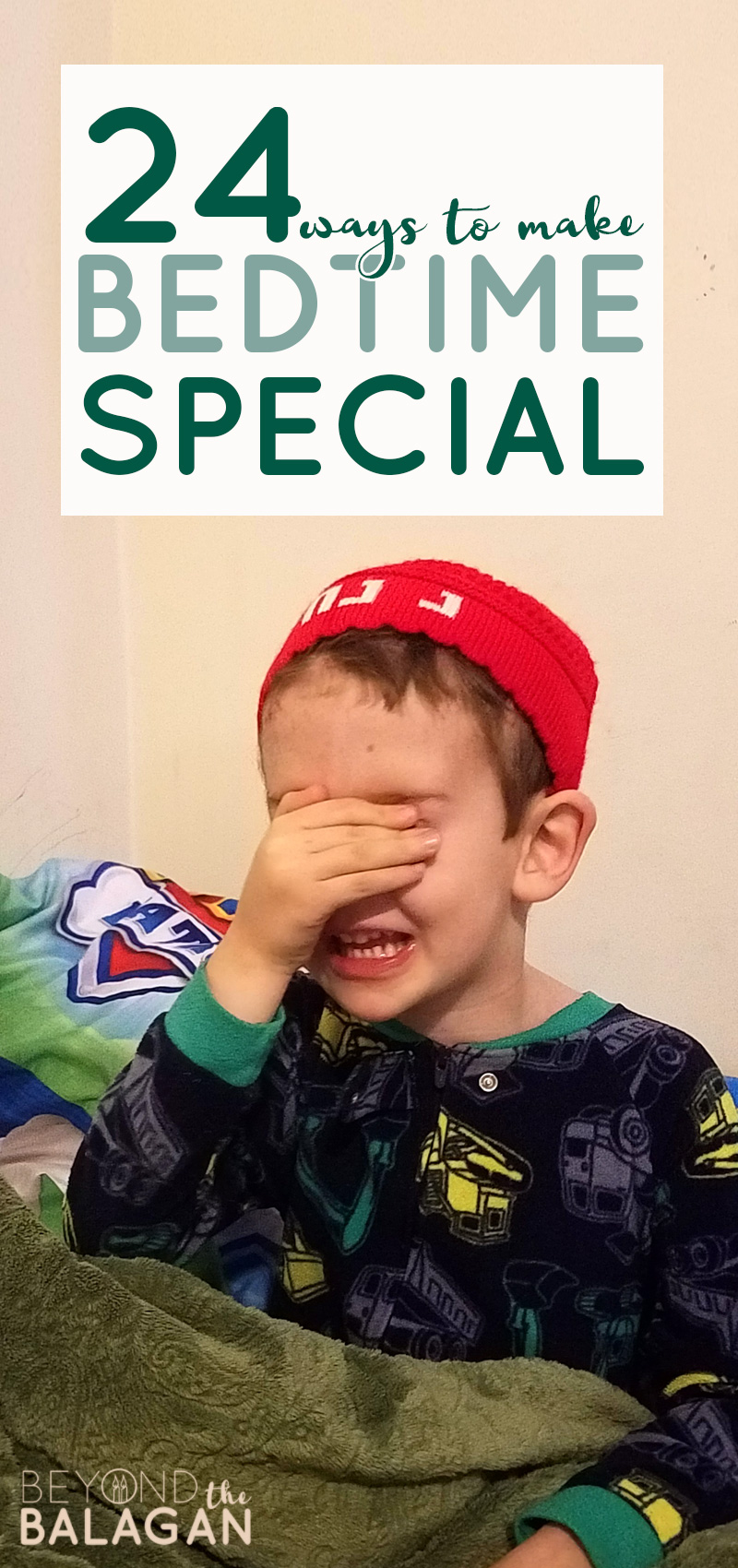 As a work-at-home mom, I am ALWAYS at the office. That means that if an important email dings my phone, I am sometimes guilty of running and answering it.
If I have a call with a potential client, it's always with the kids around. It's unavoidable.
If you're working out of the house, you'll also find that time with the kids is so scarce. You just need to relax for five minutes and eat something, to take care of yourself, because if you don't, who will? Then dinner needs to be cooked. The toddler dumped Cheerios all over .The preschooler scribbled on the walls of your rental home and your landlord will be sooo annoyed…
And even if you're a full-time stay-at-home-mom, for some reason the rest of the world assumes you're bored and asks for you to help with any number of shul events, PTA tasks. Plus, you can't afford to hire cleaning help. And you may be at a loss with how to connect with your kids even if you do have the time.
Bedtime, for me, is the solution to all of the above. I've been a stay-at-home-mom, a working mom, and a work-at-home mom in the past four years at different stages. I know how each one presents unique challenges when it comes to connecting with the little ones.
I know how easy it is to let childhood slip away.
And I know how bedtime can play a key role in teaching children just how much they mean to their parents.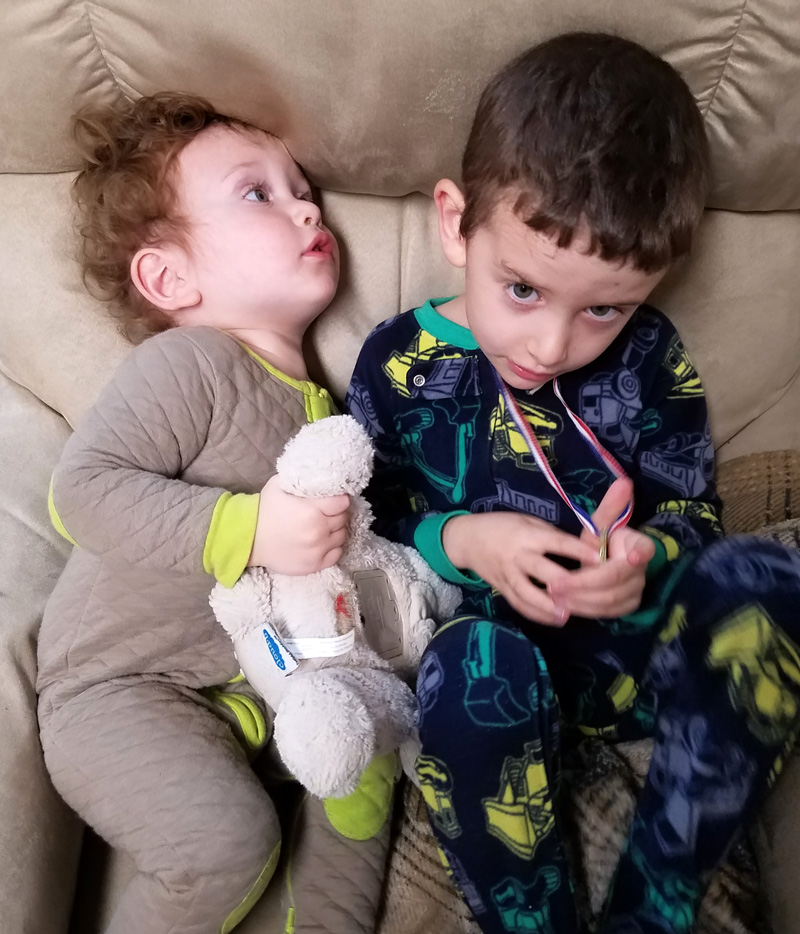 For me, it's about the song we sing. My kids are still young, and they don't care how off-key I sing.
We sing Hamal'ach. But we also sing the English Uncle Moishy version of the song and M would not have it otherwise.
The words go "Because all of his children are special for all of the Mitzvos we do".
He loves hearing that he's special. He even tells me "Mommy, I'm special too, right?". And I tell him "you are – because of the Mitzvos you do".
I love the chance to teach him that it's his actions that make him special. I give him specific examples. "Remember how you helped Baby Y reach that toy that he couldn't? Remember how you told me that you really like the craft that I made? It made me feel so good! When we say nice things, we make people feel good. That makes us special".
Bedtime is a chance to boost a child's self-esteem and to teach valuable lessons.
Make bedtime special by making your child feel special at bedtime.
Having such talks with your child at this rare opportunity to really unwind (and I mean both of you…) is a great way to make bedtime special.
You might still have a whole day ahead of you, but since the kids are finally going to sleep, there is a sense of calm that comes.
Singing and having deep conversations might not be your thing, so I put together this little list of ways to make bedtime special. Choose the ones that work for you. Obviously, since my kids are young (four years old and eighteen months, to be exact), these ideas are geared toward that age range, but even if your kids are older, some of these might work for you.

24 Ways to Make Bedtime Special:
Say your own prayer together. It's a powerful lesson for your child too.
Sing a favorite song together.
Sing it in a silly way. Try sticking out your tongue while singing, or singing it out of one side of your mouth.
Make up your own lullaby.
Tell a made up story. Let your child choose the subject.
Take turns making up lines for a new story.
Bring crayons and paper to bed and illustrate the story as you go along.
Talk about the day. Ask your child specific questions.
Brush your teeth together. Try singing with the toothpaste in your mouth.
Have a tickle party.
Swap ridiculous jokes.
Play Meatballs and Spaghetti with your kids' names. Read a book, and swap out any word that starts with the same letter as your child's name with his or her name.

Allow your non-reading child to "read" the book to you from the pictures.
Invent a new language. Just a few words do the trick!
Talk about upcoming events. It can also be a great opportunity to ease your child's anxiety about these.
Give bedtime plenty of time. Allow this to be the phone-free dedicated time your child needs.
Create a menu plan for the week together.
If only one parent is dealing with bedtime, plan a surprise for the other parent together.
Make the room dark and build constellations with glow-in-the-dark stars together. Invent your own.
Tell "when you were a baby" stories. With Baby Y now learning new words and mispronouncing them in the cutest ways, M likes to hear how he used to say things as a baby. He especially loves it because he knows we go crazy when Baby Y says something cute, and he feels loved knowing that was him not long ago.
Tell "when I was a kid" stories – kids love hearing that their parents were young too!
Tell stories about your family history. Avoid things like Holocaust stories with young kids at bedtime – you don't want to feed their anxiety.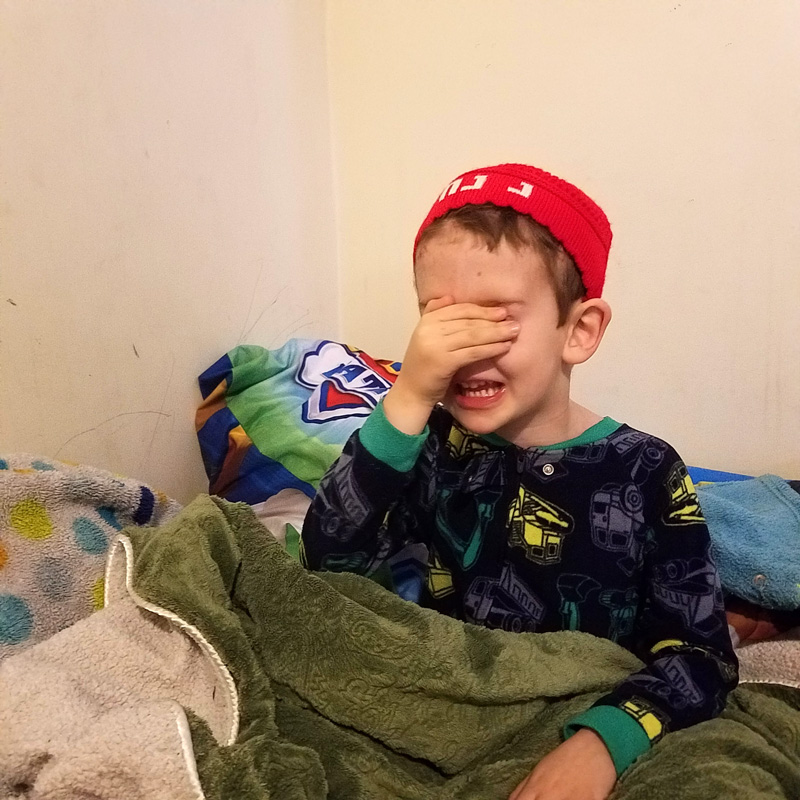 The bottom line is, more than any THINGS you can buy your child, your child wants you. But you already have your hands full.
That's why dedicating the end of your day to your child is a good way to make sure your child gets that basic time with you. There are opportunities throughout the day to bond with your child (for example, you can cook dinner together), but there's nothing like knowing you'll get that one-on-one (or two, or three) each night…
Check out the beautiful Shema poster I designed special for this! You can get it printed at your local printer for a few dollars (depending on the size) and it's a great way to set the mood for a special bedtime!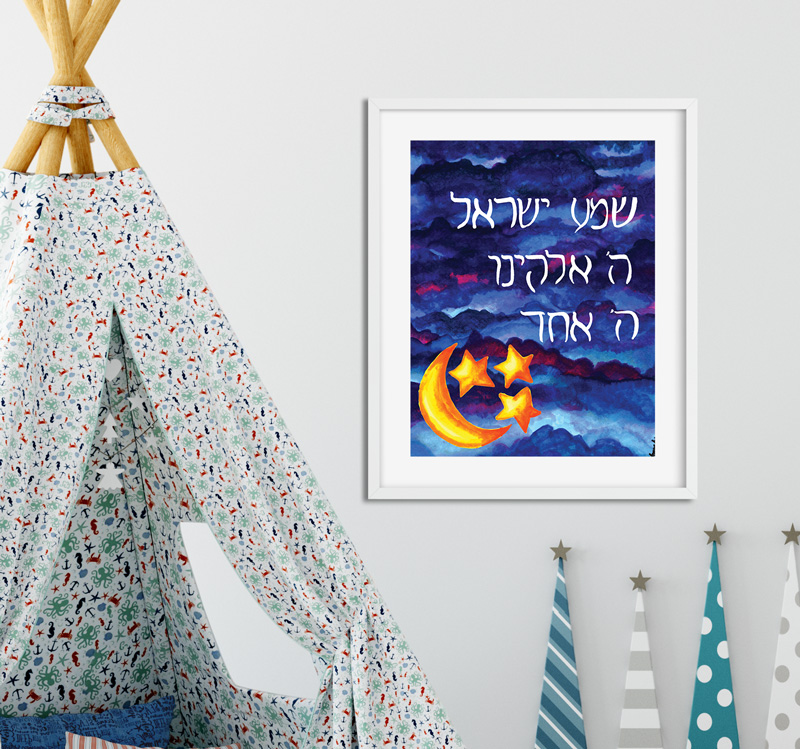 What are your favorite ways to make bedtime special? Comment below!