Need some fresh Shabbat lunch ideas? I hope these will help! This post contains affiliate links.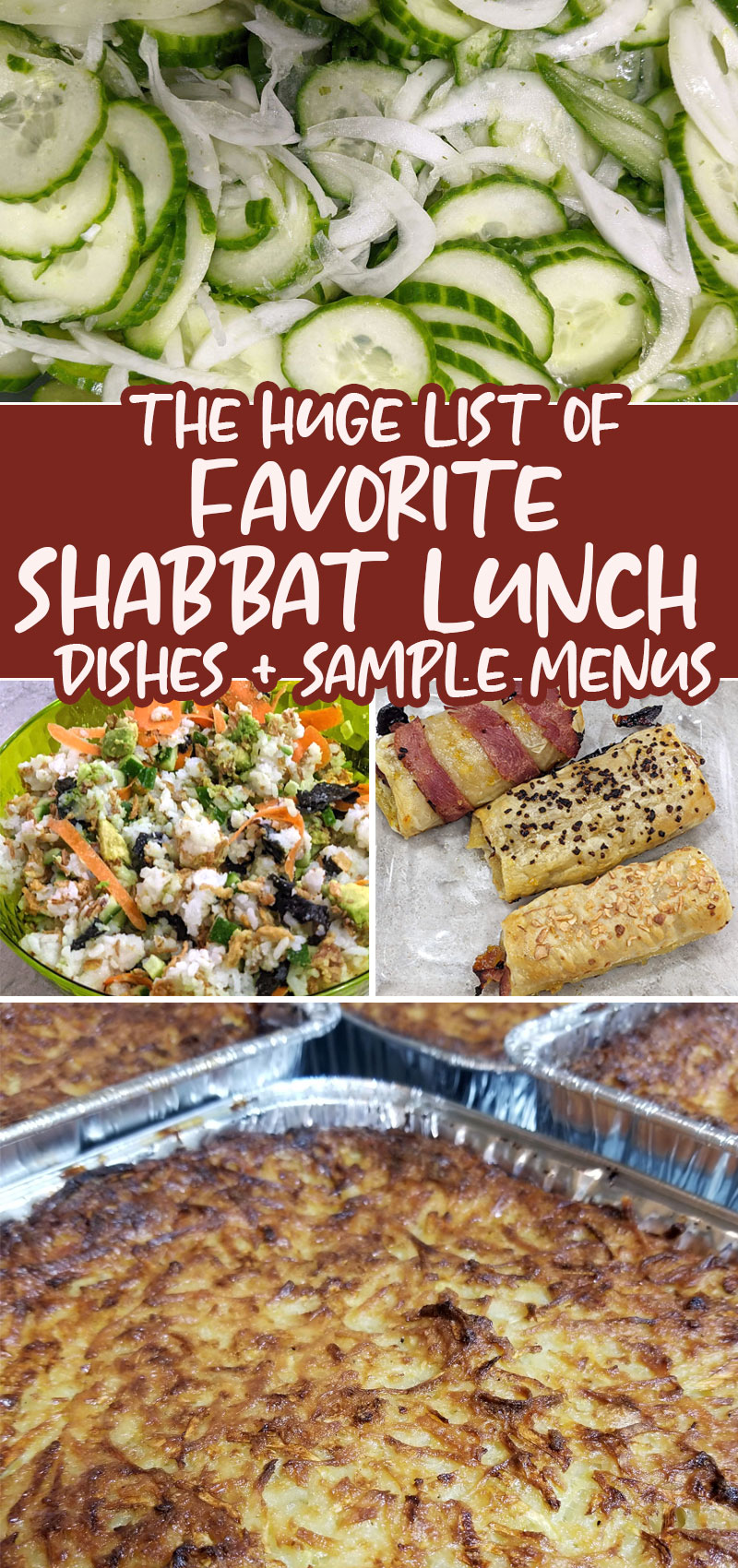 Shabbat lunch for the Sabbath observant has its own special needs. The custom is to eat hot food, and since food can't simply be cooked in advance and then kept warm, it features some challenges.
Jewish chefs have been getting creative with Shabbat lunch ideas for generations, and today I'm thrilled to share with you some fresh thought starters in a few categories.
Shabbat Lunch Ideas in the Crock Pot
Long used for making cholent, the slow cooker is a fabulous tool for making Shabbat lunch. Simply set it before Shabbat and forget it, and then eat your food piping hot. Here are a few ideas for you to try!
Soups
You may have been making cholent for years, but have you tried soups? Since overnight cooking has a tendency to intensify the flavor, you'll want to stick to recipes that work with that. I've tried the two following recipes: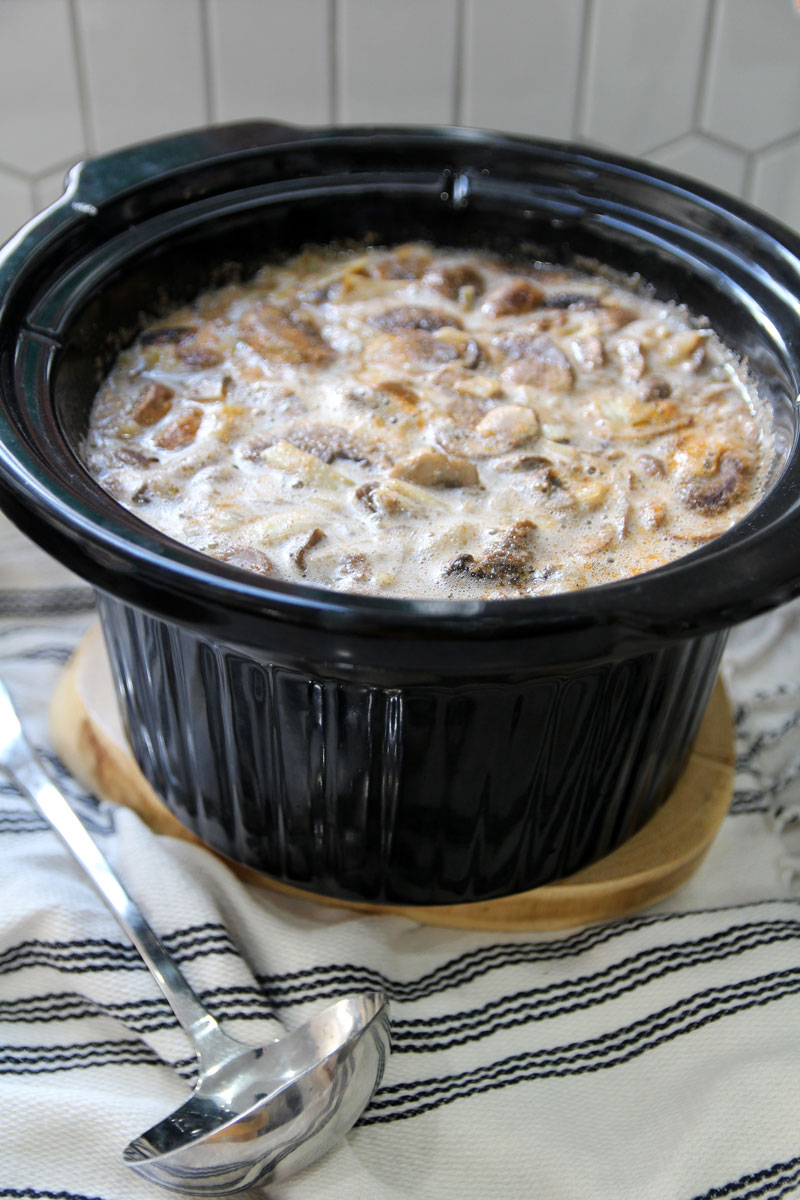 Stews
The intense flavor of stews can really warm your soul on a cold Shabbat afternoon. These hearty stews range from the traditional to the less so.
Cholent – Of course, you can stick with the basics! The cholent recipe that I shared was made in the dutch oven but you can make it in the slow cooker too. It has a sweeter flavor profile. And if you're avoiding meat (or even if not) this vegan cholent recipe in the slow cooker is heavenly too! This one is best for those who prefer a little spice.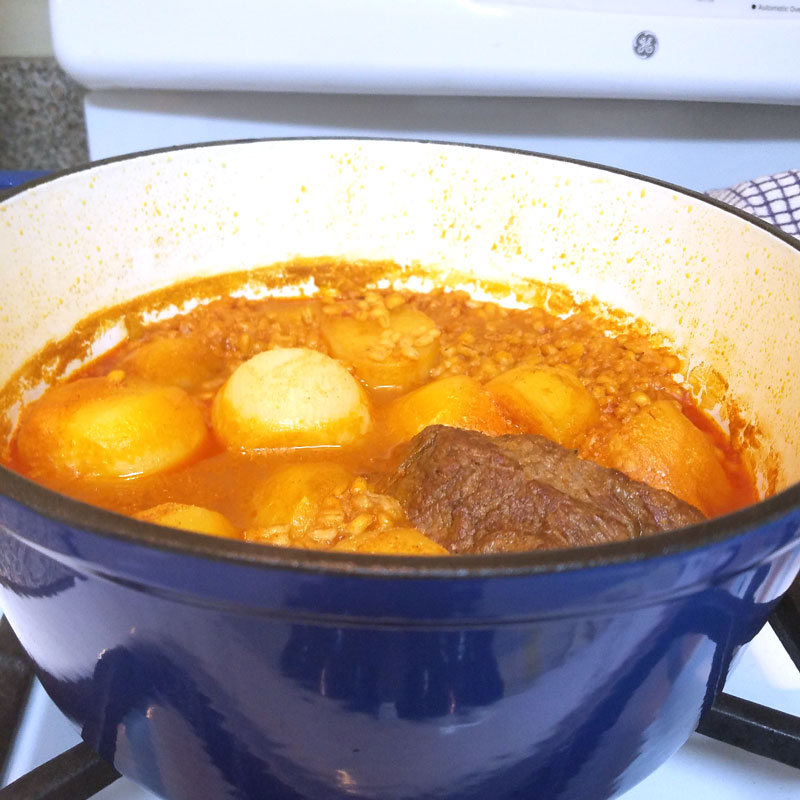 Gluten free Cholent – Basically the overnight meat and potatoes I'd make as a Passover cholent, but I also make it year round! This is fabulous for when you want something with edible leftovers or slightly less intense than cholent.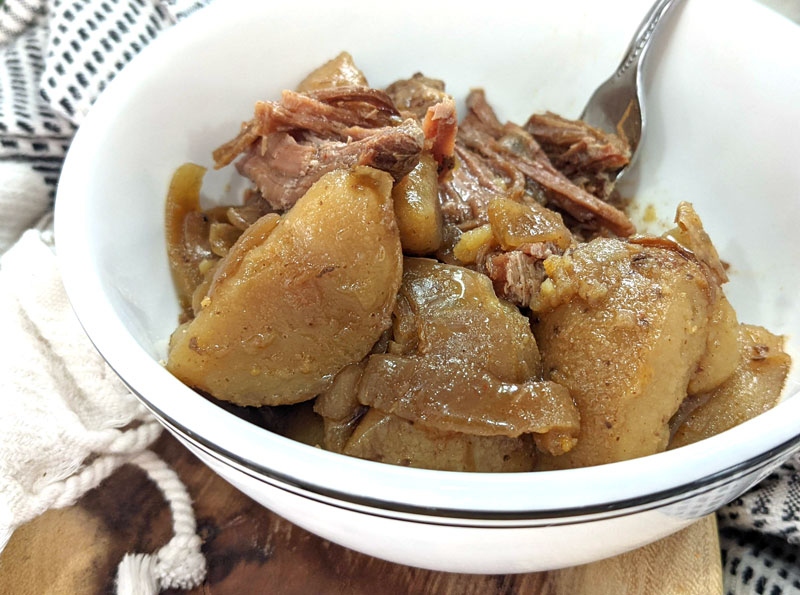 Goulash – This delicious dish is also gluten free and incorporates veggies as well.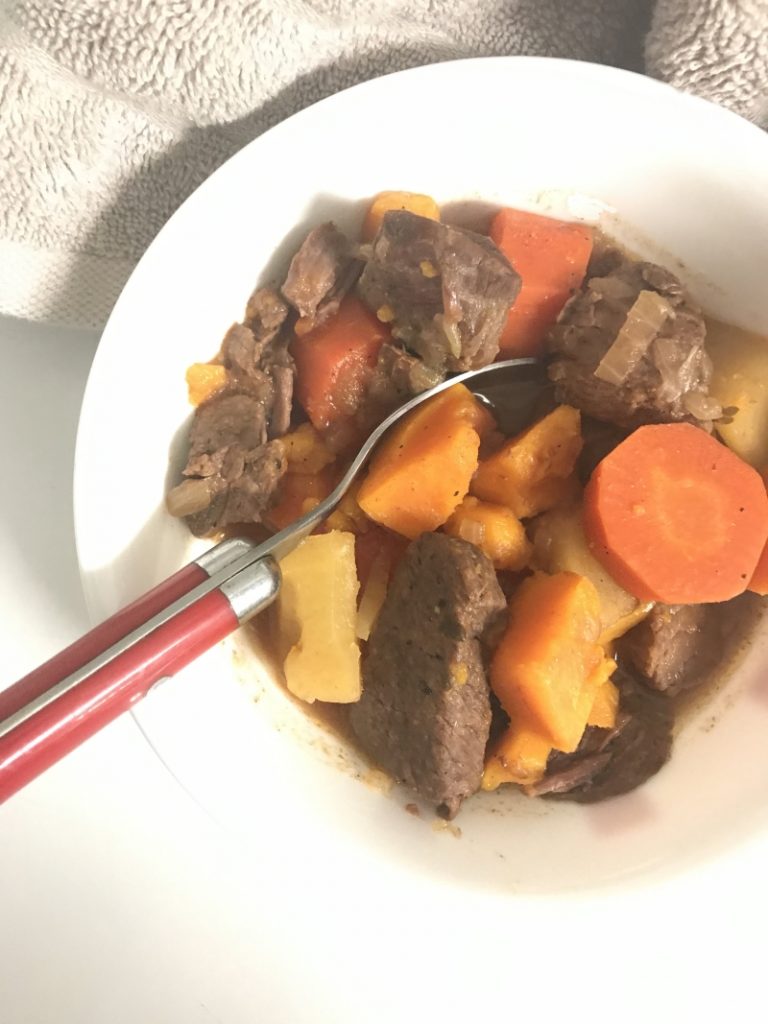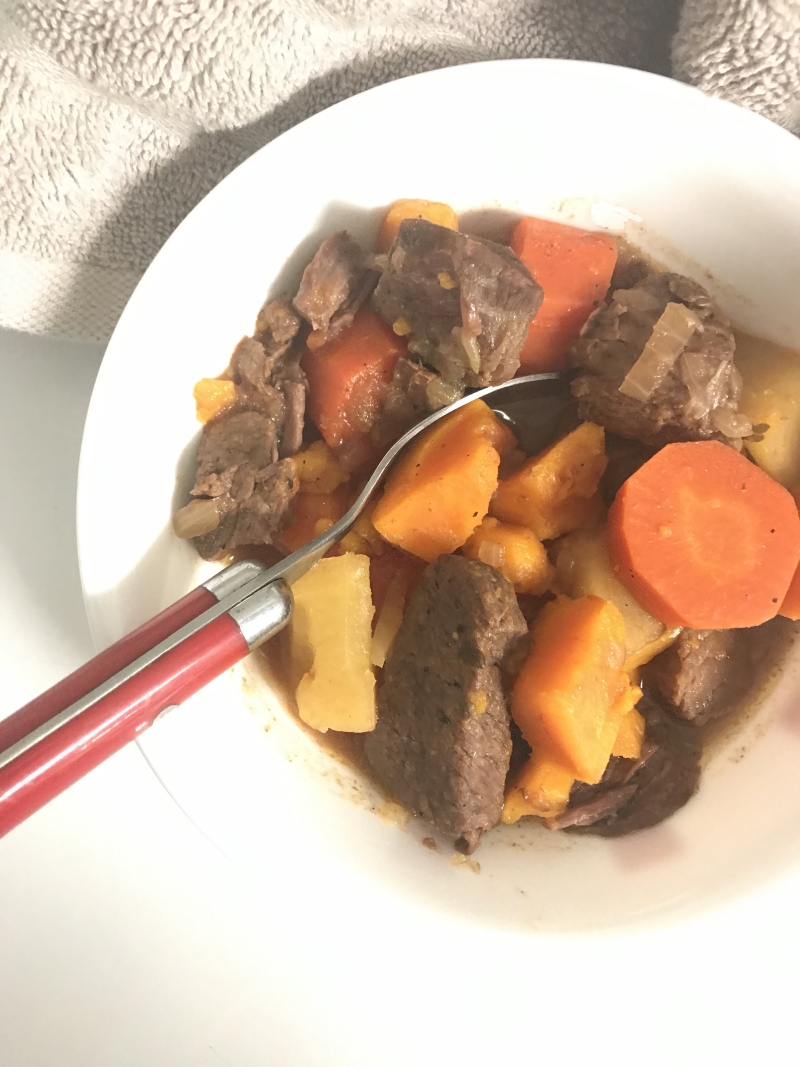 Meat and carrot stew – Similar to the goulash, just stick to meat and carrots for a low carb option.
Other
Pastrami – Toss a packaged pastrami (that's designed for this) into the crock pot with water. This is great for small meals, or as an extra main to add to any of the above.
Yapchik – This is basically a potato kugel with meat, cooked overnight. You either love it or you hate it (and I absolutely love it!)
Overnight Potato Kugel – Or, just toss a wrapped potato kugel into the crock pot with whatever else you're cooking in there. If you just have water, wrap it very tightly so it doesn't get waterlogged. If you have cholent, you may want to allow some juices to seep in. I do this using this potato kugel recipe.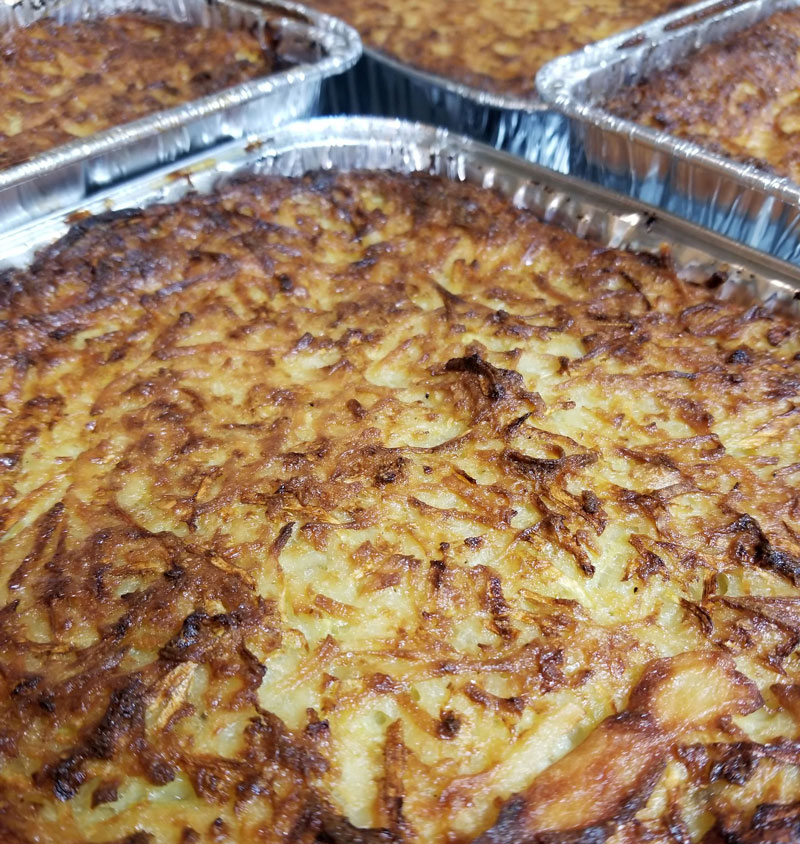 Pulled beef tacos – Because it needs to be cooked for many hours to fall apart, this crock pot dish is fabulous for overnight cooking for Shabbat lunch! The few extra hours on low shouldn't matter, but if you're concerned, just increase the liquid a bit.
Cold Shabbat Lunch Ideas
While the custom is definitely to have something warm to eat, you may want a bit of a break from heavy hot meals. Personally, especially in the summer, we prefer a fish dish with a salad when it's only us. Here are some cold Shabbat lunch ideas, either to supplement the hot, or even instead.
Fish, Meat and Chicken Dishes
Salmon – Many salmon dishes are delicious cold. I like a sweet teriyaki, caramelized onion salmon (you can freeze the prepared onions in bulk to make prep easier) or a simple spiced one using Magic Salmon Seasoning. For a more robust salmon dish, try Moroccan salmon.
Sushi – We love, love, love making our own sushi. If you have guests, it's a great appetizer or side dish that's really popular. Just make sure to only use cooked fish if someone is pregnant.
Gefilte – Of course, there's always good old gefilte! I bake mine. I simply place it in a loaf pan with an inch of water on the bottom and bake at 350 for about 1.5 hours.
Patties – My mother makes fish patties that my picky boys gobble up. To upgrade it for the adults, you can serve it with dipping sauces.
Deli – Finally, don't underestimate the impact of a great Charcuterie board! Pair delis with grilled chicken, dipping sauces, and some pickles and olives.
Salad Ideas
Of course salad possibilities are endless, but the more robust ones feature various ingredients that are more filling than just veggies.
Sushi Salad – If you're short on time, sushi salad is a great hit! It's basically deconstructed sushi. You can try this recipe from Busy in Brooklyn.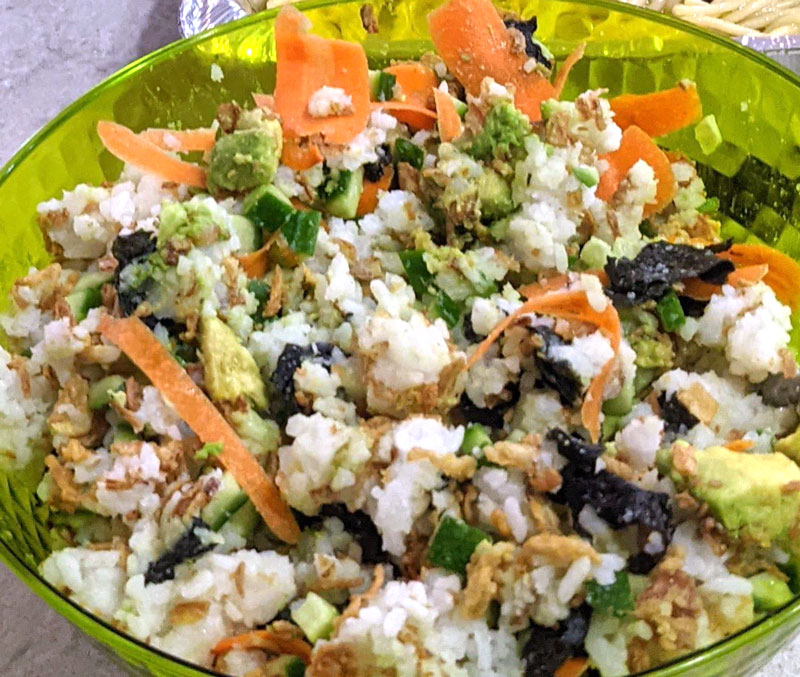 Nicoise Salad – My favorite dish that my friend makes when we visit is a really robust Nicoise salad. It's a multi-step process that requires advance prep, however it can serve as your entire Shabbat lunch when it's just your family.
Farro Salad – I found a delicious Farro salad in the Whisk magazine a while ago that I've been making and is a big hit each time. This recipe is very similar.
Asian-style noodles – I was debating if I should make a separate "cold pastas" subcategory but decided against it. Macaroni salads can work, but if you want something slightly classier go for an Asian style spaghetti salad with a sesame or peanut based sauce.
Lettuce-based salad with grilled chicken – Want to make a green salad more robust? Just add grilled chicken or something along those lines. You can hunt down a recipe for a great steak salad too.
Tabbouleh – This grain based salad is packed with herby parsley and optional mint. You can check out my gluten free quinoa tabbouleh salad recipe here.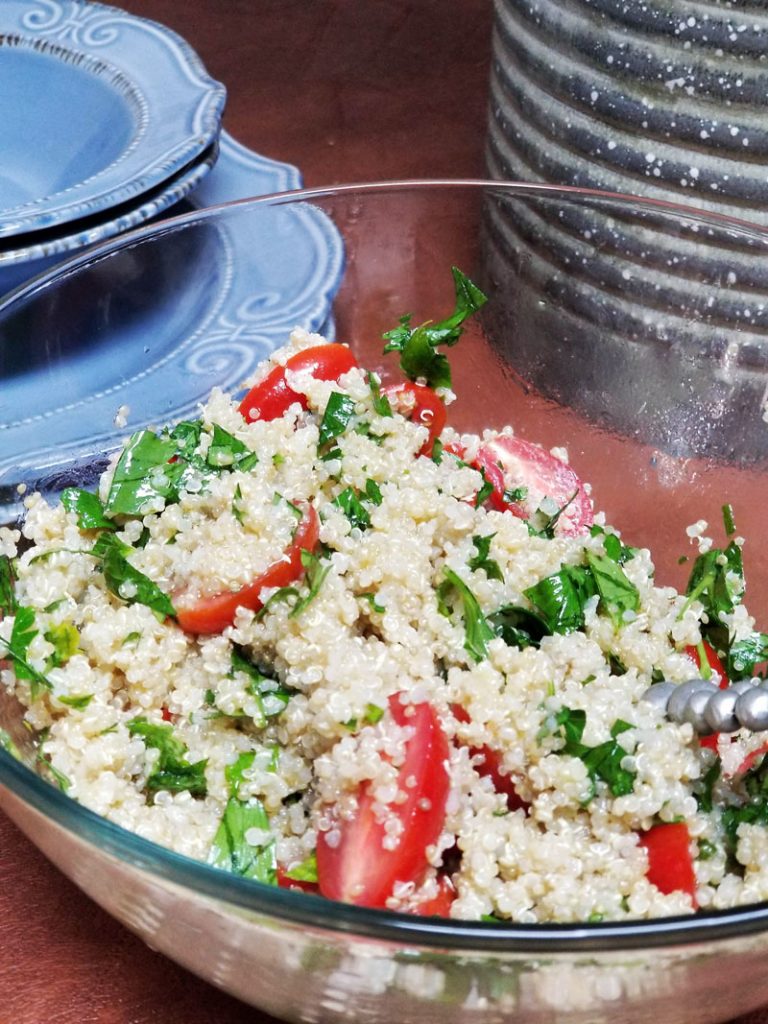 Other salads – Some of our favorite salads to pair with salmon include:

Pepper salad
Cucumber salad
Israeli salad
Corn salad
Seasoned fresh string beans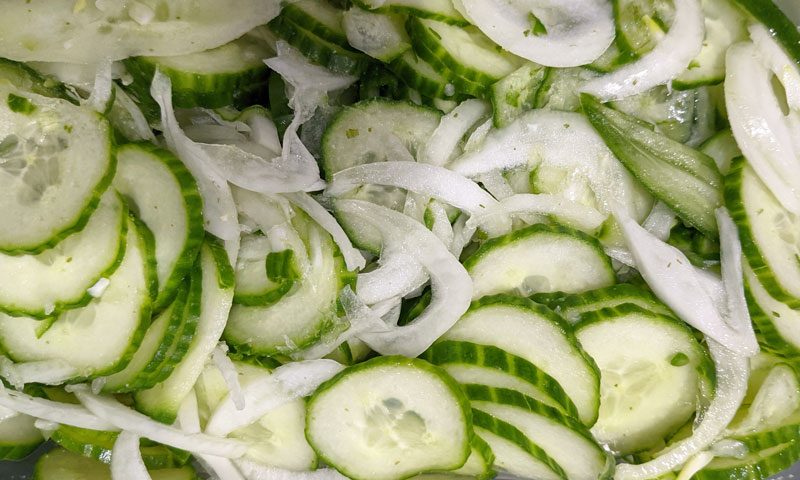 Dry Foods Shabbat Lunch Ideas
Another common tradition: many people don't reheat liquid based foods. The ideas behind this are complicated and you're best consulting with your rabbi on this. If you don't have this tradition, technically anything can be reheated if you do it correctly (again, consult with your rabbi). If you do have a need for dry foods that can be reheated, here are some ideas:
Shnitzel –While it's best fresh, shnitzel is a big hit every time we make it for Shabbat lunch! Reheat it open so that it doesn't get soggy (although it'll take longer to reheat, it's worth it).
Potato kugel – Not a big fan of overnight kugel? Most kugels don't have juices in them, so you can reheat them if done correctly for Shabbat lunch.
Franks in Blanks – The Kosher version of pigs in blankets, these can either be made quickly using puff pastry and hot dogs, or purchase it pre-made.
Bourekas – Another puff pastry dish, this is also available in the freezer aisle of many supermarkets. You might find other prepared options (such as cigars) in your Kosher grocery's freezer. Or, make your own.
Deli roll – Deli roll is a fabulous classic as well. If you want to make it more elegant, you can make them in mini and serve a few on a platter. Since my son is allergic to sesame, I top mine with minced onion or black garlic. I hope to share my recipe in this space one day!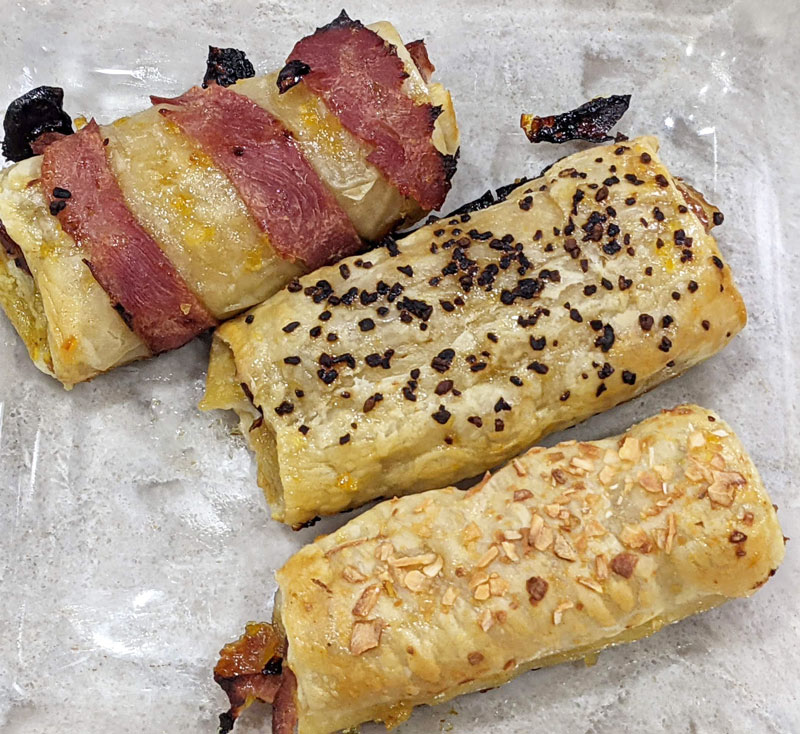 Sample Shabbat Lunch Menu Ideas
Just to give you an example of how a Shabbat lunch can look for us, here are a couple of menu ideas:
Shabbat Lunch Menu 1: Just us
Eaters: Two adults, two children, one toddler
One course with:
Challah
Dips (hummus, eggplant, matbucha)
Teriyaki salmon
Gefilte for kids who don't want salmon
Pepper salad
Shabbat Lunch Menu 2: Guests
Eaters: 4 adults – one is gluten free, 2 kids, 2 toddlers – can totally feed more!
Course 1:
Challah + dips
Salmon with magic seasoning
Gefilte (made as an extra for kids who need another option)
Cucumber salad
Course 2:
Gluten Free Cholent
Potato zucchini kugel
Lettuce salad
Franks in blanks and potato bourekas with different mustards (not gluten free)
Leftover schnitzel from Friday night (made using crushed Corn Chex as a gluten free coating)
Shabbat Lunch Menu 3: Guests
Eaters: 6 adults, 4 kids, 1 toddler
Course 1:
Challah + dips
Moroccan salmon
Gefilte fish
Corn Salad
Course 2:
Charcuterie board (deli corned beef and turkey bacon from Costco, Drunken Hasselback salami, pickles, olives, hot peppers, an assortment of mustards for dipping)
Deli roll
String beans drizzled with teriyaki and Ajika Georgian spice
Linguine with parve (oat milk) pesto sauce
Got any Shabbat lunch ideas to add to the list? Comment below!