If you're in need of Passover cleaning help, these visual aids will incentivize them to help! Includes a free printable I Spy game too. If you want some help for yourself, try this free editable Pesach cleaning checklist. This post contains affiliate links.
---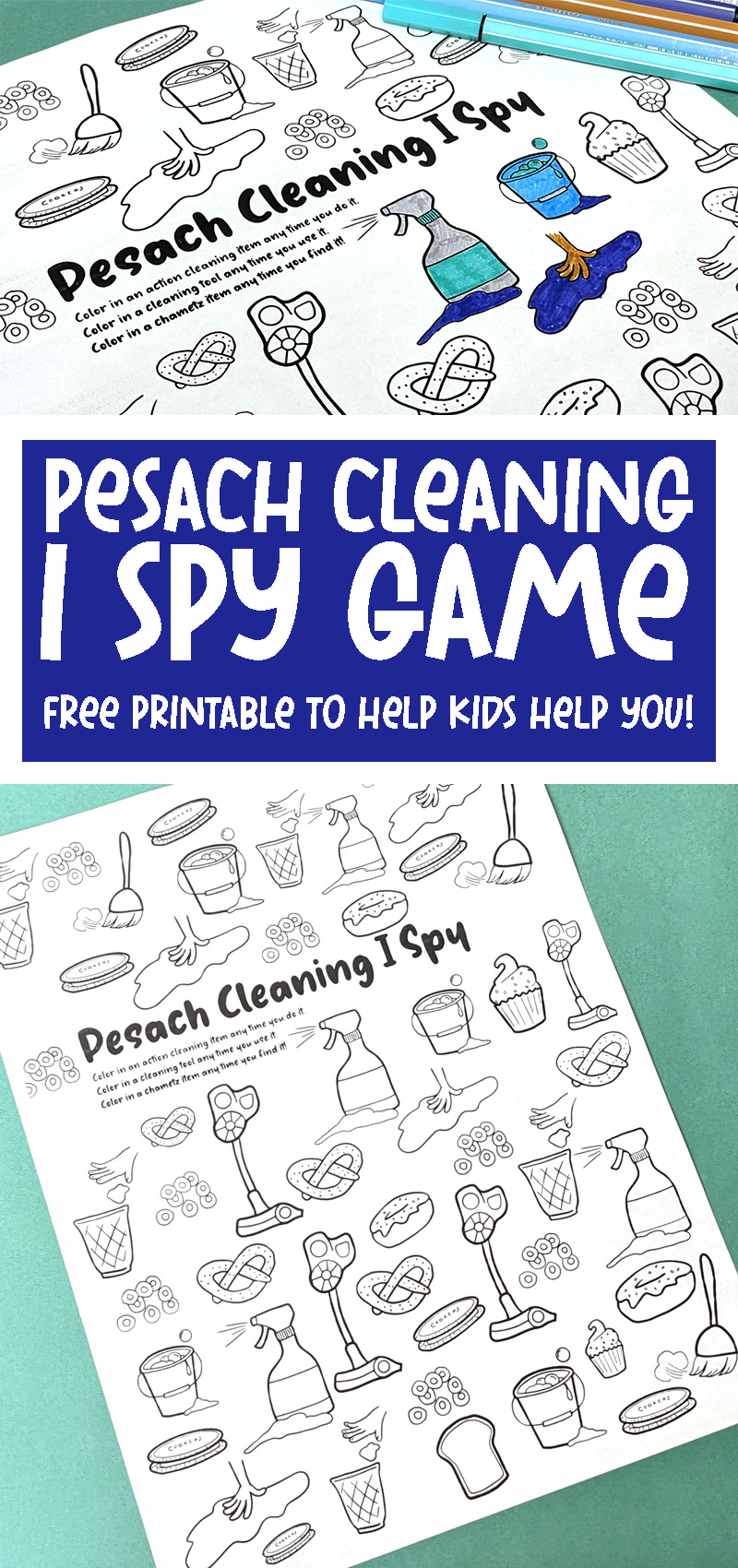 When asking readers what they wanted as I create Passover resources, the most common answer was: send help!
I can't send cleaning fairies – I wish I had one myself – and I haven't even made Pesach enough times to offer thorough advice as to making things better. In fact, I'm in slight panic mode because A, age 2, thinks that "mealtime" means:
Cup of cereal eaten all over the house. OR
Peanut butter sandwich in hand, eaten all over house, with crusts left wherever she chooses. OR
Even pasta needs to be eaten from a cup all over the house.
I obviously clean up after her, but, you know, not the whole house.
My solution: clean last minute. But I'm only one person – or am I?
I recently organized my kids' "stuff" with them and I was surprised at just how much they can do. My kids also help out a lot with chores on a daily basis.
The biggest challenge with kids getting involved in the Passover cleaning is that it might be new to them. And for kids with executive functioning challenge, the oversight required might make it just not worth your while.
So here, I am, recruiting your kids to help you clean with the help of some printable visual Passover cleaning aids – four of them in fact:
An I Spy game
A Bingo game
A step-by-step visual binder for cleaning kids' personal spaces (backpack, dresser, etc)
A step-by-step visual binder for cleaning shared spaces around the home (dining chairs, coat closet, etc)
The I Spy game – is free. It operates as a rewards chart but with a twist. More on that soon.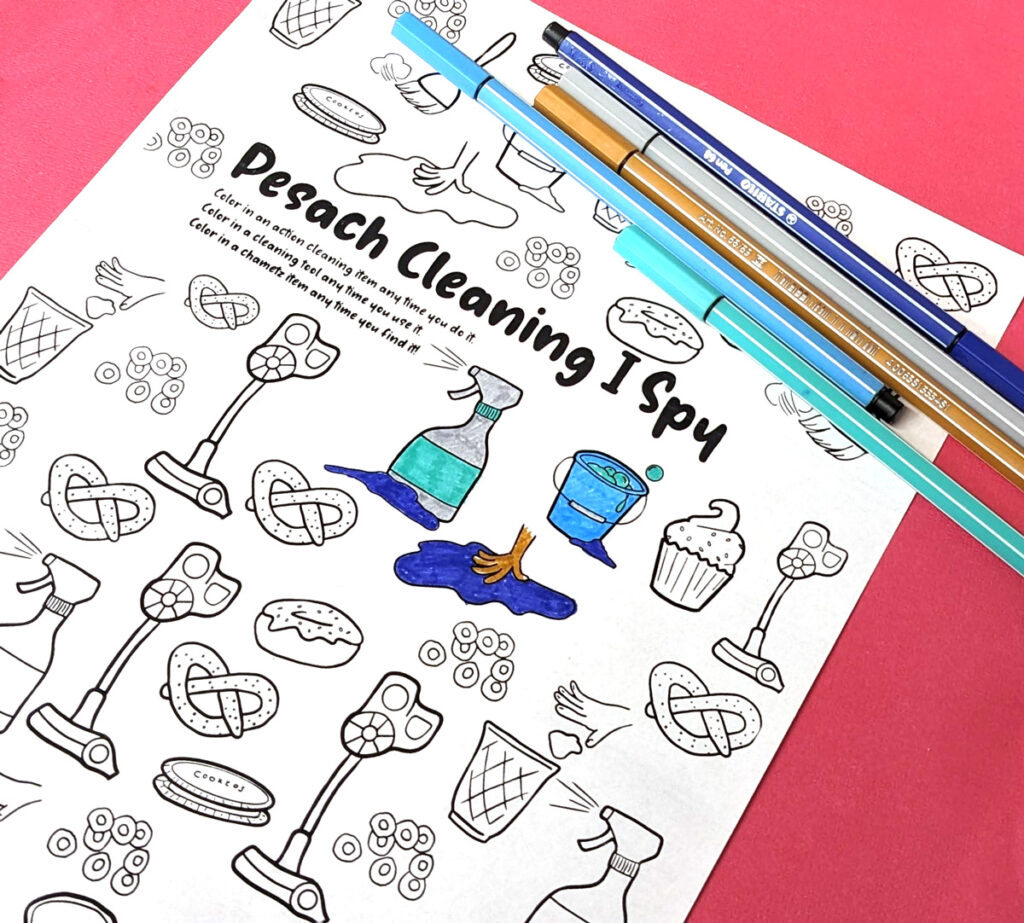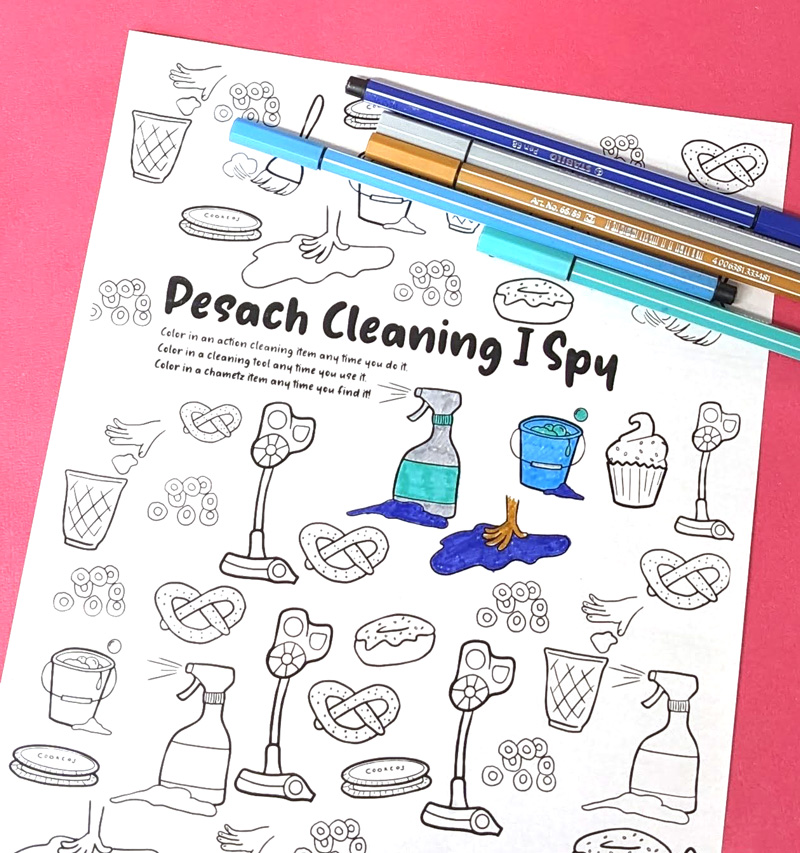 Yes, you will need to be involved – even heavily – with these aids. And you'll need to forget about any real organization. But your kids can do a lot and I truly hope this helps!
How to use the Passover cleaning guides as this year's Cleaning Fairy
As a parent of a child with ADHD, I can tell you that incentives CAN help. So can timers. And visual aids are winners.
Kids need to have the whole shebang mapped out so that they can get what they're doing. But then they also need it mapped out into tidbits that make sense.
The trick with having an incentive work is that it has to be really appealing. When M took three days to do a chore (cleaning up a few games from the family room) I offered to add music to his MP3 player. Suddenly the room got clean.
For the kid that loves sweets it can be candy.
For the kid that wants one-on-one time, it can be an outing. Think: a one-hour ice cream date – with all the hours you saved, you can now afford it! Plus, you'll be making memories and creating positive associations with Passover cleaning.
Whatever you do, if you want your kids to help regularly with Passover cleaning, make sure to also incentivize in increments.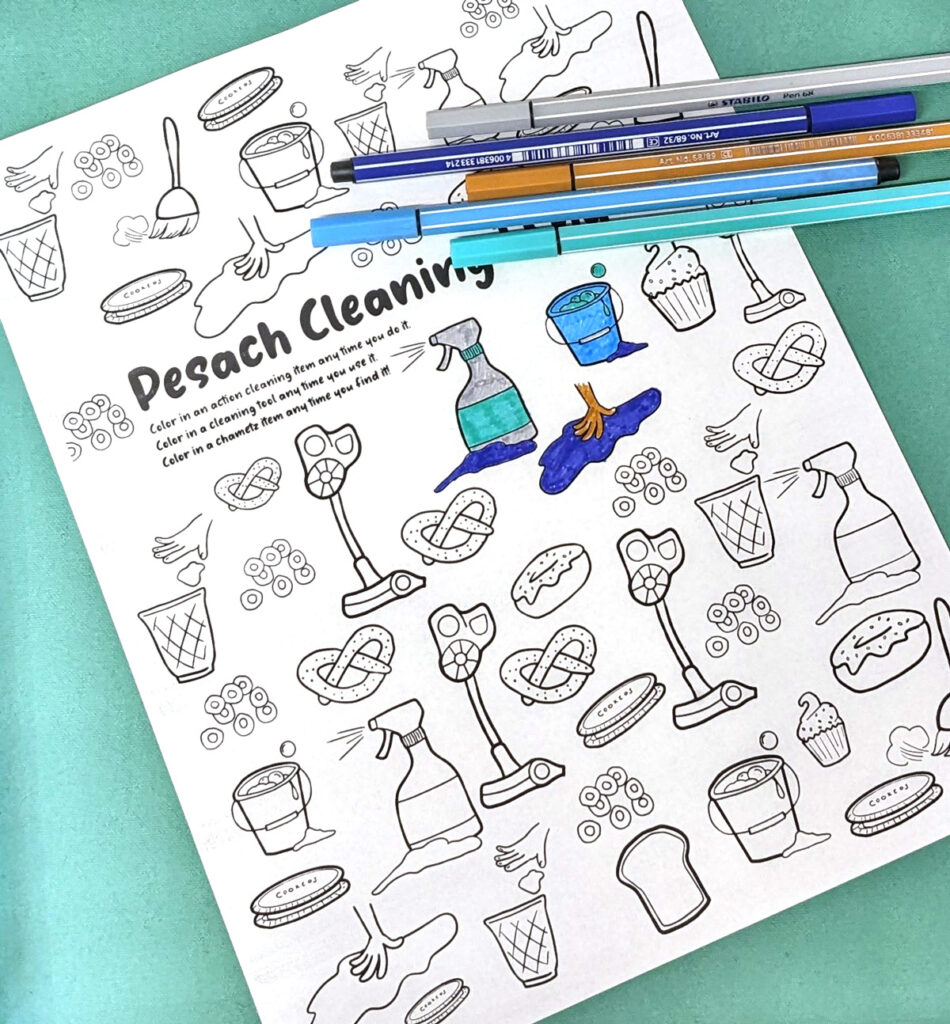 When readers asked for visual aids for kids, I wasn't sure how to make it work for everyone. Each home and each child is different. I'm going to go into further detail for each one, however I'd like to summarize them as follows:
For the two games (I Spy and Bingo) you can still "win" without getting them all.
For the binder-style guides (Personal and Home) you can print the pages you need as needed.
For the two games, anything you clean, use, or do is a score. Any Chametz you find is a score also.
For the binders, each item that's cleaned is broken into a very repetitive process of empty, purge, clean, refill. You'll obviously need to guide the process.
Bingo, Home binder, and Personal binders all come with parent guides. Personal binder also comes with a kids' guide to purging.
The binders can both be used year-round. You get Passover, Pesach, and generic versions of them too.
I targeted ages 8-12 for these Passover cleaning guides, but it may be good for other ages as well.
Finally, I'd like to point out: Passover cleaning is not Spring cleaning. If you're short on time, don't bother with the sorting, purging, organizing process. You'll still want to toss any trash – why put that back in? But when kids clean their own things independently, it's very valuable to teach them that skill as they do it.
The Passover Cleaning Visual Guides
ALL of these are printables that you can print multiple copies of as needed for your kids. You may also use them for a single classroom.
The I Spy Game
Every time they do a cleaning action, use a cleaning tool, or find a chametz item, they color it in.
This one is best used as follows:
Competition between siblings: who can score the most?
Competition with self: can you beat yesterday's record?
You can even send this home with students and have a parent sign each item and send it back in to have a class-wide contest.
You can print a new chart daily/weekly – whatever works!
You can incentivize when they hit a certain number.
You can set daily goals.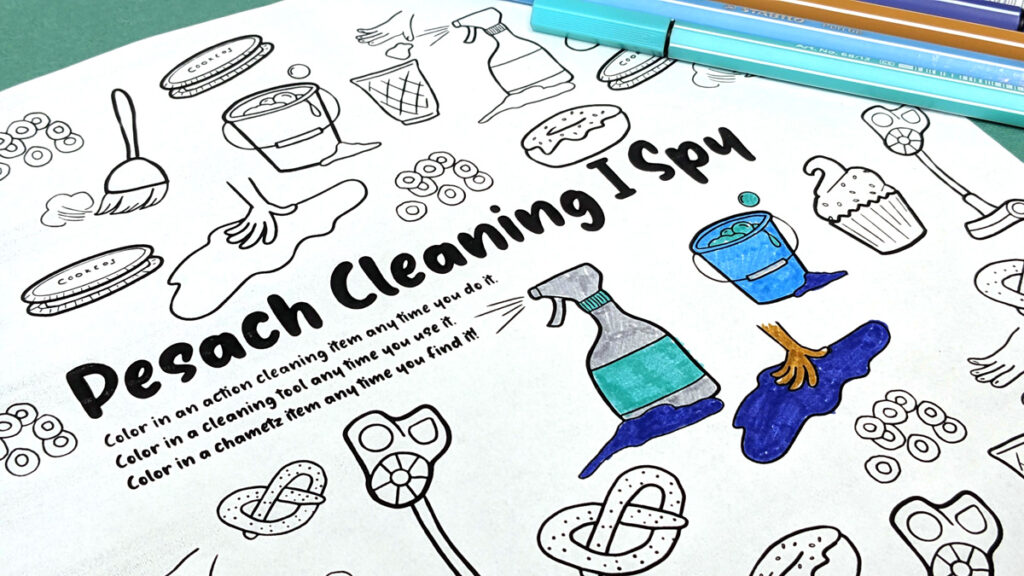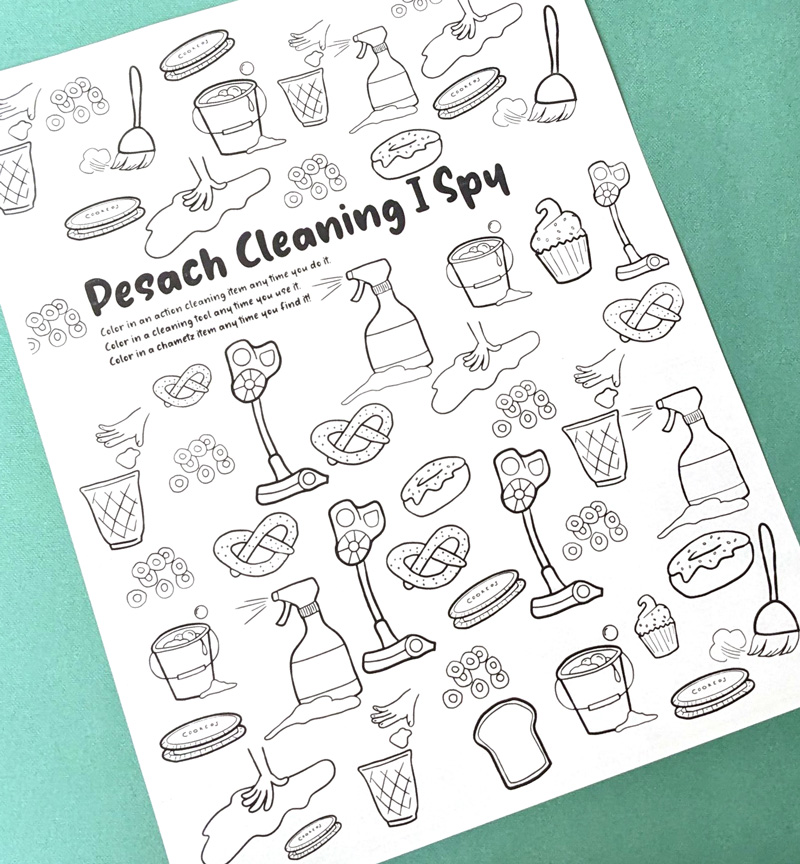 Download it for free:
Download your free template! It'll arrive right in your inbox. By downloading, you're subscribing to our FREE newsletter with updates on cool printables like this, ideas to simplify Jewish life, and more. Unsubscribe at any time at the bottom my emails. I respect your privacy and the law, and won't share or sell your email address.
The Bingo game serves as a rewards chart with a twist. You get five rearranged charts (there are a few duplicate items on the charts and they vary). Rules are the same as the I Spy – use, do, or find an item and color it in. But this one adds in objects that they can clean to score.
Yes, some chores will be "double dips" (or octuple dips) and that's fine.
I recommend choosing small incentives for each row, etc. and a larger one if the chart is completed. If you do a full-chart incentive, you may want to exclude anything irrelevant.
This can be played as a competition or as an individual chart, and it comes with a "Guide for Grownups".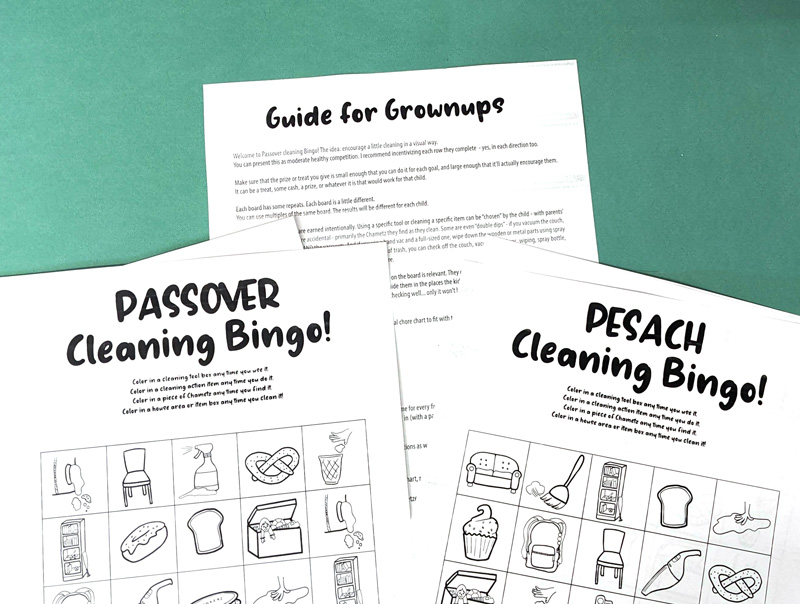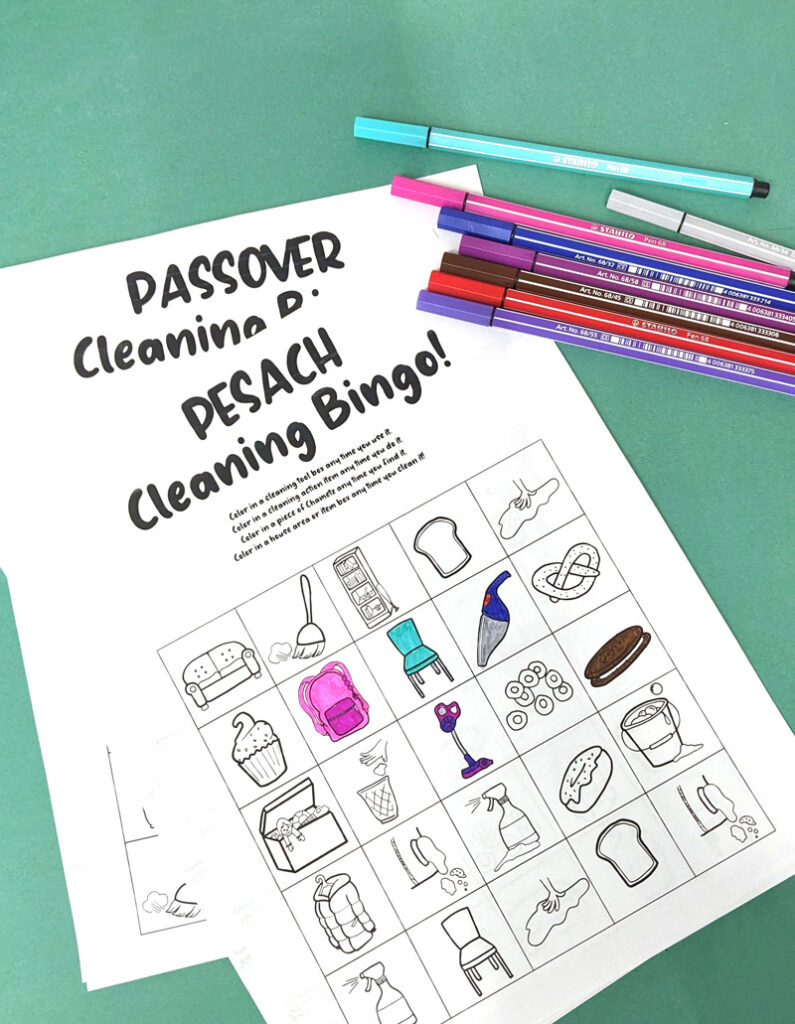 The My Spaces visual aid is for kids to clean their own personal items.
As a personal-safety safeguard, my kids know that certain spaces are theirs. I never clean or purge these without them. This binder is designed to help them really be able to do it on their own. You can give it to them as a binder, or just hand them the page they're working on. Use it in the way that'll work best for them.
It comes with guides for parents, and a guide for kids to learn some purging skills. If you don't agree with what I wrote, just don't give them that page!
It has a total of seven spaces to clean, and a choice of covers: Passover, Pesach, or generic/year-round use.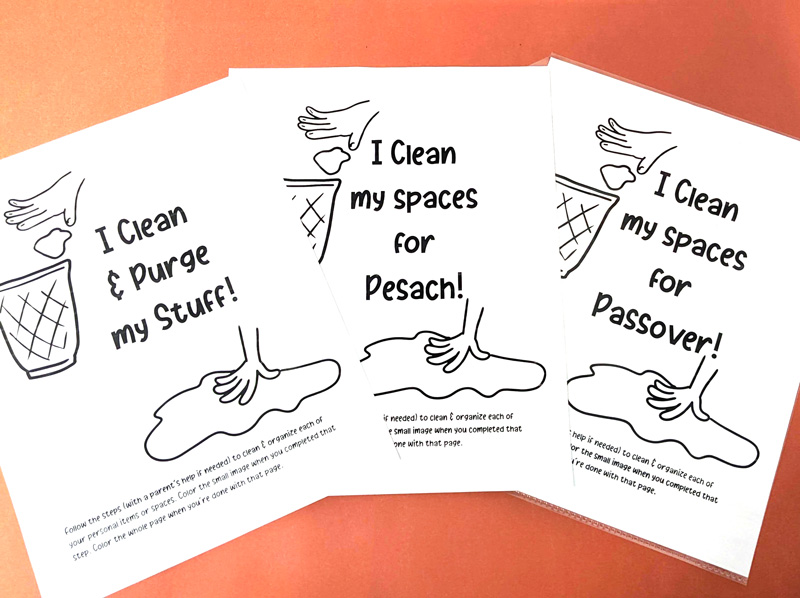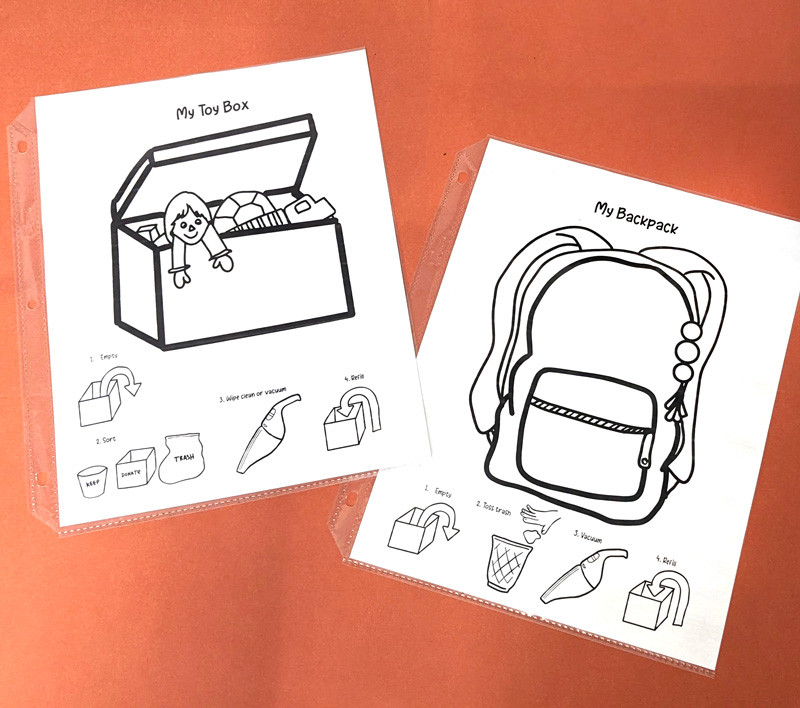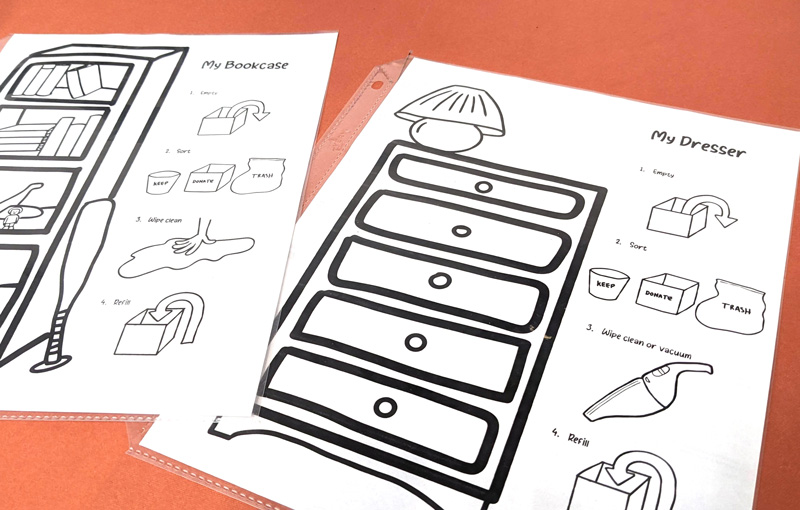 The home guide is designed for kids to help with assorted tasks around the house – not their own items.
Someone shared with me as I was crowdsourcing for this post that as a child, they were given the coat pockets to clean. Any loose change found was theirs to keep! You can do this or not, but either way, it's a great chore for kids. And there tends to be loads of Chametz in pockets – especially in homes with kids.
I chose items around the home that kids ages 8-12 can more or less clean independently, and only included the steps that makes sense for them to do. You'll need to help with any purging, and give guidance along the way.
For example: For something like kitchen cabinets or drawers: print a new page for each one that they clean. As they clean, you can instruct them NOT to put things back into the one or two that you might be using for Passover. Just draw an X over the final "refill" step.
It has a total of seven spaces to clean, and a choice of covers: Passover, Pesach, or generic/year-round use. And it comes with a parent's guide too.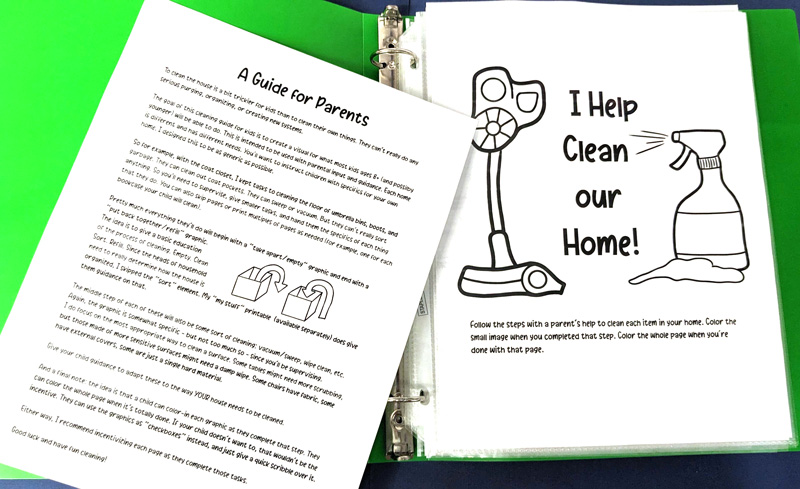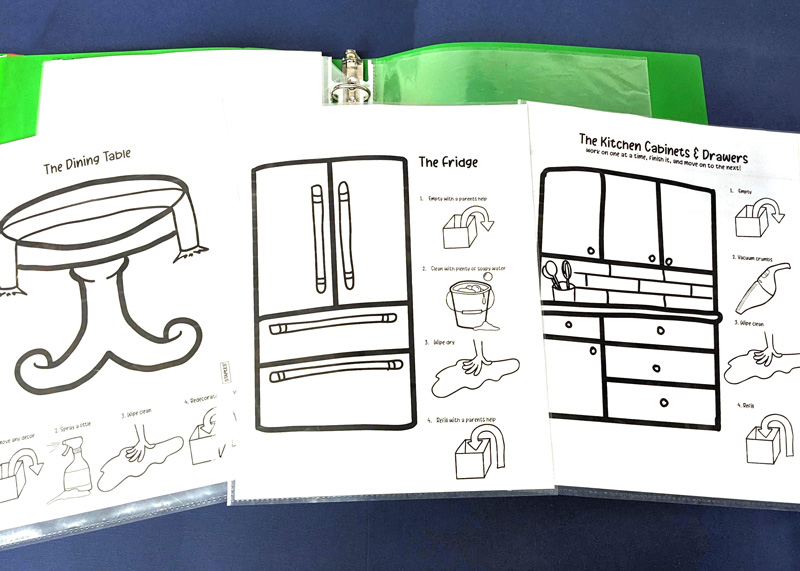 If you can't decide or want them all, you can get them bundled at a steep discount, along with my full set of no Chometz sign door hangers.
Which of these Passover cleaning aids is your favorite? Got any tips for getting the kids to help out? Comment below!