A while ago, I was on a hunt for the best hot water urn for Shabbos and I decided it's about time to share my research with you! I'll include the few best ones that I found and which is best for your needs, along with hot water urn reviews for each so that you can easily decide! If you're looking for a Shabbat hot plate, I've got reviews on those too. Disclosure: this post contains commissioned links and images.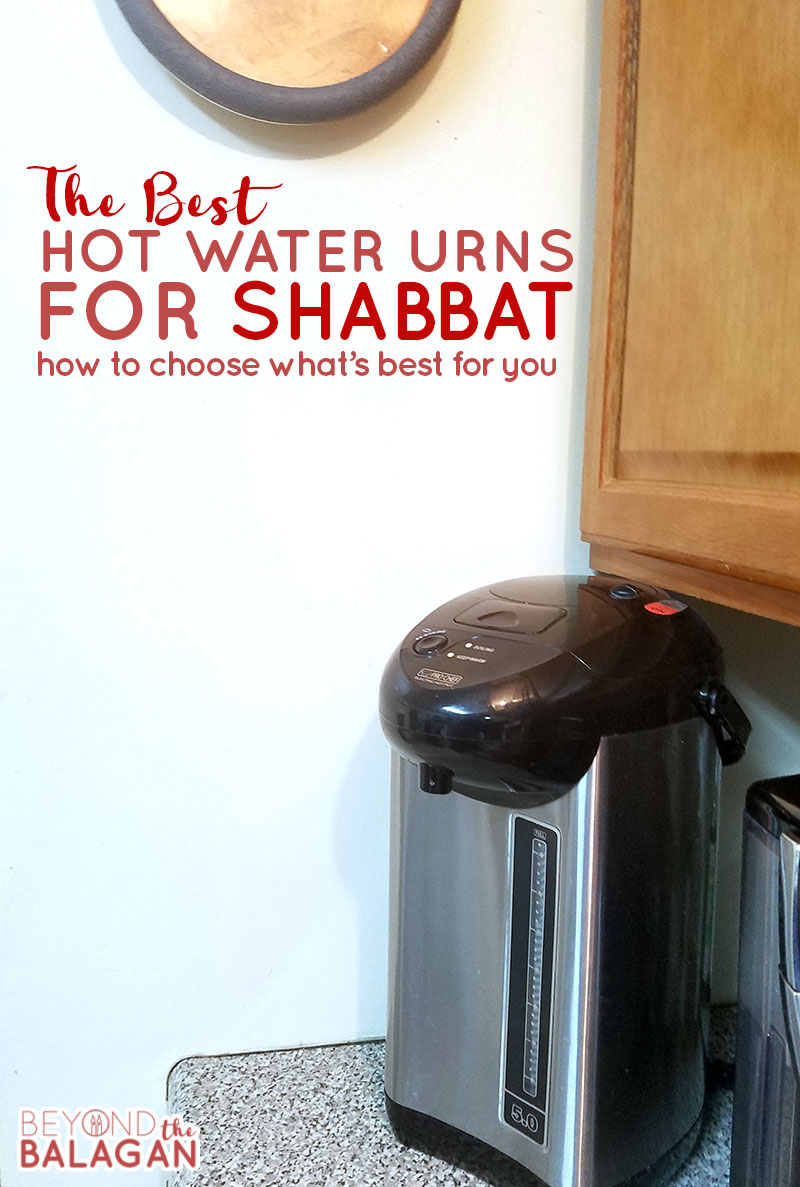 Since everyone's requirements are different, I compared a few options in three different categories so that I can find the best hot water urn for Shabbos for YOUR needs. I read reviews on different websites, found the best price (shipping included) and shared it below.
The 3 best hot water urns for Shabbos and Holidays in summary:
ProChef Electric Hot Water Urn

– With an easy locking feature, this is the hot water urn that I chose, winning the award of best hot water urn for Shabbat in my book. If you have kids in the house, I highly recommend it. I own mine for four years now.
Waring 110 Cup Hot Water Urn– Need a huge capacity? This classic stainless steel coffee urn (leave out the coffee to use it for hot water) has top reviews among those with large capacities. With 110 cups, you'll have enough hot water for everyone's needs.
West Bend Coffee Urn – This "budget buy" is the perfect option for those of you who need your hot water urn only for one event, or if you're not ready to shell out a lot on an expensive appliance. With "good enough" reviews, and a decent capacity, it will do the job on a dime!
Reviews of each of the best hot water urns for Shabbos and Holidays: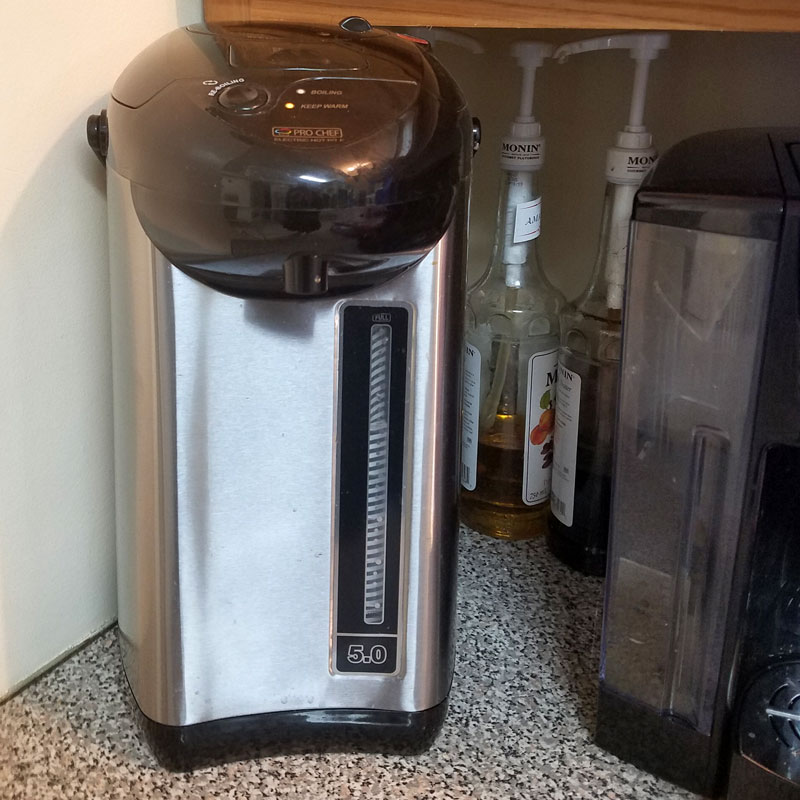 Available in a manual and Manual+Auto options, this hot water urn is the ideal one for households with small kids! I personally purchased the manual option, although getting the one with the auto option as well will make it easier for use during the week as well. I own this for four years now and it's been faithful and reliable, and large enough to get through the average Shabbat with guests.
Note: keep this and all hot water urns out of reach of kids – even if it locks. This is just an added precaution, not enough of a safety measure. Hot water can cause serious burns.
Features:
Safety lock feature
5 Quart (20 cup) capacity
Water level indicator
Manual pump for dispensing on Shabbos
Comes in a manual+auto version as well with a button dispenser
About 17 inches tall (measure your counter tops to see if it will fit)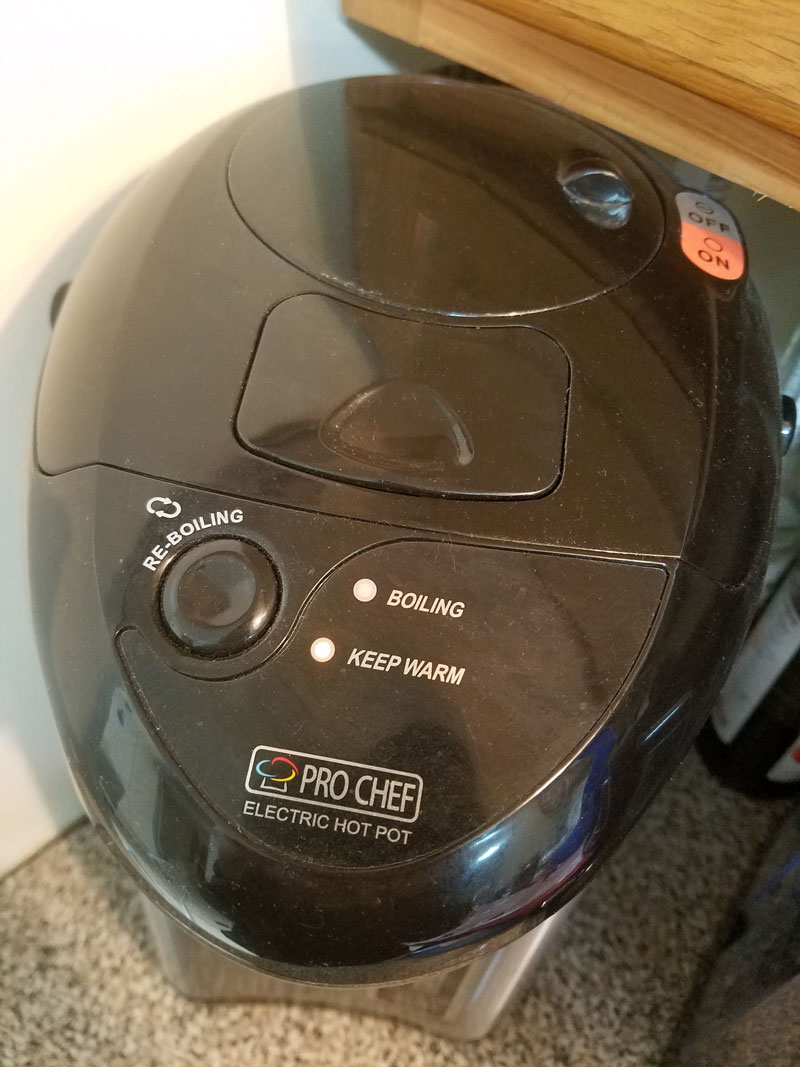 Pros:
Safety lock on top that's really easy to use, making it harder for young children to spill.
Made under Jewish ownership: mine came with a hechsher that it does NOT require tevillah.
The spout is high up, making it possible to fit something quite tall underneath
Insulated – it's warm to the touch, not hot enough to burn small hands.
Has the option to purchase the "auto" version for easier weekday use.
Easy-to-clean, modern-looking exterior that matches most kitchens.
"Auto" button on the manual+auto version doesn't work when in "lock" mode, making it perfect for Shabbat and for young kids.
Removable plug for easier washing
Cons:
Pump isn't the easiest to use. the easiest fix to this is to get the model with the dispense button.
It's bulky with a smallish capacity
Manual is near impossible to understand (although you really shouldn't need it to use this hot water urn)
This extra large coffee urn can be used to boil hot water too, and to keep it warm. Ask your local rabbi about tevillah requirements for this since it's not made under Jewish ownership. Whether you go through a lot of hot water every Shabbos, you're making a simchah, or just want a larger option, this may be the best hot water urn for Shabbos for your family.
Features:
Two temperature settings for brewing and keeping warm
110 cup capacity
Includes built-in filter basket for making coffee
19 inches tall
Pros:
Huge capacity
Beautiful, sleek Stainless steel design
Made by Waring, a reliable, established brand
Industrial, quality hot water urn for shabbos
Can be used for coffee too
Reviews say that the company has good customer service, in case your device is faulty
Spout is high enough to fit your mug underneath, or a 12 oz Styrofoam cup, according to user reviews
Cons:
No removable cord
No child safety lock feature on the spigot, lower spigot is easier for kids to reach. Top does lock on.
If you don't need something so big, it's huge. Make sure it'll fit where you need to place it
Hotter exterior, but still cool enough to reduce burns
# 3 – The Budget-Friendly Hot Water Urn for Shabbos –West Bend 30-Cup Urn:
This basic, no-frills hot water urn is great if you just need something cheap that works. With consistent four star reviews, and a competitive price point, I have a feeling many of you will be going for this one!
Features:
Aluminum exterior
30 Cup capacity
About 16 inches tall with legs and lid. Feature listing seems to refer to urn body only.
Pros:
Removable Components are dishwasher safe.
Shorter height means it's more likely to fit deep under your counter.
Can be used to brew coffee too
Brews quickly at one cup per minute
Cons:
Aluminum exterior is more prone to bumps and dents than stainless steel
Low spigot doesn't fit very large mugs
Less insulation means it's less energy-efficient and may cost more in the long term
Less insulation means the exterior gets HOT – reviewers claim that the outside is hot enough to burn.
I don't recommend this model around children unless you can truly put it out of reach, as it's too easy for kids to operate and potentially burn themselves
In Summary: What is the best hot water urn for Shabbos?
At the end of the day, I chose the ProChef Electric Hot Water Urn for a few reasons. It's much bigger than I ever need it to be. I like the high spout and pump feature, that leaves it farther away for kids. I LOVE the lock feature. And I did not want to worry about tevillah – that was the final decision maker for me.
I purchased it about four years months ago and I'm still loving it. I use it throughout the week too. It does what I need, didn't break the bank, looks great on my counter and is a true winner for me!