Passover crafts are fun to make – from toddlers and preschoolers, to kids, teens, and adults! I hope you enjoy these ideas! This post contians affiliate links.
---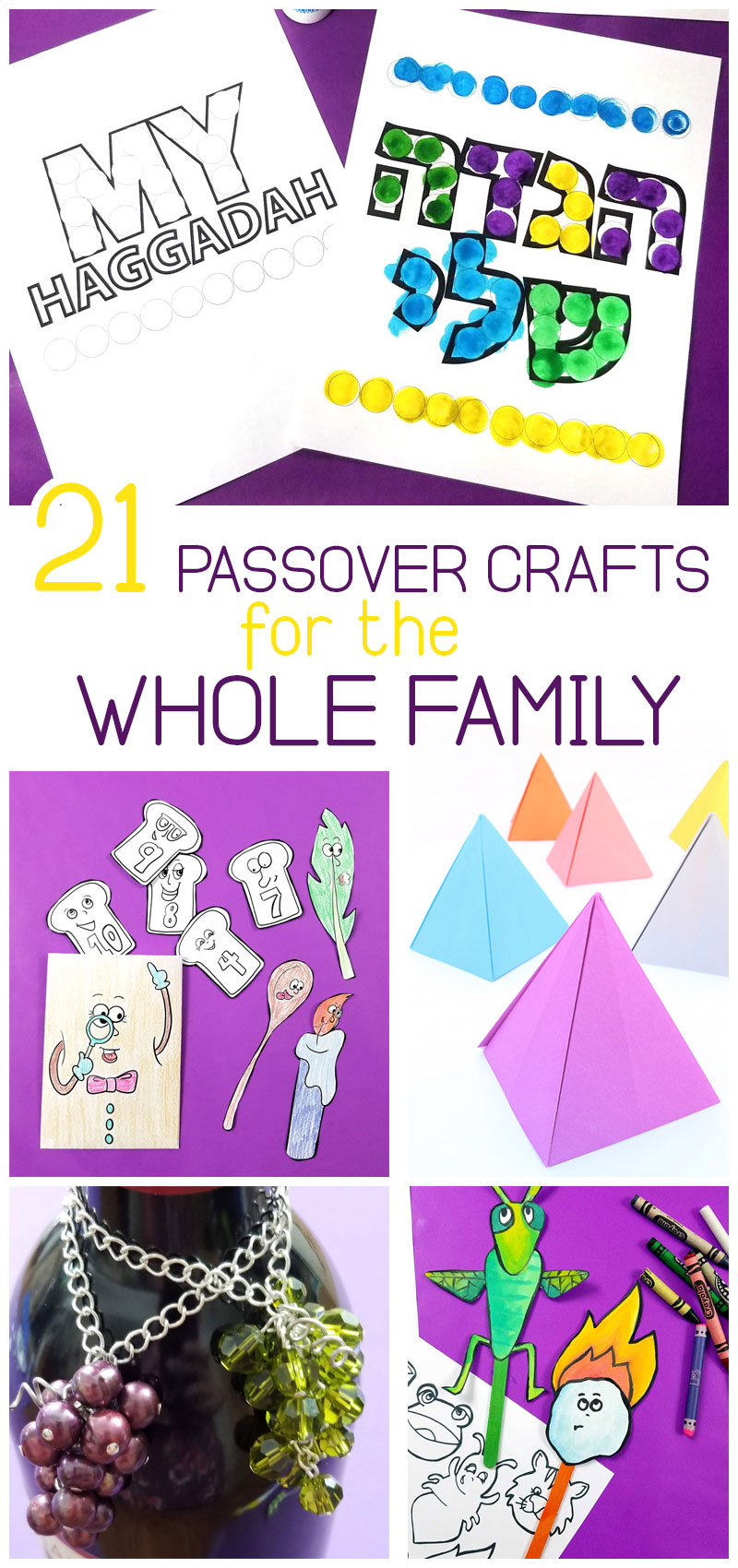 There's nothing like good Passover crafts to get you in the spirit of things! Preschools dedicate the weeks between Purim and Passover to crafting for the holiday. But even if you're going away, or if you need a break from Pesach cleaning, there's something for everyone to make the seder special.
Passover Crafts for Toddlers and Preschoolers
The excitement of the little ones is tangible when they bring back that bag full of Passover crafts that they so proudly created. But even more so, when their seder plate is featured or they flip through that Haggadah that they worked so hard on! I hope you enjoy these ideas.
Haggadah for Kids – Printable Do a Dot and Craft! by Jewish Moms and Crafters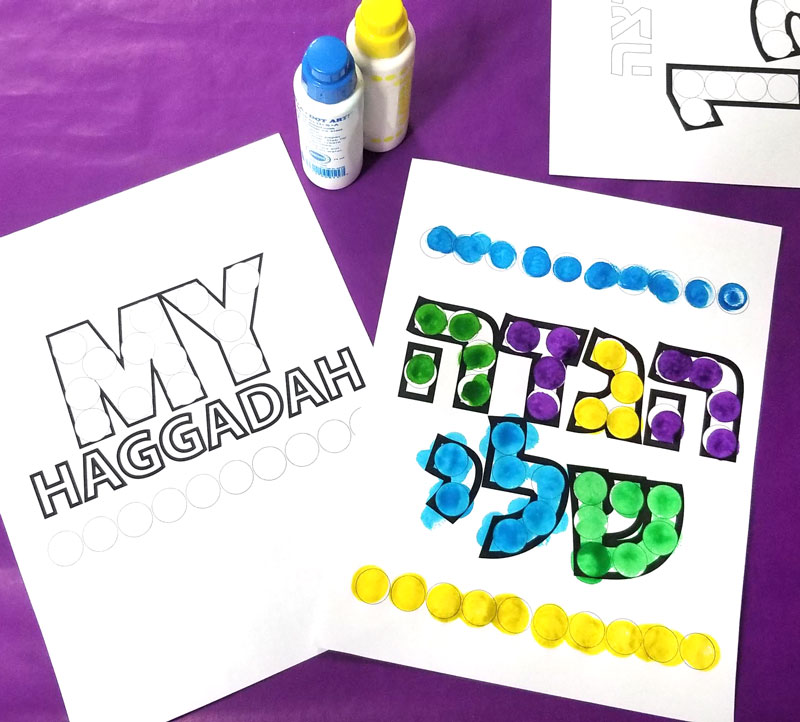 A low key Haggadah for the younger kids, this printable booklet features simple illustrations with dot art markings. You can use classic Do a Dot markers, or dot stickers for a fine motor twist. Or mix it up! The template also includes a non-dot-art variation so that you can simply color it, or make your own dots.
10 Plagues Passover Sticker Wall by With Love, Ima
Sticker walls are super fun for toddlers – so why not make one in a ten plagues them? With Love, Ima shares some fabulous ideas so go ahead and check it out!
Pretend Bedikat Chametz Number Hunt by Moms and Crafters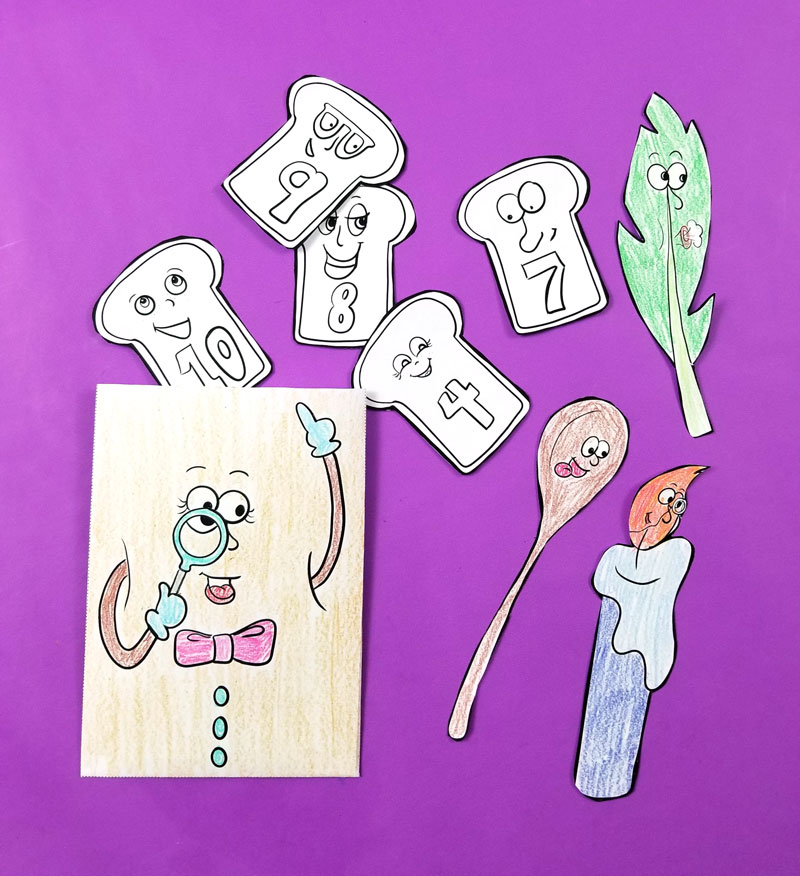 Combine crafting with learning numbers for your preschoolers! A paper coloring page features parts to cutout – and then hide in a pretend "searching for the chametz" game! Your little ones will love lining up the numbered pieces of bread from one to ten. And you won't need to worry about actually finding that bread, or the trail of crumbs that real bread produces.
Pesach Puppets – Makkos by Jewish Moms and Crafters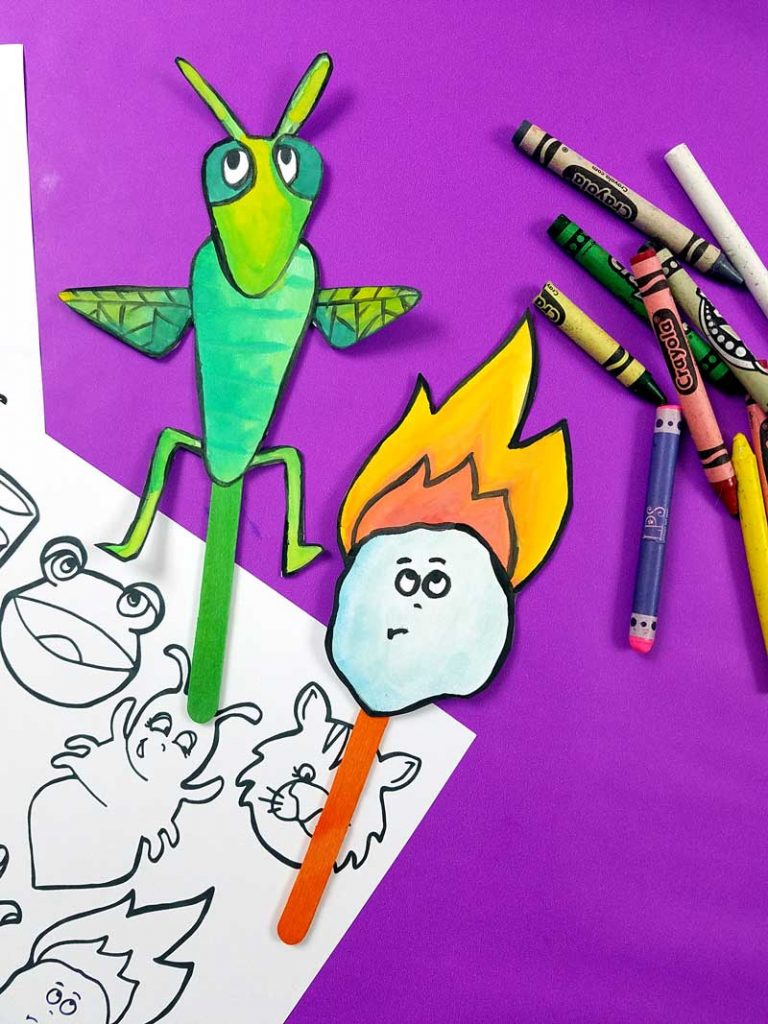 Visualize and bring the Pesach miracles to life with not-too-scary puppets featuring the ten plagues. Since it's a super easy color-in craft, all you need to complete it is some craft sticks.
Mah Nishtanah Prompt Cards by Jewish Moms & Crafters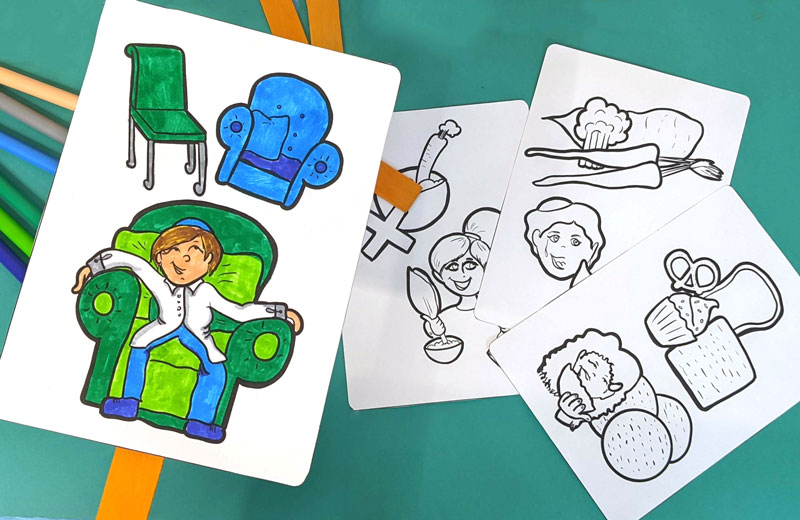 Remind kids of the four questions with these fun prompt cards they can either be shown or hold themselves! It's a cool resource for preschoolers because it's purely visual – no reading required!
Passover Crafts for Kids
Taking your Passover crafts to the next level means there are more options. As skill levels increase, you may want to increase the kids' involvement and diversify the craft materials to use.
Krias Yam Suf (The Splitting of the Red Sea) Diorama by Creative Jewish Mom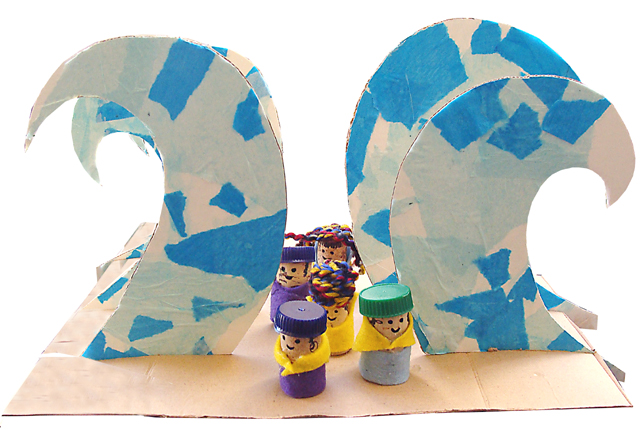 Craft a fun centerpiece for your Passover table – a lineup of people crossing through the split waters! Creative Jewish Mom hits the nail on the head with this one, using recyclables and more for a fun Pesach diorama.
No Chametz Sign by Jewish Moms and Crafters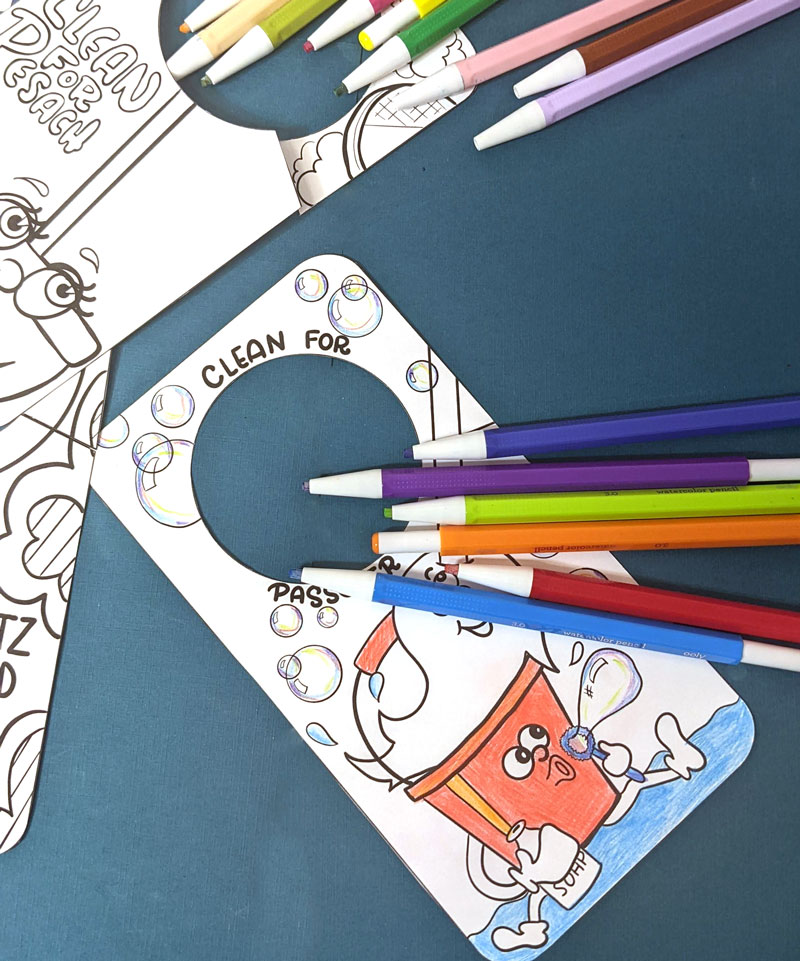 Color-in door hangers can spark your kids' creativity while appealing to a large age range. Even I had fun coloring in this quirky illustration! When they're done coloring it, bribe them to clean a room so that they can hang it on the door. I call it a win-win! No Chametz signs are a fabulous classroom craft too. Get the whole bundle here.
Seder Plate Craft for Kid by Jewish Moms and Crafters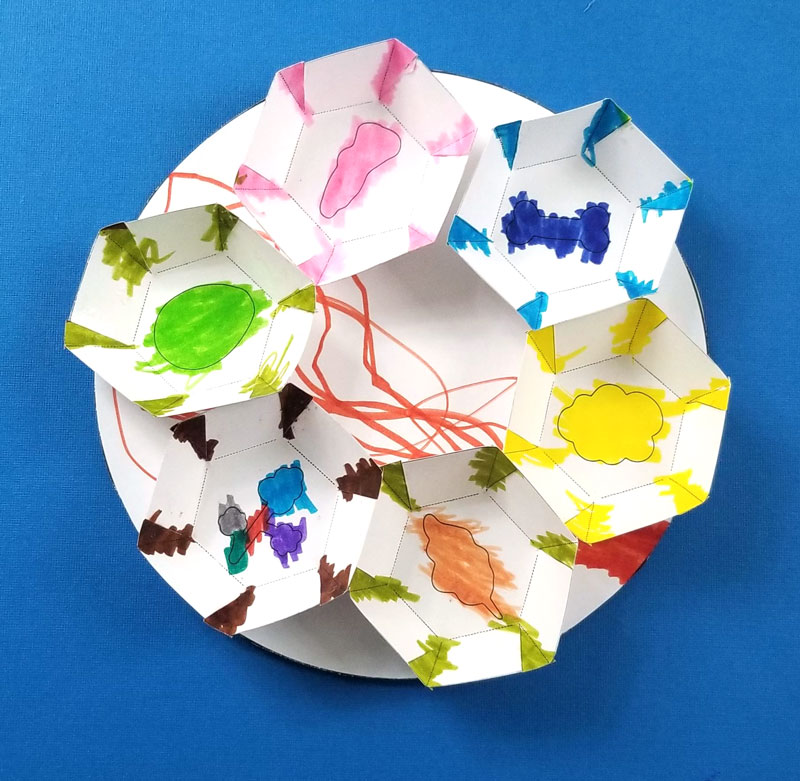 We made this in 2020, when Y missed out on Passover crafts the first year that he would have truly participated in it. He was a bit young for kit (it's designed more for ages 5+) but he still had lots of fun coloring in and learning about the different foods! And it can even serve as a functional seder plate in a pinch! Or, fill it with toy or felt variations of the different foods.
Seder Plate Tile by Korganic Creations Market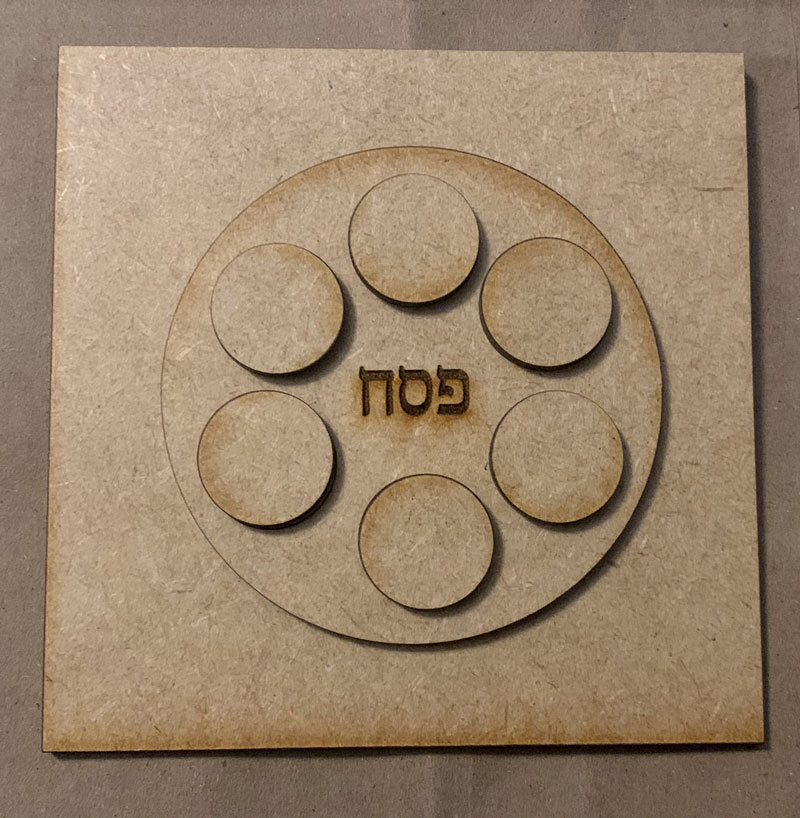 Korganic Creations Market is a small mom-owned business that creates Jewish themed craft kits and cutouts. One of her running themes is decor "tiles" that can be mixed and matched for any holiday. This seder plate one is simple and fun for kids to paint! You can expand on it by challenging kids to find magazine cutouts of the correct foods to glue or decoupage onto the different circles.
Cup for Eliyahu by Creative Jewish Mom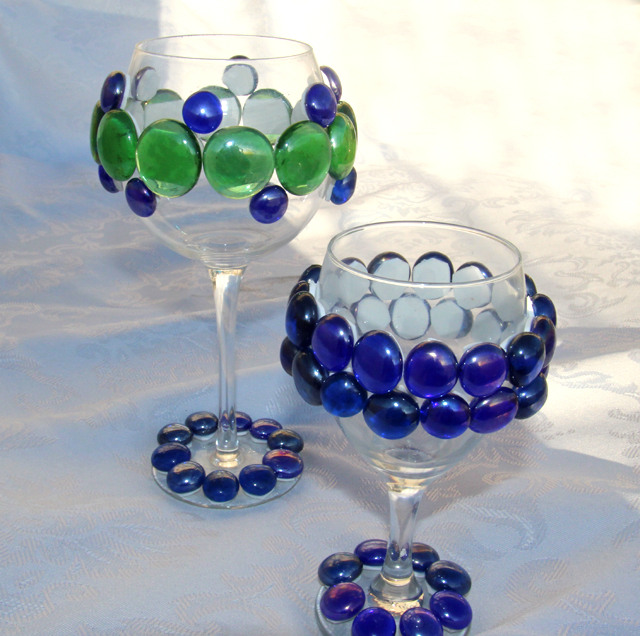 Make your own Elija's Cup by blinging out dollar store wine glasses! I just love what Creative Jewish Mom has done with these, all while keeping with a seder-table-friendly color scheme.
Passover Salt Water Dish Craft by Jewish Moms and Crafters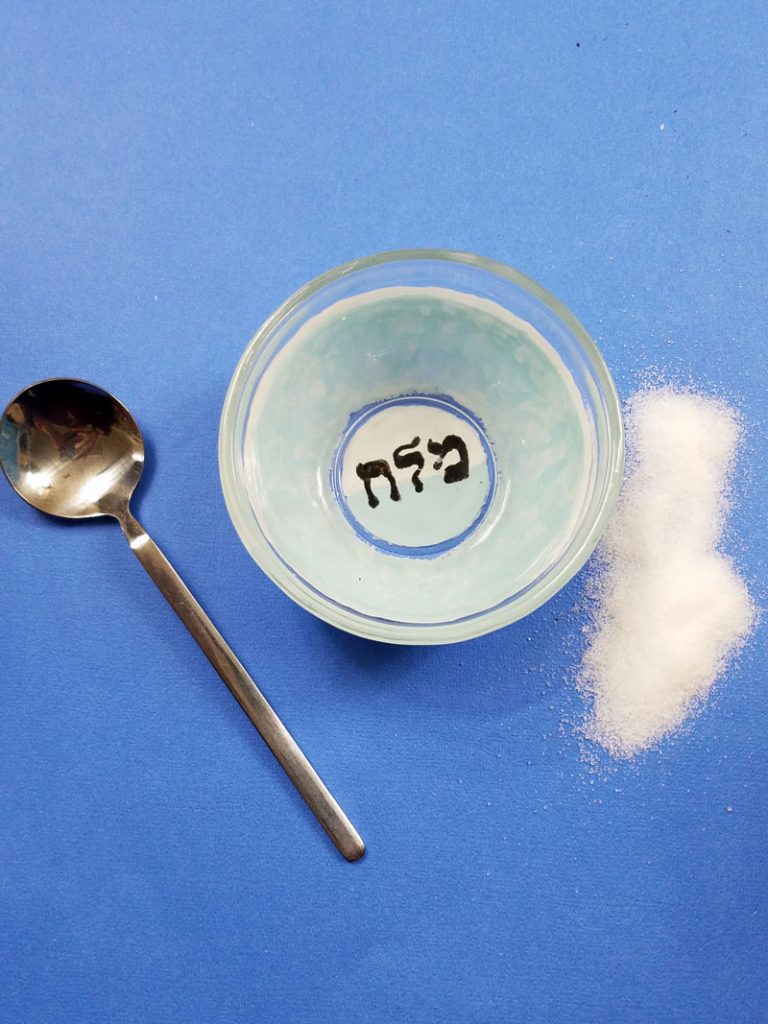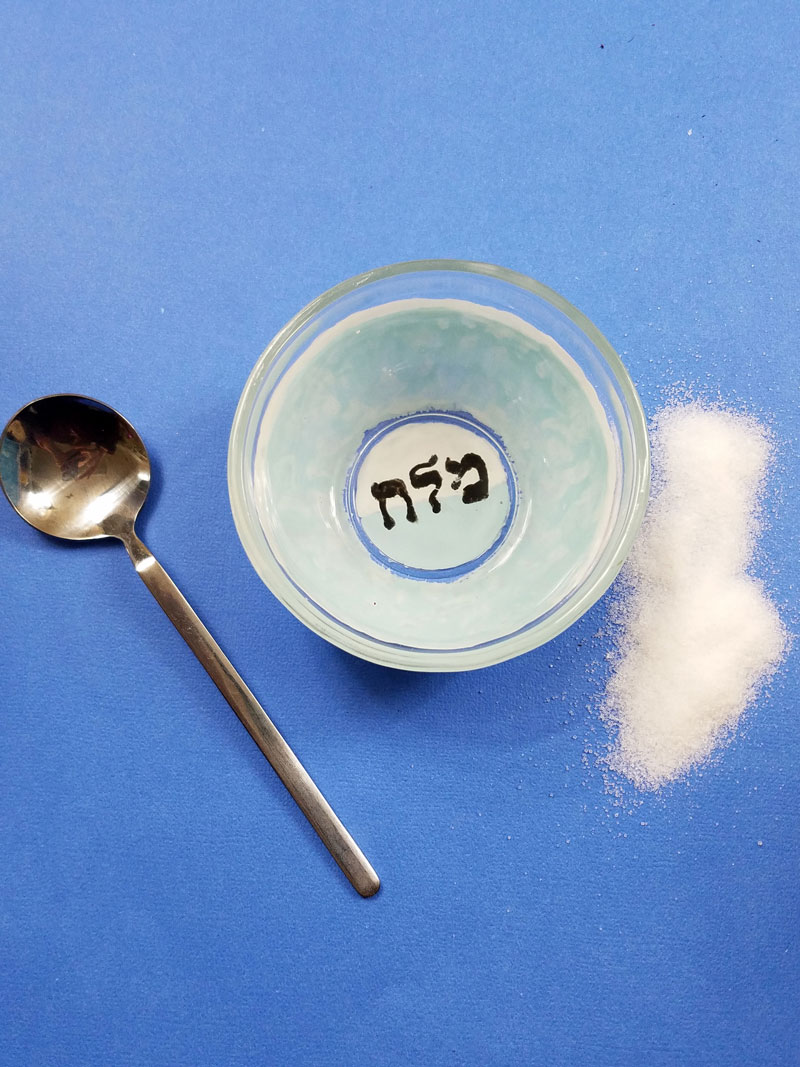 All you need to make a beautiful, decorative salt water dish is a little bit of glass paint, a marker, and a dollar store bowl! I added a little texture effect but that's totally optional. Since salt water is clear (if a little bit cloudy) you'll be able to see what you paint through.
The Kos Shel Eliyahu that Anyone can Make by Jewish Moms and Crafters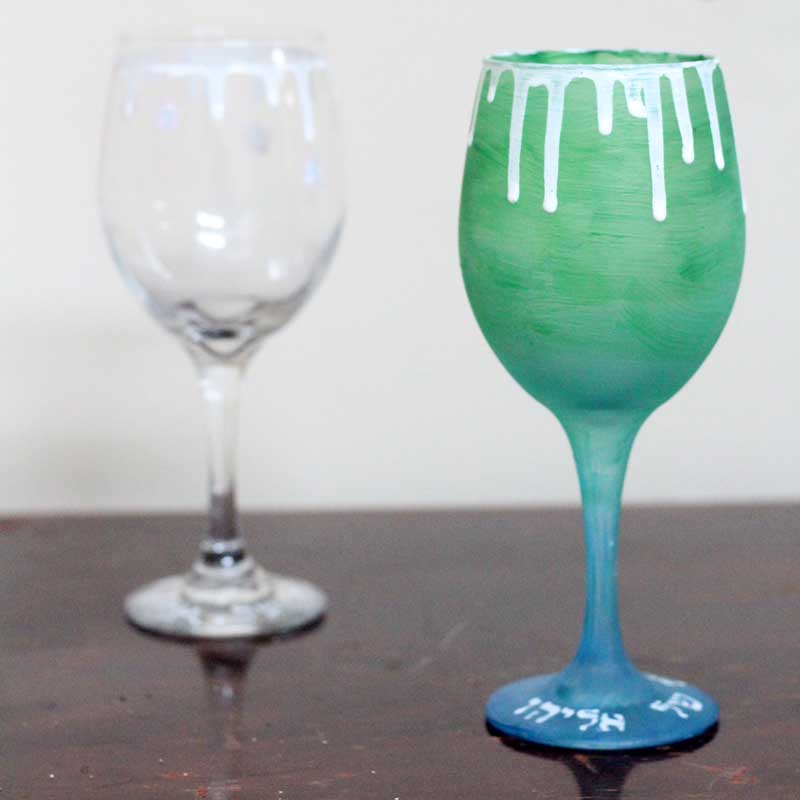 Once again, a dollar store glass can be turned into Elijah's Cup. This time, I used translucent sea glass textured paint. I created a template for you to use to more easily letter the base of the glass – but you don't even need to do that to make a tall, decorative wine glass for the seder night's mystical guest.
LEGO Seder Table: Minifig Passover by Bible Belt Balabusta
Got a good LEGO stash going at home? Keep the kids occupied while you finish prepping once Pesach vacation has already started! Challenge them to build a pretend seder table from LEGO with this idea from Bible Belt Balabusta – and then let them practice for the real deal!
Passover Puppets Coloring Pages by Jewish Moms and Crafters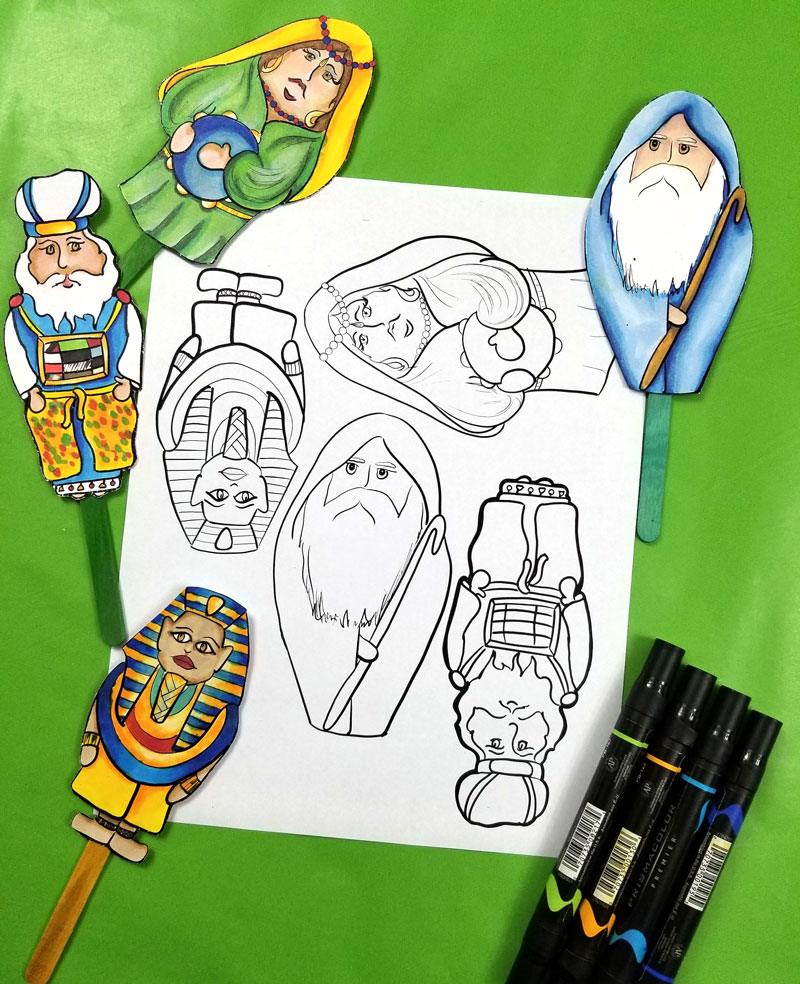 If your children are old enough to feel that the ten plagues are below them – or just want something a bit more complex to color in – try these character puppets! It features most of the main players in the exodus (of course, we couldn't make a puppet of G-d). You have Moshe (Moses) Aaron, Miriam, and Pharaoh. When you're done coloring, add some craft sticks and relive the exodus!
Sensory Haggadah Template – an Interactive Quiet Book by Jewish Moms and Crafters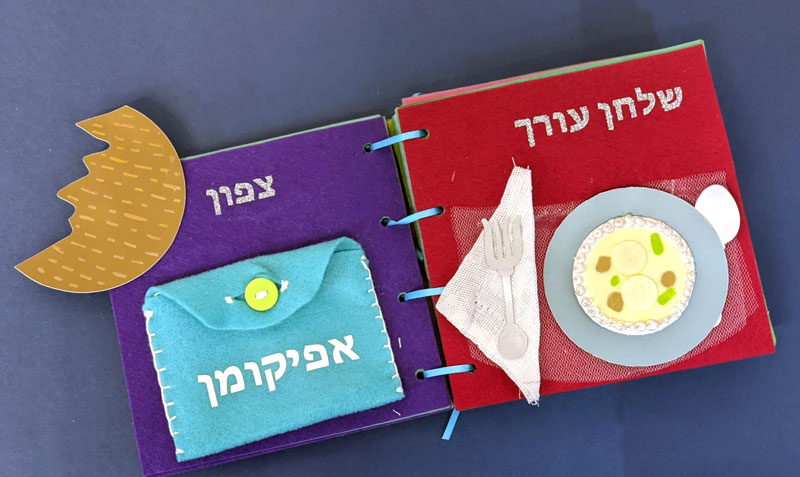 A passion project years in the making, this sensory Haggadah template features fully interactive instructions and loads of ideas. While I designed it originally as a craft for parents to make for younger kids, it's actually also a really cool resource for page-by-page Haggadah crafts for the classroom. You just may need to adapt a little.
See a flip through of the pages:
Elijah's Cup Passover Craft by Tori Avey
Here's another fun idea for Elijah's Cup! Tori Avey's version is full of color and charm, and is something you'll want to keep to reuse from year to year.
Passover Crafts for Adults
Don't neglect yourself! Try these Passover crafts for adults in your downtime, because we all know you need a little of that! And when the finished project is used, you'll get that extra level of satisfaction. Unlike the recipes you're trying, these can last from year to year.
A Cozy & Classy Afikoman Bag from Fleece by Creative Jewish Mom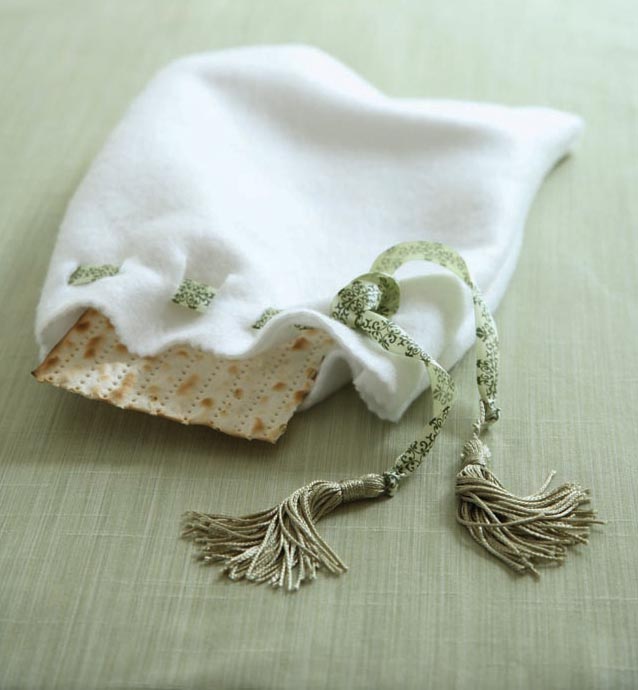 Create something classy for that Afikoman with very basic sewing skills. A drawstring bag is quite easy to sew and using a fabric such as fleece eliminates the need for hems on every side, making it a real quickie, appropriate for the days leading to Passover.
Pesach Directional Sign by Korganic Creations Market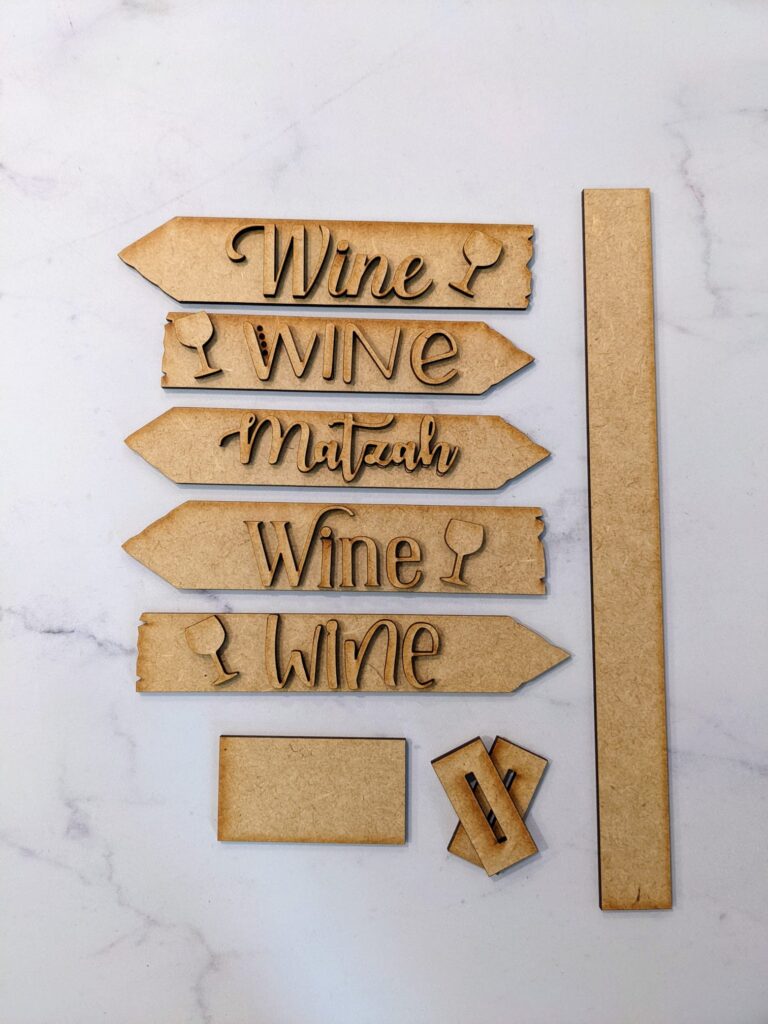 Korganic Creations Market created this adorable Passover sign with arrows pointing in different directions! They say wine four times and matzah once. I love it as a bit of a humorous seder centerpiece that can sit on a sideboard between meals too. Purchase the parts and then paint it to match your decor. Or, get a full kit with everything you need to decorate it too.
Giant Origami Pyramids Passover Centerpiece by Creative Jewish Mom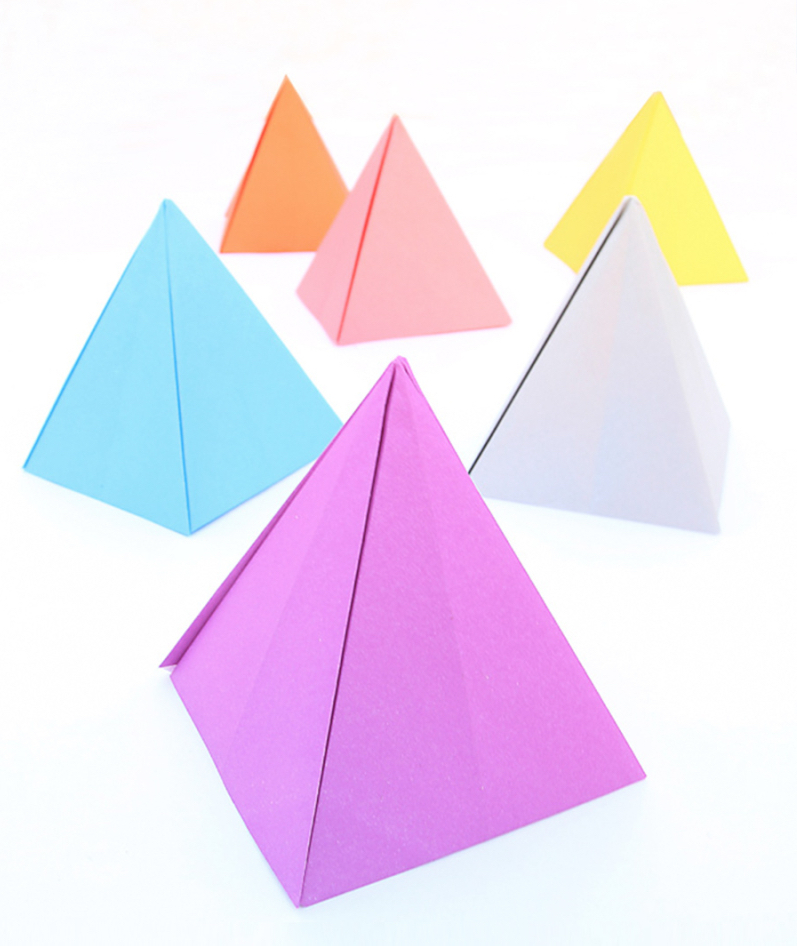 Did you notice that I'm a little obsessed with the crafts that Creative Jewish Mom shares? Origami pyramids are another fun one that can feature on your table. Make one or make a dozen. It's a low mess, low effort project.
DIY Matzah Tray from Felt by Jewish Moms and Crafters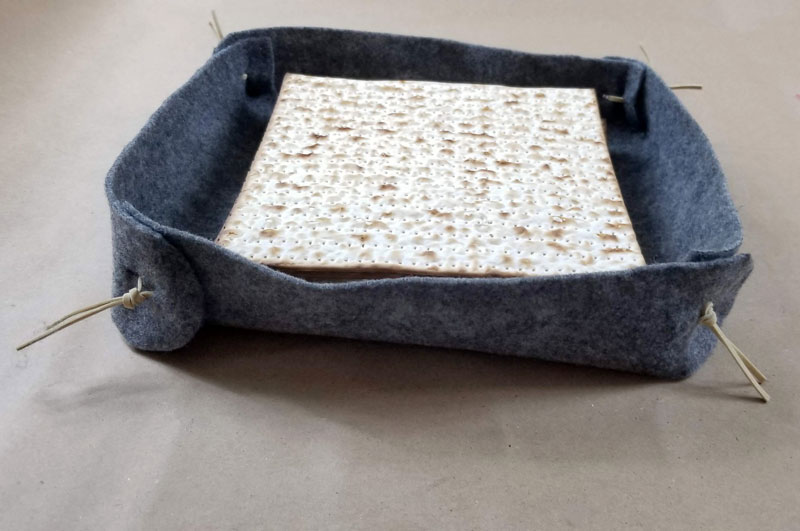 In 2020, when I found myself making my first Passover I realized I need all sorts of things I would never have thought of. And while a matzah plate isn't a necessity – a regular plate can do in a fix – I decided to make an easy one using thick felt and faux leather lacing. A stiffer material (such as stiff felt or faux leather) will hold its shape better, but even this one was nice, and it's so easy to store!
DIY Wine Bottle Charms by Jewish Moms and Crafters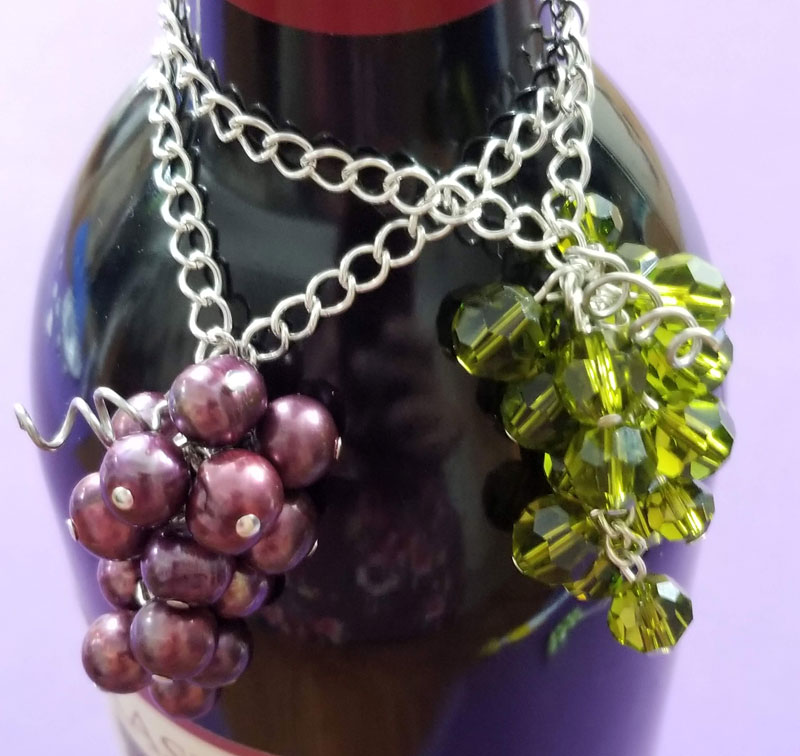 Years ago, I designed these beaded wine bottle charms as part of a graphic design project. And then much later on, I decided to try to recreate it as a hostess gift to adorn my parents' table. Pearls and Swarovski crystal beads in grape-inspired colors, assembled in clusters, hang from a bit of chain to serve as a little wine bottle bling.
Felt Seder Plate Craft by Jewish Moms and Crafters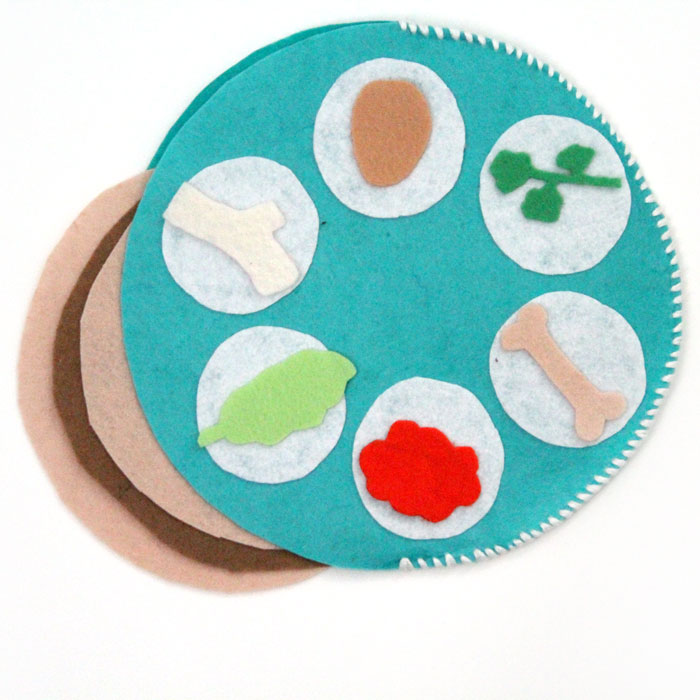 Finally, we have a pretend play Seder plate that allows the youngest in the family to feel like they have their own. And while this craft is for kids, it's definitely adult-created, and a fun DIY gift for that child, grandchild niece, or nephew that you love.
What are your favorite Passover crafts? Comment below!